If you're like me and have been using Linux for a long time, you know font management can be an issue in most distributions – still! Although Linux has come a great way since its earlier attempt at font management, which resulted in an amateurish-looking desktop, it still has plenty to improve. It is still quite ambitious if you want your desktop fonts to look as sharp as on those Macs. However, today, Linux can render TrueType fonts much better than it used to. Additionally, a plethora of robust Linux font tools has made it very simple to manage your Linux fonts.
Best Linux Font Tools
---
Linux font managers allow you to install, view, activate, de-activate, and organize font categories alongside many advanced font management capabilities. You might not know it, but your Linux system comes with hundreds of different fonts inbuilt. If you want to leverage the maximum potential out of these fonts and aim to create an awe-inspiring Linux desktop, the below font tools will allow you to do so.
1. Fontmatrix
---
Fontmatrix is an extremely powerful Linux font manager that helps users keep their personal font collections in order. You'll find Fontmatrix at the forefront of every Linux font tools guide. It offers a user-friendly way of grouping fonts together through its "tagging" feature. The user interface is nice and clean and provides users with easy-to-use font management functionalities.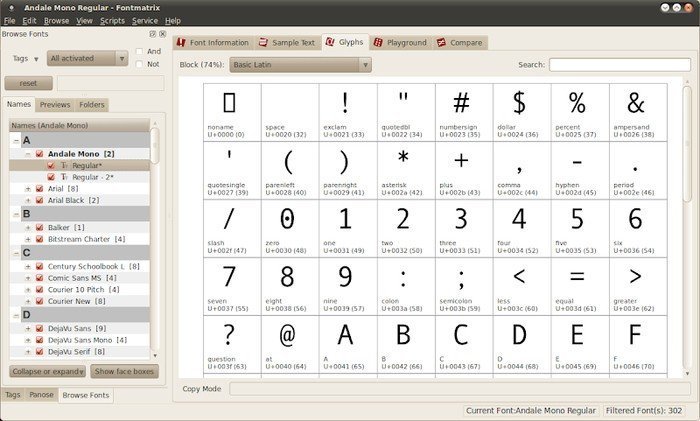 Features of Fontmatrix
Fontmatrix utilizes the open-source FreeType library to render its fonts.
It comes with an elegant user interface based on Qt and allows users to preview or compare fonts intuitively.
Users can tag fonts for organizing into a group and later use them on their desktops or applications.
The PANOSE browser equipped with this Linux font viewer makes it easy to classify TrueType fonts.
Fontmatrix is very extendable and supports scripting in the Python language.
2. FontForge
---
FontForge is arguably among the most empowering Linux font tools you'll ever try. It is an immensely powerful Ubuntu font manager with a massive set of modern-day capabilities, including font editing and creating or modifying bitmap fonts. FontForge leverages the FreeType library and has created fonts like DejaVu fonts, Linux Libertine, Beteckna, and Asana-Math.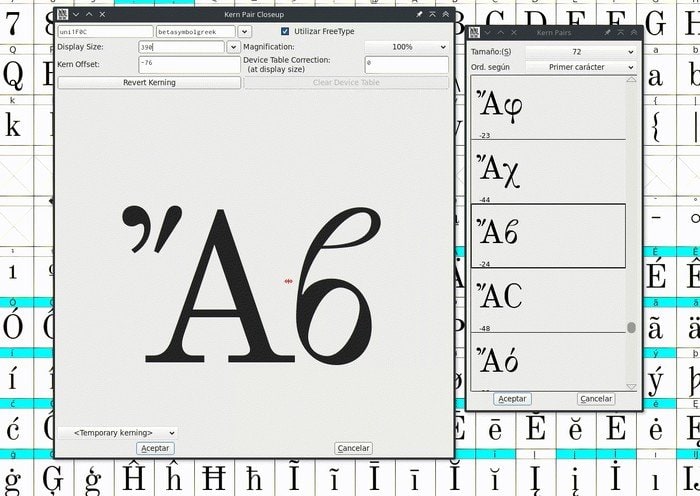 Features of FontForge
FontForge is very lightweight and doesn't waste computer resources at all.
It can be used to create font thumbnail images, check outlines, and compare font files effectively.
FontForge supports numerous formats, including TrueType, OpenType, PostScript, Web Open Font Format, and TeX Bitmap.
It is widely used as a font format converter and can effortlessly convert among the formats mentioned above.
The BSD license FontForge comes with allows modification of this Linux font viewer.
3. FontBase
---
FontBase is an exceptionally beautiful yet robust font manager for Linux. It features a visually elegant user interface with a carefully organized panel layout that makes managing your Linux fonts a child's play. FontBase is arguably one of the best free Linux font tools and offers a wide range of premium features. It is fast and reliable and makes sure your fonts always stay on edge by delivering timely updates.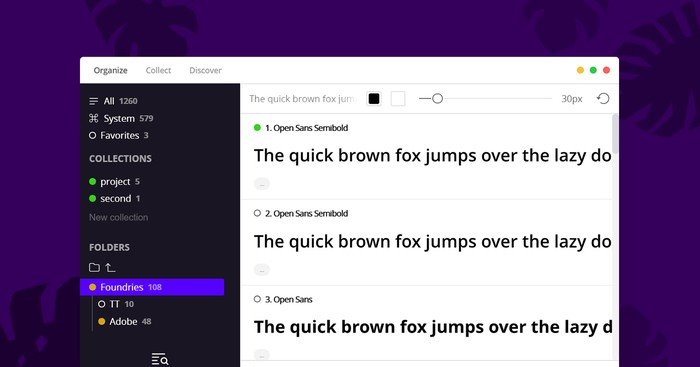 Features of FontBase
FontBase comes with a minimal GUI interface that is both fast and consistent across systems.
This Linux font management suite allows users to activate fonts easily with one-click activation.
It is straightforward to organize fonts into groups that can be accessed and utilized later.
FontBase's robust autosync and response features make them one of the top-performing Linux font tools.
4. Font Manager
---
Font Manager is one of the most loved Linux font tools for a substantial number of users due to its modern-day features and fast and sleek interface. It is a robust Ubuntu font manager that can help new Linux users keep fonts in check without too much hassle. Although developed initially for the GNOME environment, the developers have extended their support to other desktop environments, notably KDE and XFCE.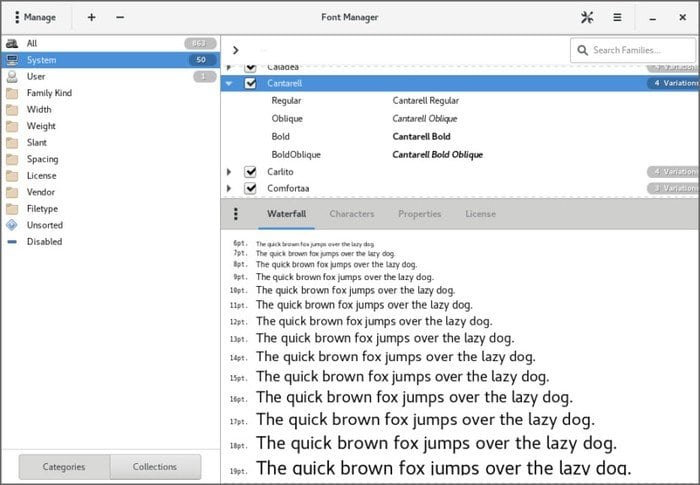 Features of Font Manager
Previewing fonts and comparing two units is relatively more straightforward in Font Manager than in many Linux font tools.
Font Manager allows users to download, install, and remove fonts effortlessly.
Users can export their Linux fonts easily as a collection for sharing or backup purposes.
Font Manager offers quick access to GNOME's default font utilities.
5. Birdfont
---
Birdfont is an awe-inspiring Linux font manager written in the Vala programming language. It is a gorgeous-looking font manager with decent font management capabilities and works pretty well. Birdfont is quite easy to use, and new Linux users would love this Linux font viewer in no time. It also works as a font editor and allows you to create vector graphics and export them as TTF, OTF, EOT, and SVG fonts.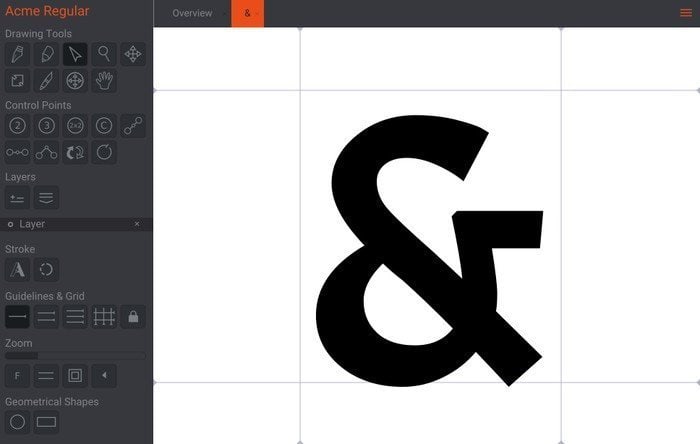 Features of Birdfont
Birdfont can work seamlessly with Monochrome SVG fonts, color fonts, and Kerning and Alternates alongside many advanced features.
The freehand tool provided by this font editor works like a charm and handles layers quite effectively.
Birdfont runs well on most Linux distributions alongside BSD systems.
It allows users to export fonts into a wide range of fonts and supports large CJK fonts.
6. HarfBuzz
---
HarfBuzz is a rewarding modern-day text-shaping engine started by the FreeType Project for converting Unicode text into glyph indices. It is a powerful software for selecting and positioning glyphs accurately and can also be used as a Linux font viewer. It is a reasonably complex font management tool with very low-level font operations. It is used by projects like Firefox, Chromium, Android, and LibreOffice.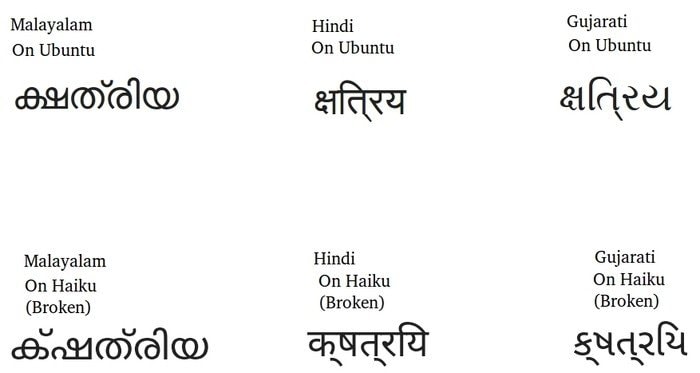 Features of HarfBuzz
HarfBuzz is aimed at font designers and works exclusively in text shaping.
It can work with Unicode 10 and can query the ligature tables of fonts very precisely.
HarfBuzz can select glyphs very correctly from a given sequence of characters.
It comes with an MIT license which provides a permissive license for distribution.
7. FreeType
---
FreeType is an immensely popular ANSI C-based font engine for Linux. It is a marvelous example of modern Linux font tools and supports quite an extensive list of font editing and management abilities. FreeType is widely used as a font rendering engine in many projects. It has useful applications in fields like font inspection, conversion, text layout, and pagination, just to say a few.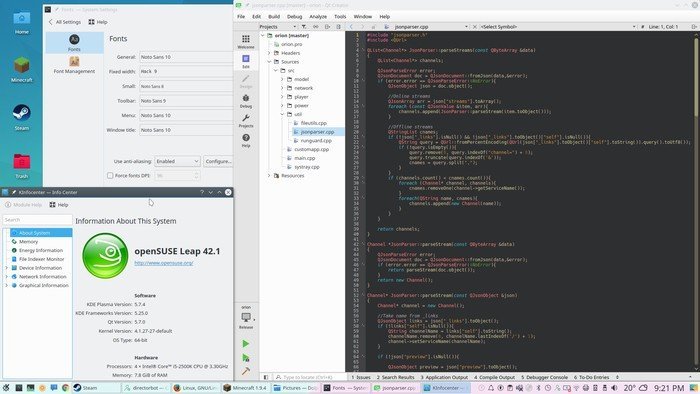 Features of FreeType
FreeType is lightweight and provides an easy-to-use API for accessing fonts independently of file formats.
It doesn't use static writeable data and can be used efficiently in embedded systems or IoT projects.
FreeType supports a large number of fonts by default, including TrueType, TTC, CFF, WOFF, OTF, OTC, and many more.
It comes with a robust caching subsystem that makes managing fonts efficient.
8. fontTools
---
fontTools is a handy little library for manipulating Linux fonts in Python. If you're a font designer or font tools developer, it is a must-have item in your tool belt. This small yet efficient font management library offers rewarding capabilities for dealing with extreme details of TrueType and OpenType fonts. It also comes pre-equipped with the TTX utility, a conversion tool that allows TrueType and OpenType fonts to and from XML documents.
Features of fontTools
fontTools allows the conversion of binary font files into XML pretty quickly for editing purposes.
It works with both major versions of Python, including 2.7 and 3.4 or later.
fontTools is entirely free to use and modify, with many font tools utilizing it for providing advanced functionalities.
It can inspect fonts, merge fonts, and create subsets for future usage.
9. Fonty Python
---
Fonty Python is a simple yet effective font manager for Linux systems, emphasizing starting Linux users. It is built on top of the Python programming language and leverages WxWidgets for its interface.
The software is pretty lightweight and decent looking but does not fancy this if you're after too many advanced functionalities. Fonty Python is best suited to people looking for minimal, resource-friendly options that let them do just the bare minimum.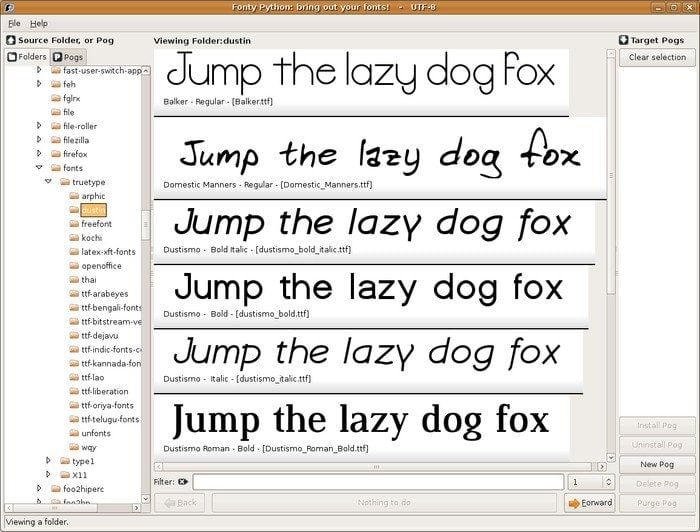 Features of Fonty Python
It is a simple Ubuntu font manager that lets new users view and compare fonts easily.
Fonty Python allows users to gather numerous fonts together for creating personalized collections.
It comes with a convenient command line and a blazing-fast and lightweight version.
We liked the keyboard shortcuts and found them to be very intuitive.
10. TruFont
---
TruFont is an immensely powerful yet lightweight font editing software written using Python3, ufoLib, defcon, and PyQt5. Robofont inspired it, but unlike Robofont, TruFont takes the open-source way into font editing. TruFont is extremely hackable, and you can learn to use some unique little tricks very quickly.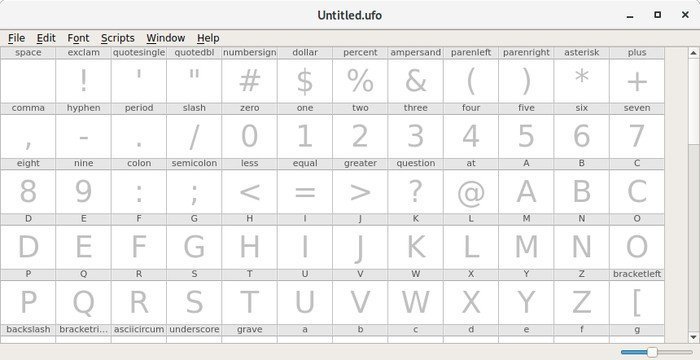 Features of TruFont
TruFont is open source and allows users to perform all kinds of modifications for an engaging font editing experience.
The interface is minimal and clean yet provides a visually elegant touch to the eyes.
It can edit UFO3 fonts, manipulate Bézier contours, and adjust spacing and metrics alongside other crucial tasks.
TruFont is equipped with robust selection and drawing tools which aid in native Linux font editing.
11. Opcion Font Viewer
---
Opcion Font Viewer is a robust Linux font viewer written in Java. It allows Linux users the ability to view uninstalled TrueType fonts easily. Users can select and preview their font choices, create custom preferences, apply font stylings, and many more with this handy little tool. Your system needs to have Java 1.4.0 or more to run this application, though.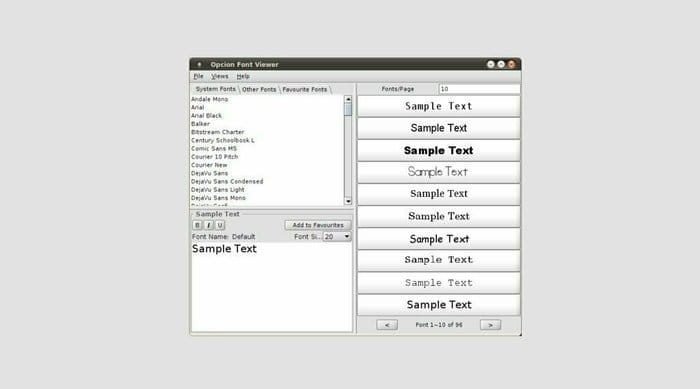 Features of Opcion Font Viewer
Opcion Font Viewer comes with the GNU GPL license, which provides permissive distribution of the source.
Users can save favorite fonts as a collection and use them for backing up frequently utilized fonts.
Opcion Font Viewer allows customization of font sizes, samples, and other properties.
It equips users with powerful but intuitive shortcut keys for faster and smooth navigation.
12. GNOME Font Viewer
---
The GNOME Font Viewer is the default font viewer installed in most GNOME-based distributions. It is a lightweight, resource-friendly choice for people who are looking for simple Linux font tools that get the basic jobs done. The software is well-maintained, and new updates keep rolling regularly.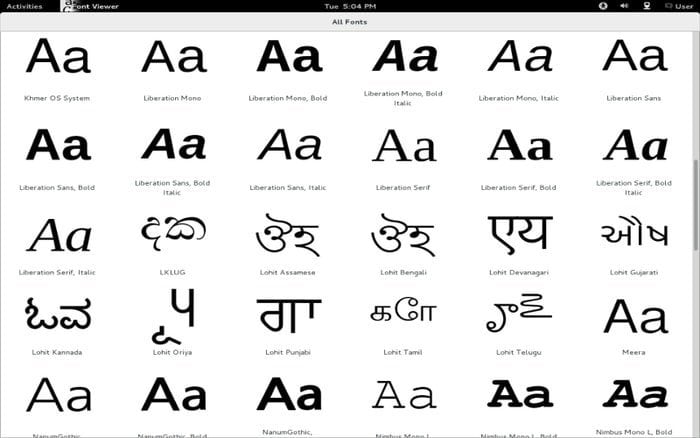 Features of GNOME Font Viewer
GNOME Font Viewer sports a sleek user interface that makes navigation fun and easy.
It can show an excellent overview of all the fonts installed in your Linux system.
This Ubuntu font manager optimizes the desktop screen effectively and minimizes resource usage.
The software is updated very frequently, and new features are being added continuously.
13. myFontbook
---
myFontbook is a little but handy web-based software utility that allows viewing the fonts installed on your Linux system directly from a browser. Users can view their font collections and catalog them very easily for future usage. It also enables users to organize their font shelves how they want. Overall considering it's a web-based font manager, myFontbook does a pretty decent job.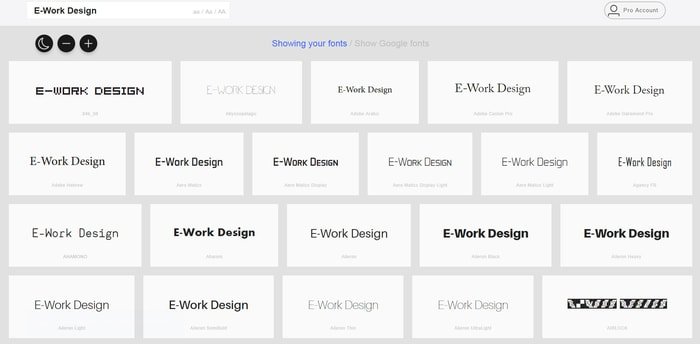 Features of myFontbook
The font viewer lets users preview all their installed fonts and sort them at their convenience.
The robust Proof Sheet feature enables users to print fonts with several style samples.
Previewing Typeface characters is easy, and it shows their ASCII codes right next.
The rendering speed of the fonts of this Linux font manager is quite fast and efficient.
Check myFontbook
14. Wordmark.it
---
Wordmark.it is another web-based font manager that Linux users can use for viewing fonts quickly. If you only need a font manager for viewing several fonts at once and choose the right one for your system, it's not necessary you'd need to install a full-fledged Linux font viewer. Head over to Wordmark.it right now and make your decision. It's that simple!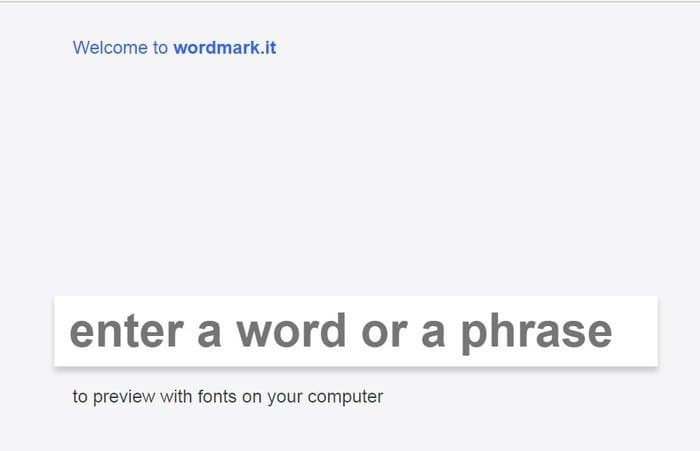 Features of Wordmark.it
Using this font viewer is pretty simple; head to the website and enter a phrase to find out how they look in different fonts.
You can utilize robust filters to select the most appropriate font.
Wordmark.it has a handy extension available for users of the Google Chrome browser.
15. MATE Font Viewer
---
The MATE Font Viewer is a very basic and lightweight font viewer application for Linux users. It supports elementary features like viewing and installing fonts. However, MATE Font Viewer doesn't give users the ability to compare two fonts at once or uninstall fonts.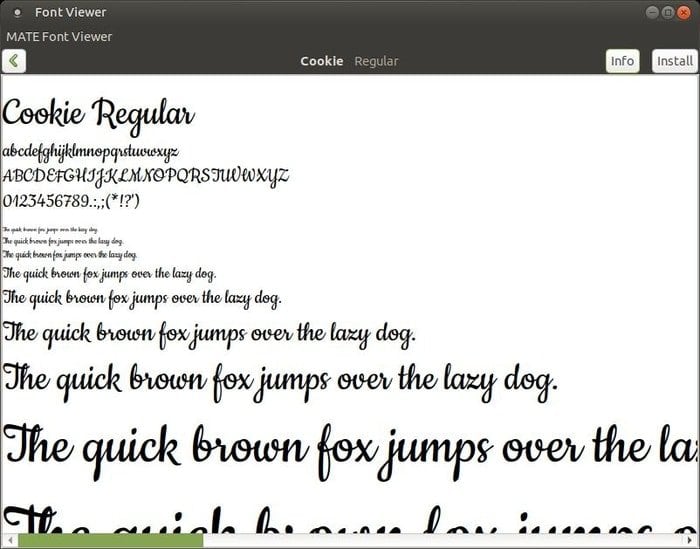 Features of MATE Font Viewer
This font viewer application is elementary and will suit total new users more than most Linux-heavy lifters.
The font information displayed by it includes name, style, type, size, version, and copyright.
MATE Font Viewer accepts the conventional MATE and GTK command-line options.
How to install Linux fonts on Ubuntu
---
Linux font managers allow users to manage their fonts essentially. Yeah, most Linux font tools will enable you to install Linux fonts. But, they are not the only solution. There are plenty of ways you can install those trendy fonts on your Linux machine and be the guy with the best typographic taste. Below, our editors have outlined some of the most common and standard ways for you to do so.
Before getting on with installing Linux fonts in your Ubuntu system, first, you need to get the fonts you want to install. You can find amazing fonts collection all over the web. A simple Google search can overwhelm you in this regard. Download the fonts file in a folder on your PC for using them with different applications. Most of the fonts you download should come in either TTF(TrueType) or OTF(OpenType) fonts.
Method – 1: Install Linux Fonts Using Font Manager
---
After you've downloaded the fonts you want to try, you can proceed with installing them on your system with the aforementioned Linux font managers. Simply go to the folder containing the font files and double-click on the font you want to install.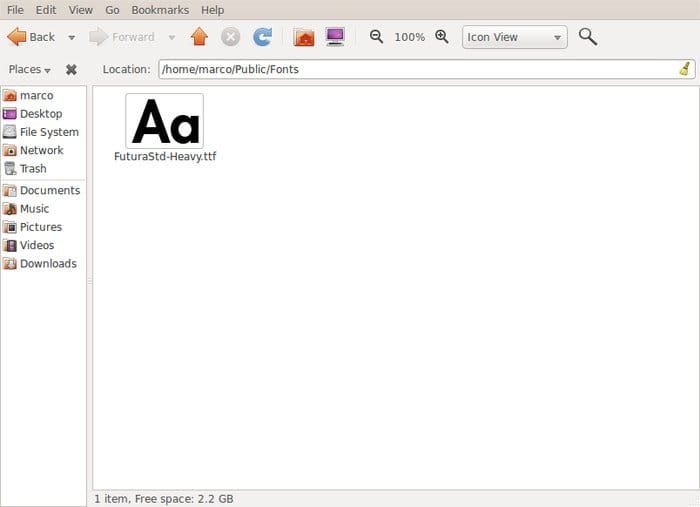 It should automatically open using the default font viewer installed on your system. If it doesn't do so, make sure you have a working Ubuntu font manager installed and right-click on the file to select the Open With option. Choose the font viewer application here.
The font manager would now open and display information about the font. Look for a button called Install or something similar. Locate this button and click to install the desired font. Note that this method will make the fonts available only to the current user.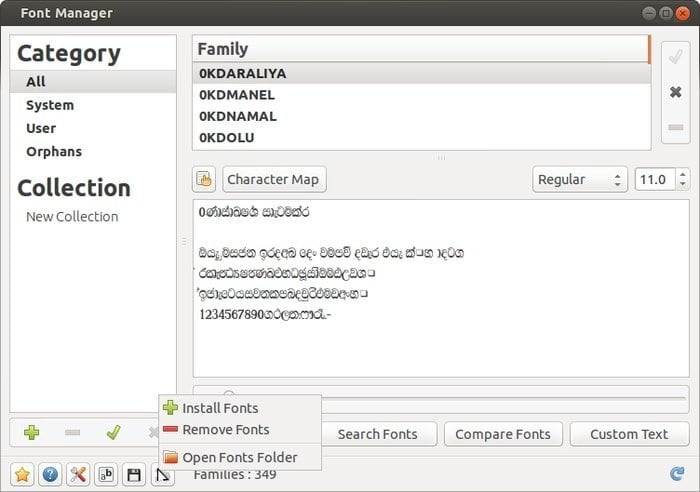 Method – 2: Install Linux Fonts for User Account
---
You can install Linux fonts only for your regular user account in Ubuntu and other mainstream distributions pretty easily. All you need to do is head over to the hidden .fonts folder in your home directory and place the fonts you want to install there.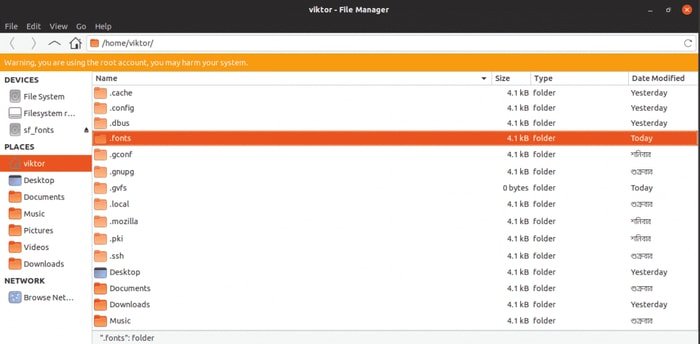 This will make those fonts available to the current user every time they log in. You can also put these fonts inside the ~/.local/share/fonts folder in the latest Ubuntu versions.
Method – 3: Install System-Wide Linux Fonts
---
Sometimes there may arise a situation where you want to install, say, 30-40 new fonts and make them available to the whole system. This can be done relatively easily in Ubuntu. Simply download the desired fonts and move them to the /usr/local/share/fonts folder. You'll require root privileges to do so.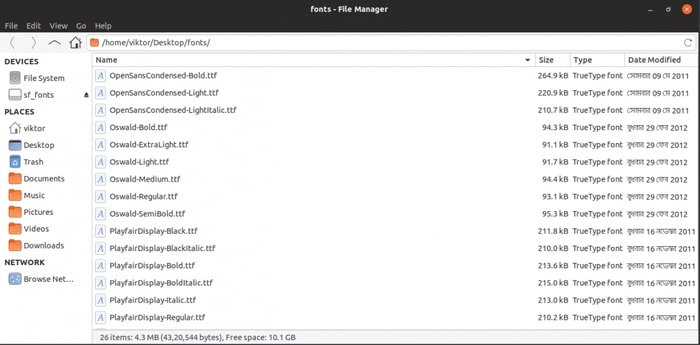 Now reboot and check out your new fonts in action. Start a text document in LibreOffice to find out whether the fonts are available to the whole system or not.
Method – 4: Install Linux Fonts Using Ubuntu Software Center
---
If you're on Ubuntu, it is fairly straightforward to install Linux fonts. Many fonts are packaged through the Software Center apps like Synaptic or apt-get. Simply search for fonts inside the software center and browse from hundreds of available Linux fonts.
You can download and install these fonts directly. However, make sure to enable the Universe and Multiverse repositories. Else you will miss many innovative and modern fonts.
After installing the Linux fonts in your system, you need to update the font cache to appear in all applications. Open up a new terminal session by pressing Ctrl + Alt + T and type sudo fc-cache -f -v. Provide your credentials in the dialogue and let the command do its job.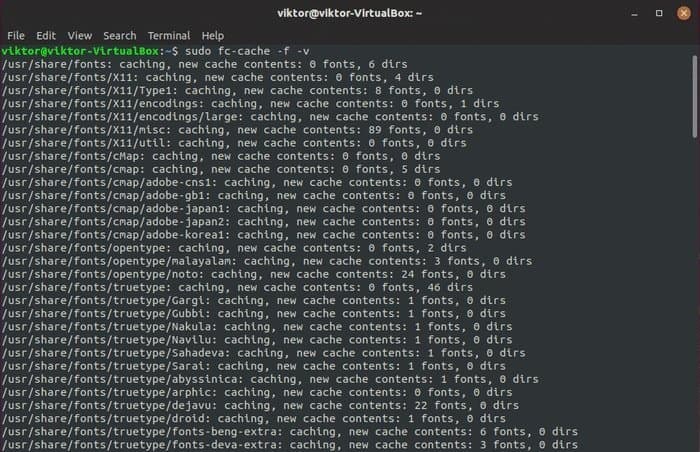 You can check if a font was installed correctly with the command fc-list grep "FontName"
Ending Thoughts
---
Being the most innovative computer platform in the world, Linux sports some of the best Font Viewers and Managers. These Linux font tools make it relatively simple to try on newer fonts each day and keep your desktop looking up to modern standards. Our editors have gone through quite a massive list of Ubuntu font managers to outline the best choices for you.
Fontmatrix and FontForge are the two most powerful options as per our short experience with them. We also highlighted the conventional ways to install third-party Linux fonts in Ubuntu and other similar distros. Stay tuned for more guides on everyday Linux software.