Nowadays, we are greatly dependent on online platforms for educational, working jobs, business, communication, and other purposes. Right? And the usage of portable documentary format files (Better known as PDF files) is increasing day by day. That is why it is very important to have the best quality pdf reader. But, all the pdf viewers are not all the same. And, features are also different from different applications. Which one will be perfect for you? The big question it is! Agree? Most of the Linux distributions also come with pdf viewers but, they have some limitations and are not high functioning, unfortunately. That is why we are here to address you with the best Linux PDF viewer.
Best Linux PDF Viewers
---
If you search online for Linux PDF Reader, you find a long list. But, it is not so easy to pick the best one when you don't have enough idea about them. In this purpose, I want to help you, and here is the list of some best Linux PDF viewers.
1. Okular
---
There are some best quality Linux PDF Viewers that allow more than viewing pdf files only. And the Okulars position's on the superior level of them.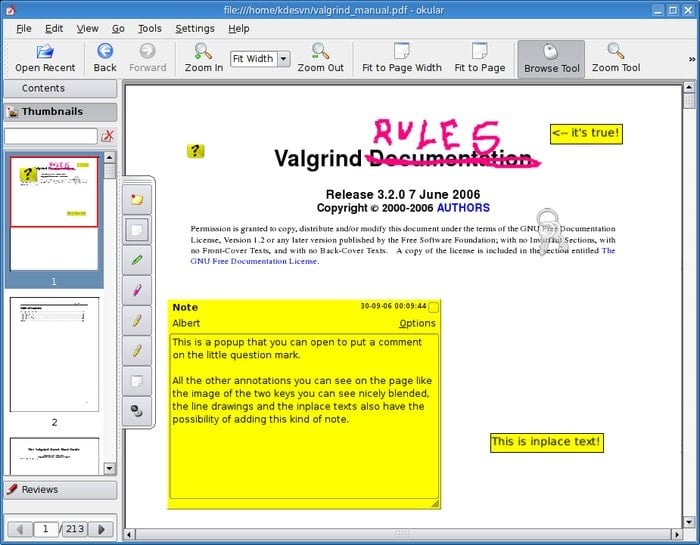 The software allows you to underlines, markup, highlighting your pdf files. And every user always feels the necessity of these tasks. On the other hand, the tool never allows editing, converting which can break the security of the files.
So, it can be said that this software permits you to do various tasks but without breaking its purity. I think you don't expect more than this.
2. Adobe Reader
---
Almost all the users are familiar with the name "Adobe Reader." The pdf reader was not available for Linux OS before, but now it works on Linux as well as Mac OS. This software is very popular with those who used Windows before but new on Linux.
This software is widely used and popular in the Windows system. The software maker of Adobe Reader is trying to get the attraction of Linux users. For a reason, they make the software very useful. What types of tasks do you want to do with a pdf reader? It also allows doing all necessary tasks on your pdf files.
3. Evince
---
Evince is the default PDF viewer on the GNOME desktop environment. The specialty of this software, it is lightweight but can loads PDF files very quickly. It does not use so many spaces, but it runs smoothly.
This is the perfect Linux PDF viewer for your low-configured or old machine. That's the reason; it is considered the best lightweight pdf reader. It allows bookmarking of pages, copies, and zooming for a clear vision.
4. Qoppa PDF Studio
---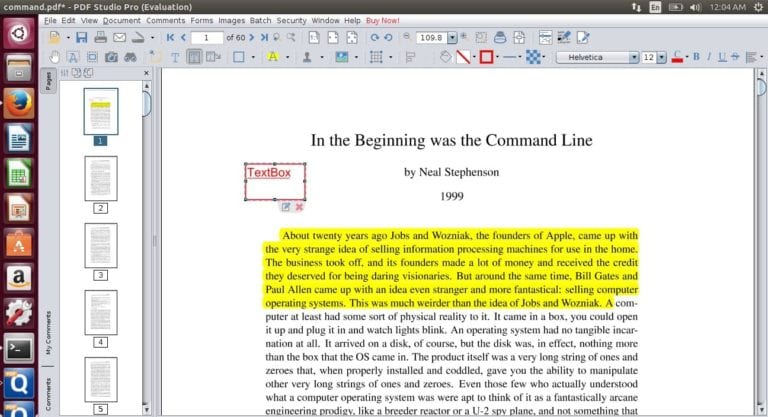 Sometimes we find some exclusive things which give us more than our expectations. PDF studio is such kind of that. It is nothing but the best quality Linux PDF viewer. What type of tasks do you want to do on pdf files? PDF Studio allows you to do everything. Attaching files, text editing, resizing images, regulation of file size, freehand annotations, add notes, etc., in. a word, you can do everything.
Do you need any extra features? Maybe not.
5. Foxit Reader
---
This Linux PDF viewer is small but fast secured. This application consumes minimum space, but it works smoothly and quickly. In this pdf reader, you find some special options such as comment tools, intuitive interface, verifying the signature, and so on. But, the file is still secure. Nobody expects more features than the Foxit Reader, I think. Having this application means you have a complete package of pdf applications.
6. MuPDF
---
This is a very lightweight PDF reader which can be used on both desktop and Android device. You may have a multimedia phone on the side of having a laptop or desktop, and you may need to open pdf files on your mobile.
In this condition, MuPDF can greatly help you. Using this software, you can create pdf files also. This lightweight pdf reader contains a lot of useful features that will be very adjuvant on PDF programs.
7. XPDF
---
XPDF is an age-long and open source Linux PDF viewer. It has both reputations, age-long and well functioning. Once a time, it was supported on Windows only, but now it is available for Linux system.
It provides some extra features excluding viewing pdf files such as text extractor, postscript converter, etc. But, it would be the wrong choice when you are dealing with high-graphics files. On the other hand, it is highly beneficial when you are not so much sensitive about graphics.
8. Qpdfview
---
This is the software that is used for dealing with multiple format files. The application supports DjVu, PS, and pdf files. This useful Linux PDF viewer has some additional features which are very handy and useful, such as fit and rotate function, full-screen support, text search, keyboard shortcuts, and so on. These features make the software easy to function. And functional quality is outstanding.
9. GNU GV
---
How many aged-long renowned Linux PDF viewers are found in the online platform? GNU GV is one of the best of them. This software is also used for postscript viewers. Its interface is old graphical, so it is not a good option for those who are worried about graphics. But, for the other user, it doesn't have any complaint against it.
10. Zathura
---
Zathura is a very popular Linux PDF viewer among top-ranked free pdf readers. This is best when you are going to load a lightweight document. It can also load a bulk file, obviously, but it becomes a little bit slow. But, when you are dealing with only light files, its functional quality is great.
It has some additional features which are very useful, such as search text, syntax support, easy customization, and mouse-free navigation. It also supports other format files such as DjVu, PostScript.
11. Atril Document Reader
---
Almost all the MATE desktop environment users are familiar with the Atril document reader. This reader is the pre-install app of the MATE desktop environment. It is lightweight and contains compact features but very useful.
It does not allow editing of the pdf files, but the other necessary tasks can be done easily with the application. It is also supported on most of the Linux distros. Just download and run.
12. ePDF Viewer
---
If you have an old desktop and laptop containing low configuration, then you should use light software like ePDF viewer. This lightweight software has some benefits as it does not use bulk space but works very smoothly. And, you need such type of application when you are an old computer user. Agree?
Both PDF and PostScript files support this Linux PDF viewer. It also allows text search, annotations, bookmark, and so on. You can easily install it on your machine from the Ubuntu software center.
13. Calibre
---
This is one of the best pdf readers for Linux users. This software can be compared with some costly applications. The software is highly popular and let's see the characteristic features. This pdf reader also comes with some exciting and unique features.
Some are notable such as search text, a large button, metadata support, minimal interface, etc. Most importantly, supported files can be achieved from non-supported files by using this software. Worry about cost? It is open source and free of cost.
14. Google Drive
---
Yes, Google Drive is one of the best pdf readers. The drive allows viewing all files shared on it. Not only pdf files, but it also offers to open many format files also. This drive is functional on all Linux distros. Though it doesn't provide a lot of features, it is quite functional.
If you don't have any experience with it, just use it for once and see how much beneficiary it is! It's free up to 15GB, and then you have to purchase if you need more space.
15. Master PDF Editor
---
This is proprietary software for viewing and editing PDF files. This software runs on Windows, Mac OS, and of course, on Linux System. When you need to edit pdf files, you just need software like Master PDF Editor.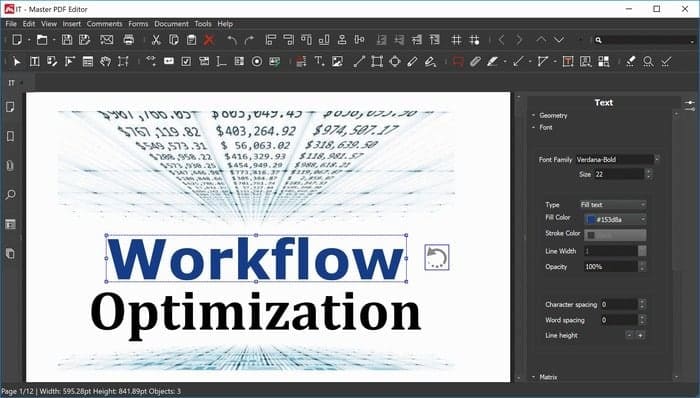 This is one of the best Linux PDF editors by which you can edit pdf files easily. Not only that, almost all necessary tasks can be done on pdf files by using this wonderful software.
Download Master PDF Editor for Linux
Final Verdict
---
If you want to have the best Linux PDF viewer, you don't have to go out of this list. Either you are a student or a worker, that is not the fact; everybody can use these tools. I just can say, if you use these pdf readers, you'll do all tasks easily, and you can save more time.
You are always welcome to drop a comment or your opinion on this platform. On the other hand, you can share your experience with other online platforms or social media after using these applications.