Google Drive is one of the best Cloud Storage options in the market. It offers sufficient storage for free to fulfill our primary requirements, including storing photos, Gmail, or various documents. The popularity of Google drive increasing day by day, and we can assume that cloud storage will take the throne from physical storage shortly. So it's always better to adapt ourselves to changing technology. Moreover, there is no possibility of losing our valuable files and documents if we store them on a cloud. Google Drive offers an official client for all the dominant OS except Linux until now. As a Linux user, you have lots of ways and alternatives for using Google Drive in your system. There are many Google Drive Linux Client software available out there that can do the work for you seamlessly.
Best Google Drive Linux Client Software
---
Here in this article, I will share a generic list of the top 15 best Google Drive Desktop Client for Linux. You may think that this list is quite long, but I want you to have as many options as possible to get the best one. So before selecting anyone from this list, first install and check all the features and tools and see whether it fulfills your requirements or not.
1. Insync
---
Insync is one of the famous and feature-rich Google Drive desktop clients for Linux. You can do almost anything that you need to do with Google Drive. It offers both a GUI and CLI interface that helps both new and advanced Linux users to perform the task smoothly.
With the help of this Google Drive Client, you can sync multiple accounts, get the desktop notification, sync shared files, and supports Symlink, junction, and alias, etc. Insync is not free. Instead, it comes with 15 days free trial basis and if you like it, pay $29 for lifetime usage.
Download Insync – 15 Days Free Trial
2. GoSync
---
GoSync is yet another best Google Drive desktop client for Linux. It's written in python programming language and offers an easy-to-use GUI. Like any other Google Drive client, it also lets you sync files and documents between local and remote storage. If you make any local or remote changes, it will automatically sync on both sides, and you can also pause or resume sync whenever you want.
3. overGrive
---
If you think Insync – Google Drive desktop client is costly, overGrive can be an excellent choice. You can enjoy all the features and tools that Insync can offer but just for a $4.99 one-time payment. overGrive supports all the major Linux desktop environments and distros.

Download overGrive – Free Trial
4. Grive2
---
Maybe you have heard the name of Grive, which was a Client for Google Drive sync for the desktop environment. Grive is now abandoned, but Grive2 is there for performing as Google Drive client for Linux, which is forked of Grive. It supports the new Drive REST API and partial sync.
5. Rclone
---
Rclone is a free and open source CLI-based cloud storage sync client for all the primary OS, including Windows, Linux, Mac OS, FreeBSD, etc. I can't just say it's a Google Drive Linux Client. Instead, it's a complete storage sync software that offers sync of files and documents to and from multiple online cloud storage including Google Drive, Amazon S3, OneDrive, Dropbox, Mega, Box, etc.
6. CloudCross
---
CloudCross is an open source and cross-platform Google Drive Client for Linux, Windows, and Mac OS. It provides tools and features for synchronizing files and documents between your local and various remote cloud storage. At this moment, it supports Google Drive, Dropbox, OneDrive, Mail.Ru clouds, and Yandex Disk.
7. Drive
---
Drive is a command-line tool to pull or push Google Drive files. It's written in the Go programming language and does not offer many features. It doesn't have background sync features and a bit difficult to use for a newbie.
8. DriveSync
---
DriveSync is also a command-line tool for synchronizing Google Drive files and documents on your local system. You can download remote files, upload new files, blacklist or whitelist files for sync, and many such things without any hassle. It can be used as the best replacement for an official Google Drive client for Windows or Mac OS. It's one of the best Google Drive Client for Linux available right now.
9. GNOME Online Accounts
---
One good news for Gnome Desktop users, it provides an inbuilt Google Drive Client for Linux. You need to add a Google account in Gnome online accounts section under the setting. Voila! You are done. Now you can add, sync, copy, delete, etc., from its file manager Nautilus. Though it's not a fully-featured Google Drive Desktop Client for Linux, you can still perform some essential tasks.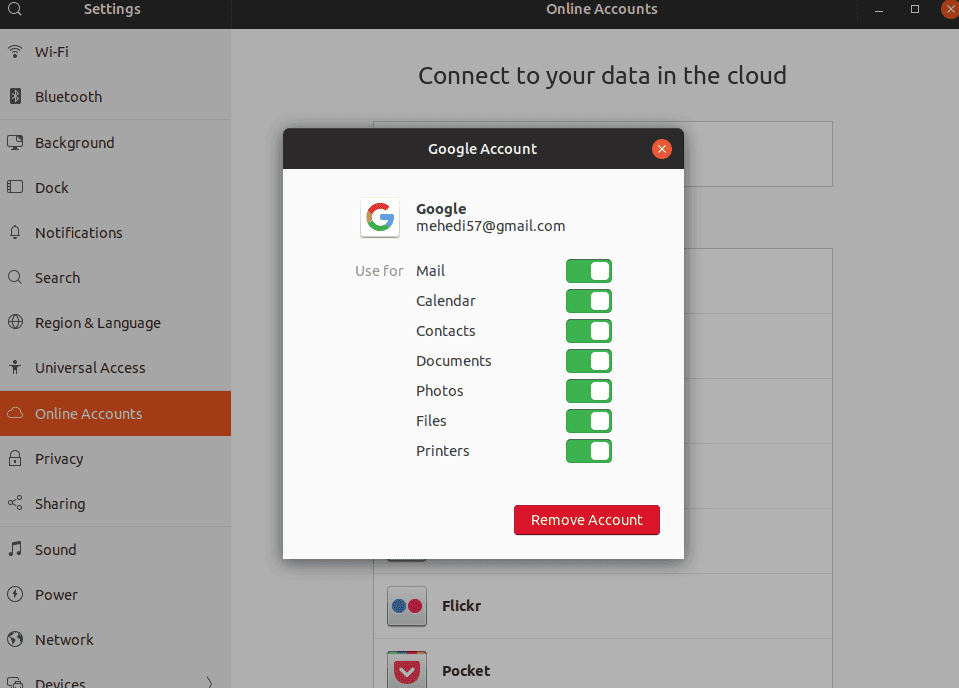 10. Gdrive – Google Drive Linux CLI Client
---
Gdrive is one of the famous Google Drive CLI clients who frequently interact with Google drive for incremental and encrypted backup of Linux files.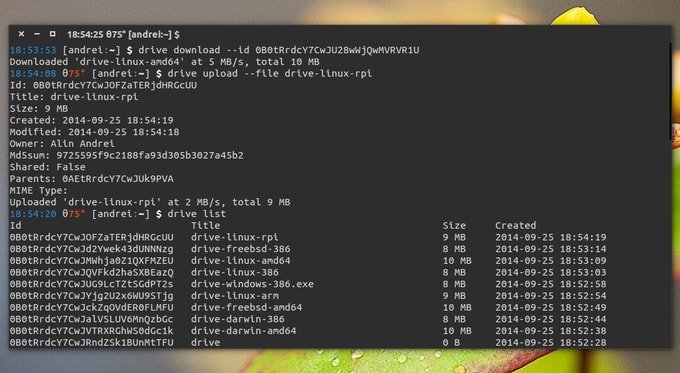 11. Tuxdrive – A Command-Line Google Drive Client For Linux
---
Using Terminal is fun and inquisitive on the Linux system. There are lots of GUI-based Google Drive desktop client software available in the market, but console-based is very less. So here I am introducing Tuxdrive with you, which is a CLI-based Google Drive Client for Linux. Using this tool, you can get access to Google Drive files and documents, download or upload files, and manage all the things in Google Drive.
12. Google-drive-ocamlfuse
---
This Google Drive Client comes with essential features of reading and writes access to ordinary files and folders, read-only access to Google Docs, access to trash directory, etc. It's a CLI fuse-based filesystem backed by Google itself, which supports multiple accounts and lets you mount Google Drive on Linux seamlessly.
Install on Various Linux Distros
Final Thought
---
Though it's frustrating and disappointing, Google has not provided any official Google Drive Client for Ubuntu Linux or any other Linux distros. But we have plenty of options to use Google Drive via Linux client software.
Here I have discussed a few Google Drive client software for Linux, its strengths and weaknesses. As Best Google Drive Client for Linux depends on users' requirements, it's complicated to say which one is the best. In this article, you have got both GUI and CLI-based Google Drive Desktop Clients for Linux.
Which one did you like most from this list? Did I miss any other great Google Drive Client? Let me know your experience and suggestion in the comment below. And don't forget to share this helpful tutorial on your social media. Thanks for the time you spent here.