Portable Document Format – PDF is a popular and widely used file system for emailing, sharing, and printing documents. You may need to install a suitable Linux pdf editor for basic editing because Linux does not have a default pdf editor. There are lots of options available when the question comes to editing pdf in Linux, but the choice is very limited if you compare it with adobe acrobat for windows and macOS. That's why here I have reviewed both free open source and paid Linux pdf editor for fulfilling the requirement of advanced and basic options.
Best Linux PDF Editors
---
While writing the article, I have tested all the software on Ubuntu Linux, and as this site is basically Ubuntu, so here I will be sharing the install method for Ubuntu. But all those Linux pdf editors are similarly applicable for other Linux derivatives.
1. Inkscape
---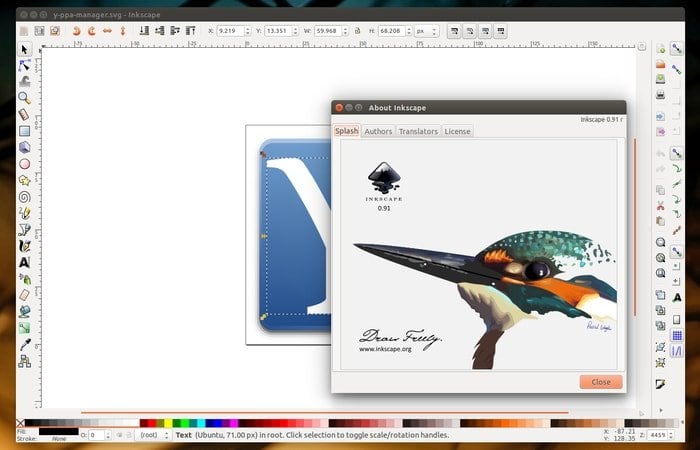 Inkscape is a professional vector graphics editor for Windows, Mac OS X, and Linux. It's free and open source and used by graphic design professionals all over the world. If you are a graphics designer and need to edit any pdf documents, just don't go anywhere. Inkscape can also do the task of pdf editing. It can import the pdf files and let you edit that accurately.
Method 1: Install Inkscape on Ubuntu via PPA
sudo add-apt-repository ppa:inkscape.dev/stable
sudo apt update
sudo apt install inkscape
Uninstall Inkscape From Ubuntu
sudo apt-get install inkscape
Method 2: Inkscape Snap Package
snap install inkscape
2. LibreOffice Draw
---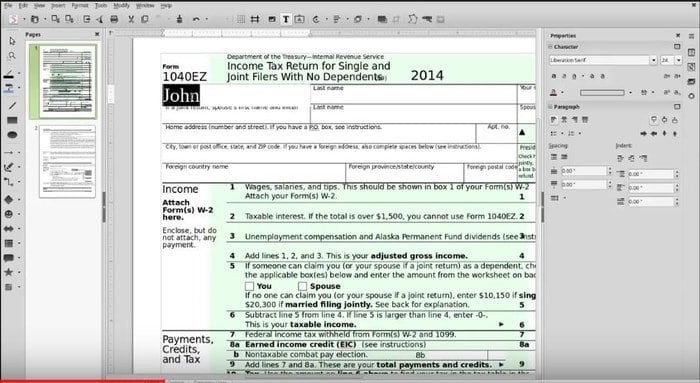 LibreOffice Draw is one of the best free and open source pdf editors for Linux. This Ubuntu pdf editor provides a set of tools for editing pdf documents in a limited way. It will fulfill your limited and basic documents editing, mostly text editing.
3. Qoppa PDF Studio
---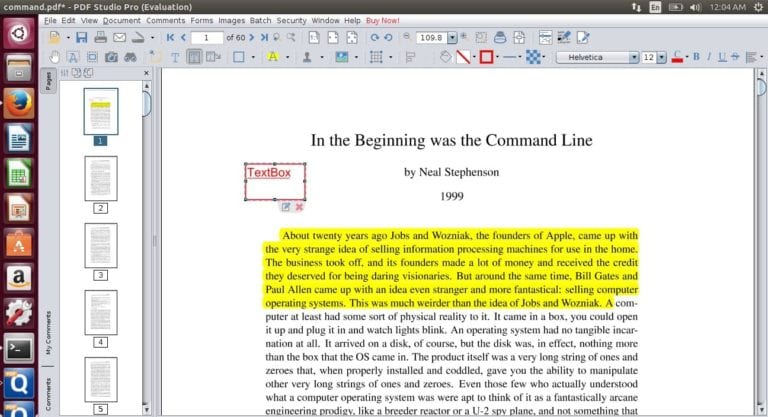 Qoppa PDF Studio is a commercial Linux pdf editor. Still, it has all the necessary tools and features that can easily fulfill the requirement of editing, viewing, or creating pdf documents. There are many features available, but worth mentioning are editing text contents and properties, shape and path objects, moving and resizing images, adding sticky notes, text box, interactive form designer, apply headers, footers, watermarks, etc.
4. Okular
---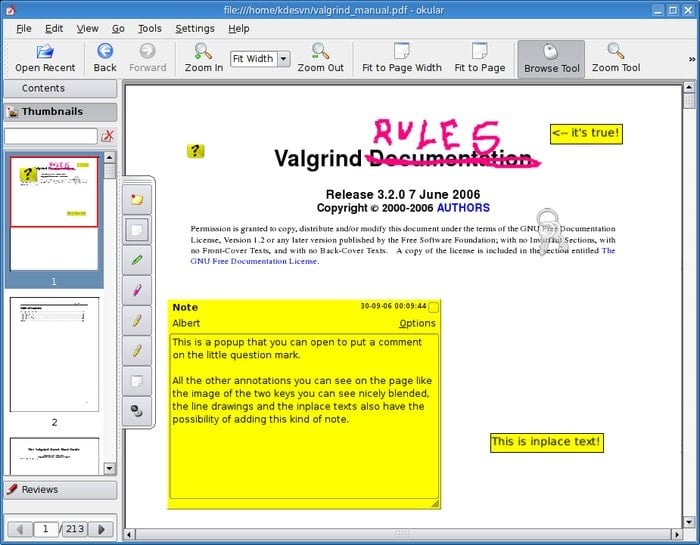 Okular is a completely free and open source pdf editor for the KDE system. It also comes with basic pdf editing features. Most mentionable features are inline notes, freehand line drawing, stamp, pop-ups notes, highlighter, etc.
5. Master PDF Editor
---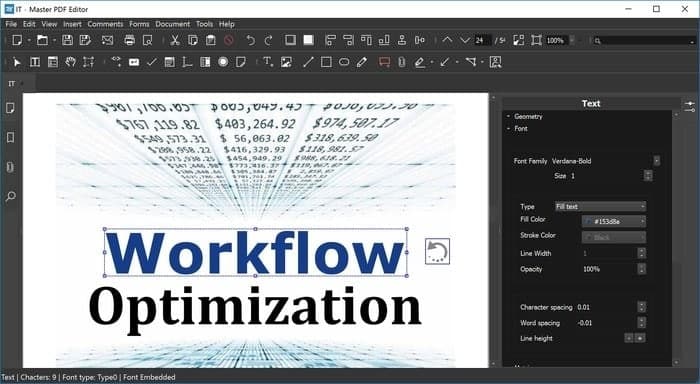 Master pdf editor is the most popular and featured rich commercial Linux pdf editor available in the market. You can do almost everything, ranging from creating and editing a pdf file to signature handling and editing scanned documents. It provides a wide range of features, including add or edit text, images, notes into the pdf documents, offers powerful annotation tools, the ability to edit pdf forms, etc.
Though Master PDF Editor is a proprietary application, you can still do some basic tasks using the free version. But digital signatures, encryption, and watermarks are not available in the free version.
Download Master PDF Editor Free Version
6. PDF Chain
---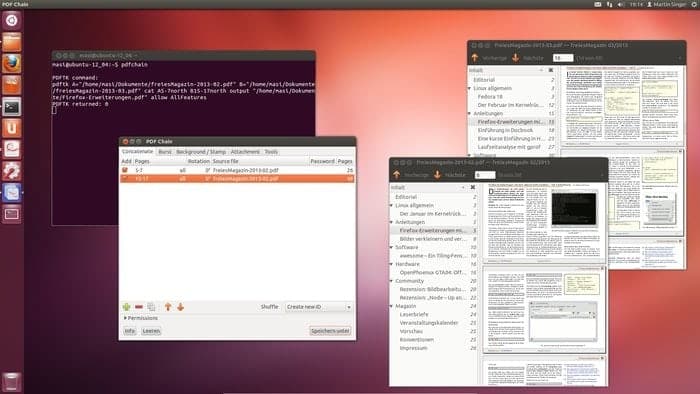 PDF Chain is a simple but powerful application that is a GUI for the PDF Toolkit (PDFtk). It can add backgrounds, stamps, or edit the PDF info, dump the form data in a PDF, etc.
7. Scribus
---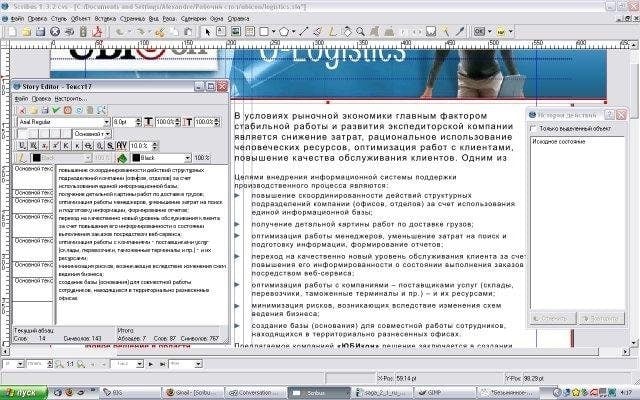 Though Scribus is publishing software for Windows, Linux, and macOS, you can still edit pdf files with it. Scribus supports basic pdf editing like create PDF files, lists, add controls, and other form features. With the help of Scribus, you can make animated and interactive pdf documents.
Method 1: Install Scribus on Ubuntu via PPA
sudo add-apt-repository ppa:scribus/ppa
sudo apt update
sudo apt install scribus
Method 2: Download Stable Branch
Download from Official site  Download from SourceForge
8. PDF-Shuffler
---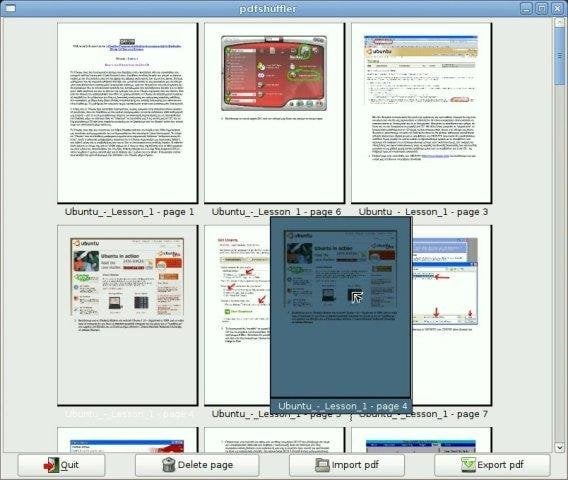 PDF-shuffler is a simple and easy-to-use Linux pdf editor available out there. It's a python-gtk software that helps you split or merge pdf documents and rotate, crop, and rearrange the pages using an intuitive and interactive GUI.
9. GIMP
---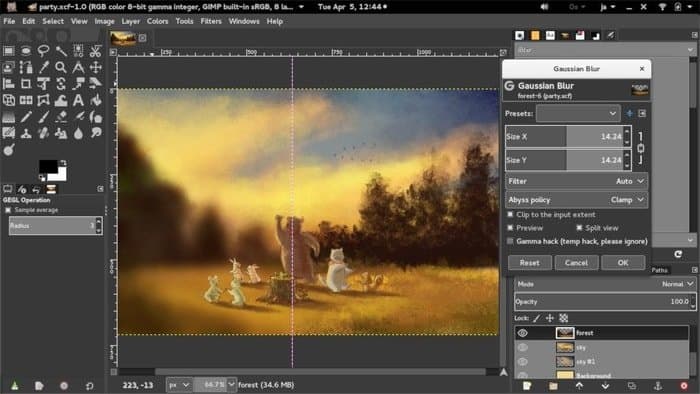 Gimp is a very powerful image editor and the best alternative to Adobe Photoshop for Linux systems. It comes with lots of interactive tools that help the user to make amazing image layers. Moreover, you can also import a pdf file and edit it as a layer. However, you can only do the basic pdf editing. Here I am going to share with you how to install GIMP on Ubuntu:
Method 1: Install Gimp on Ubuntu via CLI
sudo apt-get install gimp
Method 2: Download from the Official site
10. PDF Escape
---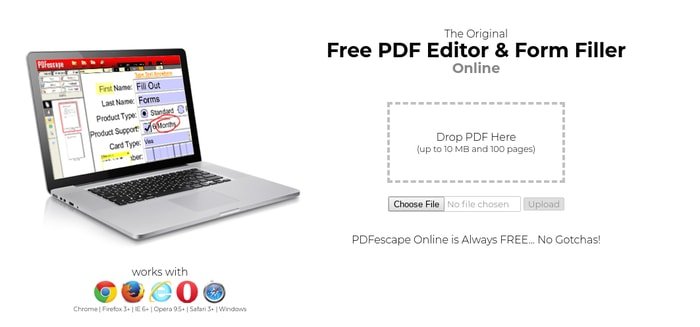 PDF Escape is not a full-fledged software but a browser-based pdf editing tool. So you don't need to download or install anything; just drag your pdf files "Drop Here" section, upload, and you can create PDF files, add annotation, and set the password to protect a PDF file.
11. Evince
---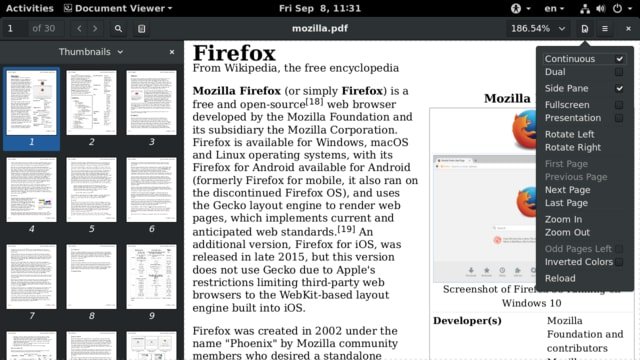 Evince is more like a Linux pdf viewer than a full-fledged pdf editor. It comes with inbuilt on Gnome desktop environment and supports PDF, tiff, XPS, Postscript, and many more. It has many features, including document indexing and printing, search tools, encrypted document viewing, and many more.
Method 1: Install on Ubuntu via CLI
sudo apt-get install evince
Method 2: Download from the Official site
12. Foxit Reader
---
Foxit Reader is a multiplatform pdf viewer and editing tool for all the major OS, including Linux, Windows, and macOS. It's a fast, secure, and easy-to-use Linux pdf editor which offers some basic pdf editing tools.
13. Apache OpenOffice Draw
---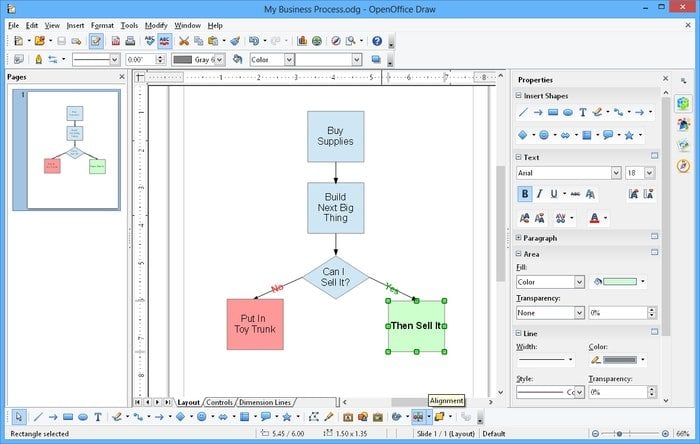 Apache OpenOffice Draw is one of the best open source pdf editors like LibreOffice Draw. You can use it for both Linux pdf editor and viewer. It supports all the major OS platforms like Windows, Mac, and Linux. You can insert images, and text forms fields, and more using this open-source PDF editor.
14. PDFedit
---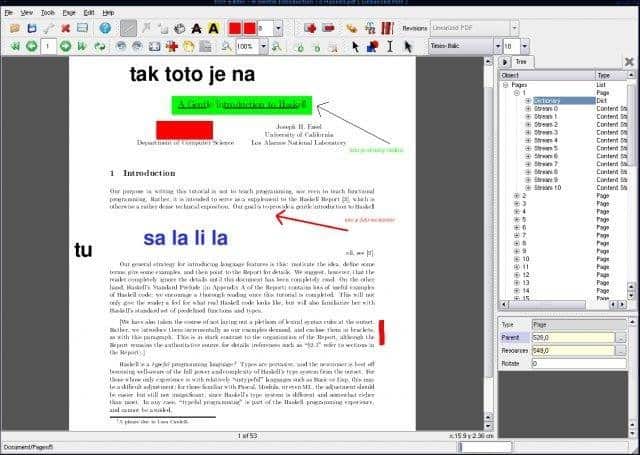 PDFedit is a free and open-source pdf editor and viewer for Linux. This Linux pdf editor is based on QT3.x that offers a GUI. You can add text, images into pdf files and also can delete any particular section of information.
Download PDFedit from SourceForge
15. PDFsam–PDF Split and Merge
---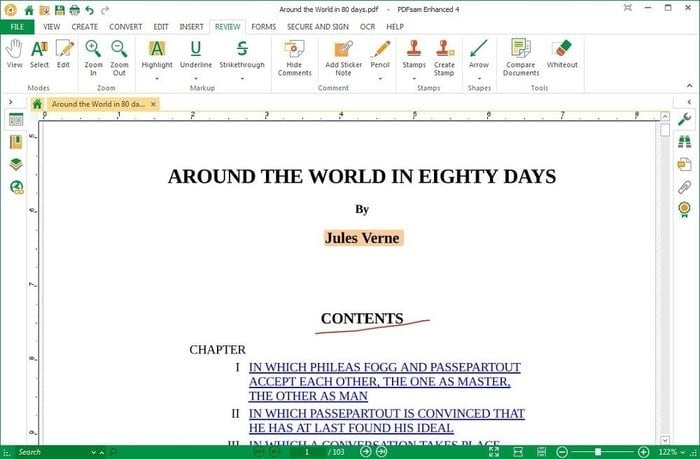 PDFsam is also a free and open-source pdf editor for Windows, Mac, Linux, and any other operating system that supports Java. It provides some basic tools for editing pdf documents like PDF split, merges, mixes, extract pages, and rotates PDF files.
There are lots of Linux pdf editors available in the market, including free and paid versions. If you just want basic editing features, you can use one of the free and open-source pdf editors or be an advanced user; just grab a commercial version that offers rich editing capabilities.
Did we miss any important and amazing Linux PDF editors in this list? Please feel free to suggest any open source pdf editor that you know, and we will enlist that in the content soon.
Note: For clarification, these applications are not listed in any specific order, and the features mentioned here are not all-inclusive. The features mentioned are compiled either from their respective official websites or from my personal experience using them.