Portable Document Format – PDF is a popular and widely used file system for emailing, sharing, and printing documents. You may need to install a suitable Linux pdf editor for basic editing because Linux does not have a default pdf editor. There are many options available when the question comes to editing pdf in Linux, but the choice is very limited if you compare it with adobe acrobat for Windows and macOS. That's why here I have reviewed both free, open source, and paid Linux pdf editors for fulfilling the requirement of advanced and basic options.
Best Linux PDF Editors
---
While writing the article, I tested a lot of software on Ubuntu Linux, for editing PDF files. It is true that some of the applications disappointed me with fewer editing functions and a complicated user interface. Still, I have some gems as well. The list of the best Linux PDF editors includes both free and paid apps. So, I will suggest you check out the small details of each app to have a better idea about them.
1. Inkscape
---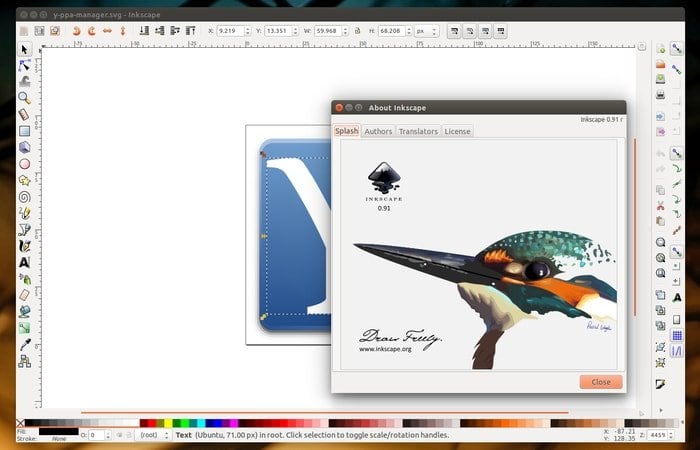 Inkscape is a professional vector graphics editor for Linux and other operating systems. It's a free and open source PDF editor widely popular worldwide for its best functions. Generally, it is used by graphic design professionals, architects, and people with similar professions.
If you are a graphics designer and need to edit any pdf documents, just don't go anywhere. Inkscape can also do the task of pdf editing. It can import the pdf files and let you edit that accurately.
So, Inspace is not like an average PDF editor and I will suggest you if your work is associated with graphics or any kind of design. Aside from editing PDF files, you can also make hand-drawn pictures and designs with this tool.
It is indeed compatible with board files and comes with bezier and spiro curves. I am sure that, after fulfilling all your PDF management needs, Inspace will offer your many essential features.
Inkscape Official Flathub Snapcraft
2. LibreOffice
---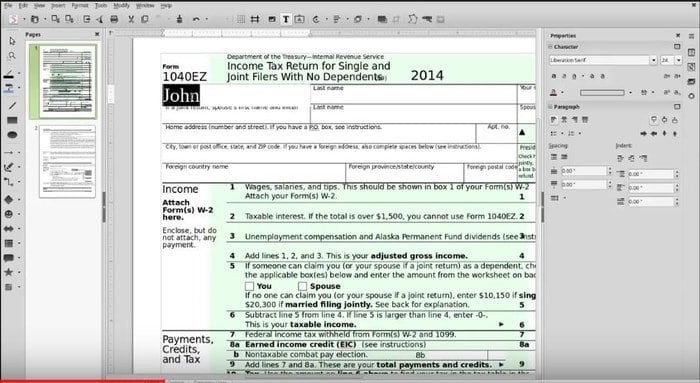 LibreOffice is one of the best free and open source pdf editors for Linux. This pdf editor provides a set of tools for editing pdf documents in a limited way. It will fulfill your limited and basic document editing, mostly text editing. Besides PDF, this application also lets you edit spreadsheets, slideshows, databases, diagrams, and drawings too. You can collaborate with your colleagues on one file and let them edit the files too. 
LibreOffice Official Flathub Snapcraft
3. Xournal++
---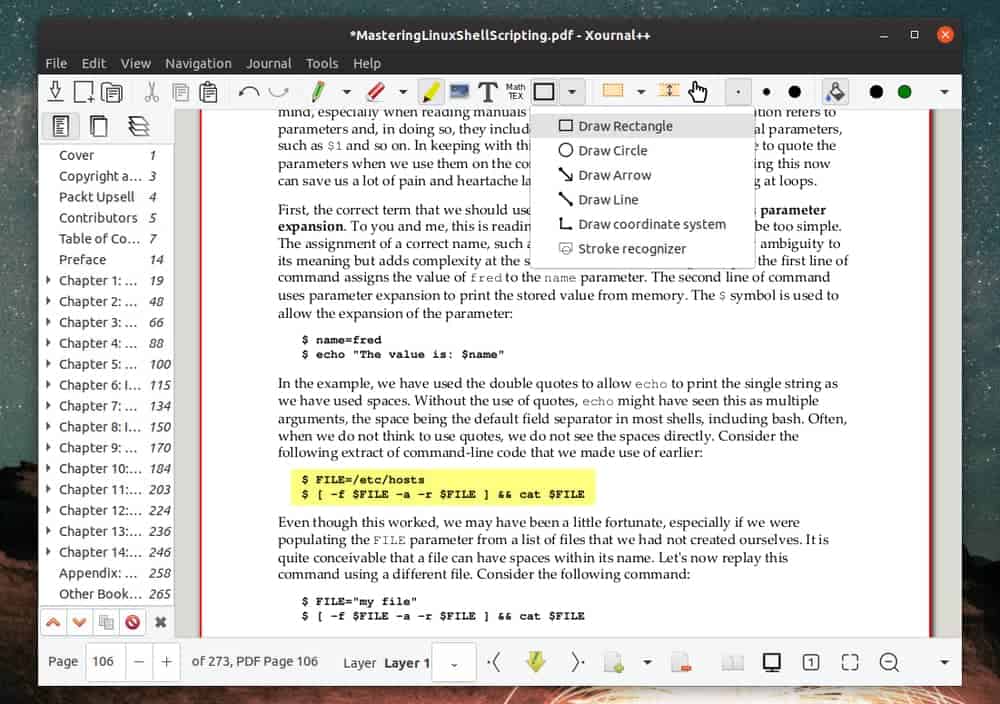 In general, Xournal++ is a handwriting note-taking application specially designed for Linux users. But it works perfectly to view and edit PDF files. It supports scientific equations and formulas to make scientific journals or content.
Also, you can use almost all basic PDF editing tools like highlighting, adding text, making annotations, drawing figures, and so on. Xournal++ also lets you use vertical spaces between multiple layers and annotations.
Well, if you want to try an all-in-one type PDf manage, I will recommend Xournal for sure. You can create PDf files, arrange them, bookmark pages, and so on. But the best part is its hand-written note-taking system.
While taking notes, you can mark them, color areas, and draw anything you like. However, Xournal has almost all sorts of PDF and other file editing tools and so, you can definitely give it a try.
Xournal++ Official Flathub Snapcraft 
4. Qoppa PDF Studio
---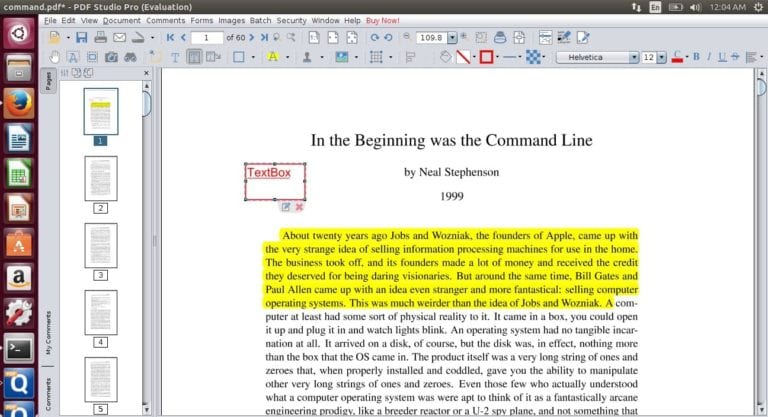 Qoppa PDF Studio is a commercial Linux/Ubuntu pdf editor. Still, it has all the necessary tools and features that can easily fulfill the requirement of editing, viewing, or creating pdf documents.
There are many features available, but worth mentioning are editing text contents and properties, shape and path objects, moving and resizing images, adding sticky notes, text box, interactive form designer, applying headers, footers, watermarks, etc.
5. Okular
---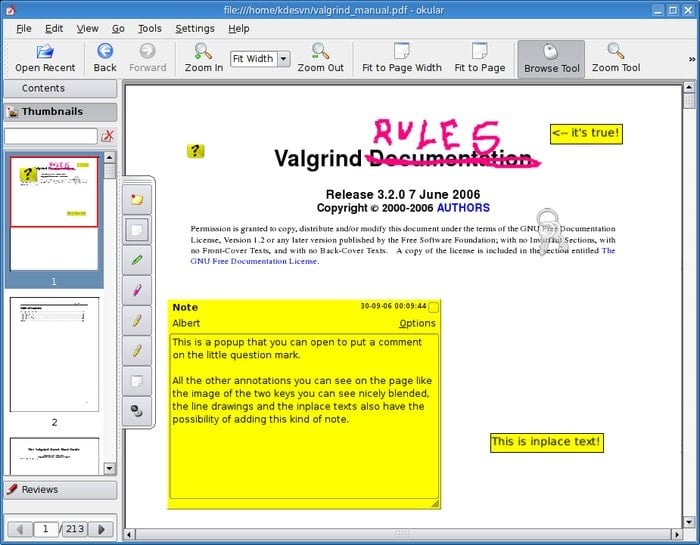 Okular is a completely free and open source pdf editor for the KDE system. It also comes with basic pdf editing features, and it's a cross-platform supported PDF editor too. In this application, you will find are inline notes, freehand line drawings, stamps, pop-ups notes, highlighter, etc.
Also, it lets you use the Annotation mode that you can use to make annotations in the text. Additionally, you can verify the digital signature in the file using this application too.
There are three different text selecting options available here. Basic text selection, area-based text selection, and table text selection will definitely make things easier for you. Additionally, the interface is quite simple and anyone can use it comfortably.
However, about its quality, you don't have to think much as it already received the Blue Angel ecolabel award for being extra resource and energy-efficient.
Okular Official Flathub Snapcraft  
6. PDF Mix Tool
---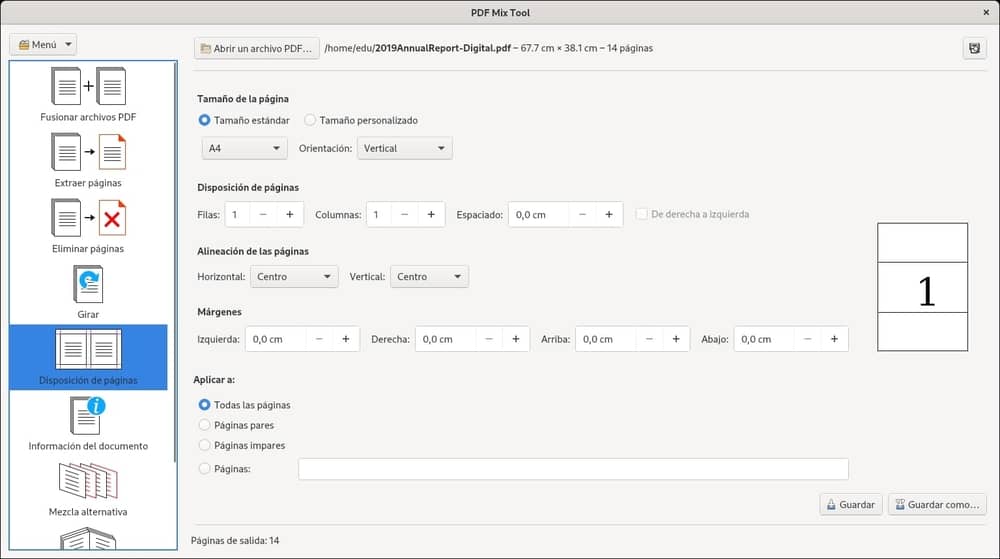 You can also get all the features of a high-end PDF editor with PDF Mix Tool. Indeed, it is a dedicated PDF viewer and editor. With this tool, you can easily annotate, highlight, add images, change text, and handle other changes to your PDF files very easily. You can also modify the files by adding, merging, and extracting pages from the files as well. So, what do you think about this simple and lightweight PDF editor?
PDF Mix Tool Official Flathub Snapcraft
7. Master PDF Editor
---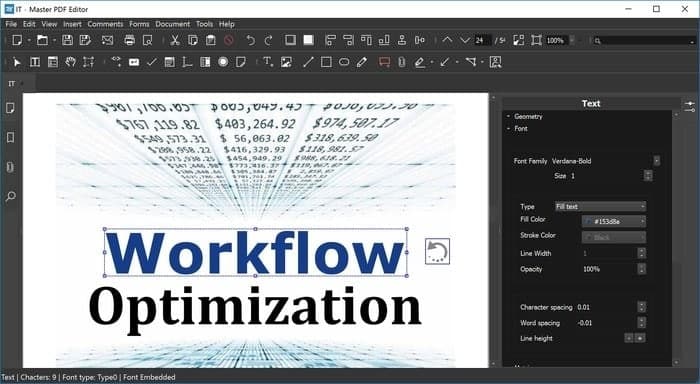 Master pdf editor is the most popular and featured rich commercial Linux pdf editor available. You can do almost everything, from creating and editing a pdf file to signature handling and editing scanned documents.
It provides a wide range of features, including adding or editing text, images, and notes into the pdf documents, offers powerful annotation tools, the ability to edit PDF forms, etc.
Though Master PDF Editor is a proprietary application, you can still do some basic tasks using the free version. But digital signatures, encryption, and watermarks are not available in the free version.
Master PDF Editor Official Flathub 
8. PDF Chain
---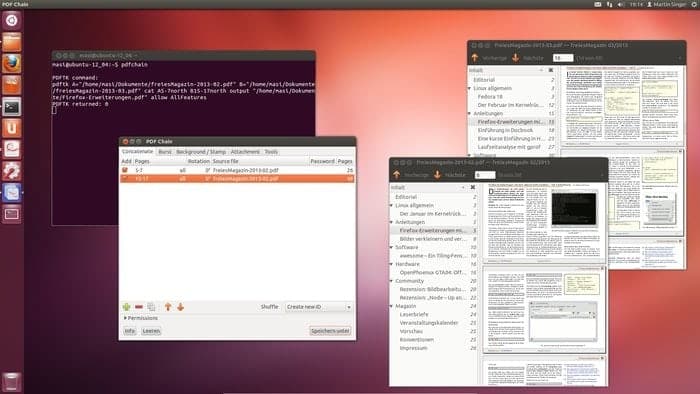 PDF Chain is a simple but powerful application GUI for the PDF Toolkit. Basically, it is recommended for Unix-like systems. However, this lightweight PDF editing tool can add backgrounds and stamps, edit the PDF info, dump the form data in a PDF, etc.
Also, you can either choose several pages to work with or combine page ranges for a file. But the best part of this is its security. This app lets you add an input password for each file.
This wonderful PDF editor lets you attach different forms and documents with PDF files. You can also choose contiguous page ranges and pic odd or just the even number pages with it.
Indeed, you can burst a large PDF document into single pages if you need. As we see, this pro-level PDF editor has so many unique features to offer. I am sure you may not find all of them together in one place.
9. PDFArranger
---
We have another minimalist and open source option. PDFArranger initially comes with a set of PDF file customizing functions that will make you love it from the very first second of your use.
However, you can split or delete pages, crop or rotate pages, drag and drop text to rearrange a file, add or remove images, highlight texts, and so on. Also, this cross-platform support PDF editor is very lightweight and has a soothing interface.
10. Scribus
---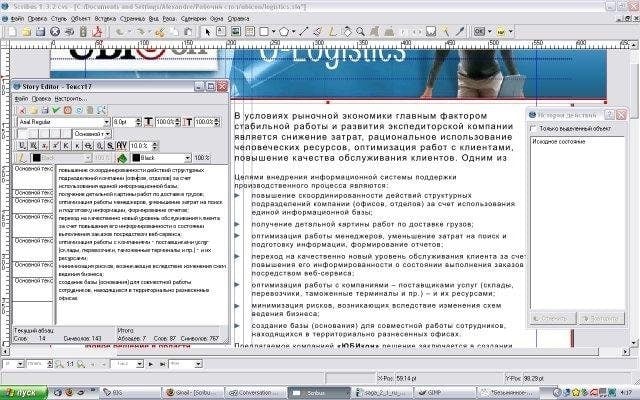 Basically, Scribus is publishing software for Linux and other operating systems. Still, you can edit pdf files with it smoothly. Scribus supports almost all basic pdf editing functions like creating PDF files, listing files, adding controls, creating annotations, highlighting texts, and other form features.
With the help of Scribus, you can make animated and interactive pdf documents. At the same time, you can enjoy the major features of Scribus as a publishing software.
As a DTP software, Scribus was first released in 2003, and still today, it is getting regular updates. However, I won't particularly suggest this application to those who are looking for a PDF editor for daily use.
Instead, you will use it only if you are anyhow associated with publishing. Scribus will provide you with all sorts of PDF editing tools alongside desktop publishing facilities.
11. PDF-Shuffler
---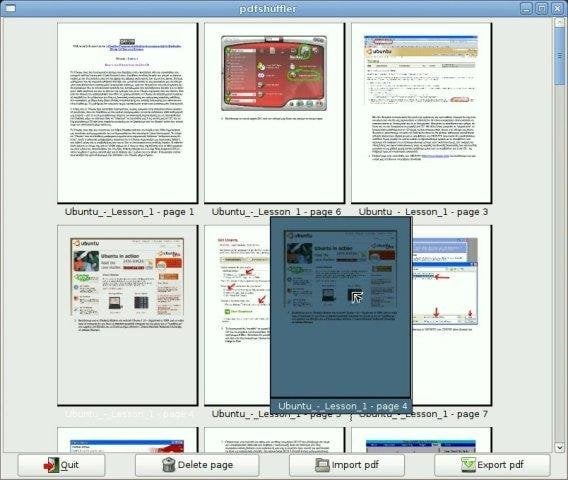 PDF-shuffler is a simple and easy-to-use Linux pdf editor available out there. It's a python-gtk software, and it will let you split pdf documents and merge several files into a single one easily.
Additionally, you can rotate, crop, and rearrange the pages using an interactive GUI. Besides, this lightweight app is updated regularly and compatible with almost all operating systems. Also, it comes with a simple interface and an easy installation system.
12. PDF Slicer
---
We will recommend PDF Slice if you are looking for the easiest way to edit PDF files with advanced editing features. It is initially free to use and lets you extract, split, merge, rotate, and add pages in a PDF file easily.
You can also add annotations and highlight texts using this application. It is easy to install this app directly using the Flatpak package. So, you should give it a try if you haven't still selected one yet.
13. GIMP
---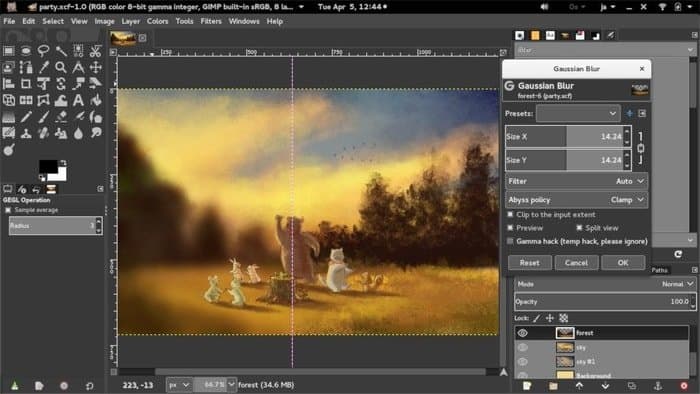 Generally, Gimp is a powerful image editor and the best alternative to Adobe Photoshop for Linux. But you can also import a pdf file and edit it as you like with this lightweight application.
However, you can only do the basic pdf editing, and no advanced PDF editing features are available here. But for the general use, it offers more than enough.  You can easily install GIMP on Ubuntu and other distros to enjoy its multiple features.
The best part of GIMP is its advanced tools for high-quality image manipulation. I am not sure if any other Linux PDF editor offers this feature like this one. However, it also offers tons of tools for graphics designing and programming Algorithms.
So, don't misunderstand it with your regular PDF editors. Instead, take it as an advanced multipurpose software with an intuitive PDF editing tool.
GIMP Official Flathub Snapcraft   
14. PDFtk
---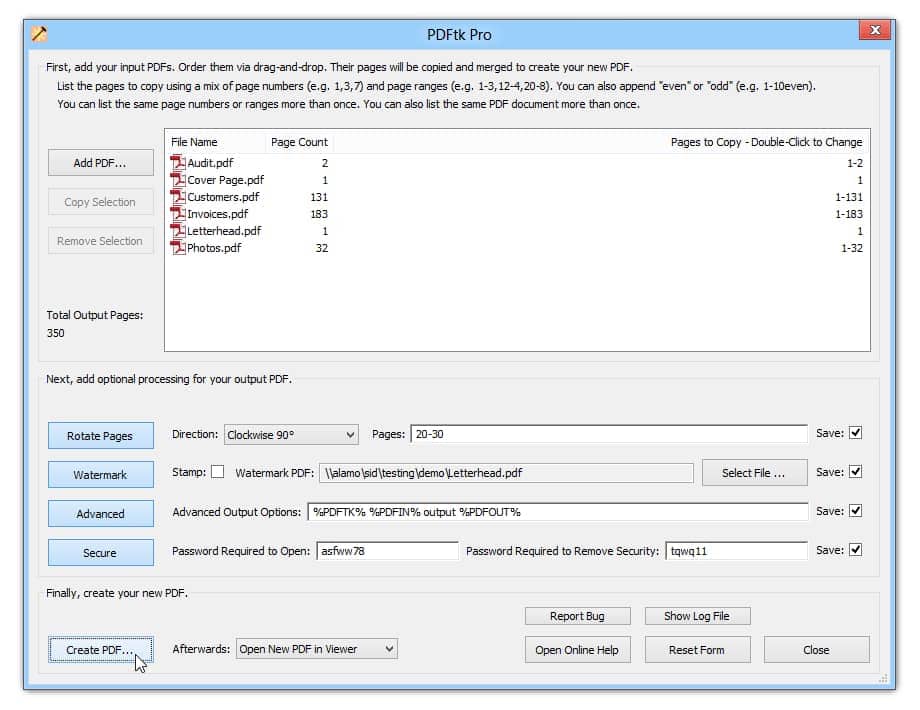 The full meaning of PDFtk is simply PDF Tool Kit, and it's an easy command-line tool for editing PDF files. You can easily use it for client-side scripting and server-side processing of your essential PDF files.
This application lets you merge, delete, crop, and add pages. Also, you can highlight texts, add annotations, delete, and ass texts. It offers both free and paid versions as well. And the pro version will offer a bucket full of premium features for advanced users.
15. PDFsam–PDF Split and Merge
---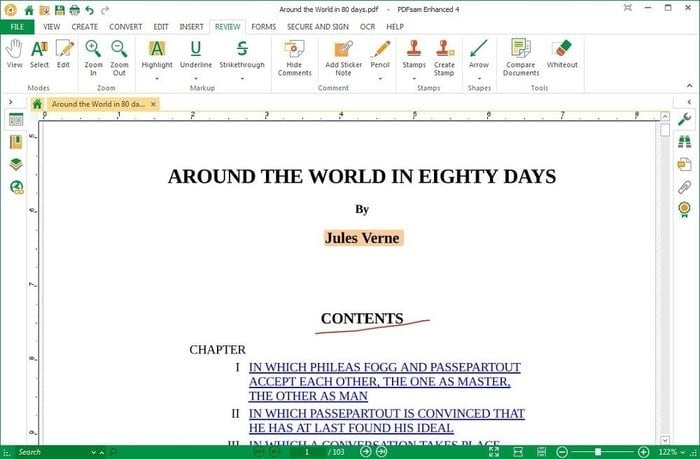 PDFsam is also a free and open-source pdf editor for Windows, Mac, Linux, and any other operating system that supports Java. However, PDFsam provides almost all the essential tools for editing pdf documents like PDF split, merges, mixes, extract pages, and rotates PDF files.
Initially, PDFsam comes in 3 different versions: Basic, Enhanced, and Visual. The basic version is free of charge and for the rest two versions, you have to pay. It lets you make quick tables of contents and add texts to them.
Also, you can bookmark your essential pages and get them in a few seconds from the bookmark folder. This Ubuntu PDF editor also supports AcroForms and lets you discard them from the PDF files if you need them.
16. Evince
---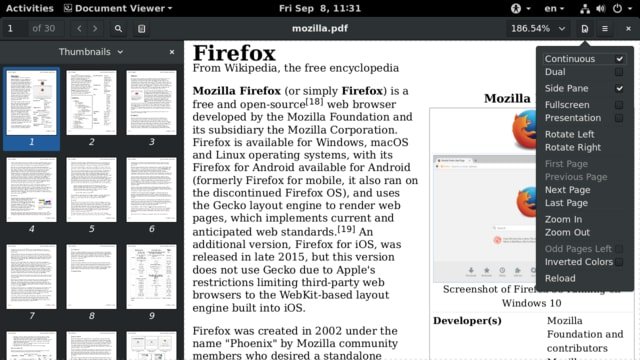 Evince is basically a Linux pdf viewer application, but it can work more like a full-fledged pdf editor. It comes with an inbuilt Gnome desktop environment and supports PDF, tiff, XPS, Postscript, etc.
It has many features, including document indexing and printing, search tools, encrypted document viewing, etc. Also, you can add and remove annotations and images from the files as well. Additionally, it comes with a minimalist interface, and anyone can use it easily.
Evince Official Flathub Snapcraft
17. Foxit Reader
---
Foxit Reader is a multiplatform pdf viewer and editing tool for all the major OS, including Linux, Windows, and macOS. It's a fast, secure, and easy-to-use pdf editor which offers some basic pdf editing tools.
Also, Foxit lets you scan and print PDF files directly. Additionally, splitting and merging PDF documents is fun here as well. I can bet you will love it from the very beginning of using it.
With this useful PDF editor, you can collaborate live and share it with others. Additionally, it lets you share the PDF content directly by exporting them to popular formats like HTML, RTF, Word, PowerPoint, Excel, etc. You can also create PDF forms and docs if essential. Also, creating PRC 3D PDF and 3D PDF forms is easy here as well.
18. Apache OpenOffice Draw
---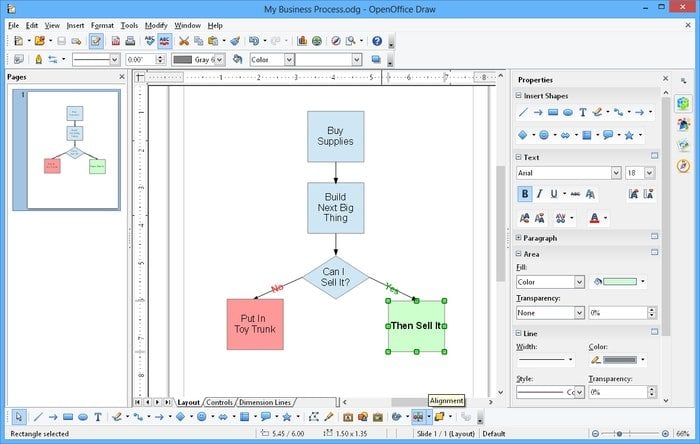 Apache OpenOffice Draw is one of the best open source pdf editors you can rely on for basic usage. It is a very popular alternative to LibreOffice. You can use it for adding margins, highlighting texts, adding annotations, and so on.
It supports all the major OS platforms like Windows, Mac, and Linux. This open-source PDF editor can insert images, text form fields, and more.
You can add text and images to the files while editing using this tool. Additionally, it is very easy to import graphics on the files from most common formats like JPEG, PNG, BMP, GIF, and TIFF.
Besides, it lets you draw and display linear dimensions among the lines of the texts. Also, you can make short work of flowcharts, network diagrams, organization charts, etc using smart connectors available in this tool. So, why not give it a try to enjoy its minimalist interface?
Apache OpenOffice Draw Official Snapcraft  
19. PDFedit
---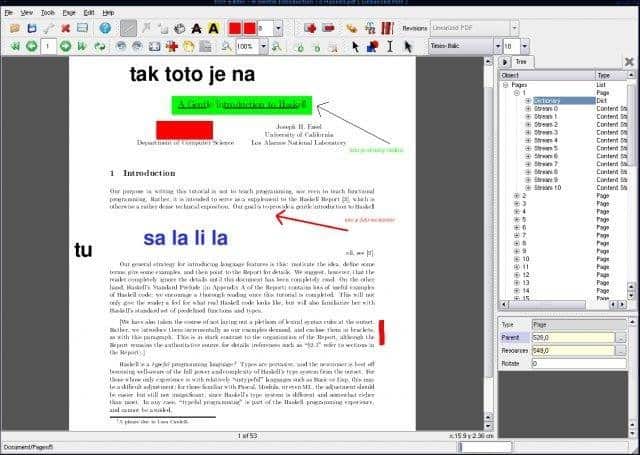 PDFedit is a free and open-source pdf editor for Linux. This one is basically designed based on QT3.x, which offers a GUI. You can add text and images to pdf files and delete any particular section of information if you want. Also, you can select the pages and merge PDF files and bookmarks using this application.
All the marked pages will be saved in one folder so that you can find them easily in one place. Also. This Linux PDF editor lets you make interactive forms and extract pages from files too.
20. PDF Escape
---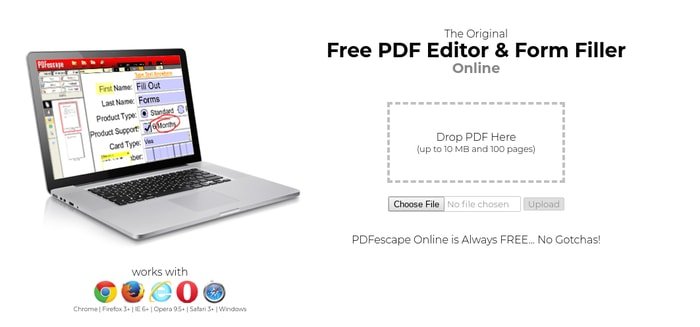 Let's check out the final recommendation for today. PDF Escape is not actually a full-fledged software but a browser-based Linux/Ubuntu PDF editor. So, you don't need to download or install anything; just drag your pdf files "Drop Here" section, and upload them.
You can create PDF files, add annotation, and set the password to protect a PDF file. For sure, using this tool is simple and easy. That's why you should bookmark this tool if you don't like to install any app for editing your necessary PDF files.
Finally, Insights
---
There are lots of Linux pdf editors available in the market, including free and paid versions. If you just want basic editing features, you can use one of the free tools available out there. But for the advanced functions, just grab one from the mentioned list.
All these applications are more or less capable of fulfilling your basic needs. These applications are not listed in any specific order, and the features mentioned here are not all-inclusive. So, don't forget to check the details of all the apps to get your appropriate 
However, did we miss any important Linux PDF editors in this list? Please feel free to suggest any open source pdf editor that you know, and we will enlist that in the content soon. So, we are taking our leave for today and will soon see you with something new. Thank you for staying with us.