It is annoying when you repeatedly have to do the same task on your computer. Some people face challenges doing routine work every time. Fortunately, with the advancement of technology, many softwares are available to help you complete your regular task with little or no effort. The name of the software is macro automation software, also known as macro recorder. This macro automation software can record your actions like a mouse click, keystroke, etc. Some advanced macro recorder softwares can also perform image search, system maintenance tasks. You can find many macro recorders for Windows and Mac with unique features; some of them are completely free to use. In this post, we have reviewed top-rated macro softwares which would be best for you.
Best Macro Recorders for Windows
---
This article has discussed a list of the best macro automation softwares with its unique features, which will minimize your workload and make your life easier. All macro softwares in this article is compatible with Windows OS. Some of them are free to use. So you get multiple options to choose the right macro recorder for you. Keep reading the article thoroughly and find the package for you.
1. Pulover's Macro Creator
---
If you are looking for a high-quality macro recorder to automate your repetitive tasks, Pulover's Macro Creator is the obvious choice for you. With Pulover's macro recording tool, you can record all activities of your computer mouse and keyboard.
Besides, this automation software also can search images, files on your computer and use strings, numbers, and variables. A fantastic announcement for you is that you can use this premium software for free.
Key Features:
Pulover's built-in recorder can create macros with loops and conditions with little effort.
You can set various Windows settings with this macro automation tool.
This software helps you find images or pixels on your screen. Additionally, you can make a screenshot and define action with this macro automation tool.
The AutoHotkey Script of this software lets you control applications like Excel, Word, and more.
You can apply if statement to control the flow of your macro setting conditions.
Moreover, you can regulate the macros' movement by using code.
Pricing: Free
2. MacroRecorder
---
If you are looking for easy-to-use macro automation software, MacroRecorder is the best for it. This macro software record and playback the mouse and keystroke and apply this to complete repetitive tasks with less effort. Moreover, you can adjust playback speed and customize macros.
However, you do not need to know about coding or Windows custom programming to perform these automated repetitive tasks. This macro recorder is compatible with both Windows and Mac OS.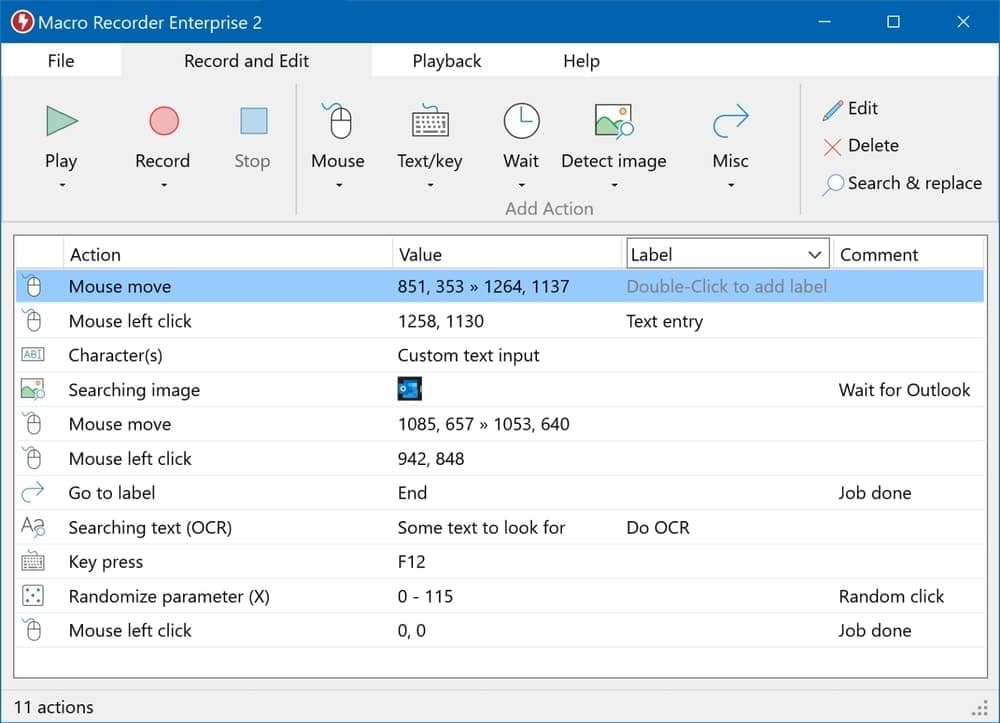 Key Features:
You can set a macro recorder on your computer to automate your regular task.
No more tedious tasks to perform every day. MacroRecorder composes every activity on your computer and applies this for the same task.
Besides, this software has a web macro recorder that helps automate your browser action.
Moreover, its mouse recorder and keyboard recorder can record all actions such as mouse movement, click, scroll wheel, text, and keyboard input.
Furthermore, this software can capture the window's size and position so that when it restores the playback it can accurately perform the recorded task.
In addition, you can share your macro recording with your team.
Pricing: MacroRecorder demo version allows you to use all features within a limited time. It has three types of packages that start at $49.95.
3. JitBit Macro Recorder
---
JitBit Macro Recorder is one of the best macro recorders for Windows that perform as a powerful keyboard and mouse tracer. This software not only captures the mouse and keyboard activities but also can insert commands, instructions, and declarations.
Besides, its user interface is incredibly easy to use so anyone who has never used this software can easily adapt to the software features within a couple of minutes. You can create your own macro without knowing any programming skills. So use this software to save your time more.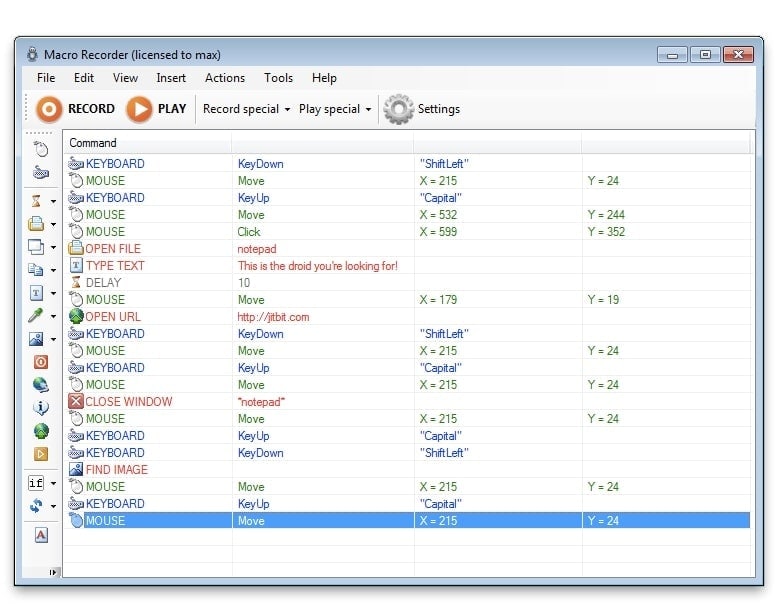 Key Features:
You can assign your mouse and keyboard as a hotkey to run any program.
Besides, you can convert your macro to an exe file which saves file spaces and optimizes performance.
This software can find images on your computer as well as can detect the image position so that it relocate the position when you run playback.
The macro recording is adjustable. So you can change the macro speed, loop, filter.
Moreover, you can schedule your macro recorder.
Furthermore, this software performs as a screen recorder.
Pricing: The basic package is $39 which only includes an advanced macro editor. If you want to compile macro to exe, macro scheduling, debugging features, and more, then you have to upgrade the JitBit Macro Recorder package.
4. AutoIt
---
AutoIt is a free script language application is designed to automate tasks in your Windows systems. This app is performed for macro recorder for all Windows OS versions. This software simulates keystrokes, mouse motions, running DOS command or Windows apps without annoying "runtime" required.
AutoIt is initially designed for automating basic Windows functions, but it can handle many complex expressions and user functions. The best part of this software is that you can use this software completely free.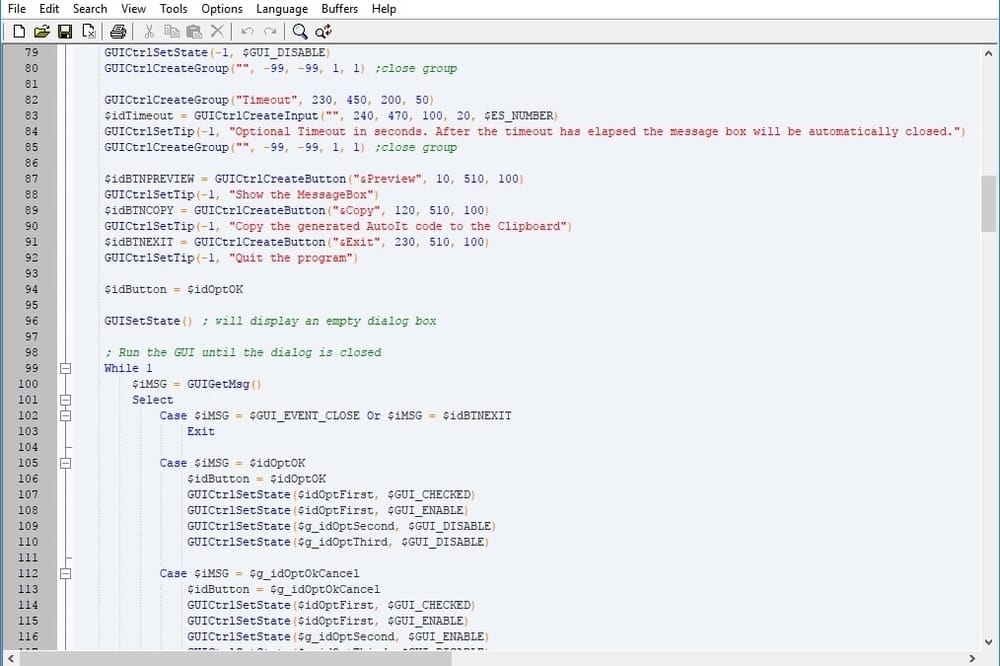 Key Features:
AutoIt offers a wide range of functions including string, clipboard functions, modify registry entries.
This is a lightweight app so it does not require massive run times to run the AutoIt script.
You can configure your keystroke and mouse motion in terms of speed and functionality.
Besides, this script automation language tool lets you create complex Graphical User Interfaces (GUIs) by configuring multiple tools.
Moreover, it supports both COM and DLL making it unique scripting or programming languages software.
Pricing: Free. However, you can donate to support the developer.
5. Mini Mouse Macro
---
Mini Mouse Macro is a lightweight and free portable macro recorder that can record mouse clicks and keystrokes. This is an excellent free macro tool that you can install in your Windows and can capture mouse and keyboard activities in real-time.
The best part of this software is that you can load and pause your macro recording according to your requirement. Moreover, you can run your macro recording actions from another device without installing the software on your Windows. So it lets you quick accomplishment of your macro recording.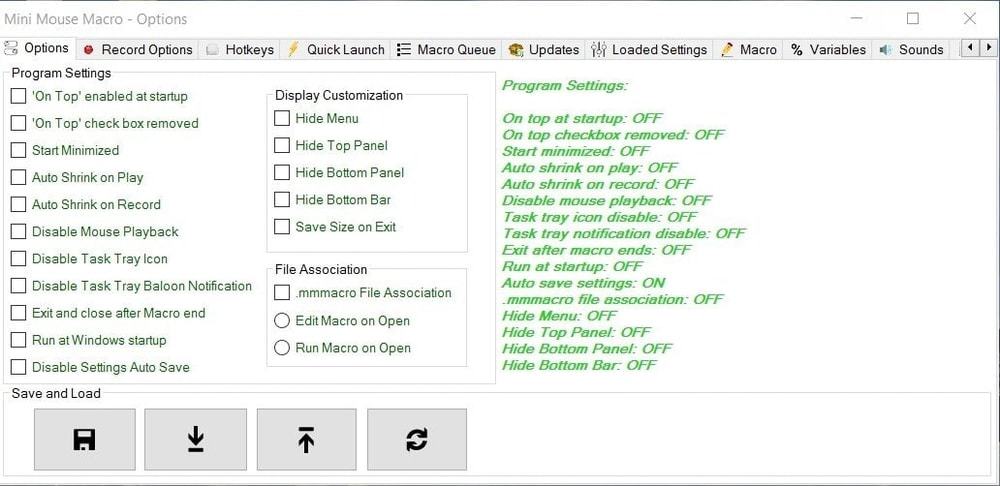 Key Features:
Its intuitive interface helps beginners to use this application easily.
When you launch Mini Mouse Macro on your Windows, its interface appears above on Windows and all actions are indexed. So you enjoy the flexibility to save and use the macro.
Being portable software, you can execute your macro recording actions on another computer.
Besides, it has a drag and drop option to save files from the macro lists.
Moreover, you can schedule macro recording tasks by using this software.
Furthermore, it allows you to apply conditions to customize macro recording.
Pricing: Free
6. AutoHotKey
---
AutoHotKey is one of the best open source and free macro recorders for Windows to perform repetitive tasks easily and quickly. With this macro recording tool, you record your mouse movement and keyboard type. You can also conduct routine tasks, such as typing website addresses and clicking on the web pages.
This software introduces both item-oriented and command-based programming to provide more flexibility to control the tools. The best part of this software is that you can assign hotkeys to control your mouse, keyboard, monitor, etc.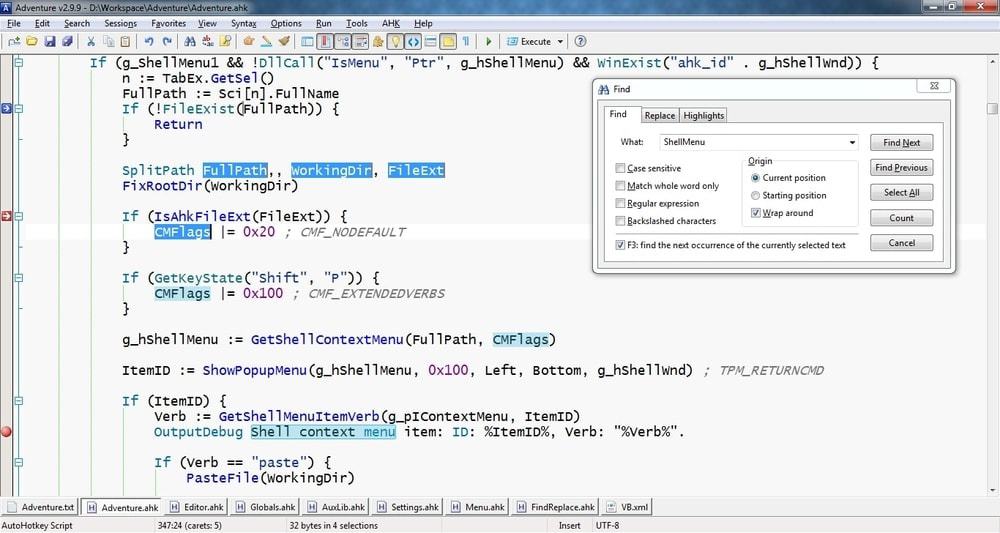 Key Features:
Creating a simple hotkey is never easy. AutoHotKey has a documentation file that learn you how to use modifier symbols to define hotkey.
This scripting language tool provides flexible syntax to concentrate more on your task than on every single command.
While you record your macro you can adjust volume, transform the joystick to mouse function.
This automation macro tool also allows you to manage menu items and icons according to your choice.
You can record macro either manually or using the macro recorder.
Pricing: Free
Our Recommendations
---
After reading this article, we hope you get a good understanding of how macro recorders complete your repetitive tasks and make your life so easy. Now it's your turn to choose the right macro recorder for your Windows.
In this article, we have reviewed a list of the best macro recorders of which most of them are free. Pulover's Macro Creator is the most popular free macro recorder that contains the macro recorder's features. So if you are looking for a free macro recorder, we recommend you pick this macro recorder.
However, if you are looking for advanced features like scheduling, debugging, macro editor, we recommend you to pick JitBit Macro Recorder. You can professionally use this software for macro recording. But remind it that JitBit Macro Recorder is not a free macro recorder.
Finally, Insights
---
If you are smart enough, you may choose the right macro recorder for you to lessen tedious repetitive tasks on your computer. While you are searching on a search engine, you find plenty of options for macro recorders for Windows but all are not well functional.
While you are going to choose a macro recording tool, you should consider its usability, flexibility, and editability. You can choose any macro recorder from our reviewed macro recorders or apart from our list from the internet.
Let us know which automation macro tool you are chosen for your macro recording and why you choose the particular macro recording tool. Furthermore, you can share this article with your friends so that they get an idea of how to automate repetitive tasks.