If you are looking for a comprehensive list of PDF editors for Windows, then we got you covered. Before starting, let's talk about some basics. PDF means Portable Document Format. It was developed by Adobe to make document transfer and printing convenient. However, the license of this format is open to anyone so that everybody can use and implement this format into their software. This is the reason why it is so popular among computer users.
The advantage of PDF is the portability. No matter what kind of device you use to open the PDF file, it will remain the same as you created. Besides, PDF doesn't let the fonts break while printing. However, this thing led to some problems. For example, PDF can not be edited easily like other text documents. This is when you will need a PDF editor so that you can make some corrections and annotations.
Best PDF Editors for Windows PC
---
You can create PDFs with almost all the office suites like Microsoft Office, LibreOffice, WPS Office, etc. However, very few programs can edit on a PDF. There are even some online web apps that can do so. But as always, I like native apps rather than using internet connections to use web apps. So, after a lot of research, I have a list of the best PDF editors for Windows out there. So, without further ado, let's unveil that.
1. Adobe Acrobat Pro
---
We all know that Adobe was the creator of this awesome document format. So, it's very likely that they will have a tool for playing with PDFs. The Adobe Acrobat Pro is that tool. In fact, it is the most feature-rich tool for editing and converting PDF documents. They have a separate tool for viewing PDF files, named Adobe Acrobat Reader.
So, don't be confused between these two. Just like any other tool from Adobe, Adobe Acrobat Pro is a subscription-based paid tool. There are various subscription plans, and you will get some convenient cloud and mobile features with the standard desktop app.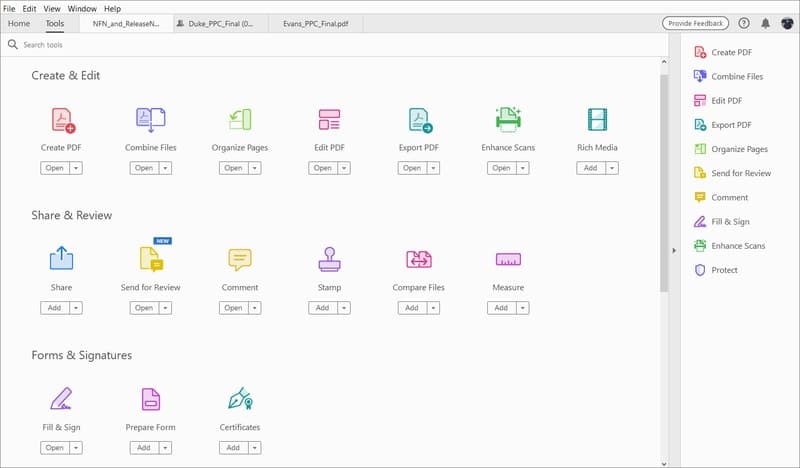 Key Features of Adobe Acrobat Pro
You can convert almost any kind of file to PDF with little to no effort.
It can compress and reduce the size of PDFs with a single click for sharing on the internet.
There is an advanced annotation tool that features highlighting and commenting.
The PDF edition option includes adding pages, elements, texts, rotating, splitting, and a bunch of other handy features.
You can create password-protected PDFs as well as can remove the security layer from a particular PDF.
Pros: This is the best tool out there that has complete and perfect integration with PDF. Besides, it works great with other Adobe products like Photoshop and Illustrator.
Cons: You can't buy a lifetime license, and the monthly subscription cost is way higher for a casual home user.
2. Foxit PhantomPDF
---
This is yet another feature-packed PDF editor for Windows PC. Foxit is a popular name in the office software category. Their free PDF reader is widely used and is a great alternative to Adobe's one. PhantomPDF is the brand name for its all-in-one solution for editing PDF. There are plenty of tools related to PDF editing, organizing, sharing, and collaborating built-in with the package.
There are two different packages for Windows, including Standard and Business. Another interesting fact is that it is bundled with complimentary PhantomPDF Online, which lets you access all the features online from any browser.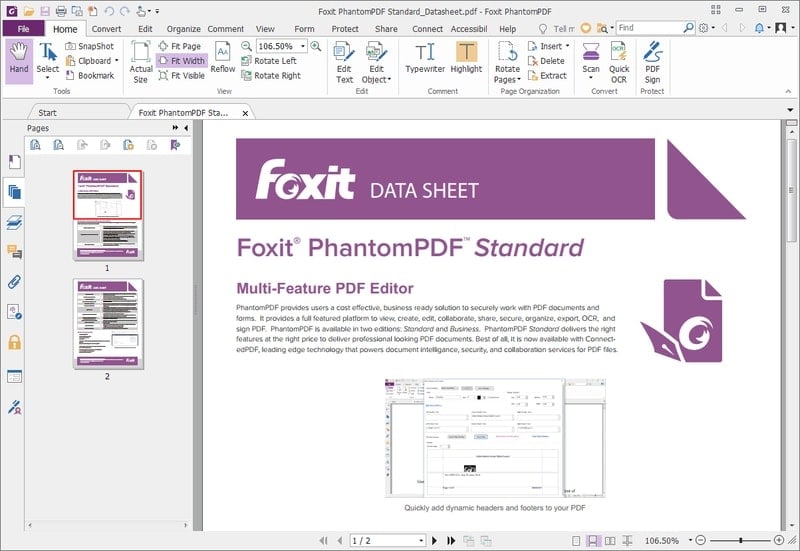 Key Features of Foxit PhantomPDF
It has a typical PDF creating and converting option built-in like any other similar tools.
You can use the OCR feature to extract text from a handwritten or image-based PDF file.
PhantomPDF complies with all the modern encryption features to provide better security to your PDFs.
There is an advanced admin panel for managing all your organization users who use the same business license.
It makes it easier to collaborate with colleagues with its feature-rich sharing and annotating module.
Pros: It offers a lifetime license, which is a great deal. There is also a unique feature called Connected PDF, which lets you control the access of cloud files.
Cons: It doesn't have native integration with Google or Microsoft services, which might be a dealbreaker who use these services for their office tasks.
3. Wondershare PDFelement
---
Wondershare is known for its beginner-friendly professional video editing tool Filmora. In fact, even I was not aware of their PDF editing tool. But after using it for a few days, I found it quite impressive. PDFelement has all the standard features of a good PDF editor.
Besides, it has some great advantages over other popular tools. For example, the user interface is very beautiful, and it is easy to use, just like all other Wondershare products. This is very convenient for those corporates who don't have the scope to go through a learning curve.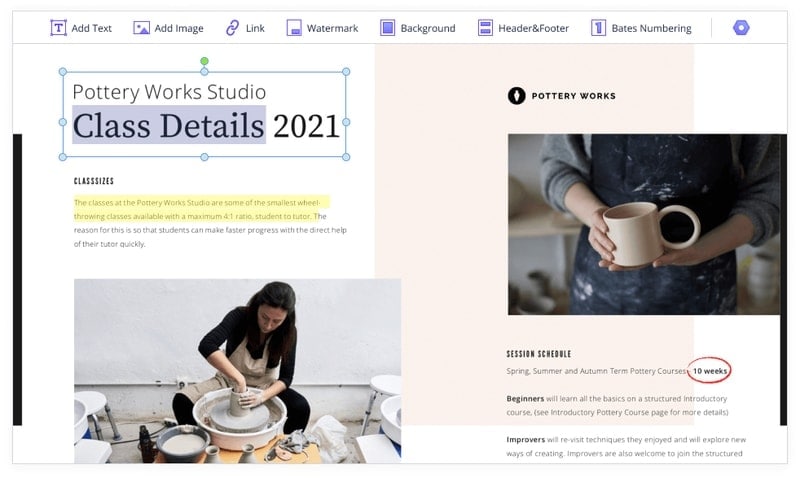 Key Features of Wondershare PDFelement
It has a batch editing feature that is very convenient for your company, which has to handle a large number of files at a time.
PDF signing feature is very helpful if you want to maintain the corporate rules without compromising productivity.
You can create forms from scratch as well as from dumb PDF files.
PDFelement Business offers volume licensing for use in your organization at an affordable price.
OCR and security measures are also included with the bundle without any additional cost.
Pros: You can download the free trial version without using your credit card information. Although the features are capped, this is a great opportunity to try out this tool free of cost.
Cons: There is a light version named PDFelement standard, which offers fewer features than the business edition. However, the price difference is not significant.
4. Nitro Pro
---
Nitro Pro is doesn't have a large userbase, and it is not even that popular among the consumers. But it is loaded with some pretty useful features that make it stand out from the crowd. This is why many corporate companies rely on this tool, including Toyota, General Electric, IBM, etc. In fact, the features are leaned more towards managing business and organizations.
If you are looking for a PDF editor to use for your company, it can be a great choice. However, that doesn't mean the individual users can't use this tool. In fact, the individual license of this PDF editor for Windows machines is quite affordable.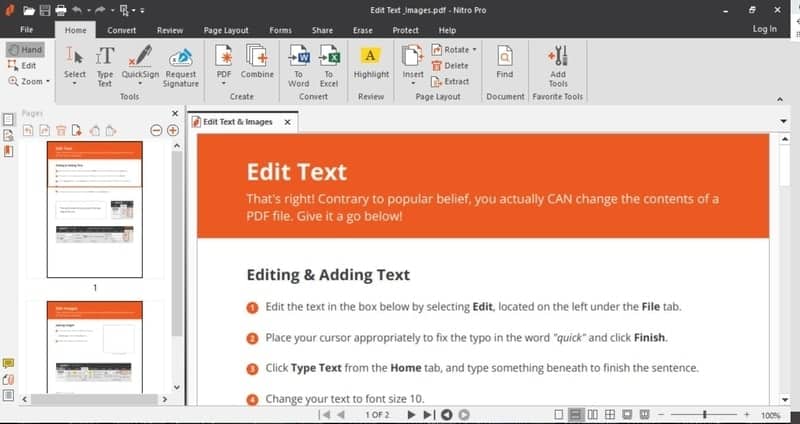 Key Features of Nitro Pro
It has great compatibility with Microsoft Office files, which is very handy for Windows users.
This tool can use reverse engineering to create Word, PowerPoint, and Excel files from printable PDFs.
It retains the original format and fonts in most cases. This saves a lot of extra effort.
The UI is similar to Microsoft Office Suite, and hence you don't have to spend time to learn using it.
There is some nifty image editing modules built-in so that you don't have to open another tool.
Pros: The compatibility and support for third-party cloud services are great. Google Drive, OneDrive, SharePoint 365 integration added a new dimension to its features.
Cons: The installation file size is larger than other tools. The user experience is not smooth on low-specification computers.
5. Kofax Power PDF
---
Power PDF is a PDF editing solution from Kofax. This company is not popular among end-users. Its product portfolio is mainly for corporate organizations. However, this Power PDF is a great PDF editor that can be used by individuals and businesses. Just like any other tool, they have different tariffs.
The standard edition is great for individuals, but you have to miss some features that are available on the advanced editions. The company also provides an opportunity to buy bulk licenses to use in your company. The pricing is, however, very competitive and much affordable than Adobe Acrobat.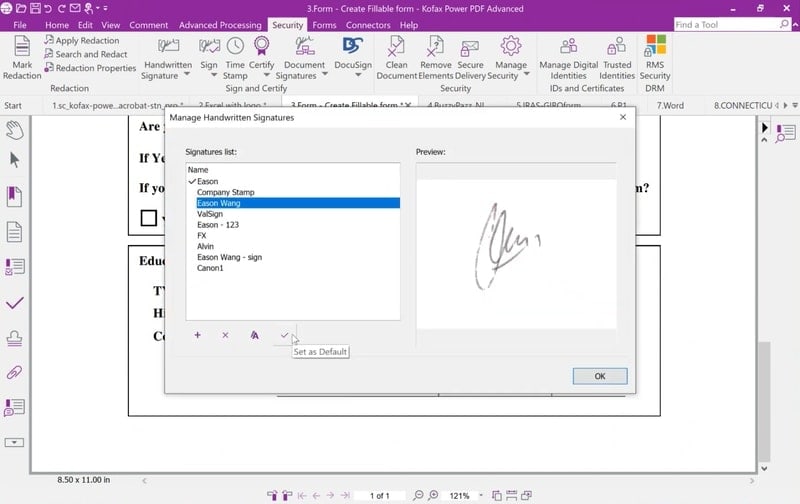 Key Features of Kofax Power PDF
The users can collaborate with colleagues in real-time in their LAN without using additional services.
You can input multiple files in this tool and export them as a single PDF file.
It supports PDF 2.0, which is the latest version that comes with a lot of enhancements.
The advanced pattern-search algorithm will help you to find and markdown important information automatically.
There is a batch-editing mode that will surely improve the workflow and productivity of your company.
Pros: It has a one-time licensing option, which is cheaper than the concurrent subscription plans of the competitors. The business-oriented features are also great reasons to buy this tool.
Cons: You will get only 90 days of support from the developers, which is kind of a negative side considering the price of this tool.
6. AbleWord PDF Editor
---
Well, this PDF editor doesn't come with a lot of features. However, it is pretty basic with an old-school user interface. But why did I include this in the list of the best PDF editors for your Windows PC? It's because it is completely free to use. On top of that, if you are a basic user, you won't miss anything in this tool.
This tool also acts as a great word processor apart from being a PDF editor. Besides, the compatibility with Microsoft products makes it a great competitor to the popular PDF editors.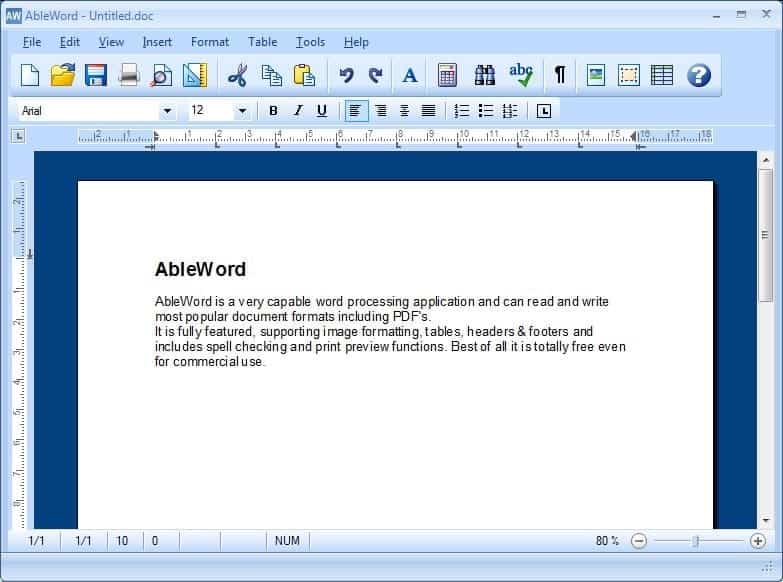 Key Features of AbleWord PDF Editor
The user interface looks almost identical to old Microsoft Word, which will be familiar to many users.
You can insert the header, footer, images, and tables into your existing PDF file.
It doesn't require any license to use on your business or commercial works.
This tool supports rich texts and HTML files apart from plain text documents.
The installation is very straightforward and doesn't need an internet connection to run.
Pros: The compatibility with the latest Windows 10 builds is great, even a relatively old tool.
Cons: This tool is not currently under active development process that might be a security threat.
7. Sejda PDF Editor
---
This is a cross-platform tool for editing PDFs. In fact, this is an online tool with more than 30 different modules regarding PDF. You can access the modules tool from a browser as well as from a Windows client. This tool is very lightweight since some of the processes are done in the cloud.
However, most features can be used offline, and you don't even have to worry about a security breach. The most interesting fact about this tool is that it is free to use. Yes, there is a pro version that will make you edit an unlimited number of documents. But the free version will be adequate for most casual users.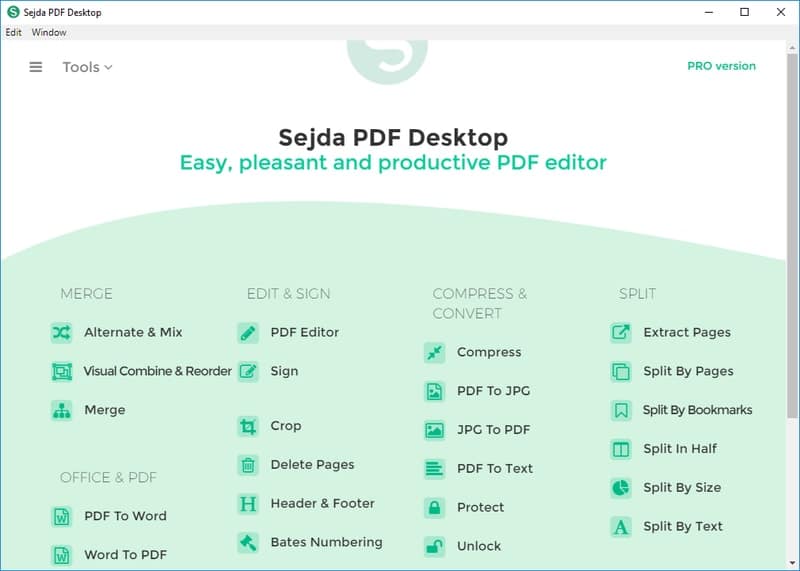 Key Features of Sejda PDF Editor
All the tools can be accessed online using a mere internet browser.
The desktop client doesn't let your files leave your computer as a security measure.
You can lock, unlock, and apply a watermark on your document with this tool.
There is an option to edit the metadata of the PDF, which is a handy feature.
The free version has all the features of a pro version with just usage limitations.
Pros: The pricing plan is very affordable and cost-effective. It's even possible to use all the features casually without buying the tool.
Cons: They don't sell bulk licenses for business usage. So, it's not that suitable for use in an organization.
8. Ashampoo PDF Pro 2
---
Most of you are familiar with Ashampoo. They have a wide range of software products for Windows systems. So, I didn't get surprised when I came to know about their PDF editor for Windows PC. This thing delivered an incredible performance and met my expectations.
The Ashampoo PDF Pro 2 is the successor of their original tool with a lot of improvements. They also have a Microsoft Office alternative named Ashampoo Office, which syncs nicely with this tool. Besides, this tool complies with 128 Bit AES encryption standard.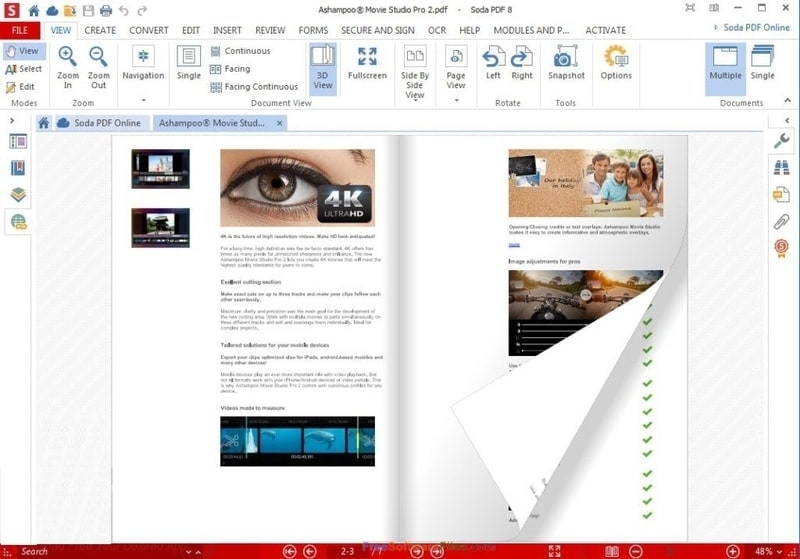 Key Features of Ashampoo PDF Pro 2
The PDF comparison feature is great for version controlling on collaborative work.
It has a feature to change a particular color globally throughout the whole document.
This tool has backward compatibility with the older versions of the PDF format.
The auto repair feature lets you fix broken things automatically using AI.
You can make interactive survey forms to get input from the users.
Pros: You can use the license with up to three computers that are really helpful for the owners of multiple devices.
Cons: The UI is not neat and clean. Rather it is cluttered with unnecessary tools, which might be annoying sometimes.
9. PDF Architect
---
PDF Architect is a complete solution for your PDF editing and management. Just like the name, this tool will let you arrange and modify PDFs from the core. In fact, you will be the architect of your PDF document. It has a variety of subscription plans from free to all the way up to the PRO+OCR version.
You can try out the free version first and gradually upgrade to a higher plan if necessary. The developer also has an online portal that will let you convert PDFs on the go if you are away from your desktop. This is a very nifty feature that will surely boost productivity.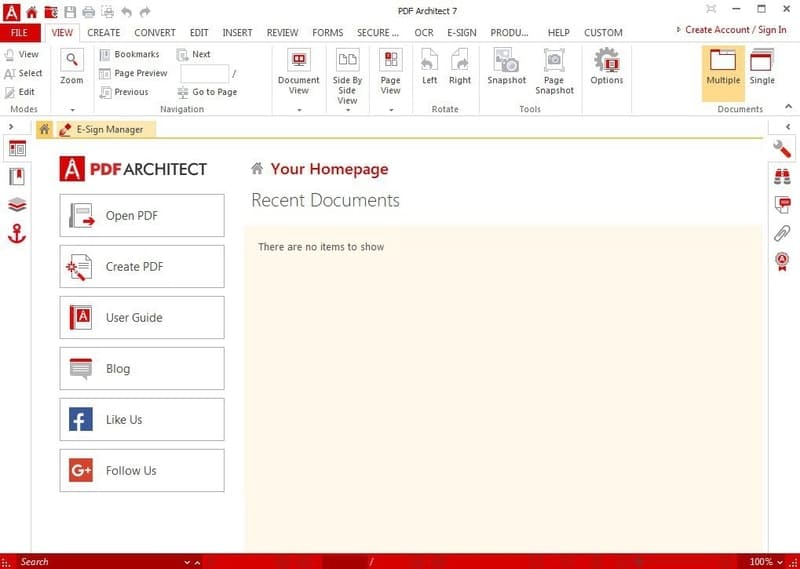 Key Features of PDF Architect
You can opt-in for the optional E-Sign feature that is a great addition to this tool.
The collaboration feature has a commenting and reviewing option for the participants.
You can create custom-designed forms for your company without any additional plugins.
The built-in OCR is so powerful that it can detect a large number of characters in no time.
The developer has a dedicated portal for providing support and managing community forums.
Pros: You will get a huge discount if you are buying bulk licenses. Hence, buying for a group is more convenient.
Cons: The free version is not useful other than creating PDFs. You can't edit PDFs with the free version.
10. Xodo PDF
---
Xodo PDF is a modern UWP app for Windows 10. This is mainly a PDF reader with some basic editing features. Still, it provides great value because it is completely free to use and doesn't show any kind of advertisements. The most favorite thing about this tool is the small footprint.
Being a UWP app, it can be installed on Windows smartphones and tablets. The UI is highly optimized for touch-screen devices, which can not be found on any other software in this list. Overall, even considering the limitations, it can be considered the best free PDF editor for Windows portable devices.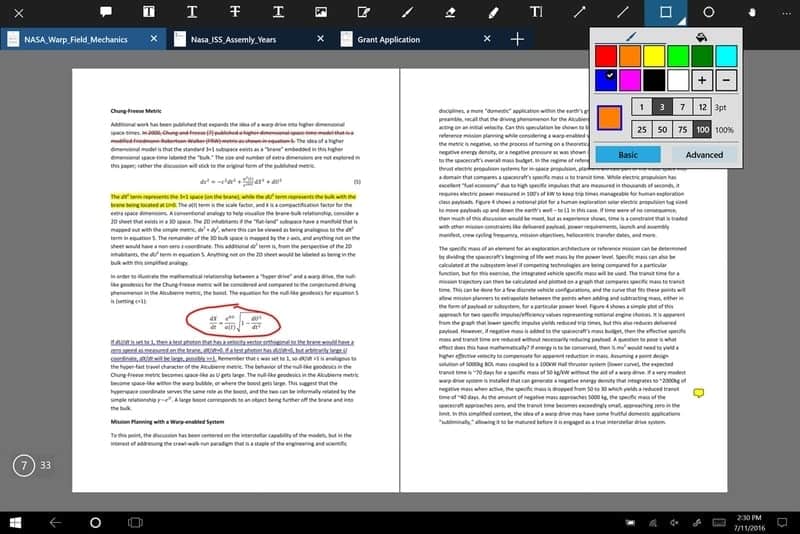 Key Features of Xodo PDF
This tool acts as a great PDF reader with smoother scrolling and page flipping.
You can highlight, comment, and annotate on the document with advanced marking tools.
You can write and draw a free hand on the PDF using a stylus or the mouse.
It supports scanning documents with the built-in camera and create PDF from it.
The users can collaborate with their colleagues in real-time using the internet.
Pros: The support for ARM processors and Windows mobile and tablet devices is the unique feature of this tool, which can not be found on other tools.
Cons: The features are very limited. The developers put more effort into the reading capabilities rather than PDF editing.
Our Recommendation
---
Well, all of the above tools are loaded with a lot of features. It's difficult to declare a single tool as the best PDF editor for Windows PC. Obviously, some tools have some distinctive features. So, it's better to decide on your own which tool do you want to use. But if you don't have any problem with the costly subscription plan, then I will suggest you go for Adobe Acrobat Pro.
Despite some lacking AbleWord Editor can also be considered if you don't want to spend even a penny. Don't go for the tools that require an internet connection if you want to use them in any place through your laptop.
Final Thoughts
---
As you can see that the PDF editors are very convenient, and at the same time, they are costly. It's not easy to find a completely free PDF editor for the Windows system. As a casual user, the free or trial versions might do the job for you. But if you use it regularly for business or office purposes, then it's better to buy a subscription or a lifetime license. There are a lot of tools that I couldn't include in the list that are really good. So, if you use any of the remaining tools, you can comment and let us know why that is your go-to tool for editing PDFs.