If you are looking for a scanning tool for Linux, then you are in the right place. From the very beginning of digitalization, scanning tools have served us in many ways. If you want to store your paper documents or photos digitally, there is no alternative to scanning tools. Although you get a default scanning tool with the scanner driver, that is not polished to work flawlessly. Besides, these default scanning tools don't always get the best support from the manufacturers for the Linux platform. This is why you need to look for the scanning tools for your Linux system.
These tools often work with various hardware and scan your document accordingly. Besides, they provide some additional values and features to the users. For example, you can export the scanned document into various formats and customize them.
Though smartphone cameras declined the usage of scanners a bit, there is still a great demand for scanning tools for computers. The scanning hardware is also getting a modern refresh to cope with the situation. Likewise, they have wireless technology and color display for making things easier.
Best Scanning Tools for Linux
---
Most of the printing and scanning-related tools work best with Windows and Mac. Besides, they have some powerful and premium graphics tools that make the thing a lot easier. On the other hand, Linux has very few options that are worth mentioning. For this reason, we have created a list of the 10 best document scanning software for Linux. These tools will help you with digitalizing your old-school paper documents.
1. SimpleScan
---
SimpleScan is a document scanning tool for Linux. The program is not that simple as the name suggests. Rather this is a pretty powerful and user-friendly tool. It comes preinstalled with the popular Linux distribution – Ubuntu.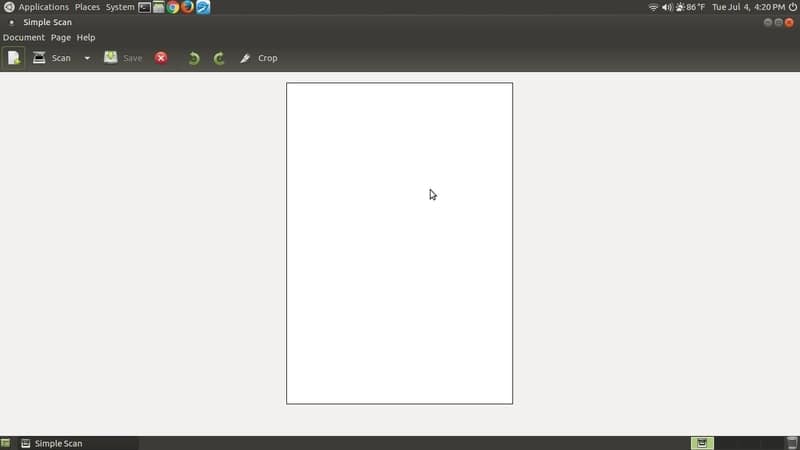 Key Features of SimpleScan
It supports a wide range of scanning hardware.
This tool can crop and rotate the scanned document.
You can change the DPI for your documents.
It can save and export documents in a variety of formats.
2. gscan2pdf
---
gscan2pdf is a free and open-source document scanning tool. It is considered a gold standard for third-party document scanning tools. This tool provides all the necessary features of a scanning tool. Besides, this tool doesn't put extra stress on the system resources.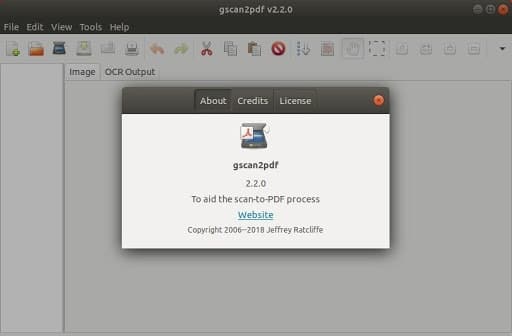 Key Features of gscan2pdf
You can set up custom document resolution for scanning.
It gives you basic photo editing features such as sharpening, color correction, etc.
It even supports some unfamiliar file formats like TIFF, DjVu, etc.
This tool can choose the paper size for you convenient if you want to print them.
3. GIMP with QuiteInsane
---
GIMP is the most popular graphic tool for Linux. It is known as the open-source alternative for Adobe suite. However, GIMP is mostly used for image manipulation. You can use a powerful plugin named QuiteInsane with GIMP to turn this into a document scanning monster. The scanning functionality of QuiteInsane, along with the editing and exporting tools of GIMP, is quite insane!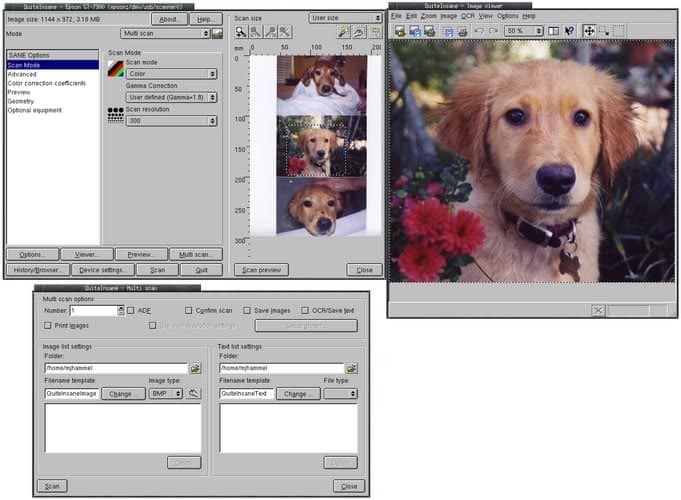 Key features of GIMP with QuiteInsane
Photo scanning becomes easy with built-in manipulation tools.
Supports a wide range of formats. The only limit is the GIMP.
You can choose scan resolution, color properties, etc., with this tool.
GIMP was found to support almost all the common scanning devices.
4. Xsane
---
This is a graphical user interface for the SANE project. The SANE library is a unified way for Linux to scan documents using various third-party hardware. SANE stands for Scanner Access Now Easy. For this reason, Xsane supports all the features and hardware supported by the original SANE project.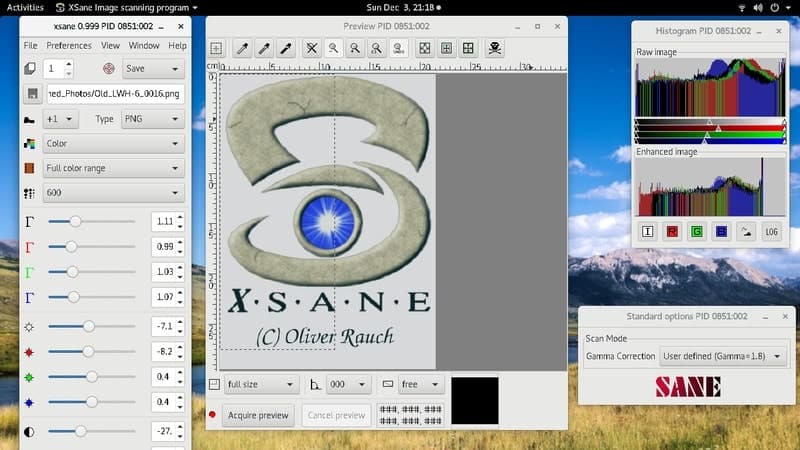 Key Features of Xsane
This scanning tool for Linux even supports the scanners that don't have native driver support for Linux.
There is a GIMP plugin for this tool that makes the process a lot easier.
Apart from scanning, it can print, photocopy, and fax documents.
All the basic image enhancement features are built-in with this tool.
5. Skanlite
---
This is one of the most feature-rich scanner utilities for Linux. The thing I most like about this tool is the beautiful and clean user interface. Not only that. It has a plethora of options built into this tool. This can be anyone's go-to solution for document scanning.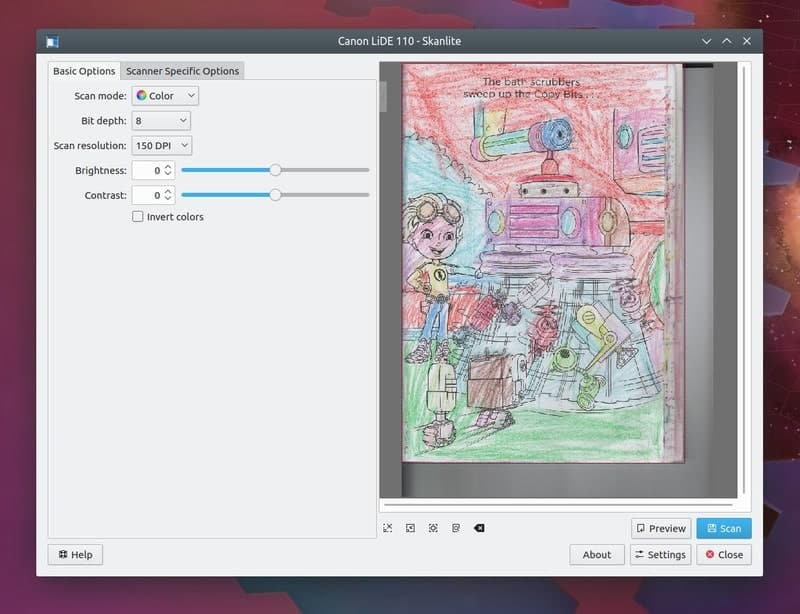 Key Features of Skanlite
You can choose the DPI resolution from a variety of options.
This tool has a brightness and contrast slider for tweaking the scanned image.
There are some basic image coloring tools with a curve tool.
It has some advanced scanner-specific features for the supported hardware.
6. SwingSane
---
SwingSane is yet another SANE library-based tool for document scanning. It is a cross-platform tool, and the Linux version is compatible with all the common distributions. This is probably the most feature-rich scanner available out there. The user interface is neatly arranged and very beginner-friendly.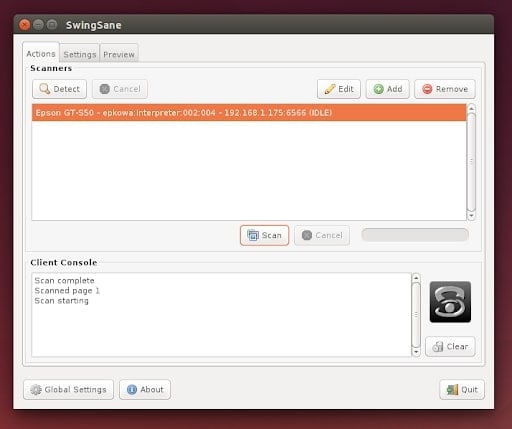 Key Features of SwingSane
It can scan multiple documents simultaneously.
You will immediately get a preview of what you are scanning.
It has a built-in scanner function that can detect the connected hardware.
There is a console for showing the scanning log to the users.
7. VueScan
---
This is the only paid scanning tool for Linux on this list. And, probably, this is the reason why it is still under the active development phase. Although it costs a good sum of money, the value it provides is great. Almost all the top corporate organizations depend on this tool for their scanning job. If you use your Linux machine for your office, then you can't go wrong with buying this.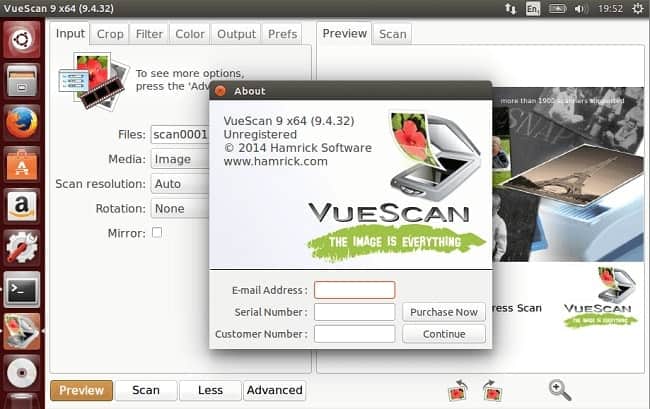 Key Features of VueScan
This tool supports film and slide scanning along with typical documents.
It has built-in optical character recognition or OCR functionality.
The developers reverse-engineered the drivers so that it works with older unsupported hardware.
You will get professional customer support from the developers.
8. ScanGear MP
---
This is a proprietary scanning tool by Canon. This tool is provided with the driver software for Canon's range of scanners and multipurpose printers. It provides many features for users. The only downside is that you can not use this tool with other third-party printers. But if you own a Canon printer, then you are good to go with this.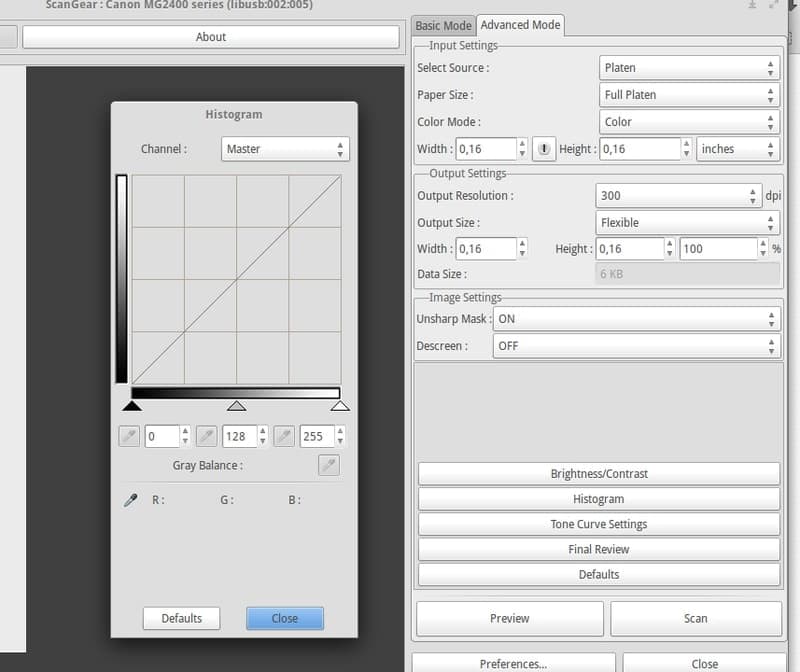 Key Features of ScanGear MP
You can select a paper size from the dropdown menu and set a custom paper size if you want.
Users can set up the output resolution in DPI and the output quality preset.
You have full control with image color adjustments with a handy histogram tool for playing with the curves.
It will provide you free upgrades and support from the Canon engineers.
9. HP Linux Imaging and Printing
---
This tool is also known as HPLIP. It was developed by HP for their printers and scanners. Since it is a multipurpose tool, you have printing functionalities built-in with this program. Those who have to print the scanned documents can use this tool to make the workflow faster.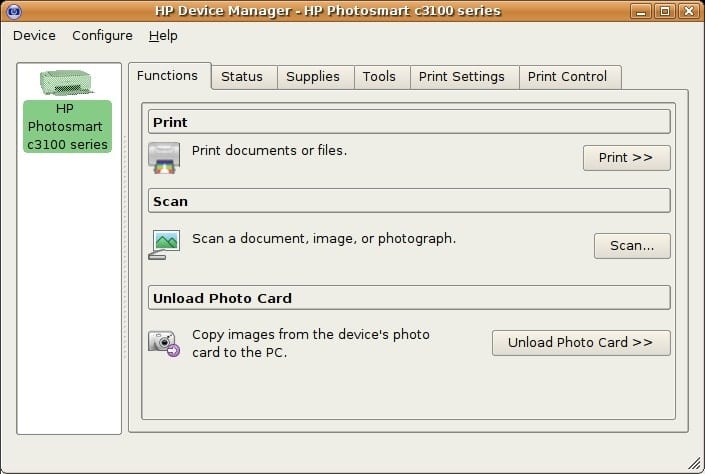 Key Features of HP Linux Imaging and Printing
Normally it comes preinstalled with all the major Linux distributions.
This tool supports more than 3000 HP hardware intended for scanning, printing, and related tasks.
It gives you advanced control over the scanning hardware.
You will get free support, and there is a huge knowledge base for beginners.
10. Epson Image Scan
---
This is yet another proprietary scanning tool for Linux. This time it comes from a veteran imaging hardware maker Epson. As always, it works only for the Epson scanners. But Epson is a great choice as a scanner. Hence, most of you might like it to use with your Epson scanner. It is loaded with various features and unleashes the way towards the amazing quality of Epson scanners.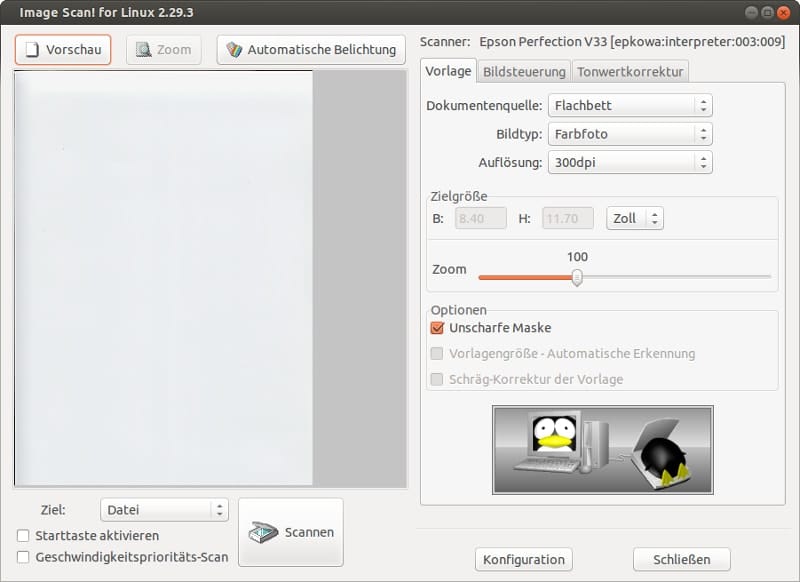 Key Features of Epson Image Scan
The user interface is neatly arranged with beautiful visual elements.
You are getting a bunch of image and exposure correction tools built into this.
All the basic properties, like resolution, page size, etc., are configurable with Epson Image Scan.
You can preview the scanned documents at once, and there is a pretty handy auto exposure feature.
Finally, Insights
---
As I said earlier, the documents scanning tools for the Linux system have very few options. Most people go with tools like Simple Scan and gscan2pdf. Yet, some others want to stick with the vendor-specific tools for their hardware. But, if you love testing out new software, then I will suggest you take a look at the other alternatives. Hopefully, you will find your next scanning mate from this list. If you are already using a scanning tool, then which one do you like most? Let us know by commenting below.