No one will argue that Wikipedia is one of the most popular online encyclopedias. It contains more than 50 million pages in 314 different languages. Anyone from any corner of the world can easily get any information from Wikipedia. But what will you do if you need your own Wiki? If you are a Linux user, then you can definitely try self-hosted Wiki software for Linux on your server. These wiki software will help you in creating your own documentation or knowledge-based wiki. Many companies use Wiki software to create their own product documentation pages for more customer engagement.
Best Self-hosted Wiki Software for Linux
---
Self-hosting wiki platforms allow their users to create their own pages. These software have become increasingly popular among internet users because of the benefits they offer. In this article, UbuntuPit will share with you the top 10 best self-hosted wiki software based on user popularity.
1. MediaWiki
---
MediaWiki is an outstanding self-hosted Wiki software for editing rich multimedia and developing collaborative projects. It is based on the Open Source Technology Project (OST), which allows the distribution of software modules. The main difference between MediaWiki and other wiki software is that MediaWiki uses a lightweight wiki markup, which is easier to learn in the aspect of HTML. 
As well as being able to work together on your projects, Media Wiki allows you to share documents among users. This software will enable you to quickly and easily create, add, edit, view, and save multimedia on the fly. With lots of available extensions and features, it is popular among enterprises.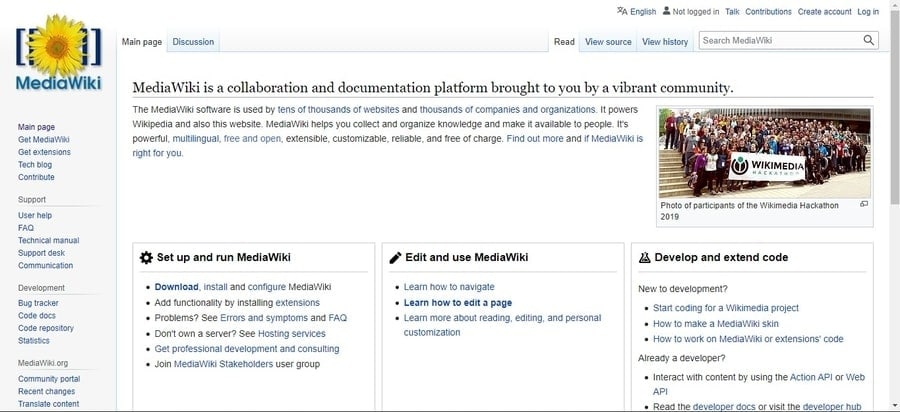 Important Features of MediaWiki
MediaWiki uses "free links" instead of CamelCase while creating a linkup with another webpage.

It has an extensible API to make direct contact with MediaWiki Database. This API supports web-based Javascript clients.

You can install it on other operating systems such as Windows or macOS besides Linux.

Page Existence Detection helps in finding out the difference between internal and external links.

Wikimedia offers both rich text editor and block-level text editing options for a better documentation process.
2. Wiki.js
---
Next comes Wiki.js in our Wiki software for Linux review. It is quite a modern alternative to traditional wiki software. You will surely enjoy the interface. It is built on Node.js, and you can use markdown, raw HTML, and visual editor for creating your document. It also has both light and dark theme interfaces. Being optimized, Wiki.js can easily run on any system, even in raspberry Pi also.
The best thing is Wiki.js supports the maximum types of available databases, including MySQL and MariaDB. It has a built-in authentication feature that supports password encrypted file sharing. It allows integrating with other authentication services along with 2FA such as Google, GitHub, Microsoft, and many more. Wiki.js offers a wide range of features, which makes it one of the best wiki software.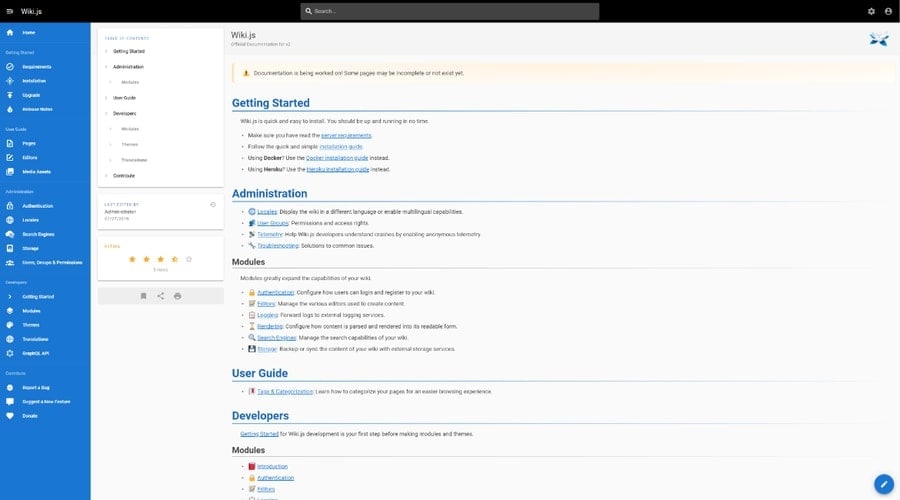 Important Features of Wiki.js
Wiki.js offers to sync your content with a Git repository for both backup and the single source of truth.

It has a built-in search engine and allows to use of existing elastic search to power up the capability of wiki search.

It offers a local authentication feature with self-registration and password recovery capabilities. You can use enterprise authentication also.

It has the Wiki Text Editor, which allows migrating content from the MediaWiki platform.

It supports multilingual content and Native RTL. Besides, it is available in more than 40 languages.
Get Wiki.js
3. DokuWiki
---
Dokuwiki is a highly flexible and easy-to-use open source wiki software that does not require a database. Many users love it due to its ease to use and fluent syntax. The lack of limitations, backup, and installation make it the favorite of any user who wishes to maintain a collaborative website.
It gets support from a large number of community members. Besides, it supports more than 50 languages and UTF-8 also. Even with the minimalist look, it comes with many features such as mail encryption, fewer system requirements, spam blacklist, and many more. It has a breadcrumbs option for easy navigation.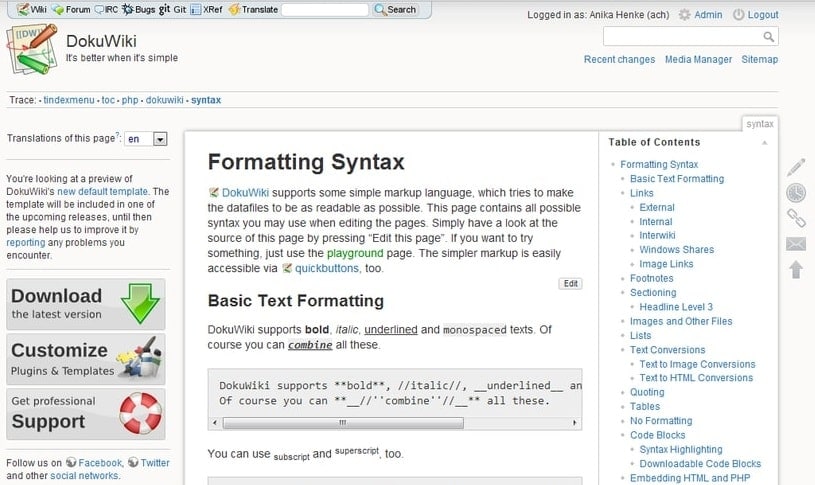 Important Features of DokuWiki
DokuWiki has a system of several kinds of plugins that makes it very convenient for users. These include language packs, themes, and templates.

It has some useful features, such as user login authentication connectors and password reset modules.

You can use the extension manager to install plugins automatically or can copy them to lib/plugins.

Built-in access controls allow DokuWiki users to edit their wiki pages from remote locations.

The locking mechanism is installed to prevent parallel editing of an individual page by multiple users.
4. BookStack
---
Another powerful self-hosted Wiki software for Linux is BookStack. One of the most attractive features of BookStack is its cross-book sorting capability. It can sort all books based on tags such as title, author name, publisher, and genre. Users can even use it to search for particular titles based on a keyword. Other features of this open-source software include image management and searchable links.
It has a page editor with a similar look to WYSIWYG. This is built on the Laravel framework and saves all data in the MySQL database. Moreover, you will be able to divide your content into three groups, including pages, books, and chapters. Overall, it is a powerful publishing tool to publish content quickly and conveniently from your website.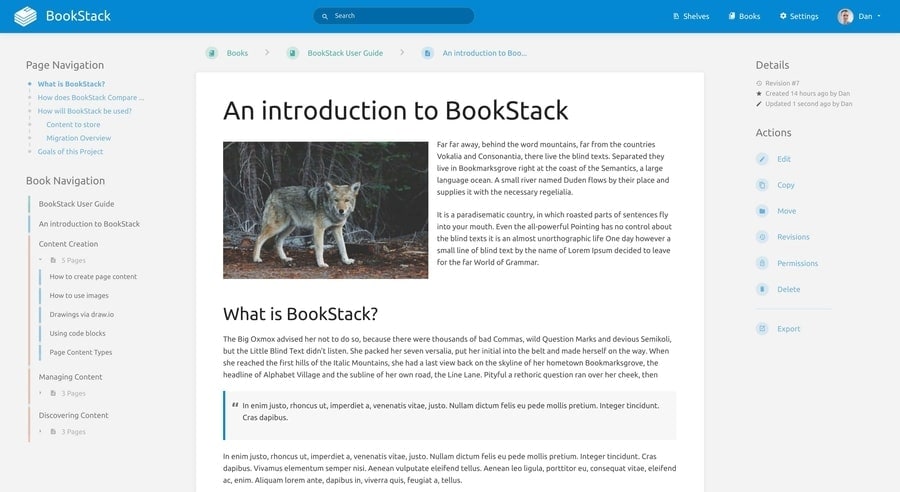 Important Features of BookStack
BookStack has authentication integration with login providers such as Google, GitHub, Slack, and many more.

Users can set their preferred language. It supports more of the major languages such as English, Japanese, Spanish, etc.

There is an option to use Markdown editor to create your documentation with a live preview.

It offers white-label customization. So you can easily apply your custom HTML or CSS to modify the default interface.

The administrator can assign roles with different privileges to a user, such as a viewer, editor, and admin. Even the author can conceal individual pages from users.
5. TiddlyWiki
---
TiddlyWiki is one of the many Wiki Software for Linux. But it is unique because it is a non-linear notebook. So you can use it to create your regular notes, organizing your task, even for brainstorming. Individual pages in TiddlyWiki are known as a tiddler. It has options to create and customize your tiddlers with dropdown menus.
Though TiddlyWiki is something like a personal diary. But various types of extensions enhance the option to make it more powerful. Even you can turn it into a local search engine by using plugins. This software runs on Nodes.js. So it is compatible with any browser. It offers a safe mode so that it won't affect your files during the upgrade if any issue occurs.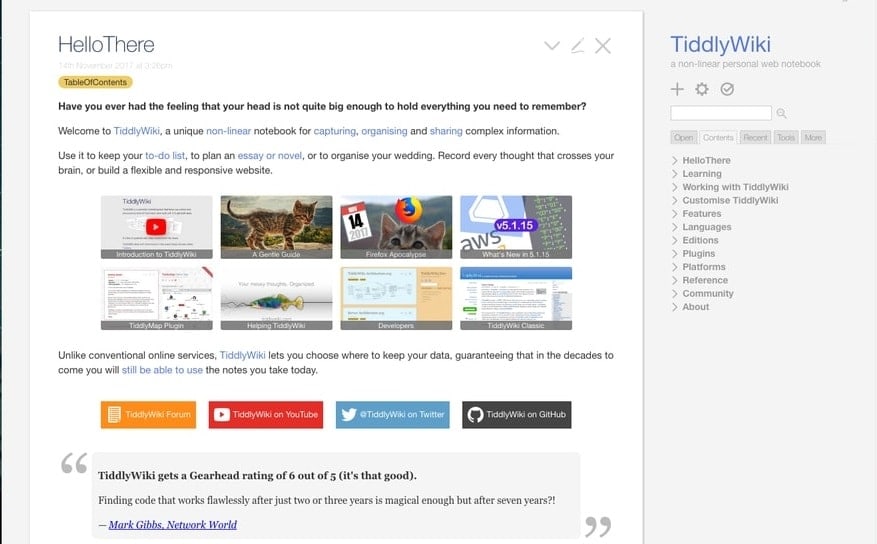 Important Features of TiddlyWiki
You have the option to choose either your local disk or an online server to store your notes.

Tiddlywiki allows you to encrypt your content using Stanford JavaScript Crypto Library if it is an HTML file.

You can use MathML, which is a markup language for mathematical notations in TiddlyWiki.

It has an autosave feature. So you don't have to worry about saving your notebook repeatedly.

You can use the lazy loading technique to create embedding metadata for your toddler and access the body when required from the server.
6. XWiki
---
XWiki is a mindblowing open source wiki software. It is a Java-based enterprise wiki software. It has many professional features such as File Management, Blog, Comments & Notes, and many more. There are many templates and more than 600 plugins available for XWiki. It also has a WYSIWYG editor similar to BookStack.
XWiki works as both first and second-generation wiki. That means it can be used in both creating documentation and collaborative web applications. It has a default search engine called Solr Search Application based on Apache Solr. This application has a search by keyword option to find out the best result.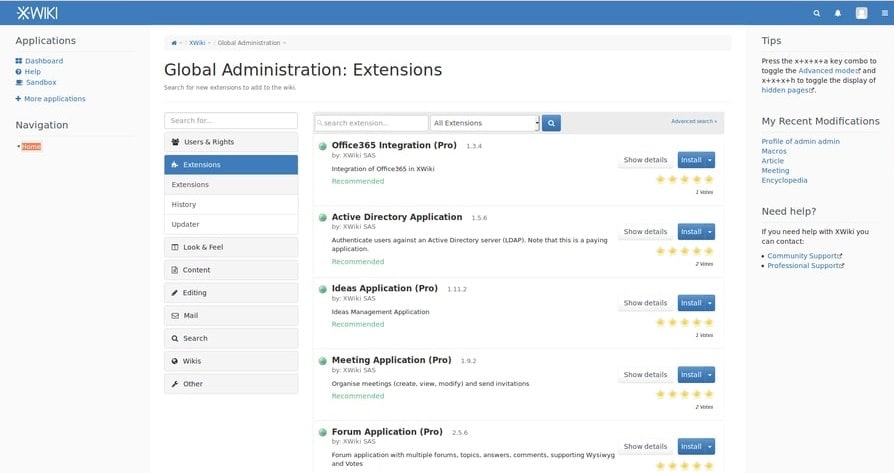 Important Features of XWiki
XWiki has Wiki display, auto wiki drafts support, workbook capability, RSS feeds, many other features.

It allows advanced collaborative editing, such as adding preview images and office documents.

You can create your own structure using the AppWithinMinutes extension. It will allow you to start from the blank page or select a pre-existing structure.

XWiki allows integration with other enterprises such as user management, multi Wiki support, and data imports.

The most convenient feature is that XWiki is flexible and extensible software. Besides that, it has a user-friendly interface.
7. Tiki Wiki
---
Here comes Tiki Wiki, which is a very interesting self-hosted Wiki software for Linux. You can say it is all in one software. Because it is a combination of Wiki and Content Management System (CMS). Even it is an online office suite also. So anyone who is searching for a better wiki for multi-purpose can select Tiki Wiki easily for his task.
TikiWiki is written in PHP and designed mainly for the Linux OS. It is a WYSIWYG driven CMS project using a wiki-based model. This means that users can edit the content of the wiki pages by using the drop and down menu. Additionally, Tiki Wiki comes with its own set of tools and functions, such as an online helpdesk, a built-in search tool, and a user forum.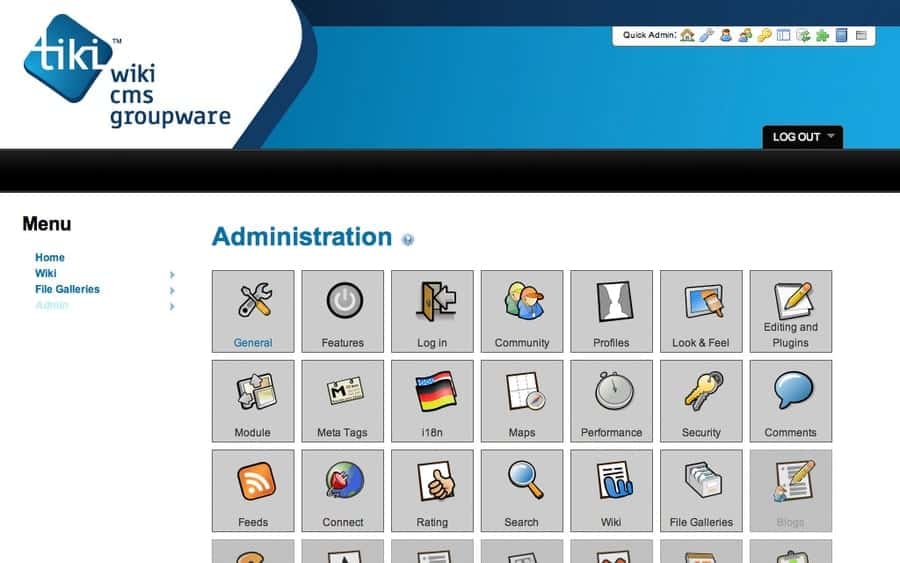 Important Features of Tiki Wiki
TikiWiki offers BigBlueButton (BBB) collaboration tool to share multimedia and store them in the gallery for future use.

You can easily create web forms and reports using the Tiki tracker. It can also track your tasks and workflows.

Tiki Wiki can be used for project management and team collaboration. You can create surveys and polls with this software.

Surprisingly, you can start your own social media network via Tiki Wiki. You can even create an e-commerce shop.

You can use Tiki WIki for Personal Information Management (PIM) because it has some essential tools such as a calendar, notepad, timesheets, etc.
8. PhpWiki
---
PhpWiki is one of the oldest Wiki software on the Internet. It is used as an open-source solution to blog systems, making it free for anyone to use. Though PhpWiki began as a clone of  WikiWikiWeb. The original aim of this project was to develop a free home for any number of languages that could be used for collaborative development.
PhpWiki works right out of the box without any setup or configuration. Moreover, it uses MySQL and PostgreSQL databases to store pages. But unlike MediaWiki, you can create an optional prefix in the database. Therefore, you can store multiple wikis in a single database. Now it supports most of the features offered by other wikis.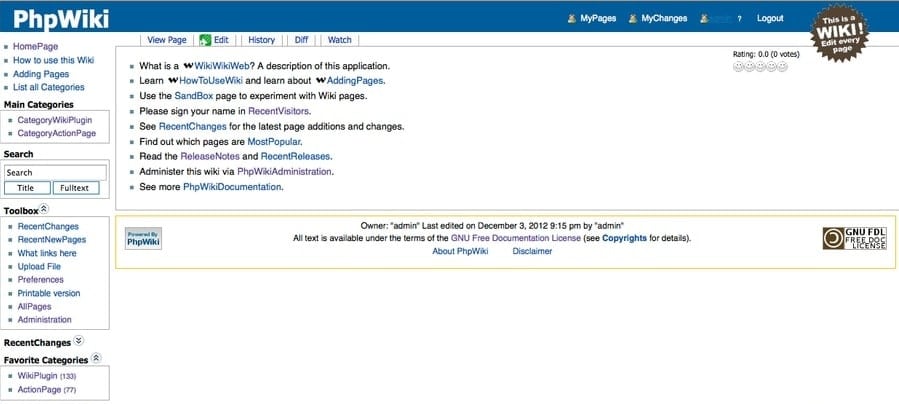 Important Features of PhpWiki
You can create and edit pages through HTML language.

There is a feature to give a trial and check out the preview of PhpWiki if you are interested in it.

It gives full authentication to administration. Besides, it allows setting multiple rules for users with different privileges.

There are lots of themes you can choose from. If you don't like them, you can create your own with plugins.

PhpWiki supports several languages, interwiki support, RSS feed, and full version history.
9. Confluence Wiki
---
Confluence Wiki is a self-hosted Wiki software for Linux from Australia-based software company Atlassian. It is created with Java language and launched as an enterprise wiki software. It comes with a built-in Tomcat web server, along with an HSQL database. Alternatively, it supports other databases also. This hosted wiki charges a one-time price based on the number of users.  
Besides an enterprise wiki, this software also has a Software As A Service (SAAS) license. Instead of using the wiki markup language, Confluence Wiki uses a language based on XHTML. But if you use wiki markup language to create your documentation on Confluence Wiki, it will automatically convert the language into the native language.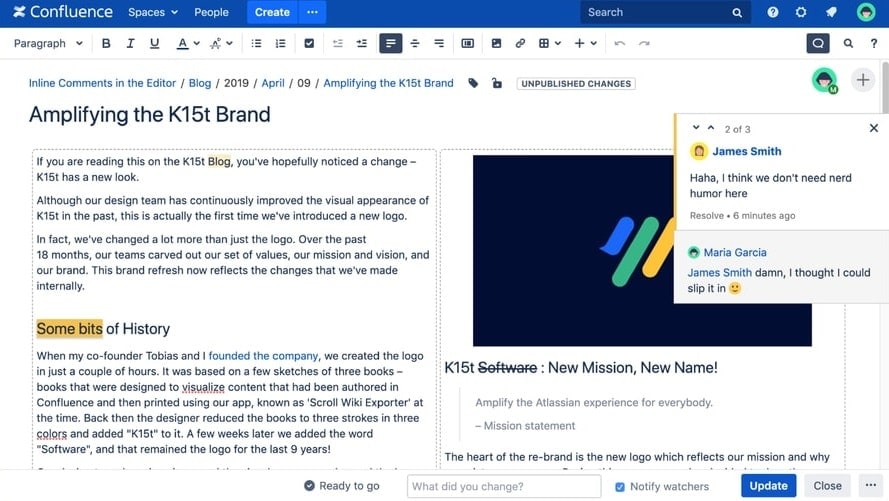 Important Features of Confluence Wiki
Confluence Wiki makes page hierarchy for better organization of pages to find them easily with advanced search.

It has a real-time editing option so that you can edit documents with your team members simultaneously.

It has integration with Jira Softwares, including Jira Service Desk, to maintain better project management.

You can easily share confidential content with your employees with authentication permission settings.

It offers a powerful task manager to allow you to customize your workspace for remote work.
10. PmWiki
---
Last but not least, we have got another content management system in our listing. It is PmWiki for better collaboration and interaction with users. The user interface is similar to other wiki software with a basic textual content editor. Thus, you don't have to be an expert in HTML or CSS to create your own website. 
PmWiki keeps track of edited pages with page history. So users can easily find out differences between previous and recent pages. Besides, it has a page indexing feature to create dynamic page lists. Even you can categorize your page via the Pagelist feature. It has spam protection features such as blocking words and IP addresses.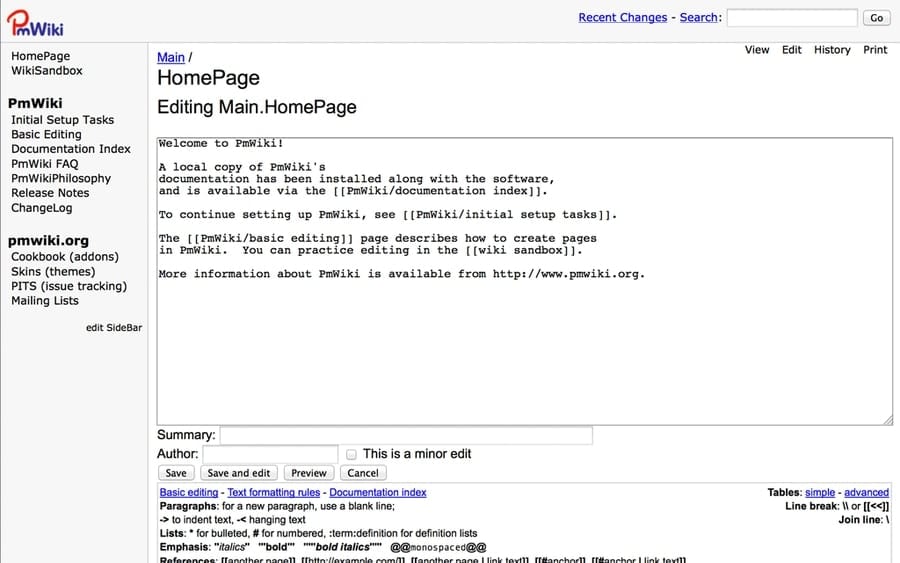 Important Features of PmWiki
Using different skins and custom HTML, you can modify or create your own document structure.

It has a password protection feature to control the privacy of the whole website or individual pages.

You can easily get extensions from the PmWiki cookbook to customize or add a new markup language.

PmWiki stores the pages in ASCII format in its own web server, and the administrator has direct access to edit the file directly.

For better multi-user support, PmWiki creates a conflict resolution system to prevent conflict between user and author.
Final Thought
---
We have discussed the top 10 best self-hosted Wiki software for Linux, as can be seen. Based on the features you can choose anyone which is suitable for you. It doesn't matter whatever your job or business is; Wiki software is always an essential asset.
That's why to create a better knowledge base or product documentation; Wiki is a better solution for everything and more interaction with users. Therefore choose the best wiki software that gives you better advantages everywhere.
As shown above, we can ensure that we tried our best to sum up every popular wiki software. We have also provided the download links so that you can easily reach the desired one. Nevertheless, if we miss any other popular wiki software erroneously, please mention them in the comment section. If you find this article useful, please share it with other Linux hobbyists.