Are you seeking to modify the metadata of multimedia files? Look no further than music tag editor software! This unique range of software is essential for storing song information, including artist names, titles, and lyrics. As an added bonus, you can easily embed images into your audio file. Fortunately, several compatible options are available on Linux – many being open source and completely free to download! Investing in music tag editor software will make organizing your digital library easy-breezy.
ID3 is the leading audio tag format, offering two versions – ID3v1 and ID3v2. Besides those, there are additional tags like FLAC, OGG, AIFF, Mp3/Mp4/MWA/WAV, and more. The main purpose of an audio tag editor tool is to arrange files seamlessly so they can operate smoothly when needed.
Best Music Tag Editor for Linux
---
If you're searching for the ultimate music tag editor to use on Linux, look no further! We have compiled all of the relevant information about each software's performance, features, and properties so that you can make an informed decision. You will be able to download any of these magnificent programs with just one click from this very page – making your search effortless and simple!
1. EasyTag
---
EasyTag music tag editor software is widely used on the Linux platform to perform beyond the ID3 tags. This popular software supports various files, such as MP2, Mp3, Mp4, AAC, FLAC, MusePack, WavPack, and Monkey's Audio. This software is incredibly user-friendly, and functions are programmed in a distinct way you have imagined.
EasyTag software is characteristically different; as an illustration, three vertical panes are used for the bulk application window: the file tree/list view, the tag editor, and the files in the current directory. Additionally, a status bar and activity log under the three panes have made the application much smoother and user-oriented.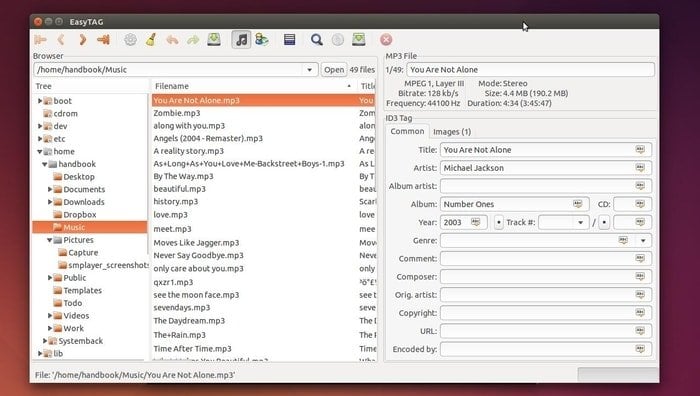 Features of EasyTag
Some discrete features in this software include playlist creation, bulk rename, directory rename, and directory restructure.
The main toolbar is just underneath the menu bar that enables critical functions. For example, first, last, next/ preview, scan, remove the tag, undo/redo, file tree/list view switcher, save, invert the selection, and select all.
Search, create a playlist, CDDB lookup, quit, and stop features are included in the toolbar, along with the abovementioned options.
The parent directory is placed in the input box straight below the toolbar, selecting the function when required.
2. Kid3
---
Kid3 is mainly used to edit music tag files for KDE 4.x. This tool supports far ranges of flies, for instance, Mp2, Mp3, Mp4, WMA, FLAC, OGG, AAC, WAV, WavPack, Speex, AIFF, MPC, and True Audio. This music tag editor software can generate tags either automatically from the file names or another way around, such as manually.
Twenty different combinations could be used to change the files' names for artist, title, track, album, year, and track number. This tool includes directory editing and playlist creation, which can be done very quickly. This application is enriched with 60 different tag categories that can be soundly used to edit a specific file.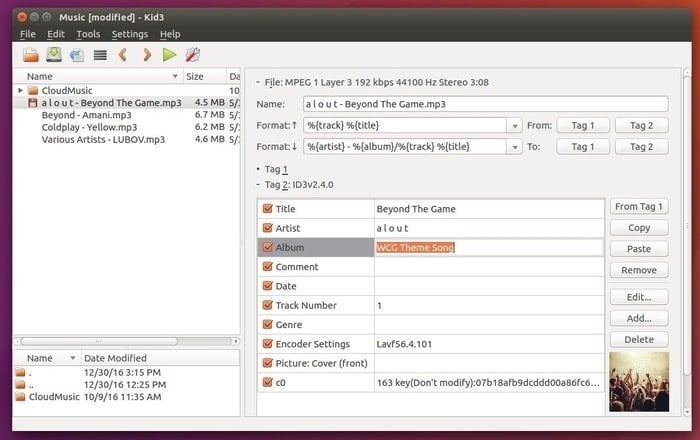 Features of Kid3
Being a KDE 4.x application, its performance is outstanding; moreover, it can be customized; thus, it is suitable for everyone.
Unlike other applications, this music tag editor software has logically placed all the vital elements without hiding those inside the menu or cluttering UI.
The Linux platform works smoothly; thus, it is assumed to be one of the best music tag editor software.
Nevertheless, it is suggested that if CDDB lookup is included, it would be the best tagger by leaving behind others.
3. MusicBrainz-Picard
---
MusicBrainz-Picard is officially recognized as a tag application for the online-based community forum MusicBrainz metadata database. Additionally, Picard has taken from the reputed captain of the USS Enterprise D and E. This music tag editor software supports most of the available music file formats.
MusicBrainz is used for different purposes, such as album cover, CD, and digital audio file tag lookup. Moreover, file names could be used to get populate that information. Furthermore, files can be moved and renamed in other directories to generate a new folder using Picard.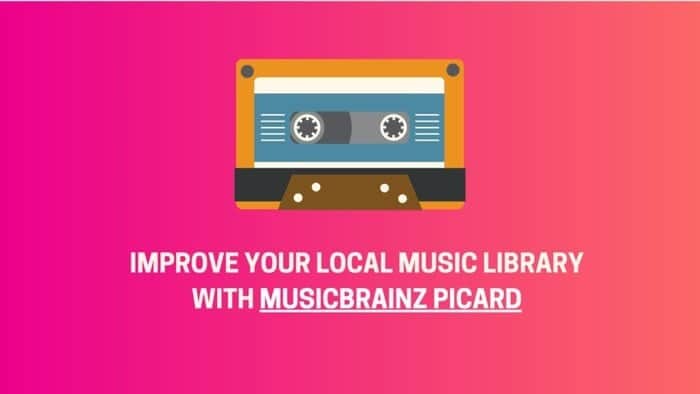 Features of MusicBrainz-Picard
This music tag editor software has a stunning design, clean interface, and well-placed elements.
The toolbar is placed right under the menu bar, which harbors very vital functions of the menu bar to operate the application smoothly.
Two panes contain the bulk of the window, and the left pane holds current tag information files integrated with the Picard. On the other hand, tag data and record names are kept in the right pane.
Additionally, the View menu can generate an optional file tree browser in this tag editor application.
4. Entagged
---
Entagged is believed to be a little distinct because of being a Java-based program that can be used to tag Mp3, OGG, and WMA files. It can also be used to edit, rename, playlist creation, and lookup via freedb. This music tag editing software can rename the file using the tag information or another way.
The UI is designed with various shades of yellow, whereas each on-screen option is made of blocks. There is believed to be a form drawback since no rounded corners are found in this application.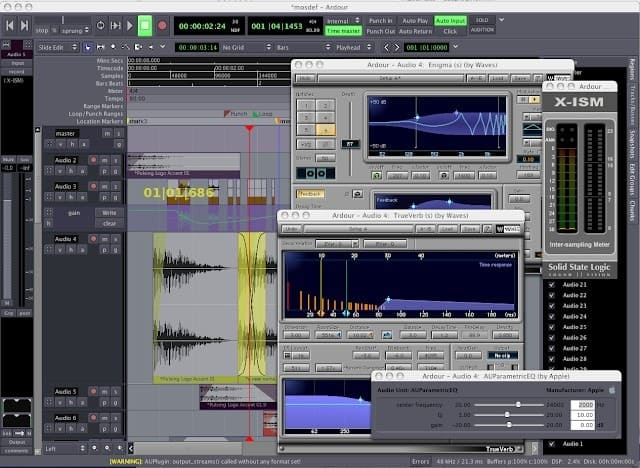 Features of Entagged
There are handy and user-friendly sorting options in this music tag editor software.
Current directories, for instance, track number, title, artist, album, length, and genre, can be sorted out by the file name.
What is more, WMA files are supported by Entagged to a significant extent.
5. Ex Falso/QuodLibet
---
Ex Falso is audio tag editor software on the Linux platform that is included the QuodLibet player tool, which can be retrieved from the Linux platform independently. Being involved with the QuodLibet player can support several players, namely, Mp3, OGG, MusePack, FLAC, and MOD. This application can tag individual songs manually, or a template can be used to tag a bulk of the music.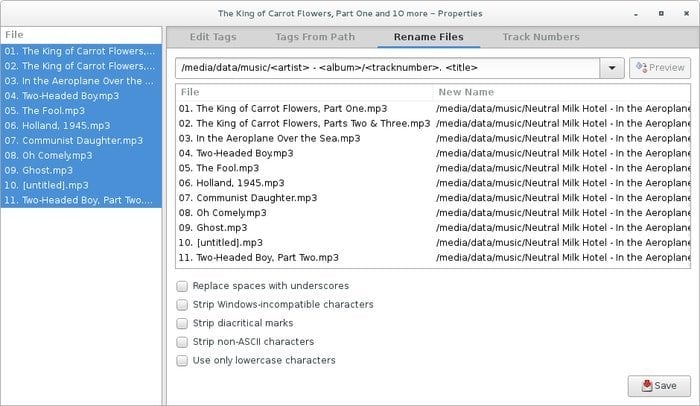 Features of Ex Falso
This audio tag editor software is capable of bulk renaming, and it can manage album-based track numbering.
There is a stunning and straightforward interface without any menu bar or toolbars; thus, it is catchy and appealing to the user.
A file tree is contained on the left-hand pane for the file selection at the top of the list of files in the currently selected directory.
The right-hand pane is responsible for all the essential functions that enable manual tag editing, renaming, tagging from the file name, and tag number editors as well.
6. K-Yamo
---
K-Yamo elaboration is KDE-yet, another music organizer that is very notable for the Linux platform. This music tag editor software edits tags efficiently for the mp3 and OGG file; nevertheless, it includes a CD ripper. Essential component freedb is utilized with the CD Ripper to auto-generate tags and file names because of ripped tags. Besides, MusicBrainz, to some extent, can derive tags for files that K-Yamo does not rip.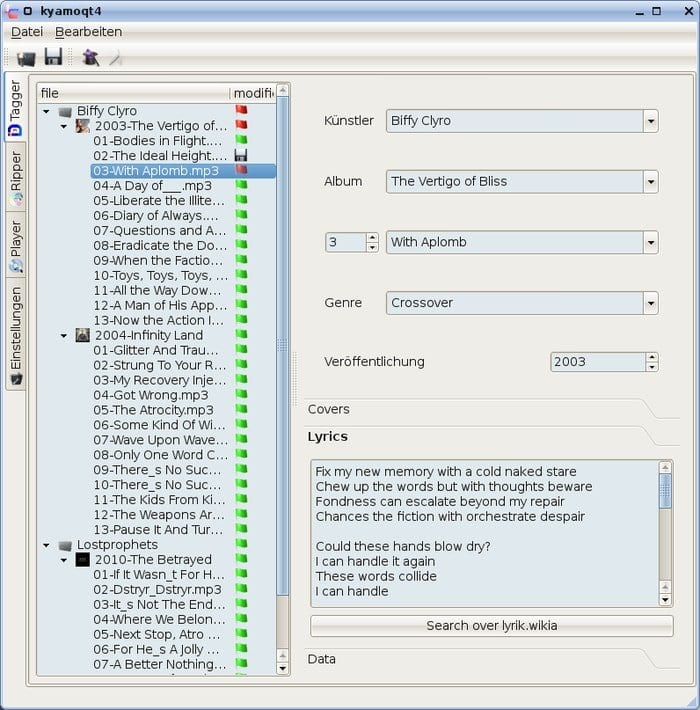 Features of K-Yamo
Having the KDE .x style, UI performs exceptionally smoothly and efficiently in this music tag editor software.
Since there is no menu bar or toolbar, K-Yamo facilitates using the tabs to switch into the main window between the ripper, tagger, and setting.
Because of being an essential tool for tagging music files, there is no directory for the creation or renaming; moreover, sparse file type support is nonexistent; merely a primary tag is available in it.
Including the CD ripper makes this application user-friendly, which is its strength.
7. Audio Tag Tool
---
Audio Tag Tool available on the Linux platform can edit ID3 tag information of Mp3 and OGG files. This application can edit the tag individually or in bulk; this tag edition can be done manually or using the existing file name. Additionally, it facilitates the user to switch to an advanced view option that includes contact, data, copyright, and information.
Moreover, this advanced view option lets the user get engaged to customize isrc, license, organization, location, performance, and version. The playlist creator and the bulk round out Audio Tag Tool capabilities.
Features of Audio Tag Tool
Having a more accessible and user-friendly interface, this music tag editor software is simple to operate; any user can choose it and use it.
The left pane, which is split in half vertically, holds the current directory used as the home of the file list.
The right pane is programmed in a particular way as it can be tabbed to switch between the single tag edit, multiple tag edit, bulk rename, tag clear, and playlist creation functions.
It is believed to be one of the most futuristic music tag editor applications because it has a .deb for ARM availability.
8. Puddletag
---
Puddletag is a music tag editor software solely created for the Linux platform. This software is distinct because of its spreadsheet-like layout, so all the manual tags can be visible and editable. This tag editor application is suitable for extracting information from the file names, and what is more, it can be used to rename files based on their tags.
Moreover, some functions allow replacing trim and text and replacing the case of tags. Because of its dynamic option, repetitive tasks can be automated. What is else? Lookup tags and the QuodLibet library can be imported by using MusicBrainz.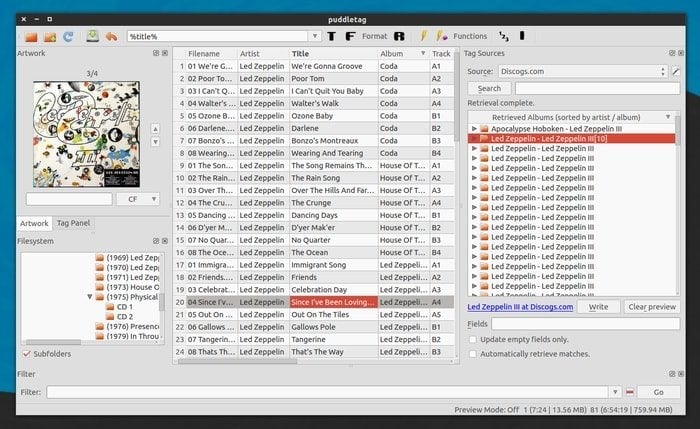 Features of Puddletag
This audio tag editor software supports a couple of formats, namely, ID3v1, ID3v2 (mp3), MP4, OGG, FLAC, Musepack, Monkey's Audio, and WavPack.
Multiple albums can be tagged automatically, including the capability of enriching metadata; moreover, it smoothes the way of using one or more metadata sources in a single operation.
Its functions enable us to quickly search and pave the way for replacing text from a specific area or field without resorting to action.
9. Pinky-Tagger
---
Pinky tagger is used as a mass tagger on the Linux platform, supporting the MusicBrainz service that paves the way for automatically finding the correct information from the files. This audio tag editor software facilitates managing files and downloading covers significantly—additionally, this software tags with an integrated expression scanner and MusicBrainz.
Entire albums can be tagged with this application even though fingerprints are unfamiliar with the MusicBrainz server. To this end, different algorithms are used in the Pinky-tagger, such as fault-tolerant string comparison and length comparison, and so on.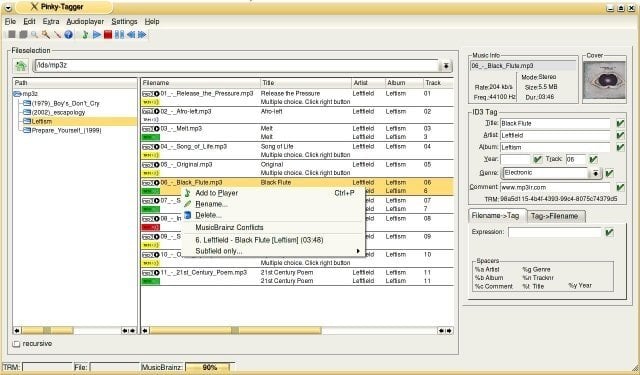 Features of Pinky-Tagger
This tag editor application can view, edit, and write tags for Mp3, OGG, FLAC, and Monkey's audio files.
Its functions pave the way for downloading information on whether automatic pre-selection is commanded or not.
This application tags complete albums and lets you browse different internal files and directory browsers.
10. Cowbell
---
Despite having limited editing features, Cowbell tag editor software offers promise. It is programmed to edit a single track and single album at a time in the best possible manner. Multiple records for only one artist at a time are not supported. This audio tag editor facilitates the user to select a particular file with the built-in directory tree browser; nevertheless, the file can be dragged from the desktop file manager into the main window.
Though plugins are not well supported with the Cowell, it utilizes Amazon's web service API for built-in searches such as album and track searches; there is no way of configuring the UI. Interestingly, is no indication of using Amazon's help.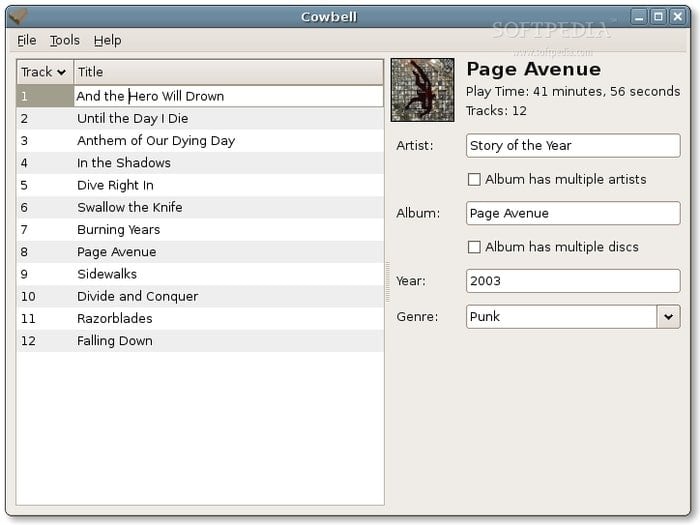 Features of Cowbell
This audio tag editor software supports Mp3, OGG, FLAC, and APE formats on the Linux platform.
This application lets the user modify multiple tracks at one point by using a command line-batch mode; however, it does not allow it to happen directly from the UI.
It is believed simplicity is the best feature of the Cowbell. It is user-friendly and easy to use; nonetheless, it lacks many advanced features, thus allowing basic tagging.
File renaming can be done limitedly with Cowbell; a specific tag cannot be focused on this application, which is another limitation.
11. Finetune
---
Finetune is an automatic tag editing application on the Linux platform for commercial use. Its interface is stunning and very simple to use; moreover, it has been designed to leave behind the tediousness by adding information to the music file. Though it is not the only application of this kind, it offers some discrete features for the user.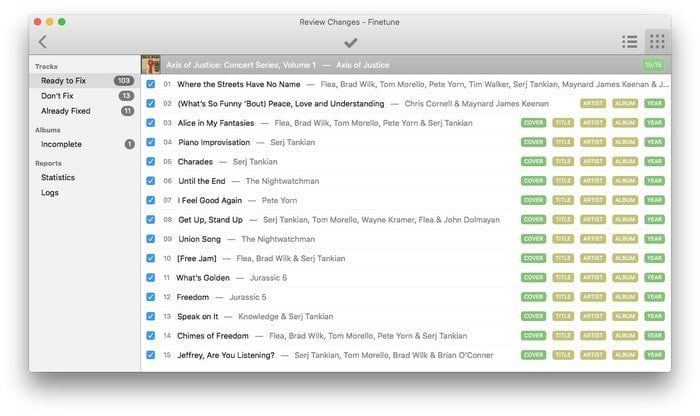 Features of the Finetune
This music tag editor software is entirely automatic; thus, user interaction is little, requiring functionalizing of this application.
Along with the Mp3, Mp4, OGG, and FLAC, Finetune can read and write the most accessible formats on the Linux platform.
Users' fingerprint is required to determine the music and identify the correct information that implies; it does not depend on the best guess.
Apart from the appropriate artist tag, it can also produce the composer and performer tag; hence, the program gets better at scanning classical music.
12. Demlo
---
Demlo is an audio tag editor application that also can perform organizing the library, and Lua and FFmpeg develop it. It works for various features, for instance, cue sheets, case checking, transcoding, and online tagging with MusicBrainz. Additionally, it offers manual tag editing, and processing, covers downloading, and many more.
This music tag editor software operates with the Lua scripts of the files that are passed as arguments. Each script allows accessing an input table that would modify an output table and necessary information such as; covers, tags, path, and encoding processing properties.
Features of Demlo
Demlo always comes with its official script; nevertheless, the user can generate a temporary script in the folder and calls it from the command line; then, it needs to be removed.
Internet tagging can be done using this audio tag editor software; to this end, MusicBrainz is required to perform this function.
Files renaming is also possible with this application; moreover, libraries can be managed along with the batch process for an entire library.
13. Jaikoz
---
In many cases, metadata gets lost that was stored in the tag. Jaikoz tag editor tool is powerful enough to retrieve that information and allow users to quickly correct, edit, and organize these tags. Jaikoz uses the two most extensive online databases: MusicBrainz and Discog, which have 15 million songs altogether. Acoustic provides an acoustic ID, which paves the way for identifying with actual music; thus, this music tag edit software matches it even if there is no metadata.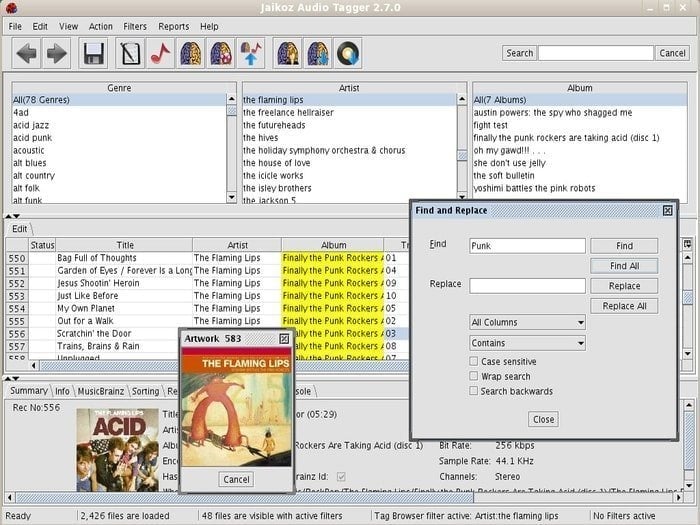 Features of Jaikoz
Most of the popular media player formats, for instance, Mp3, Mp4, M4a, M4p, FLAC, AIFF, WMA, Wav, DSF, and OGG files, are supported with this music tag editor software.
Jaikoz offers a range of opportunities for the user; for example, the user can look up songs using the Acousid or metadata simultaneously.
Data could be edited manually using a convenient spreadsheet view with many autoformatting features.
14. Bliss
---
The bliss tag editor application is distinct, with features in the setting menu that facilitate automating the processing and organizing of the album art. Having been downloaded, the software requires indicating a music library. This music tag editor software works directly and efficiently inexpensively and organizes the music collection's album art at lightning speed.
Bliss can work in different aspects in different ways; for instance, it might be used in the smallest library; however, it can still perform very quickly and speedily when it is assigned to the giant library. The most appealing issue regarding the bliss is how it runs the files' background. It ensures the smoothness and faultless performance of the device.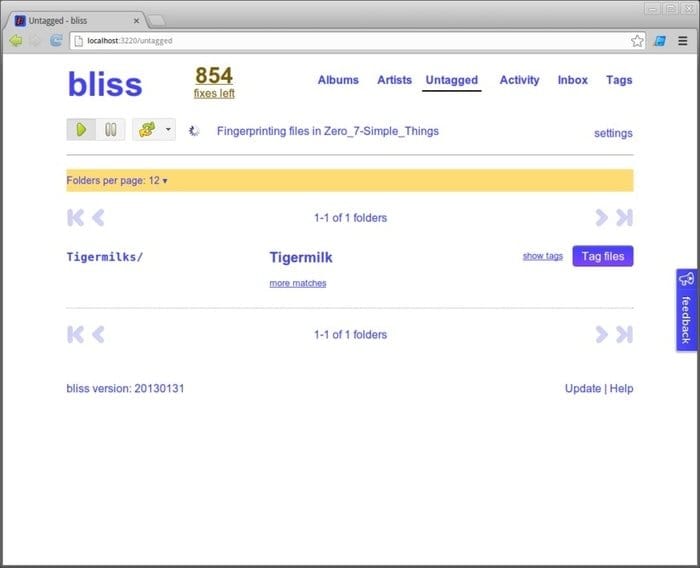 Features of Bliss
This music tag editor software is compatible with many music file formats while organizing the album art, for instance, Mp3, Mp4, OGG, FLAC, WMA, M4A, and M4B formats.
This application uses the default interface to display its information, has user-friendly features, and is easy to navigate.
An alphanumerical filter is placed on the bar at the top of the screen that paves the way for using the particular letter, number, and symbol of a song.
Different online databases are used in this application, namely, MusicBrainz, Amazon, Discogs, and Google, to source the album art.
15. SongKong
---
SongKong is believed to be one of the most efficient and stunning tag editor applications that can easily and quickly organize, manage, and clean up the digital music collection. As an illustration, it offers neat features for the users; they would get flexible and painless service from this tag editor software.
It is possible to maintain all the music files using a small amount of time. Like other quality tag editor software, it supports most formats, such as MP3, MP4, AIFF, WAV, FLAC, OGG, and WMA.
Features of SongKong
This music tag editor software is dexterous in multitasking, such as; fixing misspellings, adding metadata, and renaming music using the provided new metadata.
Moreover, this application can add the artist's name, album, and album art by using the given metadata.
Acoustic is used for acoustic–matching; thus, if even metadata is not given, it can still match the album art based on the music track.
It is capable of working with large music files as well as with small data.
Finally, Insights
---
To sum it up, the most common and compatible audio tag editor software on Linux are Kid3, Picard and EasyTag, and Puddletag. Each of these programs offers great value for money despite slight variations in features; all of them share almost the same capabilities. We would appreciate your comments about this article! If you find our information useful, please don't forget to like or share it with others.