Welcome! You are reading this article because you are looking for some amazing stock photo sites online. Yes, we know finding the best stock photo sites is a tough job. Do not worry. We have taken the responsibility to make the perfect list of stock photo sites. No more panic. No more tedious research. We do everything for you. Moreover, we guarantee you that this top list of high-resolution photo websites meets all your requirements. So, you find simply the best royalty-free photos and best stock photos websites offer.
Best Stock Photo Sites
---
Many photos are free from copyrights restriction that means you can use this photo for personal or commercial use without any issue. However, some photos need attributes. We provide the ultimate guide for you on how to use these photos. Here we listed the top 15 best stock photo sites that are to deliver high-quality images right now. So no more words. Let's explore the best photo gallery.
1. Shutterstock – The Best Stock Photo Giant Site
---
When you are looking for stock photos, you may hear the name Shutterstock. It is one of the best photography stock websites where you find a bunch of categories of photos. This famous stock photo library has 270 million files, and every day it is growing.
Besides, it has a handy search engine to find the right photos from millions of photo galleries that you can use on your blog, social media, news, ads, or any purpose. Finally, do not miss the awesome Shutterstock Coupon Code to save up to 10%. (Note, always check Coupon Code before Shutterstock subscription. Because the offer rate changes from time to time).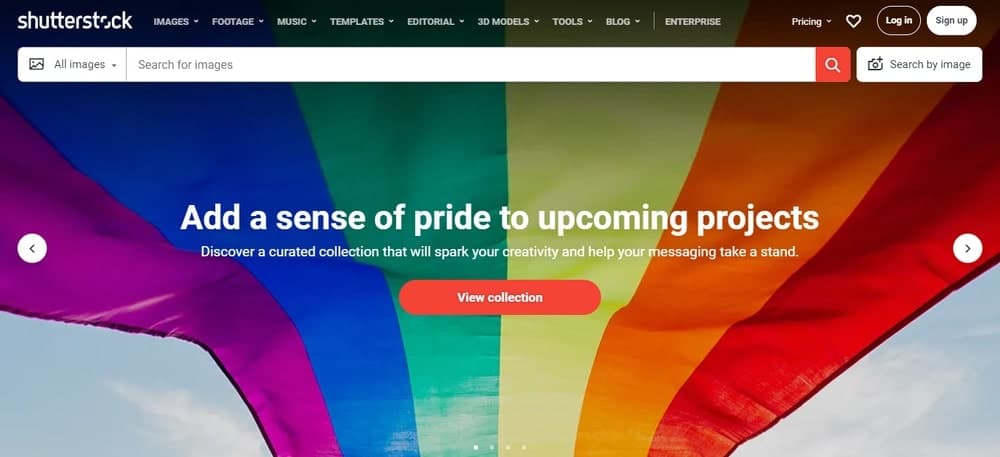 Key Features:
Currently, it has over 270 million professional high-quality photos. And, every week, 1.5 million photos are added.
Shutterstock contains images such as photos, vectors, illustrations, icons, videos, music, etc.
It introduces an innovative search engine to find the right photos quickly.
Besides, it provides a standard license so that you get royalty-free images. Moreover, you can enhance the license for extra usage right.
In addition, this website has editorial licensed images for any usage in the news.
Pros: Though it provides a vast amount of royalty-free images, footage, and music. So you use these stock assets anywhere. Moreover, its advanced search bar and filter option help you to find the right stock quickly.
Cons: However, the biggest cons of Shutterstock is too costly. It is tough to bear the cost for a personal blogger or users.
2. iStock – Popular Royalty-Free Image Website
---
iStock is another popular royalty-free image website where you get photos at a lower price with minimum payment requirements in the stock assets industry. This site is backed by another professional photography digital library, Getty Images. So it has a huge collection of exclusive images. It would be the best Shutterstock alternatives for finding incredible stock at flexible prices. Moreover, it also offers an iStock promo code for your next credit.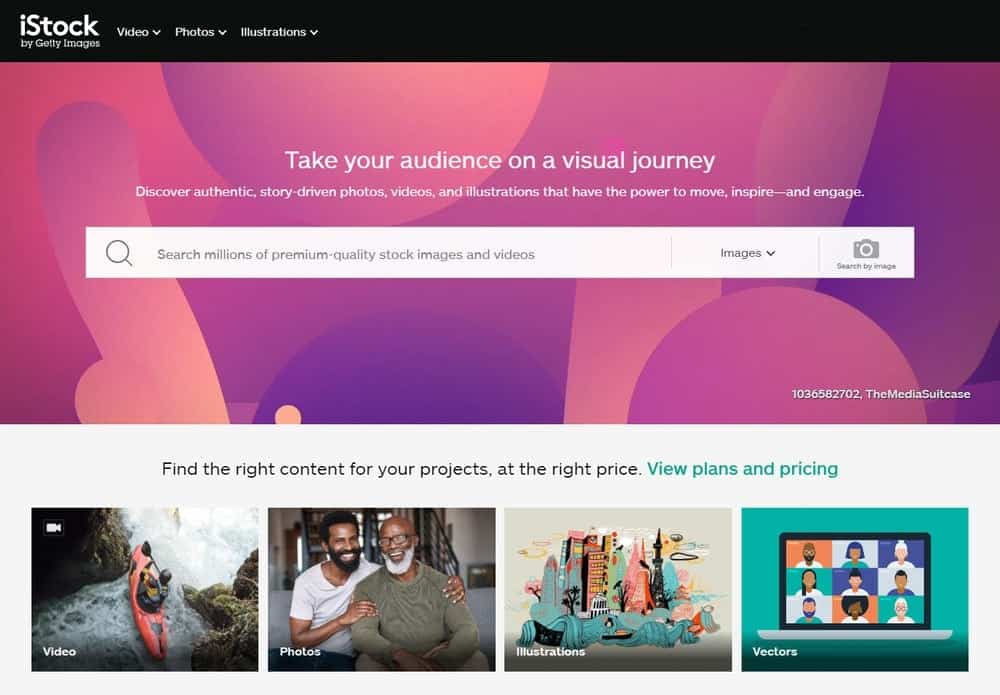 Key Features:
Discover millions of premium quality stock images and videos at iStock.
You always find here exclusive and trendy images at affordable price ranges.
It supports an advanced search bar, including filter options like file type, size, shape, complexity, details, and many more.
It allows single image purchase on demand. And, it also offers a bulk pack at a discount rate.
If you are subscribed to any iStock plan, you can roll over your unused download with your next subscription plan.
Pros: iStock stands out with affordable, royalty-free, high-quality stock photos.
Cons: Though its photo package is affordable, this offer is not available for videos. Moreover, for the large project, its extended packages make it expensive.
3. Adobe Stock – Best Creative Design Tool with Stock Assets
---
Adobe Stock is the best planet for graphics designers. Find stock assets for your next creative project. You can access over 20 million incredible high-resolution and royalty-free stock assets. It allows a seamless workflow for choosing a photo, edit it using Adobe's cloud applications, and after that, download it for your creative purposes. Now you get 10 Free Images from Adobe Stock to use within 30 days.

Key Features:
Adobe Stock has over 200 million incredible high-quality royalty-free stock photos, graphics, and many more.
It offers a seamless design process where you design first directly by Photoshop, InDesign, Illustrator, and other Adobe desktop apps. After that, you can purchase a license that saves your effort and money.
This site also offers 3D assets like royalty-free 3D models, lights, and materials.
Moreover, you can make a quick design with preloaded templates.
In addition, it offers a wide variety of editorial stock images and videos.
Pros: It offers a wide variety of poses for a single photo element to find out the best angle for creative usages.
Cons: Sometimes, its search result comes many irrelevant images that make time to find the right one.
4. Getty Images – The Prestigious Stock Assets Library
---
Getty Images is one of the prestigious professional photography agencies in the world. This agency has been leading in the stock photography industry for over 20 years. It has a huge pool of exclusive images collection covering all topics and a huge editorial content collection. Besides, it has exclusive rights to enable only the right to use the stock photo for a certain duration.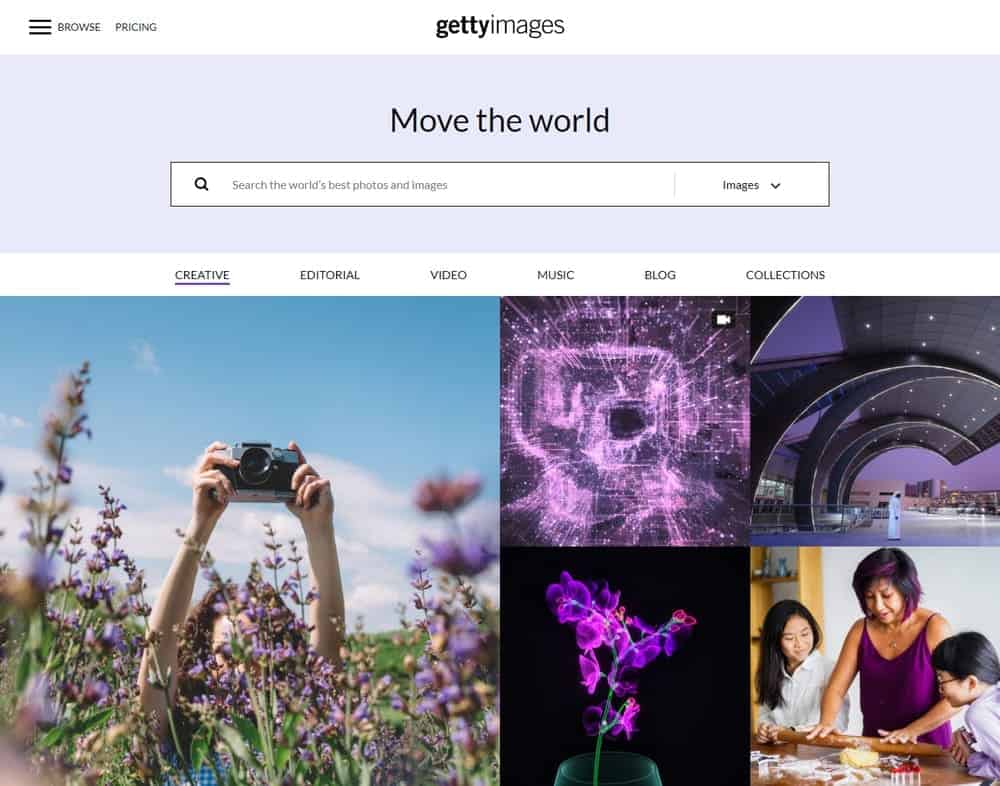 Key Features:
Getty Images has millions of exclusive stock assets, including photos, vectors, illustrations, video, and audio formats covering all categories and styles managed.
This agency strictly maintains the quality of photos. If you are high-quality and engaging images, Getty Images is the best option.
Besides, Getty Images introduces Ultra Packs which simplify the licensing to access unlimited royalty-free and editorial stock assets for unlimited times.
Moreover, it has an easy-to-use search feature to search quickly by filtering keywords, license type, media, and many more advanced search features.
In addition, it has over 25 million premium quality regulation creative stock image libraries for free.
Pros: Getty Images has a huge collection of exclusive and premium stock assets, including highly conceptual and print media images.
Cons: However, it is costly. It does not allow digital use unless it has an exclusive right.
5. Canva Pro – Unlimited Download and Photo Editing Tools
---
Canva is not only a stock assets gallery; it comes with a complete design solution. It has a large stock assets library with over 60 million stocks, including images, illustrators, videos, templates, and many more. Moreover, it has a user-friendly editing tool that can be used for graphics design. This is very effective for the person who does not design savvy. If you subscribe for premium, you can unlock unlimited graphical tools for creating awesome logos and graphic designs.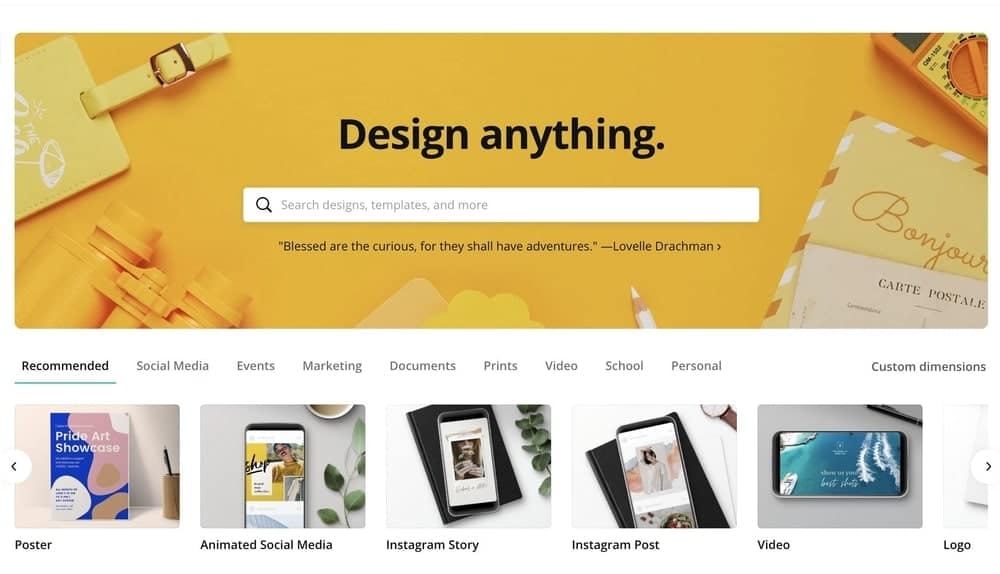 Key Features:
Canva allows photo effects. It has several photo effects to tool to enhance photos.
It has millions of templates. So you can use this template to create an awesome graphic design.
Canva doesn't only allow the creation of images; it allows more than images like banners, flyers, thumbnails, business cards, certificates, and many more. Besides, you can create an animated image in Canva.
This website allows sharing your design with others via mail or social media link. Moreover, it allows you to schedule your creative for publishing scheduled date.
In addition, it has a large font library and design elements like icons, stickers, shapes.
Pros: Canva offers a complete design tool, which is the best design tool for business users.
Cons: The image gallery is not so rich compared to other stock assets sites.
6. Pixabay – Best Free Stock Images Website
---
Pixabay is the large free stock images site considering the best free Shutterstock alternative. It has more than 2 million stunning image files and counting the amount of the files. It provides images under Creative Commons Zero license to be used in both personal and commercial projects. However, it collects images from a crowdsource, but it has a dedicated staff member to review the image quality and legality.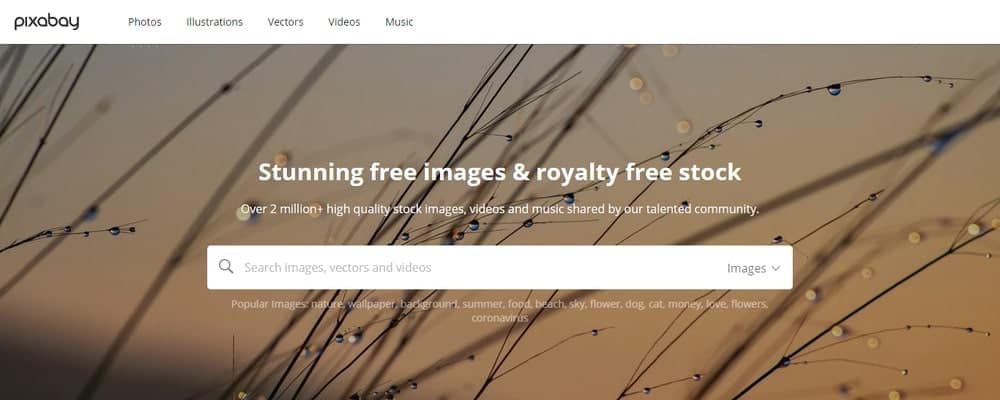 Key Features:
Most of the sites pushed to register for downloading free images. But Pixabay does not do that. You can download images without registration.
When you are downloading images or videos, you get few size options to download.
Pixabay always ensures the quality of images. It has a dedicated group of the staff combined with photographers and photo editors who strictly verify the image quality and legality.
It has an advanced search option. So you can search images or videos by name, orientation, and type.
Moreover, it breaks the language barrier. Pixabay supports 20 different languages.
Pros: If you are looking for hassle-free, high-quality images, you discover Pixabay.
Cons: It uses a tricky strategy to push you to go to "Sponsored Images" from Shutterstock when you are searching.
7. Pexels – New Free Stock Site
---
Pexels is another best free stock photo site where you can download copyright royalty-free images free of charge. It has more than a million photos library, which is uploaded by talented creators. All photos are nicely tagged so that you can find the actual photo in its discover page. In addition, Pexels provides photos under the Creative Commons Zero (CCO) license so that anyone can download the photos in both personal and commercial projects.

Key Features:
Pexels offer millions of royalty-free images, videos, UI mockups, photoshop plugin so that you can use high-quality images without worry about sued afterward.
This site covers all types of images. So you can find any image.
Moreover, you can download the image in different sizes.
It uses an intuitive, easy-to-use UI to find the actual image based on your searching word quickly. Moreover, you can filter by searching photos.
It offers more engaging for users. For example, it tracks the number of likes, downloads statistics that encourage the contributor artists to upload more quality photos.
Pros: Pexels layout is great. You can easily find premium-quality photos.
Cons: When you search broad terms, many search results show that it is time-consuming the perfect one because of not getting the expected file. Moreover, all video quality is not a high standard.
8. Unsplash – Beautiful Free Stock Images 
---
Unsplash is another great source of download-free images. It has already hosted more than 5 million beautiful free photos and integrated them with other platforms. The site creates its own custom license that follows the Creative Commons Zero (CCO) license but removes the right to compile with other photos. When you visit Unsplash, you feel an authentic, premium quality, and modern photo library. Undoubtedly, it is a cool service for finding free images.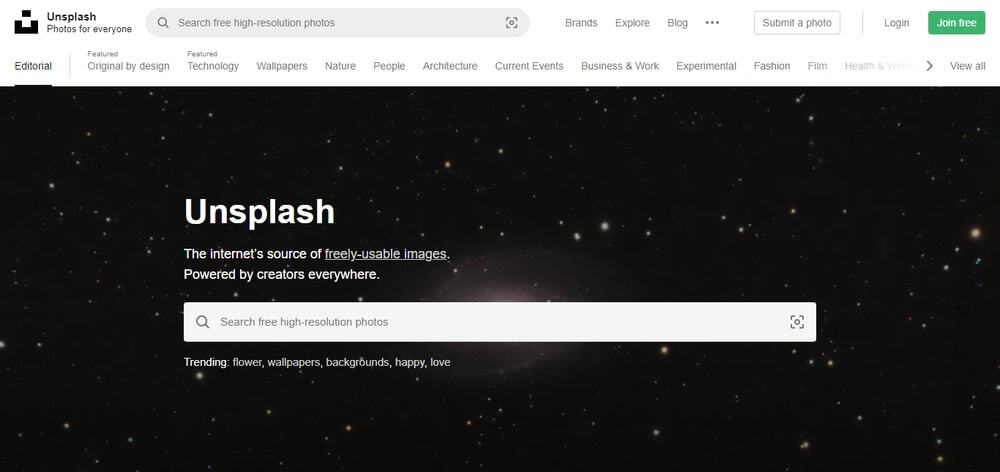 Key Features:
Unsplash provides HD with beautiful free images for usage licensing of any project.
Unsplash introduces a more specific search engine compared to Pexels. You can find a specific image by searching a specific term.
Unsplash has a moderator community that decides the photo accessibility and categories.
Like Pexels, Unsplash introduces the social rank of each photo. So it encourages the contributor photographers to upload more quality photos.
The dashboard is clean and clear. You can search for anything with a few clicks.
Pros: Unplash allows unlimited images to download free of charge. However, it has a large photo library so that you may find any photo.
Cons: Although its search engine is better than Pexels. But it still has lots of rules to develop the search engine.
9. Envato Elements – Unlimited Stock Assets Download 
---
Envato Elements offers download unlimited creative assets, including millions of photos in a single subscription. It is the product of Envato, a great place for graphic designers to access graphic assets files for creative works. This project's main aim for continuing graphic workflow, saving time for search graphic elements. It follows a simple membership plan. Moreover, every month offers 12 elements free download for free members.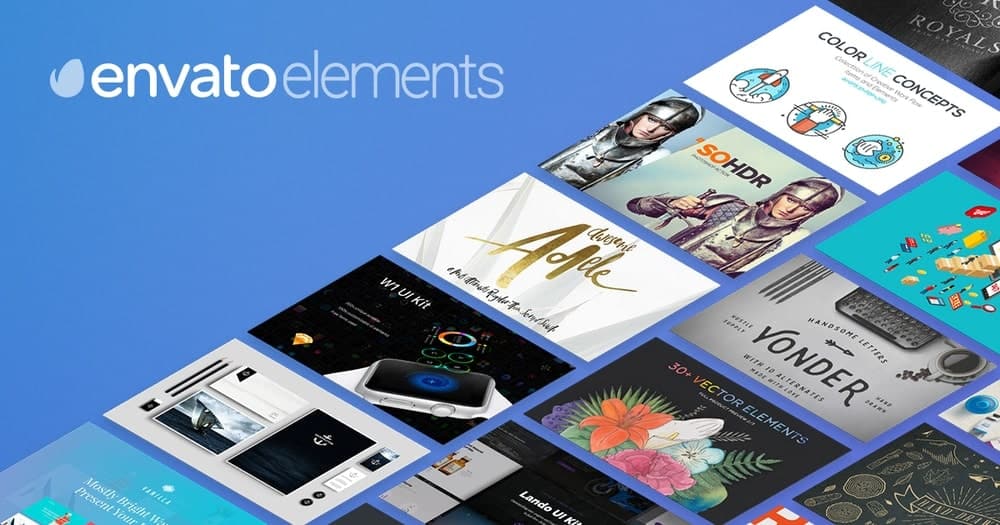 Key Features:
Envato Elements has a vast collection of templates, videos, photos, design assets, etc.
All items are used under Envato's single commercial license, which allows for personal and commercial use.
You can download creative assets either for a particular project or trial use.
When you download project files, you find these project files in the Envato Elements dashboard until you cancel your subscription. So you can easily find the download items in case of a different project or loss the download items from your PC.
When you are subscribed, you get premium access to EnvatoTuts+. So you can get access to premium online courses on photography, web design, creative design, and many more.
Pros: Envato Elements offers a complete creative assets solution at an affordable price. It grows by professional independent creatives. And the quality of its assets is strictly maintained. So you get high-quality assets.
Cons: All items are in one place. So it takes much more time to find relevant and usable content.
10. Photocase – Artsy Curated Photos 
---
If you are looking unconventional, unique, artistic, rare but beautiful photo gallery, you should try Photocase. This site comes with an authentic style and out-of-the-box concept. You may find great royalty-free images that show people's emotions and diverse image galleries. It has more than 5 million aesthetic photos with superb quality.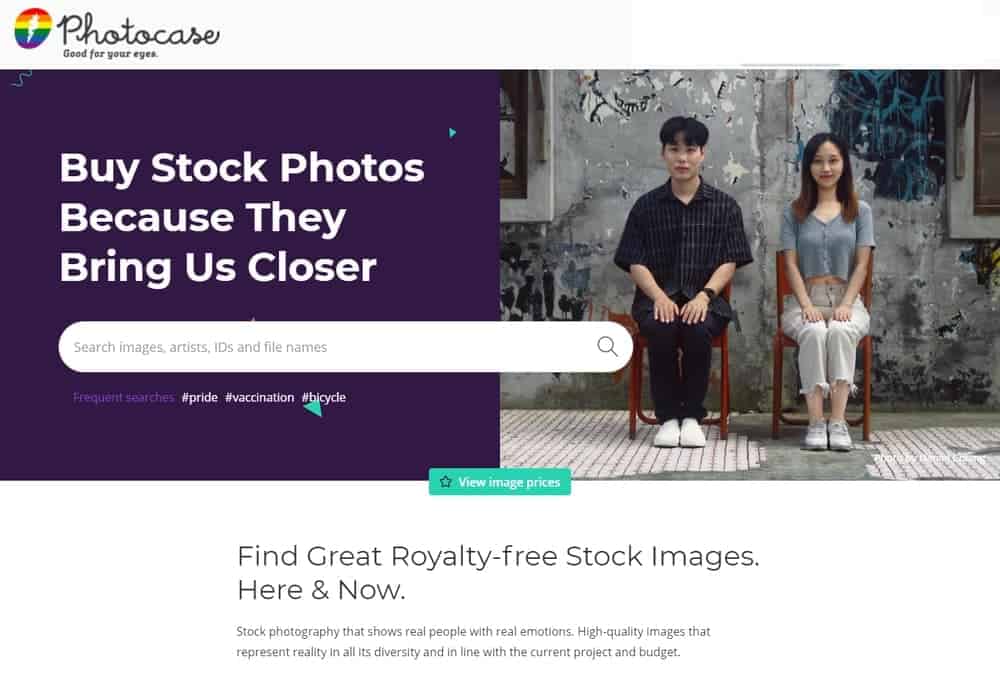 Key Features:
If you are looking for images for sensitive issues like religion, politics, health, tobacco, you get permission to use photos in sensitive cases by providing an additional charge.
It has huge royalty-free curated photos about local content. So it is the best stock images sources for a local blogger or content creators.
You can share the images in social media without an extra license. Moreover, the image can be used simultaneously by multiple users.
The website offers both standard and extended licenses. While standard license applies to all photos in the Photocase library, an extended license provides more access to unlimited usage and resale of the items.
Sometimes customers need to change the license type. Photocase is one of the few photo stocks agencies that allows changing the license.
Pros: Photocase offers hand-picked curated photos on trending topics. If you are looking for exceptional but trendy photos, you may explore Photocase.
Cons: No subscription plan. So you need to buy a single photo based on your requirement. Also, if you are working on a big project, then it increases the project cost.
Our Recommendations
---
There has a giant list of stock photo sites around the websites. We reviewed and analyzed the sites and narrow these down in a small list that. Among the list, if you are looking for CCO license-free stock image websites, you should pick any sites from Pexels, Pixabay, or Unsplash. But CCO license has some limitations.
So working with a big professional project, you need to subscribe for the standard license to getting premium access to the images. For this, you may subscribe in Shutterstock, iStock, or Adobe Stock. Furthermore, for editorial or unique image access, you may subscribe to either Getty Images or Photocase. Finally, Canva Pro or Evanto Elements are recommended for a complete creative assets solution. It provides more than stock photos.
Finally, Insights
---
Photos are always an integral part of the design. However, if you are a graphic designer involved in creative works, you need to spend a huge amount of time finding the perfect photo for your project.
There are lots of websites that offer less standard photos but tricky costly. We hope this 10 best stock photo sites list saves your time and money. All websites in this list are well-known and provide high-quality royalty-free stock photos. We guarantee you that this list can meet all your requirements.
Apart from this list, if you find another awesome photo site, you can share the site's name in the comment box. Moreover, if you think this list is helpful, you can share this article with your friends and familiar persons.