What's the free and open source subtitle editor for Linux? Well, we'll reveal it to you. A subtitle editor application lets you create and edit video subtitles on your own. Most of those movies and shows come overlaid with primed subtitles. However, some don't contain any subtitles. For this reason, you need to use a subtitle editor or subtitle software.
The subtitle editor tool, no doubt, will make adding files to videos much more accessible and enjoyable! But first, let's find out what the tool actually does.
Why Use Subtitle Editor Software?
---
A subtitle displays narration, dialogue, or sound effects in a video file in the form of text. It transliterates the speech of a character at the bottom of a screen. However, mangled subtitles are such a buzzkill! Plus, at times, you come across subtitles of poor quality that leave you confused and baffled. At that moment, you will appreciate a subtitle editor. Subtitle editor software will come in handy in many situations.
Add subtitles to your video file and edit them afterward
Translate your favorite TV show or movie
Enhance and personalize your video file
Readjust and synchronize subtitles
Foreign-language films and soundtracks help us look at diverse cultures, societies, and life through a different lens. The language barrier often deprives us of enjoying good cinema – like that time when you wanted to watch A Separation (Iran) or Parasite (South Korea).
But not anymore! Most movies are now available in subtitles. If you're a foreign movie buff, chances are you prefer having subtitles to listening to a dubbed version. Viewers around the world can seamlessly enjoy their favorite TV shows and movies with subtitles. Even native speakers wanting to enjoy movies to the fullest sometimes need to take advantage of subtitles.
Good subtitles can enhance the viewing experience and help viewers overcome language barriers. But, sometimes, they go out of sync with the video or need complete editing. To that end, you will need subtitle edit software.
Open Source Subtitle Editors for Linux
---
Fortunately, a good range of open-source subtitle editors is available for Linux, allowing you to create and edit subtitles. With the primary feature of entering and editing text quickly, Linux subtitle editors in this article offer excellent control over text formatting, positioning, and synchronizing.
We've recommended open source Subtitle editors for Linux in this article are chock-a-block full of features to enhance the viewing experience. One can understand how poor subtitling hampers the viewing experience by simply watching a movie with mismatched subtitles.
Thankfully, many Linux subtitle editors can help you add and effortlessly edit video subtitles. Below are some of the best and most complete open source subtitle tools we've picked to suit you on your Linux system. Have a look at the list and double the fun of home movie-making with the best and open source subtitle editor!
1. Gaupol
---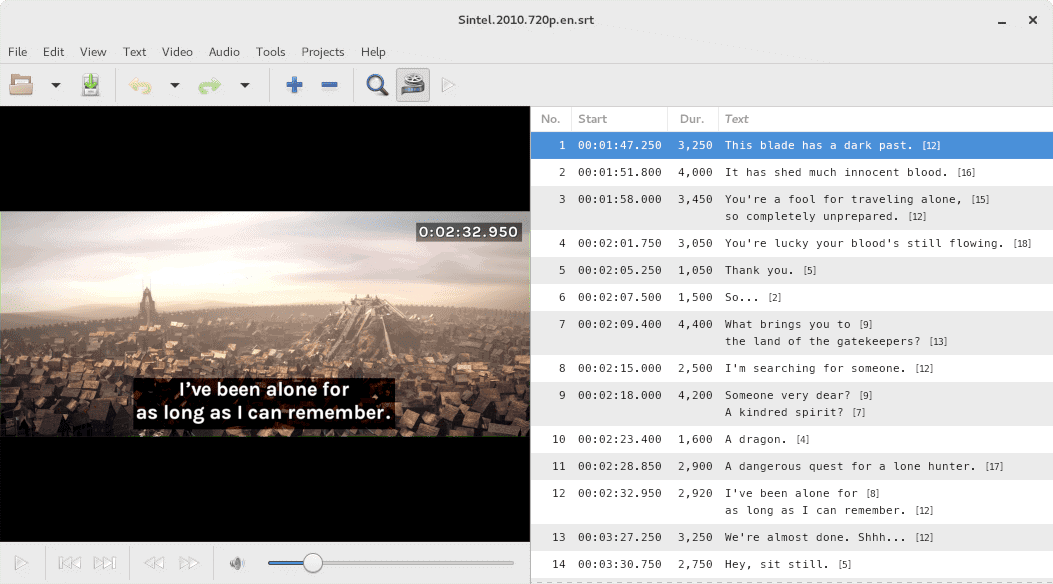 Gaupol is a subtitle editor that helps users create and edit subtitles for videos. It can be used as a tool to translate and edit subtitles in multiple formats. Moreover, you can convert, transform, or correct existing subtitle files. It's open-source and can run on all Unix-like operating systems. Gaupol also includes the "aeidon" Python package, which allows users to read, write, and manipulate text-based subtitle files.
Key Features
Correcting text and manipulating time to match the video timeframe is also possible. It supports multiple document interfaces, allowing batch processing.
You will also get a translation mode, spell checker, support for a wide range of character encodings, and auto-detection.
The editing options of this program are neatly organized. You know exactly where everything is located.
2. Subtitle Composer
---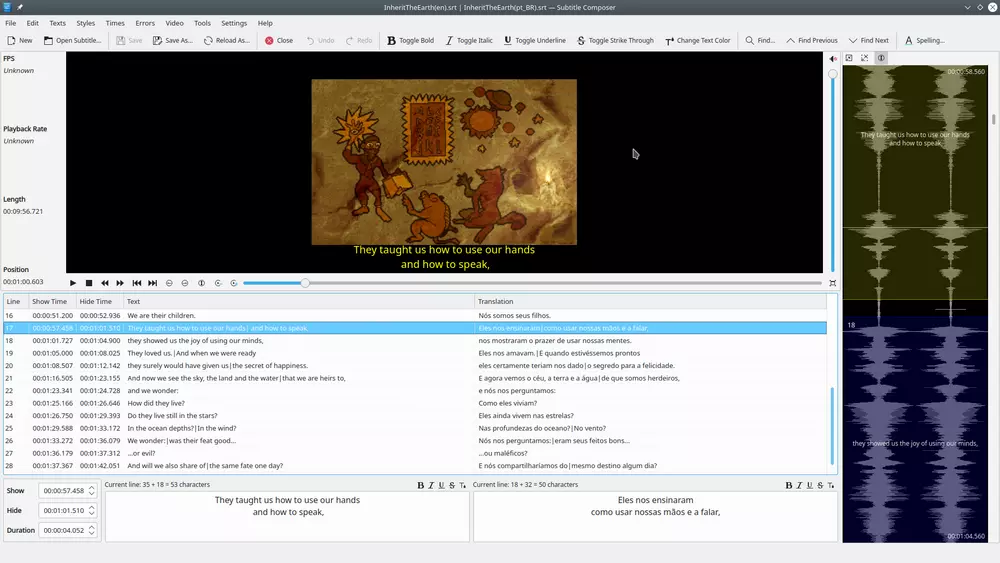 Subtitle Composer is the toolset for you if you've outgrown other necessary subtitle tools and want to move to the next level but don't want to deal with that sophisticated tools. The interface of Subtitle Composer is uncomplicated.
Key Features
The balance between the ease of use and advanced features, in particular, is impressive.
Like all other programs discussed here, Subtitle Composer also supports all usual subtitle formats.
It comes with time-shifting and line duration calculation to fix time inconsistencies.
3. Subtitle Editor
---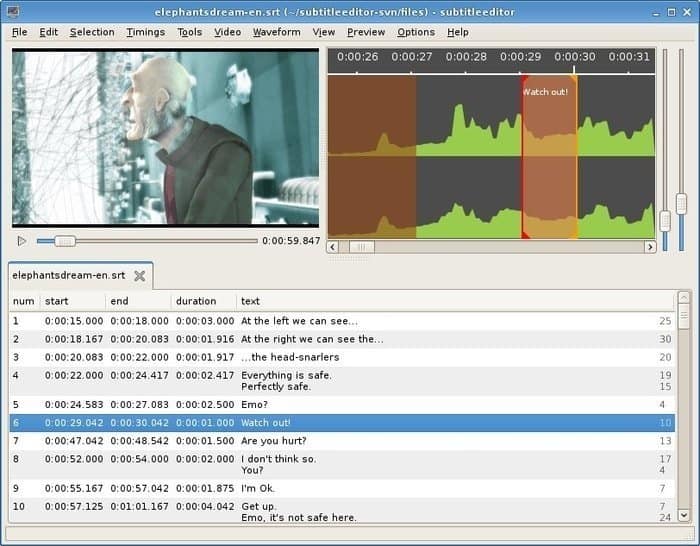 Subtitle Editor is a GTK+3 tool that allows users to edit subtitles for GNU/Linux/*BSD. It is really easy to use and has multiple document interfaces, undo/redo, internationalization support, drag-and-drop, and a video player integrated into the main window. The video player can play previews with an external video player and can be used for timing.
The program also has a style editor, spell checking, text correction, error checking, framerate conversion, editing times and frames, scaling subtitles, splitting or jointing subtitles, and typewriter effect.
The program supports a variety of formats, including Adobe Encore DVD, Advanced Sub Station Alpha, Burnt-in timecode (BITC), MicroDVD, MPL2, MPsub (MPlayer subtitle), SBV, SubRip, Sub Station Alpha, SubViewer 2.0, and Timed Text Authoring Format (TTAF).
Key Features
This software allows you to work with all the popular subtitle formats, such as SubStation Alpha, Advanced SubStation Alpha, SubRip, Spruce STL, Plain-Text, MPL2, etc.
You can create, transform, edit, and convert subtitles in a jiffy!
Additionally, it comes with advanced features, such as Style Editor, Framerate conversion, spell checking, split, and joint subtitles, etc.
Packed with these features, fantastic speed, and ability, Subtitle Editor gets your work done in a flash!
4. Gnome Subtitles
---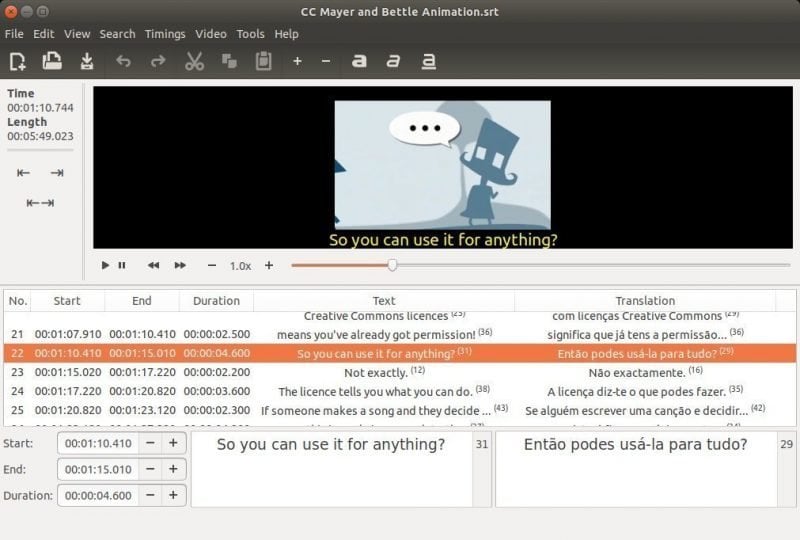 GNOME Subtitles is a subtitle editor for the GNOME desktop that supports the most common text-based subtitle formats, video previewing, timings synchronization, and subtitle translation. It can be used for timings synchronization and fast and slow-motion playback. Additionally, it has support for more than 20 subtitle file formats.
The editor has a few features that make it stand out. First, you can synchronize using the video by setting two or more correct times (sync points). This is useful if you're trying to match up subtitles with a particular scene in a movie. You can also auto-adjust timings based on two correct times/sync points. This is helpful if you want to make sure your subtitles are in sync with the video.
Additionally, GNOME Subtitles has subtitle translation support. This is useful if you're working on a project that requires translating subtitles from one language to another. Additionally, the editor supports spell-checking, making it easy to ensure that your subtitles are accurate.
Key Features
If you have scores of subtitles to edit as quickly as possible, then Gnome Subtitles come highly recommended.
It is particularly powerful for synchronization and spell-checks. As well as timing operations and subtitle encoding, there's also multi-level undo/redo, a WYSIWYG user-friendly interface so that you can create, edit, or convert subtitles easily.
Gnome Subtitles resolves time shifts, encoding selection, and subtitle merge/split. This superbly designed software enables a high degree of control over subtitle editing.
Install Gnome Subtitles in Linux
If you want to install this subtitle editor in Debian or Ubuntu-based distros, run the following command:
sudo add-apt-repository ppa:pedrocastro/ppa
sudo apt-get update
sudo apt-get install gnome-subtitles
Moreover, for other distros like Arch Linux, Fedora, Slackware, and Gentoo Linux, please follow the official Link below.
5. Subtitld
---
Subtitled is a powerful open source subtitle editor that provides a variety of features to help you create, transcribe, and edit subtitles. It supports popular SRT formats as well as SSA, TTML, SBV, DFXP, VTT, XML, SCC, and SAMI formats.
You can adjust the subtitle's start, duration, and end directly in the timeline. The project/status information is displayed clearly so that you have all the information you need without any excess.
You can also slice subtitles merge them to the last or next subtitle or slice them in the middle at the text cursor position. Adding and removing subtitles is easy; you can set the start or end of the subtitle to the current timeline cursor.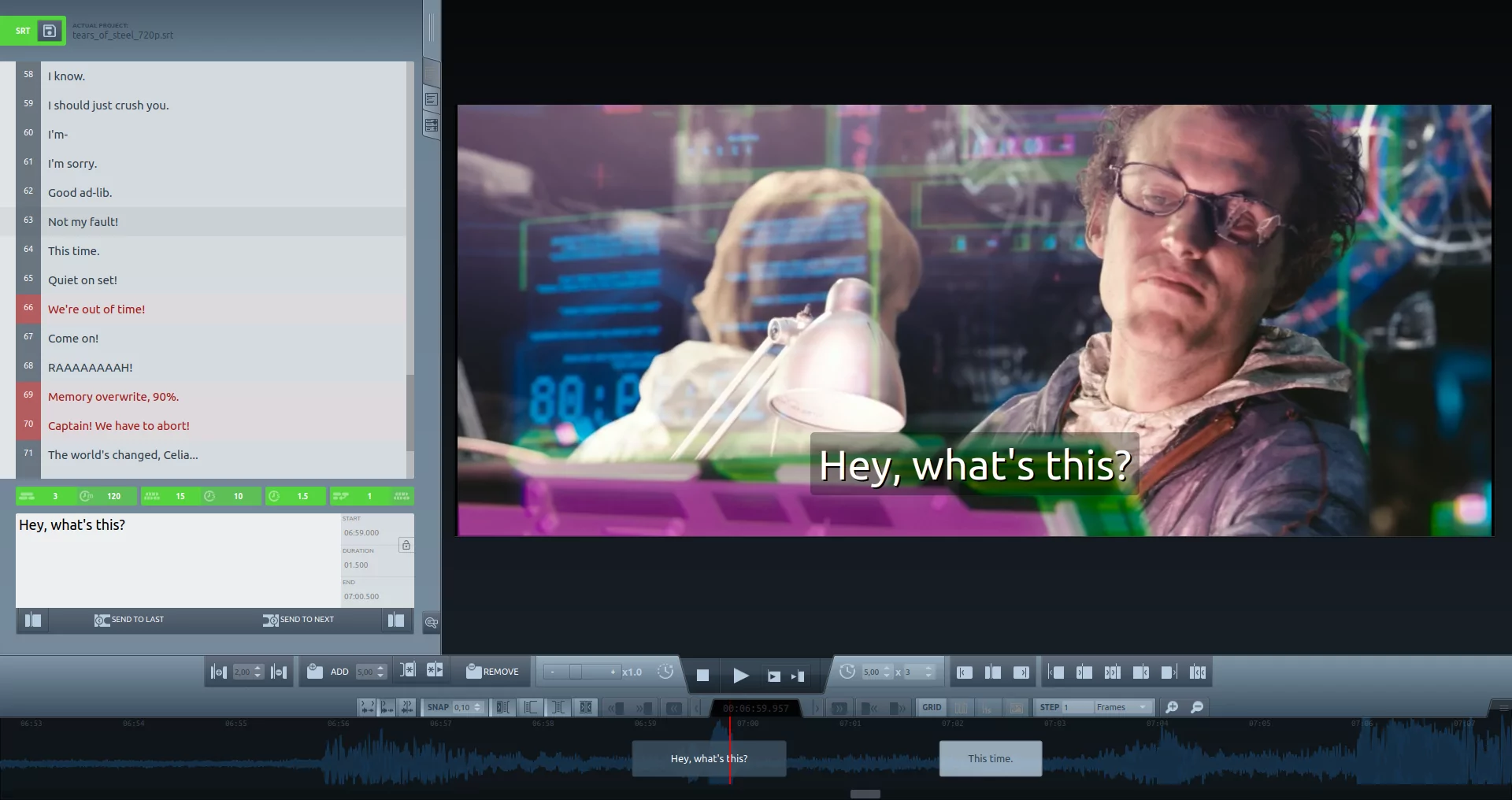 The timeline zoom allows for up to 20 levels of zoom, enabling finer editing. The grid helps visualize by frames, seconds, or scenes. Snapping while dragging subtitles makes it easy to snap them to the edges and to the grid.
The playback options include playing from the start of the last/current subtitle, stopping playing at the current timeline cursor position, or playing from the start of the next subtitle. The time info always remains visible along with seconds marking in the timeline. You can select subtitles from a numbered list and save your project in common formats like SRT and VTT.
6. Jubler
---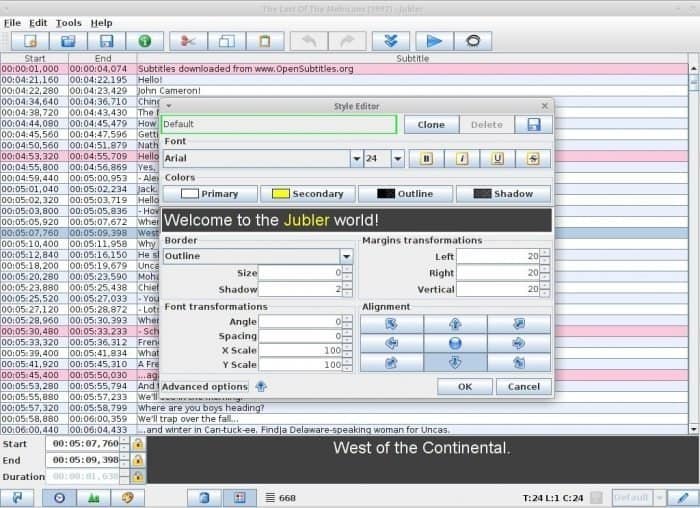 Jubler is a free, open-source tool for writing and editing text-based subtitles that supports multiple subtitle formats, such as Advanced SubStation, SubStation Alpha, and SubRip. Jubler also has internationalization support and various features like spell-checking, graphical previewing, and translation mode.
The software also has a graphical preview feature that allows users to see how the subtitles will look in real-time or in design time. Jubler has a spell-checking feature that helps ensure accuracy and a translation mode that makes it easy to translate subtitles.
Key Features
The number of features this software comes with is quite astounding! Honestly, we'd be surprised if you ditched it. It's because Jubler offers you a preview of subtitles in real-time, translation mode, spell-checking, style editing, and plenty of other reasons to stick around.
If you're bored with typing, then drag and drop the subtitle on the image. And voila! Your subtitle is ready. You can set a distinctive style for subtitles as well.
Fancy translating the subtitles and playing sound from another track? Then, check out Jubler.
7. CCExtractor
---
CCExtractor is software that extracts closed captions and subtitles from any media file. Millions of people use its output (meaning the .srt files it generates). If you've ever downloaded an external subtitle file for a TV show, the original file was likely generated by CCExtractor.
Key Features
So you wouldn't have to worry about compromising your software to edit subtitles.
It currently includes most HDTV captures, DVR-MS, Replay TV files, and more.
It is particularly powerful for DVDs. If you're worried about captions captured in bttv format, this software shows its worth for such formats.
8. SubSync
---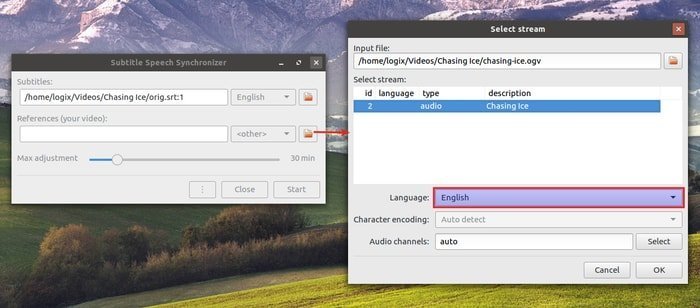 The Subtitle Speech Synchronizer is a tool that automatically synchronizes movie subtitles with the audio track. This is done by listening to the audio track and translating any necessary dialogue into different languages if necessary.
The tool also supports synchronization with another set of subtitles, making it easier to adjust subtitles manually. The software also has a user-friendly graphical interface and supports drag & drop. The software is also auto-updating, meaning that users will always have the latest version.
9. Subtitle Edit
---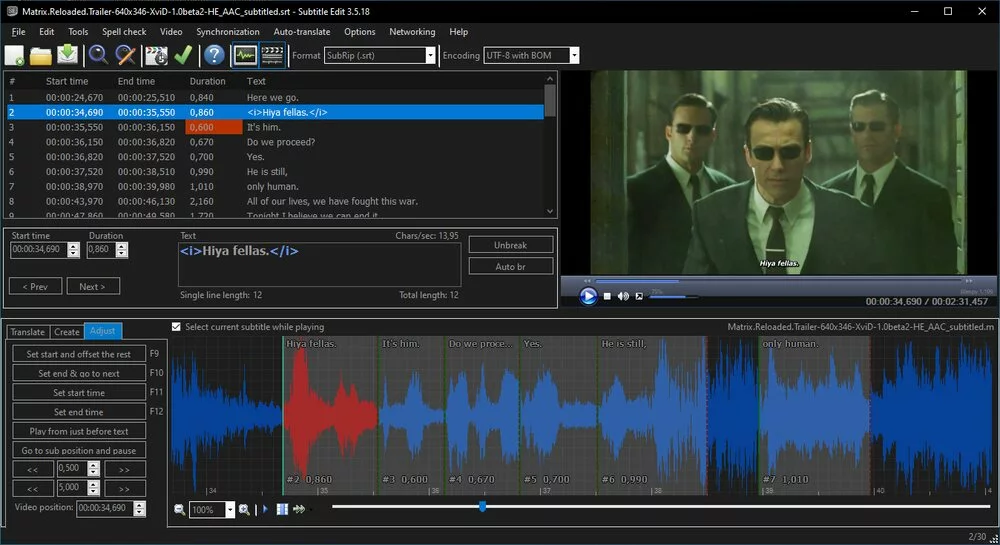 Subtitle Edit is an editor for video subtitles. It lets you adjust subtitles if they're out of sync, create or translate subtitles, and more. The software can also display waveforms and spectrograms. It uses DirectShow, VLC media player, or MPlayer for video playback.
The program has a number of features, including the ability to create, adjust, and translate subtitles. It can also convert between different subtitle formats and supports a variety of Unicode encodings. Subtitle Edit also has a spell checker, history manager, and lots of other features.
10. Subtitle Workshop
---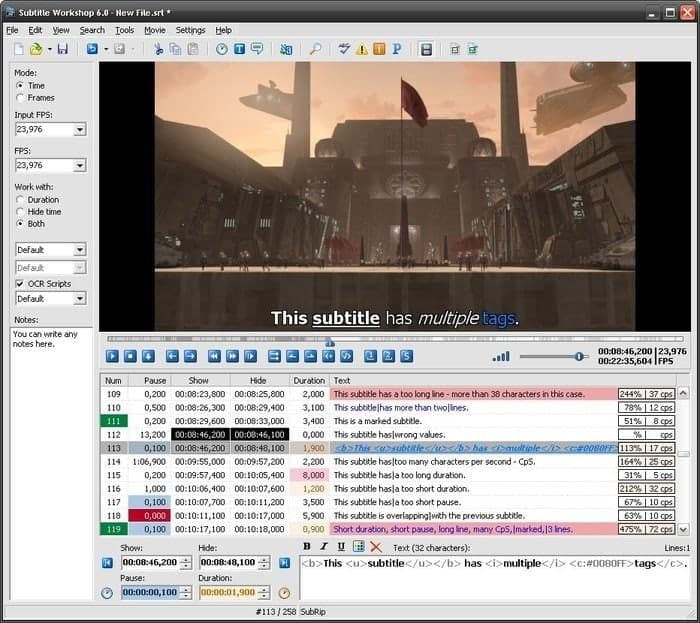 Subtitle Workshop is a text-based subtitle editing toolset. This software packs all the necessary tools, spell checking, automatic timing, shortcuts, smart line adjusting, and more behind the simple interface and functionality. Its fantastic toolset also makes it possible to customize functions for electronic timing and text manipulation.
Subtitle Workshop is a powerful, efficient, and user-friendly subtitle editing tool that supports all the subtitle formats you need. With its many features, Subtitle Workshop makes subtitle creating/editing/converting tasks a breeze. Some of its highlights include spell check, video preview, and error-fixing capabilities. Whether you're a beginner or an expert, Subtitle Workshop is the perfect choice for you!
Key Features
Adopting up-to-date technology, Subtitle Workshop includes smart line adjusting, automatic durations, EPS conversion, and more.
A unique, customizable system is kept in place to manually or automatically detect, mark, and refine all kinds of subtitle errors.
Subtitle Workshop will make it happen if you want to introduce varieties in style or color tags.
The surprise feature that comes, at last, is an integrated video player that provides a preview of subtitles in full-screen mode.
Finally, Insights!
---
Are you sure you have the right tool to edit subtitles on Linux? This article is here to help. To create and modify subtitles easier on the Linux platform, we've rounded up the best open source subtitle editors for Linux.
You'll need a video subtitle editor to create or edit a subtitle file. Subtitle editor software such as Gnome Subtitles is dedicated to this function. Often, subtitles are available in SRT format. While viewing subtitles in some notepads is easy, editing them is a whole-name ball game. Subtitles to videos are helpful to viewers in numerous ways. Understanding a foreign language film is possible with the help of subtitles.
If you have any queries or comments related to Linux subtitle editors or any other software on this site, please do not hesitate to submit your question or opinion. We appreciate constructive ideas. If you think someone else could benefit from this page, do share. Thanks!