With the development of technology, the world has become a global village. The only barrier you can mention is the language. Whether we use the best translation software or not, we still rely on human translators mostly for language localization. But the management and documentation can not be done easily without the help of computers. The open source translation tools play a great role in this scenario.
The tools are called translation software doesn't mean they will automatically translate the language for you. Rather most of these tools are more of translation management tools. They will automate the human translation process when needed to maximize the efficiency of the translator. The confusing part is you can not grossly say which is the best translation software. You have to choose the best one according to your personal or organization's needs.
Best Translation Software for Linux
---
Most of the translation tools are available for enterprise users, and they run on a server. But if you want to use software that can natively run on your desktop, then the options are very limited. But you will be glad to hear that a few quality Linux translation tools are available on the internet for free.
These open source translation tools will help you to localize any of your projects right onto your desktop. Here we have enlisted the 15 best translation software for Linux that are worth checking out.
1. OmegaT
---
OmegaT is a translation memory or TM tool for assisting in the translation process. It is a free and open source translation tool. This software was originally written in C++. Later, the codebase was replaced with the Java programming language. This is why Java IDE is needed to be installed to run this software.
Currently, OmegaT is one of the best translation software available for Linux. This tool is available in almost 500 languages. Many enterprises rely on this excellent piece of a computer program because it has a lot of computer-aided translation or CAT tools built-in.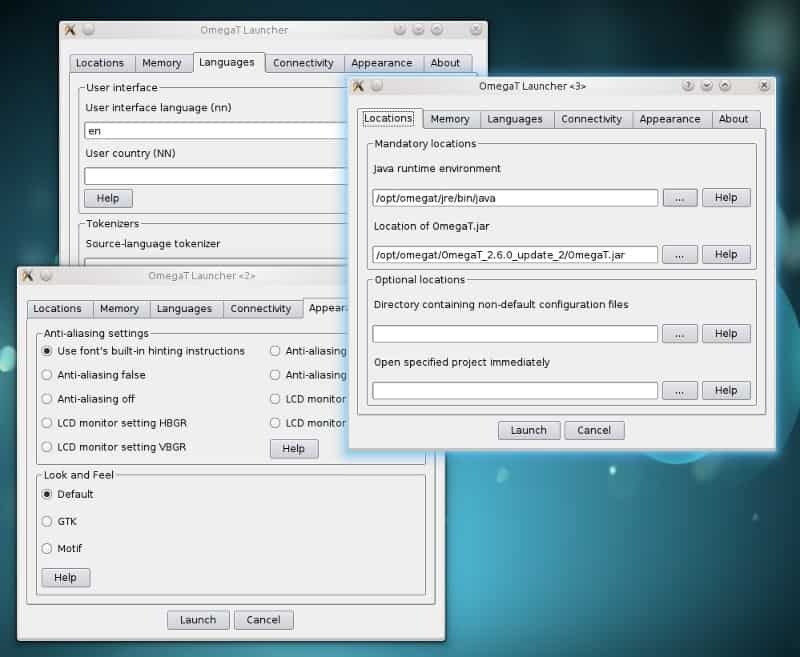 Key Features of OmegaT
It can translate multiple file-formats simultaneously located in different subfolders.
This tool helps the users to customize the file types and encodings. Besides, it supports partial translations from different types of documents.
OmegaT supports match propagation and fuzzy matching for the convenience of the translation process.
This tool can integrate with Google Translate and other popular machine translation services.
The tag validation feature is very helpful for locating unwanted tag errors.
The advanced text editor has many useful features like copy, paste, undo, redo, and sentence case changing.
It shows a tutorial video at a startup that helps beginners to get started.
2. Anaphraseus
---
Anaphraseus is a great open source translation tool. Apart from running on GNU and FreeBSD, this Linux translation software is also available for other popular operating systems. This is a Computer-Aided Translation or CAT tool.
This tool functions as a memory tool for helping human translators. But this tool has additional functionalities that enable it to perform as a machine translator by using third-party services.
One thing you have to remember that this tool is not a stand-alone tool. You have to keep installed OpenOffice or LibreOffice suite to run this software properly. This is also available as an extension or macro set for OpenOffice and LibreOffice. This tool has got a great forum where you may get technical assistance.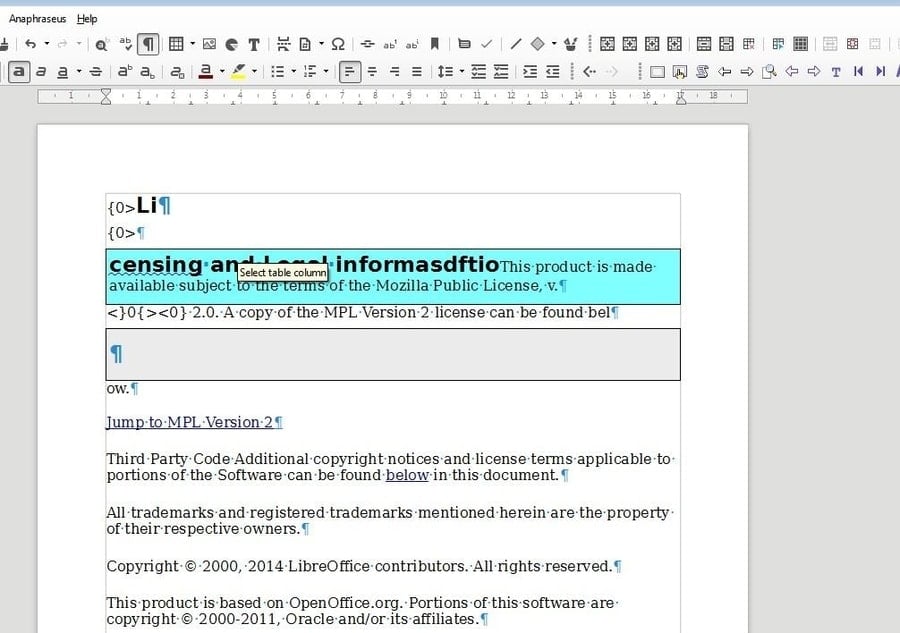 Key Features of Anaphraseus
It supports fuzzy search, just like other translation memory tools. This feature helps to locate a relevant object even when the keyword doesn't match exactly.
Text segmentation, as well as terminology recognition, are great additions to the feature of Anaphraseus.
Originally it supported only TM format. But now, it supports exporting in TMX format, which is used by one of the most popular translation tools, OmegaT.
Office suite integration helps the users to format the translated documents easily.
If you need the assistance of machine translators like Google Translate, you can even integrate Anaphraseus with that.
3. EsperantiloTM
---
EsperantiloTM is a remastered piece of the original software named Esperantilo. It is quite dated software. The original Esperantilo was a translation tool for the Esperantilo language. It contained dictionaries, grammar checkers, and other components of the Esperantilo language.
As the original Esperantilo was an open source translation tool, the developers extracted the powerful translation memory tool and built this amazing memory tool for professional translators. It can now be used with any pair of languages. Esperantilo TM is small, light, easy to use, and can be run on any variant of Linux.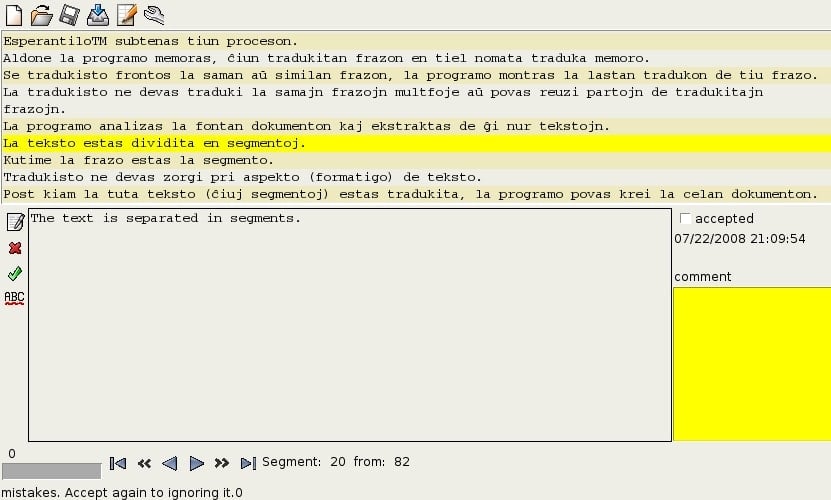 Key Features of Esperantilo
This tool supports various file formats including HTML, XML, TMX, etc. It also supports files from the OpenOffice suite.
The main feature of this software is the powerful translation memory tool that is capable of helping human translators with a huge pile of data.
It has great integration with other best translation software for Linux for easier workflow.
The customizable translation memory can be edited by the author so that it works best for the most natural translation between languages.
4. Virtaal
---
Virtaal is yet another powerful translation memory tool. This Linux translation software has got some amazing features apart from language localization. The name Virtaal is derived from an Afrikaans word, which means "for language" or "translation." This document translation tool is completely free, and thus it is very popular among professional translators.
The user interface of this program is very clean and minimal. The tabular format displays the sentence segments in a very intuitive way that increases the productivity of human translators. It can even machine translate any language and perform quality checks by connecting with third-party services.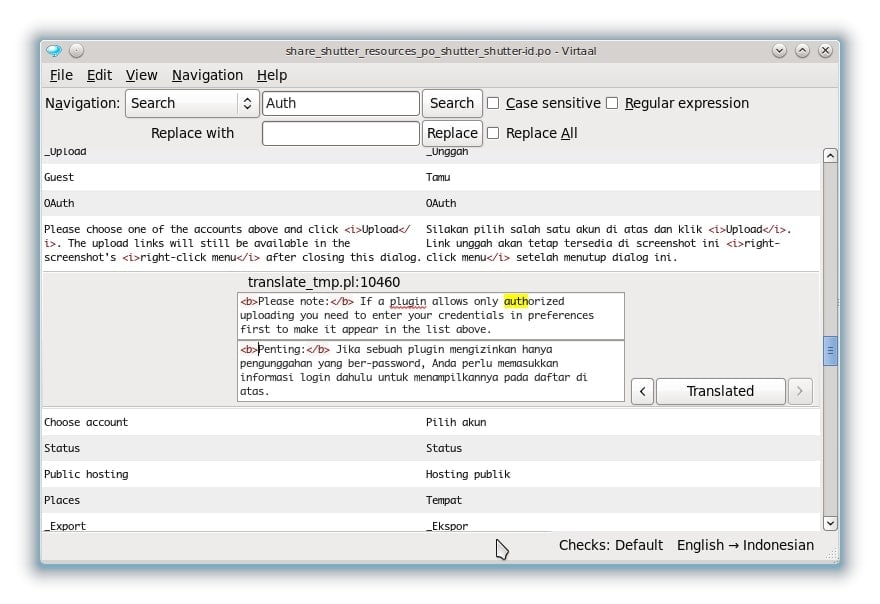 Key Features of Virtaal
It can integrate with Translate Toolkit from the same developers and perform multiple format translations in a single dashboard.
The clutter-free control panel is worth mentioning features that can hide unnecessary modules so that the translators can work seamlessly.
Originally it supported only XLIFF and PO translation formats. Later this tool improved vastly and got support for many popular file formats.
This tool has got some advanced functionalities like frequent use case optimization for a better user experience.
5. Lokalize
---
Lokalize is a proprietary program for the KDE desktop environment. But it can be used in any distro of Linux. It was released as a part of the KDE Applications suite. This tool is the successor of the popular program KBabel and is used to localize KDE and other types of open source software.
This translation memory tool has some unique features. It is not a machine translation tool. Rather it is more like a Computer-Aided Translation of CAT tool intended to assist the human translators in preventing translation errors. You can compile and install this tool from the KDE trunk with an easy process.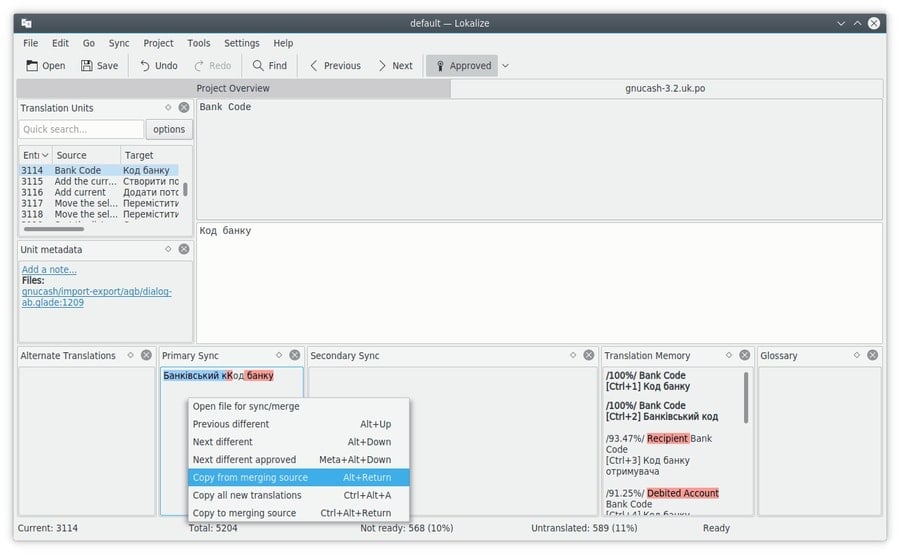 Key Features of Lokalize
OpenDocument files that have ODT format can be translated directly through this software.
It has an additional feature to extract the texts to translation memory compatible formats to localize the strings.
After translating, it can export the XLIFF format to the original OpenDocument format that saves a lot of time.
You can drag and drop the translation strings directory to the translation memory tab of this software, and it will automatically update the database.
6. Swordfish
---
Swordfish is a translation editor software for Linux. It is a java based XLIFF editor tool. This tool is so powerful that it is always a top choice for professional translators. This tool has got a fast and fluid internal database server and support for an external remote server. These additions make it a great translation memory tool.
The free version of this tool is trial-based, and after a certain period, you have to opt-in for the paid service. The paid service is a costly plan, but the features of this tool make it worth paying for. Besides, cross-platform capability and customer support are bonus achievements for one of the best translation software.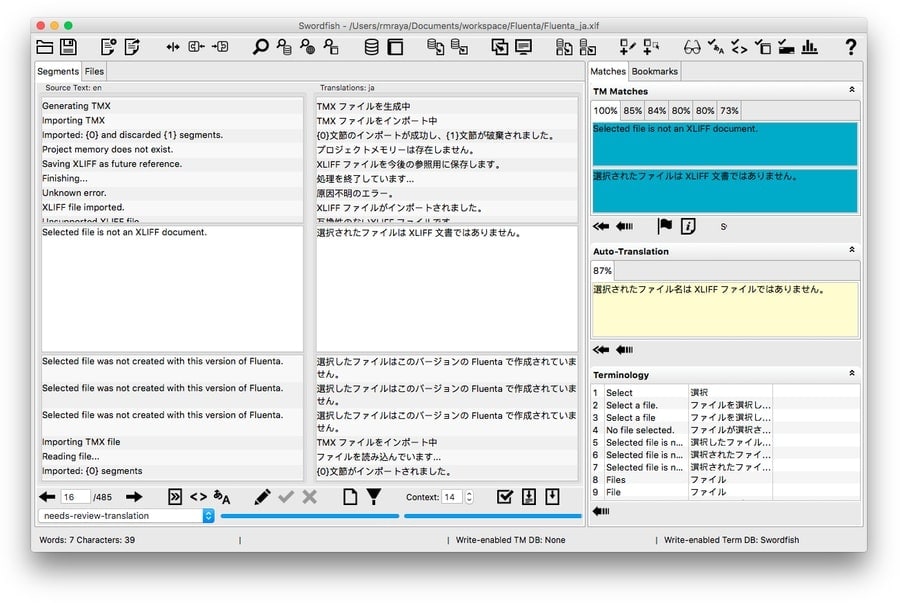 Key Features of Swordfish
It supports the translation memory exchange of created CAT data by using the XML standard.

This tool supports integrating with third-party database engines for storing translation strings.

Swordfish supports numerous file formats, including plain text, HTML, XML, etc.

It is compatible with other popular translation memory and computer-aided translation tools and their respective file formats.

The user interface is fully customizable, including fonts, colors, etc.

The translation engine included in this software suite is capable of connecting with third-party services using easy-to-access APIs.
7. Heartsome TMX Editor
---
Heartsome TMX Editor is an excellent translation memory exchange tool. This tool is free for Linux-based distros, and the source code of this open source translation tool is available on Github. It has many powerful features related to computer-aided translation. If you want to manage and maintain translation memory professionally, this is a great choice.
Heartsome TMX Editor is currently on its 8.0 stable version. It requires Java Runtime Environment preinstalled on your Linux PC to run smoothly. This Linux translation software even supports all other major platforms so that memories created on one platform can be used seamlessly on another.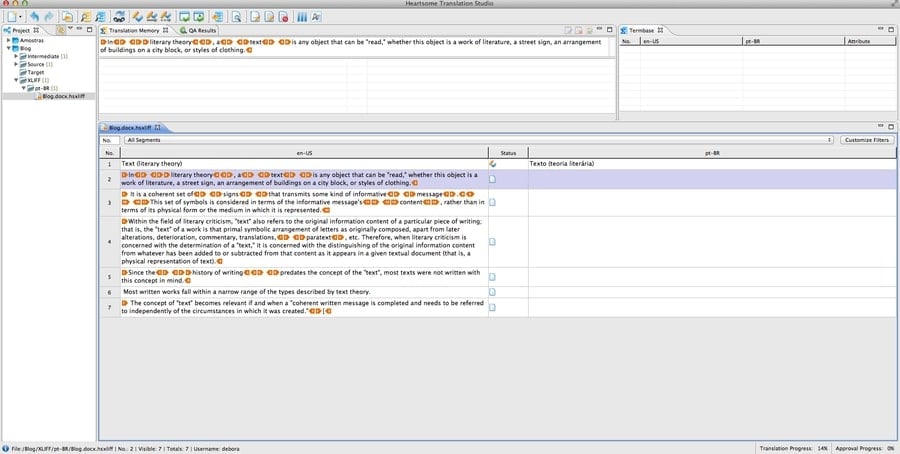 Key Features of Heartsome TMX Editor
It doesn't have any memory limits, and thus this tool can work with large TMX files.

You can apply and edit different filters for the ease of querying from huge piles of TMX data.

You can work with a lot of file formats in this tool. The file formats can be converted to and from different types of generic text-based formats.

Batch editing is a great feature that can improve the workflow of the translator team.
8. Wordfast Professional
---
Wordfast Professional is a veteran tool in the translation sector. Many professional translators rely on this translation memory software. It is the successor of the popular Windows tool Wordfast Classic. Wordfast classic is still a great piece of software for Windows users.
Though it was compatible with Linux, the setup needed a lot of workarounds. Besides, Wordfast classic is dependent on Microsoft Word. But the modern Wordfast Professional got over all these drawbacks. It is based on Java and natively compatible with Linux. So, this standalone translation tool for Linux is very helpful for the translator community.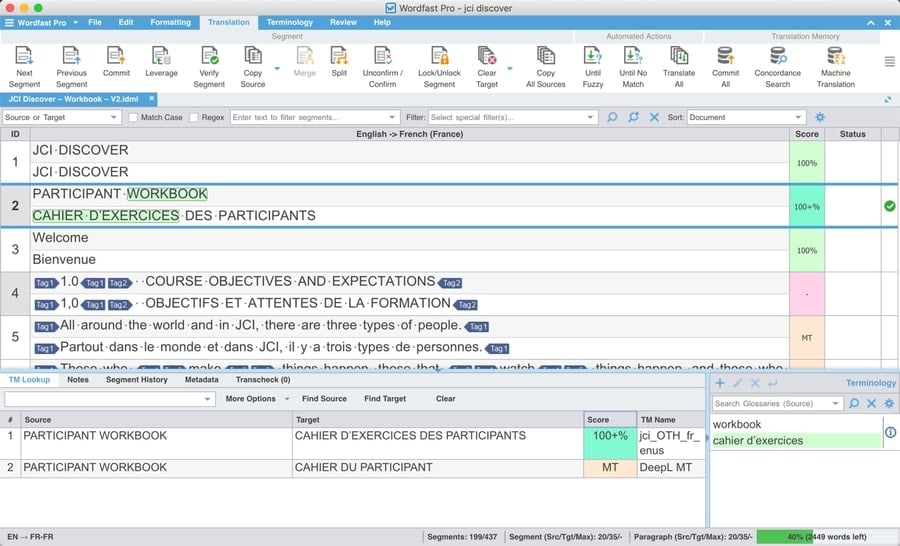 Key Features of Wordfast Professional
You can filter the sentence segmentation based on different attributes like notes, match scores, terms, etc.

This tool allows translating the project into multiple languages from a single dashboard simultaneously.

Wordfast Professional can seamlessly import and export translation memory files for use with the teammates.

The Machine translation feature is a great addition to this tool. It will search for the string in third-party machine translation services whenever it doesn't find any matching.

It supports a variety of file formats including HTML, XML, TTX, XLIFF, etc.
9. DeepL Translator CLI
---
DeepL Translator CLI is a machine translation tool for Linux. It is a command line-based tool for making the translation process easier right on your desktop. For this reason, it doesn't give much stress to the system. DeepL is a European tech company that originally developed an online tool with its best translation software engine.
Later an individual developer released a command-line tool based on DeepL under an open source MIT license and hosted it on Github. The tool is free to use, but the developer kept the subscription model open for the users who are willing to pay. You have installed the latest version of Node.js to run this tool properly on your Linux system.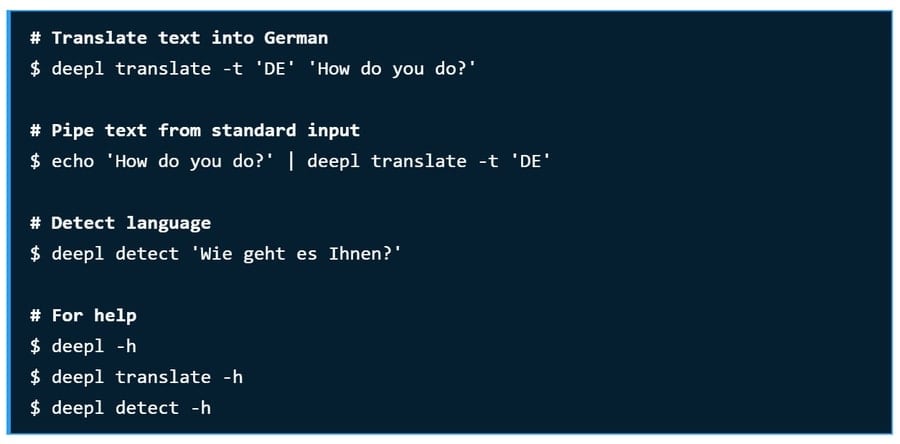 Key Features of DeepL Translator CLI
It supports many European languages, including German, French, Italian, etc.

This tool can automatically detect input language and translate it accordingly.

It is directly connected with the DeepL online tool for powerful translation features.

The base tool runs on a supercomputer that enables this command-line client to translate in a blink.
10. Translate Shell
---
Translate Shell is a Linux translation software based on the command line user interface. This tool was previously known as Google Translate CLI. This tool is simple yet very powerful. It supports any distro of Linux with additional support for Windows and even Android.
This tool supports third-party services like Google Translate, Bing Translator, Yandex Translate, etc., for accurate machine translations. The developer has provided detailed documentation on their official webpage for beginners.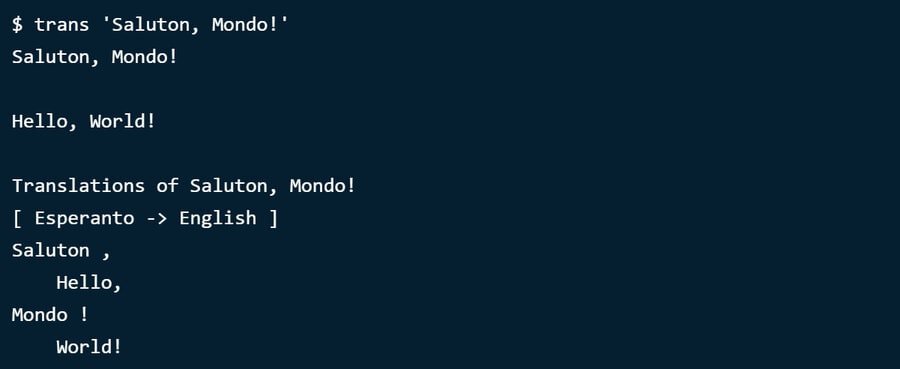 Key Features of Translate Shell
This tool can identify the input language automatically and translate it to your default native language.

The number of supported languages is theoretically unlimited because this tool will provide you an up-to-date result whenever the third-party translator engine updates its database.

Translate Shell has a dictionary mode to show you the meaning of any word.

It has a built-in text-to-speech engine that is very convenient.

You can even specify a webpage URL or local file path so that it can translate that file.
11. Translatium
---
Translatium is lightweight translation software for Linux. It is an open source translation tool where the source code is hosted on Github. But the fun fact is that the developer charges a certain fee for the license of this software.
The license will never expire, and once bought, you can use it with an unlimited number of devices regardless of the platform. This tool supports real-time translation of words, phrases, and sentences in almost a hundred languages.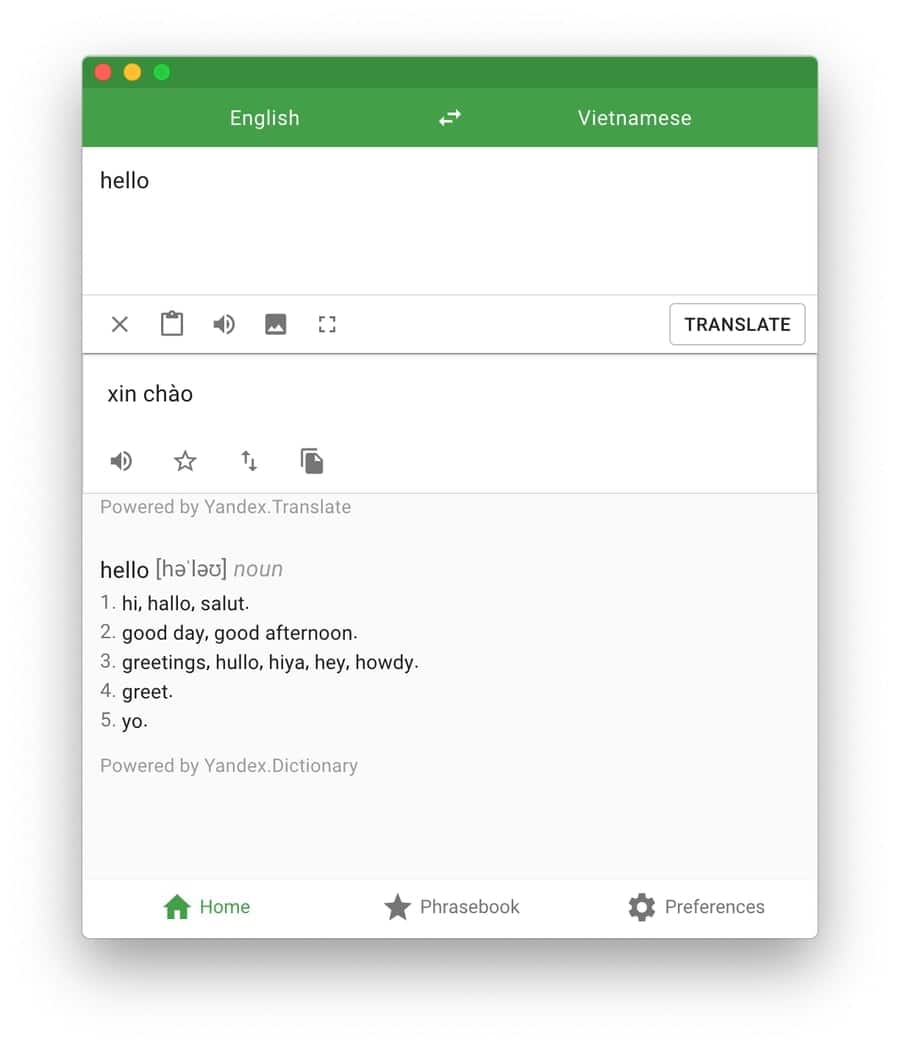 Key Features of Translatium
This tool can automatically identify source text language, just like any other translation tool.

You can import a photo into this tool, and it will translate the text on that photo.

If you use this tool regularly, you can even customize the look and feel of the user interface.

The advanced text to speech engine is here to help you with listening to the translations.
12. Crow Translate
---
Crow Translation is an open source Linux translation software based on Google Translate. This tool is built with the C++ programming language. The desktop client for Linux is very lightweight and user-friendly. You can translate over a hundred languages with this powerful tool.
This tool also has built-in Bing and Yandex translator APIs to connect to their machine translation database. Being the source code open, you can always customize and compile your version.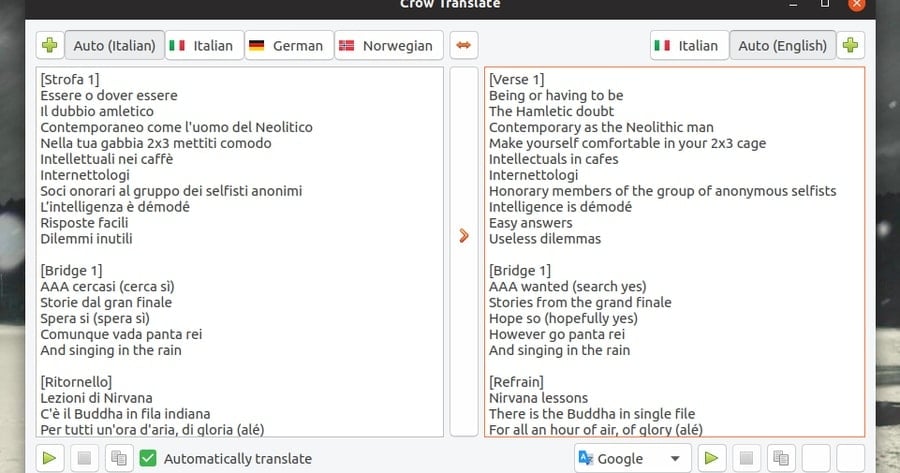 Key Features of Crow Translate
The user interface is very clean and beautiful, with a tabular format.

You can choose up to three languages as shortcut buttons for translating.

The source text pane and the translated text pane have individual text-to-speech buttons for listening.

This tool supports proxy servers and uses very little RAM compared to the Google Translate website running in Google Chrome.
13. Simple Translate
---
As the name suggests, Simple Translate is simply a simple piece of software. This translation tool for Linux is not completely ready yet. But it still provides a powerful set of features. The user interface is divided into two vertical panes for the translation dashboard.
This tool has an additional dictionary mode built into it. Though it requires a stable internet connection to run, the developer is preparing an offline version for releasing shortly.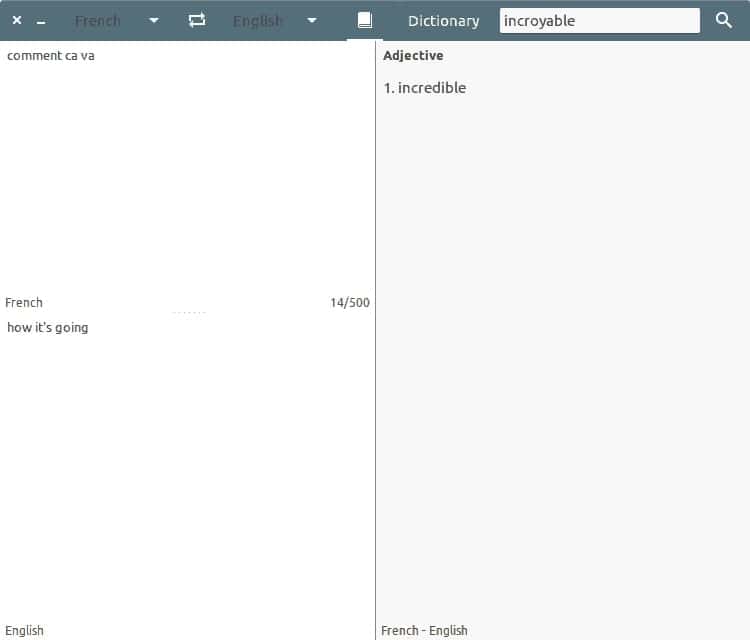 Key Features of Simple Translate
It supports a long list of languages, including English, German, Spanish, etc.

The dictionary mode will show you the meaning with some grammatical properties of that word.

This is very lightweight, and hence it uses very little computer resources to run.

The source code is open, and you can build your very own version with extra functionalities.
14. GoldenDict
---
GoldenDict is mainly a dictionary tool for Linux. It is thus considered a great open source translation tool. This is probably the most feature-rich dictionary suite for Linux. The reason why the translators love this program is that it can translate phrases from a language.
The program is written with C++, and the user interface is very modern yet clean. This tool supports a wide range of dictionary file formats, and you can always install downloadable resources to add up the functionalities.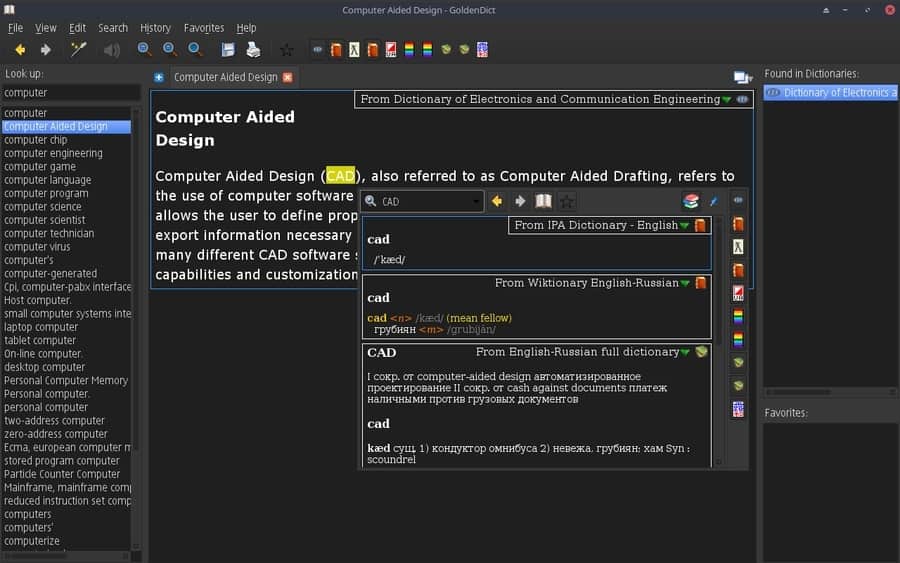 Key Features of GoldenDict
This tool can monitor external websites and audio files for word meaning and pronunciation.

You can pack up different types of source files of a language into a compressed file format.

This tool has a global hotkey feature that can translate directly when you copy a text into your clipboard.

The printing and zooming feature are very convenient for the professional translator.

It can represent the articles in exact formats by using the same colors and styling.
15. OpenDict
---
This is yet another dictionary-based Linux translation software. In the human translating process, the dictionary is a very important kit. OpenDict is a very popular platform that is capable of indexing the most common dictionary file formats.
It has advanced functionality that can convert any text-based files into a dictionary source. This tool even supports remote dictionary files by working as a DICT server client. You can use plugins to extend the features of this tool.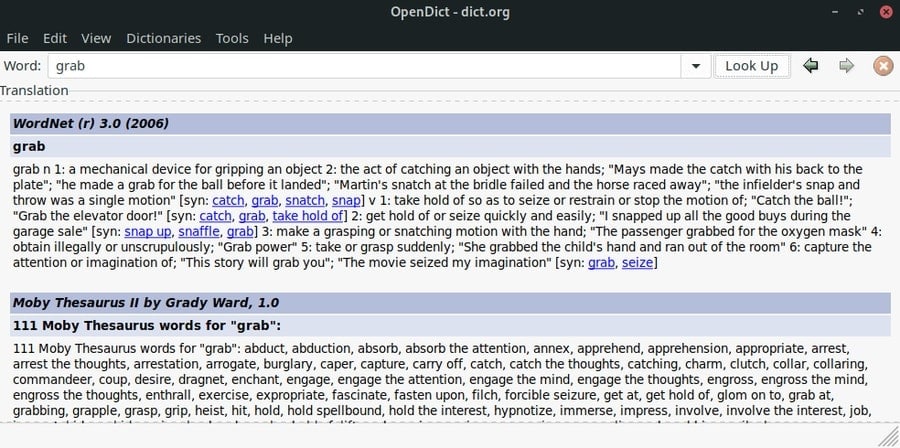 Key Features of OpenDict
You can customize the UI based on your own choice of fonts and colors.

This tool supports a wide range of character encodings, including the most popular Unicode.

You can access the remote dictionary servers by using this tool.

OpenDict can install additional offline dictionaries from source files.

It can directly translate your copied texts from the clipboard.
Finally, Insight
---
Professional translators and authors are used to commercial operating systems like Windows and macOS in most cases. But there are a large number of translators who are comfortable using Linux. This is why Linux developers provide you the best translation software. Most of the translation tools are cross-platform means you can use them simultaneously on any of your devices.
Some of the tools in the above list will aid the human translators, while some of them will quickly perform machine translations for you. Nowadays, with the development of AI, machine translations are quite reliable.
So, it is finally your choice what type of translation tool you will use for your project. If you have a favorite Linux translation tool we missed mentioning, you can remind us in the comment section. Happy translating!