When it is about writing on a smart device, the iPad is the most used one for its exceptionally smart functions. For a writer, what could be better than a combination of a large and wide display, space for writing, a handy stock keyboard, additional pencil facility, and tons of customizations? Well, an iPad isn't enough to fill the combination of all these facilities alone. Initially, it needs a compatible writing app that basically provides all the in-app facilities. However, if you aren't just happy with your stock note app that is unable to provide functions for writing a long text, you should check out the best writing apps for iPad.
Best Writing Apps for iPad, You Shouldn't Miss
---
It is very obvious that you'll find hundreds of writing apps on PlayStore. And you can simply choose any app from there. But there is a strong possibility of being disappointed because of the wrong writing app for your iPad. Remember that all apps from AppStore are not properly optimized for iPad. And when it's about a writing app, you have to be more careful.
On AppStore, you got a lot of apps with no long text writing facility, characters organizing list, highlighting, different folder making, and customizing facilities. But these apps we mentioned below are tasted properly and so, you should check them fast.
1. Microsoft OneNote
---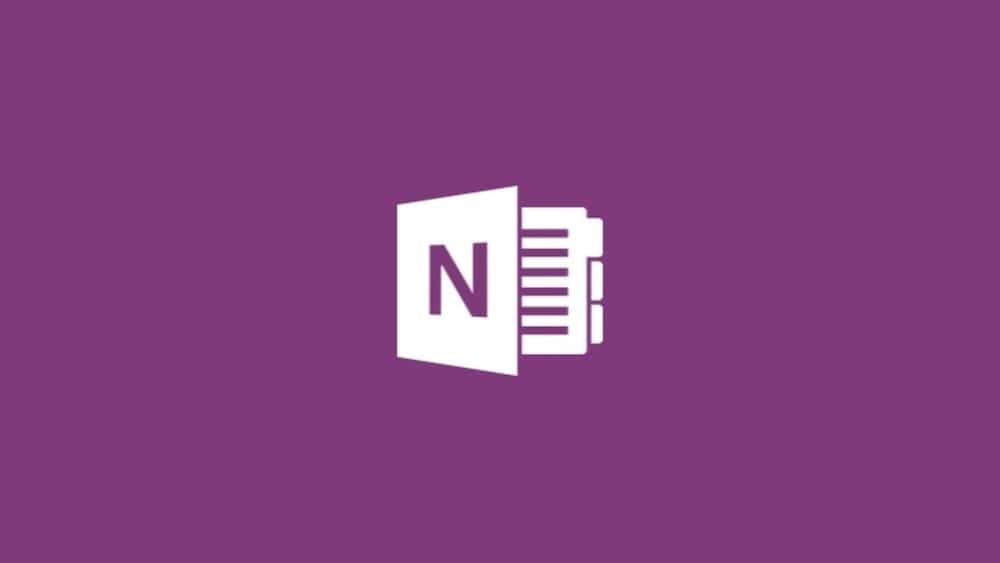 Microsoft OneNote is one of the best iPad apps that comes with a digital platform where you can capture your moments, thoughts, ideas all in an organized way. This writing app for iPad will help you plan big events, write memos, a digital sketchbook, and much more. Additionally, you can sync all your notes through OneDrive. Thus, it allows you to access any time, anywhere, and you will get this available on all your devices. And all it needs is to sign up with a Microsoft account to get Microsoft Office experience.
Important Features
Here, Office Lens will help you to save pictures of whiteboards and photos or printed documents in your notes.

The app allows you to take pictures easily, crop automatically, and insert the images in the notes.

You can pin your most needed pages, and with a powerful search engine, it's easy to find the most recent post.

It's initially possible to save all the notes in Cloud, including OneDrive, OneDrive for Business, SharePoint, etc., and you can access them anytime through any of your devices.

You can also save your ideas and thoughts with colorful sticky notes right away. And you can use multiple pen colors to prepare excellent drawings and handwritten notes.
Pros: The app permits collaboration and works with others through a shared notepad. Besides, you can use a password and touch ID and manage to secure your notes.
Cons: It doesn't allow you to use two OneNote applications in a split view.
2. Final Draft Mobile
---

Final Draft Mobile will be the perfect pick if you search for the best writing apps for iPhone and iPad. It lets you read, write, and edit scripts on your iPad while you are relaxing on the sofa or the go. You can initially make any documents for standard A4 size pages with perfect English alphabets. Then, prepare any styled documents and scripts with all necessary editing with your iPad and print whenever you need. Also, you can quickly save your progress and resume from there anytime.
Important Features
All your necessary formatting and editing tools are available in this app.

It lets you track the core information with its Cast Reports, Scene Reports, Location Reports, etc., functionalities.

This app also includes TV, Film, and Stage Play templates that can make your media and play-related tasks simple.

It lets you export your scripts in PDF format through Dropbox, iCloud, and email.

This app contains production features such as Scene Numbering, Locked Pages, etc.

You can effortlessly write in 95 different languages with its multi-language support.
Pros: It supports Bluetooth keyboards, and you won't have to mess with wires when you write with a keyboard. Moreover, you can change elements of the script by using Tab and Enter functionality to write more comfortably.
Cons: Its delay issues can be a problem.
3. Day One Journal
---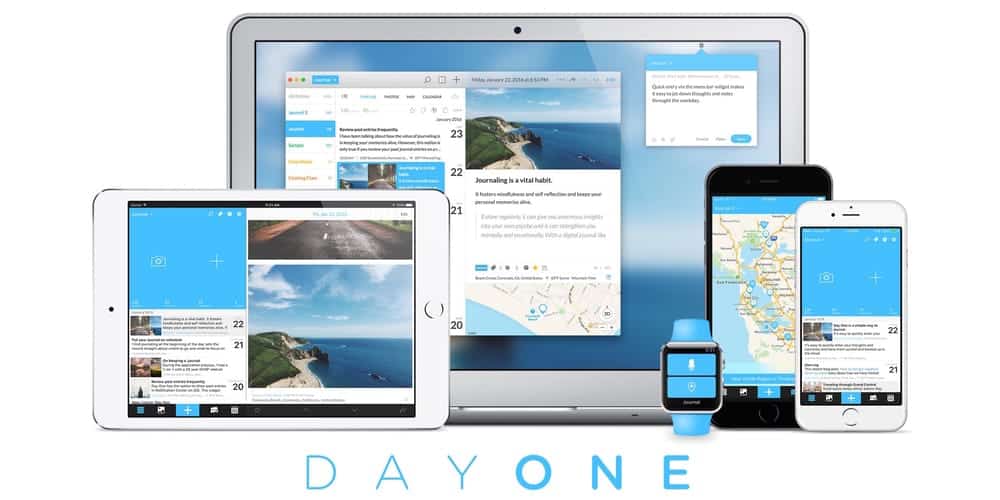 You can now write your journals anytime, anywhere with the number one rated journaling app, Day One Journal. Its top-class performance and greatly useful features make it one of the extraordinary writing apps for iPads. Initially, it's loved and used by millions for its super-friendly writing environment and magnificent interface design that everyone falls in love with. Your journal writing will be easier, more fun, delightful and secure with Day One Journal. Let's see what more it will offer.
Important Features
It provides you all the necessary tools in handy positions so you can reach them straightly while not causing distraction from your writing.

Connect to the HealthKit and record the time spent writing your journals.

It backups all your journal data in iCloud so you never lose your writings and memories within it.

You can give your imaginations a life by drawing them in its built-in simple drawing mode.

Features passcode lock and store data with encrypted form in iCloud to provide top security to your journal.

The auto-toggling dark mode gives the best and eye-friendly writing experience at nighttime.
Pros: This app is free for one device with unlimited entries, so there is no need to worry about limitations. In addition, you can now record audio along with the existing ones in your journal, making it more useful than ever.
4. Simplenote
---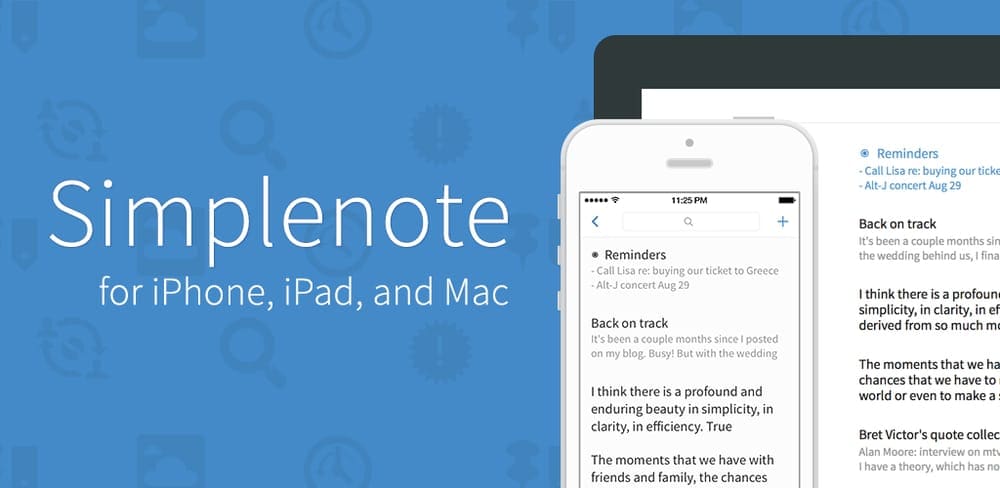 Life is meant to be organized to lead it more peacefully. The Simplenote app will be an effective step to keep your life a little more organized and planned. It can keep all your daily tasks and notes organized as you want them so you can have those whenever you need them. All your tasks and to-do lists are protected on your iPad and also provide online backup. You won't ever have to keep a notepad and pen in your pocket when you think of something interesting!
Important Features
This app features tags and pins to organize according to your need and find what you expect first.

You can create mixed notes by combining to-do lists, planners, and plain text.

It initially lets you make references to other notes or link them with a note.

You can sync it with other devices so you can control your notes through other devices and see your tasks from anywhere.

Also, you can collaborate with others to edit notes.

It will sort your notes according to various categories.
Pros: This app sends notifications to keep you informed about different activities and tasks. Moreover, taking notes and organizing them is straightforward and effortless.
Cons: Some users face auto-correction issues.
5. Scrivener
---
If you love to write often, then unleash your creativity and thoughts through writing with Scrivener. You can write and edit all your texts and store them as you need. Make notes or write a thesis; you can do it all while traveling or staying away far from your desk. It also lets you do all kinds of modifications with just a few taps and organize your writing whichever way you need. Then, you just have to open your iPad and resume your manuscript, research paper, or article anytime.
Important Features
All kinds of outlining and formatting tools for your writing are available in it.

It features a customizable keyboard row making essential formatting buttons like Bold and underlines much handy.

There's an option available for the effortless insertion of images, PDF, and media files in the project.

This app lets you write a synopsis for each text section.

You can initially set targets for the word and character.

It also allows you to export your writings to Word, RTF, Final Draft, PDF, or plain text.
Pros: It lets you create zipped backups files of your projects for sharing purposes. Moreover, It has a dark mode that lets you write comfortably without harming your eyes.
Cons: The look of the working interface may disappoint some people.
6. Evernote – Notes Organizer
---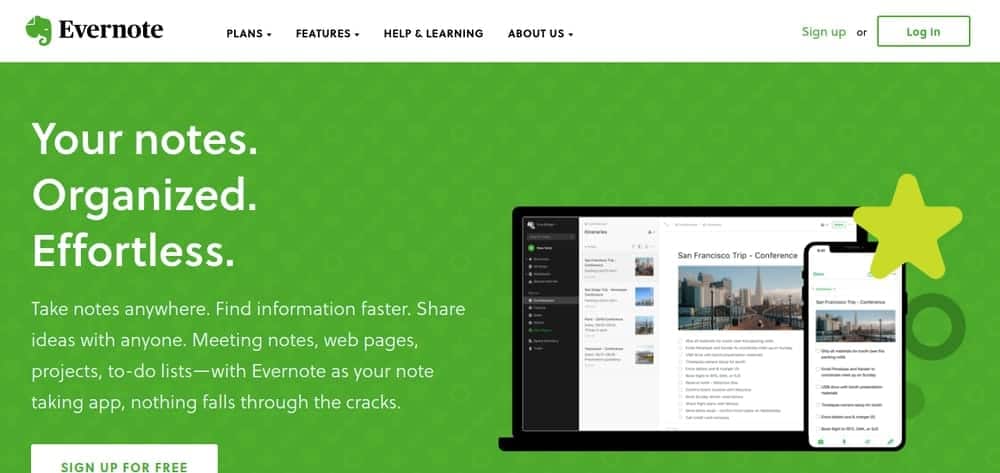 When it is about writing, collecting, and capturing ideas all in one place for your next writing project, the first recommendation must be Evernote. This app comes with a minimalist interface, and you can simply express yourself with an easy-to-use formatting option.
Besides, it's easy to find anything you need from projects, web pages, meetings, and to-do lists using strong filters. Moreover, you can scan your receipts or important documents and save all the articles, notes, and travel documents hassle-free.
Important Features
You can have your own journal to capture the events and milestones of your everyday life.

There will be an option to save any clip of articles and web pages, and you can read that later.

You can use the camera to digitize, scan and organize business cards, handwritten notes, whiteboards, paper documents, and so on.

This productive iPad notes app lets you access from one device to another, and you can continue your work flawlessly.

You can add multiple contents in your notes, including web clippings, photos, audios, text, sketches, and much more.

A very optimized search engine will initially help you to find anything.
Pros: The app has a powerful search option that you can even find text in images and handwritten notes. Furthermore, It can be your ultimate planner and help you to set up reminders and keep track of your lecture notes, assignments, and exams.
Cons: It takes several minutes to download.
7. Drafts
---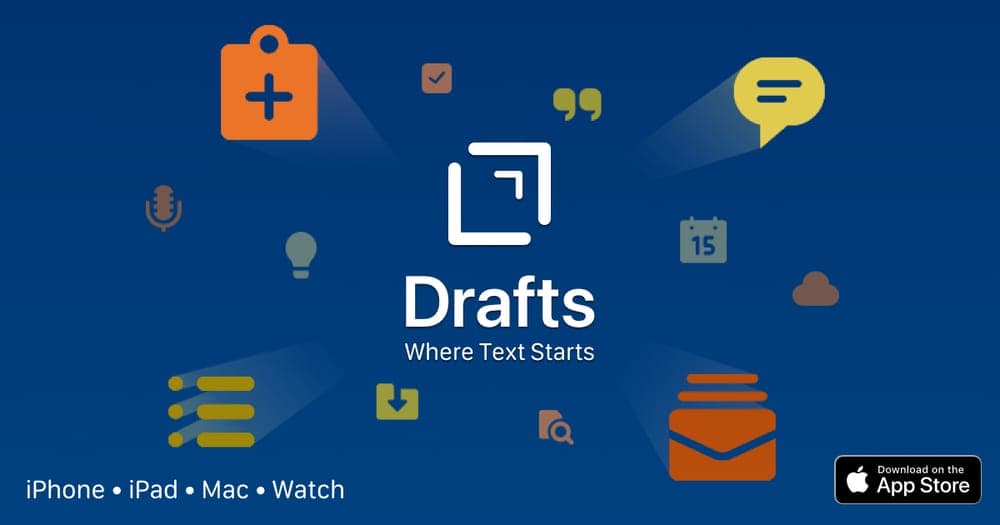 You can also use one of the pleasant writing apps on your iPad, Drafts that are specially built for professional writers. This amusing app features tools like quick notebooks and writing automation tools to make writings perfect than ever. With the handy editor, writing feels much more comfortable.
This app also includes widgets and better share extensions to provide you enriched user experiences without any hassle. It just lets you write by yourself or use your voice for writing even faster anytime you want and save it instantly.
Important Features
Let you use tags for organizing or flags for important ones. You can also archive writing for security and long-term storage.

It initially supports capturing writing via Siri.

Also, it launches smoothly and swiftly every single time.

You can quickly edit, convert and transform writing using the customizable extended tool row above the keyboard.

Attractive and user-friendly interface to work in.

You can sync with any device you want with a few steps.
Pros: Its multiple window support gives you a whole new writing experience. Moreover, customizable themes and icons let you decorate the app according to your taste.
Cons: It can't do voice recognition without an internet connection.
8. Ulysses
---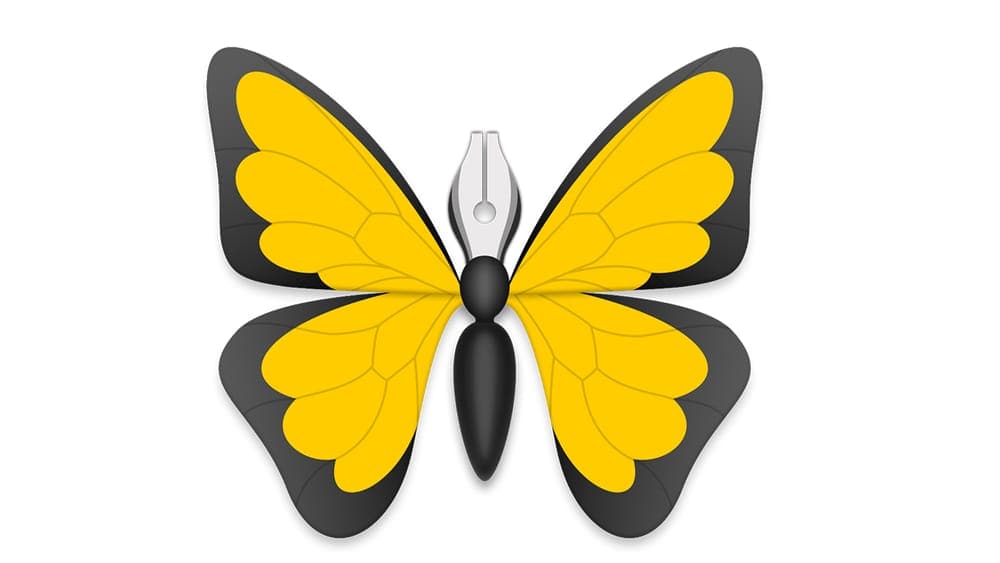 You can now get a pleasant and focused writing experience with one of the best writing apps for iPad, Ulysses. This is an all-in-one writing place where you can write almost any type of writing. Moreover, it builds so that you can fully concentrate on your writing and nothing else.
Additionally, it will give you a feel of writing on your desktop so that you can write by storming your brain at any place. Moreover, the built-in assistants, tools, and other features will enrich writing values more by decorating them in every way.
Important Features
The writing workspace doesn't have unnecessary tools, so your writing becomes productive and error-free.

Direct sharing capability for WordPress and Ghost are available here. Also, the built-in preview mode for WordPress, Ghost, and Medium is here.

The automatic sync option is here to cloud storage so that you never lose any writing and can modify them through other devices.

You can export your writings in DOCX, eBooks, PDFs, and HTML

This app comes with a built-in editing assistant and proofreader that supports more than 20 languages.

It is very easy and quick to add images, comments, and other attachments.
Pros: It has a very simple and decent write environment that never irritates you. Moreover, it is straightforward to organize or delete the documents.
Cons: Subscription fees may feel inappropriate to some people.
9. Werdsmith
---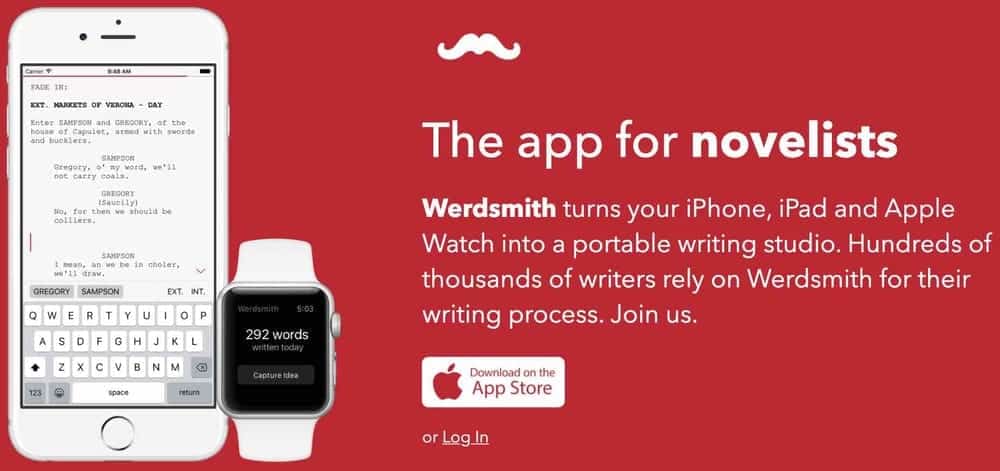 Werdsmith is a great writing app that is perfect for both professional and casual writers. This is much more than a writing app that gives you some really helpful and useful features. For writing, it creates a pleasant environment for you for creative writings. That's why this app is greatly recommended for persons involved in writings like novels, screenplays, stories, articles, etc. It has more flexibility than many others on its environment customization.
Important Features
Beautiful custom themes let you choose your favorite writing environment.

Automatic backup keeps your writing safe, and you can access any version of your writing easily.

It indeed features writing rituals and word goals so you can analyze your writing and keep motivated.

Let's you share your writings in your social media accounts and other areas directly from the app.

This app initially provides a very simple and decent working area.

It syncs with your account so you can access and modify your writing from any device you want.
Pros: The writing interface helps you calm your mind while thinking no matter where you are which is great for productive writing. Formatting is hassle-free in this app.
Cons: Subscription fees may disappoint some people.
10. iA Writer
---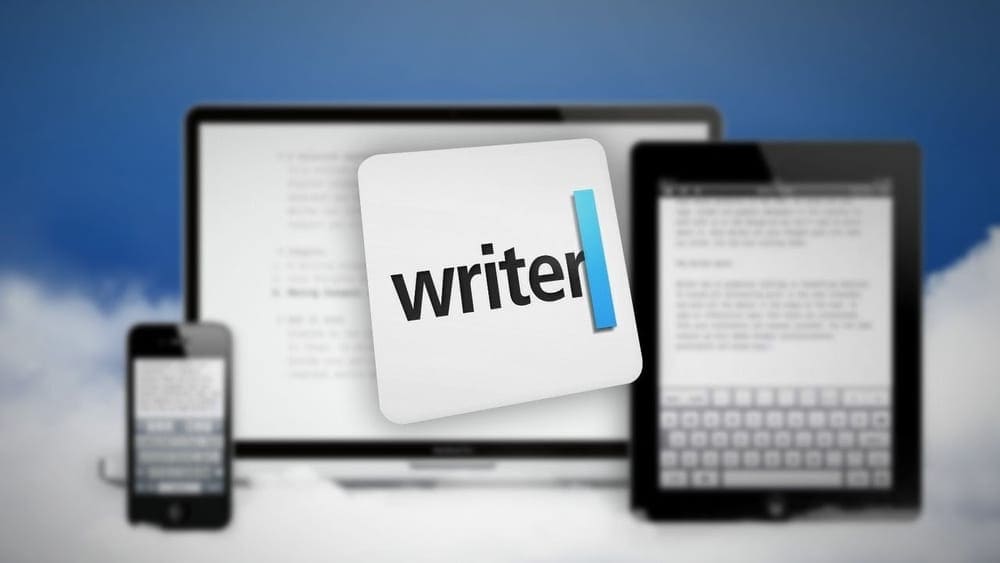 iA Writer is a core choice for writing to millions of professional and creative writers. This is a powerful writing app for your iPhone and iPad, comes with many useful features. Still, this app is very simply designed and comes with a minimalist interface. In this app, writing is kept in the first place, and then comes the formatting part in the second.
Using it, you will be productive in your writing, and full concentration will allow you to be more creative. Whether you are writing a book, novel, or research paper, it will help you in all possible circumstances by providing you a more confident and comfortable writing zone.
Important Features
You can custom the theme of the app by selecting your favorite one.

It features a Focus Mode that dims everything except the current sentence or paragraph to help you stay more focused.

You can effortlessly search, sort between your documents from clouds.

It lets you directly export to WordPress or Medium in HTML, DOCX, or PDF.

The Quick Search option lets you find anything in a blink.

You can have plain text so you can use them in any place easily.
Pros: The writing assistance of this app is very effective and accurate. Also, importing and placing attachments are very simple.
Our Recommendations
---
No, I am saying that you will get almost equal facilities from all these 10 apps I mentioned. Although, of course, these all are not equally compatible if I say it honestly. But among all other apps, these 10 apps seem more compatible with maximum facilities.
However, if you want me to narrow down the list, I must recommend OneNote, Simple Note, and Evernote. From my experience, I found them easier to use with more customizing facilities. But I suggest you check the details properly. I have added the positivity and drawbacks of each app here. So, you can find the app with your preference very easily.
Finally, Insights
---
So, organizing your writing projects will now be more comfortable with these best writing apps for your iPhone. Make sure that you choose the appropriate one, and then just write what is on your mind. Then, it's time to unleash your creativity to express your imagination. So, it's time to say goodbye for today. Before that, I would like to remind you to share your experience with the app you have selected from the list. Also, inform us about the apps you want us to review. Thank you for your time.