Looking for the best painting and drawing apps for iPad devices you've bought recently? Don't worry. We have done the homework. Drawing has become digital for a long time now. Although people used a mouse cursor at the initial stage, the stylus and graphics tabs have already taken that place. But with the developmental touchscreen smartphones and tabs with powerful processors and software platforms, digital drawing and painting have become much easier.
And, Apple took it further with its pressure-sensitive 3D touch technology and Apple Pencil. You will feel like you are drawing on a real canvas, which demonstrates the advancement of technology. On top of that, the Liquid Retina display on the latest iPad provides the best color accuracy that even the professional artists use iPad as their main devices for their gigs.
Best Sketching & Drawing Apps for iPad
---
For sketching on digital devices, you require good hardware like the iPad and need the best possible software experience. Fortunately, iPad has a lot of apps for Drawing from some awesome developer teams. Since there are a lot of options out there, it becomes very confusing.
It's not even possible for you to try out all of them to find the sweet spot. So, as always, the Techyboo team led by me did the homework. We have tried out a lot of art and painting apps for iPad and came up with this ultimate list of the best drawing apps for iPad and other Apple devices. So, without any further ado, let's get started.
1. Procreate
---
This premium drawing app for iPad is the first choice for many professional artists. It was developed by Savage Interactive. Since Procreate is only available on the iPad platform, it is not mass popular. But in terms of performance, it exceeds all of the competitors from giant companies like Adobe, AutoDesk, etc.
Even being a third-party tool, the most exciting fact is it integrates seamlessly with the Apple Pencil. It makes drawing more fun and realistic. On top of that, it can create high definition vector images so that you can easily rely on this for your professional gigs.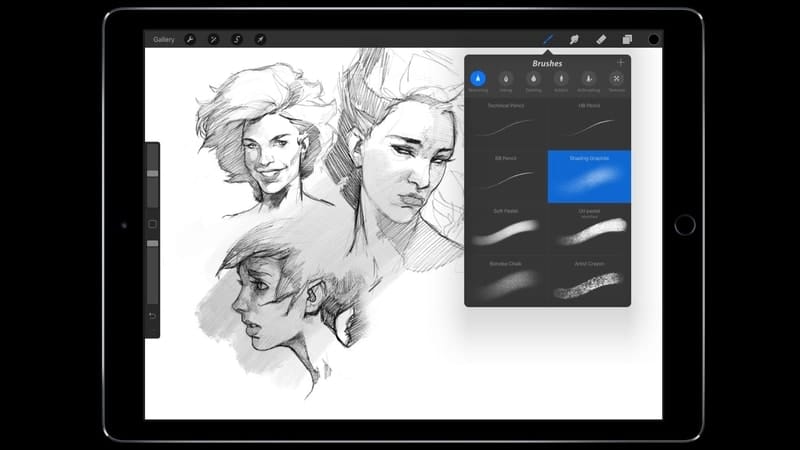 Key Features
You can take the canvas as high as 16000×4000 pixels resolution.
There is a proprietary QuickShape technology built-in for creating shapes even with inexperienced hands.
This tool supports various keyboard shortcuts to speed up your workflow.
It comes preloaded with numerous brushes, and you can customize them too.
You can also create animation and GIF with the Procreate app.
Pros: This tool supports the undo-redo option for up to 250 levels, which is incredible and good for professional and beginner creators.
Cons: You can not change the canvas's size after creation, which is a bummer considering it is a costly tool.
2. Affinity Designer
---
Affinity Designer is developed by Serif and comes with a twenty bucks price tag, which is not that cheap for casual users. But believe me, the performance totally justifies the price. The developer has a wide range of multimedia products for different platforms under the Affinity lineup.
But this painting app for iPad one has got much popularity over the year just because of its magical drawing capability on iPad devices. Besides, this tool is very straightforward in terms of pricing, and you don't have to see any annoying in-app purchase pop us.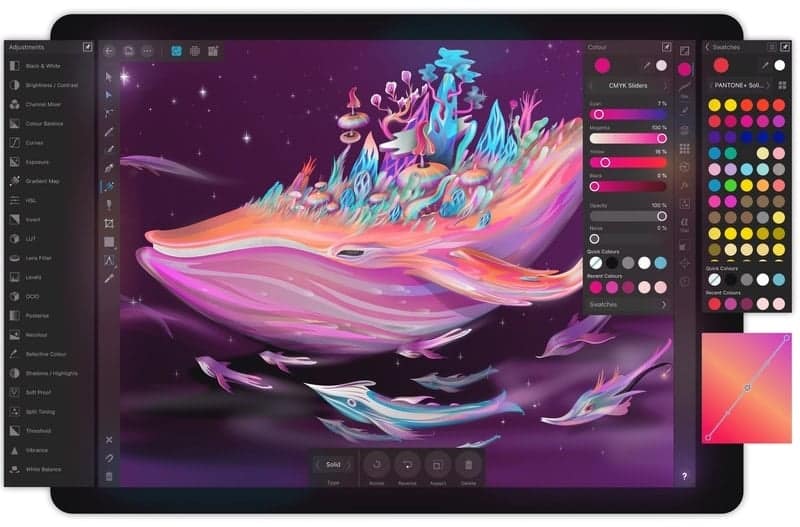 Key Features
This sketching app for iPad is great for creating vector objects by using complex mathematical equations.
You can import any raster images to use with the vectors to create pixel-perfect graphics.
It supports a variety of color spaces, including the popular Adobe RGB and CMYK.
You can control a variety of aspects of color, and thus drawing with this tool becomes more fun.
There is a nifty feature for organizing your artboards and canvases, which can be easily manageable.
Pros: This tool doesn't put a limit on the number of layers. This is very convenient if you have to draw complex shapes with many layers.
Cons: The palm rejection feature doesn't work well, which is annoying sometimes.
Download
3. Adobe Illustrator Draw
---
If we talk about vectors and anything related to drawing, Adobe Illustrator comes to mind at first. Adobe Illustrator Draw is the trimmed down mobile version of their popular vector drawing tool Illustrator. You will find this on several platforms, but it nails to use it on the iPad.
This is because of the Apple pencil and powerful Apple hardware you will not find in Android devices. You can install this free of cost from the App Store. However, certain features will require in-app purchases or an Adobe Creative Cloud subscription.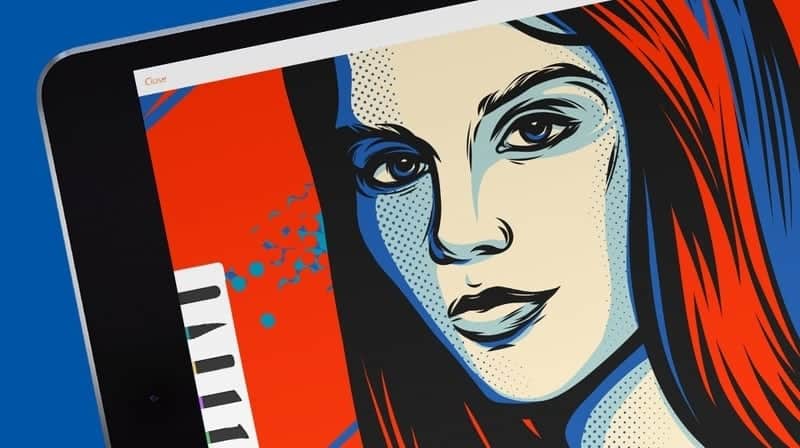 Key Features
You can create 3D sketches using the perspective grid editor of this tool.
Apart from the Apple Pencil, it is compatible with a variety of third-party drawing hardware.
You can use Adobe Capture to take photos of the complex shapes and then trace them with the brushes.
The developer team regularly pushes updates with new features from the full version of Illustrator.
It is very easy to use, especially if you are familiar with Adobe's desktop tools.
Pros: This tool seamlessly integrates with Adobe Creative Cloud and other Adobe products such as Photoshop, Premiere Pro. It comes in very handy, and I think it is one of the best art apps for iPad if you need vector support.
Cons: The number of brushes is quite limited in the free version. However, you can buy some using the in-app purchasing option.
Download
4. Autodesk Sketchbook
---
Autodesk is known for its engineering drawing and simulation software. Those are great tools but intended for a niche userbase. However, Sketchbook is its consumer-oriented free tool for iPad that is also available for several other platforms. This sketching app has support for the latest generation Apple pencil.
Just like any other flagship Autodesk product, this tool is very powerful. And the most important thing is that it is completely free to use. On top of that, the developers didn't keep any in-app purchase option, which is a great gesture.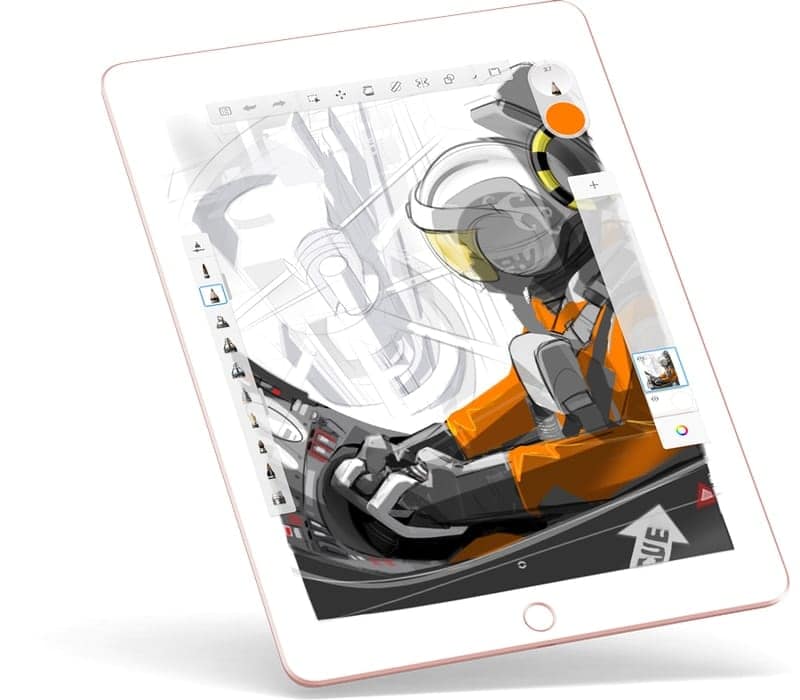 Key Features
The UI is very neat and clean with the least distractions. It helps the brain to concentrate based on my experience.
This tool is capable of handling a giant 100 megapixels canvas on an iPad without any lag.
You can scan any real-life object with the camera to give it some colors based on your imagination.
It comes preloaded with around 200 different brushes that you can use without limits.
Sketchbook supports Adobe suite's file formats so that you can seamlessly catch up with what you have created on the desktop.
Pros: The biggest benefit of this tool is the zero cost installation. If you are just starting and don't wanna invest in software, then this is a great option.
Cons: A few people reported random crashes and force closing of the app. Although I didn't face any of this, be prepared to face some issues.
5. Adobe Photoshop Sketch
---
This is yet another Adobe Product with a lot of powerful features. Photoshop Sketch is almost like Illustrator Draw. But this time, it focuses mainly on raster graphics. If you love to play with drawings and photo manipulation, then this drawing app for iPad and iPhone will come in handy.
You will get to use all the familiar brushes and tools from the original Photoshop desktop app. On top of that, if you are a Creative Cloud subscriber, you can easily sync your work across devices. This is quite nifty for professional graphic designers. Now you can even draw on the go to keep your boss happy in terms of professional works.
Key Features
You can easily import your favorite brushes from the desktop software.
It supports 8K resolution exports even with the older iPad devices.
The tool is integrated with Adobe Stock to add some flavors to your creation.
Making shapes is much easier with stencils and guidelines.
You can use an unlimited number of layers and customize them with various effects.
Pros: You can use PSD files with this tool by utilizing the powerful graphics rendering capability of the iPad. On top of that, even the older Apple devices run this tool smoothly.
Cons: This free drawing app for iPad is designed to work with raster graphics, and hence you can not do vector creation with it.
Download
6. Linea Sketch
---
Linea Sketch is one of the most powerful digital art apps for iPad. This app is designed and developed by The Iconfactory. However, it is not yet that popular among all the users. Honestly speaking, even I didn't know about this before. But the thing I liked most about this software is its intuitive and easy to use interface.
It's because the app was designed for beginners in mind. Hence even if you don't know much about drawing, you can easily master this tool in a fun way. This app can be availed free of cost with great in-app purchases.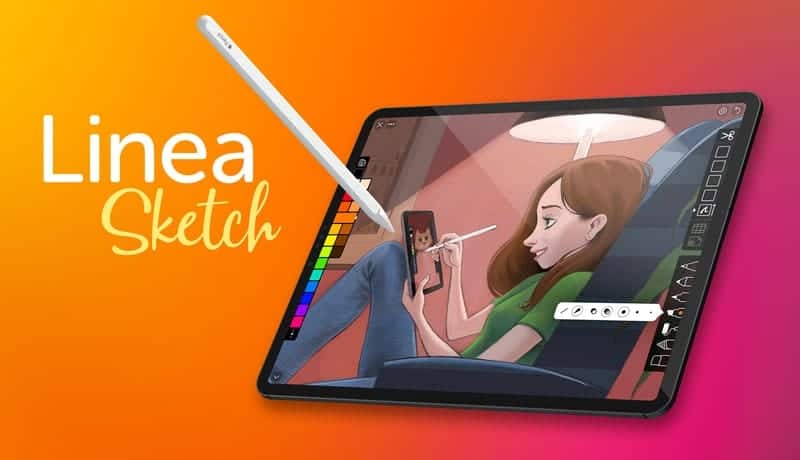 Key Features
The color swatch of this app is designed productively, making it one of the best painting apps for iPad.

There are several transformation tools for speeding up the workflow.

You can create polygons and different shapes using the technology called ZipLine.

It can export the created files directly into your favorite cloud drive.

Supports various finger gestures so that you don't have to look for specific tools.
Pros: Minimal and intuitive UI is the main benefit of this tool. Besides, iCloud integration makes it sync your progress across Apple devices.
Cons: It only supports 5 layers that are pretty limited considering the competitors.
7. Sketch Club
---
Sketch Club is yet another excellent option for your iPad with a great sketching experience. This is a paid tool, but it doesn't cost much. On top of that, you don't have to buy anything from the in-app purchase option, which is appreciable. You are getting almost all the features of a flagship sketching tool inside this tiny drawing app for iOS devices.
As the name suggests, there is an art club or community inside the app from where you can take inspiration as well as participate in the drawing contests. This is a great addition indeed.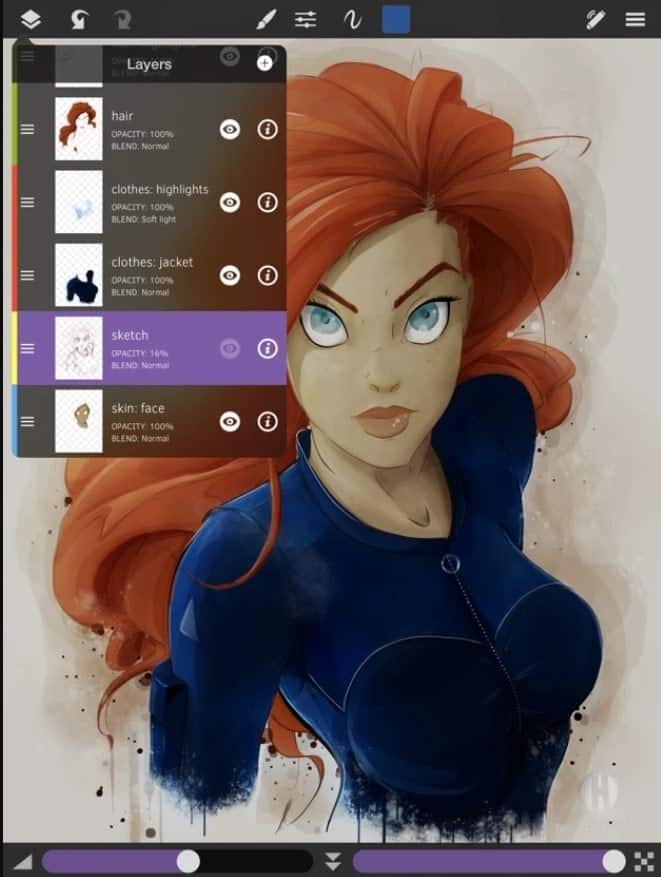 Key Features
You can create comic strips with the in-built editor and templates.

It supports a high-resolution canvas of up to 16K pixels that is incredible.

You can create 300 dpi printable files and optimize them for CMYK colors.

The users can record their workflow and export that in full HD video.

Support for PSD files and Apple Pencil is helpful for the professionals.
Pros: The installation file is tiny, and it runs on any device, including the older and less powerful iPad. This is an important fact to mention since most people have older hardware.
Cons: It doesn't sync with major cloud platforms for sharing files with colleagues for collaboration.
8. Adobe Fresco
---
Adobe Fresco is a new member of Adobe's graphic suite. This is specially designed for the newest iPad devices with Apple Pencil support. You can call it a hybrid of Photoshop and Illustrator with only the basic features. The UI is highly optimized for devices with small displays, making it an excellent free drawing app for the iPad.
It can sync your brushes and most used tools across devices, which comes really handy. On top of that, this app is free to install from AppStore. However, if you need all the premium features, you will need to pay for them.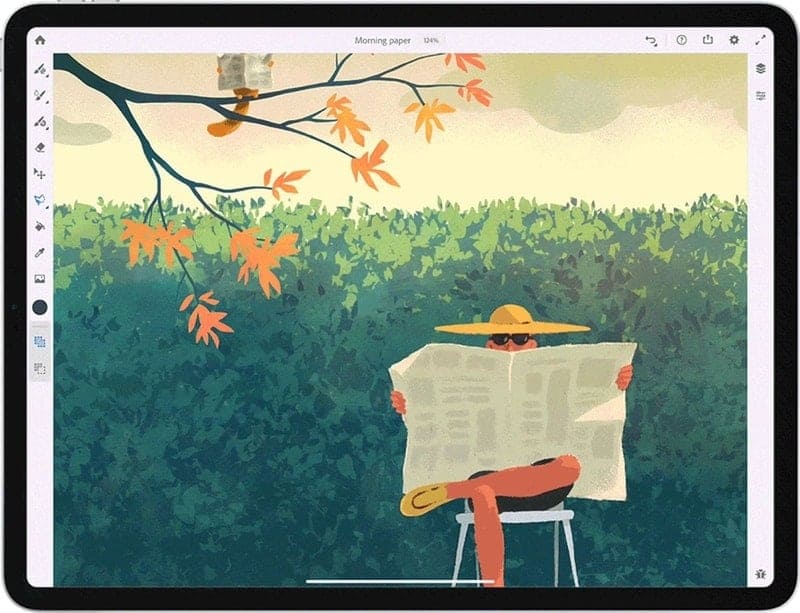 Key Features
It will sync your work into your Photoshop desktop app for further advanced retouching.
You will have access to the large collection of Adobe Fonts by paying a small fee.
Sharing files with colleagues with version control is a great handy feature.
You can add your custom brushes along with the built-in 50 plus powerful brushes.
There is a feature for recording the timelapse of workflow and share them online.
Pros: Fresco was designed for iPad users in mind. The developers are trying hard to integrate it seamlessly with Apple features and services. This will definitely boost your productivity.
Cons: If you are a casual artist and you don't need to export files in PSD format, then there are some better free alternatives than this.
9. Paper by WeTransfer
---
You should have known about WeTransfer. This is a popular web app for transferring large files with others. Paper is a side project by the WeTransfer team. However, this is a full-fledged drawing app for iOS to visualize your creative ideas on your Apple smartphones and tablets.
And, this tool is currently used by more than 25 million people. I liked its UI the most. It is designed for artists and creative people who love minimal design. Even if it looks so simple, you won't miss out on any features. There are plenty of powerful drawing tools arranged neatly that deserves appreciation.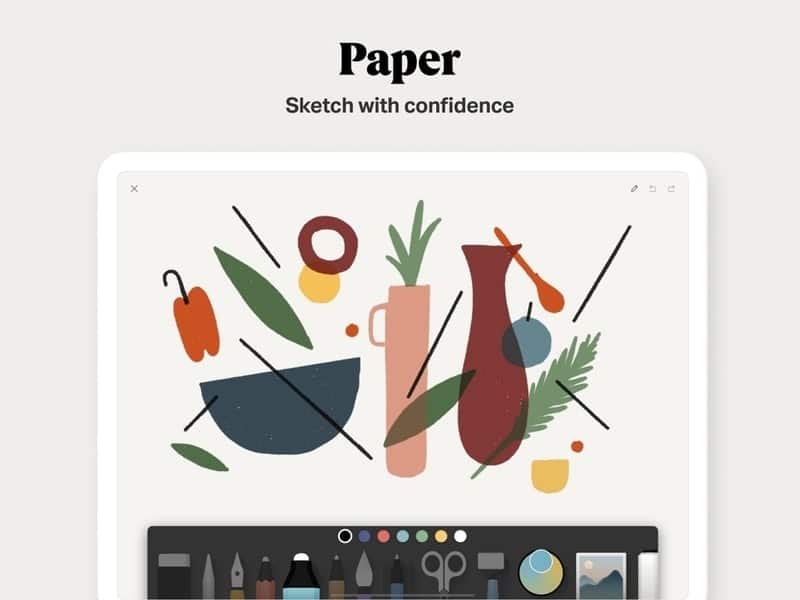 Key Features
There is a dedicated section for inspirations and guidelines from popular artists to get you started.
You won't need to go through a difficult setup process. It will do most of the things automatically.
The pages of the rough sketches can be organized in a journal layout.
You can annotate photos and can use this as a notepad app.
There are 6 different drawing tools and support for various file formats.
Pros: You are getting most of the features within the free version. On top of that, the pro plan is very affordable for most users.
Cons: You will miss the vector drawing feature and face some problems if you want to create professional artwork.
10. Pixelmator
---
Pixelmator is one of the best drawing apps for iPad with support for layer-based drawing. Therefore, you will get a lot of flexibility to flourish your creativity. This doesn't come free at all. You will have to buy it with a one-time purchase fee. However, considering the features and possibilities, I don't think it is costly.
Pixelmator runs great even on older Apple portable devices. But if you want the best possible performance, it's better to use the latest iPad with up-to-date software. You won't regret it if you are a professional artist.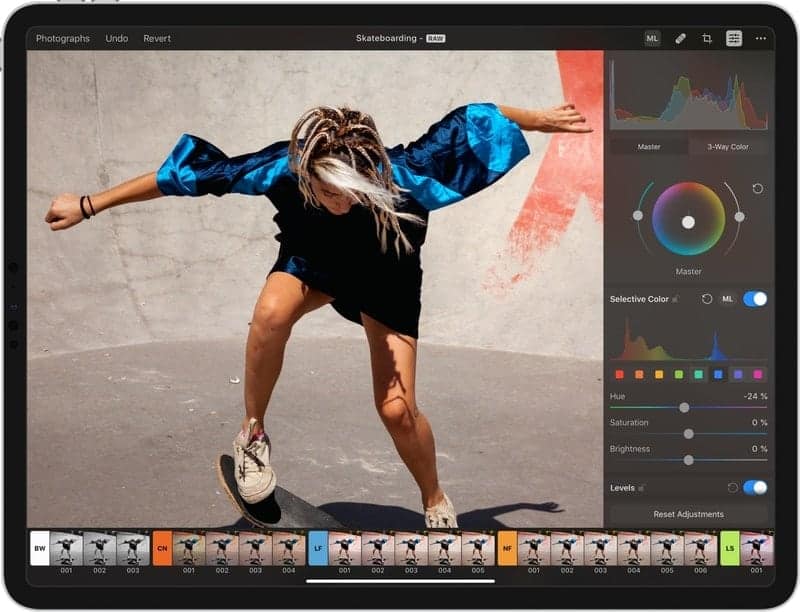 Key Features
This tool is capable of editing landscape and portrait photos up to 100 MP.
It is integrated with a revolutionary Pixelmator Paint Engine to deliver you the ultimate performance.
There is a lot of features related to fonts so that you can create beautiful typography.
It can open and work on PSD files without losing any layer or information.
You will get to use more than a hundred brushes of different textures and characteristics.
Pros: If you want a tool that can do photo editing and graphic design at the same time, then there's no better alternative than this right now.
Cons: The UI is not that smooth and intuitive, especially for beginners. I found it time-consuming to open useful tools.
11. Astropad Standard
---
Astropad is a costlier option than other sketching apps for iPad in this list. But if you don't care about the price, it is worth trying. There is a lot of features packed in this suite for professional artists and calligraphers.
The main feature of this app is the integration with Mac. You can use Astropad with your iPad to draw on the desktop designing apps on the Mac. That means the iPad acts as an external drawing pad. This is a pretty nifty feature because most veteran designers don't want to switch from their beloved desktop version of Photoshop and Illustrator.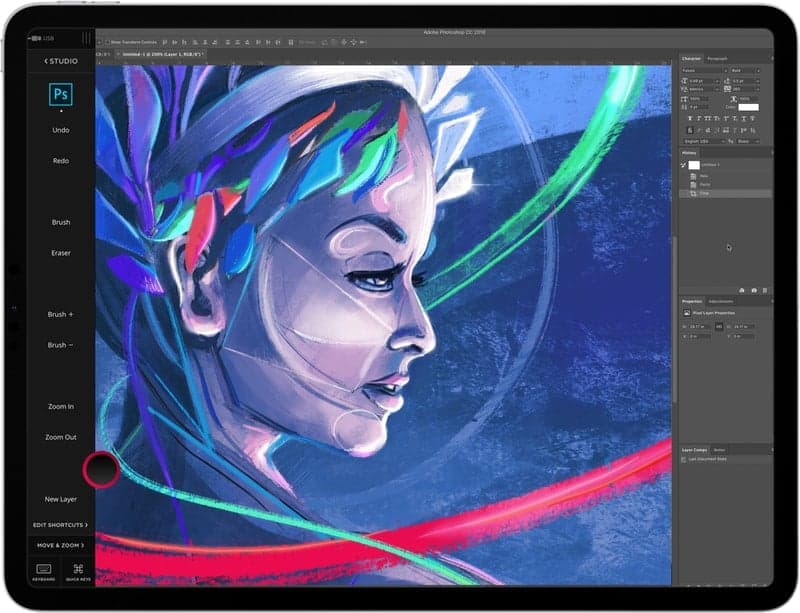 Key Features
This tool is compatible with any graphic design app on Mac desktops.
You can connect this art app for iPad using both WiFi and USB.
It utilizes all the Apple technologies like Apple Pencil, Pressure detection, palm rejection, and others.
It supports illustration, photo editing, animation, and many more.
Pros: When you have an iPad, you don't need to buy an additional drawing pad like Wacom. So, your iPad becomes a multipurpose tool. This makes it the best painting app to use your iPad as an input device.
Cons: If you don't own a Mac and you want a stand-alone app for drawing right onto your iPad, then this shouldn't be the choice.
12. Inspire Pro
---
Inspire Pro is a tiny yet powerful drawing app for iPad developed by snowCanoe. There is a basic version of this app named Inspire, which is also good at a relatively lower price tag. But if you want more control over your creation and want to use this in your professional works, then the pro version is worth buying.
The interesting fact about this software is that if you own the latest iPad with Apple's powerful GPU, then the in-built painting engine Sorcery will utilize that power to provide you a desktop-grade performance on your mobile devices.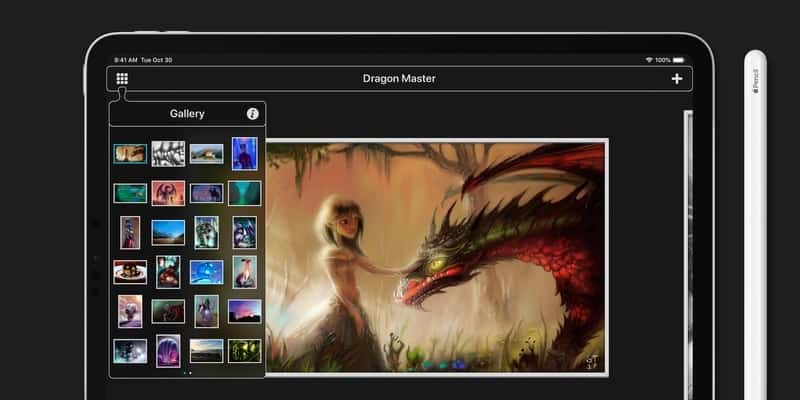 Key Features
You can choose from several brushes, and the developers beautifully organized them into categories.
If you are a pro artist, then you can use the brush customization feature to bring your desired output.
You will get to use a variety of keyboard shortcuts to make your job easier.
There is a built-in color picker that really helps when you want to pick a particular color.
The users can go back to the 1000 levels of undo operation, which is insane.
Pros: This tool can bring the most out of your modern iPad devices. Besides, there is a handy video recording feature to share your workflow as a tutorial.
Cons: It is loaded with some features that are not required by amateur artists. It made the app cluttery and difficult to use.
13. ArtRage
---
ArtRage is one of the best painting simulators and sketching apps for iPad tablets. You will feel like drawing on real paper with this powerful app. It features a lot of flexibility and customizations for advanced users. But you will not miss out on anything if you are a complete beginner.
The app is designed easily so that you can conveniently practice drawing with ArtRage. The app comes at a five dollars price tag, but this is completely justified as far as I've experienced the performance it delivers.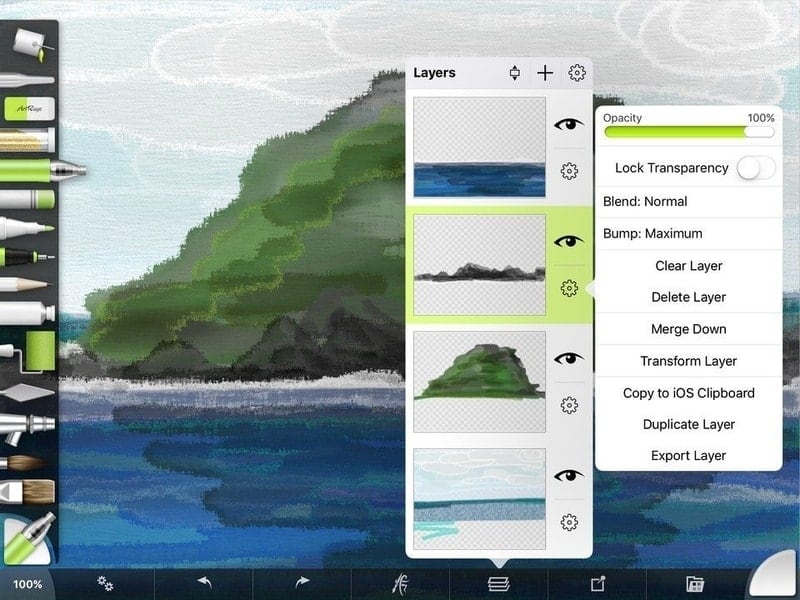 Key Features
You can use various color options, including old color, watercolor, crayons, etc.
It supports image tracing with various layer customization features.
This tool can integrate itself with numerous third-party cloud drive services.
It supports third-party pencil and stylus other than the Apple Pencil.
There is an unlimited undo-redo option, which is great if you like experimenting.
Pros: The price is very affordable, and you don't have to miss any major features. On top of that, you won't see any annoying ads or purchasing pop-up.
Cons: It supports a relatively smaller size canvas, which is a dealbreaker for some people.
14. iPastels
---
iPastels is yet another incredible sketching app for iPad devices. As the name suggests, this is just a pastel drawing tool. Hence you will not get other color options in this app. Therefore, this tool is not suitable for professional gigs where you have to do realistic illustrations.
But this can be a good choice for the kindergarten kids. On top of that, the app is quite lightweight and fun to use. You can get it for free in the AppStore, but you will have to pay a little if you want the pro features.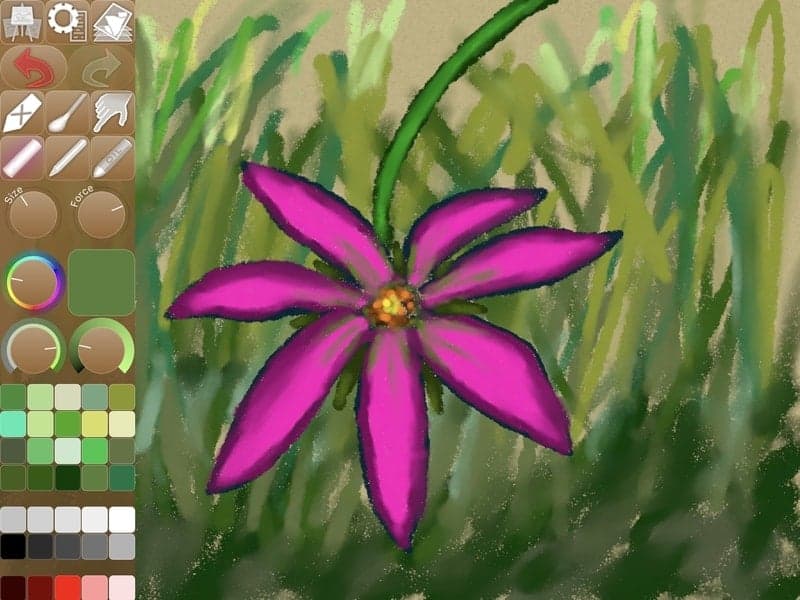 Key Features
You can choose from different types of real-life pastel simulations.
There are several textures to choose from the menu for the paper canvas.
The color palette is neatly arranged in the sidebar, which is very easy to use.
The package size is very small, with around 10 MB download size.
You can use this on your Mac desktop if you need a bigger screen.
Pros: Versatility is the best feature of this tool. Very few tools offer such versatility with support for all the platforms, including macOS.
Cons: You can not use other natural painting options other than pastel painting, which is a bummer.
15. Zen Brush 2
---
Just like the name, this drawing app for iPad will bring a spiritual vibe inside you. The overall UI and the ink brushes will remind you of the East Asian culture. Therefore, if you are onto zen art and love to bring that philosophy into your drawing, then it is a great choice.
As you can see, this app was designed for the niche users in mind. But that doesn't mean the general users won't get any benefit from Zen Brush 2. Even if you are a complete beginner and looking for a normal drawing tool, it can be a great pick.
Key Features
It features almost a hundred beautifully designed backgrounds representing Asian culture.
You can customize the brushes as you want and can use the predefined brushes.
It can export your drawing into JPG, PNG, and transparent PNG file formats.
This drawing app for iPhone can directly draw inside iMessage and share them right away.
It supports 3D touch to detect your finger pressure and simulate that.
Pros: Easy to use UI with support for Apple Pencil and Wacom styluses is the biggest strength. On top of that, the Zen drawing style is a unique feature.
Cons: Some functionalities are pretty basic, and you can not do layer editing in this app.
16. Concepts
---
Concepts is a hidden gem in the app store. Most people don't know about this awesome tool, and at the same time, a large number of satisfied users are getting benefit from this app. This free painting app for iPad is not designed traditionally. Rather the developers used a whiteboard and a drawing concept and blended them into the app.
So, you are getting an infinite canvas where you can visualize your imagination, ideas, plans, and to-dos. And, last but not least, this tool doesn't need any subscriptions or in-app purchases.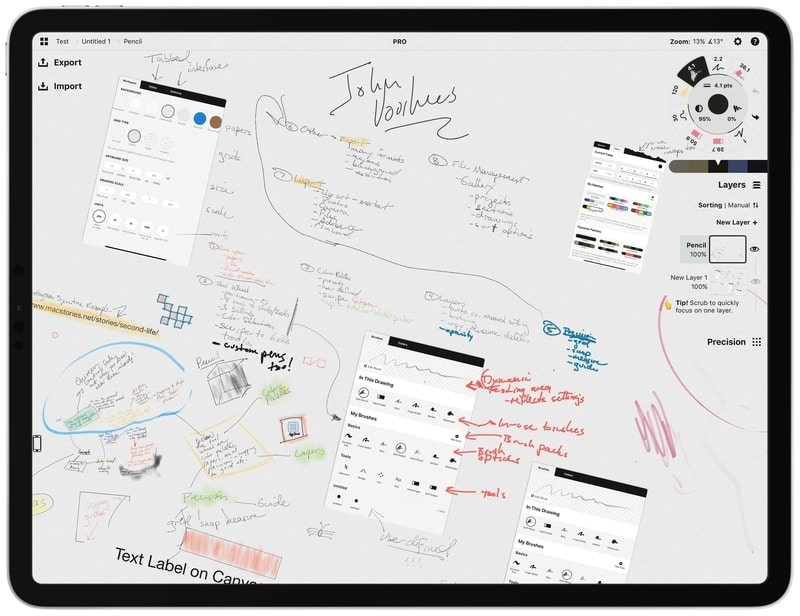 Key Features
The paper size can be extended as you want with an infinity canvas.
You can sketch vector illustration with this tool using powerful pens and brushes.
There is an option to import PDF and image files to annotate them.
You can export files in different formats that support major graphics tool vendors like Adobe, Autodesk, etc.
Sharing and collaborative task is quite easy and can be done right from the app.
Pros: If you are looking for a hybrid tool that will help your office meeting and hobby drawing, this is the best free tool to pick.
Cons: People who need more straight forward tool with custom size canvas should avoid this tool.
17. Artstudio Pro
---
Artstudio Pro is a veteran and one of the best drawing apps for iPad devices. Lucky Clan developed this tool, and it has a decent number of users with positive feedbacks. But how it performs in real life? From my experience, I can easily say that this is an amazing tool with great features.
Although it comes at a price, you won't regret it after buying it. It can be used on both iPhone and iPad. But the user interface and overall design are better optimized for iPad with the latest 64-bit processor with powerful GPU acceleration.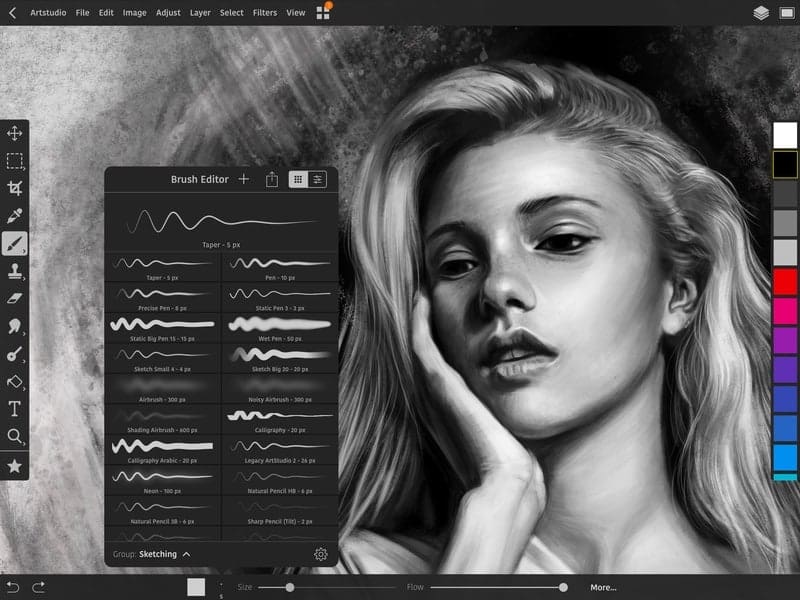 Key Features
You can get up to 64 megapixels of canvas on the latest Apple devices.
This app has 27 drawing tools in total for bringing your imagination into real life.
The advanced brush editor can give you granular controls, and you can even import from the library.
It has integrated photo retouching tools so that you won't have to look for a photo editor.
Drag and Drop UI and multitasking with split-view enables is a great productivity feature indeed.
Pros: This tool allows you to import brushes, color swatches, patterns, gradients, and what not! All these things in a mobile app were just a dream before this.
Cons: Beginners and kids will find the user interface a bit difficult to use, which is a thing to consider.
18. Comic Draw
---
This is yet another niche market drawing tool targeted to comic strip designers. Whether you are a renowned comic book designer or just thinking of kicking off with this hobby, Comic Draw will get you covered. Pasq developed this tool, and within a short span, it gained much popularity as the best sketching app for iPad among comic artists.
Since I am not into comics, it's difficult to provide a verdict. But yet I am pretty impressed with the capabilities of the tool. The basic version can be downloaded for free, while you have to pay for unlocking some features.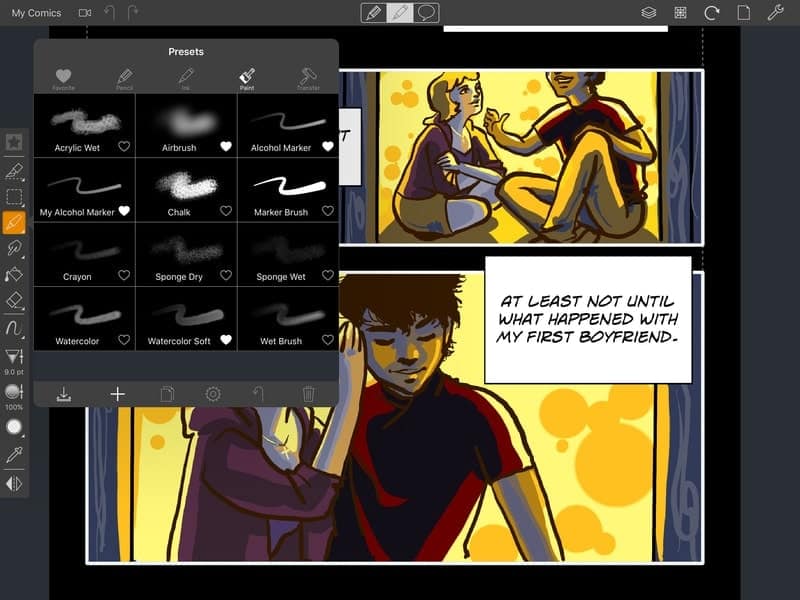 Key Features
This painting app for iPad can be used as a comic reader, which is an excellent feature.
Comic Draw supports third-party stylus like Wacom, Adonit, etc.
There is a large library with hundreds of comic fonts and brushes.
It has various perspective guides that come in handy while drawing the environment.
Exporting comics is also very easy, with support for almost all the major file formats.
Pros: As you can see that you can draw comics on other apps too. But dedicated apps are much easier and convenient. Hence, this thing will be ahead of other popular tools in terms of comics.
Cons: Tools like this designed for a specific category of people are not that useful for mass users.
19. Graphic
---
Don't underestimate this drawing app for iPad by looking at its generic name. The graphic was developed by Picta and considered as an Illustrator alternative for iPad. And, the most important thing is that it is very easy to use.
You can do a lot of tasks, including vector design, floor plan, architectural drawing, illustration, graphic design, etc. The layout and the UI will remind you of the desktop illustrator. Therefore, if you work with a mouse and keyboard, you will get the max out of it.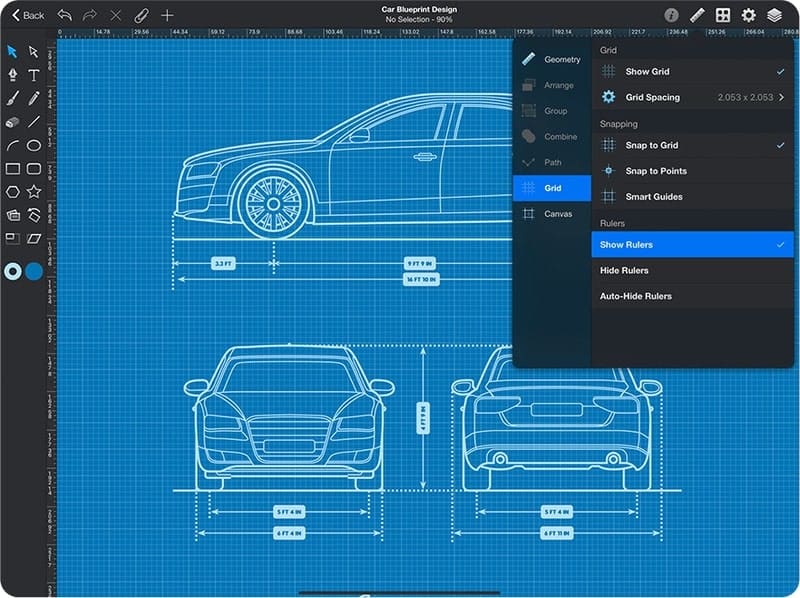 Key Features
It supports vector illustration using complex boolean operators and expressions.
You will have fully customizable layer options with several visual effects.
It is compatible with PSD files from Adobe Photoshop and handles them swiftly.
This tool is integrated with Dropbox and other file sharing services for syncing your progress.
Designing logos is much easier using the pen tool and advanced selection tools.
Pros: For the existing Photoshop and Illustrator desktop version users, it is very easy. You don't even have to go through a steep learning curve. This can be considered one of the best art apps for iPad devices.
Cons: The price tag it comes with is not affordable at all. There are some bugs and issues here and there, which is also annoying.
20. Assembly
---
The last one in this list is one of the best sketching apps for iPad with vector support. Being a free-to-install tool, you can't go wrong with this. Besides, I had a great experience drawing with this powerful graphics suite. I saw many icon veteran icon designers rely on this tool for their doing their professional stuff.
Here's an interesting feature of this software. You don't have to use any kind of sketchbook software for generating a rough idea. In fact, this tool can be used as a sketchbook as well as a final design tool. So, I believe Assembly can certainly boost your workflow and lead you to be a good designer.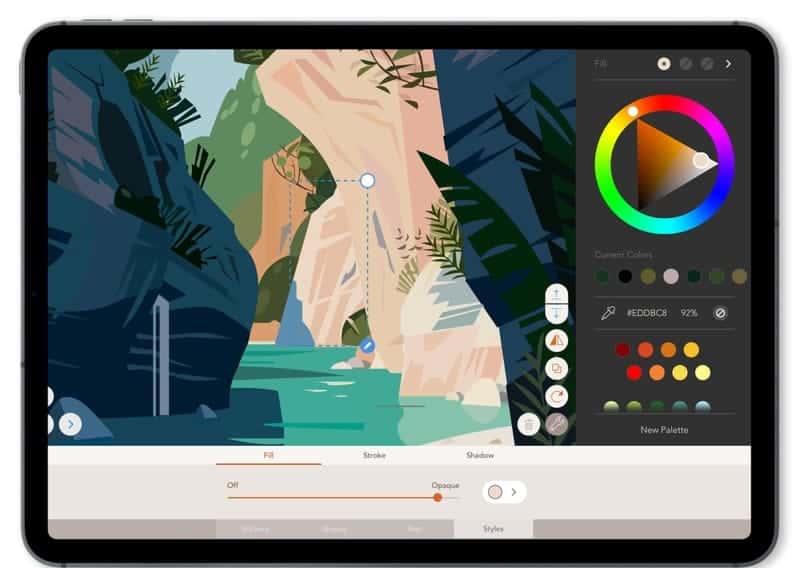 Key Features
You can choose from the preinstalled fonts as well as import your own.
There is a shape library built-in for quickly getting complex shapes.
Integration with iMessage makes it a great tool for artwork sharing.
You will be able to sync your progress over the iCloud drive.
The UI is minimal with neatly arranged tools, pens, and brushes.
Pros: Assembly has a large community of users, and the installation package is not huge. Your iPad with smaller storage will be benefitted in the long run.
Cons: Although it is free to use, some important features will require a pro subscription.
Our Recommendation
---
Recommending a specific tool for someone is the most difficult task. I don't want to take any risk. Joking apart, it really depends on your requirements and personal preference which paid or free drawing app for iPad you will like the best.
But still, I will say that if you are a general user and not going to use the tools on professional tasks, Autodesk Sketchbook will be a great choice for you. But, if you want Adobe's file format compatibility, then Adobe Fresco is the tool to rely on.
Affinity Designer is an awesome tool if money is not a problem for you. On the other hand, Procreate can be the best art app for iPad Pro devices with relatively larger displays.
Final Thoughts
---
Drawing, sketching, painting, designing, no matter what you call, is a creative task. The above-mentioned apps are just the mediums to draw on. They will not make you an artist. The only thing that you can do is your creativity and passion.
I hope this article has helped you to decide on the best drawing apps for iPad devices. If you still have any doubts, I will recommend installing the free tools and taking a look by yourself. It will be much better to find that sweet spot. And, don't forget to share this article with your digital artist friends. Happy drawing!