An iPad can be better than both your phone or a laptop if it contains the right apps. To be true, a lot of tablet users are not happy with their powerful devices just because they don't have the right apps. AppStore contains a lot of apps for iPad that can just transform your iPad into something greater. It can be your PC alternative or mobile office suite if you are not right in front of your PC. You just have to know the right use of it with the right apps. So, many of you often want to learn about the best essential apps for the iPad. And you are on the right track if you want to learn so.
Best Apps for iPad to Boost the Performance
---
You can get thousands of apps for your iPad. There is no doubt that most of them will disappoint you with lots of flaws. However, we tried to arrange today's discussion with 20 apps essential for your daily purposes and different genres. So, keep focusing on each of them. Who knows, you may get the app that you are longing for for so long.
1. Page‪s
---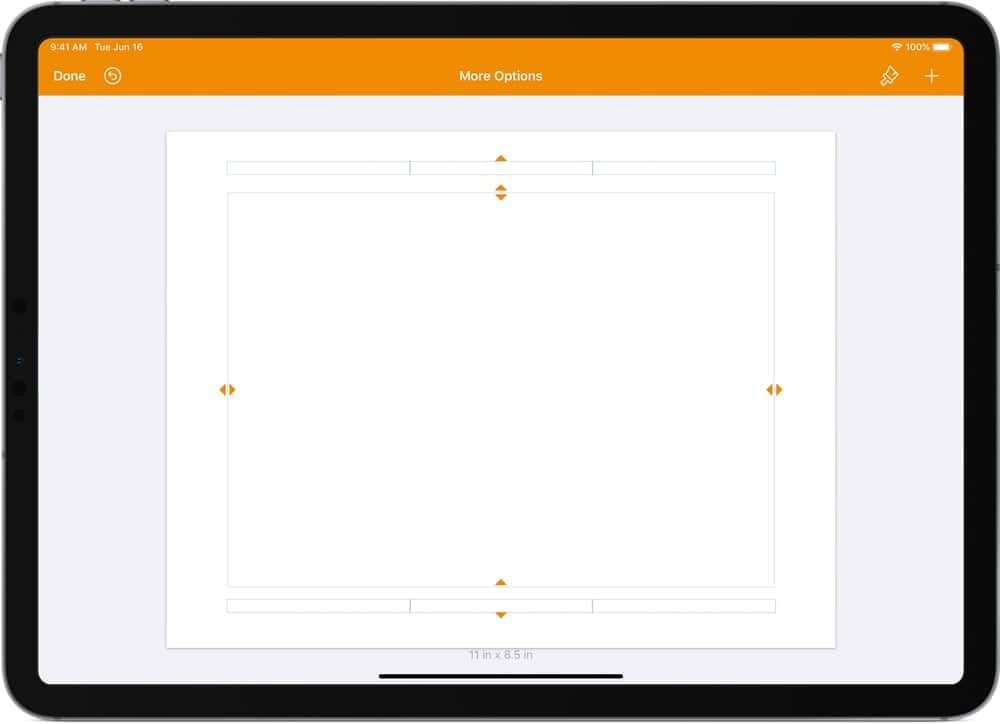 Pages is one of the most versatile and productive apps for iPad, developed by Apple Inc. It comes for free and works on iPhone and iPod touch as well. This app integrated all the facilities and features of family sharing, which also enhances its accessibility. It is your go-to word processor with the power to create any kind of documents, visual charts, presentations, and so on. Users can use it with an Apple pen and an additional keyboard when using it on the iPad.
Important Features
This app offers a tonne of useful templates that users can use instantly.

It allows using numerous graphical works, symbols, nature emojis, signs, etc.

You can draw with an Apple Pencil and just bare your fingers and insert them in any document. It also lets the users animate the arts to make the production more lively.

This app includes the facilities to work in collaboration with other peoples and team members in real-time using its advanced cloud and synchronization capabilities.

It allows adding images, videos, media files, numerous formats, font changing, and much more.

Users can easily edit and open files from Microsoft Word and other documents files.
Pros: It includes advanced tools for editing, adding external links, inserting media files, and much more. Pages also support iCloud for uninterrupted access and sharing facilities.
2. Microsoft Word
---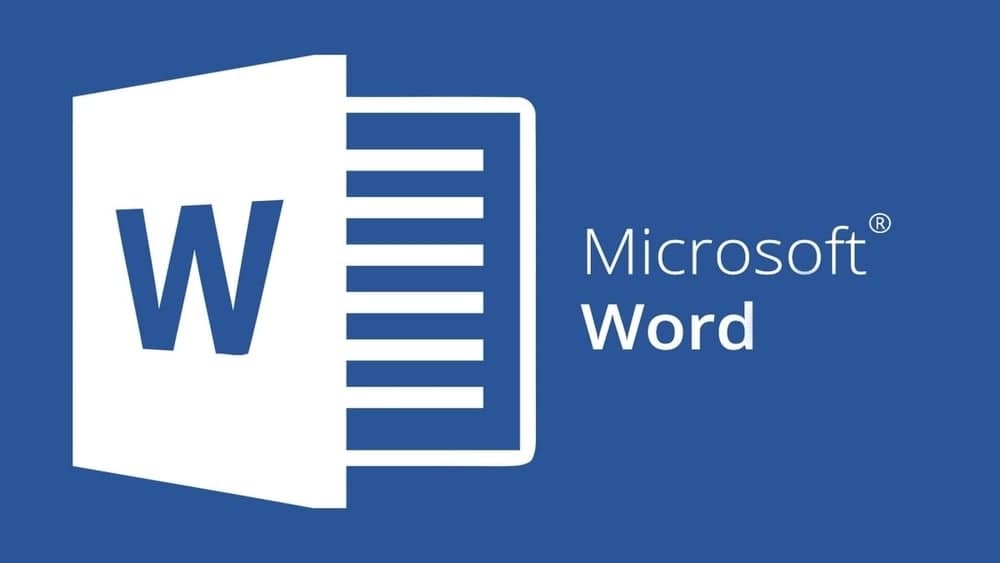 Microsoft Corporation offers Microsoft Word for iOS users, and it is, of course, one of the best apps for iPad. It is one of the most trusted productivity apps you can find on any platform, from desktop to iPad. It is the best free iPad app that can create and edit any type of text, office, and word processing documents. You will find the same powerful tools of the desktop on iPhone and iPad without any limitations. Moreover, the sharing facilities are swift and easy. You can even change the formats of your files to use them with complete flexibility.
Important Features
It is great for writers, bloggers, journalists, students, office workers, project managing personnel, etc.

The synchronization facilities are top of the mark and integrate advanced collaboration facilities from your iPad.

You can use this app from anywhere, and with Microsoft 365, this opens a huge range of productivity without cutting any corners.

This app allows work in a team to add, edit or modify any part of the documents.

It offers an unparalleled reading environment with instant editing facilities.

This app includes numerous templates and layouts for different documents which are ready to use at any time.
Pros: You will find it on most of the platforms, so the sharing and synchronization facilities are unbeatable. The app interface is familiar and accessible for all types of users.
Cons: Some occasional inaccuracies are present while converting the files to a different format.
3. GarageBand‪
---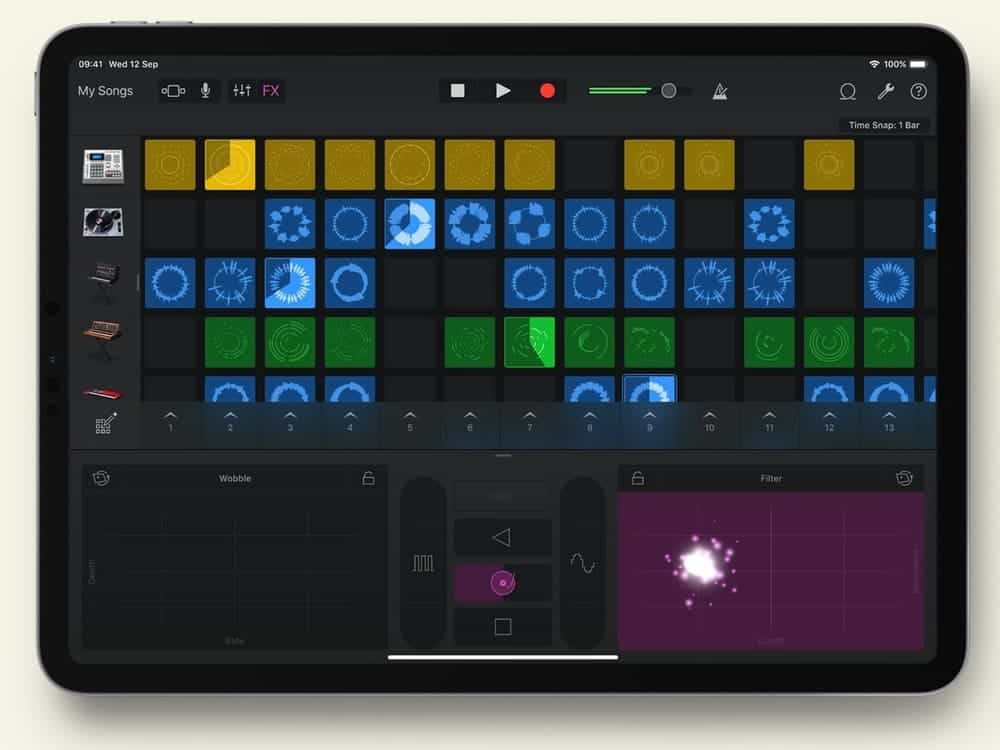 GarageBand is one of those apps that makes people drawn to an iPad device, and it is regarded as one of the most used music apps by Apple. It offers instant audio tools and live loops, which are great for real-time mixing. If you are a DJ or looking for DJ-like effects, this will be a perfect companion for you. The touch responsiveness of this app is top of the chart. It utilizes multi-touch technology for touch operational instruments, such as keyboards, guitars, drums, keys, etc.
Important Features
You can use drums on this app and use the notes to play in real-time. It also provides options for acoustic and electric drums.

Users can share their works and audio files on social platforms and other supported apps without any hassles.

It allows sharing your works and progressive tracks with the Logic Pro app and different music projects.

This app allows plugging in a real bass or guitar for applying classic amps and other supplementary effects.

The database of this app includes tonnes of different soundtracks, sound packs, effects, loops, and instruments which are ready to download for free.

It is like a mobile studio with all the professional music tools in one place. Besides, this app is capable of recording and mixing 3rd party instruments simultaneously.
Pros: It is capable of making any kind of music just using the iPad. Another great perk is its seamless sharing and synchronization capabilities along with native iCloud support.
Cons: Some users do not find the UI suitable for them.
4. Things 3 for iPad‪
---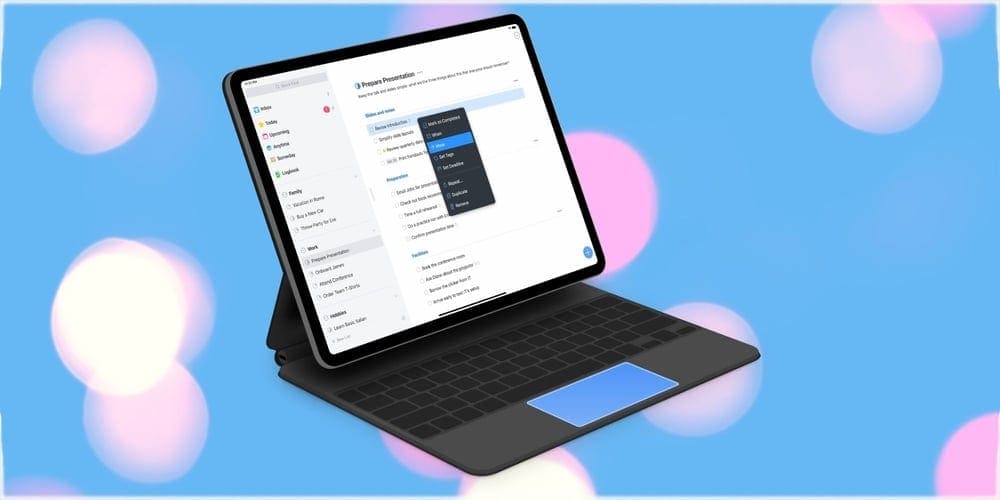 Things 3 for iPad is another must-have for you that will help to organize your busy life. It requires payment to access, but the money is totally worth the experience you will get using this multifunctional app. This is a very popular life managing app and got awards for its top-notch services. The app interface is very modern and accessible. Moreover, all types of users can access it, and surely it will somehow come to their aid. You can keep track of the areas of your work, plans according to their categories.
Important Features
This app supports dark mode and perfectly suits the vivid display of your iPad.

It includes reminders that you can set as needed for your convenience.

This app is highly optimized for iPad and supports all the amenities of the iPad, like using an Apple pen, accessing documents, etc.

It includes all the facilities of family sharing and fully compatible with Siri for voice accessibility.

This app integrates advanced searching options, tags, filtering, and a lot of different tools for a better overall experience.
Pros: This app is an all-in-one organizer for your everyday life. You can instantly make beautiful new lists, notes, reminders, to-do lists, and so on.
Cons: It might seem a bit overpriced as many free options are available with basic facilities.
5. Bea‪r‬
---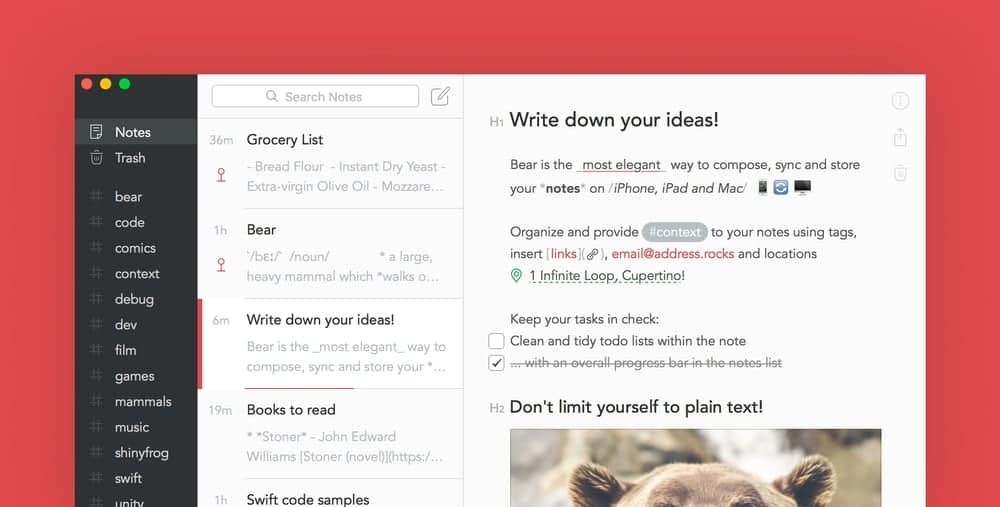 Organizing all of your notes is necessary, and you can rely on Bear‬ for this. It works best on iPad as it can create notes with iOS Shortcuts and Siri. You can dictate and append to recent notes using the iPad. Moreover, you can easily synchronize your app data with an iPad and other devices. Notes will also sync via iCloud, so it's easier here. In addition, you can protect your data with a face ID and password.
Important Features
About 12 themes from which you can select the perfect one for your writing.

This app allows drawing, sketching, Apple Pencil, etc., along with writing.

Bear's app extension lets you select the text, images, files, and even you can clip web pages.

You can add multi-word tags, Cross-Note Links, and emoji in your headings, journals, and so on. You can personalize an icon to mark the tag in the sidebar.

The spotlight will find any note instantly with keyword highlight feature and strong Search Triggers.

Archived notes are super simple to look for whenever you need them.
Pros: The export option supports various formats like PDF, DOCX, HTML, EPUB, JPG, etc. Besides, all your notes are easy to share to Mail, WordPress, Sparkle, and more.
Cons: This app doesn't provide the facility to search within a note.
6. 1Password – Password Manager‬
---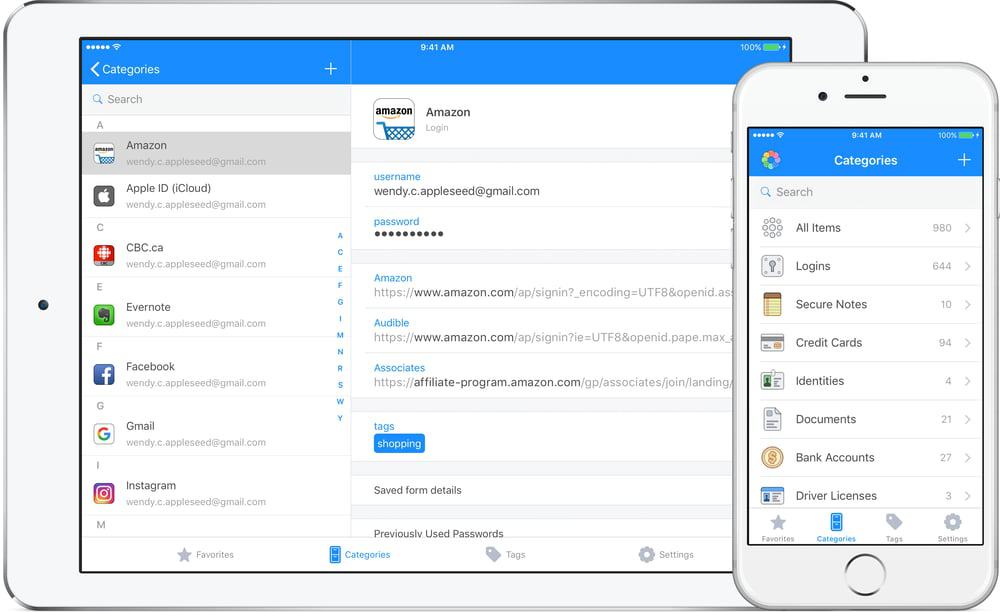 If you are often your passwords, why not try 1Password as a password manager app. It is secured with only one master password. Different accounts, including team, family for an individual, can get added here. Again, you can simply transfer information between them. Additionally, you can access this app from all your devices, but it is better to use an iPad to get the most out of it. Now, you don't need to worry about remembering passwords for different purposes.
Important Features
Each item is saved in different categories like logins, addresses, credit cards, bank accounts, passports, notes, driver's licenses, etc.

You can make several vaults and prioritize them with favorites or tags. Initially, you can create more security with URLs, questions, and other information.

There will be alerts to warn you that you need to change your password.

If you want to share your documents and passwords with any of your teammates, you can do it using this app.

Using Face ID, you can unlock this app instantly and protectively.

Any unique and strong password or pass-phrases are easy to fill with the app.
Pros: When you lose your device, or it gets stolen, you can automatically lock this app. Furthermore, you can use it as an authenticator to save two-factor authentication codes.
Cons: There might be some problems with synchronization.
7. YNAB (You Need A Budget‪)
---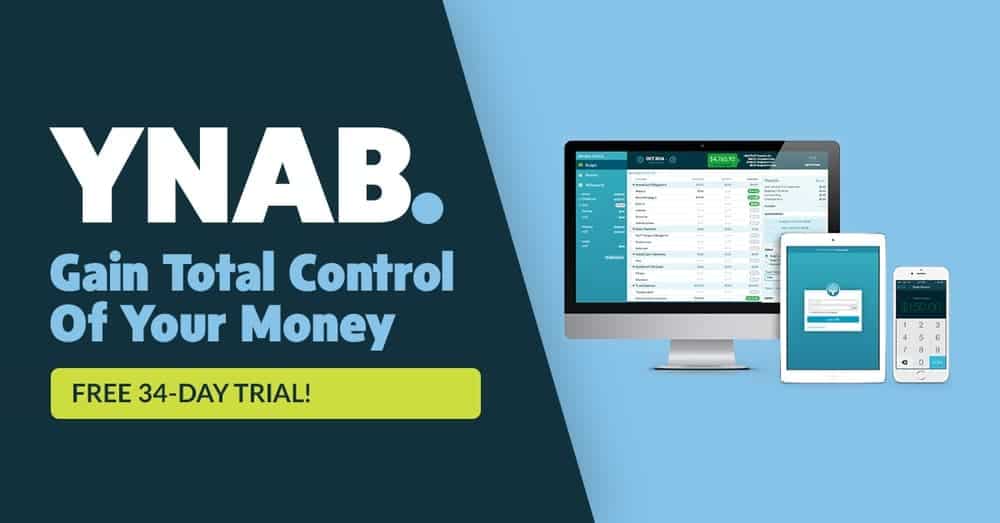 Personal finance app like YNAB (You Need A Budget‪) is worth having a position in the Best apps for iPad list. And if you are messing with your budget, then it will be your best pick. It will take care of a bunch of things like expense tracking, budget, paycheck cycle, debt, and many more. Moreover, this app takes you through a proven process of four steps. Therefore, when you start to follow them, it makes everything easier.
Important Features
It is simple to bank sync and organizes all your accounts within this app.

Anytime and anywhere, you can access your data just with a tap.

If you have a partner, you can even share your finances with them.

When you are in debt, the tools of this app will help you to overcome those.

You can set your goals here, and you will get assistance to fulfill them even faster.

The progress and improvement are noted in detail with trend reports and visual spending.
Pros: About 100 live workshops are available each week without spending a penny. Additionally, you will receive team support whenever you need it via live chat or email.
Cons: It might get a little complicated if you have a lot of accounts.
8. Netflix
---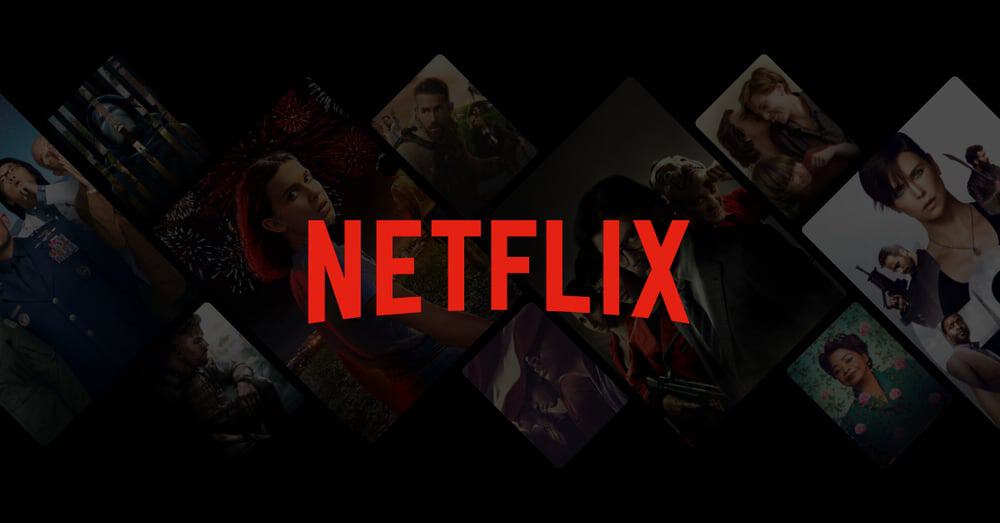 You are a movie lover and have your iPad. But you don't use Netflix. Do you want me to believe this? Well, it will be really hard. However, using Netflix now becomes a tread as it is the most versatile movie app. Not just the movies, but this app will provide you unlimited numbers of TV shows, Programs, Series, animations, and talk shows. Whatever the genre is and which country the show is from, nothing matters. You will get everything here. Additionally, the responsiveness of the app is top of the chart.
Important Important
A built-in search bar will help you find your TV shows in a second.

This app provides 30 days of free trials, and then you can decide whether to use it or not.

You can download your favorite shows and enjoy them when you are even out of a connection.

Every show and series has a trial and preview.

It will recommend your new series and shows based on your previous search.

Using particular filters, you enjoy shows with kids in family-friendly entertainment.
Pros: You can share one account with around 4 of your family members. Eventually, you don't have to pay for those 4 members at all.
Cons: Without providing the subscription details, you cannot enjoy the free trials.
9. WeatherBug – Weather Forecast‬
---

Undoubtedly, WeatherBug is the popular iPad weather app that provides the most accurate weather report. This app has a user-friendly interface, and you can depend on it for daily weather forecasts. In fact, the app is powered by the largest professional weather network in the world. Thus it provides the fastest alert along with the current, hourly, and 10-day weather forecast. Eventually, it is a lifestyle forecast to help you understand how the weather will affect your trips, workouts, chronic pain, allergies, and so on.
Important Features
You can visualize 19 different weather maps such as lightning, temperature, wind, pressure—humidity, alerts, etc.

The app will notify you right away about weather conditions and storms. Plus, you can be aware of a 10-day snow depth forecast with snowstorms alerts.

The app will give minute-by-minute and mile-by-mile lightning proximity alerts. And you will be informed of hurricane forecasts and the changing direction.

You can keep an eye on Air quality around you along with appropriate weather details, including UV index, Wind speed, etc.

The app allows forecasts for more than 2.6 million locations and over 10,000 professional-grade weather stations all around the world.
Pros: You can keep a check on your allergies to local pollen conditions. Furthermore, The app will inform you about dangerous thunderstorms at a 50 percent faster speed.
Cons: Be aware of the third-party sellers because your location info might get leaked.
10. Kindle
---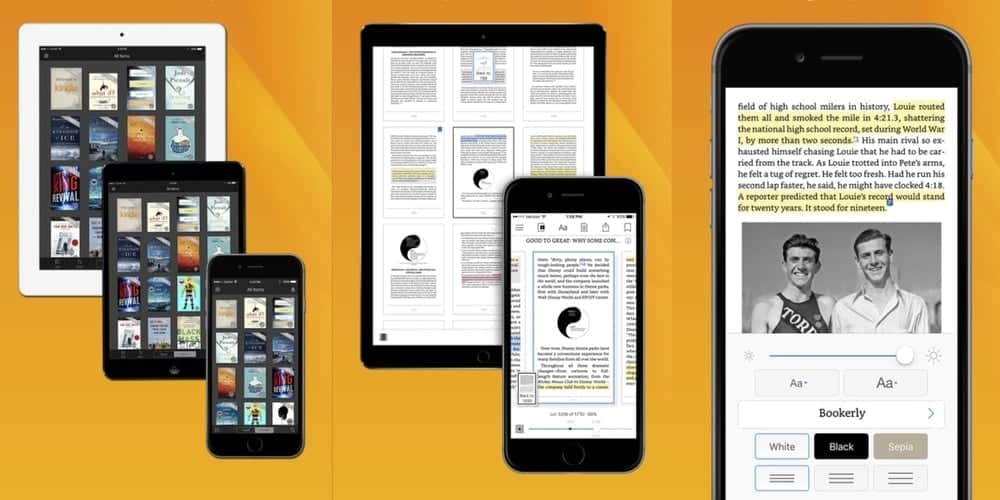 Now, you can take your Library anywhere with a Kindle that contains thousands of books on your palm-sized device. No wonder that this app is an excellent choice for book worms as they can subscribe to unlimited books. Moreover, you can access your local library, where you might get free books. And the app doesn't require any money for ebook samples. Avowedly, this is one of the best apps for iPad where you can find magazines, newspapers, textbooks, Graphic novels all in one place.
Important Features
You can select your font style, size and enjoy a pleasant time with your favorite books.

The app has come with adjustable screen brightness and color. So, it doesn't matter if you are reading day or night.

You will discover unlimited ebooks, and you can download them right away.

There are unique features such as Whispersync, Page Flip, Print Replica, flashcards, X-rays, and much more.

It can be the best iPad apps for kids as it contains tons of kids' books as well.

You will find instant translations and definitions right there on the page. And you can bookmark pages and start from where you left.
Pros: You can enjoy side-by-side reading note-taking functions. Plus, the app has the ability to make and share page-in highlights.
Cons: Some users face swiping problems very often.
11. VIZ Manga – Direct from Japa‪n‬
---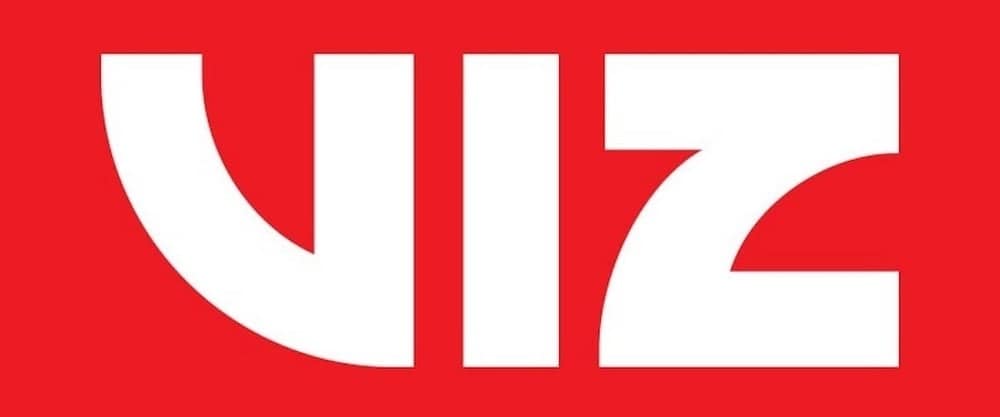 Hello, manga fans? If you are not happy with your manga series book collection and have an iPad on your hand, then VIZ Manga has come for you directly from Japan. By far, it is the most popular manga app, and it contains almost all the manga from different genres and all popular writers. Don't know the Japanese language? Well, this app contains all the manga with different language translations. Additionally, it is a super handy app that takes a little space on your phone.
Important Features
All the hit series like Naturo, Naruto Shippuden, Dragon Ball Super, One Piece, and Boruto: Naruto Next Generations are available here.

The latest series and chapters are added regularly.

Tons of popular series like Naruto, Onepiece, Dragon Ball Z, etc., are free here.

Downloading a manga takes a few seconds, and then you can enjoy them even with an internet connection.

Different reading modes and customizing options are available here.

You can enjoy the previews of paid volumes of all your favorite series.
Pros: You can enjoy exploring the full VIZ digital catalog to find out your favorite manga series. In addition, you can use the built-in search bar to find a series in a second.
12. Hulu: Stream movies & TV show‪s
---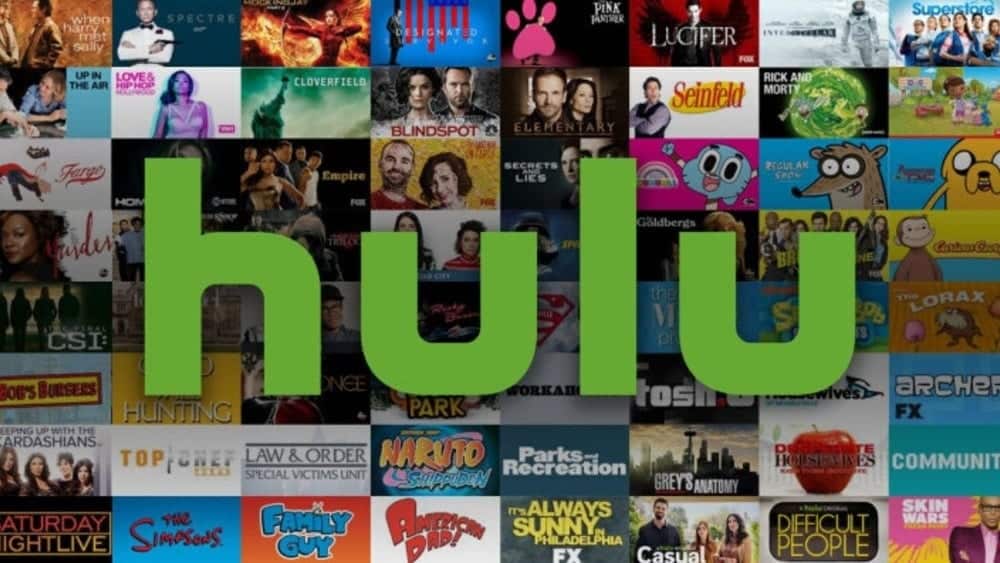 Now, you can stream thousands of TV shows and movies along with the past seasons and current episodes with Hulu. Well, you must be thinking if the app only supports recorded shows, not live TV. Don't worry, as the app has come with live TV for sports, and you won't miss a single event of your demand. Furthermore, you won't be disappointed since it guarantees to provide original content. Overall, you can enjoy all-time TV along with all your favorite shows in one place.
Important Features
The app will let you create 6 profiles altogether. So, each person can keep track of shows, movies, networks, etc.

Not only TV but also this app is supported on smartphones and tablets. Thus you can enjoy anytime, anywhere.

The app allows you to download thousands of TV shows, and you can enjoy them offline.

You can track your favorites and add them for quick access to your device.

You can enjoy more than 60 top channels along with Live TV, including Sports, news, and much more.
Pros: The app grants unlimited access to the Hulu library, and you can stream over 85,000 episodes of the shows. Additionally, you can personalize different TV shows on your device, and the app manages to let you stream without any ads.
Cons: You will often find the old seasons of Old TV shows missing from the app.
13. Dropbox: Cloud Storage, Backup‬
---

Dropbox is an essential app for your iPad as it contains 2 TB of storage space. So, you never have to run out of room for your important documents. You can protectively save the most sensitive documents in Dropbox Vault so that no one can reach them without your permission. Again, you can make it more secure with a password for all your devices. You can transfer your files from one device to another.
Important Features
All your photos and videos from the camera roll are automatically saved in the cloud photo storage.

More than 175 variations in file types are supported, and you need no extra software for that.

Online or offline, you can access any of your fear files whenever you wish.

Photos and videos are easy to share with others using this app.

If you wish to send a large file to someone without a Dropbox account, you can simply copy and paste the link.

You can scan receipts, documents, photos, ids, etc., from any of your devices.
Pros: Scanned files are easy to turn into high-quality PDFs. Also, to get a backup of restored deleted files and recover older versions, you can sync your iPad.
Cons: For some of the users, the app caused excess battery draining over time.
14. Wonderbly Story Time Book‪s‬
---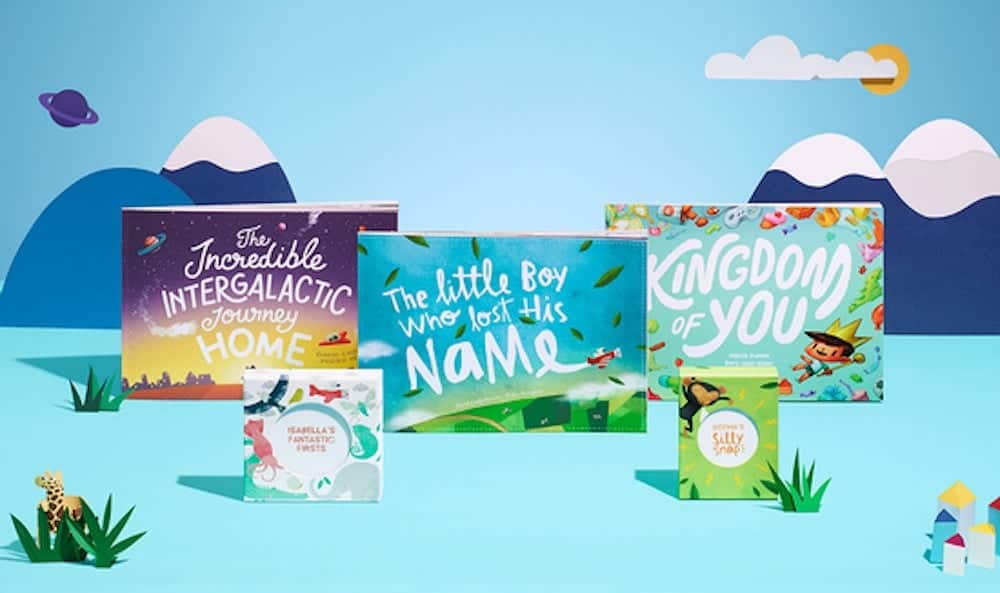 Some of us use an iPad for our kids. Let's meet with the best free iPad app for toddlers, Wonderbly Story Time Book‪s‬. It will be your best pick if you don't want your kids getting addicted to video games. However, this app contains tons of kids' favorite adventurous and fairy tale stories that will improve the imagination power of your kids. The user-interface of this app is beautiful. Additionally, it includes a very useful widget that you can keep on the home screen for quick access.
Important Features
This personalized kid's book contains separate stories for boys and girls.

There is a function that lets you customize the stories where you can change the names of the characters.

You will have six different adventure stories that you can combine and make something new.

There will be an adventurer's lost name, and your kid has to find it out from the stories.

It works quite well to improve your kids' intelligence and quick thinking ability.
Pros: The adventurous stories are full of fairy tale characters, superheroes, mystical beasts, and curious characters. Additionally, it is suggested for children aged 0-8 years.
Cons: Some users think that the character number is very limited here.
Download
15. Amazon Shopping
---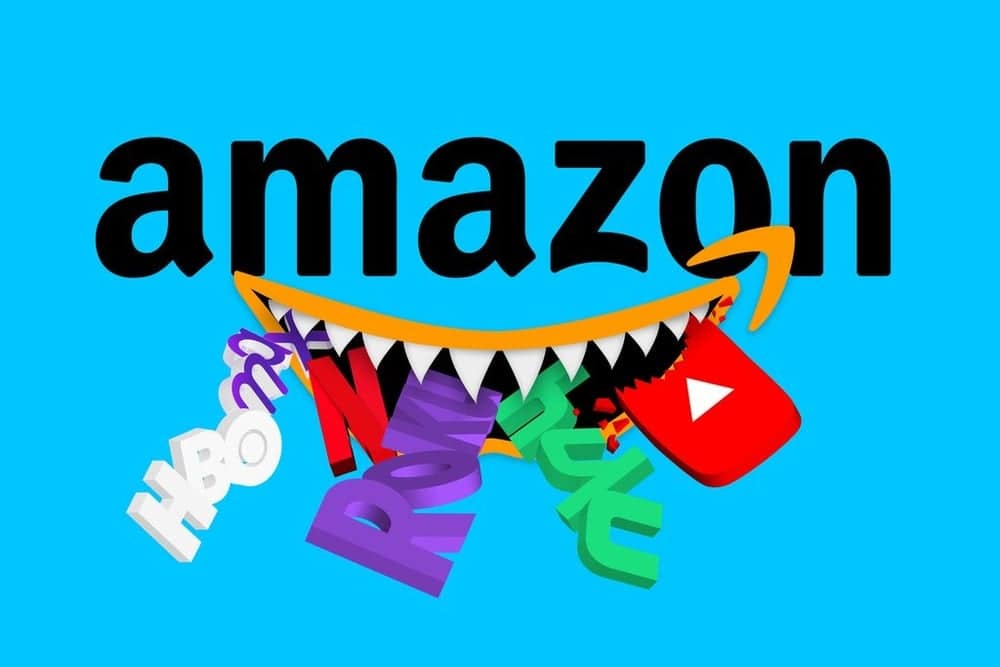 Amazon Shopping comes with all the facilities that you are looking for International Shipping. There is no doubt that this is the best shopping app for iPad, and you'll experience nothing less than a physical store. Certainly, you can browse, search, read the product details, and review. Thus you can be sure about the quality of your purchasing product. However, you have to agree with the terms and conditions of this app to ensure if the app is applicable in your country or not.
Important Features
You have to sign in with your Amazon account to get in with your cart, payment preferences and to find shipping options.

The app will suggest a gift list based on your baby or wedding registry. Thus you can choose the perfect one.

This ample app allows us to compare prices and check the availability of the product. And you can scan the barcode, snap pictures or just type your search.

The app reaches its delivery in more than 100 countries within 4 or 5 days.

You can enjoy voice shopping, shipping, notification, visual, search, customer reviews, and so on. And only it needs to access contacts, camera, microphone, touch id, Bluetooth.
Pros: The app allows you to pay in your local currency through international credit or debit cards. Plus, the privacy policy ensures to protect your personal, payment, or order information.
Cons: To find your product, you have to scroll for a long enough time to include a clunky interface.
16. Pinterest
---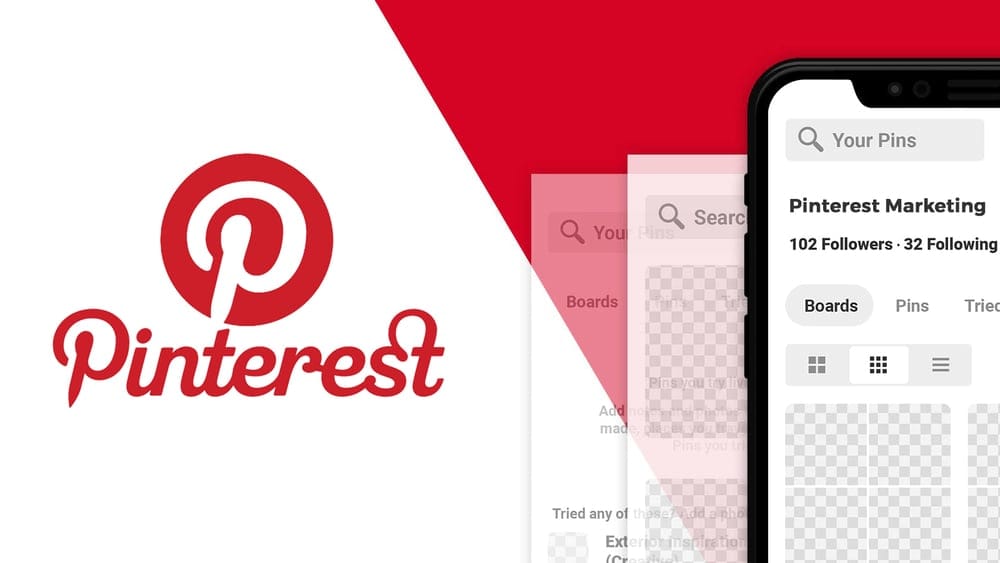 Whether it is about style, food, recipe, fitness, entertainment, or lifestyle, you will get content on almost everything on Pinterest. This lifestyle app can be a game-changer for your life. You will have tons of ideas for DIY projects and learn about what other people are doing to deal with different problems. However, you will have your own account here, and you can save all your favorite ideas as a pinned one. Besides, you can provide you with tons of tips on traveling, hiking, pet, art, and so many creative ideas. Let's learn about more functions of this app.
Important Features
You can see photos, short videos, and whole written content on any topic.

This app lets you download your favorite pictures directly from this app.

One-click sharing options using different social media is also possible here.

Based on your previous search or checking history, this will recommend new contents to keep you updated.

Thousands of recipes and beauty tips are available in this app.

You will get ideas of tons of home design and architecture ideas as well.
Pros: Have a new idea on your own? Just share it with photos and other details. People can initially see your work and comment on your ideas.
Cons: Some users fail to use this app with the phone data in some local areas.
17. Tasty
---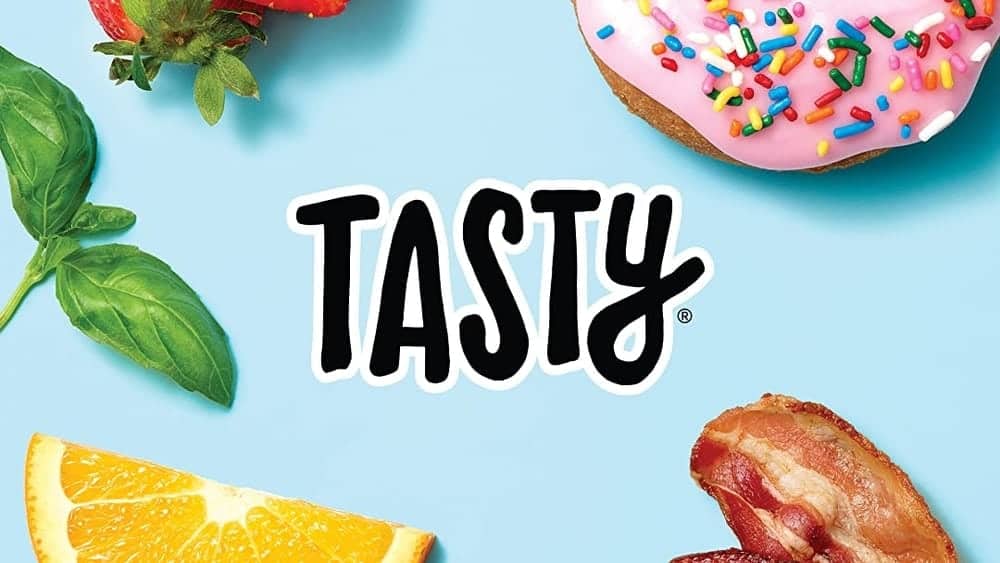 Love to cook new food? BuzzFeed has brought Tasty‬ for you. It is a food app that works best on the iPad. The aim of this app management is to provide you with the easiest and tastiest recipes around all. It shows both written recipes and videos. So, you will learn to make your favorite foods step by step. Also, the app has a function that will keep it awake when you are out of touch with your iPad, and still, you are checking the steps while cooking in the kitchen.
Important Features
Over 4000 recipes from different regions are available in this app.

Step-by-step instructions contain a complete measurement of the ingredients alongside all preparation details.

It will track your previous search and watch list and try to figure out your interest. Indeed, it will recommend new recipes for your next meal.

You can search recipes by ingredients, types, cuisines, and so on.

What if you are vegetarian, right? Well, this app contains a considerable amount of non-veg recipes.
Pros: You can use different filters to get keto recipes, gluten-free recipes, and many more. Besides, it shows measurement in different directions.
18. Mint: Personal Finance & Money
---

Mint is all you need to keep a better track of your spending and financial accounts. This money management app will help you count your every dollar in monthly expenses, spending, credit cards, loans, investments, etc. Additionally, you will receive exclusive money-saving offers as you apply for a refinancing loan in this app. Not only that, but also it will provide budgeting tips and advice to lead you to reach your financial goal.
Important Features
Whenever you sign in, the app will show you a free credit score and credit report. Plus, it will notify you about fraud identity and its update.

The app will alert you if you're crossing over budget and before you overdraft from your account.

You can quickly manage your recurring expenses and keep an eye on your debt with a bill tracker.

TurboTax will help to check your refund status and date. And it will inform you as soon as it arrives in your account.

There's no chance to leak your private data as it comes with the best privacy policy.
Pros: The app will show you balances and all the recent transactions for accounts, upcoming bills, financial remainders, activity alerts, budget spending goals, and so on. Moreover, The app will let you edit your transactions, and you are allowed to recategorize them.
Cons: The whole system doesn't allow for multiple currencies.
19. CNN: Breaking US & World News
---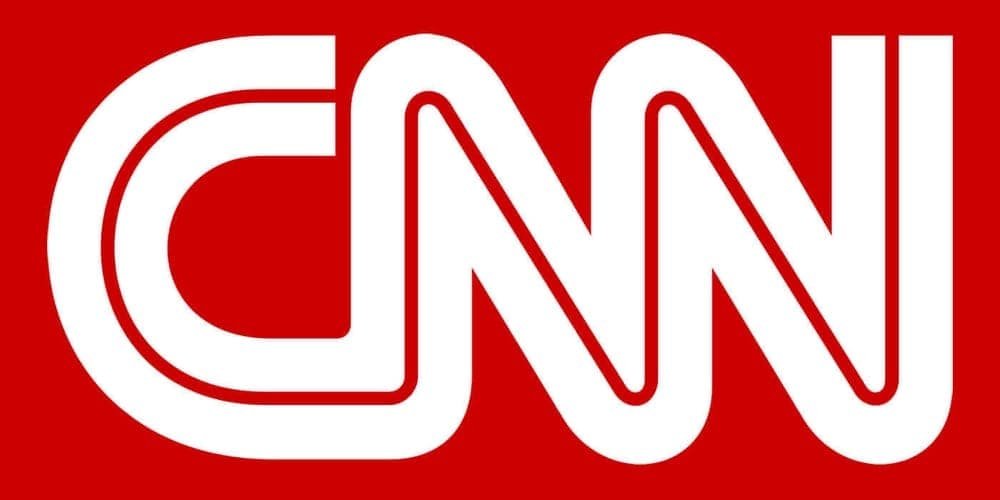 You must have heard about CNN, right? This name is well-known to all as a famous news reporting channel. And it is the official CNN new app. Well, the app version collects news from around the world and stands out because of correspondents and bureau reports. You will get all the latest news instantly with a tap. In addition, this app works even better on your iPad. Local weather forecasts are also covered by trusted sources.
Important Features
With the app, you can watch live CNN, HLN, and CNNi television whenever you wish.

The alert settings are customizable so that you only receive the alerts that are most important to you.

All the breaking news is described in detailed news clips, stories, and photo galleries.

Original CNN Series, for instance, "Anthony Bourdain: Parts Unknown," is only available here.

You will also enjoy news programs like "Anderson Cooper 360" and many similar programs.

Most demanding award-winning CNN Films are also accessible using this app.
Pros: Unlimited viewing is allowed if you sign in with your cable provider or satellite. Again, you can manage the data you share.
Cons: When you need to check out video content, you cannot proceed without visiting an advertisement video.
20. MyFitnessPa‪l
---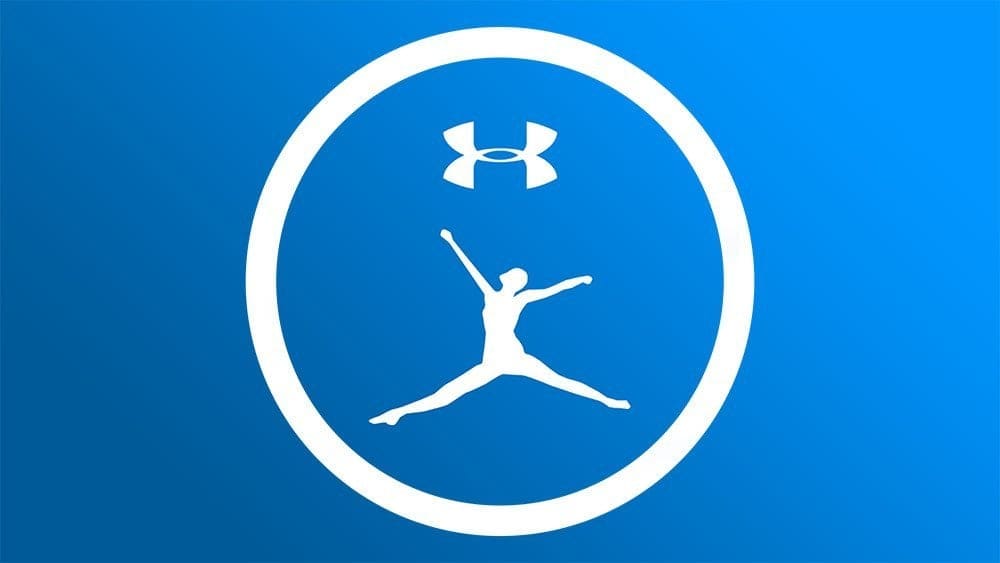 Armor Inc brings MyFitnessPa‪l‬ for health-conscious people. And for today, it is the ending as it is the 20th option here. This app lets you save you get tons of calorie-balanced recipes. You can instantly login to a restaurant menu to figure out the number of calories those food contain. Each of the food nutrients is shown with precise measurement. Additionally, it takes care of water tracking as well. Check the following section to know more about its unique features.
Important Features
Up to 6 million food from all around the world is added to the database of this app.

More than 4 million barcodes will easily get recognized in the scanner here.

You will find nutrition information about the recipes you cook and also receive suggestions to make them healthier.

There are about 50 apps and devices to synchronize your workouts automatically.

Over 350 exercises are offered, and even you can include your personalized workouts.

Your progress will show up through graphs and charts. You can share those with your loved ones.
Pros: If you set up a goal here, then this app will suggest different habits to achieve them. Moreover, you can add up progress images to motivate yourself.
Cons: Sometimes, you may not find the calorie details of some particular food.
Our Recommendations
---
You must notice that we have formed the list with apps of almost all necessary and regular app genres. So, indicating one or two particular apps will be meaningless. Some of you may need all these 20 apps, wherever some will need a few. So, it completely depends on your necessity and interest in what kind of apps you need. Besides, all these apps are essential for most of us as they contain the general features we need in our day-to-day life. So, read out the features properly and choose the best apps for your iPad.
Finally, Insights
---
The iPad's popularity is ongoing, and if you have a new one or planning to buy one, I think you shouldn't skin a single app from the mentioned list. All these apps will improve your experience with your iPad and also help you maintain it properly. Additionally, you can use your iPad for entertainment in its best with the mentioned movie apps, lifestyle, and reading apps. However, let us know if I have mistaken some apps that you know for iPad. Also, comment on which should be the next app recommendations that you want us to cover. Thank you for staying with us.