Managing an educational institution is quite a difficult task, which can be made simpler with the help of school management software. School management software helps educational institutions to manage student data, staff payroll, fee payments, and other tasks. There are many school management software available, both paid and free. In this article, we'll explore some of the most popular free and open-source school management software available for Linux.
While many commercial options are available, open-source software offers some compelling advantages. Here are five school management software programs that won't cost you a dime and work on Linux.
1. Open-source School Management Software
---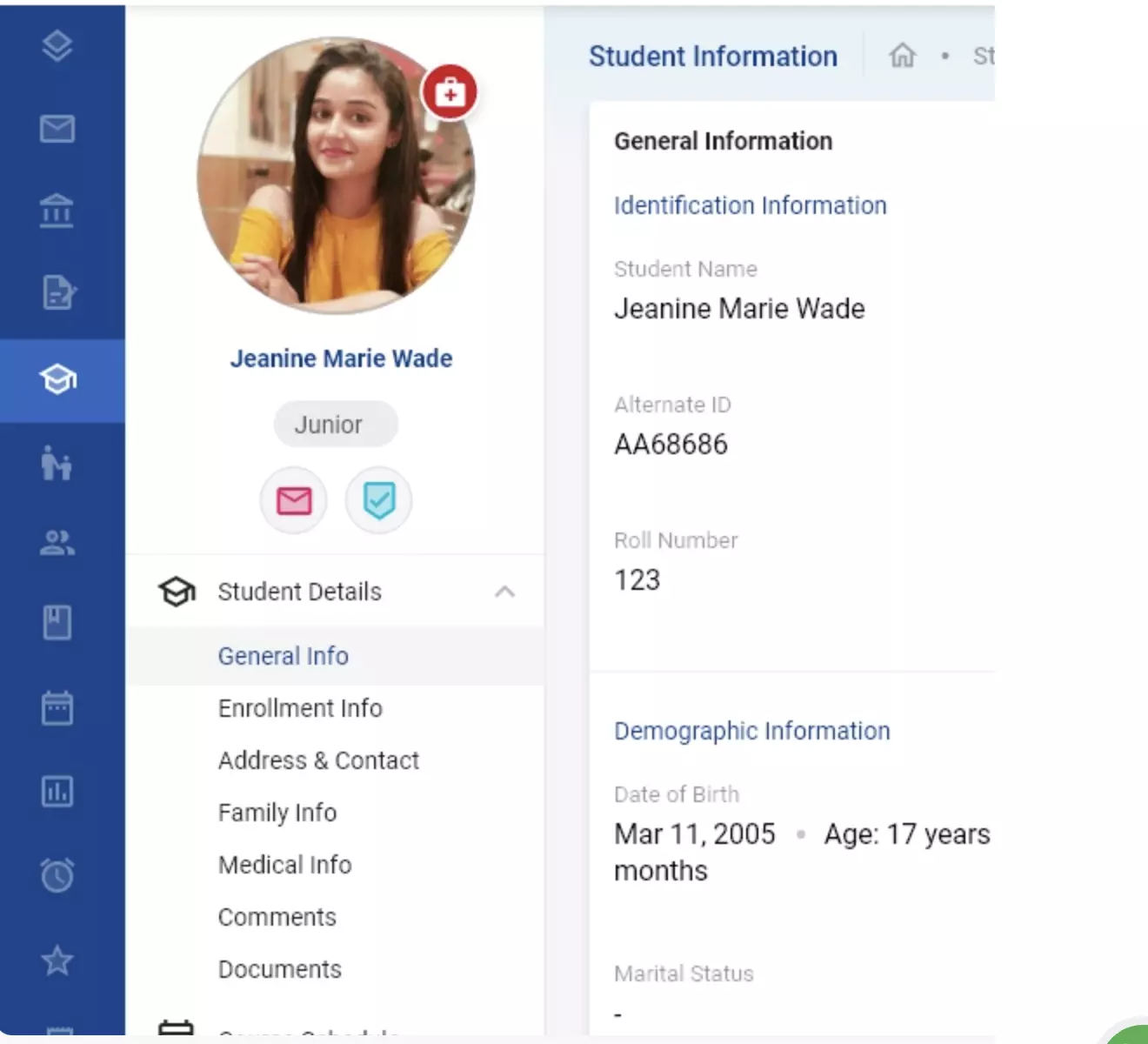 Looking for school management software that is both free and open-source? Look no further than Open-SIS. This software was designed specifically for K-12 schools and offered a wide range of features to help manage every aspect of running a school, from attendance and scheduling to grading and reporting. Open-SIS is also one of the few school management software options that are available for Linux systems, making it a great choice for schools that prefer to use open-source software.
OpenSIS is an open-source school management software that offers a variety of features for schools, including calendars, health records, staff information, and more. OpenSIS is available for free for Linux servers.
Key Features:
Anybody can access and change the open-source software code. These changes are usually made by a group of developers who work together to improve the code, making it more stable and robust as time goes on. This makes OpenSIS a good option for schools that want a reliable school management software solution.
It is free, making it a good option for schools on a tight budget.
This software runs on Linux servers, which are known for being stable and secure. This makes OpenSIS a good choice for schools that want a school management software solution that is both stable and secure.
OpenSIS is easy to use and comes with a user-friendly interface. This makes OpenSIS a good choice for schools that want a school management software solution that is easy to use.
The school dashboard is your one-stop shop for information, calendar events and announcements, a course manager, and even WASH (water, sanitation, and hygiene) info. Best of all – you can control who sees what with our user permission management feature.
The system captures data on students, such as gender, race, ethnicity, and marital status.
The Health Records feature allows students to capture and store important health data, such as the name and contact information of their physician and their health insurance provider.
This software program allows you to input data about your staff, including a photo, certification information, social security number, and personal details like gender, race relations status (single/married), and nationality.
The grading feature enables teachers to evaluate students based on various performance indicators, generate transcripts and report cards, and calculate GPA.
The scheduling feature allows you to take attendance and monitor student progress.
If you are looking for an open-source school management software solution for your school, then OpenSIS is a good option to consider.
2. Gibbon – School Management Platform
---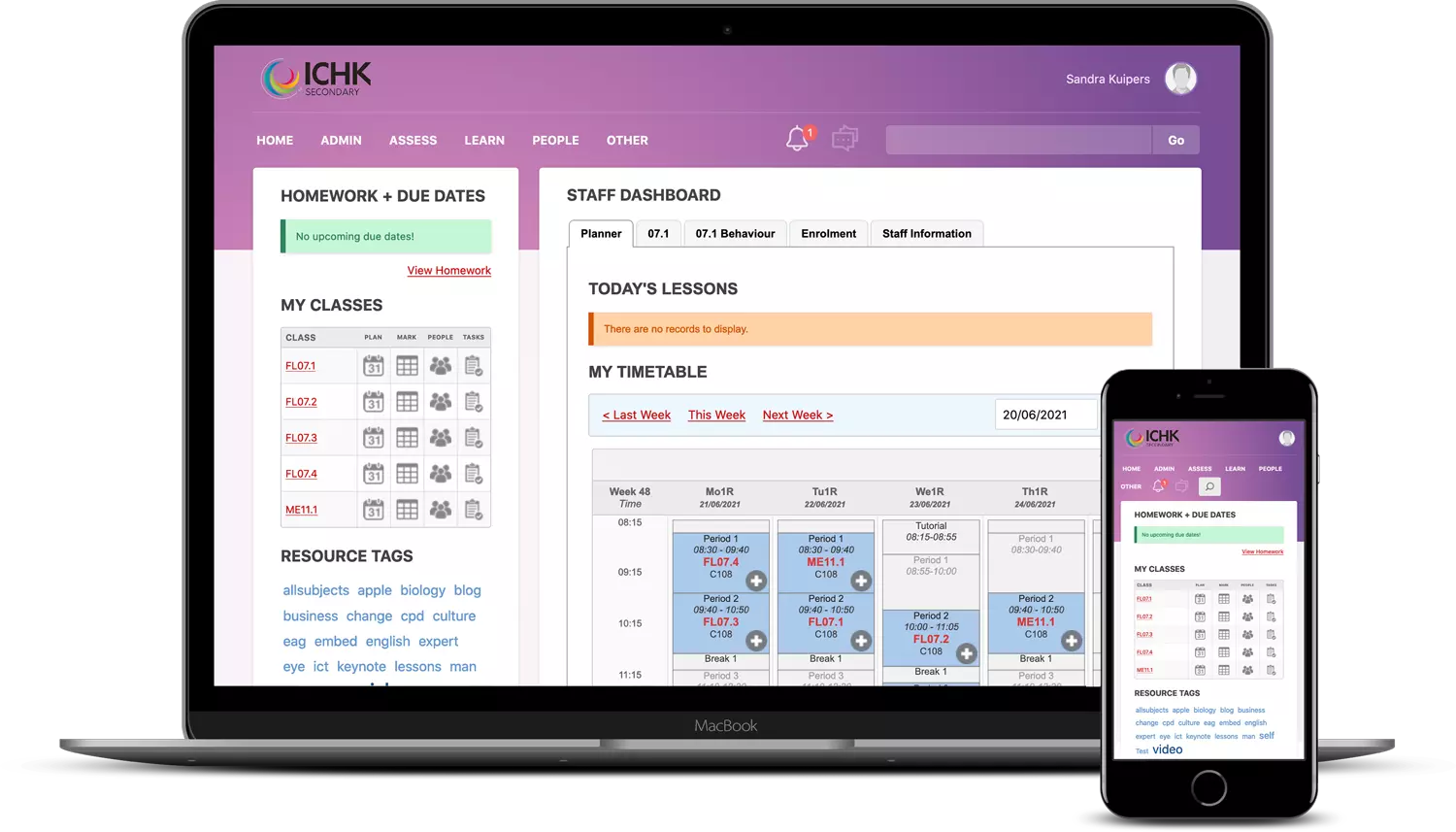 Gibbon is an Open-source School Management Software that helps streamline and manage school operations via a web interface. It can be installed on your own server, or Gibbon can host it for you. The software is designed for small to large schools and comes with a wide range of features, including student management, grading, scheduling, attendance, and more.
Gibbon school management platform helps tutors find and manage student records. It has an email template resource created with the intention of being used by schools and educational institutions for their admission purpose. This way, every school can find a flexible system that meets their needs for effective teaching and school management.
A wide array of tools for creating multimedia lessons that can be easily shared with classmates and parents. With this tool, you can assign homework, collect and track student work online, get real-time data on their understanding and progress, and collaborate with colleagues using the same class or subject matter.
Key Features:
The core modules are necessary for various tasks, like managing student records. Access to these features can be customized according to the user's role.
A timetable is designed to help teachers and students manage their schedules more efficiently. It provides a clear, concise view of each person's schedule so that everyone can plan accordingly. With this calendar, you can link your personal accounts and view events, bookings, and more.
With the 'Activities' feature, you can make a list of school activities and let parents and students know what's going on.
A demographic feature designed to store personal and professional information of students and teachers, like age, nationality, or marital status.
The staff section allows employees to create new accounts, share information and pictures, as well as advertising job applications.
3. Open Admin for Schools
---
Open Admin for Schools is a versatile and web-based software made explicitly for school administration. It has many features, such as demography, attendance, discipline records, report cards, an online grade book, and even a parent visibility function! This software is suitable for elementary schools, high schools, and even K-12 institutions.
Although Open Admin for Schools is light on server resources, it doesn't lack in function. In fact, it's been designed to support an entire division on one or more central computers. Several school divisions across the globe use this approach and have 15+ schools running off of a single central server.
Key Features:
The student demographic feature enables you to accumulate data about students and their guardians, for example: age, nationality, sex, relationship status, residence, etc. You can also modify your form fields to include additional information.
This report card system is flexible and integrates with other reporting systems. All report cards can be exported as PDFs and capture data on attendance, enrollment days, absent days, tardiness, etc.
A module to help teachers and school administrators track student discipline records and patterns of behavior.
Online grade book allows teachers to enter marks and assessments from anywhere, even from their homes. Both parents and students have access to these results so they can keep track of progress and identify areas that need improvement.
A transcript system that prints a student's transcripts, including their GPA calculations, on PDF.
Offer a hassle-free fee system for students, which includes payment and printing of invoices.
The Online Daybook is a Teacher's Assistant. It allows educators to plan their days and view past lessons as references.
4. AlekSIS – Student Information System
---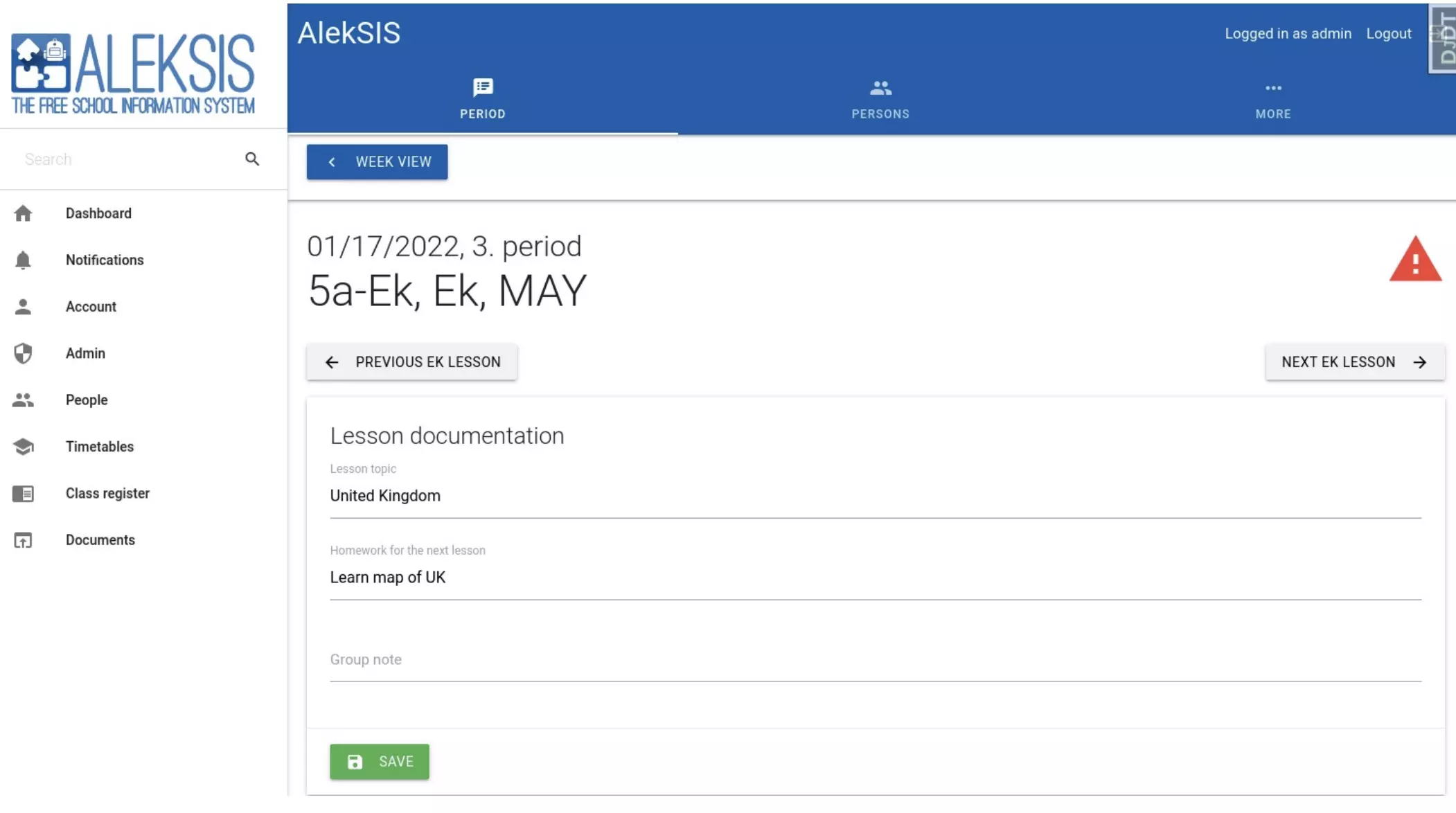 AlekSIS is a web-based school information management system designed for educational institutions. It is free and open source, offering schools self-hosting, cloud-based solutions, or SaaS (Software-as-a-Service). This allows academic institutions to digitize their management more efficiently.
Key Features:
Core allows you to manage pertinent information about the school's staff and students and general information about the institution, such as its name.
Time-based documents – With AlekSIS, users can either auto-generate PDF documents from available data or manually upload time-based documents created outside of AlekSIS.
The class register – This tool helps teachers track student attendance, whether they're absent, late, etc.
Timetables are important for participants to help them stay organized with lessons, events, and other activities. They also allow a single event that won't derail the entire planned activity schedule.
School FAQs and support forums where students, parents, and staff can come together to get help with technical or organizational school-related issues.
5. RosarioSIS – Student and School Management software for Linux
---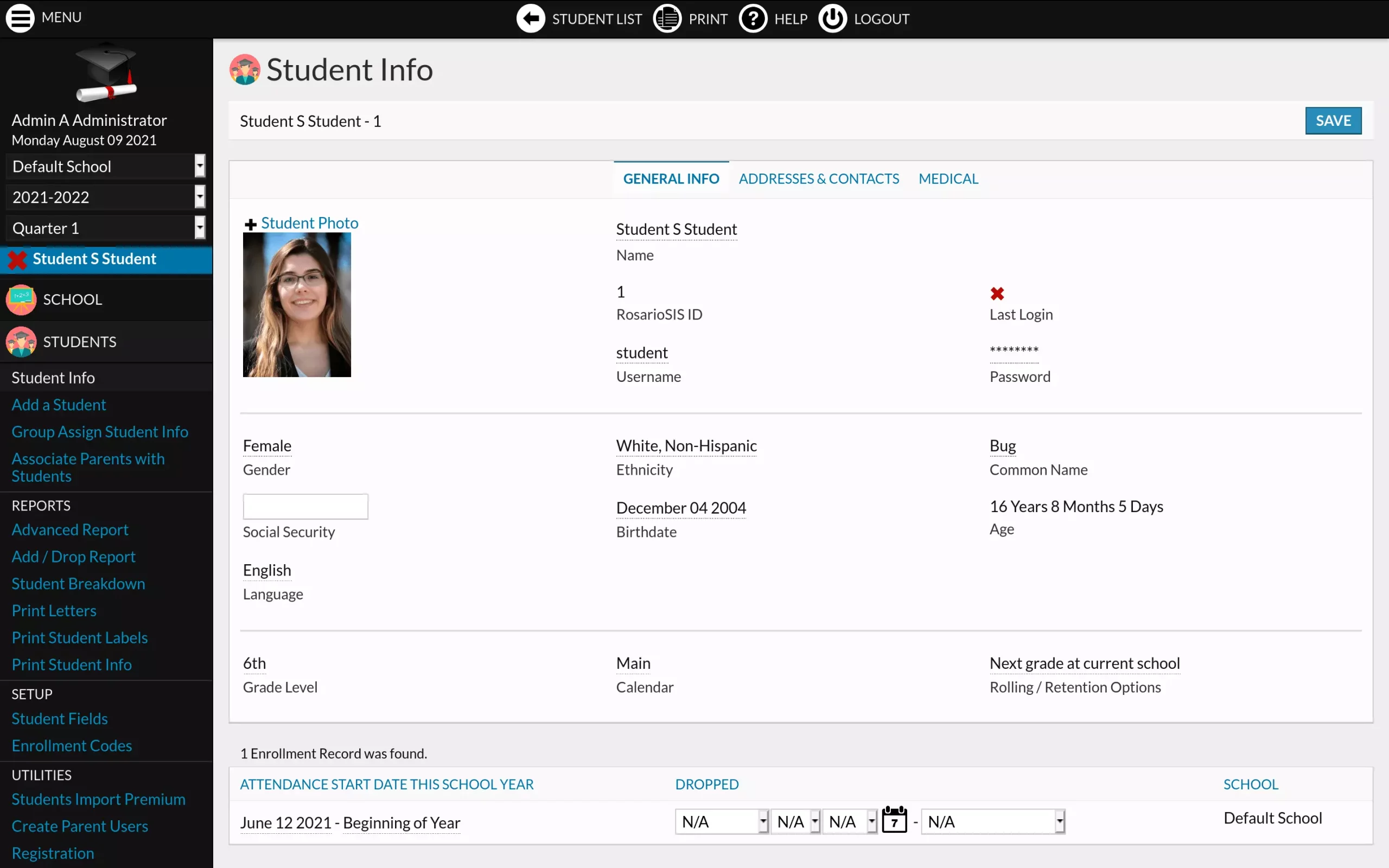 RosarioSIS is a free, open-source Student Information System that is built on PHP and uses a PostgreSQL database. It was designed for K-12 schools but can be used by any type of educational institution (primary, Secondary, and Tertiary education institutions). RosarioSIS has a responsive design that is compatible with all types of devices, from smartphones to desktop computers.
RosarioSIS was created to be a versatile Student Information System that allows you to make data-backed decisions, provides the information necessary for government reports, and gives all stakeholders easy access and convenience. RosarioSIS is the solution for anyone who works in or around a school, including administrators, teachers, support staff, and parents.
The attendance Component allows teachers to take and submit attendance electronically to the office, which saves time. Furthermore, one can change the attendance records depending on the information that was not available when the initial headcount happened.
This is extremely beneficial because it provides report capabilities, such as being able to identify the average daily attendance percentage. Track today's Attendance by Student and Teacher & view a summary of all absent students for each class period.
Key Features:
Discipline, Accounting, and Student Billing modules are included, as well as the ability to generate PDF documents. Colorful statistical charts are available for those who need them in order to make decisions.
In addition to the standard search categories such as gender, ethnicity, and grade level, students can also be searched by schedule, activities, absences, eligibility, grades, GPA, and class rank.
This software makes student screens that include tailored information for reports and decision-making as easy as point-and-click. Plus, several features are available to let the concern collect data unique to the school or district.
Employee screens that provide access to demographic information, email addresses, system admittance, passwords, and more.
The software has also been translated into French, Spanish, Arabic, and German.
With our easy-to-maneuver and aesthetically pleasing charts, you will be able to make decisions with ease. Not only that, but we also offer two additional modules: accounting and student billing. And if that's not enough for you, we have plenty of free and premium add-ons available!
Finally, Insight!
---
So, we have come to the last of our today's article on the best and free open-source school management software for Linux. We hope that this article will be helpful for you in choosing the best school management software as per your requirements. All the above-mentioned software are good in their own way. It's just a matter of preference which one you want to go with. If you have any queries or suggestions, feel free to use the comment section below. Also, don't forget to share this article with your friends.