Google has announced a new operating system for computers which is called Chrome OS Flex. Basically, this is a new version of ChromeOS. In February of this year, Google began testing Chrome OS Flex for the first time. But now the beta mode is over, and ‍Google has finally fixed 600 bugs to make Flex available to everyone. Google Chrome OS Flex may be installed and used on older PCs and Macs.
The last year's December, Google bought Neverware. Google's main purpose for acquisition of Neverware is to acquire Neverware's product CloudReady. Basically, CloudReady allowed customers to switch their old PCs to Chrome OS.
Now ChromeOS Flex replaces the services of CloudReady. It was released less than a year after Microsoft released Windows 11. We hope this development will reduce the hardware requirements because now old computers can upgrade with the latest OS.
What is ChromeOS Flex?
---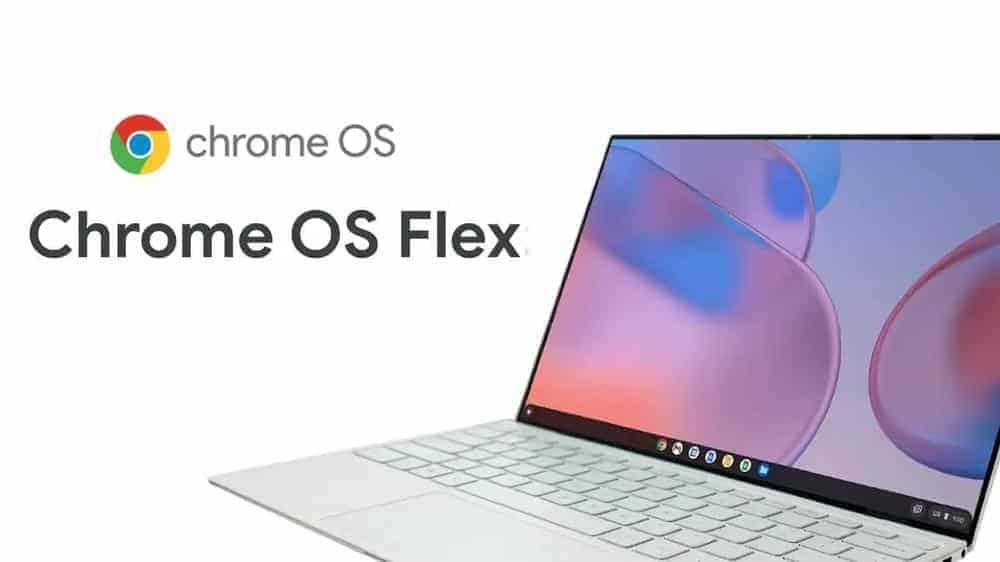 Chrome OS Flex is an operating system for old PC users and new PC users who need something cheap. More than ten years ago, Google declared that it would develop an operating system for Computers.
Already Google introduced Andriod OS for mobile phones. But the new operating system will be different from the Andriod OS. Google has developed a new operating system for Computers based on its well-known browser Chrome. So the new operating system is named ChromeOS.
As a result, ChromeOS allows us to perform all of the functions that we are accustomed to doing in Chrome, including browsing, sending email, and editing documents. Besides, the person who purchases Chromebook, which means a laptop with ChromeOS, can also install Linux and Andriod apps on their Chromebook.
However, the functionality of a Chromebook is much less than a typical laptop, but it is cheaper and more simple to operate than standard PCs.
At long last, the much anticipated Chrome OS Flex is available for most computers. Chrome OS Flex is the cloud-first operating system for Windows PCs and Macs. The purpose of developing Chrome OS Flex is different. We can not run Andriod apps in this system, but we can get all the advantages of a standard laptop. According to Google, Chrome OS Flex can breathe the new life of old computers.
So old computer devices can be reused again because of ChromeOS Flex. Google points out that keeping outdated technology out of the trash is also beneficial for the environment.
The developer initially recommended this operating system for business and educational institutes that need easy-to-manage and cheap devices. However, you can try Google Chrome OS Flex on your old laptop or computer, which you left as scrap at home for a long time.
Benefits of ChromeOS Flex
---
ChromeOS Flex is just the sunscreen for your existing computer devices. You can now convert your old used computer into a modern computer. Google points out four core benefits of developing ChromeOS Flex which are:
Proactive Security: ChromeOS Flex provides much-needed security against emerging risks such as ransomware, malware, and staff mistakes. Chrome OS Flex introduces blocked executables and sandboxing technologies which eliminate the need for antivirus software. Its security protocols prevent data loss on stolen or lost devices.
Easy Management: You can install ChromeOS Flex on your computer through a USB flash drive or your company network. A user's setting and policy settings are synced instantly after installing the Chrome OS Flex on your device. If you upgrade your package to Chrome Enterprise, you can manage applications and policies from anywhere at any time, even when you are in taking a sunbath at the beach.
Modern Work Experiences: Devices do not become slower with time. Background updates increase performance and decrease downtime on your device, allowing you to relax more. You may get quick access to web apps and VDI with a simple, clutter-free, and reliable experience.
Ensuring a Sustainable Environment: Recycle existing hardware to decrease e-waste and energy usage and keep the sky clear. The main appeal of Chrome OS Flex is its compatibility with legacy infrastructure, which means that computer users don't have to replace their existing hardware in order to adapt to the modern operating system.
Which Devices are Certified for ChromeOS Flex?
---
Google continuously tests, maintains, and certifies Chrome OS Flex features and functionality on a number of different models to ensure that it continues to perform as expected across regular OS updates. Google manually verifies and maintains a list of devices that you may use with Chrome OS Flex to ensure a reliable and solid experience.
According to the latest updated report, more than 400 models are certified to work and install ChromeOS Flex. In addition, Google also announced the number of years for certified models to get ChromeOS Flex updates.
The supporting period is eight years. Google has published the model's name and supporting period for each model. To get the list of the certified models, go to the Certified models' list.
Every certificate model ensures that Chrome OS Flex is compatible with its audio input and output, video output, network, touchpad, keyboard, System UI and graphics, USB, and webcam.
Who are the Primary Users of Chrome OS Flex?
---
Google is promoting Chrome OS Flex to organizations and academic institutions who want to modernize and optimize their IT infrastructure or enhance security and scalability. Even organizations that are concerned with sustainability may benefit from it because it enables certain organizations to consume less energy and minimize e-waste.
However, Chrome OS Flex offers a solution to the rising malware problem. This new OS is especially attractive to organizations that have already been affected and are eager to move away from Windows because hackers find it challenging to access Chrome OS Flex since Chrome OS Flex is far more secure than Windows.
How to Install Chrome OS Flex?
---
Google ensures that Chrome OS Flex is applicable for installation to certified devices. However, you can install Chrome OS Flex on non-certified devices, but Google is not responsible for performance, functionality, and stability on the devices. When installing Chrome OS Flex on your PCs and Macs, you need a USB flash drive with a minimum 8 GB storage capacity.
It takes only a few minutes to install Chrome OS Flex. For this, firstly, you need to create a USB installer, boot the device with the USB installer, and set up and enroll Chrome OS Flex. The steps listed below should be followed.
Step 1: Create a USB Installer
---
1. To create a USB installer on your USB flash drive, your computer must have a Chrome browser and add Chrome Recovery Utility extensions to your browser. To add Chrome Recovery Utility to your Chrome browser, click the link.
2. Now launch Chrome Recovery Utility and click on the Get Started.
3. Now, under Identify Your Chromebook, click and find Google Chrome OS Flex.
4. To select the product, find the Chrome OS Flex option and write down your computer model number.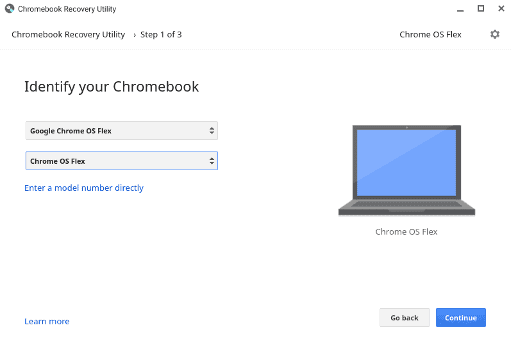 5. In this stage, click on the Continue button to move to the next.
6. Next, please insert your USB drive when requested.
7. At this step, select your USB drive from the dropdown menu and press on Continue button.
8. Now, hit on the Create Now button.
9. Remove the USB drive from the device as soon as you see the notice indicating that your recovery media is ready.
Step 2: Boot Device using USB Installer
---
1. To install Chrome OS Flex on a device, boot this using the newly created USB installer. Before booting the device, shut down your computer.
2. Insert the USB drive into your computer.
3. Now, Press the power button and boot key to boot the device from your USB drive. (If you are unsure of your boot key, this link may help you.)
Step 3: Install Chrome OS Flex
---
1. When the device boot is complete, and the Welcome to Chrome OS Flex screen appears, click on the Get started button.
2. The next screen, which is called Start using Chrome OS Flex comes and clicks on the Install Chrome OS Flex. You should make a backup of your data on the cloud or another device before starting the installation.
3. Upon completion of installation, a notification will appear on the screen. The device shuts down automatically.
4. Now, take off the USB installer from your device and turn on your computer to enjoy Chrome OS Flex on your device.
Final Words
---
Google Chrome OS Flex can use as a substitute for Windows and Mac OS. It is free, fast, secure, and can provide its users with a highly customized experience. The world has found a feasible alternative to Windows and Macs, especially in the educational sector.
However, not all organizations and educational institutions can easily switch to Chrome OS Flex because they are dependent on Windows-specific systems and apps. For more than 30 years, Microsoft has controlled the PC market. Despite the two terrible Chrome OS updates we had last year that led some users to block access to their Chromebooks. Another downside of Chrome OS Flex is it completely relies on the cloud system.
All in all, Chrome OS Flex is designed to save users money on their computer purchases. In the long run, this OS might truly revolutionize the industry if it does, in fact, have lasting power and versatility. We have high hopes for this operating system's potential.