Do you think that playing games on Linux are difficult? Nope, the time has gone a long way. Now every game developer is giving lots of emphasis on the Linux platform. Even the Steam gaming platform is trying to bring all those fabulous and high-end gaming experience for Linux Distros. 0 A.D. is not different from this situation. There are lots of Best Linux Games available out there, and 0 A.D is definitely one of them.
0 A.D is a beautifully designed free and open source RTS – Real Time Strategy gameplay on ancient civilization and war. It's a game of creation and destruction where the users have the power to make their desired community and go to war to expand more and more. This game – 0 A.D. is one of the best addictive single and multi-player game based on ancient warfare and tactics available for Linux. Moreover, it not only supports Linux but also runs smoothly on Windows and macOS.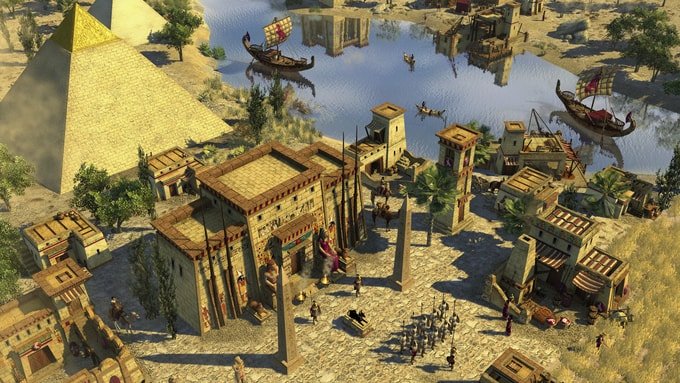 You can download this game completely free of cost and distribute or modify it as like as you want. For playing this game smoothly, the game developers – Wildfire has created an open source custom-built 3D engine called Pyrogenesis and a map customization tool called Atlas.
Resources
The frame rate of this game – 0 A.D. is very fast, as many commercial games. That became possible because it's not written on any slow programming language like Java or C#.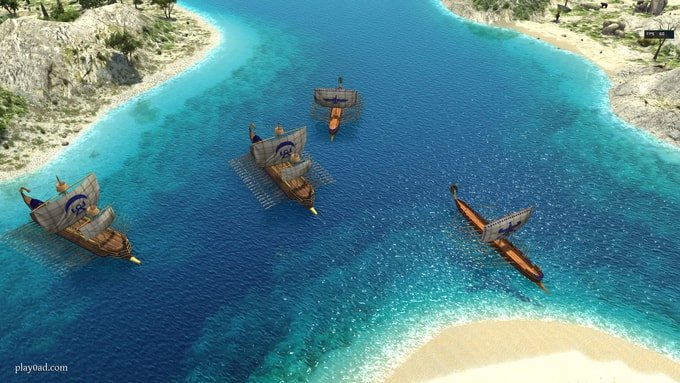 This game has recently released an improved version with lots of new features and bug fixes. Here you can see a glimpse of the features below:
New features of 0 A.D. Alpha 23 "Ken Wood"
New Civilization: Kushites
Mod Downloader
Cavalry and Spartan Building Models
Combine Victory Conditions
Attack Range Visualization
Diplomacy Colors
Destruction Damage
Unit Information Dialog
AI Behavior
Lobby Authentication to prevent impersonation
Nomad Mode on all Random Maps
New Random Maps: Lower Nubia, Jebel Barkal, Elephantine, Fields of Meroë, Hellas, Dodecanese, Scythian Rivulet
How to install in Ubuntu
The official PPA is provided by the Wildfire game team with the latest package for Ubuntu and other Ubuntu-based distros. Open the Terminal (Ctrl+Alt+T) and run the below command:
sudo add-apt-repository ppa:wfg/0ad
This will add the PPA to the software repository. Now, if you have 0 A.D. game installed before, then just run the software updater for updating the existing game.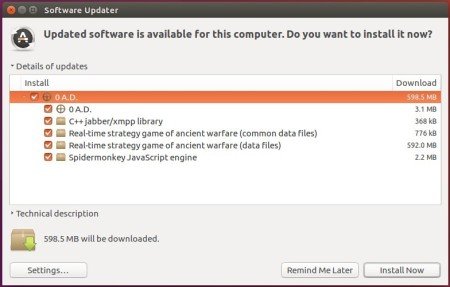 Or you can also run the following command if not comfortable with the above step or installing a fresh copy.
sudo apt-get update
sudo apt-get install 0ad 0ad-data
Install on Other Linux Distros
If you are running other Linux distros except for Ubuntu, then follow the official Download page for installation procedure:
How to Remove
For downgrading into the stock version or removing the PPA, run the below command:
sudo apt-get install ppa-purge && sudo ppa-purge ppa:wfg/0ad
Or if you want to remove the whole game from the system, run the following command:
sudo apt-get remove --autoremove 0ad 0ad-data
Note: The features mentioned here are not all-inclusive. The features mentioned are compiled either from their respective official websites or from my personal experience using them.