Comparing Chromebooks with other available windows or iOS-based laptops is purely an ambiguous concept. Chromebook is a different species of the computer world that is only confined to streaming videos, browsing the internet, desktop publishing, basic photo editing, and media playback. Since it does rely on the cloud to store data or files, it barely comes with high space capability. Having used only Chrome OS, Chromebook surely does not guarantee a better environment to play high-end games. Besides, most Chromebooks used to have low-end hard drives, and poorly-performed integrated graphics cards resulted in poor performance in gaming or editing.
However, the recent advent of the latest Chromebooks has proved that they are not lagging behind the other contemporary laptops in terms of up-to-date hardwires. There are various types of Chromebooks available out there in the market, but not all of them are fit enough to run the games spontaneously.
Despite Chromebook's ability to play games, this question always shows how we can play games on Chromebook. I think it is important to recognize that not all platforms will enable your Chromebook to play games in a straightforward way.
Play Games for Chromebook/Chrome OS
---
I have found a few ways to play games on Chromebook or Chrome OS, which need some installations or setup based on their requirements. However, some websites such as Parsec, LiquidSky, and Shadow by Blades also allow the users to play games from any Chromebook the same as other laptops. Still, these websites are not our main priority for this article as they run in any device. Therefore, I am going to discuss all the plausible platforms to play games on the Chromebook by explaining each of their characteristics and installation processes.
1. Android Games on Chromebook (Google Play Store)
---
You will blunder expecting the same gaming experience from Chromebook like other gaming PCs since the Chromebook will hardly pace with the other high-equipped PCs. As Chromebook solely runs on Chrome OS, we can expect to have the liberty to choose Android apps in our preciously bought Chromebook since Chrome OS supports Android games. As long as the hardware is concerned, having perfect RAM and processor are prerequisites.
If not hassle to buy, it is worth having at least 4 GB RAM and an intel Celeron-based processor to run the Android Games. This will bolster the smoothness of your gaming mechanism in the Chromebook than the other conventional devices. Most of the Android apps and games are optimized for the Chromebook, making it feel more like a native app in Chromebook.
The addition of Android apps support has bridged the gap amongst the desire of the consumers in spite of having the ability of Chromebook to run Chrome browser extensions, web apps, and Chrome apps.
This then leads to an increase of this platform's value beside the other platforms, allowing the customers to access millions of apps just in a snap. Most of the gamers face challenges to play games on Chromebook due to their lack of adaptation to the touchscreen.
Since most of the games available on Google Play Store are designed for touchscreen interface whereas most of the old-fashioned Chromebooks appear with sub-optimal keyboard and mouse, gamers may have to spend a bit of money to buy the latest Chromebook, which can be used with a touchscreen. The installation processes of the Google Play Store are as follows:
Step – 1: Go to the bottom right of the screen and click on the clock menu. Then click the setting icon. Scroll down to the apps menu and click on it will show you the Google Play store. If the Google Play Store is available for installation, then install it straight away.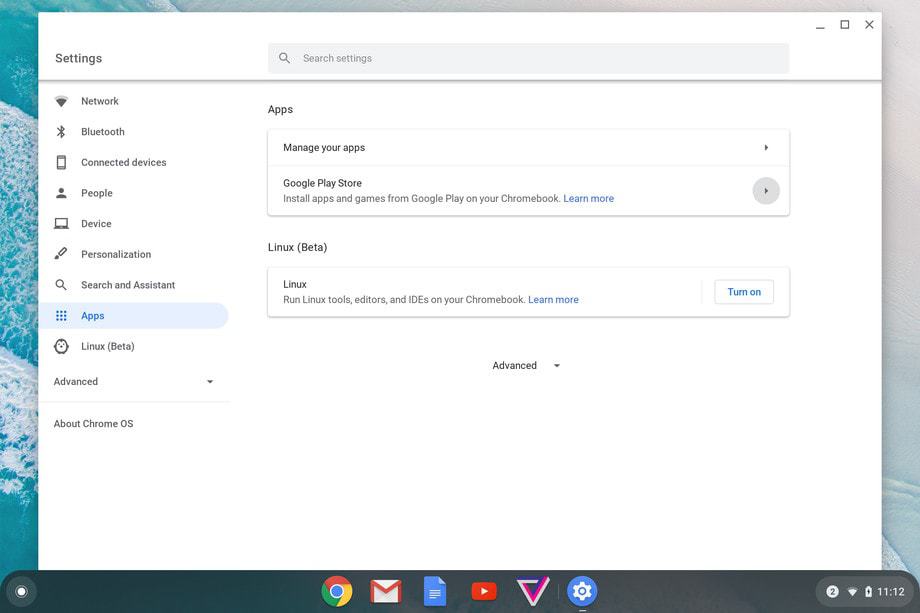 Step – 2: If this is the case that your Chromebook can run Play Store but has not been turned on, you will see an option stating, 'turn on' next to Google Play Store and click on it to turn on.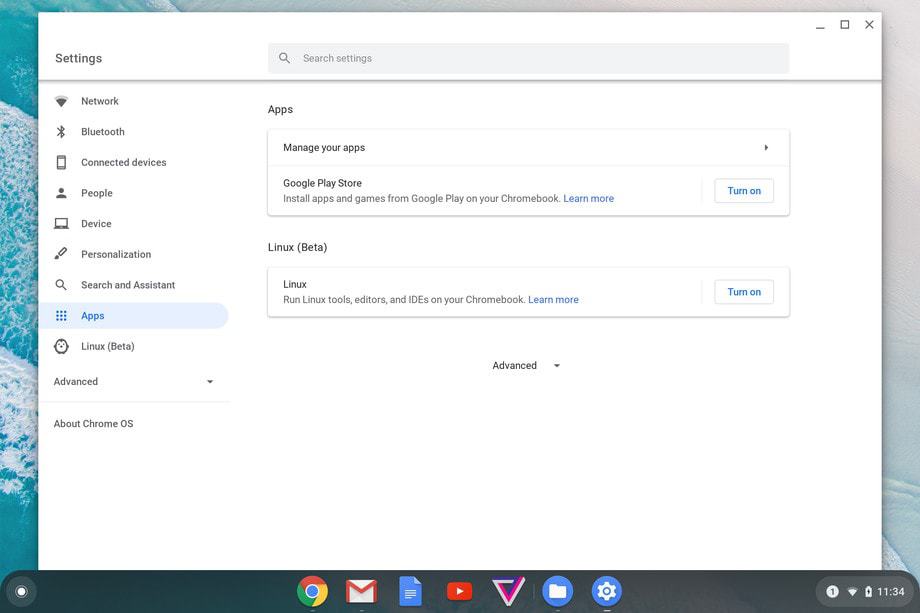 Step – 3: After that, your Google Play Store will be ready to use, and you will be presented with terms and conditions in which you have to accept it after reading it. That's it. You can then see the Play Store logo on your launcher option and click it to play games on Chromebook.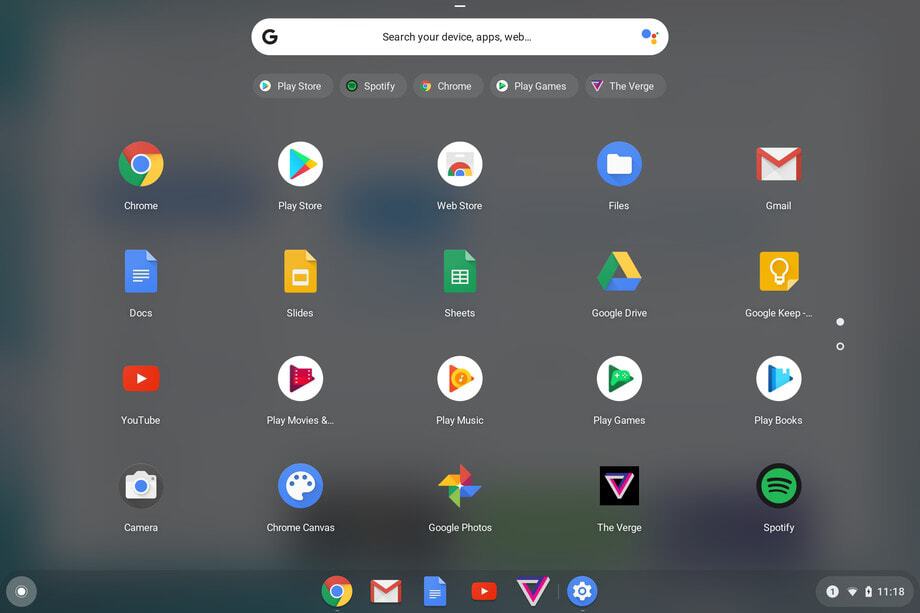 Step – 4: Whichever games you want to play, just type it on the 'search' option and click on the game, and then you will see install next to the game. By looking at the thumbnails and info, if you think you want to play it, click on the install button to finally play it.
It can be possible that your Chromebook may support Android apps or games, but you cannot play it due to an outdated Chrome OS is installed in your device. Don't forget to upgrade your Chrome OS version to 53 or above.
To do this, go to the settings icon and select 'About Chrome OS' at the top of the screen. You then click the 'check for and apply updates' button to select the latest version of Chrome OS and finally finish the process by restarting the device.
2. Sideloading Android Games without Developer Mode
---
If your Chromebook still doesn't support Android apps or doesn't allow you to install Google Play Store, then don't be disappointed because I will show you how you can install the Play store by switching Chromebook into a developer channel.
This, however, won't run without impunity as this process can put your system susceptible to any security threats or bugs. Processes of switching to the developer channel are as follows:
Step – 1: Go to the settings page as usual and select the 'About Chrome OS' to find your version number and current channel.
Step – 2: Click on the 'additional details,' and it will expand the page where you can see the details of your current version. By clicking the 'change channel' button, you can select a new channel on the dialog.
Step – 3: There are two options, such as Beta and Develop – unstable. You have to select developer – unstable and click on the 'Change Channel' button after carefully scamming through the warning notice.
Step – 4: This then will update the device and select the Restart button to fully see the developer channel being used in your device. Now you can download and play games on Chromebook by using the Google Play Store beta app in this new developer channel.
3. Sideloading Android Games with Linux Crostini
---
There is another option that you might like if you want to sideload Android APKs, including games, by switching your Chromebook into a Dev channel as well as using Linux Crostini. This process is a bit complicating and does not compromise the security restriction the same as developer mode, which changes the whole operating system. Rather, this process only brings future updates into your Chrome OS. The processes follow as below:
Step – 1: Follow the process of how to switch into the developer channel as mentioned above.
Step – 2: If Linux beta is available, then go to settings, and on the Linux option on the left side, click on the 'turn on' option.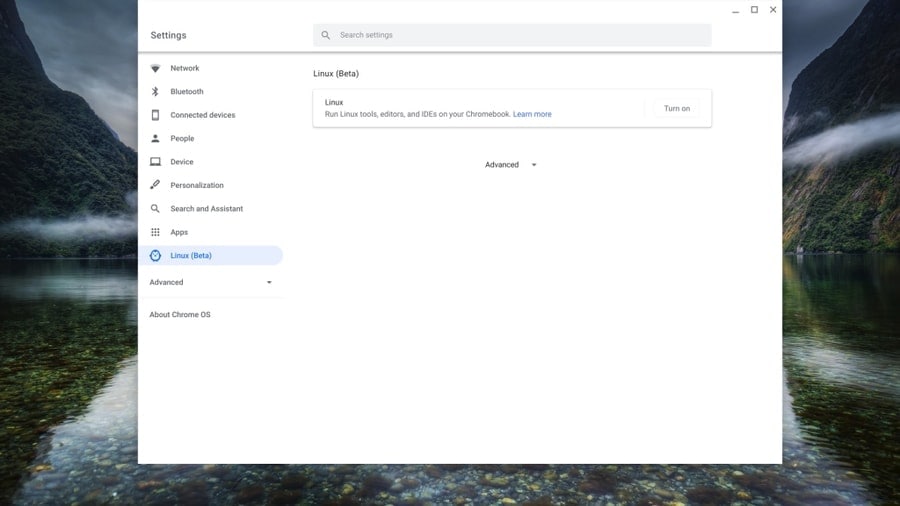 Step – 3: When the Linux is installed, go to Linux again and click on the 'Develop Android Apps' and enable the toggle for ADB Debugging. Then you have to restart your device, and the ADB prompt will appear in which you have to click on 'Allow'. However, it can be possible that the ADB toggle will not turn on, and in this case, you need to reset your Chromebook. Don't forget to back up your data before the whole process begins.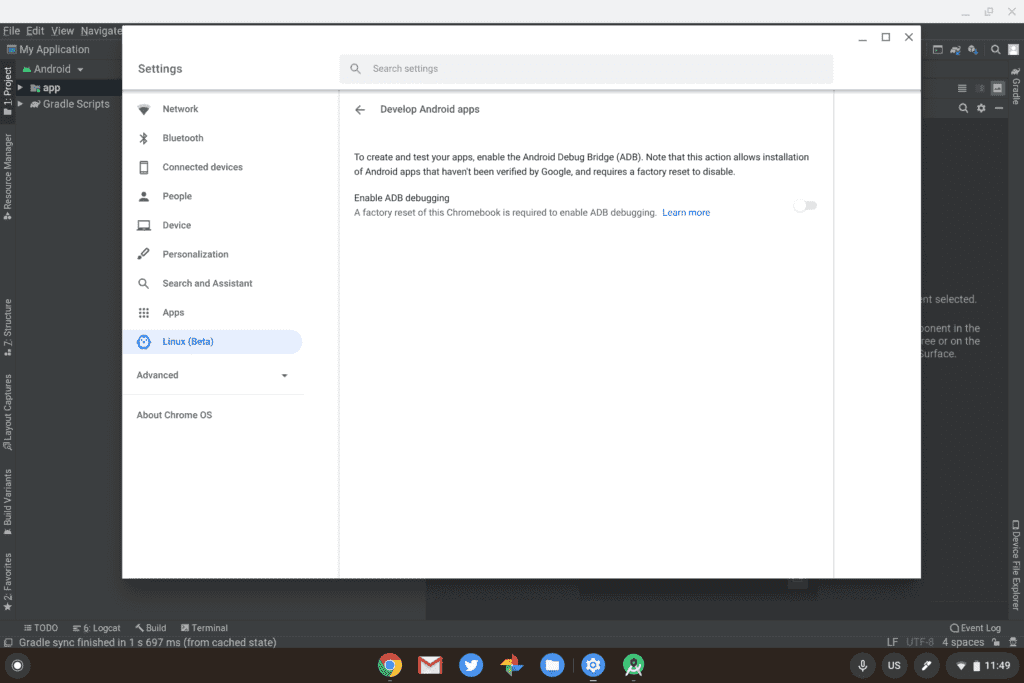 Step – 4: Terminal needs to be opened from the app drawer and type the following command in the terminal to install the ADB platform-tools followed by press "Y".
sudo apt-get install android-tools-adb

Step – 5: With the help of a WiFi network, type the following command to link the Android system with Linux in Chrome OS.
adb connect 100.115.92.2:5555

Should the terminal show "Permission Denied" or "Command Not Found" then use the following command followed by the same adb connect command.
adb start-server
Step – 6: A window stating "Allow USB Debugging" will appear in which you have to tick the checkbox for "Always allow" followed by a click on the "OK" button. Now the setup is done. You can now download and move your selected APK, which is not available on the Play Store, to the Linux files and able to play games on Chromebook.
4. Playing Games on Chromebook by Using Steam
---
If you decide to play desktop games in a huge online platform, then there is no alternative to Steam. Developed by Valve, Steam was initially launched for Windows OS and then evolved into iOS, Android, and Windows phones.
However, the journey did not end as it has reached out to Chromebook these days as well. Thanks to Steam for becoming a giant game distributor, which to me, is simply a gaming guru.
Steam supports the Linux system and makes games for Linux as well, making it a big positive side for Chromebook as Linux Crostini provides a sheer advantage to the Chrome OS for playing these AAA games in this big virtual platform.
Another good news for the gamers is that Google is contemplating to inaugurate Steam officially for the Chrome OS so that the gamers won't have to grouch of undergoing complex installation processes.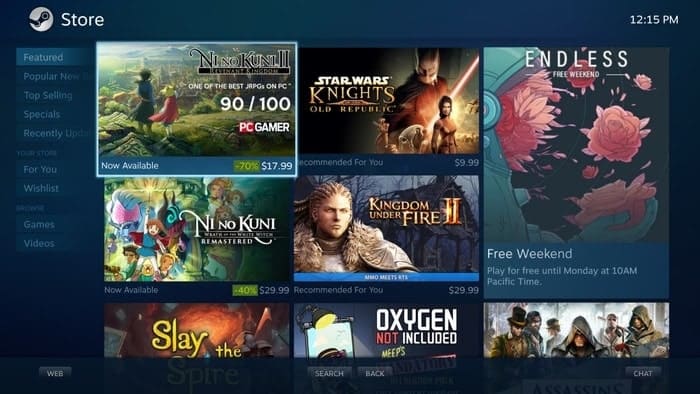 There are two ways of installing Steam. The first way requires the Chromebook to have a built-in Linux beta app which allows the Steam to work as a native Linux app, whereas the other way is to install Linux on its own as a solo OS beside Chrome OS and then install Steam through Ubuntu.
Install Linux OS
---
There are three ways you can install Linux OS in your Chromebook. Bear in mind that only one method out of three is the official method of downloading Linux in your device, whereas the other two are beneficial but can lead to an impairment of your security.
You may want to install the Chromebook Recovery utility to back up your data and files in your recovery disk (in this case, at least 4 GB flash drive) in case, If the files get deleted after installation. Our team has curated a comprehensive tutorial on how to enable or install Linux on Chromebook, which will help you to set up things in the right way.
Install Steam on Chromebook
---
Installation processes for Steam are as follow:
Step – 1: First, follow any of the above procedures to install Linux on your Chromebook.
Step – 2: Press Shift+Ctrl+T to open the Linux terminal and input the following command.
echo 'deb https://httpredir.debian.org/debian/ jessie main contrib non-free' | sudo tee –a /etc/apt/sources.list
Step – 3: Enter the following first command in the terminal first, followed by the second one.
sudo dpkg --add-architecture i386
sudo apt update
Step – 4: Now, for the last time, type the following command and then type "Y" and press down the "Enter" to finally begin with the installation.
sudo apt install steam
Step – 5: After that, a window will appear with terms and conditions and once you read it, then select "I AGREE" and click on the "OK" button to proceed further.
Step – 6: If you have an existing account on Steam, then you can log in with your Steam credentials and enjoy the diverse games as you explore, or you can open an account if you want.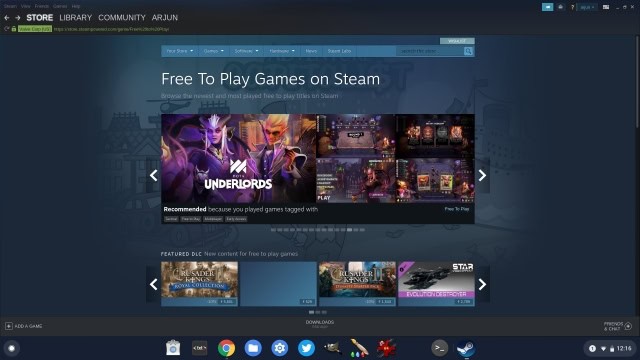 Extra Tips: GPU Acceleration for Steam
---
When the Linux support was declared two years ago on Chromebook, some of the features were absent, which they have been recently improved, and one such example is the introduction of GPU acceleration for accelerated graphics.
GPU is limited to certain latest Chromebooks, and I reckon that all the Chromebooks that I have mentioned earlier in this article are compatible with GPU. However, you should check whether your Chromebook supports it for you to play games on Chromebook spontaneously with no or least hassle with graphics. The installation process for GPU are as follow:
Step – 1: You can either open your Chrome browser and go to the Chrome Flags page or type
chrome://flags
Step – 2: In this page, go for "Crostini GPU support and from the drop-down menu, change it to "enabled". You can also click this link to open the dedicated flag, such as
chrome://flags/#crostini-gpu-support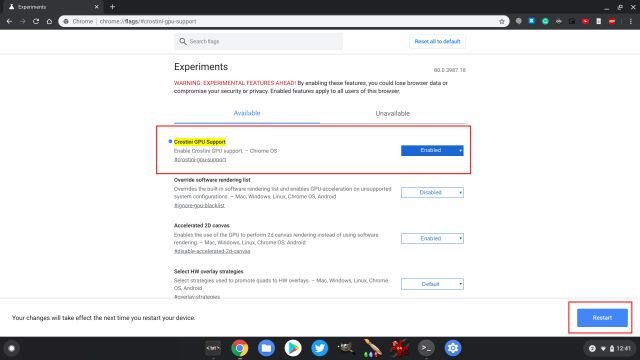 Step – 3: Click the "restart" button at the bottom and open the terminal to confirm that GPU is installed and working properly by typing the following command. If the device shows "virgl" and Accelerated shows "Yes" then it is working properly. However, the device name can differ based on the graphic card installed in your individual Chromebook.
glxinfo -B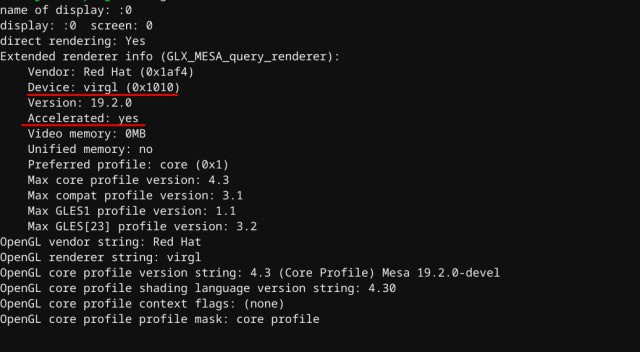 5. Playing Games on Chromebook by Using Stadia
---
If you wish to play games on Chromebook by using a platform that will neither demand a higher Chromebook nor become a limitation for choosing suitable games, then you are in the right place. Google's Stadia is a platform that solely uses a Cloud gaming system to support your Chromebook.
Stadia takes responsibility for any heavy-lifting games you play because it uses robust hardwires like the Intel x86 processor clocked at 2.7GHz with AVX2 and 9.5 MB L2+L3 cache. Besides, it uses a custom AMD GPU supported by Vega architecture with HBM2 memory, which consists of 56 compute units and 10.7 teraFLOPS.
Accessed only through Chrome OS, this platform does not require any specific instructions to download or install. Rather, it only requires a smooth internet connection between 10 Mbps to 35 Mbps to provide better quality graphics.
Worth remembering that, Stadia is not like Netflix, where you will get large collections of games for free in a monthly subscription. Rather, Stadia enables you to purchase any game like any platform with its original price.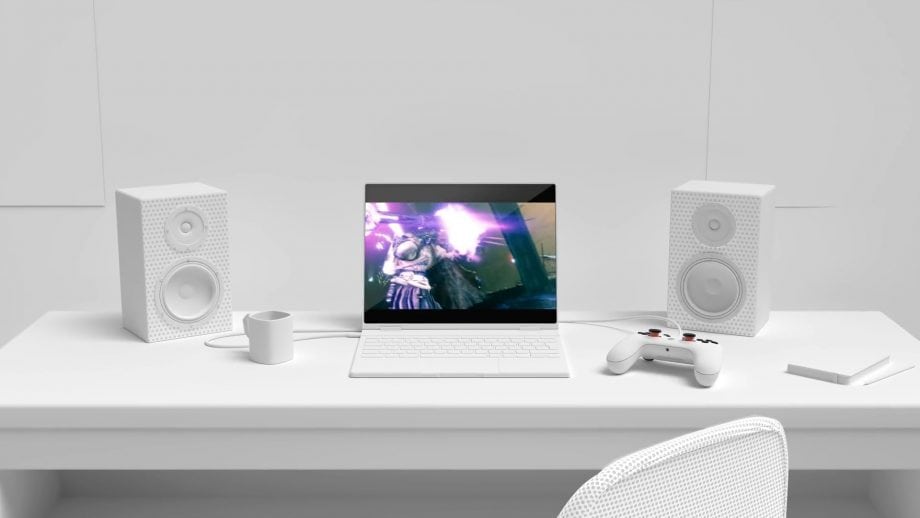 You can spontaneously plug & play keyboard and mouse by connecting with Chromebook using a USB-C port; otherwise, you can connect with a Bluetooth-based keyboard and mouse. On the contrary, if you want to experience the vividness of your virtual game, then you can take the help of the Stadia controller, which also requires a USB-C connection with a Chromebook. This controller is unique for its comfortable handling, clicky face buttons, lightweight, and stable, ergonomic d-pad design.
Monthly $10 Stadia pro provides you an opportunity to play your favorite games with a resolution up to 4K with a frame rate of 60FPS. You will be stunned with a 5.1 surround sound system while getting free games on a regular basis alongside regular discounts. Installation processes are as follow:
Step – 1: Go to the "Settings" and on the left side of the Settings window, click on the "About Chrome OS" and then click on "Check for updates". This will ensure that your Chromebook is up to date.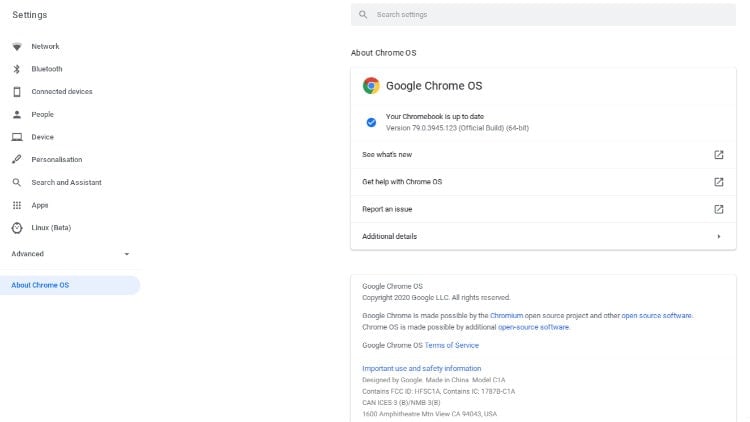 Step – 2: Go to stadia.google.com. You will be redirected to the home screen if the registration email for Stadia turns out the same as your Chromebook email. Otherwise, you will be asked to open one.
Step – 3: However, if you wish to play games on Chromebook using Stadia app instead of using Chrome browser, then go to Stadia official website using Chrome browser and on the top right next to the start button, click on the + sign, and then click on "install Stadia". You can now play games using the app.
6. NaClBox (Native Client Box)
---
If you want to fiddle around with the 90's game that could be played using MSDOS, then you should check NaClBox. Fortuitously, Google has developed an emulator called NaClBox, which allows gamers to access the games of the 90s by using the Google Chrome browser. However, you need to choose your preferred subscription for which you have to pay.  Games like Descent, Duke Nukem 1 and 2, and many more games can be played through this platform.
NaClBox, as a cloud-based DOSBOX, allows the developers to seed the codes of those DOS games in the Chrome browser to create a DOSBox port to make them run on Native Client in a way as if they belong to the OS of that computer.
It is neither ActiveX nor Java rather, and it joins with HTML5 and CSS3 to pave the way for the gamers to develop the games, add them to the Cloud system of NaClBox and play games on Chromebook using this native platform. Games are mainly imported from Id software and Gog.com to NaClBox. Setup processes of NaClBox are as follow:
Step – 1: If you have Google Chrome 11 or above, then go to the browser, and on the address bar, type about:flags
Step – 2: Scroll down the page to find "Native Client" and click "enable" followed by "restart Chrome".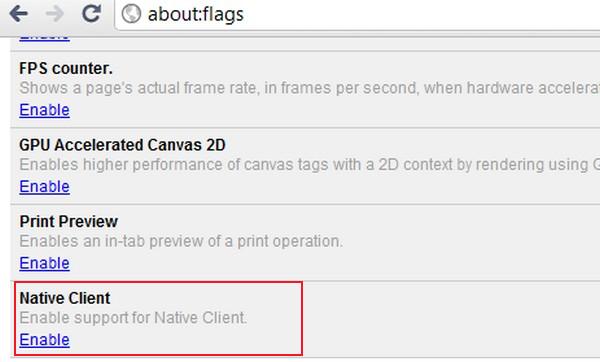 Step – 3: Go to www.naclbox.com and sign up for the account while choosing the right subscription for you for which you have to pay for sure.
Step – 4: On the home screen, you have many games to play for. For the purpose of the demonstration, I will choose the Epic Pinball game, but you may select different games.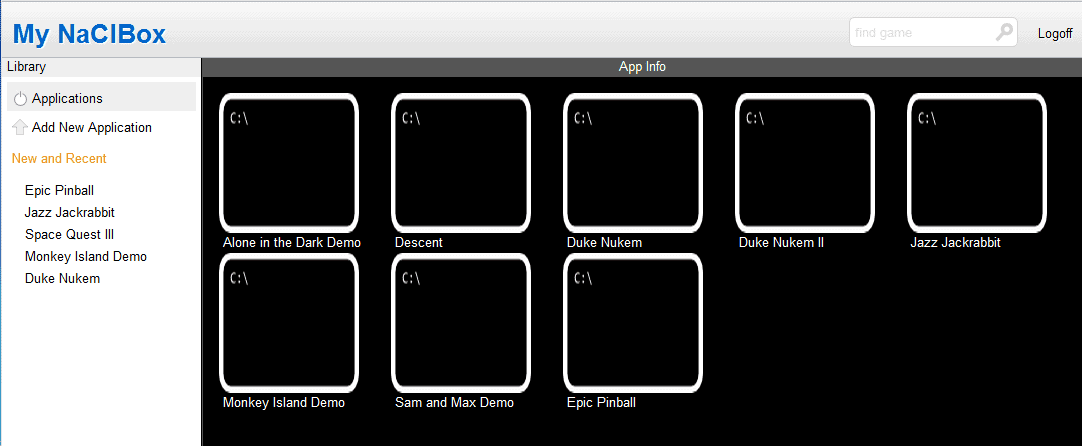 Step – 5: Click on "Epic Pinball," and that will take you to the info of the game. Here you have an option to click "play" to get into the game, "delete" to completely erase the game, which is irreversible, and "add file" to upload the desired files in this apps. Files of the games can be seen at the top right of the screen. Here, blocks mean how much space this game has used.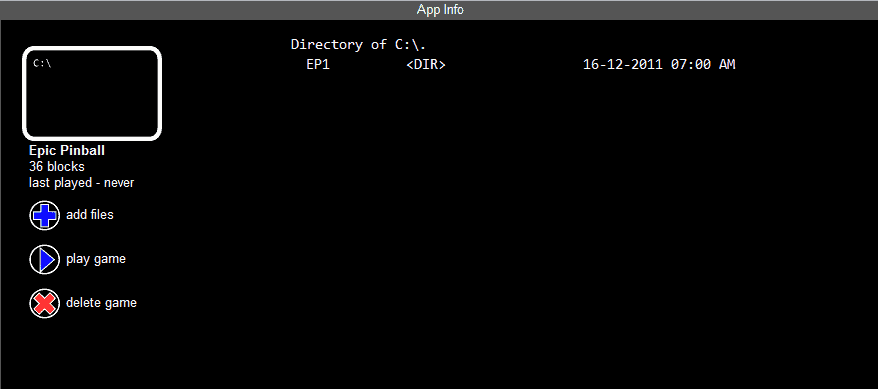 Step – 6: If you want to add games in NaClBox, then first purchase the games from any reliable website or source. You can buy old DOS games from Gog.com, and in this demonstration, I will choose Wing Commander, but you may have other games to upload.
Step – 7: Run the setup and install Wing Commander on your Chromebook. Login to your NaClBox and click "Add New Application" and type the name of the game and again click on the "Create" button.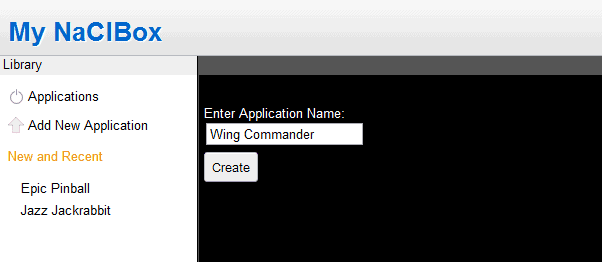 Step – 8: In this WC folder, you will click on "add files," and select the installed wing commander file from the desired location of your device and transfer it to your new My NaClBox app. Once the upload is complete, refresh the NaClBox and play it.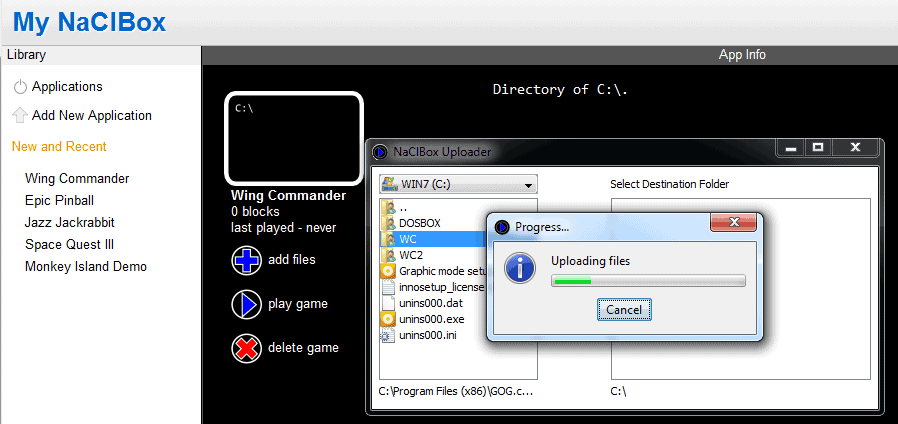 Finally, Insight
---
To me, the most convenient way of playing games in my Chromebook is to use Google Play Store, and for this, I need to have a recent or up-to-date Chromebook. This platform will allow you to play a lot of games both in a free and paid option.
Secondly, Stadia seems a valuable platform to me as this will save you from having a nightmare for not owning any robust Chromebook by letting you play games in their hard drive, and the setup is quite easy.
However, my groundswell of support for sideloading Android apps and using Steam is unequivocally less as they put your system at risk as well as involve installing the Linux OS by following various processes. On the contrary, the setup of NaClBox is straightforward, albeit mostly support old DOS games.
I couldn't find any other productive way of playing games in the Chromebook as long as I acknowledge it. If you think I have missed out on any platform or added more information on each process, let me know by commenting here, and I will try to sort it out. Thank you.