Video streaming is not only a term but also a prime requirement in today's tech world. In this internet-based modern world, the concept of entertainment has got changed. People do not have to sit in front of the TV set in the drawing-room; instead of using the video streaming apps on any Android device, anyone with an internet connection can enjoy the same facility. Some of these offer you on-demand content, some offer favorite television programs, and some offer both. Among all the online video streaming apps, some are free of cost, and some need subscription fees for better offers and features.
Best Video Streaming Apps for Android
---
Here I have compiled both the categories-free and paid video streaming apps for Android. I have also sorted out the salient features for you to compare among them, decide whether to spend for the daily dose of entertainment or not, and finally be able to choose the best one suited for yours.
1. Netflix
---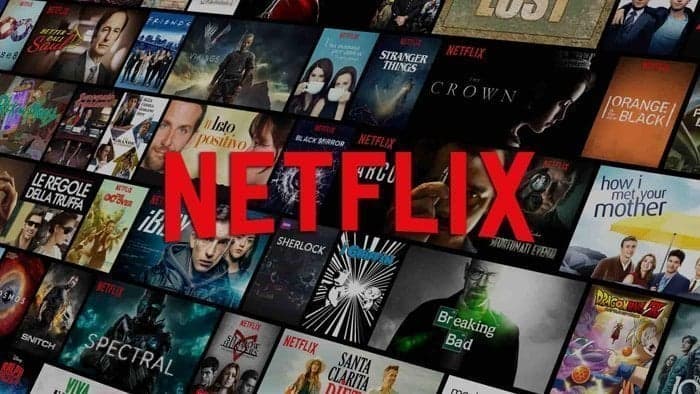 Netflix is the seventh-largest internet company in the world by revenue and popular streaming service where you can subscribe and watch TV series and movies on your device like smart TV, laptop, tab, or mobile phone. You can enjoy Netflix from anywhere, at any time. Just get the app from the internet and become a member. Netflix is available in almost all countries. It supports 4K, Miracast, smart TVs, Chromecast and game consoles, HDR10, and Dolby vision. You can get the DVD app for a separate experience to receive the actual DVDs and Blu-rays.
Important Features:
Enjoy original animations, classics, animes, documentaries, movies.
Get high-quality movies, TV shows, dramas on your device.
Netflix has a growing library of premier programs.
Enjoy a 30-day free trial and then make a decision.
Get full proof of parental controls.
Download and watch the TV episode or movie later without streaming or wasting data.
Get the list of a new release or upcoming movies here.
Watch Netflix worldwide with just one subscription.
2. VidMate
---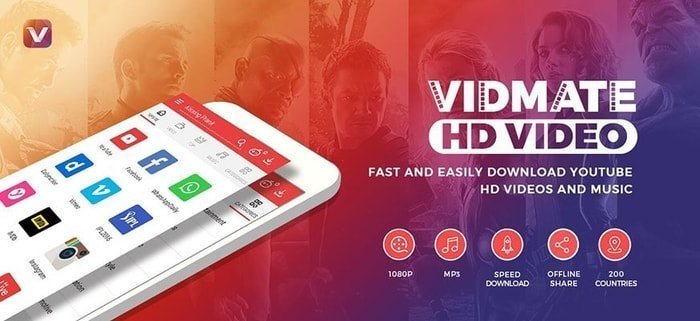 VidMate is one of the best video streaming apps for Android in the market. You can watch the latest movies within a short time of the movie release. Download and watch the film on your device instantly. Download songs and other videos online. It brings all available media within your reach. It supports hundreds of websites like Facebook, Youtube, Tumblr, and many more. Its download process is free of complicacy. You will find an organized and neat interface where you will see a list of well-supported icons.
Important Features:
It provides you to download sources in different available quality and formats.
Enjoy all genres of movies from Hollywood, Bollywood, and movies in many other languages.
Enjoy high-quality music in different languages.
It supports a higher resolution so that you can download HD quality.
Downloading speed is stunning.
Download videos from Youtube, DailyMotion, and Vimeo quickly.
You can watch television live in HD quality.
Get advanced download technology like background download, multiple downloads, download stability, download resume.
3. Amazon Prime Video
---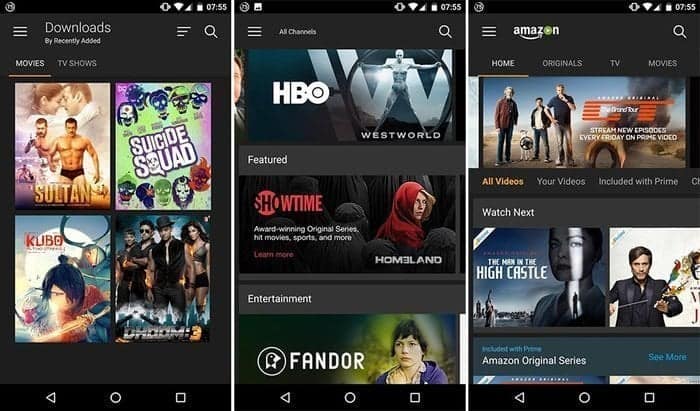 Amazon Prime Video is a renowned video streaming app for Android which comes with its Amazon Prime service. It has managed the right from the biggest production houses and thus can show the latest movies online. It has also acquired rights for live sports like NFL, ATP, Premier League. It is a global service. The premium local content and movies are available here, and the prime is the best option for watching the latest HD movies of different languages. Amazon Prime Video is the only video streaming app that doesn't need Chromecast support.
Important Features:
Download movies and TV shows using cellular data or Wi-Fi.
Watch TV channels and movies anywhere, anytime.
Enjoy thousands of top Bollywood and regional Indian hits.
Get IMDb information about the songs, actors, and trivia related to the videos during playback with X-Ray.
Enjoy the first episode of a TV show for free.
If you become a Prime member, you can subscribe to over 100 premium channels.
You can stream the TV channels by only paying for those you want to watch.
Use the catalog to purchase the videos or to rent thousands of titles, including new releases.
4. HBO Now
---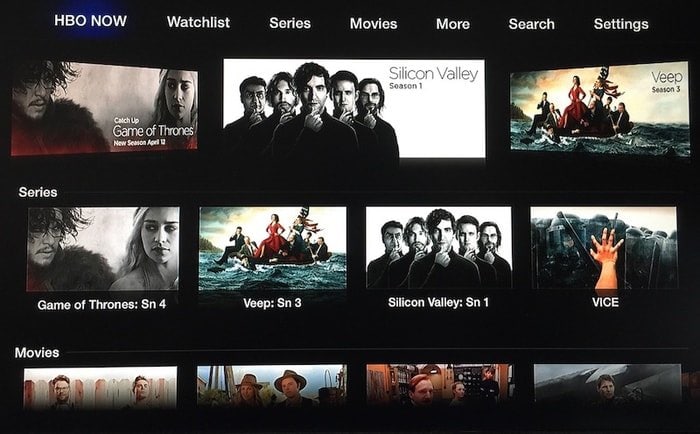 HBO Now is an on-demand video streaming subscription service and Android TV App where you can instantly access all HBO programs. The service brings the latest premieres as soon as they air. You can enjoy HD quality movies and TV series from your favorite device from anywhere at any time. Moreover, you can come across favorite comedies, thought-provoking documentaries, and many more programs quickly. If you subscribe from one of your devices, you can enjoy any of your communication devices without difficulty.
Important Features:
Get an unmatched library of top-notch, original shows.
It has a vast collection of the latest and old movies.
Covers a broad genre like comedy, action, drama, horror, and many more.
Watch the famous premiers and addictive series as soon as they are on air.
Get new movies each week and also get the news, talk shows, comedy shows, documentaries, and many more.
Enjoy the excellent streaming performance of HBO Now.
Watch on your tablet, cell phone, connected TV, or gaming device.
You can enjoy it without any ads.
5. VUDU
---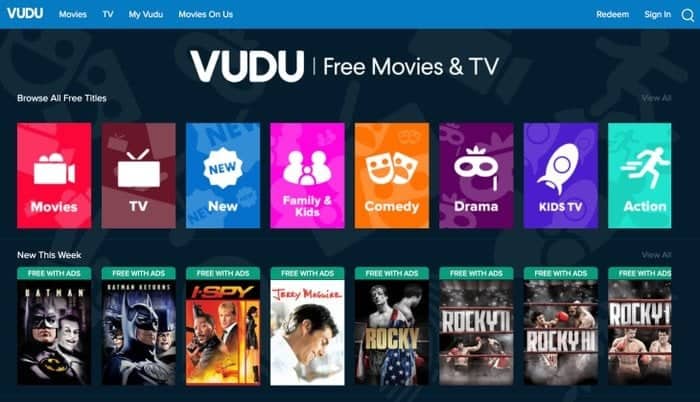 The online video streaming service, VUDU, offers you to rent or buy the latest movies or TV shows as soon as they go on air. You can watch the recent TV shows and released movies in high-quality print here. It offers thousands of programs to watch free. You can get your desired TV programs or videos on demand with limited ads. Use your mobile phone or device to log in and get your favorite content to your device at any time from anywhere. You can frequently ask any question to its community forum too.
Important Features:
It offers full-featured movies in HD form.
Enjoy good sound quality using Dolby Atoms on supported devices.
Enjoy a variety of categories like movie, crime, suspense, comedy, and many more.
Get quick access for its clean and straightforward interface.
Watch thousands of free movies with ad support on it.
Get a rich library of more than two thousand programs.
You can rate Vudu as it offers you this great feature.
It provides you an email where you can join the community forum of Vudu.
6. Showbox
---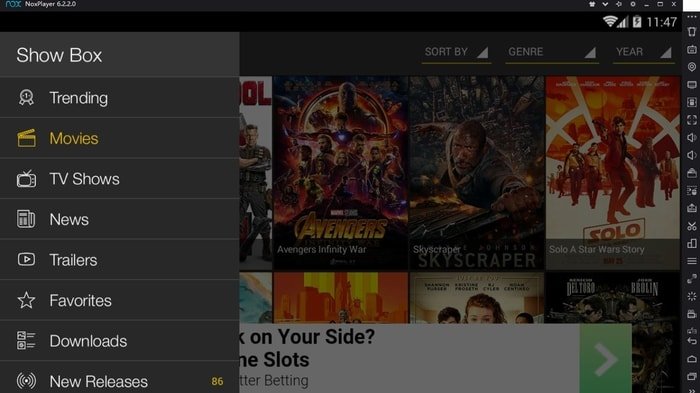 Showbox is one of the leading video streaming apps for Android in the market. You can enjoy its mesmerizing features without any cost. You can use it as an alternative subscription-based video streaming facility where you can get the content for free. Logging and accounts are not at all required to subscribe to the service. You can enjoy TV shows or movies without disturbing ads.
Important Features:
support HD quality and another resolution viewing.
Get subtitles while watching any program.
Select from the catalog and watch your favorite program.
You can select the year, genre, rating, and type of content.
Download and keep the video preserved to watch it later.
Enjoy the user-friendly interface, which is very easy to use.
Get regularly updated movies or TV shows.
It offers music streaming features.
Watch the video content from any of your devices from any place.
7. Megabox HD
---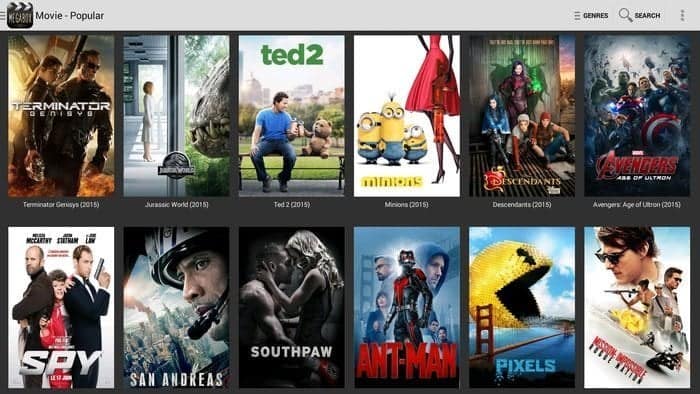 It is one of the best online video streaming apps for Android, which provides smooth and easy navigation. You will get many lucrative features here, most interestingly without any cost. Enjoy hundreds of TV shows and favorite movies from your device. You can select the quality by yourself and also can watch it later if you want. It offers a very intuitive interface. You can easily access the video content from its dropdown menu.
Important Features:
It offers HD quality video content.
Get rid of the annoying advertisements.
Find subtitle support while watching the program.
Download and watch later.
It provides a search bar to get you the desired movie or TV show.
Get a summary of the content before watching it.
It provides the option of selecting video quality.
You can watch movies and series you want by using any video player like MX Player or VLC.
8. JioCinema
---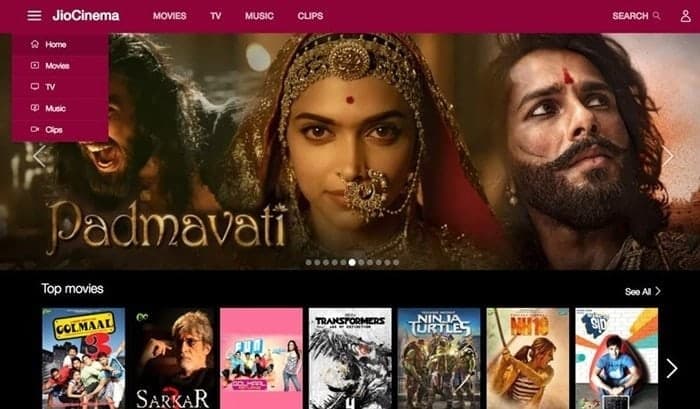 JioCinema is another mentionable video streaming app for Android available in the market. You can watch lots of Hindi movies here. The extensive collection of movies, comedies, animations, especially Bollywood movies, will mesmerize you. The TV shows and movies in 15 different Indian languages will fulfill your desire. It covers multi-genre of Hollywood and Bollywood movies, including animation and comedies. It's a user-friendly service with zero cost. So, get the regularly updated video content here freely; go for your right choice.
Important Features:
Enjoy top-rated programs, especially the Indian contents.
Watch the video content on your favorite large TV screen as it supports the Chromecast.
It provides an extensive collection of TV series and soap operas.
Enjoy the quick navigation facility here.
You can enjoy Hindi or Bollywood and other regional programs here.
Watch the episode chronologically; you don't have to select yourself; moreover, you can pause and resume from the same scene later.
Restrict the kids from any unwanted content by just setting a PIN.
Choose the video quality to be played.
9. SnagFilms
---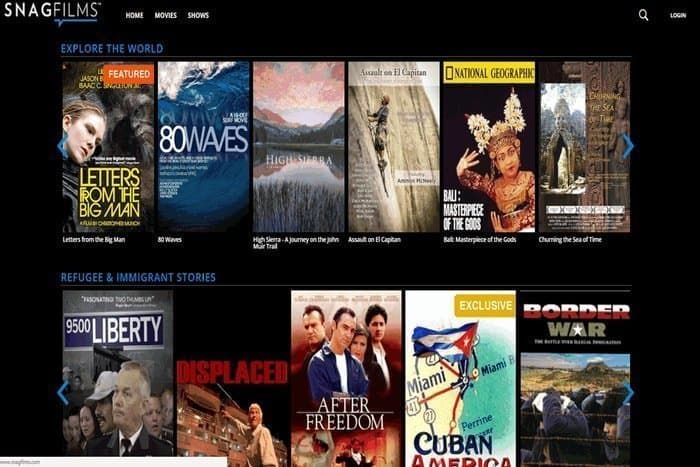 SnagFilms is one of the best video streaming services for Android, which will give you the feeling of a local video store with unique indie films. Here you will find more than five thousand movies, thought-provoking documents, TV shows, and exclusive comedy shows. You can sit together and enjoy yourself with your whole family. You can watch full-length kids and family-friendly movies and TV shows on your mobile phone, tab, or smart TV.
Important Features:
Watch on your device like mobile phone, tablet, smart TV.
Keep your favorite programs in the queue to watch later.
Get dozens of categories, including action film to comedy and also thought-provoking documentaries.
You can share it with your Twitter or Facebook.
Choose your movies and search them as per the genre, run time, and topic.
It allows you to sync your video contents between cell Phone, Tablet, Google TV,  Android TV, and SnagFilms.com.
Watch the Spanish, African, Bollywood, Chinese, Korean movies.
It also offers an option for gay and lesbian movies.
Get SnagFilms movie recommendations basing on your viewing experience.
Play Store
10. Free Flix
---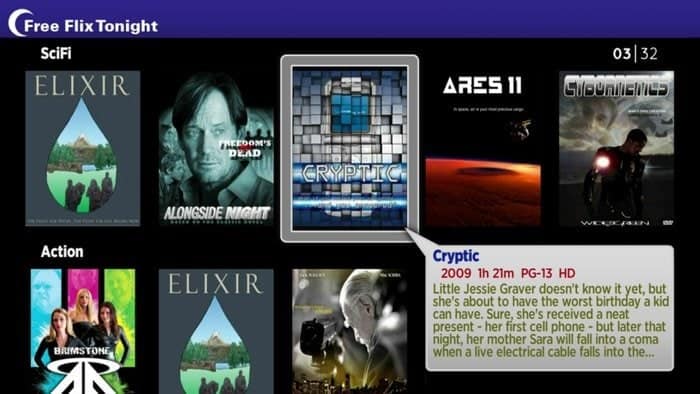 Free Flix is an excellent video streaming service to watch free TV shows, animations, and movies. You can watch the premium programs; moreover, you can watch the live TV channels through it. You will get a built-in video player here. It offers you a clean and comfortable-to-use interface and also provides subtitle support. You will be able to watch thousands of movies and TV series for free. Get hundreds of suggestions and choose your favorite one. Here you will get better feelings than that of a TV channel.
Important Features:
It provides you with a TV guide and a TV schedule.
It provides subtitle support while watching the programs.
Get a massive library of more than five thousand movies and anime shows.
Enjoy a user-friendly interface, comfortable navigation facility.
Watch live sports and TV channels.
It supports almost all languages.
Free Flix HQ will support almost every personal device like Android, Windows, iOS, PC, and smart TV.
11. Viewster
---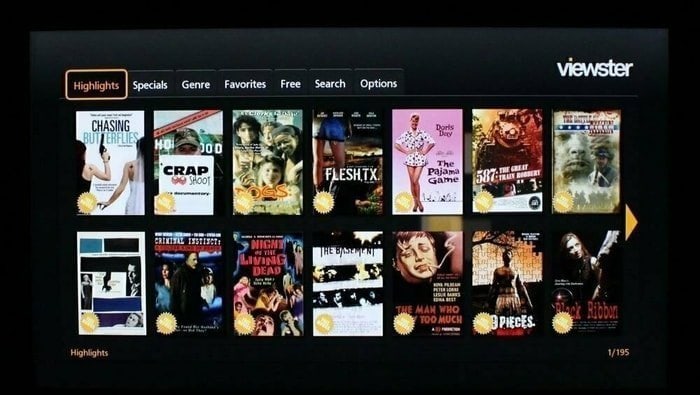 Viewster is a legal video streaming app for Android where you can watch TV shows, documentaries, anime, and movies. You don't have to register for that, neither you have to download it. You can enjoy the video content with some ads, that's all. Sort the program for you from specific headings. You can watch the programs in English, French, Spanish, and German by filtering the language. Take the viewers' selection of favorite series and movies with you in your pocket. It is one of the best video streaming apps suitable for small devices like cell phones and tab.
Important Features:
 You do not have to sign-up; start watching right away!
Enjoy the HD Anime, TV series, movies, and documentaries.
Select the video contents as per your choice from around the web.
Provides the lucrative featured content and a newsfeed-style homepage
You can watch the selected videos later by just adding in the watch then.
Provides the option of cleaning search and watch history, as well as the user interface.
Enjoy all the video content free of cost.
It offers password protection and parental control option.
Play Store
12. Sony Crackle
---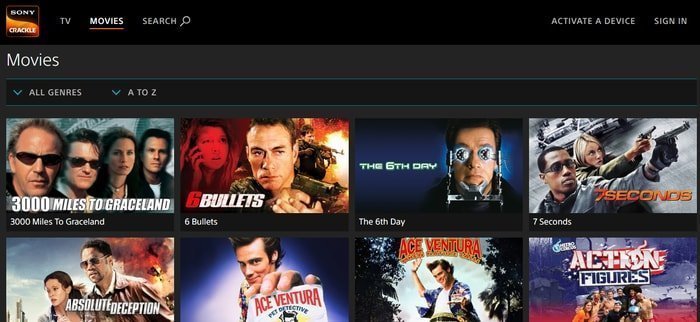 Sony Crackle is a free video streaming service that allows you to watch TV series, Hollywood movies, and all the exclusive TV shows. Stream TV shows and movies from the library of the latest and favorite hits. Get the option for fabulous genres like action, drama, comedy, thriller, and all-time favorites. You can watch the unfinished video from the 'watch later' option. You have to see fewer amounts of ads here. Watch the videos on your mobile phone, tab, and also on the computer.
Important Features:
Sort the free movies alphabetically.
Always find something new to watch.
Provide the option to share the video over social networks.
You can avoid the ads by fast-forwarding them.
Enjoy the descent video quality on Sony Crackles.
Watch the videos, movies, and documentaries without any buffering.
Watch free movies without even registering your account.
This legal app supports almost all mobile devices.
13. Hulu
---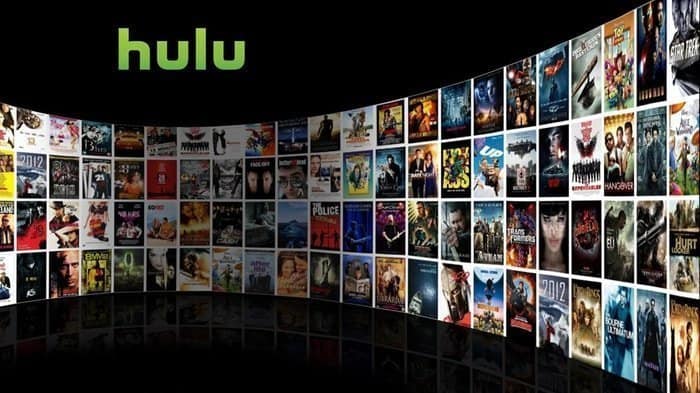 Hulu is a renowned Disney-owned online video streamer that you can enjoy by providing a subscription fee. It offers an option to watch more than a hundred movies and TV shows for free.  This online service provider also gives you live TV programs from the mainstream. But you can watch the old and latest movies, TV series and many more. It has a unique option; if you are a high package subscriber, you can avoid the ads. It offers the best video quality as well as the best video content. It's a user-friendly streaming service.
Important Features:
Enjoy HD streaming.
Select your desired content from its massive library.
Watch more than 60 live sports, news, and entertainment channels.
It supports your mobile devices, smart TV, laptop, tab.
Purchase the Hulu Live TV option, and you can watch your favorite shows as they air.
Stream-on-demand and avoid watching commercials.
It offers a few elegant navigation menus.
It suggests while choosing your desired program from the available content.
14.  Tubi
---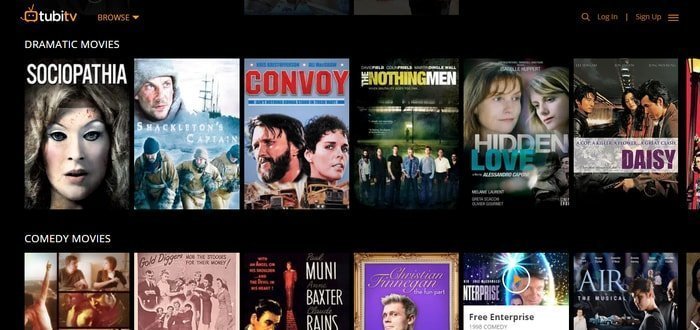 Tubi is a legal video streaming service provider with unlimited free video content; you do not have to subscribe or use your credit cards. You can watch the latest HD quality movies and TV shows every week. It has abundant content with some awesome genres. It's very user-friendly, and streaming is super fast. The service offers a vast number of movies and tv shows for all aged people. You can enjoy comedy, classic programs, drama, kids programs, anime, and whatnot.
Important Features:
Watch new movies and shows every week on Friday.
Watch the Hollywood stars in HD quality movies and tv shows.
Find a vast library of contents, including different genres.
Make a personal bookmark to watch the contents later.
Compatible with your cell phone, tab, computer, Xbox, and smart tv.
Completely free from malware and exploiting scripts.
Resume the video from exactly where you left.
15. Twitch
---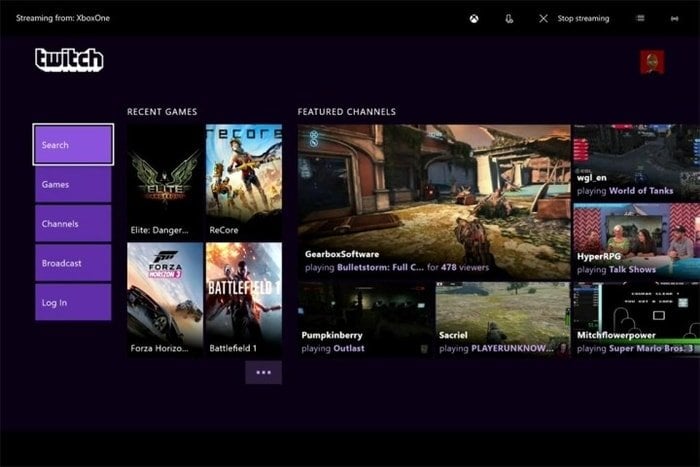 Twitch is a live streaming platform that primarily focuses on video game live streaming. It also broadcasts sports competitions, music, real-life stream, creative content, and many more with minimum ads. You can minimize the interruption by activating the Theatre mode or full-screen mode.  It's a platform for personal streams of individual players; talk shows related to gaming. The users are not allowed to stream "Adults Only" rated games. So, you can have automatic parental control here. You can enjoy almost all the Android games on your TV directly streaming online from gamers around the world.
Important Features:
Get a large number of features called "emotes."
Access your mobile devices, Android, iOs, video game console, PlayStation, Xbox, and pc.
You may earn by playing video games all day.
It allows you to upload video clips to the platform.
Get access to channel analytics, live news,  viewers, and followers.
Remove ads by using the premium option.
You will get free games each month.
Watch the broadcasts of live video games.
16. Kanopy
---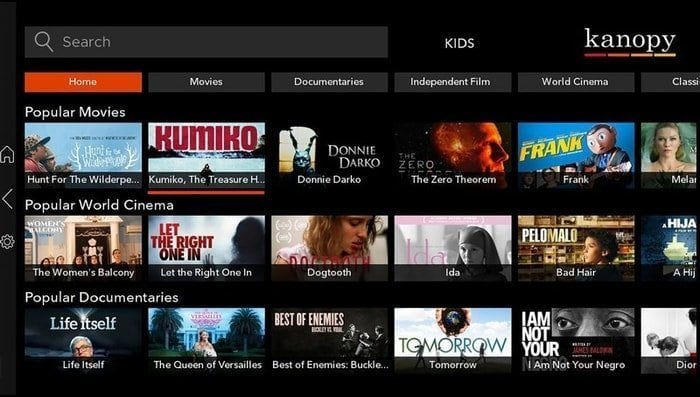 Kanopy is a popular on-demand video streaming platform. You can enjoy a massive collection of award-winning documentaries and films. Kids can also get access in its subdivision. It has almost ten thousand featured movies and TV series, educational content, and animated books. The most exciting thing is that it provides video content for all ages. If you are a parent and thinking about your kids both education, entertainment and want to pass quality time with them, you can run the educational and charming videos and thus inspire social expansion and creativity in young minds.
Important Features:
Get free entertainment and educational videos for all ages.
Find new content with titles added every month.
Enjoy the most beautiful film collection using your library card.
Get free movies in HD quality.
Watch without the hassle of subscription.
Find an attractive library of more than three thousand movies.
Enjoy your multiple devices.
17. IMDb Freedrive
---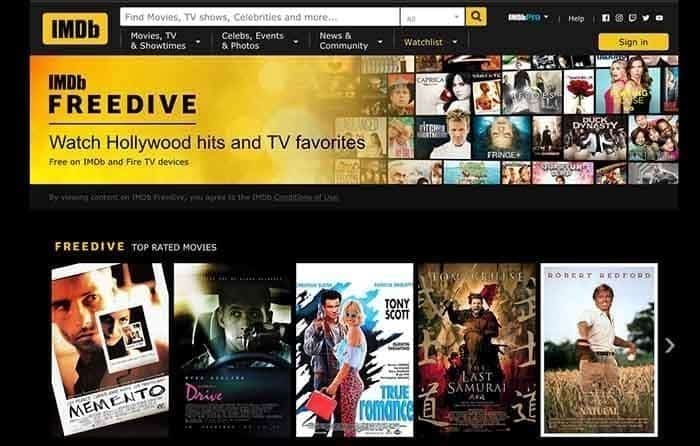 IMDb Freedrive is one of the biggest free ad-supported video streaming channels, which offers you various thought-provoking documentaries, television series, movies, including multiple TV shows and online shows. You will find movie reviews, ratings, and more related information. It is an Amazon-owned service where you can also log in with Facebook, Amazon, IMDb, or Google. It provides you the personal recommendations for the contents and upcoming video or movie alerts.
Important Features:
Quick access facility.
Watch full-length movies with fewer ads for free.
Enjoy celebrity interviews, trailers, coverage of film festivals.
While watching, you can pause and get information on the related content.
It supports multiple devices like cell phones, tab, laptops, and smart TVs.
Log in with your IMDb credentials and stream instantly.
Find your favorite content from the titles displayed in alphabetical order.
Enjoy seamless, high-quality videos in this user-friendly service.
18. PlayStation Vue
---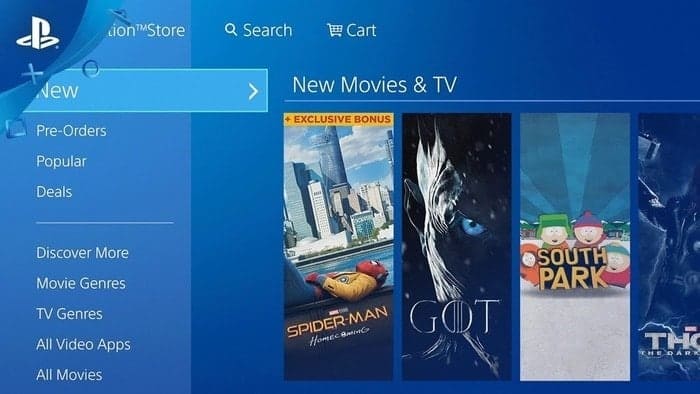 If you name the best streaming services of present times, PlayStation Vue will be one of them which get you rid of your regular cable bill. The service provides live TV programs, including news, entertainment channels, and live sports. Choose the package and enjoy ninety independent TV channels seamlessly. The most exciting thing is that you can record the live programs, a large scale of the TV series and watch it later at your pass time.
 Important features:
Get top-notch functionality.
Watch TV channels as they air.
Compatible with almost all of your devices.
Customize the service in your mobile app.
Get the news of upcoming events for games and leagues.
Record all programs by adding the heart icon.
You can watch multi-screen in a single device.
Enjoy the excellent streaming performance.
Play Store
19. Fubo
---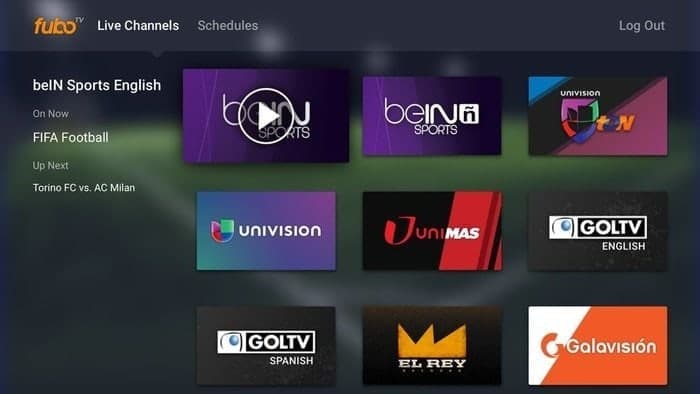 Fubo is a popular sports streaming service which is presently possessing a higher position among the streaming services. Although it's a sports streaming service also offers non-sports channels.  It provides you hundreds of local live television channels. You can enjoy more than ninety channels, record the programs for as long as you want to watch them later, and a cloud DVR with up to five hundred hours of storage. You will get the premier plan as well as add-on channel packages here.
Important Features:
Get 4k UHD and HDR support facilities.
Get free trials.
It provides you with live local channels.
Enjoy TV streaming options.
Get programs for kids.
Get an ads-free viewing option.
Supports Android, iOS devices, fourth-gen Apple TV, Apple TV 4 K, Roku streaming boxes, Amazon Fire TV, and many more.
It offers more football than any other service.
20. SkyStream Live TV
---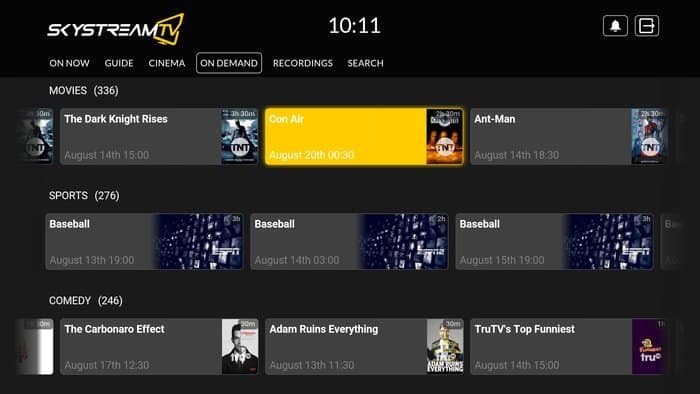 SkyStream Live TV  is a newly introduced live streaming service, which is gaining popularity quickly. You will get seven days of free trial to decide about it. It offers more than 70 channels and on-demand video content at a low price. It is low in cost. It provides a set of rich features. Install as many devices as you want and use the app.
Important Features:
It offers online TV channels as well as on-demand video content.
It offers an option to view multiple screens at the same time.
Supports iOS, Android phones, tabs, Top Box, all Amazon Fire devices, and Roku TVs.
You can record and keep the contents so that you can watch them later.
Add channels as your favorite channel.
It offers a cloud DVR and many premium channels.
Watch HD quality content.
Enjoy a comfortable and user-friendly month-to-month payment method.
Each month you can upgrade or downgrade the package.
Play Store
Bottom Line
---
The competition among the online video streaming service providers nowadays has been increased dramatically. A video streaming service generally becomes popular for its unique features and offered facilities. Free service and paid service doesn't provide the same quality and facility. Whatever may be the case, lastly it is you to decide which one you need. I hope this content will help you find the best video streaming apps for your Android device. Please inform your choice, share your opinion, feedback, and suggestions.