Chromebooks' default speakers can not create quality sound. This is an indisputable fact for all types of Chromebook. Since Chromebooks are primarily designed for school and office use, the quality of sound is not given much priority here.
A Chromebox runs ChromeOS for the desktop computer. Anyone who chooses a Chromebox can also make the same claim. Speakers are not included in the Chromebox package. However, if your monitor comes with built-in sound, you may get some sound, but this built-in sound can not provide better sound.
The best part of the Chromebook device is that it does not need to invest much money to upgrade to better sound quality. If you have a Chromebook or built-in sound monitor, you need to install external sound speakers to get a decent sound. Many speakers come with a USB. So you can easily set up the sound system with your Chromebook.
This article has gathered some best quality sound systems for your Chromebooks and Chromeboxes to enhance your audio experience. So go through the article and find currently available speakers that will perform perfectly on your ChromeOS device.
Best Chromebook and Chromeboxes Speakers
---
Over the years, speakers have experienced significant technological advancements. You will now get a quality speaker by spending less money. These speakers perform well and have good bass.
Here are some reviews of speakers that can be connected via the typical audio jack or USB for ChromeOS devices. A power wire or batteries are needed for audio jack speakers. Most provide easy access to the right speaker's headphone jack, power, and volume controls. You can get a better sound by using these speakers.
On the other hand, USB-enabled speakers have become popular because of their easy installation. So which speakers would be best for you? Discover the ideal speaker for you by thoroughly reading the article.
1. Logitech Z407 Bluetooth Computer Speakers
---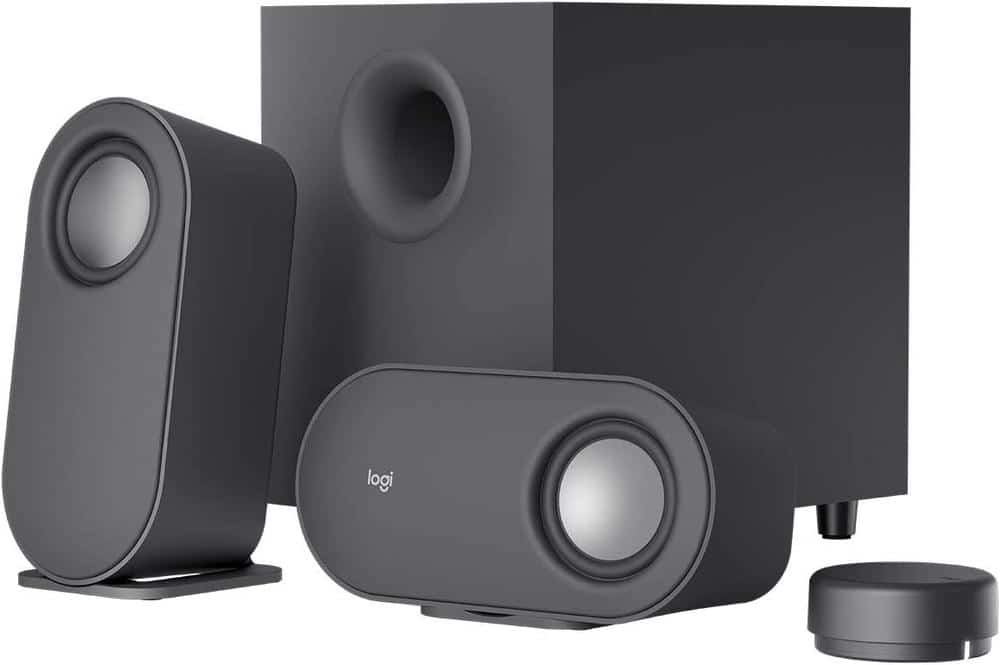 Logitech Z407 Bluetooth Computer Speakers produce fantastic sound on your Chromebook. It has a down-firing woofer that gives your sound more "boom." Additionally, its digital signal processing gives you immersive sound.
You can set these stylish speakers either horizontally or vertically. You can place them in whatever you like to decorate your space.
Though these speakers are connected with Bluetooth, you can control them from up to a 30-meter line of sight range. You can change the bass, volume, play, pause, and alter the track via a Bluetooth wireless connection.
Key Features:
This sound system has 80W Peak power / 40W RMS, producing impressive and realistic sound. It does not compromise to create deep and rich bass, from clear high notes to mid-range solid notes.
The 20-watt bass with digital signal processing creates powerful bass with accuracy so you can enjoy a great audio experience.
You can control your sound wirelessly from across the room with a 30-meter line of sight range.
Logitech Z407 has dual-position speakers.
The sleek, oval-shaped model speaker has an elegant graphite grey appearance.
However this is a Bluetooth wireless speaker, but you can connect it to your device in multiple ways. Besides Bluetooth connection, you can connect these speakers with micro USB and the 3.5 mm input.
Pros: Logitech Z407 speakers setup process is easy, and compatibility connects to multiple inputs. More importantly, this excellent subwoofer speaker produces loud sound and perfect audio quality.
Cons: However, there is a delay in the volume/bass turning control.
Price: $92.99
2. Audioengine A2+ Plus Wireless Speaker Bluetooth
---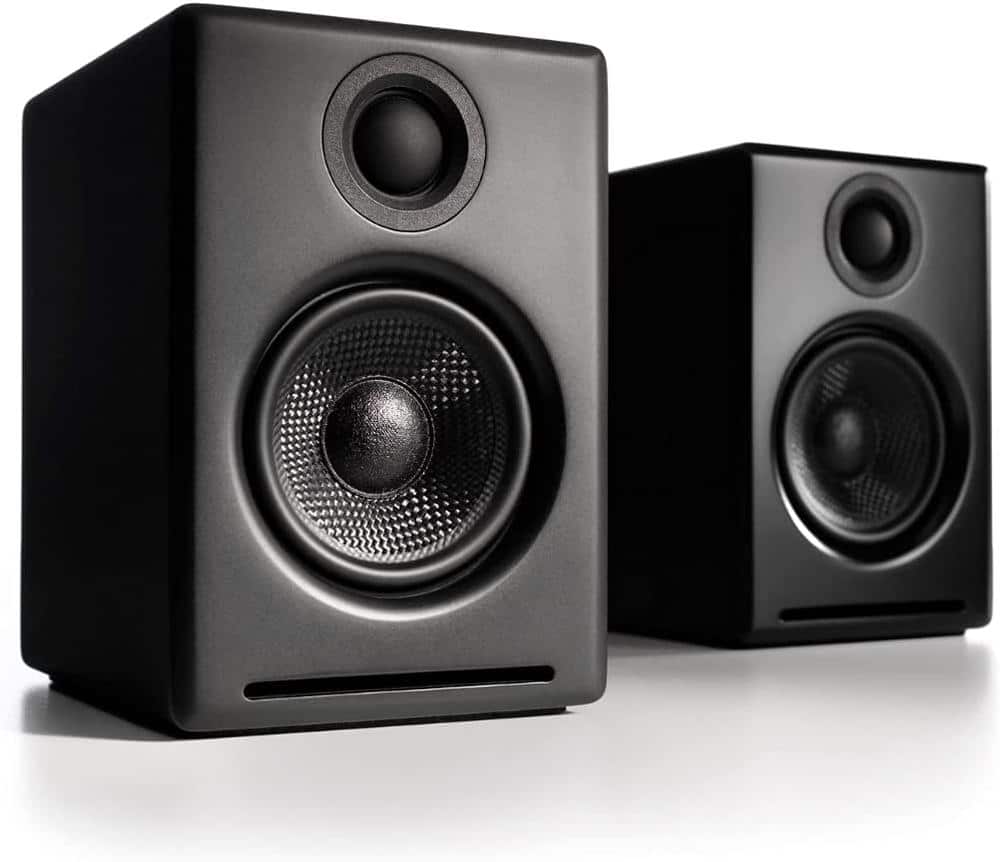 The award-winning A2+ Wireless Speakers deliver clear, true stereo sound and can quickly connect to all of your music. This speaker has become popular because of producing excellent sound, expandability, and affordability. Besides, these stylish speakers are available in three colors such as black, red, and white.
Considering the clarity and depth, Audioengine A2+ outperforms in this price range. Besides you can also add a subwoofer to this pair of speakers. However, Audioengine A2+ is costly, but if you are looking for an easy setup and mind-blowing sound system, of course, Audioengine A2+ would be on your final list as Chromebook speakers.
Key Features:
Audioengine A2+ Plus Wireless Speaker offers high-fidelity stereo sound and can connect to any device or app in a second to play music.
It provides both wired and wireless connectivity features. The wireless connectivity range of the Audioengine A2+ is over 100ft.
This speaker lets you connect with any Bluetooth device and easily play music, podcasts, and other content.
You can enjoy room-filling in a small footprint with 60W peak power.
This decent minimal-size speaker comes with an elegant design of painted wood cabinets that can be set anywhere.
You will be tempted to listen to more bass-heavy songs.
Pros: The Audioengine A2+ Plus Wireless Speaker has a subwoofer output, analog class A/B amplifiers, 2.75″ bespoke aramid fiber woofers, and 0.75″ silk dome tweeters that offer you enjoying a crystal clear and authentic stereo audio experience.
Cons: Your sound quality melts slightly if you play music with heavy bass.
Price: $269
3. Creative Pebble Plus 2.1 USB-Powered Desktop Speakers
---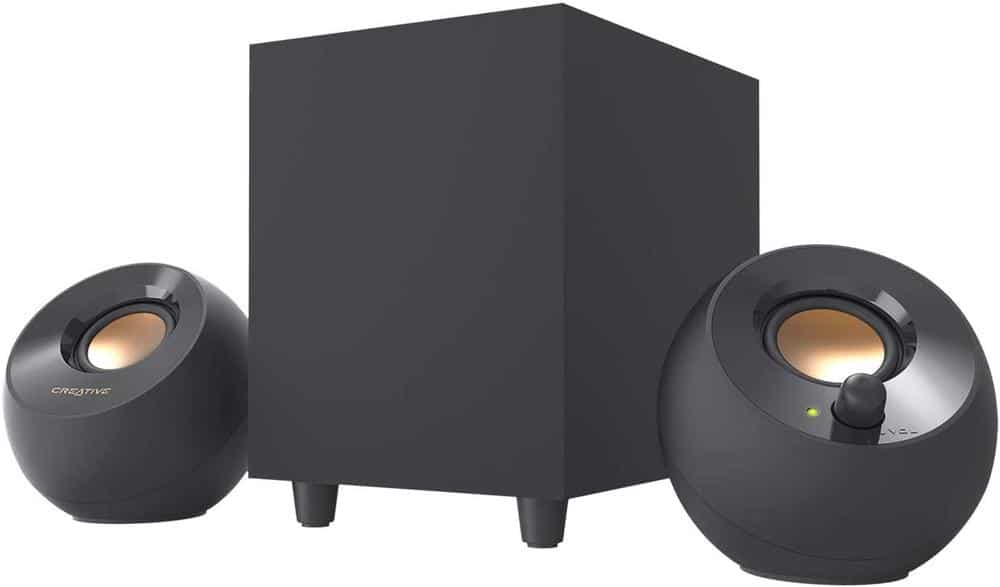 Creative Pebble Plus is the best option if you are looking for Speakers with a subwoofer for Chromebooks or Chromeboxes but have a limited budget. Creative Pebble Plus offers a 2.1 system that provides stereo sound, a decent bass end, and excellent audio quality. However, this sound system cannot sound, and some other options on this list are suitable for the price.
You can connect this device to your Chromebook via USB or analog systems with a single cable. However, you can make a large setup with 8 watts of power and a 5V 2A USB adapter, but they will provide lots of volume while sitting on the desk.
The design of the Creative Pebble Plus 2.1 is fantastic. The minimalist shape and the combination of black and gold coloring make this product incredibly appealing.
Key Features:
The Creative Pebble Plus offers an independent 4″ down-firing ported subwoofer freshly designed for incredible power and depth. This subwoofer gives a significant improvement in audio performance over its predecessor.
This pair of speakers has 2″ mid-range drivers elevated at a 45° angle, ensuring crystal clear clarity and louder sound reaches you.
It can be pushed into High Gain mode with a single button press.
The volume controller is placed at the front of the speakers, so you can easily access this and control the speakers' sound.
Having 8W RMS power, the Creative Pebble Plus gives louder, more powerful audio for all-encompassing audio.
Pros: Price-wise, Creative Pebble Plus's sound quality is excellent. This pair of spherical speakers are sleek, minimalist, and functional.
Cons: You can not control stereo speakers separately from the bass.
Price: $45.99
4. Bose Companion 2 Series III Multimedia Speakers
---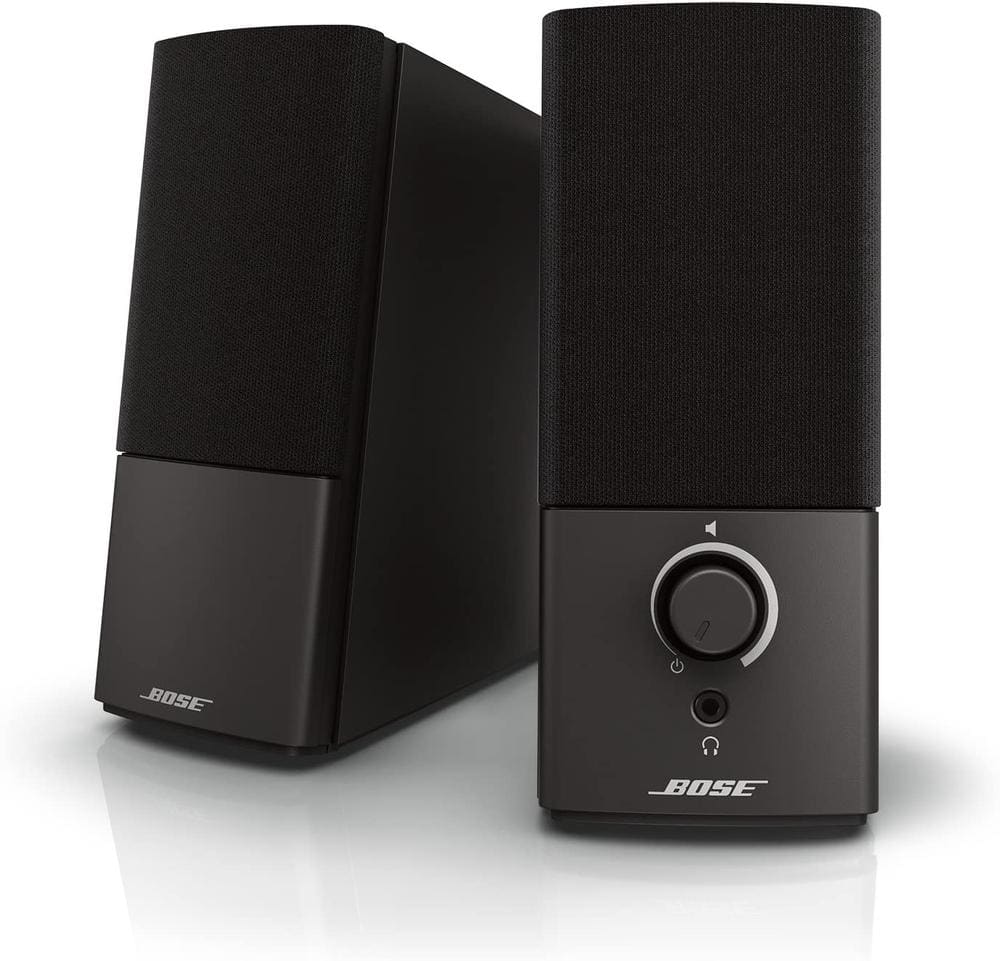 Do you love music or video game? We recommend you connect your Chromebook with Bose Companion 2 Series III Multimedia Speakers System because this speaker system is the most affordable computer speaker system to get a high-quality audio experience.
Despite having no subwoofer, you will get enough bass. There are also a lot of highs and mids that make a balanced but full sound. Moreover, with this Bose speakers system, you will hear a more detailed sound with a more profound low-end performance. Besides, it has a wider soundstage, making it perfect for binge-watching Netflix while you are working.
Bose Companion 2 Series III Multimedia Speakers is recommended for those looking for a basic external computer speaker that creates impressive sound at an affordable price. However, this sound system does not have Bluetooth connectivity. It has a small cord to set up the device on your table. It can not allow you to control the sound system 20 meters away from your computer.
Key Features:
Bose Companion 2 Series III Multimedia Speakers System introduces digital signal processing, creating a balanced sound with little bass at any volume.
It has trueSpace stereo digital processing circuitry, which produces wide and realistic sound.
The setup process is simple, and everything is available in the box. So you do not need to spend extra cost to configure Bose speaker system.
You can play another device to your Bose speakers with 3.5mm auxiliary input.
Its volume control knob is in front of the right speaker with a slight indent that helps you easily control the volume while using the computer.
Pros: It can produce enough loud sound without creating any noise.
Cons: This sound system performs terribly in creating mid-heavy bass sounds.
Price: $149
5. Klipsch ProMedia 2.1 THX Certified Computer Speaker System
---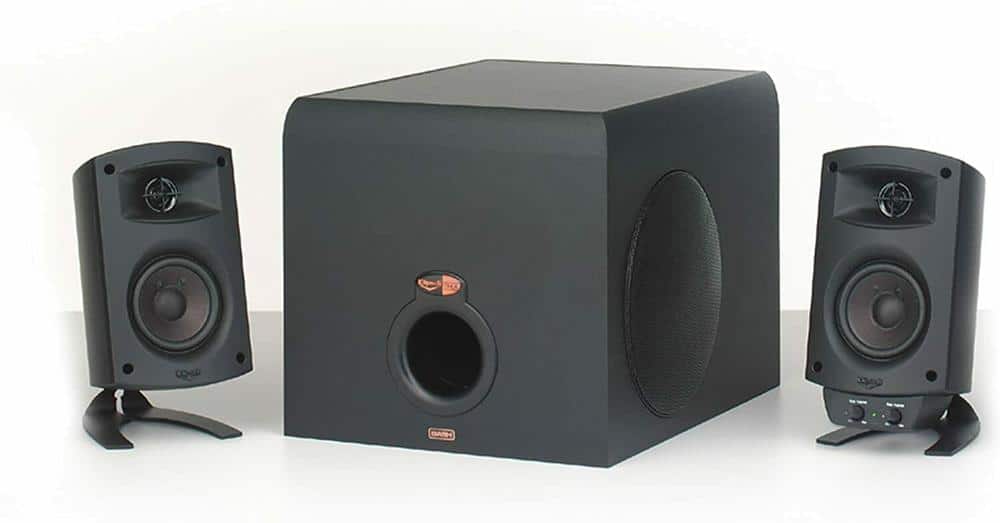 Klipsch ProMedia 2.1 is a THX-certified computer or gaming speaker perfect for Chromebook. THX is a globally recognized certification combining art and technology to ensure unwavering quality, consistency, and sound performance. Consequently, you may purchase these speakers for your Chromebook without any hesitation.
Although it is an early 2000s model speaker without contemporary features like Bluetooth or USB connectivity, if you want authentic sound, there is no substitute for it. When the music starts playing on this speaker, you will forget the lack of modern amenities due to its incredible sound.
Klipsch ProMedia 2.1 has two satellite speakers and one subwoofer containing 200 watts of peak power that turn your room into a home theatre. This sound system is perfect for gaming, music, movie, and television. It can create a good sound quality at high volume, low end, and balance.
Key Features:
Klipsch ProMedia introduces Microtractrix horn technology which can produce crystal clear sound by offering the best possible streaming and gaming experience.
Its 3" midrange drivers precisely mix to produce high-quality sound.
Besides, you can feel the full bass because of its subwoofer with side-firing.
The control of volume and subwoofer at your fingertips. You can adjust the volume level twist of a knob. However, if you want to listen to the music privately, you can plug in headphones here.
This speaker system is compatible with all your favorite gadgets. You can plug in your TV or computer to play music or a gaming console.
Pros: Klipsch ProMedia 2.1's all speakers are self-powered, so you do not need a power amp. Once the setup is completed, you no longer have to think about it.
Cons:  It doesn't support Bluetooth connectivity, so you need a bunch of cables to connect, which is annoying.
Price: $144.99
6. Mackie CR3-X 3-Inch Creative Reference Multimedia Professional Studio Monitors
---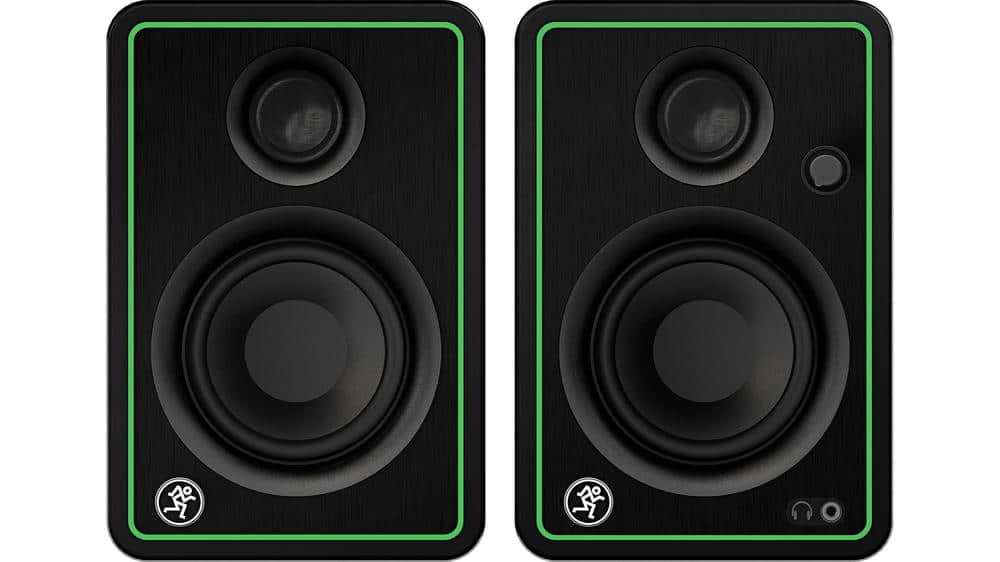 Mackie CR3-X provides studio-quality sound for composing music, creating content, or simply relaxing to your favorite tracks. The elegant design of Mackie CR3-X, including a brushed metal panel and an eye-catching shape, makes the device stand out.
For your Chromebook or Chromebox's external speakers, the 3-inch Mackie CR3-X is the ideal choice. This model also offers varieties of sizes from 3" to 8" as it has an 8" subwoofer. So you have the option to upgrade your sound system.
This is not a professional sound monitor, but it is an excellent option to set up a home recording studio at an affordable price.
Key Features:
The sleek design, brushed metal faceplate, and CR green outline improve the desk's appearance.
It has a flexible connectivity option. You can input with balanced 1/4″ TRS, 1/8" Aux Stereo, and RCA.
Besides, it has a separate volume knob and power switch in front of the speaker, so you can easily control the volume level and switch on or off the power without adjusting the volume level.
If you want to listen to the music privately, you can plug in headphones from the front panel.
The maximum power output of this sound system is 50 watts which produces articulate stereo sound and good bass.
Pros: The high and mid-range sound is excellent
Cons: When the volume level turns low, and no music is playing, it creates a hissing sound from the tweeter.
Price: $99.99
Our Recommendations
---
Sound quality is the main factor in buying a speaker. The cheaper speaker is usually compromised on sound. Therefore, choosing a speaker should consider both the price and sound quality. If you want a little more low-end, then a subwoofer is essential. In the modern era, some speakers have Bluetooth connectivity, making your speaker setup easier.
So when you buy a speaker for Chromebook or Chromebox, you should consider the speaker's sound quality, connectivity, and budget. Remind that speaker technology has not changed frequently. So you need to pick the right speaker that gives your incredible sound for a long time.
We don't support spending thousands of dollars just for a Chromebook sound system. In our list, Audioengine A2+ is the best pair of speakers without a subwoofer. However, Creative Pebble Plus is the value pick for the Chromebook user. You can enjoy incredible sound at an affordable price by buying Creative Pebble Plus.
However, if you are looking for the best speaker for Chromebook and Chromebox at the right price, containing complete speaker features, then Logitech Z407 is undoubtedly the best choice for you.
Concluding Words
---
Of course, the speaker is an important component of the sound system of a Chromebook. The built-in speaker in a Chromebook can not produce quality sound, so sometimes we have to set up an external sound system for your Chromebook.
You will find speakers with different models at different prices in the market. Many of these are budget speakers. But we don't recommend you buy budget speakers because the sound quality of the budget speaker is not satisfactory. So our advice would be to buy feature-packed speakers with high-quality sound.
Presently, you will find many modern-looking USB speakers with a subwoofer. If you have a moderate budget, this type of speaker is recommended to experience high-quality sound. In this article, I have discussed all kinds of speakers for Chromebook and Chromeboxes, considering the needs of different people. Therefore, we believe that this list will assist you in finding the ideal speaker for your device.
If you have experience using any good speaker outside our list, you can write about that speaker in the comment box of our article. Besides, if you like this article, share it with your friends.