Aiming at the Elementary OS, the "Notes-Up" is today's notes editing and management app. This app includes a User Interface which is moderate and minimalist. We have already said that the Notes-Up aims at the Elementary OS, however, this software is also available for the OpenSUSE and Arch Linux. This Markdown editor is prepared to amaze you with the note editing skills.
You will also get the support of the keyboard shortcuts if you are using this application for editing your notes. The name of the developer of this app is Philip, and he said that being a Computer Engineer, he used to write up all his school and other essential notes only with the text editor so that he can maintain all his files and keep them all managed and organized.
But, he doesn't want it anymore because he has already made the "Notes-Up" which is written for the Elementary OS and with the help of this note editing app, anyone will be capable of writing amazing notes in a faster and easier way where they will also be able to use the markdown format.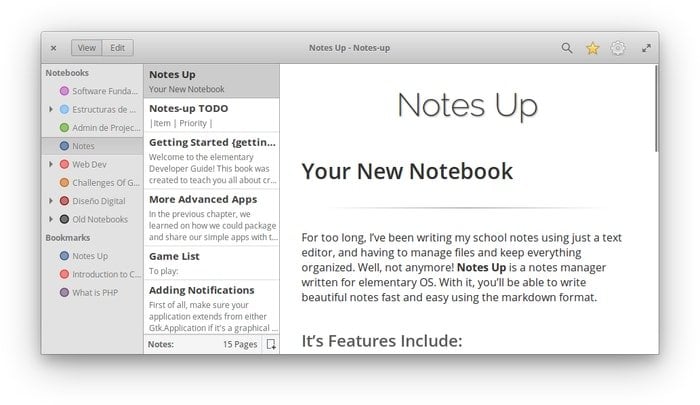 Features of Notes-Up
---
App for the Elementary OS.

Developed by the engineer Philip Scott.

Goes perfectly with multiple notebooks.

Includes Markdown intuitive editor.

Files or notes can be exported to PDF.

Markdown can aid the sections accessible to you at just one click.

Notes-Up is freeware, download it and enjoy.

Goes well with plugins such as enabling syntax highlighting with the help of wrapping the code blocks <highlight>.
Open-source software for everyone, to get the source code, please visit GitHub.

Easy to embed an image within your documents.

Support for dropping and dragging your images easily.

Includes shortcut for easy access with a keyboard such as if you want to create a page then you can use Ctrl+Shift+N.
Download Notes-Up for Ubuntu Linux
---
This app is mainly developed for Elementary OS but you can also get this one for other Linux distros. If you are using Elementary OS or OpenSUSE, then find this software in respective software center. And for other Debian or Ubuntu based system, follow the bellow PPA to install:
sudo add-apt-repository ppa:philip.scott/notes-up
sudo apt-get update
sudo apt-get install com.github.philip-scott.notes-up
If you are a user who usually works by dropping images and dragging them here and there, then this note editing application will be the best bet for you. It also provides you the plug-in extensions feature. Not only that, if you are up for exporting your notes to PDF then feel free to do this with the Notes-Up.
This software is a freeware and so is free for everyone. Have you installed the Notes-Up app? Did you find it interesting? We have reviewed it; let us know your own experience by commenting below. And for any query, you can comment below. Do not forget to share our reviews and let your beloved know!