Today I am going to share a simple tutorial on a new Ubuntu Community Theme called Communitheme theme. This brand new theme is one of the proposed features for the New Ubuntu version. Ubuntu Communitheme – as the name implies – is developed by the Ubuntu loved community across the world. Communitheme is based on Gnome's default theme Adwita and looks similar to Ubuntu's own Ambiance GTK theme. Moreover, it offers an icon set theme based on the Suru icon theme – inspired by Ubuntu Touch.
Though Ubuntu has its own theme, the company still wants to make a new theme, and the main goal is to make a modern-looking theme built on a neutral, upstream base. This Ubuntu Communitheme provides a complete set of GTK themes, icon theme sets, GNOME Shell themes, and a GDM login theme.
Though this Communitheme is still in the development stage and not yet ready for being a default theme in the upcoming Ubuntu, you can have a look and feel the experience by installing it onto the system via official PPA.
How To Install the New Ubuntu Community Theme
Before installing Ubuntu Community Theme, you have to add the "Communitheme PPA" to the system software repository. This PPA package lets you test the Ubuntu Community Theme daily built on your latest Ubuntu system without replacing the vanilla Ubuntu session.
To add the PPA and install, run these commands one by one in a new Terminal window:
sudo add-apt-repository ppa:communitheme/ppa
sudo apt update
sudo apt install ubuntu-communitheme-session
Upgrade the Daily Build of Communitheme
sudo apt update
sudo apt upgrade
And it's installed! Restart your computer; the login screen will use Communitheme by default. Select the "Ubuntu Communitheme" session from the login screen (click the gear) and log in. This will start the GNOME-Shell, GTK2, GTK3, and icon themes.
Moreover, you can change the Gnome theme and icon theme set using Gnome Tweak Tool.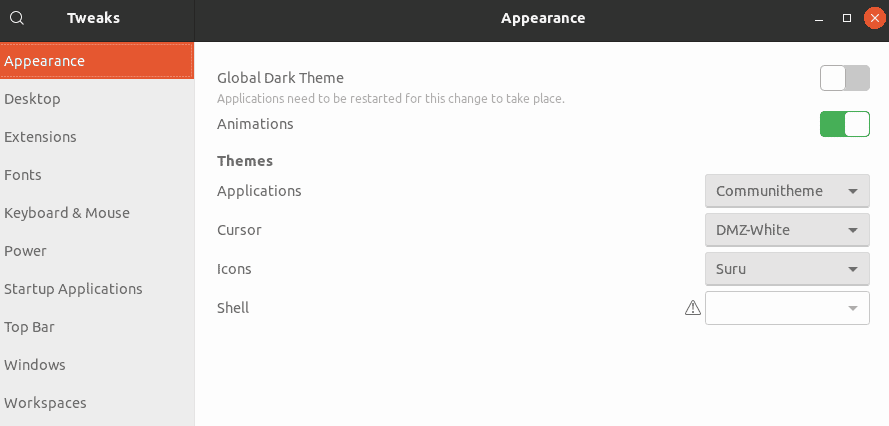 If you have questions, suggestions, or a word of thanks, feel free to drop a comment below.
Recommended Post: Top 15 Best Gnome Shell Themes for Your Gnome Desktop
Note: The features mentioned here are not all-inclusive. The features mentioned are compiled either from their respective official websites or from my personal experience using them.