Time management is always important, especially in this modern world when everyone is fighting to claim his/her place. If you sleep more than you plan, you will have to face the consequences throughout the day. In this digital age, you will find many solutions to track time and manage your schedule efficiently. But alarm clocks for PC can literally become a lifesaver when it is important to remember a date, task scheduling, or get up at a specific time in the morning. Besides, alarm clock applications can offer much more than what you can expect from a typical alarm clock that can make your life comfortable to a great extent. 
Best Alarm Clocks For PC
---
Unlike other software, when we were testing alarm clocks, we could not get many great options. We have checked the reviews and compared the critical features before finally putting them on this list mentioned below. If you are wondering and want to know about the best available options to set the alarm on your computer, you are in the right place. 
1. Music Alarm Clock
---
You will find a few alarm clocks that have attracted as many customers as Music Alarm Clock. You can probably understand what this app does from its name. It will wake you up through your favorite music.
It is an award-winning application for setting alarms on the computer, and so you can expect absolutely the best performance without any hesitation. The developers are also open to answer any question you have got, and you will get support if you face any problems.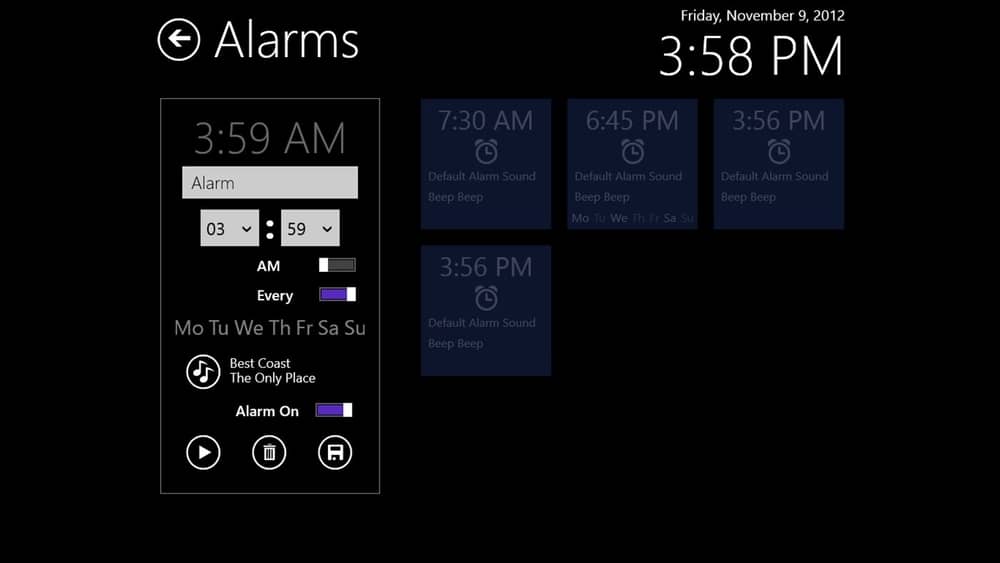 Important Features
The user interface is simple and straightforward. Any people will find it easy to operate. 

The modern wizard is powerful to enable you to navigate through the configurations and set the alarm. 

Manage your audio playlist and choose any of your preferred songs as the alarm tone. 

According to your need, set any number of alarms on once, daily, or on a specific date. 

While the playlist can be shuffled randomly, you will get a wide range of customization features like fade in or out. 

It comes with a built-in media player that can easily replace your current mp3 player. 
Pros: You can play almost any file type for audio files like MP3, WAV, and WMA. The five-minute snooze button for repetitive alarms is also there.
Cons: Although this software is free, you will have to upgrade to pro to get rid of the distracting advertisements.
2. Cool Timer
---
Cool Timer has been added to this list as a classic option for our readers. We always try to cover all the aspects of a specific application type to make the article useful for most people. Although it is not a free alarm clock for PC, it can help track time and manage your tasks accordingly. Besides, this is a feature enriched alarm clock solution and ready to exceed your expectation anytime.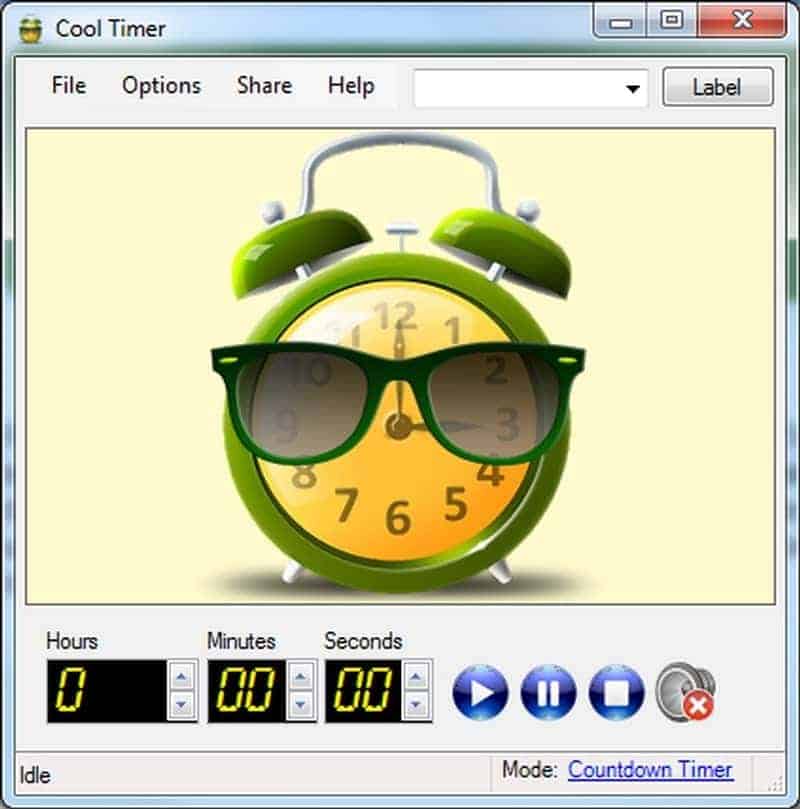 Important Features
You can complete the simplified installation process within a few steps.

Alongside basic alarm functionalities, you can use this app as a countdown timer or stopwatch.

 

Requires user's intelligence to solve a puzzle and switch off the alarm. 

The free version is so efficient that you will never feel the importance of the pro version. 

Enable users to schedule any number of wake-up alarms and boost productivity. 

And also, the user interface is simple and designed to showcase everything at one glance. 
Pros: You can use Cool Timer to do other things like schedule a reminder and so this app can be considered useful easily. 
Cons: Although you will get a wide array of configuration options, it may become messy for many people. And solving puzzles may become annoying sometimes when you try to switch the alarm off. 
3. Free Alarm Clock
---
You can already understand the reason why we have included this application on this list. It is the only reliable option if you are looking for a free alarm clock for a PC. It comes with a massive number of features that can easily beat many paid alternatives currently available in the market. Besides, user-friendliness sets this app apart from its competitors. So if you want to transform your computer into an alarm clock, you can go for this without looking for other options.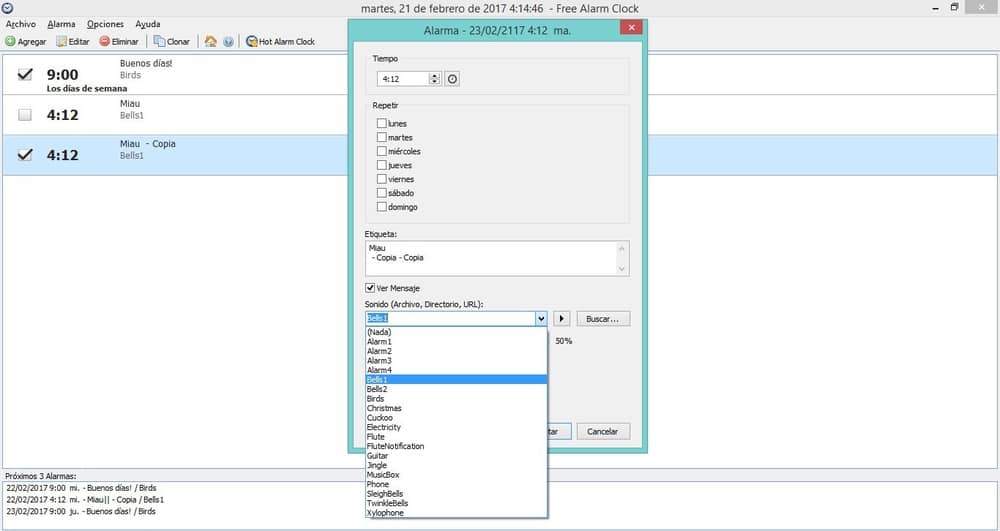 Important Features
Allows users to set any number of alarms for different tasks on their computer. 

This is a simple program, and you can schedule an alarm to remind you to take a short break from the hectic life. 

Besides, the minimalist interface is useful and equipped with a lot of customization capability.

 Features built-in alarm sounds while you can select any mp3 file from your local storage. 

You can add labels o your alarm so you can keep track of all of your activities. 

On top of that, you can gain guidance from its extensive online help instructions and makes the most out of this app. 
Pros: The developers of this application have tried to keep things simple, although it delivers everything they promised. Besides, it supports multiple languages. 
Cons: The number of features is limited compared to the other alarm clocks for Windows you can start using right now. 
4. Alarm Clock HD
---
It is another great option if you are looking for an alarm clock solution for your computer. You will need to have at least Windows 8.1 running to use this software fluently. Besides, the installation process is simple and standard. You will not have to download any other third-party application for running this software.
Any people can take advantage of alarms, and reminders Alarm Clock HD can offer. All people, even a novice, will become comfortable within a few minutes once they start using it on their PC.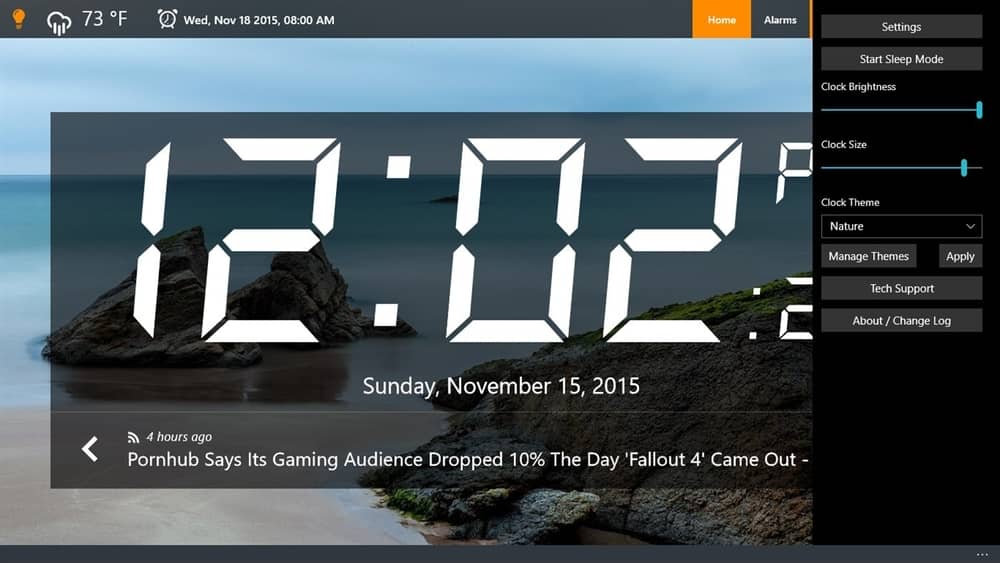 Important Features
The user interface is modern and equipped with all the controls required for rendering an awesome user experience. 

On top of that, users can check the weather forecast and top stories of the day through this application. 

An unlimited number of alarms can be set up. You can check the exchange rate of different countries as well. 

Allows users to set up to three world clocks and check the time when required. 

It comes with an in-built RSS feed, and the main window is highly configurable. 

Features a radio station, and you can use any mo3 from your hard drive to set the alarm tone. 
Pros: You will get a premium experience overall and define the snooze time interval according to your wish.
Cons: Although it offers a free version, you will need to upgrade to pro to remove ads. Besides, the latest upgrade is buggy and yet to be fixed.
Get Now

5. WakeMeUp
---
If you want to know about the best alarm clock for PC, then WakeMeUp should be considered. It is used by a massive number of people and has become a common name when it comes to PC software. Besides, this software has the capability to wake your computer up from sleep mode. You can use audio files from your computer to set an alarm notification tone while supporting almost all the file formats like MP3, M3U, WMA, and OGG.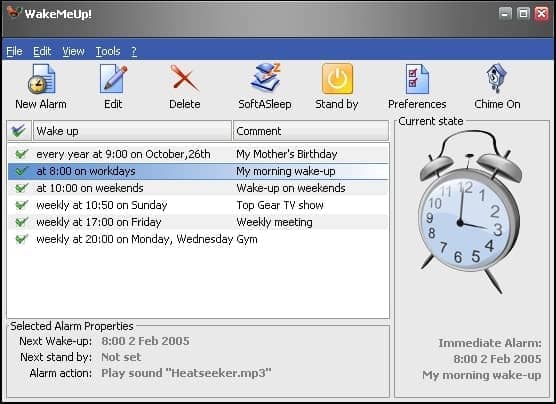 Important Features
It does not matter whether you are an experienced or a beginner; this application is super simple to use. 

The user interface is amazing and highly customizable to meet all of your needs. 

You can add a title to each alarm, while the interval time or frequency can be set accordingly. 

Besides, users can delete all the alarms or keep them in standby mode.

Suitable for advanced uses as this app allows users to execute commands at a specific time. 

It is a stable alarm clock software for PC and supports a wide array of languages as well. 
Pros: You can use fade in or fade out options to the mp3 files you are going to use as the alarm tone. Also, even if no user is logged on, it will turn the computer screen on at the alarm time. 
Cons: Although you can choose this software for your computer, you will have to spend a handsome amount of money and upgrade to pro to get the useful features.
6. Talking Alarm Clock
---
If you are looking for an alarm clock for your PC that does not limit only to set the alarm, then Talking Alarm Clock can meet all of your demands flawlessly. It is not only a typical clock; instead, you will get many exciting features that you can not even expect.
If you are the kind of person who forgets everything while working on the computer, this app will be useful to announce time hourly. So, you will never lose control of your time and miss anything unintentionally.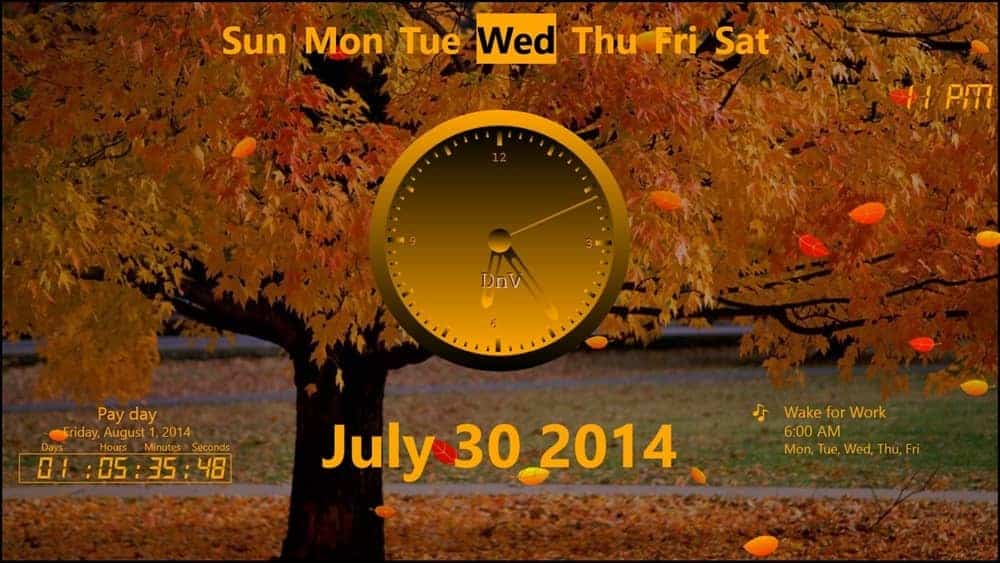 Important Features
It is a desktop application designed to set alarms and announce the time in different languages. 

Along with alarm clock features, it offers a calculator, a calendar, a timer, and a stopwatch. 

The user interface is minimal and renders a good user experience with no bugs. 

Besides, you will get a variety of options for skins that are included within the package. 

If you are a developer and want to execute a specific set of actions at a specific time, you can use Talking Alarm Clock. 

It announces the time in both male and female voices, which is a great feature to grab users' attention right away. 
Pros: This is a user-friendly tool and can render great performance even on a low configuration computer. You can also configure an MS Agent and integrate text-to-speech for an animated character that announces the time. 
Cons: Although this tool comes with a wide choice for the interface, you will not find them attractive. Also, the absence of frequent updates is the major downgrade you are going to face while using Speaking Clock Deluxe.
7. Clock Tile
---
There are many people who love to customize the user interface of their computer. Widgets are a great option to add a sidekick to the visual aesthetic and get a unique desktop setup. You can see Clock Tile as a widget that displays time and date on the Windows start screen. You will also get everything you can expect from a digital clock and configure time settings according to your location.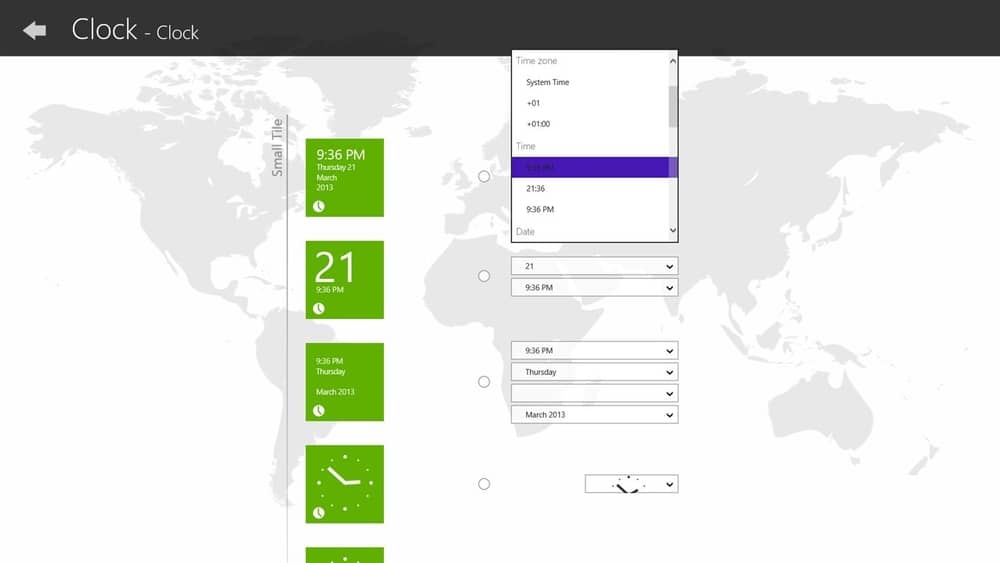 Important Features
If you are concerned about the customization and how your desktop interface will look, then Clock Tile is a great choice for you. 

It displays times and dates in different formats so that you can choose from a wide variety of options. 

You can set alarms or timers, which can help to keep track of the time. 

It comes with a live tile that can be customized, and background color can also be changed. 

Besides, you will get a stopwatch and calendar in this application. 

This software is so lightweight that it takes only a few seconds to be installed. 
Pros: Over 40 customizable time and date formats prove the developer's attention to improving user experience. Besides, bug-free design and smooth tile animations should also be mentioned. 
Cons: You cannot expect to get updates frequently while the customer service is outdated.
8. Sense Clock
---
Time management can often become challenging due to excessive work pressure. Alarm clocks for computers can help you to have full control over time and never forget anything accidentally. Sense Clock is one of a kind when it comes to advanced features and functionality. On top of that, it is free and accessible to anyone. It also offers a widget that can contribute to the enhancement of your desktop beauty.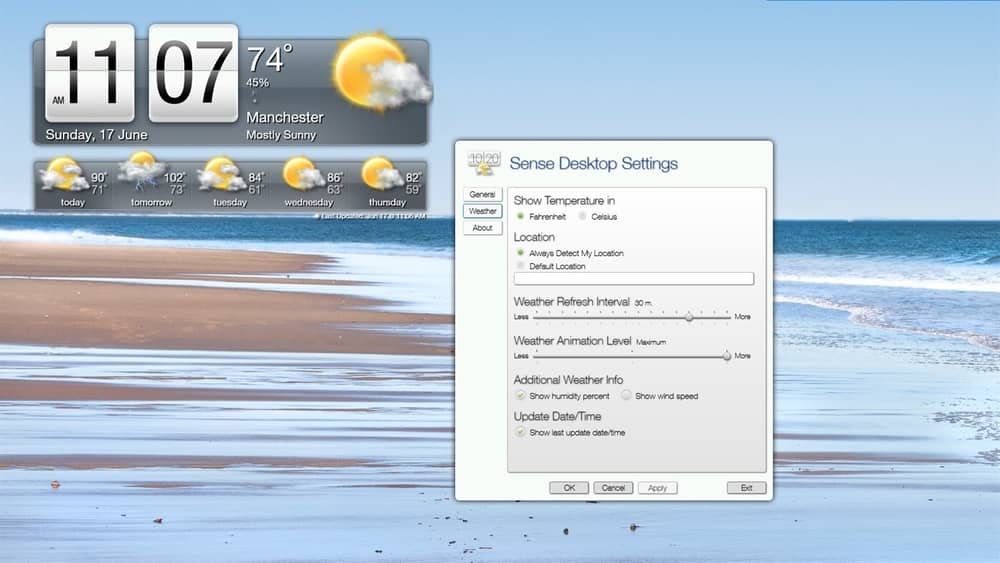 Important Features
Along with Windows, you can use this application on Xbox, mobile, and Holo Sens. 

You can combine both weather and clock on a single tile or keep them separately. 

It is powered by a wide variety of clock flip animations. You will find over 20 sense skin and choose one for you. 

Can sync your time automatically with the current location through the help of Wi-Fi or GPS. 

Users can experience the alarm features with all the basic functionalities like snooze, multiple alarms, setting up alarm tone, and so on. 

It comes with automatic weather updates to get updated info after 15 minutes or 30 minutes. 
Pros: It is the best alarm clock if you consider the interface and the desktop widget. On top of that, its weather feature sets make it more useful. 
Cons: You may become confused after observing the huge number of options initially. So many people may not be interested if they need a simple alarm clock only.
9. TP Clock
---
If you want to perform the highest priority over the visual look, TP Clock will be the best choice for you. It is an outstanding app that features a lot of advanced functionality. You can get the taste of using an analog clock on your desktop and still can enjoy the digital clock features as well.
Besides, for the desktop widget, you can manually set the size, background color, position. It is not a free alarm clock for PC but helps to have full control over overtime management, and you will feel relaxed.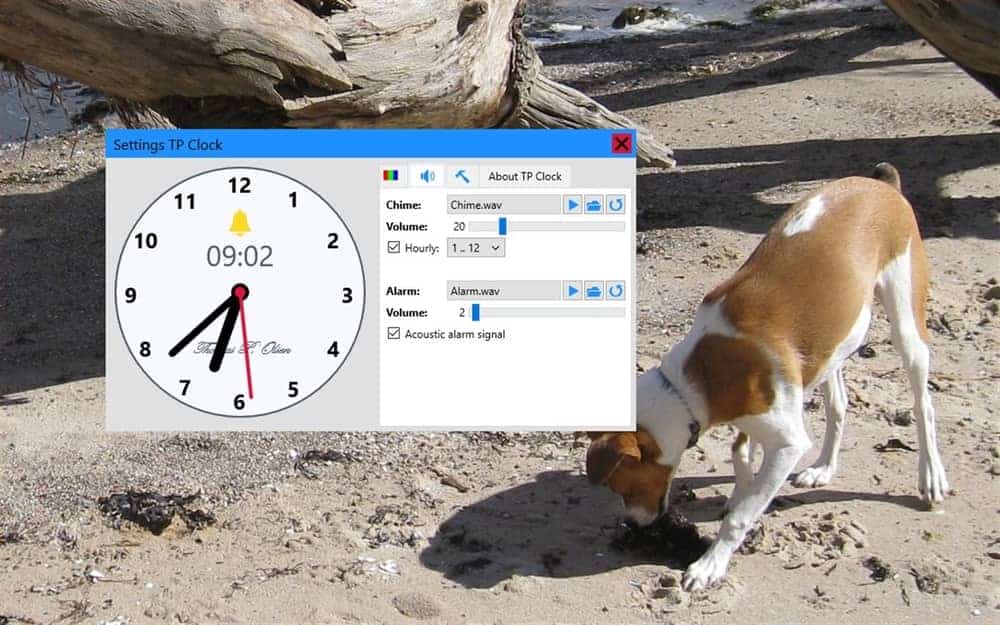 Important Features
It does not come for free, and even for trying the basic functionalities, you will need to spend money. 

You can change the color of clocks and choose one from a wide array of choices. 

Besides, it comes with a great set of controls that can help to customize freely. 

You can hide the icon from the start window or the taskbar. 

It will allow you to set the alarm at a specific time while notification can be set to silent or active. 

The latest update has introduced Hourly chime, memory optimization and fixed all the bugs. 
Pros: All the components of the clock can be customized separately. Besides, the widget size can vary from 70 to 1100 pixels. 
Cons: You will not be able to use this application on an earlier version than Windows 10. Also, there is no free demo for trying before making the payment. 
10. Alarm Clock 4 Dock
---
It can be considered an alternative to the TP Clock, while you can use Alarm Clock 4 Dock free for a day. Although I am mentioning this software at the end of this, you can definitely buy this app. In other words, you will never regret exploring the features. You will get an alarm clock that can also show the time on your taskbar. The user interface is modern, and you can customize it according to your taste.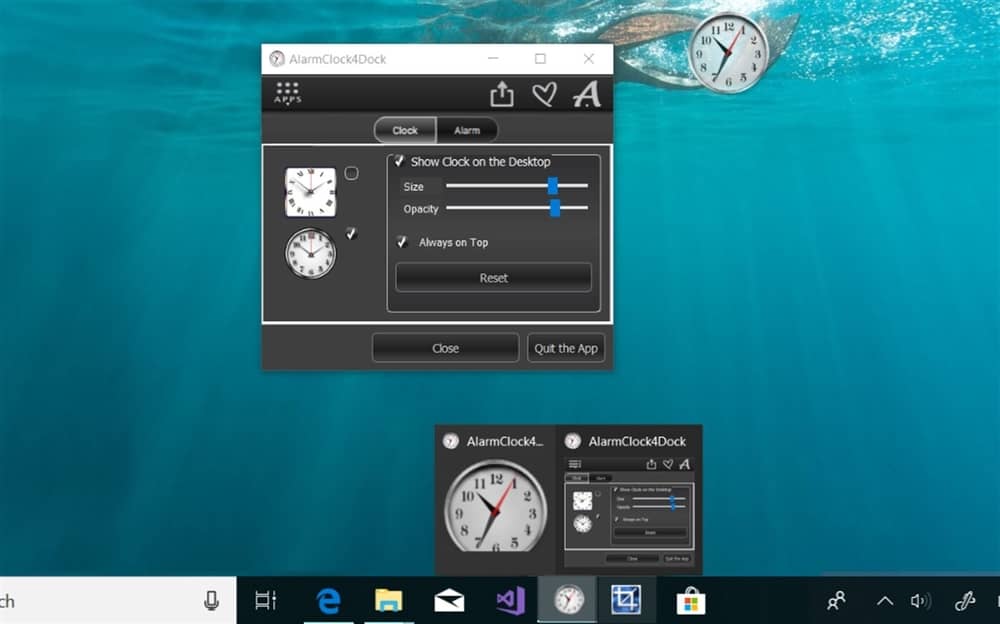 Important Features
It can display the time on your desktop, and you can change the color, transparency, or position manually. 

The installation process is super simple, and it takes only a few seconds. 

You can set multiple alarms and set different alarm tones of your wish. 

It can take you to a nostalgia when there were no digital clocks through the dynamic analog-style round-shaped design. 

It is developed by Neonway and suitable for people of all ages. The application only takes around 50 MB of your storage. 

Allows you to add a clock widget on your desktop, and you can choose one from a wide variety of clock faces. 
Pros: The best part of this application is simplicity. Even if you look at the reviews, you will understand how flexible the program is and why so many people love it.
Cons: It takes relatively more storage space compared to the alternatives. And also, you can use this app on the previous version of Windows.
Our Recommendation
---
You can consider Alarm clocks as an important software for modern day's users. When our life has become so dependent on computers, it is very tough to get away from smart devices. As a result, you will find a lot of software in the market that tries to solve daily life problems. 
Alarm clock applications are one of this kind and useful when it comes to managing your time, keeping track of your activities, and performing conditional actions. We are declaring Cool Timer as the best alarm clock that you can start using right now. It has the unique feature of puzzle-solving for quitting an alarm. Besides, the performance is unquestionable, and you can rely on its stability as well. 
Finally, Insights
---
So here are the best alarm clocks for the PC we have found for you. These apps can deliver the best service and offer exciting features. While some of these applications focus on the core function, others try to bring light to additional features. You can also get weather updates and world time with some of the packages.
We have considered a specific set of parameters and tried to include free applications also. You can find many alternatives, but you can start using any of these mentioned apps without any hesitation. If you notice any other app performing better, do not forget to let us know.