If you think about the interests of people in the primitive age, archery will come to your mind very fast. People of that time had to practice this activity to collect their food. But nowadays, there is no scope for us to practice this interesting activity. Some people again develop an interest in this activity as a hobby, but there is no better resource to practice it. Eventually, you can try it only if you compete. However, if throwing the arrow right to the point seems more interesting to you, PlayStore provides very good news for you. You can now try the best archery games for Android to practice archery.
Best Archery Games for Android to Practice the Throwing Arrows to the Point
---
There are tons of archery games out there, but I am not sure if you will find them interesting. Unfortunately, most of the archery games actually don't have a proper and realistic arrow throwing gameplay. Some again have the same concept all over the game. As a result, it becomes boring, and you won't love to try it for long.
However, we found some games with a nice background story mixed up with the theme of archery in a perfect way. And here, we collected all these games together to help you find one. You can check the details of these games, and I'm sure you will find something interesting to give a try on.
1. Archery Master 3D
---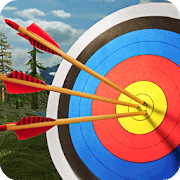 First, I would like to recommend Archery Master 3D. It is a perfect archery game for people of all ages. If you are looking for realistic-looking archery games, this game is definitely the best pick. In addition, it has decent 3D graphics and elegant animation quality that makes playing this game a pleasant experience. Also, this game offers separate male and female characters to choose from. Let's see what more it will offer.
Important Features
This game offers a very simple and easy control that is comfortable for all.

There are several game modes available to enjoy different tastes of archery.

The equipment and tools are apparently designed with well detailing, eventually making the game more realistic.

You can initially enjoy four different in-game locations with satisfying graphics.

This game is also an offline mode, and so you can enjoy it anywhere.

The Normal Mode of the game has a good amount of level to enjoy.
Pros: This game features a 1-vs-1 competition with real players online. In addition, the first-person perspective makes this game more enjoyable.
Cons: The game gets harder after just a few levels.
2. Ninja's Creed: 3D Sniper Shooting Assassin Game
---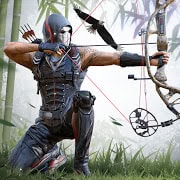 You shouldn't skip Ninja's Creed when you are looking for the best archery games for Android. This popular archery game comes with cool graphics, a great storyline, and sharp animations. Moreover, this is an action game, and you are playing as a ninja assassin in it. This game is a great way to enjoy sniping-feel with bows and arrows. Still not impressed? The following details will definitely get your attention.
Important Features
This game features extraordinary graphics with perfect detailing.

This is initially a first-person-perspective (FPP) game which indeed makes it even more enjoyable.

You can eventually enjoy many real-life features in the game, such as reloading, strategy, target-locking, etc.

The game inventory holds many other medieval weapons besides arrows.

Additionally, this game has much more levels and challenges than other archery games.
Pros: The in-game logic is quite realistic, which eventually makes this game more interesting. Moreover, you are going to enjoy this game offline.
Cons: This game may have laggings on low-configuration Android devices.
3. Shooting Archery
---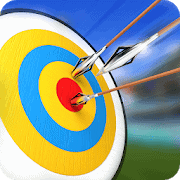 This is a convenient 3D archery game that can be enjoyed by both young and adults. You can enjoy a pleasant feeling of archery challenges through this game. On the other hand, you can let your children play this game worry-freely since it won't have any harmful effects on their minds. Moreover, this game is quite a small-size one, and you can effortlessly install it on any Android device.
Important Features
There is no brutality, blood, or bad language present in the game. So, your kids will enjoy it comfortably.

The game apparently offers a simple touch control which is indeed helpful for everyone.

Also, the game includes a different weather system.

It is a first-person shooting game that makes it more appealing to everyone.

There are several in-game environments for more pleasing gaming experiences.

Moreover, the difficulty is distributed cleverly at every level.
Pros: The 3D graphics quality is quite good in the game. Besides, this is an offline game that you can enjoy anytime.
Cons: The ads may disturb you a lot.
4. Archery bird hunter
---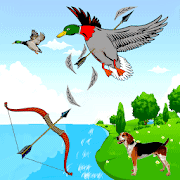 Archery bird hunter is a fun and very popular archery game, and it's even more enjoyable if you love hunting. This 2D archery game for your Android device will give you a good hunting amusement and soon addict you. Additionally, you will enjoy hunting different birds and animals at every level, and the cute and cartoonish graphics will help you remove daily stresses. Moreover, it is a perfect game to make your boring times amusing.
Important Features
This game is quite effortless to control, and anyone can quickly get used to it.

There is no brutality involved in this game which eventually makes this a child-friendly game.

Moreover, this game has quite decent graphics and mood-boosting sound effects.

The game initially features lots of challenging levels, and it's an exciting offline game.

This game is not too difficult for playing and is focused mainly on the fun part.
Pros: This is a convenient-size game and effortlessly runs on any Android device. In addition, you can enjoy hunting in various environments.
Cons: The game doesn't involve high-level in-game logic.
5. Tiny Archers
---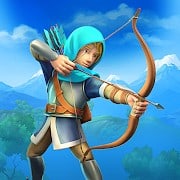 What would be your reaction if you heard that war is coming and you have to save your Kingdom? Well, Tiny Archers will definitely lead you to the land of fantasies where you will fight the Goblins and Monster in every challenge. On the way, you will discover more amazing characters, unlock magic arrows, and tons of surprises. And, of course, a bunch of skeleton armies and multiple enemies will appear in this arrow adventure, and your duty is to protect the tower.
Important Features
You will indeed find fantastic characters like a dwarf, human, elf, and beastmaster.

There will be four surprising stories you will discover in this exciting tower defense game.

The game offers 130 more tower defense levels, and you can challenge yourself in each story.

You will initially have to lay traps to have the advantage against your foes.

Entirely, you have to upgrade your characters and discover magic arrows and skills by collecting resources.
Pros: There will be challenges from the hard mode levels, whereas the new game mode will help you survive longer. Additionally, each unique level will take you to a diverse location like dwarf mines, forests, elf cities, or haunted graveyards.
Cons: You may have a crashing problem after reaching level 5.
6. Archery
---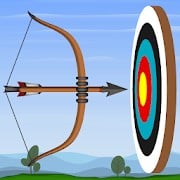 If you simply want to enjoy an arrow shooting score game, then why not try Archery? Archery has initially come with a simple interface, and all you need is to hit the target board with a bow. And the total gameplay depends on how you have hit the bull's eye, and you will make a great high score through this. In the beginning, you may think It's a simple game, but soon you'll understand how hard it is to master.
Important Features
On the board, you will eventually see five rings drawn on it, and each ring carries a 10 points difference.

The inner ring carries around 50 points, and the outer ring holds 10.

You will apparently find the boards are placed randomly. So, after each shot, it will appear automatically.

It is initially quite challenging, and the board will start animating if it finds your score good.

All the objects will move in horizontally and then vertically to make you puzzled.
Pros: The game is so realistic that you will feel every object here is real. Besides, You will get an extra arrow if you succeed in hitting the bull's eye.
Cons: There is no level of this game, and it won't record your performance.
7. Archery Big Match
---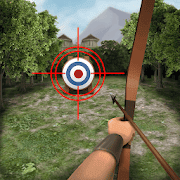 Archery Big Match is definitely a placeholder in the list of the best archery games for Android. This archery game will give you the full medieval archery match flavor. If you enjoy playing challenging games, then you should try this game. In addition, this game is pretty light in size and will fluently run on almost all Android devices. It is light, elegant-looking, and really fun to play with. Let's see what more it has to offer.
Important Features
This game initially comes with a simple touch control which will indeed give you a simple playing experience.

There are several mini archery games included in it.

This game is indeed much more realistic with its wind force and gravity effects.

Additionally, you can have the fun of multi-playing through this game.

The in-game environment of this game is detailed magnificently.

This game eventually features off-line versus mode, making it a bit more challenging.
Pros: This game offers achievement and leaderboards that are much encouraging. Moreover, it supports more than 16 languages.
Cons: You have to start over from the beginning if you uninstall and reinstall this game.
8. The Archers 2: Stickman Games for 2 Players or 1
---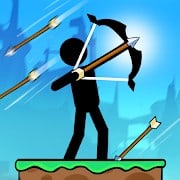 The Archers 2 is a perfect entertaining archery game, especially for stickman lovers. You just have to select your favorite stickman warrior from the list and start an adventurous journey through different landscapes. Furthermore, this 2D casual type game is super easy to play. Kids can easily understand the controls and enjoy playing it, and so you can call it one of the best kids games. This is quite a challenging game as well.
Important Features
This game comes with a decent interface that makes it more appealing.

A super-smooth control also comes with this amusing game.

The in-game physics and effects are quite realistic to mesmerize you.

This game indeed has many levels to enjoy, and you can enjoy it for a long.

You will eventually face various difficult bosses when you go through the in-game journey.

Also, the sound quality is very entertaining and amplifies the game's fun.
Pros: This game is perfect for improving your accuracy skill. On top of that, you can invite friends or family members to play this game with you.
Cons: Some users think that the graphics are not satisfactory here.
9. Archery Go- Archery games & Archery
---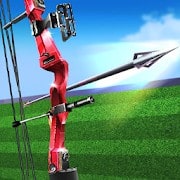 Archery Go is another free and realistic archery game for Android that we cannot help mentioning because of its amusing gameplay. So far, it is one of the perfect archery games ever published on the Google Play Store. This exciting game is initially designed with soothing gameplay, mood-boosting sound, and exciting missions. But, on the other hand, the visual effects are much pleasurable because of their high quality and decent 3D graphics quality.
Important Features
It is a very lifelike game with sensible in-game physics and laws.

This game eventually features adventurous levels that eventually make the game more amusing.

Also, this game will teach you to choose the rightmost bows and arrows for certain scenarios.

You can indeed increase a lot of different archery skills by completing various in-game goals.

The sound quality is relevant and quite realistic.

You can also enjoy this game while offline.
Pros: This game is a first-person-perspective (FPP) game that gives you the feeling of arching with your own hands. Besides, you can enjoy playing with other players online through versus mode.
Cons: Pop-up ads may frustrate you.
10. Gibbets-Bow Master! Bow & Arrow games
---
If you are looking for some exceptional game among archery games for Android, then Gibbets is a recommended one for you. It is a 2D archery game but with a slightly different plot concept. Unlike other games of this category, this game is all about rescuing people with archery skills. The best part is that this game shows and proves your accuracy skill and tests and improves your intelligence. As it is the final recommendation for today, you better check the features of this game carefully.
Important Features
This game initially features amusing graphics making it amusing for all.

This is indeed a great platform for your kids to improve their intelligence.

This game includes tons of interesting and challenging levels.

The best part is the offline gaming mode that lets you enjoy it anytime, anywhere.

The controlling system is eventually simple and easily understandable for all.

Also, the game is compatible with almost all Android devices.
Pros: There are no brutalities so that kids can play this game without any negative effects on them. Moreover, there are several modes to enjoy numerous types of archery.
Our Recommendations
---
First of all, it's important to remind you that we have listed archery games from different genres. So, you can choose the game from your favorite genre. For instance, if you love action games, try Archery Master or Ninja's Creed.
For kid's games, you should indeed go for Archery Bird Hunter or Gibbet. And if you just love to focus on the real archery practice, then try Archery Big Match or Archery Go. By checking the features, you can also select your favorite archery games from the list.
Finally, Insights
---
In the end, I can assure you once again that none of these games will ever let you get bored. On the contrary, all of them are quite addictive and focus on realistic archery gameplay. Indeed, some games will improve your focus and control as well. So, let us know which one you are planning to try. Also, inform us about the game we have missed. Thank you once again for your time.