The Internet is deemed as a plethora of entertainment for all sorts of latest gadgets. However, it is too difficult for users to riffle through the funny elements from the scattered sources. Hence, the apps and games generate funny and hilarious content as per recent demands and trends. They help you abate your boredom and monotonous lifestyle and yet help you to laugh since laughter is great medicine for your body. Some of these funny apps and games for Android contain animations to make the caricature live and vivid, whereas some use real or fabricated images for fun.
Funny Apps for Android
---
Thousands of apps and games are uploaded on Google Play Store daily. Some of them are at the top of the list due to their ratings, and some of them are way ahead due to their number of downloads. I am yet to take the privilege of reviewing the top 20 best funny apps and games for Android devices.
1. 9GAG: Funny gifs, pics, fresh memes & viral videos
---
9GAG is a curated repository of jokes, GIFs, memes, vines, cosplay, parody, lol pics, videos, humorous jokes, and many more. This app, undoubtedly, outweighs most of the contemporary apps online. Although Facebook and other social media let you select a huge number of GIFs but getting the apt GIFs for the right content would often be cumbersome if 9GAG didn't allow us with its sheer opportune collection of those memes. This app comprises genres, such as animals, anime, car, comic & webtoon, NSFW, WTF, etc.
Important Features
With an average internet connection, this app will run faster with a zero-latency without requiring you to scroll.
Like most fun apps for Android, 9GAG lets you share your latest posts on email, WhatsApp, Facebook, Instagram, and IGTV.
If you think of a post that your friends need to draw attention to, then upvote and comment on them.
This app can switch into a dark mode and lets you bookmark your favorite posts to reach them with 1 tap.
Get the country-wise memes, conceal the items before it's divulged to your parents, and save any posts you like.
9GAG PRO & PRO+ offer you an ad-free experience, darker than darker mode for your eyes' comforts, and HD posts download.
2. Dad Jokes – A Collection of Puns & Corny Jokes
---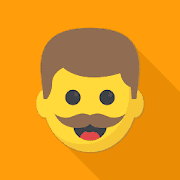 The name suggests that this app is not meant to be made for the delicate snowflakes since the American dads excel in puns so well. This app does contain all the cheesy and corny jokes that might not seem a cliché to today's generations. Its simple interface, along with an ample collection of jokes, will give you a bit of cramp while giggling. You will see half of the sentence, and pressing the screen will reveal the punchline of the whole joke.
Important Features 
The interface is easy to understand. Swiping left will bring a new joke, and swiping right will bring an old joke.
If you fail to guess the punchline of a sentence, you have an option to choose the automated punchline.
Besides keeping your favorite jokes bookmarked, you can also add your own created jokes to share with your friends.
Apart from the default palette mode, you can also opt for 18 different color palettes to see your favorite jokes.
The premium version is the same price as a coffee and offers ad-free, offline use, and many more features.
You can share a chunk of information about a particular joke, such as text or a whole screenshot.
3. Easy xkcd
---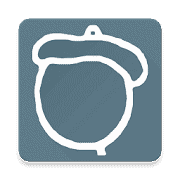 Most of the funny apps for Android con users to use the microtransaction at any cost by luring the users to fall for them. On the contrary, Easy xkcd is one of the fun apps for Android, requiring no money. Just simply download the game and immerse yourself in its humorous and ludicrously funny content. The exciting part is that whatever comic you open using transcript, title, or number will depict the characters and the funny images pertinent to it.
Important Features
Hefty options to choose from, such as Snapchat, 50 ccs, speed and danger, bun, world war 3+, and many more.
There is an option called" What If," which will give you storytelling on a specific matter with knowledgeable illustrations.
Some of the tangible options in the app include Snackbars, floating action button, tinted status bar, animations, and night mode.
You can choose, mark, and bookmark your favorite articles. You can also hide them to read them later at leisure.
If you are in an offline mode, the card option will enlist your comics in an organized way.
The "What If" option will give you the references of some of the prominent researchers' state-of-the-art research papers, which are very educative.
4. Imgur: Find funny GIFs, memes & watch viral videos
---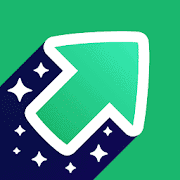 Being an image hosting app, Imgur poises well with Reddit to allow both to take advantage of each other. To avail the image link, Reddit users can easily manipulate the Imgur app. The graphical interface is fascinating to enjoy, and the layout of each GIF on it makes it look tremendously beautiful.
Like Reddit, users can easily feed on its excellent collection of GIFs, funny videos, memes, vines, one-liners, LOL pics, jaw-dropping scientific facts, puns, arts, and comics.
Important Features
Imgur updates you every minute with recent and advanced memes and funny remarks, which have taken social media by storm.
Having gathered the community from Reddit with its own community, this app lets you share anything with this huge community.
The platform of this app is so strong that when you post an image of a corgi butt, it will become viral.
This app entices you with its vast collections of cosplay, movies, comics, art, fail GIFs, board games, Pokémon, and many more.
Imgur lets you know any topics related to cats, including 32 muscles in each ear, its funny and adorable images.
Besides, as a meme app or GIF searcher, Imgur offers you any kind of funny elements and videos, including audio GIFs.
5. TikTok – Make Your Day
---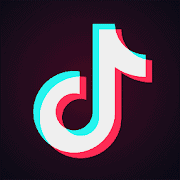 TikTok is one of the most downloading apps on the Google Play Store, surpassed 1 billion in such a short amount of time. Despite being vilified by so many tech-gurus and moderate users, this app surely has vindicated that it cannot be suppressed in terms of its achievement. This app allows the users to record their videos and polish them with editing tools and soundtracks to make them look even more appealing and mostly funny. Most of the funny video memes are bred from this app.
Important Features
Anything ranging from dancing to lip-sync, singing, or acting, TikTok can easily comprehend your taste and organizes the personalized video feed.
Motivate yourself by watching millions of inspiring videos crafted and plotted by various versatile artists to showcase their talents.
Videos of TikTok get energized when a playlist is added to it. Choose playlists from pop, rock, hip-hop, rock, etc.
Use tons of fun face filters, 100+ emoji stickers, and beauty effects to surprise your friends and encourage them to mimic.
Use the built-in camera option to capture your image or videos. Use the built-in editing tools to crop, customize, and trim the videos.
Live streaming filters are regularly updated and designed in the most ergonomic and contrived ways to entertain the users.
6. YouCam Fun – Snap Live Selfie Filters & Share Pics
---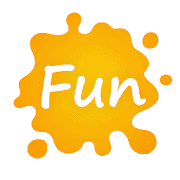 YouCam Fun is one of the best funny apps for Android, especially for those cuties who would like to customize their photos to shine even more. This app inevitably transforms your phone-camera into a gigantic photo-booth with more ravishing features and filters.
There are lots of face filters to bring out the best pose in you with more glitters and charms. Live photo filters merged with animated selfie stickers will enhance the flamboyance of your attire. You can also decorate your pre-existing photos from the gallery.
Important Features
Using an AR filter option, you can easily disguise yourself as a princess possessing a flower crown or comic characters like Cinderella.
Add stickers to your live videos to share with your friends. Use text in a video for cracking jokes.
To enhance and beautify your stylish photos, select from the array of features, such as Frames, Backgrounds, Light Leak, Scratch, and Grunge, etc.
Get the most authentic and perfect selfies with an enhanced beautification of your face using the YouCam Fun app.
As long as you won devices with Android 5.0 compatibility with 1GB RAM, you will be able to enjoy a video recording option.
You can change your attire to facial transformation using an ample repository of hairstyles, animals' faces, costumes, etc.
7. MomentCam Cartoons & Stickers
---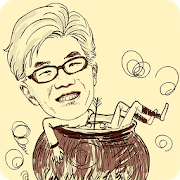 There are many online fun apps for Android available to make your avatar share them in various social media, but accessing and utilizing them spontaneously is cumbersome. Hence, MomentCam will rescue you from this problem and give you emancipation to express your emotions and feelings by making your avatar on these apps.
You can create personalized gifts on the Android device and share those cartoons and emoticons with your friends. To access broader features, you can purchase them online, but normally it's free.
Important Features
Select the perfect photos of yours, choose between comics and emoticons, select from tons of backgrounds, and customize it for an avatar.
Having purchased from the pro version, you can then use those upgraded features to your personalized backgrounds.
You can share your cartoons and emoticons with the MomentCam community by participating in various activities to get rewards and prizes.
Create your favorite avatar based on your outlook using tons of features like hair, glasses, hats, beard, mustache, and eyebrows.
Choose the emoticons from the Most Popular moods, such as Sick, 4+ avatars, Baby, Love, Birthday, Angry, Football, and many more.
8. Doublicat: Face Swap app
---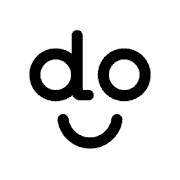 Deep fake technology has drawn attention amid all the photophilic users. There are quite a few funny apps for Android dominating smartphones, which are also used as photo editing apps. Doublicat serves the purpose of both fun and photo editing apps of yours. It works by allowing you to superimpose your image on tons of available GIFs and memes found in this app. It only takes a couple of seconds to reface your photo, yet prove to the world that you are no short of a celebrity.
Important Features
Even the free version can generate the refacing of your photos to any given GIFs within a short time.
If you wish to look-alike celebrities or your favorite personalities, then take selfies, pick GIFs and reface on them.
Discover yourself in the funniest personalized-GIFs or memes easily by putting your cropped face on it using face filters.
Whether it's Justin Bieber, Shakira, or any favorite stars from movies, synchronize your face with them and watch your videos.
To dominate the Doublicat community, you can create and share personalized funny videos or memes on different social media.
9. Voice changer with effects
---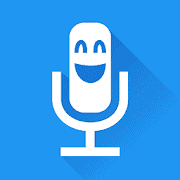 You may be familiar with the text-to-speech apps and translator apps for Android, but they have nothing to do with the humor content. On the contrary, Voice charger is one of the funny apps for Android that will give you a cramp on your belly, and you will fall off the chair laughing. You will record your voice straightway or use the pre-uploaded voice, and then you will use the available effects to make it sound hysterical to give you a bump.
Important Features
Record your voice using a wide range of modes, such as monster, ghost, alien, robot, child, small creature, and many more.
Watch video ads or pay for the ad-free option to unlock 5 new effects to add more variation to your voice.
Suppose you have hoarseness or caught cold. Simply type the text, and it will automatically read it to generate a voice.
Click "Low latency mode" to cut down the size of the big audio files while maintaining a faster speed.
Use the Piano mode to see the grand piano to use the same effect to modify your voice.
Make an image with sound and share it across social media, including Facebook. You can also set it as a ringtone.
10. BuzzFeed: News, Tasty, Quizzes
---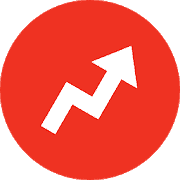 Buzzfeed is not only about humorous content, but also it does contain a lot of important updates on every genre people search for the news desperately. From political jokes to YouTube videos, viral pics of movies, glamorous photos of the celebrities, and the revelation of their secret private lives, everything is found under this app.
Most of the praiseworthy and funniest content is available on this app. They seem to catapult this app into a dignified position for the competition among fun apps for Android.
Important Features
It contains a wide range of options ranging from News to shopping, quizzes, fun videos, lame jokes, and trending articles.
"Explore" gives you a vertical line of options, such as animals, community, buzz, entertainment, music, tech: style, and many more.
Shopping options will take you to your individual country's branded online stores from which you can purchase your items securely.
Share the whole news or chunk of news, such as images and videos in emails, Facebook, messages, Pinterest, and Twitter.
Bookmark your preferred posts and sync them with other similar devices to stay updated all the time.
Trending news will provide all the latest news of a day, including viral news. You can like and comment there.
11. Toilet Time – Boredom killer games to play
---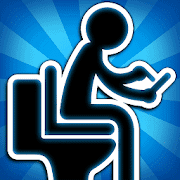 Also known as Call of Doodie, it is one of the few fun games for Android that shunts away from the conventional funny games existing in the modern mobile world. If you are a corporate office worker waiting in the queue to go to a shared toilet, then this game is for you.
From choosing the vacant toilet seat to rolling down a toilet tissue, encountering various bugs' attacks, and adjusting shower handles are many of the tasks, you will have to perform in this game.
Important Features
This thematic toilet game teaches you how to adjust the bathroom's shower system so that you don't burn yourself.
Learn how to use soap to wash your hands properly since the germs tend to scatter all-around your hands.
Toilet commodes can be occupied inside the toilet. You need to select the vacant commode for your toilet urgency.
While sitting on the commode, you can see the cockroaches coming out of the drainpipe—just squash to kill it.
You need to look at the sign of the toilet to allow the entry of the employees based on gender.
Play more to unlock more features, purchase various toiletries along with the ad-free option, and check the leaderboard score to see your progress.
12. The Battle Cats
---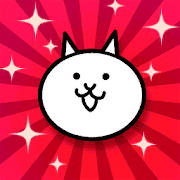 Cats are always funny as long as they look like Garfield, but they are too sluggish to move. Don't fret because there are many potential cat-armies out there, and the developers have developed various funny games for Android-based cats. The Battle Cats is one such example in which you can make a troop of armies of cats and dispatch them to a battleground. This game will manufacture cats with its automated money recharge system, and the sublime animation will increase the fun twice.
Important Features
The money is recharged all the time when needed to produce an adequate number of cats instead of relying upon micro-transaction.
Cat Cannon is the most powerful armor you can use against the vast number of enemies drawing your defense line.
The more you unlock new levels, the more you earn XP, and the fiercer your cats transform into.
Three Story Modes adventures and Legend challenges consist of lots of exciting stages involving raving fiery cats.
Hunt the entrancing treasures while combating the enemies, and the background score will keep you amused throughout the game.
13. Daddy Long Legs
---
There are many apps for Android that depict dangerous bugs as the funniest and adorable creatures. Daddy Long Legs is that kind of game that hilariously shows a journey of Daddy Long Legs with its 5 times bigger legs than the body to walk on stilts. You need to make sure that this creature doesn't fall while walking with maneuver without stumbling. It may seem this game is as tedious and easy as a lot of fun apps for Android, but you are wrong.
Important Features
It has a gorgeous interface with very subtle graphics, and the sound of each movement is very lively.
You can easily claim a daily reward, which increases as the day progresses up to 10000 gold points in day 5.
Claim your daily packs either by availing them for free or using the microtransaction. The ad-free option is included in micro-transaction.
Check the achievement section to see how many items you have unlocked and how many of them are to be unlocked.
Costumes of the Daddy Long Legs include glasses, dunce hat, beard, egg head, propeller hat, stilts, shaving foam, and many more.
Change the shape of the Daddy Long Legs to either Daddy or horse.
14. Crossy Road
---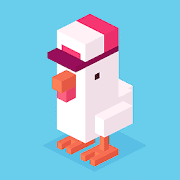 There are very few funny apps for Android that are as ridiculous as Crossy Road. The app involves chicken to any domestic or carnivore animals, including human beings, to cross the road. The game begins off with the fictional characters crossing the street while avoiding the collision with the vehicles or overcoming any obstructions. You also have to cross the highways, railroads, and rivers to get rid of the mighty eagle, which will scavenge it one way or the other.
Important Features
The movement of the characters will always rely on the hop over the bridge, water, clog, or highway.
You can claim the gifts or prizes by playing well, and with those rewards, you can speed up your progress.
Parental control mode found in the settings will prevent the advent of any obscene or explicit advert.
You can use 13 languages of the game. Therefore, no hassle in understanding the strategy of the game.
The graphics of the game is undoubtedly dazzling. You can enjoy your game by screen-mirroring with Android TV.
By playing hard, you can unlock over 150 retro-typed and pop art-inspired characters.
15. Robbery Bob
---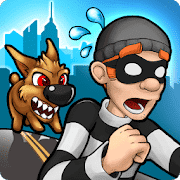 The hapless Bob is compelled to intrude into the house of others and nick everything he can. Out of all the funny apps for Android, Robbery Bob is full of new intrigues, and he will have to steal things by taking a huge precaution. No matter how much he tries to get out of the criminal lifestyle, he always ends up owing to the boss of the mafia. It's a 2D game with superb and ravishing graphics. Every act of Bob will make you laugh.
Important Features
To deceive the guards, bulldogs, or residents, you need to adapt to a ninja technique of camouflaging in a hidden place.
Bob will steal every major to tiny things from luxurious clothes to expensive pieces of electric devices, jewelry, or TV remote.
You will see the text of the dialogues given by each of the unique characters with a funny and absurd script.
Like other funny apps for Android, sign-in to Google Play Store to compete against your friends and update your score.
You can purchase from the store to upgrade your ability, skill, utilities, and outfits.
16. Zombie Catchers Hunt & Kill the Dead
---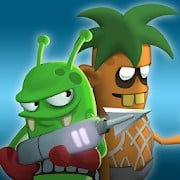 Zombie Catchers proved to be one of the best funny games for Android not because of its breath-taking animations with a distinctive background sound but for its unprecedented funny plot. The plot is about the planet earth, which gets infested by immortal zombies. Two businessmen named A.J and Bud wanted to take them down by ascertaining them using different weapons and levitating to catch them from the height. They are then used to make juice to serve the customers to make a profit out of it.
Important Features
Use various types of robust weapons, such as harpoon guns, traps, nets, jetpacks, to bait and hunt down the wretched zombies.
Make a variety of foods, candies, juices, and cuisines to serve and quench the hunger of the hungry customers.
Create a big dynasty of food businesses in your world by serving even more edible recipes and redeeming the production lines.
You can use the drones to find out the hibernated zombies to make more delicious juice at a higher level.
Prey as many zombies as you can to attain plutonium and exclusive costumes by continuing your search through adverse stages.
Having no internet connection will no longer spite you as you can play this game offline.
17. Skullduggery!
---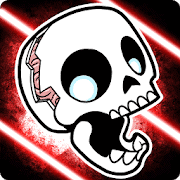 Skullduggery is a very technical and spooky game, in my sense, as its story unfolds with a Semi-Organic Autonomous Skull who has been assigned to collect the taxes from the "Deadbeats" of the Afterlife. Deadbeats, who took the money without paying the tax, will be held accountable to the collector from the Infernal Revenue Service (IRS). If the anarchy begins between the deadbeats and the skulls, the skulls avenge it by stretching its brain and throw itself to any hostile encounters.
Important Features
Using a Gravitational Truancy, the semi-skull can jump from any surface by re-aiming even when the skull is amid the battle.
Brain Power allows you to fling the brain over enemies to the citadel by stretching it at a good maneuver.
On the verge of death, touch and hold in mid-air to throttle back time to prevent a deadly attack.
You need to play using single-player mode backed up by 32 surreal and raving spooky levels.
By advancing the hardest levels, you can unlock over 20 distinctive skulls, including the guest celebrity skulls from various famous games.
Bureaucracy is the fundamental motive of this game, and the skulls take advantage of it to extort the tax from deadbeats.
18. Goat Simulator GoatZ
---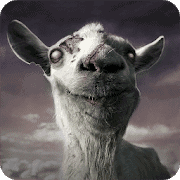 You may have come across some of the dumbest and funny apps for Android. Still, Goat Simulator Goats, developed by the company called Coffee Stain Studios, who previously released "Goat Simulator," is the vaguest and ambiguous game you have ever played. The goat and the zombies are combating each other in the same game, and that too, the goat is shooting the zombies to flee away from the hordes of zombies. Unfortunately, this game is no longer free, and you have to purchase it.
Important Features
Fully-fledged survival mode teaches you how to sustain longer among the hordes of zombies by eating after every 5 minutes.
Fortify against any imminent attacks by shooting to running, hiding, kicking, biting, etc.
The big map is quite sufficient to navigate you while keeping yourself absorbed into fleeing.
Swap from survival mode to Casual mode in which you won't have to feed the goat every 5 minutes.
Unlock tons of powerful goats with special abilities, such as hang glide skill, tearing down attitude, shrinking people's head, etc.
19. Pictoword: Fun Word Games & Offline Brain Game
---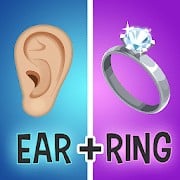 If you have played Emoji Quiz (Combine & Guess the Emoji), which is one of the best trivia games for Android, then you will like Pictoword. The concept is more or less the same: having two images presented together along with the given words below them. You then have to choose the alphabet carefully to come up with the right words that define those two images together. For example, one image of Sand with another image of the Witch will make Sandwich.
Important Features
You don't need to play this game using WiFi, as this game barely needs the WiFi to save your progress.
Increase the level of your vocabulary by learning the spelling of those words denoting a series of images.
Best way to test your understanding of the famous and prominent brands, logo, cartoon, celebrity or pop culture, etc.
Increase your cognitive abilities, intuition skills, reasoning problem solving, etc., by practicing this game as much as you can.
You won't be confined to any timeframe. Therefore, take your time, sharpen your brain, and go with the flow to nail it.
20. My Talking Tom
---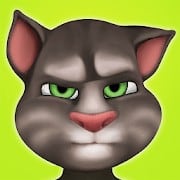 If there is one of the funny apps for Android that still exists for a very long time, then it is a My Talking Tom game. Having developed by Outfit 7, Talking Tom is set to feature an adorable yet funny cat who likes to be petted by you. He demands to be fed properly, slept adequately, and made to use the loo to give it relief. Tom also likes to imitate how you talk and repeats it when you call it by its given name.
Important Features
My Talking Tom has always borne accolades for having such stunning graphics and subtle imitation of the character.
You can see an exotic collection of photos curated from the tour that Tom had gone to recently.
Customize your adorable Tom to look even more handsome using outfits, such as pilot, astronaut, superhero, police, and many more.
Based on your progress, opt for a virtual currency according to your specific country or switch to real money.
The more you play, the more you can unlock new clothes and furniture items for Tom.
Final Verdict
---
Funny apps and games necessarily don't have to have logical and conventional humor-content in them. Instead, they can be of any type as long as they can make people habituated to laughter.
Some of the funny games tend to have strong storylines, whereas some of them lack the depth of the plot but possess an awful lot of funny activities of the characters. My favorite funny apps are 9GAG, Easy xkcd, MomentCam, Voice Changer, and funny games are Toilet Time, Robbery Bob, Zombie Catchers, and Pictoword.
I have just collected these funny apps for Android-based on the preferences of the users. If you think that there are even funnier apps and games out there, then do let us know their names and features in the comment below.