Brain games are no longer a unique concept for improving your brain. It has become a requirement for the present time. With time, our brain cells gradually lose their capability. So if you want to keep your brain sharp and husky, the brain development games will benefit you a lot in this regard. You can use these brain games on an Android device as a training aid for effective mental stimulation and cognitive function for both kids and adults. Brain games will improve your memory, develop your logical skills, and improve your reflex.
Best Brain Games for Android
---
Here I have accumulated the top 20 best brain games for Android devices that will sharpen your mind and potentially prevent various cognitive mental diseases like Alzheimer's. There are many free brain or mind games for Android available in the marketplace, again for some, you have to pay a little. But If you want to know which one would be the best one for you, you have to read this article. Here I will tell you remarkable tidbits and essential features of individual brain games.
1. Skillz
---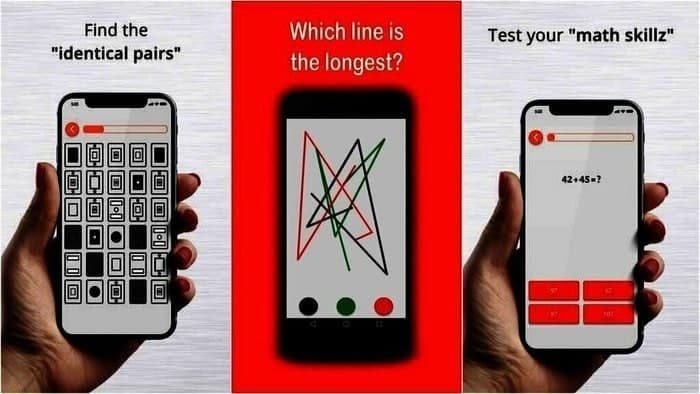 Skillz is one of the best brain games for Android. This brain game is entirely free of cost, which can test and enhance your memory skills by providing you suitable brain exercises. Small games included here will improve your memory. It will boost your brain speed, flexibility, and also attention. With a fit test, you can start with the games, automatically calibrate your present skill, speed, mind, and attention state. The most exciting thing is that you will not get bored; instead, it will improve gradually with lots of fun.
Important Features:
Improve your cognitive skills with scientific procedures.
It encourages you to train yourself daily with a fresh challenge.
Attend daily, weekly, and monthly training programs.
It's flexible; moreover, you can train yourself and track down the performance.
Compare your performance with other players online.
Sharpen your skills and train your brain with challenging tasks.
Get the opportunity to train your reflexes.
Increase your accuracy and speed; at the same time, improve your memory and touch ability.
2. Lumosity
---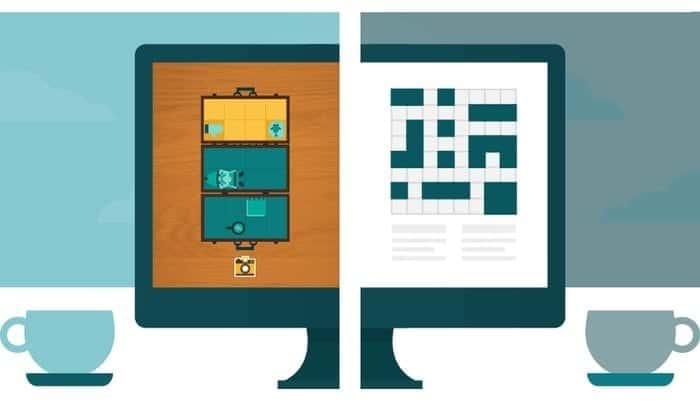 Lumosity is one of the top-listed free brain games for Android. While using Lumosity, you can customize it and train your brain with various interactive puzzle games. The luminosity will help you with developing problem-solving skills by challenging your mental muscles across numerous segments. You will be able to comprehend a remarkable focus by growing the habit of training your brain only ten minutes a day.
Important Features:
Get various tips to improve your accuracy, speed, and strategy.
You can define your gameplay to level up your exercise.
You can exercise mindfulness drills to attain rational evidence.
Basing on your practice modes and choices, get a complete set of innovative games.
Improve your computation skills and defy your estimation efficiency.
Improve your reading skills and also expand your vocabulary.
Enjoy the games you prefer most to relax and refresh your mind.
There are games that you can play within a short time, so it's not time-consuming.
The training plan designed by this brain game is suitable for both kids and adults.
3. Peak
---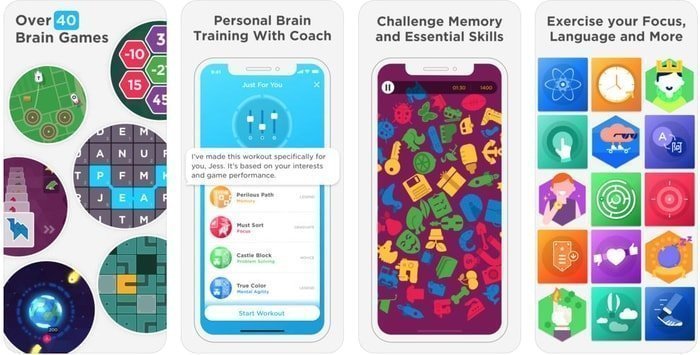 The peak is one of the best free brain games for Android that provide more than 45 fun games. This brain game will help you to improve your problem-solving skills and sharpening your memory. It is scientific and designed for all ages; you can track down your progress here. This app challenges your attention to your mental agility, coordination creativity, including emotion control. By the feature 'trainer', it reminds you at the right time for practice.
Important Features:
You can compete with your online friends and see the result.
Enjoy more than 30 mini-games that will suffice your requirements.
Get several brain-storming games for both children and adults.
You can personalize your workout plan and set a reminder for the selected days so that you can play at any time.
Enjoy all the games at any time with a small monthly subscription fee.
It works offline, which means you can play from anywhere without an internet connection.
You can learn about your brain, especially in which category it excels.
It provides brain training exercises with Peak Pro.
4. Cognifit
---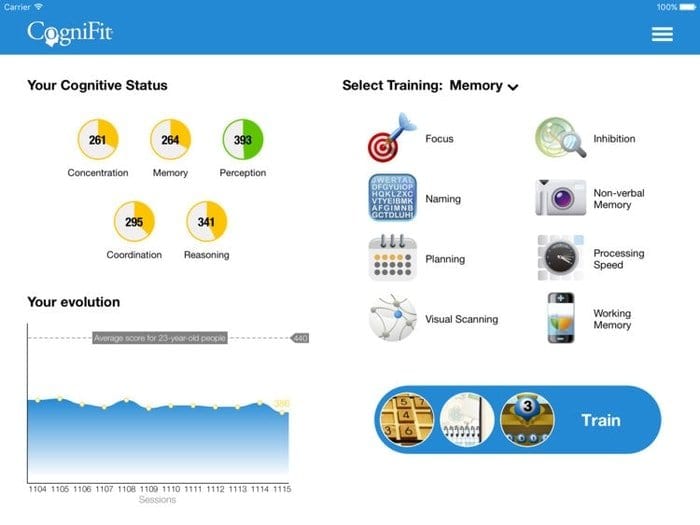 If you want to improve your memory, concentration, attention,  Planning capability, mental agility, and reasoning, Cognifit is the right app for you. Cognifit is one of the comprehensive and memory development games that help identify your cognitive skill level and identify the risk of suffering from mental illness.
Important Features:
Improve your memory, at the same time, identify your present state by using this app.

Learn about your cognitive abilities and improve through easy and fun exercises.

Pattern the workouts and compare your cognitive skills with others online.

Identify the risk of mental illness and cognitive impairments.

This app is straightforward to use and positively user-friendly.

Cognijit is a brain game for kids and suitable for adults, and at the same time for older persons.

Use this app for the people who are already under mental treatment and rehabilitation process.
5. Elevate
---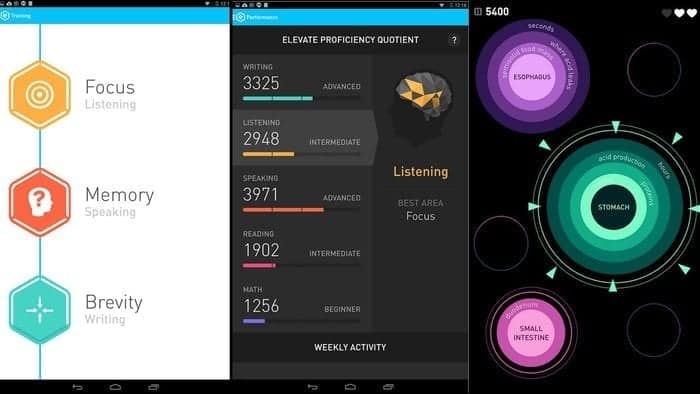 Elevate is one of the best brain game apps for Android in the digital marketplace. This app is designed to boost your speaking skills, math skills, memory, attention, and speed. It develops with 40 mini-games, which will help you to strengthen cognitive skills. The Elevate provides daily brain exercises with three to five games, especially with the pro version. The most exciting thing is that each game will describe its goal. You will get a monthly, weekly, and daily performance report. Thus you will feel competitive. You can assimilate your performance with other users among your age group.
Important Features:
Improve your writing, speaking, and reading skills and your IQ level by daily workouts.
Analyze your detailed performance and get feedback.
Get the training program so that you can follow it systematically.
Get 40 different games collaborated with specialists.
Get your activity results and struck down your improvements regularly.
Elevate is one of the best brain games for Android, where you can compare your scores with others.
Get more than 35 games to achieve specific cognitive skills.
You can personalize your daily workouts, converging on your requirements.
Find your workout calendar to track your stripes so that you can stay motivated.
6. Memorado
---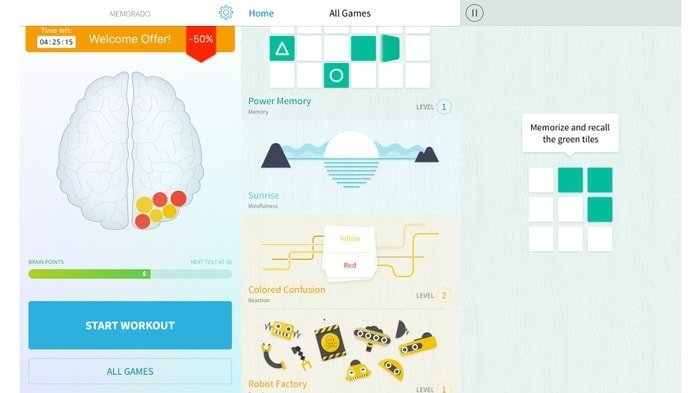 Memorado is one of the scientifically researched games that will help you improve cognitive activities and boost your IQ. The experts developed this brain game, which provides you with an attractive and unique fun interface. This most excellent mind game will build your brain functionality with a designated and controlled design.
Important Features:   
Increase your IQ and memory with this scientifically developed app.
It combines your mind and brain altogether with the development program.
Practice its specific 24 brain games with more than seven hundred levels.
Exercise your math, logic, memory, and concentration skills in the development process.
Enjoy the games and, at the same time, lower your stress by that.
You can select and focus on your interested fields of development here.
Get personalized and focused routine workouts as per your requirement.
You can assess your performance and do the needful.
7. BrainHQ
---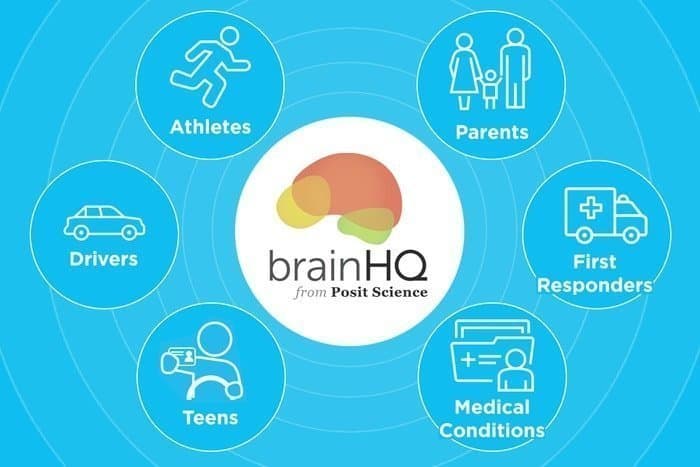 BrainHQ is the result of thirty years of research on the brain development program.  This app has twenty-nine brain games with different levels of challenge. The more you progress, the more is the difficulty. You will get various exercises to increase your memory,  speed, accuracy, attention, navigation skill, and whatnot. You can personalize the program as per Your desired field of interest.
Important Features:
It's a brain-related treatment program, as well as a brain development curriculum.
Face the new challenging exercises day by day with increasingly difficult levels.
Preserve your score and compare it with the previous one.
Enjoy the scientific workouts, and develop your brain in a fun way.
Spend only five minutes a day and see the changes in you.
Get a reminder for your scheduled workouts.
Boot up your cognitive training and maximize your skill by regular and repeated practice.
Learn to act faster, build self-confidence, and remove depression from your life.
8. NeuroNation
---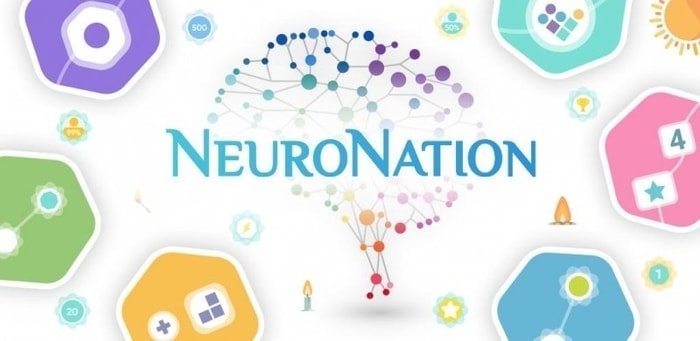 If you are suffering from a weaker memory, then this app will act as a close friend to improve your brain. It will take only 15 minutes from your daytime for the brain development exercise. Your memory will get healthy, and your problems will disappear. This renowned app has a health prize on its name for digital prevention from the German Federal Ministry of Health. If you use this app regularly, your memory will improve, your stress will reduce, and your depression will vanish. Moreover, your thinking speed will increase, and your concentration will develop. This app will provide you with a comprehensive analysis of your potentials and make a  training plan according to your needs.
Important Features: 
Get a different kind of 27 exercises with  250 levels.
Get balance training with positive motivation.
A successful study reveals the effectiveness of this app conducted by the Department of General Psychology at Freie Universität Berlin.
Monitor your progress closely and compare it with the group.
You can personalize your training and focus on your exciting segments.
It is one of the best brain games for Android, where you will get a new set of exercises and workouts regularly.
Enjoy comprehensive customer care from the authority.
9. Tricky Test 2
---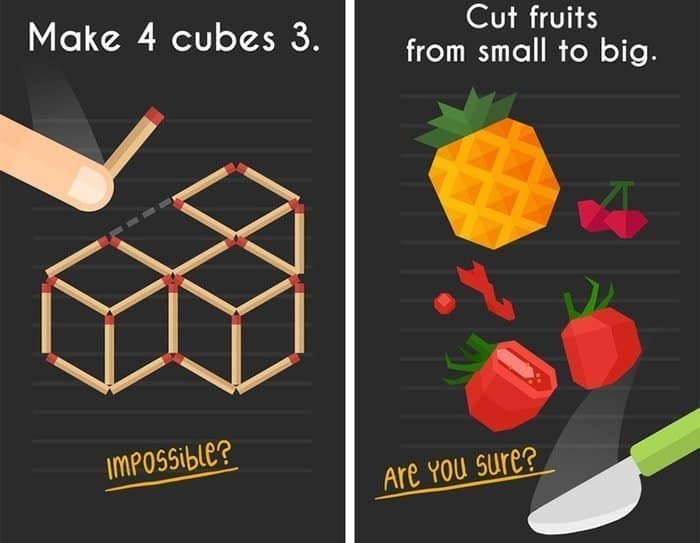 Tricky Test 2  is an IQ-based brain game that doesn't merely test your IQ. Instead, it offers a few tricky quizzes to check you to see if you are a genius. This app has introduced a few puzzle games which have a series of tricky brain teasers. This app compels your brain to think more and focus on delicate matters; thus, it sharpens your intellect. If you use it regularly, your IQ level will increase, your focus and critical reasoning ability will boost. It will also push your creative thinking to a new limit.
Important Features:
Get the unique and tricky brain teaser puzzles to boost up your brain.
You will be provided with 111 trivia quizzes and asked to solve those within the challenging duration.
Get the quizzes to test your memory, math ability, and logic.
You can also select the questions to test the IQ of your friends.
Take part in the exercises provided with the app and strengthen your brain with fun.
You will be able to think out of the box.
10. Brain Wars
---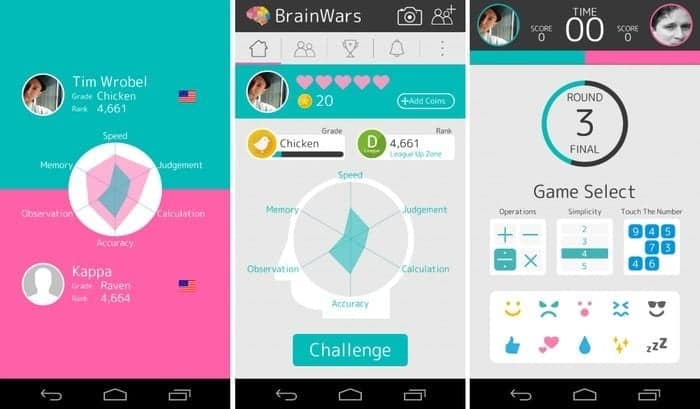 The Brain Wars is one of the challenging and best brain game apps for Android in the present marketplace. This app generates a competitive mode within yourself by putting you against a hard competitor. You will get a few mini-games in the preset training schedule to train yourself to increase your level. This app will initially guide and offer you to challenge someone to find out your present level. Practice more and more as there is no limit. This app will develop your observation skills, focus, concentration, mathematics, and numerical skills.
Important Features
Test your judgment, calculation, accuracy, memory, and speed skills through numerous mini-games.
Get a brain map; you will find your performance record on it.
Enjoy the competition with the randomly selected anonymous guy.
You can send emojis to your opponent and also can send a friend request.
The app is easy to use and smooth to run.
Defeat your opponents and earn a worldwide ranking.
You can challenge your opponents with real-time competitions.
You can invite your friends to challenge you through social media.
11. River Crossing IQ Logic Puzzles & Fun Brain Games
---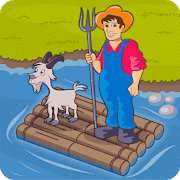 River Crossing IQ Logic Puzzles is one of the most popular brain games you may hear about. I'm not talking about the Android game, but the logical question you may hear from a pear or someone else in your childhood. Based on that popular logical IQ games, a gaming company has launched a brain game that has gained fame and popularity in no time. It is the game here. I hope you will enjoy it with a sharp nostalgic feeling.
Important Features
Tricky and challenging games that you must love.

It helps you to increase your IQ and intelligence.

It is about to cross the river with your IQ by not losing any of your companions.

Aside from the river crossing puzzles, there are also many other intelligence judging games.

Easy at the beginning but hard to be the master.
12. Memory Games: Brain Training
---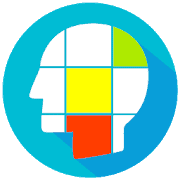 Another brain game for your Android device is here waiting for you to get introduced. It is Memory Games. The best part of this game is the use of your Memory power to solve the puzzle. It is quite like training your memory or brain by judging its power. The more you make your brain activity, the more it will be powerful. And this is the reason for the vast popularity of this game, as it creates more opportunities to make your brain active.
Important Features
Easy to perceive tactics and strategies that will help you to enjoy judge your intelligence.

2 to 5 minutes of training time for your brain every day.

It's an offline game. So, you can play it whenever you want to.

It is also very easy to improve your memory power by playing these logic games.

As a beginner-friendly game, it will help you enjoy the game from the moment you start playing this game.
13. Math Puzzle
---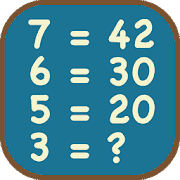 Math is always something related to your brain. All the people don't love to do maths, but those who have found the interest can never deny the true fun of solving maths. If you are one of those crazy mathematicians, then I will suggest you try Math Puzzle. Puzzles of easy, medium, and hard modes are available here for you to solve with mathematical tactics. So, it can be great fun for you to enjoy this brain game.
Important Features
This game is essential to improve your mathematical intelligence.

Kids-friendly option for the easy math that you can suggest to your kids.

You have to use out-of-the-box techniques to solve the problems.

Good to improve your memory, IQ, and quick decision-making approach.

Over 70 challenging stages are available.

Multiplayer games and so, you can play with your friends to make it more interesting.
14. Smarter: Brain Training & Mind Games
---
This time, it is not something provocative and anti relaxing game. Let's play Smarter, a relaxing brain game for your Android device. The unique part of this game is that you can play it with a peaceful mind though your brain will still work. Here, there is nothing that can make you worried, and so, you can play with no pressure.
Important Features
It is essential to improve the power of your accuracy and approximation.

It provides the easiest way to improve your memory power.

It helps you to be a master of mathematics.

Improve your multitasking capability.

You will learn to keep attention in every single detail that will improve your focusing power.
15. Left vs. Right: Brain Games for Brain Training
---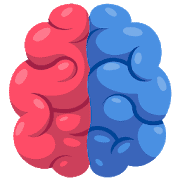 You can exercise for bodily development in the gym. But what about your brain? Won't you think that you should exercise to keep your brain active and strong? Yes, you should. Some brain games are like exercise for your brain. Left vs. Right is such a brain game you can play on your Android device. This unique game is specifically designed to judge your awareness, brain activity, memory, sensibility, and so on.
Important Features
Help you train your brain activity every day.

Without your concern, you will find yourself more attentive and intelligent.

Easy tactics, but you must have a super IQ level to be a master.

50% of the game is designed to train your brain activity.

Very good to taste your awareness, intelligence, patience, and precision.
16. Easy Game – Brain Test & Tricky Mind Puzzle
---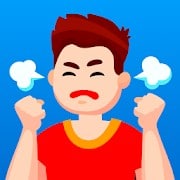 Work out only for your body is not enough today. You have to maintain a workout session of your brain to keep it super active. Well, I am actually talking about a brain game for Android that seems to be the workout for your mind and brain. It is an Easy Game. To be true, it is a kind of relaxing game where all the effort you have to give from your brain. You have to use your thinking power to match multiple trivia challenges. There are Sudoku, puzzles, riddles, word games, and many other funny but challenging brain games available in one game.
Important Features
There are tons of brain teasers to solve.

Challenges should be beaten by real-life logic and quick wit.

Unlimited hints to solve the puzzles.

Play relaxing games, and there will be no pressure to annoy you.

It is helpful to train memory and to test reflexes.
17. Brain Out – Can You Pass it?
---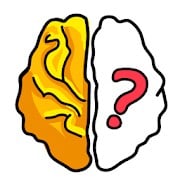 You can also try Brain Out. It is a fun game that must make you laugh and happy, but you have to go through lots of tricks using your thinking capabilities. You can find out your IQ levels and gradually increase them by playing this game. This addictive game is full of tricky puzzles and riddles. You need to activate your logical thinking ability, memory, reflexes, and concentration to pass each level. You will get a big zero if you try to answer the question ordinarily. So, you must enjoy a different gaming experience with it.
Important Features
Tons of trivia quizzes are here to boost your brainpower.

An excellent choice to spend your free time.

It is also good for your kids, as it improves their brainpower and motor memory.

Funny sounds and satisfying graphics with high definition visual effects.

An unexpected way to solve the puzzle is the most effective for this brain game.
18. Brain Test – Tricky Puzzles
---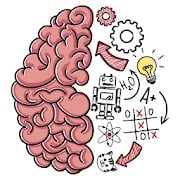 Want to test your brainpower? Then try Brain Test, another popular brain game for your Android device. It is a very addictive and tricky puzzle game that includes a series of playful and humorous brain teasers. The UI is designed in a way that lets you play and enjoy this tricky game with your friends to test their IQ levels. However, in-game mini-sized games like Sudoku, word games, riddles, picture puzzles, etc., are also available here. So, there is no way you can get bored when you have this game.
Important Features
Tons of tricky brain teasers are available.

You can play and enjoy this game even when you are offline.

Every time, you will get an unexpected game answer.

Thousands of impossible but funny quizzes are available too.

Very addictive game but good to improve your motor memory and concentration.
19. Brain It On! – Physics Puzzle
---
The next option for you is Brain It On. Well, you can activate your brain and thinking power by playing this exciting and tricky brain game. There are tons of Physics-based brain games available in this game. You have to draw shapes to match Physics puzzles. You can earn stars and see your progression as there is an achievement list. And thousands of levels are there, which you can unlock for free by completing the previous level.
Important Features
Dozens of Physics oriented puzzle games are available.

You can compete and share your techniques with your friends.

An unlimited undo and redo option is also available.

You can see the achievement list to check out your progression.

This game is good to improve your quick thinking ability.
20. Mind Games
---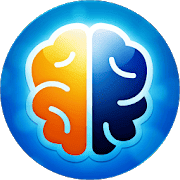 The last one is Mind Game, and it is another exciting brain game for your Android device. The principle of this game is mainly based on the test of cognitive power and to increase its ability. It is very helpful for your brain as it lets you practice different games to test your mental skills. The mindware brain-training mini-games that this game includes are relaxing and very soon make you addicted. This game also supports different languages, so you don't need to worry if you are not comfortable with other languages.
Important Features
It includes over 36 different mindware brain training games.

Over 8 different languages are supported here.

Different attention training games are here to improve your concentration.

Games to improve your motor memory are also available here.

Games to test your visual memory and word memorizing power are there too.
Final Thought
---
The personality of a person gets exposed through his attributes. The human brain is a fundamental key in this regard. So select any one of the above-discussed brain games to develop your traits and strengthen your mind. I hope this feature will assist you in choosing the best one. If you know about an excellent brain game not included here, please feel free to inform us. Your valuable comment is also warmly welcomed.