Just ask people what their favorite game is? At least one-third will go for Cricket, and most probably it is the most popular sport in the world. However, a large number of young boys used to be grown up dreaming of being famous cricketers. But responsibilities and changes of interest turn off the light of their dream. Still, their fascination for cricket never just lost completely. So, whenever they get time, they love playing cricket. If you are getting busier going to the field like in your childhood, you can enjoy playing cricket virtually. For that, you can try the best cricket games for Android.
Best Cricket Games for Android That Never Let you Bore
---
Now, playing cricket is easier as you can enjoy it anywhere anytime. There are tons of realistic cricket games on the PlayStore that follow all the rules of real-time cricket matches. Many of them even arrange world tournaments and different events. And you can enjoy them anytime you love to.
We checked a considerable number of cricket games and ended up listing the following 10 games as the best. If you have time to check their short details, I am sure you will get something perfect to cherish your passion for cricket.
1. World Cricket Championship 2 – WCC2
---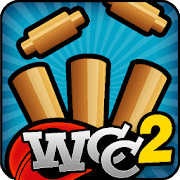 Let's begin the list with World Cricket Championship 2 that most people know as WCC2. This 3D mobile cricket game will let you enjoy the highest number of cricket shots of different categories. But the best part of this game is its viewing system that includes Dil-scoop, the upper-cut shots, the Helicopter shot, etc. Additionally, it provides a very realistic cricket ground and environment. And the sound effect will eventually provide you with a mood-boosting experience.
Important Features
You can either play online or offline. Eventually, you can enjoy this game with multiplayer or 1vs1 mode as well.

This game is developed with over 150 high-definition batting animations alongside 28 different bowling actions.

It lets you enjoy the game in 42 different stadiums around the world.

You can initially play against 10 domestic teams and 18 international teams.

This game also features a 3D Wagon wheel, 3D bar chart, more than 40 different camera angles, and cinematic camera effects.
Pros: In every season, you can participate in the Blitz Tournament and Ashes to Ashes Test Tournament. And once you participate there, you will get a lot of rewards.
Cons: Some users faced glitches in the import moments of the matches.
2. World Cricket Championship Lt
---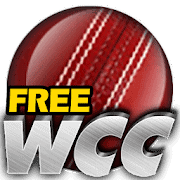 NextWave Multimedia brought one of the most popular and exciting cricket games for your Android device, and it is our second recommendation on the list. We are talking about World Cricket Championship Lt, and the best feature of this game is its realistic gameplay. This electrifying cricket game will let you manage your team and be the captain. You have to wittily train them to participate in the championship matches.
Important Features
The stadium and the surroundings of this game come with every single detail.

You can indeed check your scores on the leaderboard and compare them with others.

This exciting multiplayer game apparently lets you play with your parents and challenge them as well.

In every season, you will initially get the opportunity to enjoy the events and participate.

To get the highest place on the scoreboard, you have to win the tournaments in events.
Pros: You can enjoy versatile cricket tournaments in this game. Eventually, you can participate in the World Cricket Championship, World Premier League, and Super Fantasy Cricket League.
Cons: Some players have complained about the controlling system of this game.
3. T20 Cricket Champions 3D
---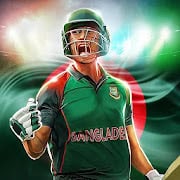 You can now enjoy a full-featured cricket-playing experience with T20 Cricket Champions 3D. This awesome cricket game features high-definition full 3D graphics and mind-boosting sound effects. And these features eventually make it exciting and worthy whether you win or lose. In addition, it includes accurate and relatable in-game physics as the topping of the cake. Keep reading to learn in-depth about this game.
Important Features
This amusing cricket game initially comes with relatively easier control for both batting & bowling.

Apparently, all animations are well detailed, which eventually provides you a realistic experience of playing.

You will be able to participate and set your own match in live events modes and enjoy a life-like cricket tour.

This fun-full game includes lots of customizable bowling strategies. You can indeed set the speed, direction, spin, and more.

You can also power up your cricket equipment to improve your playing ability as you progress in the game.
Pros: This game features a quick match mode which is helpful when you have less time to play a complete cricket match. Plus, this game remains lag-free even if you are playing on a low-configure device.
Cons: It may force you to watch ads very often.
4. Real Cricket 20
---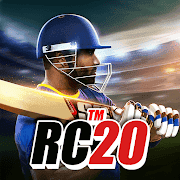 The next recommendation is Real Cricket 20, a perfect one among the best cricket games for Android. The best part of this game brought a great amount of adjustability to customize the gameplay. This game also includes a decent level of detailed 3D graphics and relevant animations that will give you the feeling of playing real-time cricket. In addition, the controlling function of the game is extremely effortless, and you can easily focus on gaming without worrying about tapping mistakenly.
Important Features
It lets you save your best moments of a match in this game and also share these highlights with others.

It offers several real-time multiplayer modes such as 1P vs. 1P, 2P vs. 2P, CO-OP, etc.

This game eventually comes with realistic camera angles like batsman view and more to present the most realistic feel of playing cricket.

You can select any day times, such as Morning, Evening, Afternoon, Night, etc., to play in your favorite environment.

It also lets you play and enjoy several tournaments, including World Cup, Premier Leagues, Under 19 World Cup, and many more in this game.
Pros: This exciting cricket game comes with an accurate commentary in both English and Hindi languages. Moreover, It features Test Matches mode for Test Match lovers.
Cons: You need to spend real money to enjoy all features of this game.
5. Epic Cricket – Realistic Cricket Simulator 3D Game
---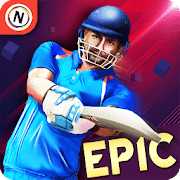 Epic Cricket is undoubtedly one of the most popular cricket games for Android, and we choose it as our next recommendation. With great in-game physics, this game is a complete one where you can enjoy almost all perspectives of a cricket match. Moreover, it is an optimized game and doesn't consume a lot. Besides, the 3D graphics and exciting sound effects will sure blow your mind. Let's see how exciting it could be.
Important Features
This game brings Test Match, where you can initially enjoy a lengthy cricket playing with white-dressed players.

It indeed comes with live commentary through the whole match, which eventually makes the game extremely enjoyable.

You will apparently enjoy almost all modern batting and bowling styles like reverse sweep, helicopter shot, etc., in this game.

It also features live events frequently and provides endless amusement on cricket playing.

Your experience of playing cricket will amplify with its realistic and clear camera view angles.

The characters and stadium are well detailed to provide a life-like cricket session.
Pros: You will eventually find all the major cricket-playing nations in this game and pick your favorite one. Also, the Decision Review System (DRS) is a remarkable feature of this game.
Cons: It may get a little laggy on devices with a very low configuration.
6. World Cricket Championship 3 – WCC3
---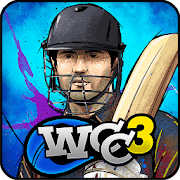 You can also enjoy cricket all across the world with World Cricket Championship 3. This virtual cricket game lets you play cricket with a stunning in-game career where you will overcome many difficulties to be a successful career holder. In addition, you can play this game online with other players and prove you are the best of all. Want to know more about this game? Check out the features below.
Important Features
This game includes most of the latest batting shots and new mechanics.

It initially lets you make tactical decisions in a match and upgrade the abilities of the players.

You can eventually customize the appearance of your squad with fresh jerseys and cosmetics.

There are daily missions available to challenge your limits and also to get more rewards.

You can also manage your players' Stamina and focusing levels to lead them to play like a pro.

It also features multiple commentary packs that eventually make it more realistic.
Pros: It features Fielder Controls that let your squad perform stunning dive stops, catches, direct hits, etc.; again, you will enjoy playing more than 400 matches, 25 series across 3 brackets in it.
Cons: Not playable on very old Android versions.
7. Real Cricket 17
---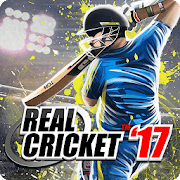 This game is for those who like all types of cricket matches and wish to have them in one place. Real Cricket 17 is such a game that features almost all categories of cricket and lets you play with your favorite team. In addition, this game includes an excellent level of detail, real-life brand equipment, and more to give one of the realistic experiences of playing cricket on your smartphone or tab.
Important Features
This cricket game features the Champions Cup and where your cricket team can participate in a Mini World Cup gala and fight for the trophy.

You can eventually enjoy more than 40 unique shot styles with impressive detailing on this game.

Apparently, this game offers daily challenges based on your recent and past events and makes the game more entertaining.

This game also includes player profiling which gets higher according to your game performance.

This game offers Test Series mode with updated rosters which is indeed unique and great for passing a long boring time!

You will find most of the T20 domestic tournaments in this game, including the Caribbean, Down Under, Pakistan, and Bangladesh leagues, and more.
Pros: The best part of this exciting game is the Cricket Trivia quizzes that can literacy help you learn more about cricket. Moreover, it has a multiplayer mode, where you can enjoy PVP gaming with friends or globally.
Cons: May generate lagging-issue in very low spec devices.
Download
8. Real Cricket GO
---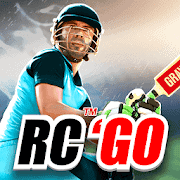 The next one is for those who want to enjoy good quality but lightweight cricket games for Android. Real Cricket GO is a convenient game yet provides an amusing cricket-gaming experience. Generally, it comes with a full 3D gaming environment with a realistic sound effect. Besides, it runs on any low-configuration Android device and won't consume more battery juice. So, if you are already interested, then learn more about this game right here.
Important Features
You will have a realistic feel of cricket-playing with good in-game physics in this game.

There are several game modes available to enjoy cricket in different ways.

This game also includes international tournaments, which are pretty impressive for such a compact game.

The animation quality of this game is comparatively better, which eventually provides a real-looking game.

It indeed offers DRS with SNICKCO and HOTSPOT, which makes the game like a real one.

The sound effects are placed perfectly in the game that initially provides extra fun while playing the game.
Pros: This action-packed 3D game is only around 50 MB in size and even supports 512MB-RAM devices. Besides, it is an offline game which means you can play it on the go.
Cons: It contains ads and may pop up anytime.
9. Sachin Saga Cricket Champions
---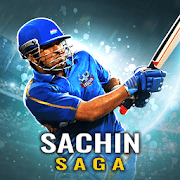 If you are a fan of legendary cricketer Sachin Tendulkar, you must not skip Sachin Saga Cricket Champions. It is one of the best cricket games for Android, with lots of tributes to Sachin Tendulkar. Besides, this game runs smoothly on most Android devices without any hassle. Additionally, it comes with very realistic gameplay and an exciting soundtrack. Keep reading to learn more about this one-of-a-kind game.
Important Features
This game includes impressive 3D graphics and vibrant colors to provide the best gaming experience.

It indeed features helpful dynamic camera angles with real-life-inspired replay cameras that ultimately produce the best and clear view.

You can eventually play lots of memorable matches of Tendulkar's life through this game.

Apparently, you can enjoy playing any cricket type like Premier League, One-Says, Tests Matches, World Cup, T-20, and more.

It also includes real-time cricket-playing with other players with its PVP multiplayer mode that eventually makes the game funnier.

This game initially includes many monthly events which can lead you to win Sachin Signed rewards or even a chance of meeting this cricket legend!
Pros: This game grants you manually taking the catch is unique and realistic. Moreover, you can experience Tendulkar's 28 cricket shots in a similar way he performed.
10. MSD: World Cricket Bash
---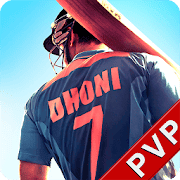 The last one is MSD, World Cricket Bash, which is based on the legendary cricket player. To enjoy realistic cricket games on your Android device is a must-try. You will initially experience a unique experience of cricket along with an encouraging storyline. Moreover, this 3D game includes all popular types of cricket genres to have full amusement of cricket in it.
Important Features
This game initially comes with a street cricket mode which reflects the initial phase of any successful cricketer's life.

You are able to upgrade your playing equipment to play better and

faster.
Since this game is based on a cricket legend's life, you will spectate important phases of his cricketing career and be a part of it.

Also, it features a manual wicket keeping and catching system, which will definitely provide a realistic cricket experience.

You can indeed enjoy playing with other players in real-time with its multiplayer mode.

The animation effects and sound quality are pretty decent and much enjoyable.
Pros: The game-control is effortless in this game, and anyone can comfortably play it. Additionally, it features a dynamic artificial intelligence system that ensures no two are exactly similar.
Cons: Some users faced lag on older and low-configuration devices.
Download
Our Recommendations
---
I am sure most of you are thinking about which one to try first. It's because almost all these games are equally compatible and exciting. You can try multiple games and then fix one to play for a long time. But if you don't like the idea, I think my personal preference will help you. From my perspective, World Cricket Championship 2, World Cricket Championship LT, and Real Cricket 20 come with the most realistic cricketing features. So, there is no way you will be disappointed because of them.
Finally, Insights
---
Before taking my leave, I would like to share a few words for the busy cricket lovers. No doubt that your passion for cricket has grown from your childhood. So, it would be best if you never forgot about it. In your busy days, you can simply spend your leisure time playing these virtual cricket games for Android to cherish your childhood passion. It will eventually make you refreshing, happy, and more active. So, install your favorite one from the list and score more. Thank you for your time.