Horror games don't always mean jumping and scaring of with scary monsters and bloody scenarios. A good horror game creates an ambiance that will make the player shiver with the scared feeling. Scaring with monsters can be a part of a good horror game, but the whole game should be a thorough process of scary experiences. Scary games let you experience a feeling of fear rather than empowerment. They will even hunt you after you are done playing. Horror games for PC bring a new genre of gaming with traditional action games alongside. These games use different tactics to make your heart beats faster and restless.
Best Horror Games For PC
---
There are different kinds of horror games to meet the desires of players. Starting from creeped out, terrified, and disgusted bloody themes to aliens, zombies, and other features are there to give you the various experiences of the horror world. No matter what type of horror games do you want for your PC, you can always choose from the list below for the latest horror games in recent times.
1. Phasmophobia
---
Phasmophobia is one of the most popular horror games for PC, which can consider as a detective game as well. This game is a 4 player game full of surprises, investigations, and explorations in the hunted locations.
This is a great teamwork game since you have to be careful about spooking ghosts all around. Moreover, this psychological horror game is full of paranormal investigations. You have to use all the cool ghost hunting equipment to catch the ghosts and trade them.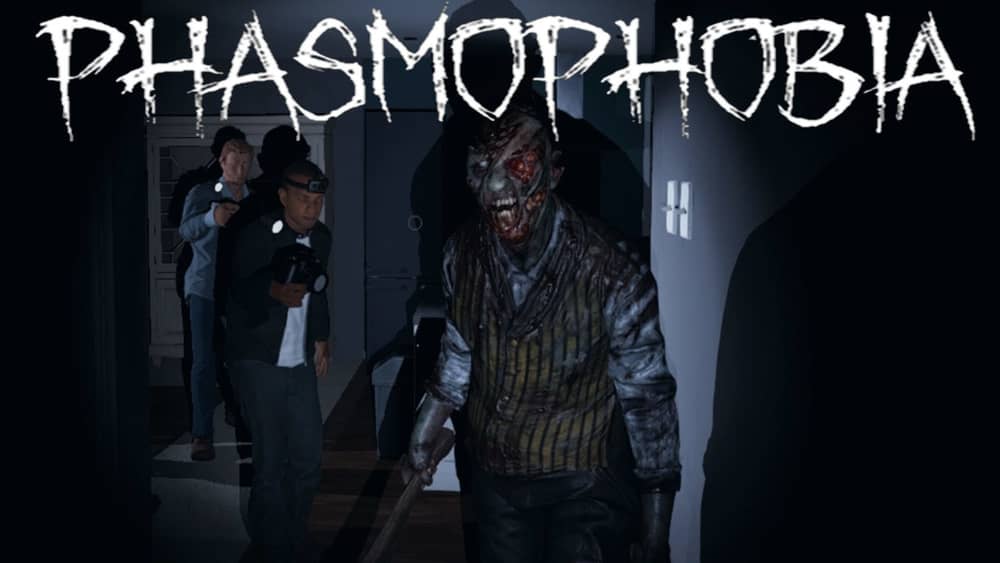 Important Features
The 4 player feature will let you play as a team to enjoy yourself with your friends and become successful as a strong team. 

This game has flexibility for its' users in using VR. You and your friends can all enjoy at a time even if all of you don't have VR. 

You can experience a wide range of ghosts of various and unique characters, which will lead you toward different investigations.

The realistic sound and graphics will leave a real-life adventurous feeling with minimal interfaces. 

Well-known and latest ghost hunting tools and equipment are there to hunt ghosts down, such as- EMF Readers, Spirit Boxes, Thermometers, Night Vision Cameras, etc. 

Ouija Boards and ECP sessions using Spirit Box can be used with your actual voice to interact with the ghosts.
Pros: This is an intense and spooky game with both standard and VR mode, which allows a wide range of players to play the game.
Cons: The progression system is very simple, and it's not easy to do better in the game without proper knowledge. 
2. Amnesia: The Dark Descent
---
Amnesia: The Dark Descent is one of the terrifying survival horror games with an intriguing story and a feeling of being hunted. This first-person survival horror game is about immersion, investigation, discovery, and scary experience where you have to stumble through a narrow corridor as you heard someone crying. The sound gets closer, and it scares the hell out of you. You have to run through a desolate castle where you barely remember your players' past.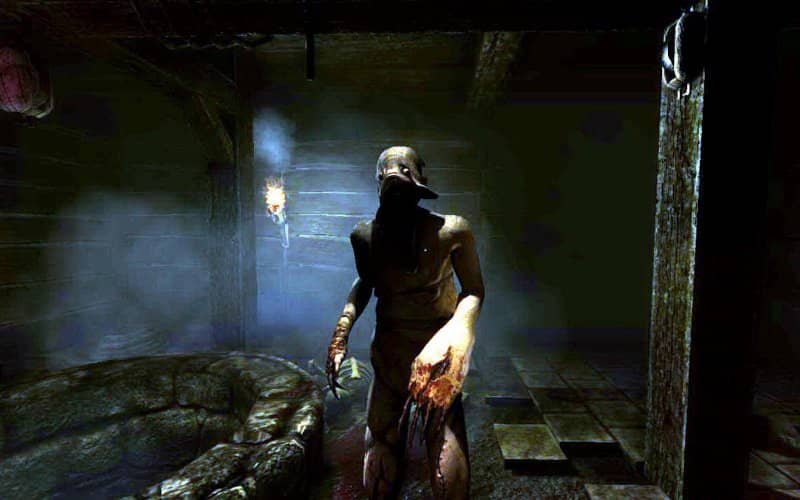 Important Features
It is a fully physically stimulated and high graphics game. It gives the most realistic sound system to give you a realistic horror experience.

This game will make you run in the dark with a sound coming by.  You have to survive from the coming danger coming from the dragging feet or a crying voice.

There are no cut scenes or time jumps in the game camera. You and your viewing angle is the only screen you are watching. 

This defensive game is a survival journey into a dangerous world where running and hiding with your intelligence is the only way to move forward.

Even though the game plot is straight-forward, the presentation of the surrounding will make your heart cold.

Maintaining your oil and tinderbox levels is a solid stressful part of the game and escaping from the castle is the most urgent motive of your gameplay.
Pros: This horror game is full of discovery and puzzle games. You cannot get out of the castle and survive unless you are not intelligent.
Cons: This game might hunt you even after playing the game. People with weak hearts should not play this game. 
3. Alien: Isolation
---
Alien Isolation is a survival horror game for PC where you have to survive as the player Amanda through the dread and mortal dangerous environment of aliens. This battle of survival is a mission to discover and investigate her mother's disappearance.
You are going to experience all the sudden shocks and unpredictable attacks from aliens, and to survive, you must use your resources with your wits. This game is a great choice if you like alien-themed games with horror and adventure missions.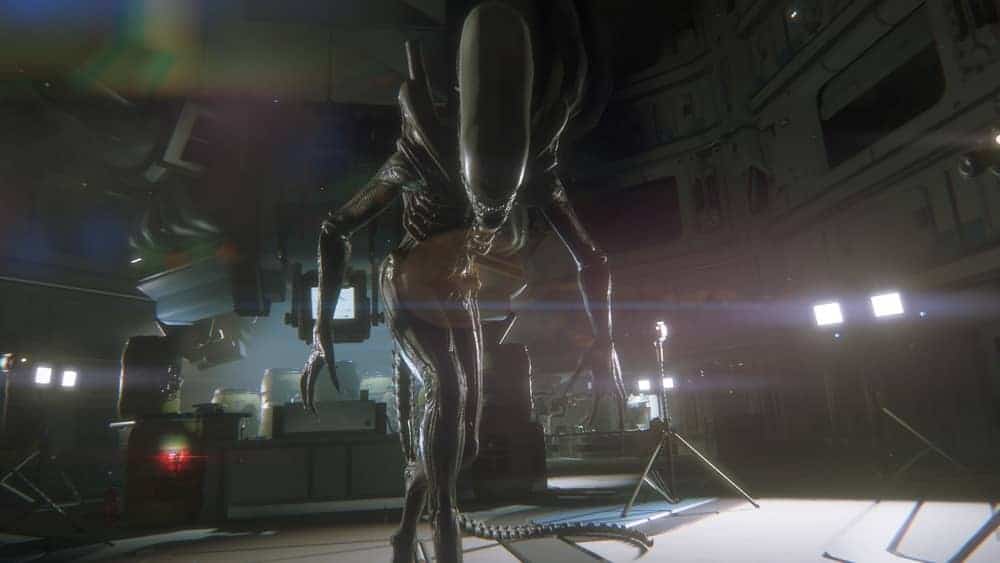 Important Features
Main target is to find her mother and unrevealing the truth behind it alongside staying alive. 

Dynamic and reactive aliens can sense you and might kill you; thus, you will feel a constant panic the whole time you are playing the game.

You will get some hacks, scavenge for vital resources, and craft items to survive in the gameplay to hide, face or distract your enemies.

The strong storyline of a mother's disappearance and the mystery of cause and betrayal makes the player even more dedicated to the investigation.

It has a high graphics quality along with an atmospheric soundtrack. This will make one experience the brutality in a more realistic way than ever.

The aliens are unpredictable. You will never know what is going to happen next but will know that every other creature is constantly trying to kill you.
Pros: This game is basically hide-and-seek or cat-and-mouse experience with looting and crafting to buy some time to stay alive and keep you on your toes.
Cons: This is a difficult game. Even with the easiest mode, it's very hard to survive. You have to be really good to play this game and become successful. 
4. Resident Evil 7 Biohazard
---
Resident Evil 7 Biohazard is the latest part of the Resident Evil series. Here, the main character Ethan Winters goes on a discovery mission of his wife and experiences the horror within the infected family. Furthermore, it is surviving horror gameplay full of unpredictable, scary appearances, fighting enemies, solving puzzles, and inspect.
Unlike the previous games of this series, this one focuses on horror and exploration over fighting. Hence, the photorealistic style and realistic first-person view give you the best thrilling horror feeling.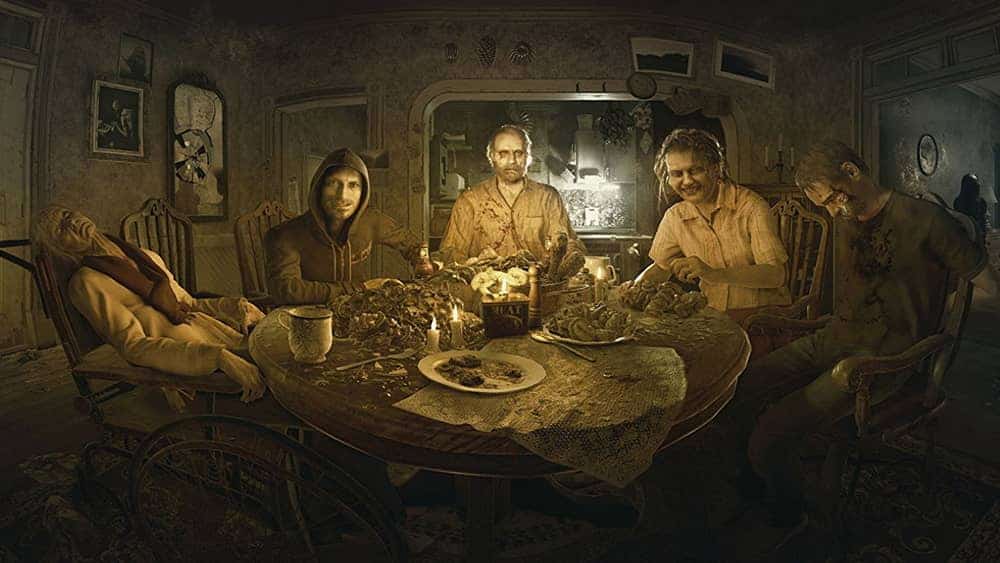 Important Features
The Japanese interpretation of Louisiana and the mix of low, middle, and upper-class sensibilities will give you a near to perfect experience. 

The visual representation and unpredictable actions, and thrilling moments having memorable characters and unique storyline make the game even more enjoyable.

You will eventually explore different corners full of surprises and scary experiences as you go further in the game.

The super matching dialogues in perfect situations will leave you mesmerized and will turn it into a rich, realistic experience. 

You will get to shoot your enemies and run from your enemies. You have to choose wisely whether you fight your enemies or run for your life to discover more items. 
Pros: This game has a trademark style of the Resident Evil series; however, there is still some new touch so that players don't get bored with previous similarities. 
Cons: The game is shorter than the expectations and a bit weaker in the narrative.  A rooted reality is missing when it comes to the cliches indulging Southern tropes.
5. Outlast
---
Outlast is considered as one of the best when it comes to free horror games for PC. It is a first-person survival horror with the discovery of a terrible secret. The main character is an investigative journalist, so the level of discovery is pretty scary and massive.
The journey is into the mountains of Colorado, which is a home for the mentally ill and full of unexpected scary twists you can never guess. Henceforth, this survival game is a truly creepy experience of the terrifying monsters of all that come from the human mind.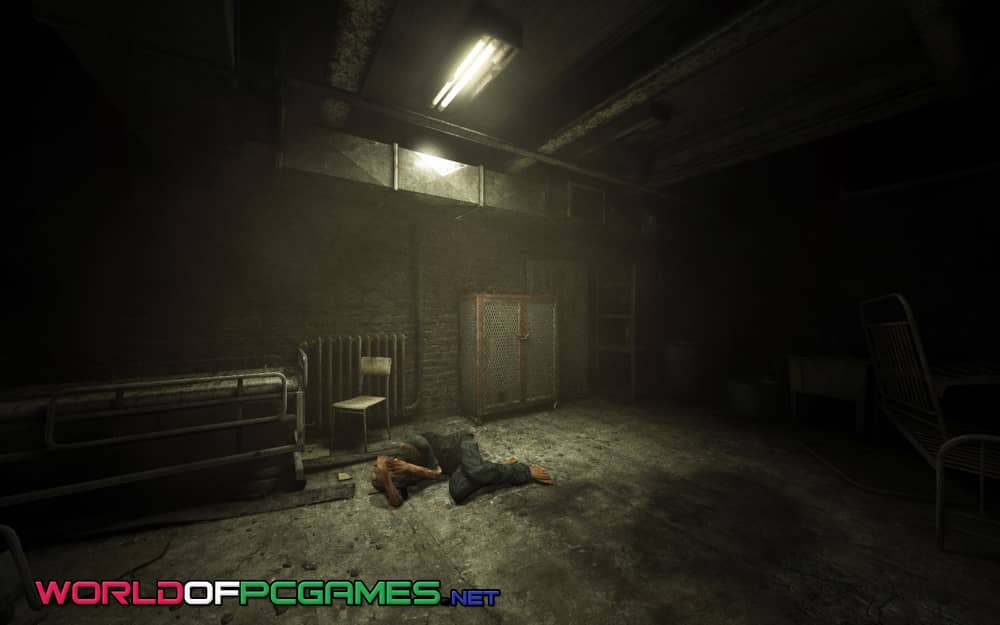 Important Features
The main horror characters in this game are some anonymous and terrifying creatures that draw a line between science and religion, nature and unreal. 

In this game, all you have to do is run and hide to survive. The atmosphere is way too scary, and you are unable to fight with this paranormal world of truth.

The AAA-quality graphics, outstanding soundtrack creates a photorealistic ambiance that gives the player a terrifying and realistic discovery into the horror world.

It comes with stealth-based gameplay with parkour-inspired tools to hide and sneak and keep yourself careful the whole time.

You cannot predict when and where the unpredictable terrifying enemies will come from and kill you suddenly.

The settings and characters of this game are inspired by real asylum and real mental illness of criminals based on research.
Pros: The flawless storyline, level design, graphics, and music makes the best combo of horror gameplay in this game. Also, the atmosphere is pretty unique and unpredictable.
Cons: This game consists of intense violence, sexual content, and strong, strong language. So people of a particular age and those who cannot stand violence should not play this game. 
6. The Evil Within
---
The Evil Within is a pure survival horror game with a highly crafted spooky environment and horrifying anxiety. It brings a complex story with fear and tension with an adequate number of resources to survive in a frightening surrounding.
This game is about your fight for staying alive and experiencing fear of mass murder and discovery. The mysterious and powerful force with slaughtering and attacking by hideous creatures will keep you on your toe.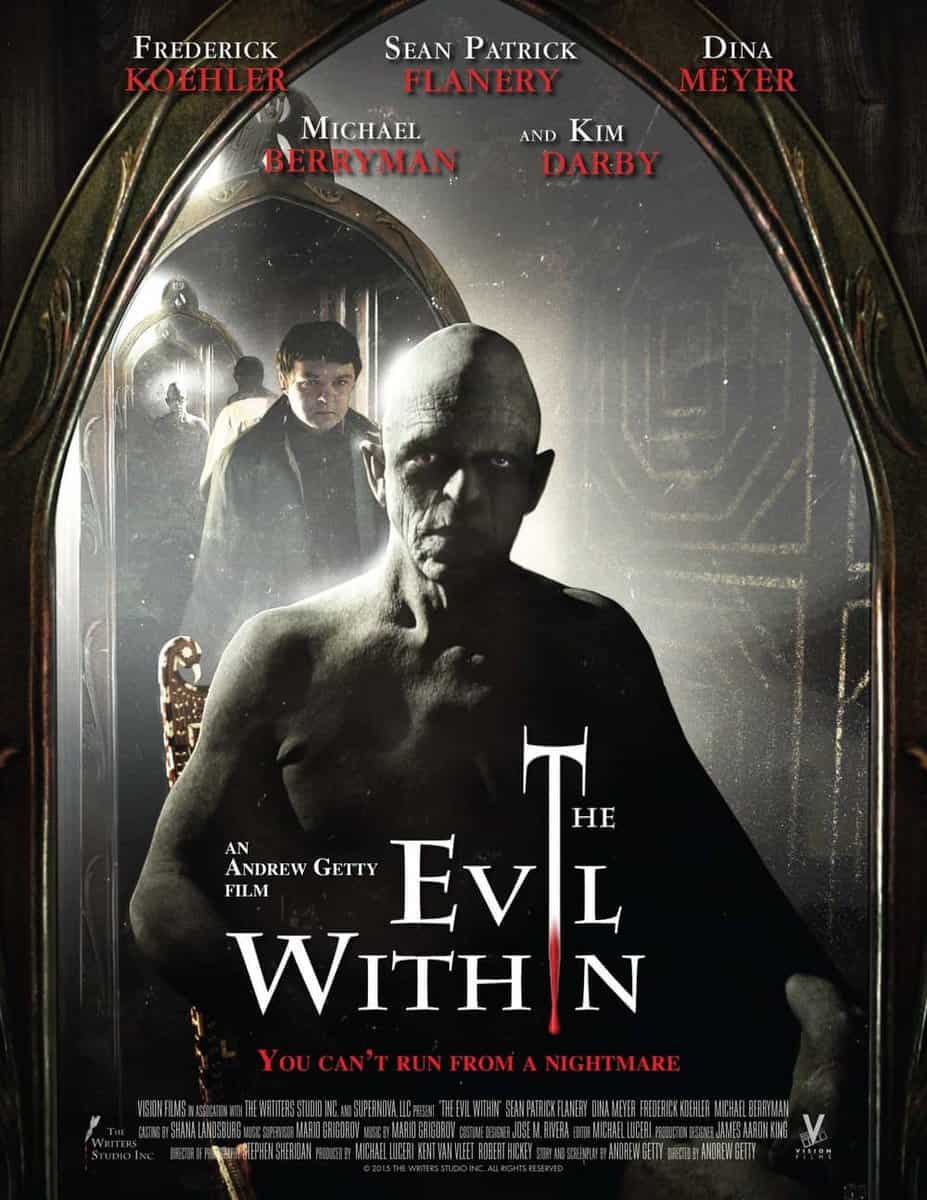 Important Features
Will get to discover new challenges and horrible creatures moving further in the game. You have to survive with all your intelligence and resources.

Will face brutal and scary traps with unpredictable odds. Have to turn the evil against itself by using the same diabolical devices.

The game is full of mysteries and wicked fears where you get twists and uncertainty as you go further in the game. 

The building elements like doors, walls, corridors change in real-time to give the player a feeling of threat and horrifying act.

You are going to break free, the disturbing experience of reality begins, and the machination will become the most horrifying thing in the world.

You have to defeat insurmountable terror to meet the ultimate discovery and survive yourself.
Pros: The assignment contains stealthy gameplay along with a beautifully designed horror environment and grounded protagonist, which makes it an incredible horror masterpiece.
Cons: The provided information during gameplay might not be enough for everyone to make good decisions or capabilities. Hence, it might be a bit confusing at first.
7. Dead Space
---
Dead Space is one of the best horror games for PC where only the dead survives. This is a space-based horror game where a space mining ship goes dark after an unknown artifact on a distant planet.
This game is about the survival of an engineer in a horrible unknown bloody ship attacked by aliens. You are trapped, engaged, and lost, running and fighting for your survival in this spooky place. Moreover, the strikes can be done from anywhere as it has zero gravity in space.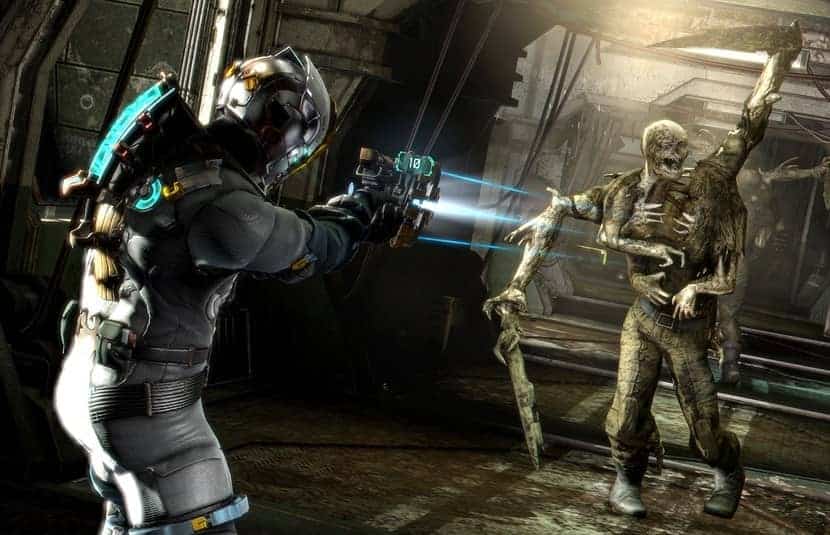 Important Features
This game is full of unpredictable surprises and thrills. You have to uncover the horrific truth eventually and survive the odds with intelligence.

You can slay monsters as much as you want through either headshot or damage them, like flicking rubber bands to fight them and survive.

One will get all improvised weapons to kill the monsters, including Plasma Cutter, high-speed sawblade with the Disc Ripper or Line Gun, etc.

Individuals can switch things up and alternate fire modes and make upgrades to increase the power, capacity, and abilities of the resources.

The Necromorphs always tend to attack if they find any proper opportunity in real-time gameplay. Thus, you cannot drop your guard and be prepared for anything.

This is a real-time game, and so you have to calculate your timing to reload or dig through the inventory so that you don't lag behind.
Pros: This game has a great storyline with plot twists and great upgrades. Overall the horror atmosphere and fighting experience make it a worthy horror game.
Cons: The collision physics does not work sometimes, and the doorway of going further in advance doesn't work at the beginning of the game.
8. Little Nightmares
---
Little Nightmares is a free horror game that contains a mixture of puzzles and adventure in a dark and scary theme. This game is free; however, some features can only be unlocked once you buy the game.
This game is based on a dark atmosphere with thrilling performance and strong audio-graphical representation. Therefore, the mesmerizing and linear plotline is about a hungry child and his escape from a strange sensation.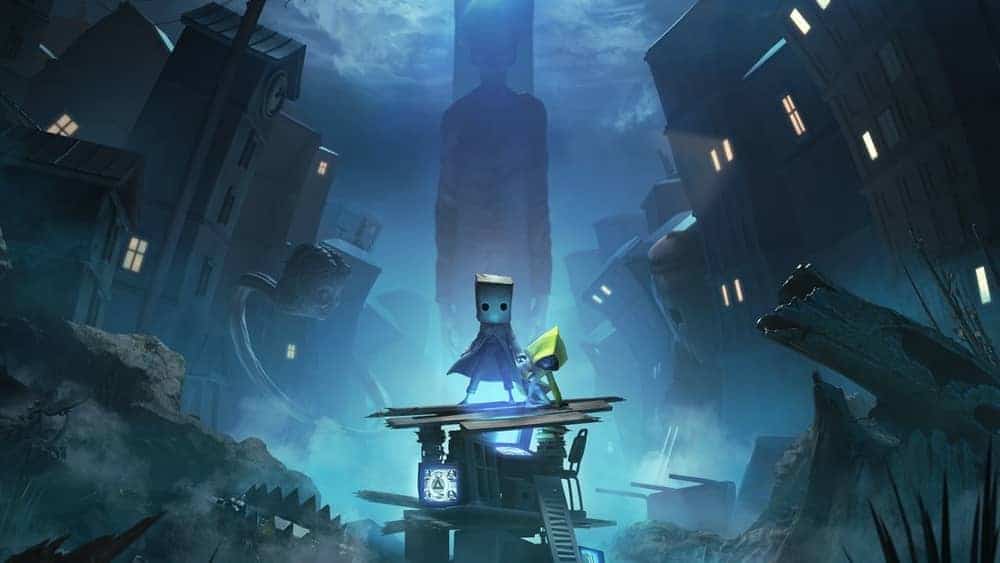 Important Features
The game goes not have so many twists, but you can experience gradual progress as you deep into the game.

You have to solve puzzles and keep the adventure going to survive and overcome the game.

The visual and the creepy soundtrack will make the ambiance even more realistic. You will experience this game within a dark surrounding.

The character design is very unusual and unique in both appearances and behaviors. This gives the player excitement in playing and discovering the characters.

This game is a weird combination of creepy and cute at the same time as you find little friends with you in this surviving adventure alongside ugly monsters. 

It can be considered a gigantic vessel of deformed monsters where every monster is hunting down the surrounding to attack their next meal.
Pros: The main player has lots of skills like the ability to illuminate rooms with lighter or picking up items and throw them, push or pull objects, climb, run, crawl, etc. to survive the gameplay 
Cons: The clunky camera and character controls might feel a bit disturbing in early gameplay. But eventually, you will get used to it as you play the game further.
9. SOMA
---
SOMA is a sci-fi horror game for PC, which is a plot of identity, consciousness, and human purposes. The main difference between this and other horror games is that it is pretty scientific to survive in a situation.
You have to make some crucial decisions in intolerable isolation. Also, you will face difficulties in every corner and underneath every ocean wave. Will full of discovery behind this devastation and gathering of remaining inhabitants, this game is worth playing for.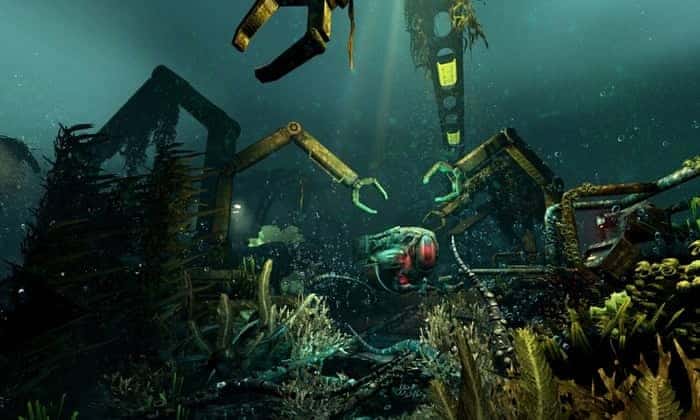 Important Features
The game is full of creepy elements like corrupted humans, twisted creatures, insane robots, inscrutable omnipresent A.I., and danger hiding in every corner.

All you can do is either hide from your enemies or run from them. You cannot fight back to survive.

You have to figure each enemy's characteristics out and deal with it accordingly. Otherwise, your enemies will hunt you down and kill you. 

This psychological journey results from a car accident where intelligence is a key factor in becoming successful in gameplay.

The plotline is so strong and beautiful that you will want to watch what is going to happen next even after the game is completed. 

The game is not too easy, not too tough. You don't have to be an advanced player to play this game.
Pros: This game will leave you an emotional impact as you go deeper into the story with the moderate difficulty of a game. 
Cons: This game is bad at telling you where to go or what to do. You have to identify and decide what to do next to move further.
10. Observer
---
Observer is one of the most popular horror games based on dark cyberpunk. This game consists of plagues, war, squalor, police, and hacks of fear. You will play as a detective and observer where the main work of the player is to hack the minds of the insane creatures. This game has a cool plotline with the most unique, thrilling, and creepy experience. Undoubtedly, You will love this game if you want to explore Cyber-esque games.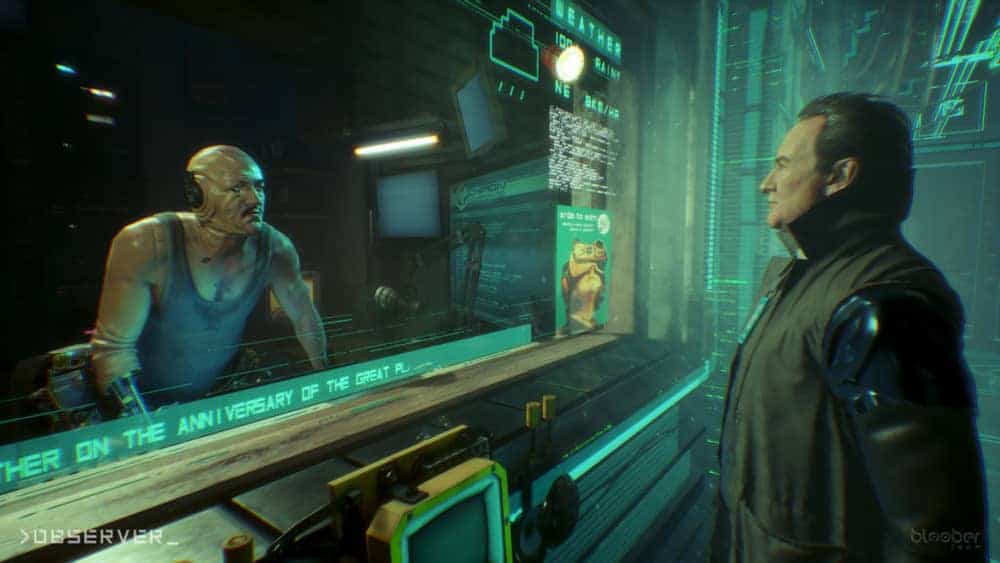 Important Features
This game is all about observing the mind. Anything you think, feel, or remember can be discovered and used against you.

It is a dark dystopia where you might survive the Nanophade or turned to drugs, VR, or neural implants.

You will experience darkness, fear, and insanity when you try to hack into enemies' minds to get the next clue.

The quality graphics and super realistic sound will give you a disturbing yet satisfying ambiance of a horror game.

In this cyberpunk, you will get the amazing Rutger Hauer of Blade Runner fame.

The flashbacks dragged memories, tech glitches, and paranoid environment makes it one worth horror gameplay.
Pros: The gameplay is a cool, stylish intense cyber-dystopic vision with a creepy and realistic voice which is pretty impressive, along with direction, model buildings, and textures all around.
Cons: This game contains mature content with disarranging mental elements, which might not be preferable for people of all ages.
Our Recommendation
---
Horror games are specially for those who like to have some thrilling and creepy satisfying experience. A horror game is defined as a good one when you can feel the fear even after finishing it. It should have an outstanding ambiance to give you the scariest experience. There should be some brainy puzzles and discoveries as you go deeper in the plotline. You can check out the free horror games for PC as well. 
Among all the 10 games, we recommend Outlast as it contains all the elements that you will need to enjoy perfect horror gameplay. This game is a great combination of scary elements along with brainy discoveries within the outstanding visual effects. We think it will be pretty enjoyable for someone who seeks a real frightening experience. Altogether, it will keep you on your toes.
Finally, Insights
---
Horror games for PC are a kind of their own. A horror game is all about how you respond to the feeling of fear with the surrounding. Choose a horror game from the list, switch the light off and create a dark silent environment and start playing the game with perfect audio-visualization effects.
You will experience the scariest yet enjoyable gameplay if you are a real horror game lover. Whether free or paid, these games will make you tremble out of terror. Check out the features, pros and cons, and the official links of each game in our given list.