Gamers have different preferences when it comes to gaming. Different genres have different criteria. From the very beginning of gaming, war games for PC have always been one of the preferable game-types among games. Video games can explore their complete potential in war-based gameplay. A war game contains action, strategy, teamwork, adventure all in one.
Hence, it is a popular way of entertainment in the gaming section of any group of people. However, games built upon ideas and themes about the fantasy, historical background, and creative poise are considered in this list of best war games for Windows and Mac.
Best War Games For PC
---
Here in this article, we are going to talk about the great war games that are popular all around. Some of these games are historical catastrophes, and some of them are related to fantasy and wizardry. This list also features a wide range of games with strategies and tactics in addition to adventure.

1. Battlefield: Bad Company™ 2
---
Battlefield Bad Company is a combat 3D game that won an award for one of the best 3D games for PC. It is a top-class vehicular combat game where players experience helicopters and other transport on the battlefield. Players have the freedom to blast the whole target and create new fire points.
Fighting together in squads or multiplayer will enable you to unlock and explore exclusive awards and points. Moreover, Each map has a different tactical focus and can allow you to operate in a more virtual realistic way.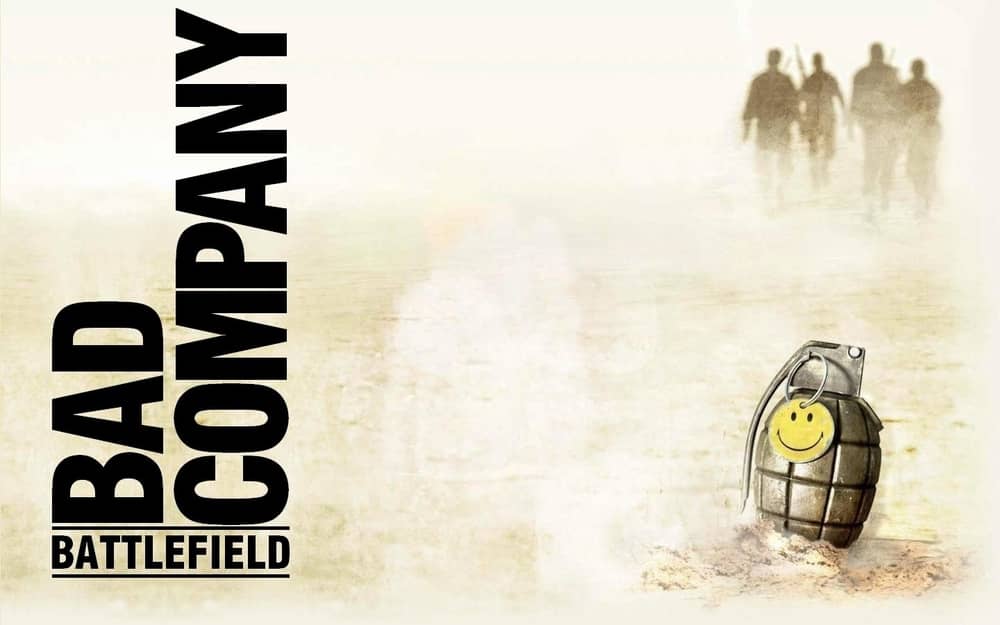 Important Features
It can become tactical destruction where players can chip away the enemy and bring down the enemy's habitat.

Players can play it in either single-player mode or multiplayer mode, depending on choices. You can also play it in squads or groups.

A wide range of battlefields will give you an exclusive experience on sea or air, or land, and you can master any one of them.

You will face new challenges and missions as you go further in the game through deadly jungles or dangerous cities, even huge arctic terrain. 

The graphics, as well as the plotline, is excellent. The 3D effect makes it more enjoyable for the player to experience all the shootings and destruction. 

It is a short game if you play with accuracy. It will take a maximum of 15 hours to finish the game if you are good at 3D games.
Pros: This game is a real-time battlefield experience along with good graphics and screenplay, bringing you an average requirement on a computer.
Cons: although the game is very interesting, it has some repetitive actions and tasks. However, the intensifying challenges are not deniable. 
2. Call of Duty®: Black Ops
---
Call of Duty is one of the most popular war games for PC. If you like the first-person action with a strong plotline and features, this game is perfect. This game is full of classified operations explosive conflicts using exclusive war tools and pieces of equipment. It becomes really intense and challenging during the battling, which concludes the cinematic campaign for the players.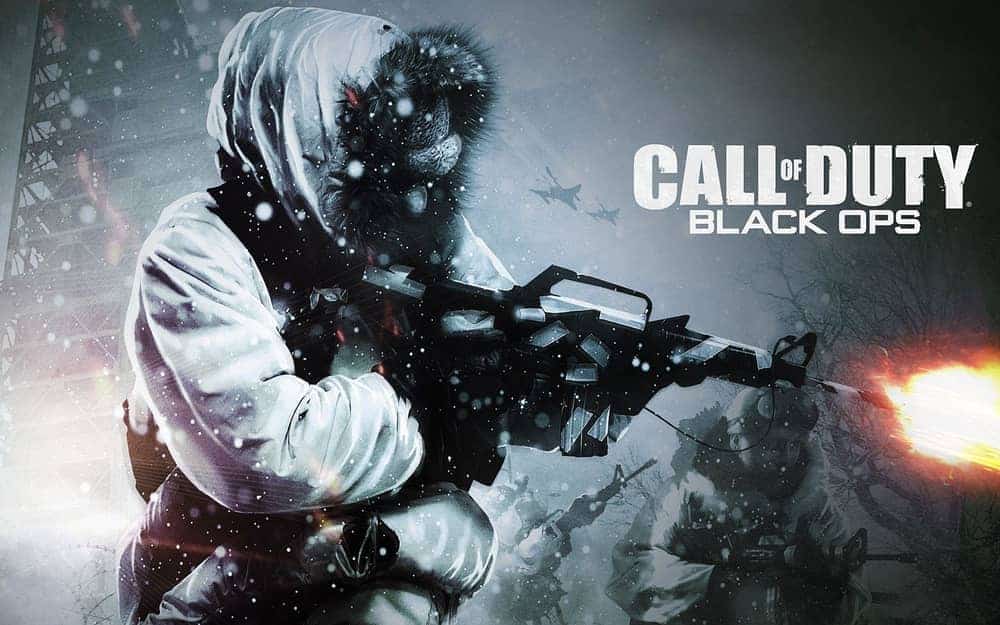 Important Features
The storyline is interesting, and it takes you to various locations all over the world during the gameplay. 

The game includes signature multi-players having new perks and killstreaks, and weapon customization features.

 The game has a theatre mode where you can edit your favorite moments from multiplayer along with viewing, recording, and sharing.

You can develop your gaming skill by battling solo Co-Op with friends or with AI enemy players. 

You can play the extra popular zombie feature as much as possible with Zombie-slaying entertainment.

Players need to keep themselves safe from being caught, captured, or killed otherwise, and the world will question all the knowledge of players' existence. 
Pros: This excellent game can be played in Windows OS, Vista/ XP, and 7  with an average specification. 
Cons: Although the features and elements are top-notch, the price of this game is not worth it. 
3. World of Warship
---
World of Warship is one of those free War games for PC where you can experience the ultimate MMO action game with equal access to all gameplay features. The game is based on world war historic naval vessels and their battle. Over 300 vessels combat in this battleship full of bombing, destroying, and gun shooting or attack with the sky craft weapons.
This game is a must playing with or without friends. Moreover, You can either team up or play solo to unite and conquer the world.  You have to build your clan as strong as possible to overcome the battleship.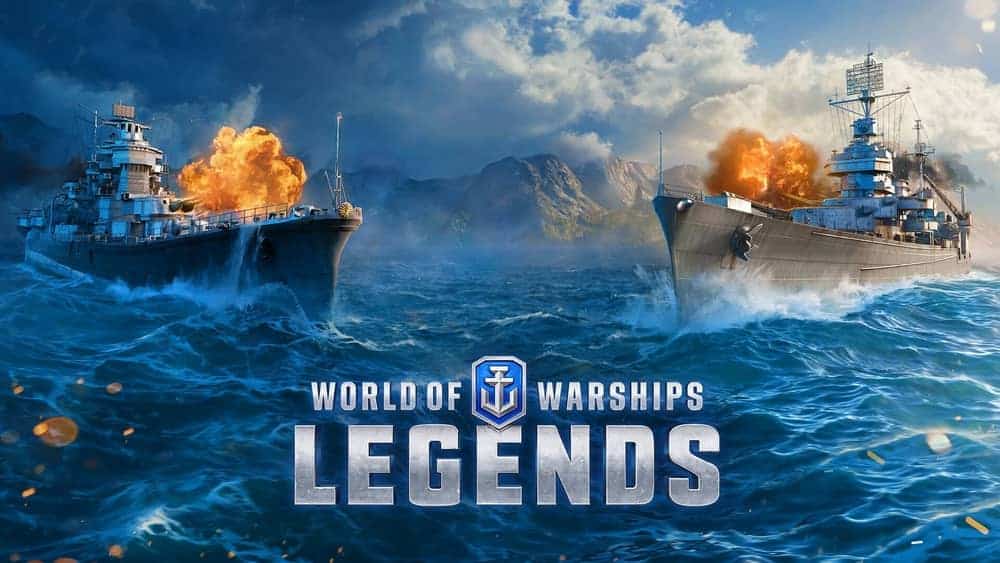 Important Features
This game is an excellent graphics-based game with a relatively realistic sound system that will give you a real-time experience.

A wide variety of ships to choose from and move further in the gameplay will give you a wide type of experience on ships.

You can be the best in your server by earning extra points and climbing to the top clan league.

To improve the crew's performance, you can recruit historical figures and invest their skills together. 

As a player, you will have the super satisfying ability to delete a ship in on salvo and demolish anything with big guns.

The shipping line is unique and can be anything starting from Russian battleships super armored fronts to British carrier carpet bombing.
Pros: The strategy, the destruction, the upgrades, and the historical accuracy of the ships makes the game pretty enjoyable and realistic to play
Cons: Although the game is initially free to play, there are some features you cannot use if you don't pay for them.
4. World of Tanks
---
World of Tanks is another war game for PC with the theme of world war, where the core element of battle is Tanks. You will get to use a wide range of tanks along with some armored vehicles. All the vehicles have unique qualities and unique upgrades according to the gamer's choice.
The game is full of seasonal events, plenty of background changes, and paths of improvement. It is an MMO action shooter game with stunning graphics and control. Additionally, the unique table arenas and strategic playing make it one of the most desirable gameplay among gamers.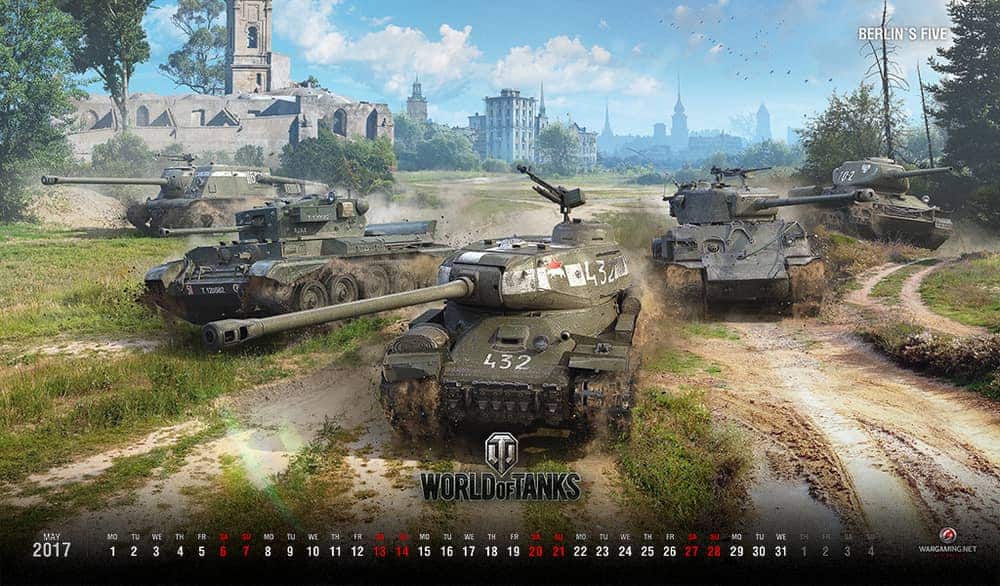 Important Features
A deep progressional system is there to unlock each aspect eventually and explore within the battlefield.

To enhance the tank ability and gaming pattern, you will get innovative crew updates and opportunities to collect more points.

Over 400+ vehicles are there in this game, and each has its unique definition and can be utilized perfectly.

It battles through multiple famous historic locations where you can achieve victory only by stepping forward strategically.

It is a multiplayer game you can enjoy. You can play with all your friends from different corners or play solo to make yourself prepared for the ultimate battle.

Each battle is different and unique. No battle is played out the same way as before.
Pros: it is an easy action game with depth in the storyline where players have to move forward with tactics and plans of action.
Cons: Although premium items are not free, the premium items don't give many advantages, and it has an interminable grind.
5. War Thunder
---
War Thunder is a real war experience on the battlefield with an enormous number of battling elements and warcraft from WWI. This gameplay is one of the most comprehensive military games for Windows OS, Linux OS. Mac OS etc. The battle takes part not only on the ground but also on sea and air with millions of players from different corners.
The game contains Aircraft, helicopters, ground forces, naval ships for a thrilling battleship. Furthermore, over 1700 vehicles and an exclusive variety of combat situations make the game interesting in all aspects.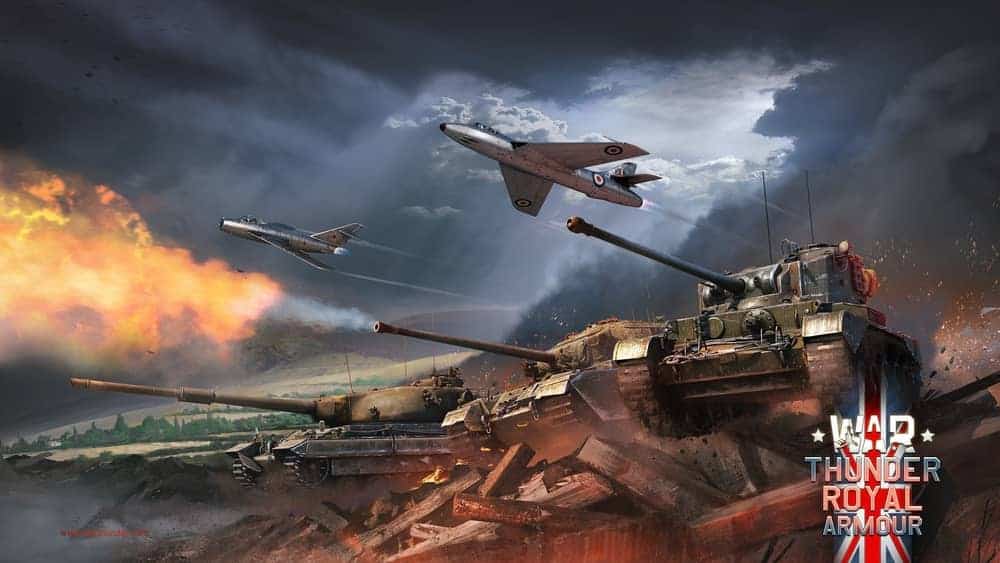 Important Features
Different players from different operating systems can play on the same server and enjoy this mighty experience.

The wide range of vehicular collection on the battlefield came from historical documents and surviving sources.

Not less than 100 maps are included, which resemble the main historical battle theaters.

Multiple difficulty settings with intense PvP experience in battlefields are given for a wide variety of experiences for the gamers.

You will get regular upgrades on your vehicles, maps, missions, and nations so that you don't find the game boring eventually. 

The excellent graphics with real-life sound experience and background music gives you a vibe to fully engulf the player into the game.
Pros: You can create custom content for War Thunder and go live by sharing it on War Thunder Live so that you can earn real money. 
Cons: This free game is free until a certain level. After achieving that, you have to buy the premium version to experience it to the fullest. 
6. Company of Heroes
---
Company of Heroes is a real-time War game for PC based on the WWI gaming experience. The player has to move forward with a strategy to overcome the challenges of the game. Sacrifices of heroic soldiers, war-ravaged environments, dynamic battlefields all together give you a perfect combination of occurrences in one single game. It starts with the historic Invasion of Normandy, and the fight against German was machined along with military campaigns and survival challenges.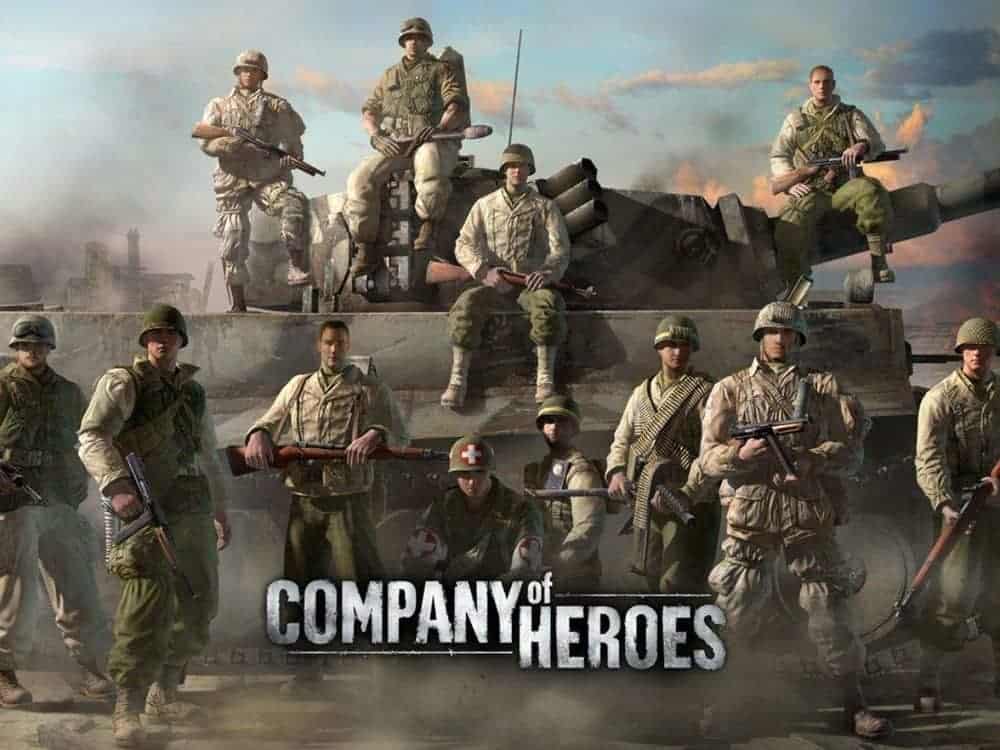 Important Features
You can experience a cinematic single-player experience into extraordinary battlefield events.

The stunning visual effect with high graphics quality and excellent sound effect takes the game to a whole new level.

Each battle is different from the others in completely different real-time physics. You can destroy and reshape the battlefield at game time.

You can use your environment and surrounding elements like buildings and terrain to your advantage or deny it. 

This game has both the freedom of playing either will all your friends or single. 2-8 players can play at the same time in a multiplayer mode.

Each battlefield has a significant historical background, and armies are designed symmetrically to one another.
Pros: you will have the freedom to customize the gameplay with "Offensive" or "Defensive" gaming according to your preferences. 
Cons: Newcomers get kicked out in multiplayer mode if the online community doesn't like the platter. Even in a single-mode, AI performance is not so well. 
Play Now
7. Panzer Cops 2
---
Panzer Corps 2 is one of the ultimate strategy-based games with the theme of world war. This time-proven gameplay is an all-time favorite for gamers because of the new level of refinement to the latest technology and formula of a masterplan. You will get to make a few decisions that will affect your outcome of the game.
It is an easy-to-play game having depth in it. Unit movement, combat, spotting, encirclements, weather, and capturing enemy equipment will affect the result of the game rather than just the speed of clicking.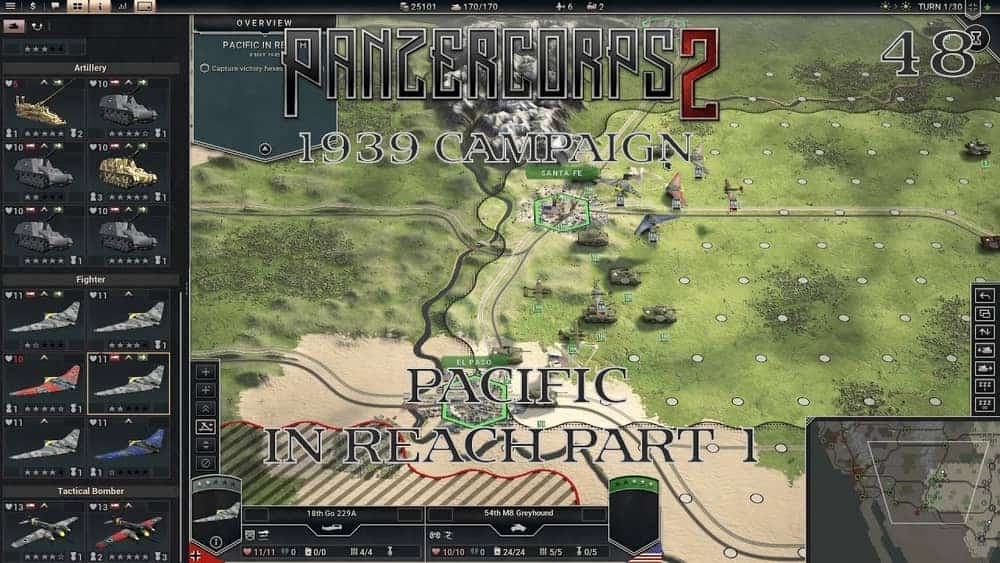 Important Features
It comes with almost 60 battlefield scenarios from WWII to give you the ultimate historical experience on the battlefield.

In terms of vehicle collection, no game brought more collections of war vehicles from the world war theme than this game.

Various scenarios are designed for solo playing and multiplying mode. 4 scenarios are there for solo players, and 10 scenarios are generated, especially for multiplayer mode.

An advanced random map generator is there for Skirmish more that offers 6 map types and four mission types.

You can either play against your friends in multiplayer mode or play against AI in solo player mode, but the multiplayer mode has a wide range of extra features.
Pros: The game might give you the same strategic situation, but the tactical situation is different in each scenario so that the gameplay doesn't become repetitive. 
Cons: This game is pretty classic compared to the time it is in. There are some technical difficulties, and the short campaigns are not much appreciated among the players. 
8. Hearts of Iron IV
---
Heart of Iron IV is considered one of the most popular war games for PC as it deals with the ability of players to lead the nation. This strategy game allows you to take command of any nation in WWII and guide them with your own tactics toward glory.
As a leader, you have to take responsibility and plan accordingly so that your whole crew can win the battle. The total strategy is to win in the hearts of people, not only on the battlefield of land or sea or in the air. Henceforth, you will be fighting battles as the greatest commanders of WWII fight.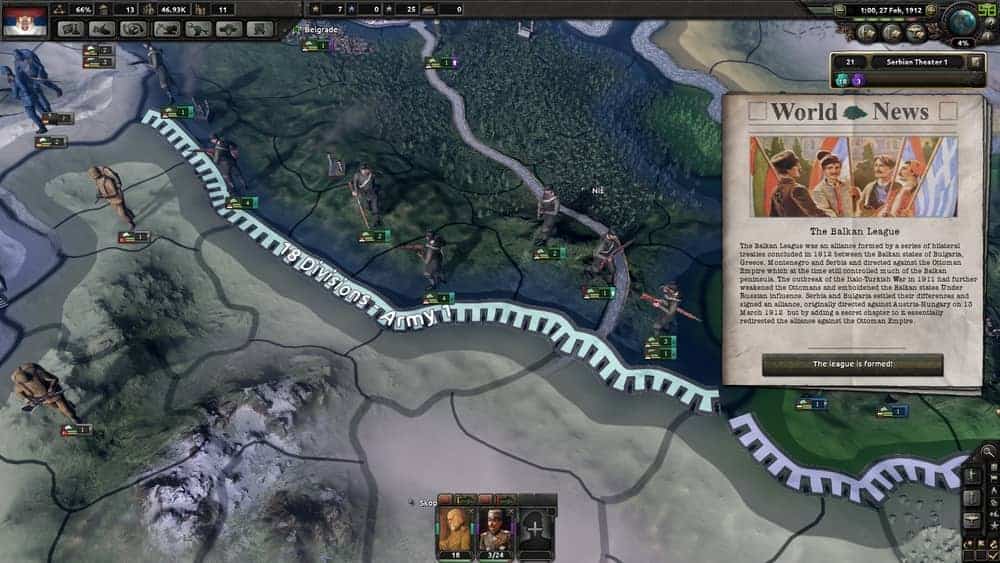 Important Features
The fighting tools in the game are only the equipment from WWII, like-tanks, planes, ships, guns, and newly discovered weapons of mass destruction.

You will experience the real-life advances in politics and diplomacy system, trading, and exchange of resources to create political capital for the game.

Up to 32 players can play together on a single platform in a competitive and cooperative manner in the multiplayer feature.

 The theme and graphics are made with historical accuracy to get involved in the fight with the ultimate world war experience.

This game is easy to learn and customizable and can be learned in groups without any extra charge or payment. 

It is a combination game of history, countries, warfare, and geography, which led you toward the ultimate war vibe. 
Pros: Even though the major battles require more practice and experience, beginners can start with minor online games to gain the experience for major challenges.
Cons: The game has a premium version, which is not free. You have to buy the features to experience the game to the fullest. 
9. Unity of Command II
---
Unity of Command II is an excellent war game for strategy game fans where the player can enjoy the game whether he is a beginner or an advanced player. This highly polished fluid gameplay is easily accessible, and a classic historical experience is one of the best war games among gamers.
You will get to lead the Western Allies during WWII, where you have to direct the army's crew, supply, and logistics at the same time. Fog of war, revealing unknown, capturing enemies, and launching recon will make you addicted to the game.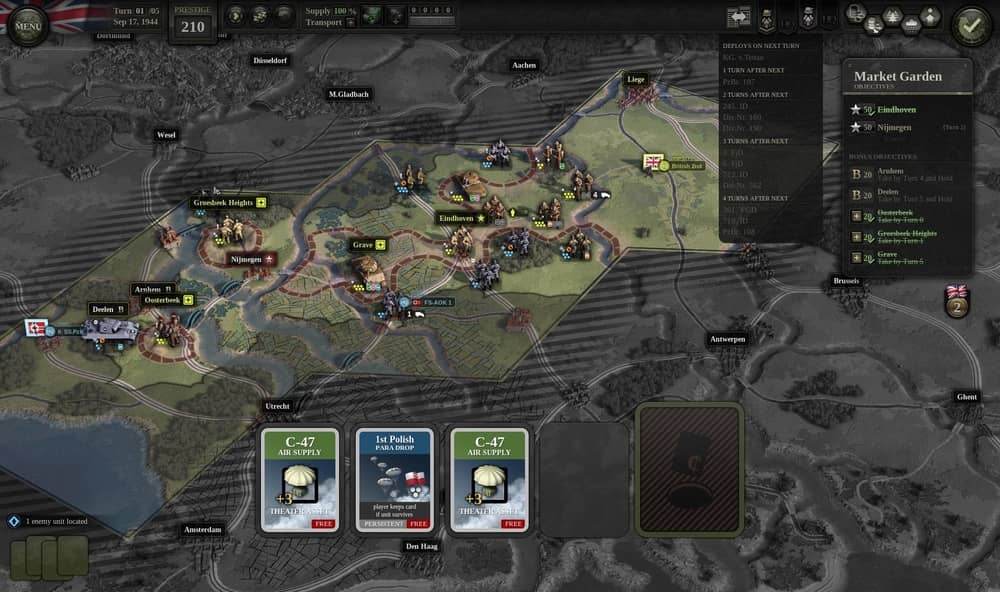 Important Features
The dynamic battlefield with unique fights with the historical theme of WWII with branching campaigns. 

 Upgraded map to give the direction of the units, bridging and resupply along with army headquarters to explore surroundings.

HQ trucks to monitor units and supply emergencies that will eventually help on the battlefield to improve battling strategies are also there. 

Allows users to supply assets to attack with bombing runs, aerial recon, and wreak to sabotage infrastructure.

Participate in bonus objectives to earn opportunities that will benefit you in further gameplay.

You will battle your enemies and find your enemies and their position to attack by capturing stragglers. 
Pros: This game has a built-in scenario editor where players can create and share new battlefields using workshop support according to the player's choice.
Cons: The war theme is not exactly a war game; rather, it seems more like a puzzle game where the player has to solve lots of puzzles.   
10. ARMA 3
---
ARMA 3 is massive military combat gameplay with a wide range of content and war equipment, and limitless opportunities. More than 20 vehicles and 40 weapons players can use in this premier military game. The open-world battlefield is highly detailed and from a rich historical background.
Different battlefields will give you a thrilling experience of exploring new areas like hills or dusty plains or dense forests with various vehicles like tanks or aircraft.  Again, customizable load-outs and long-distance gears will make the game more interesting and competitive.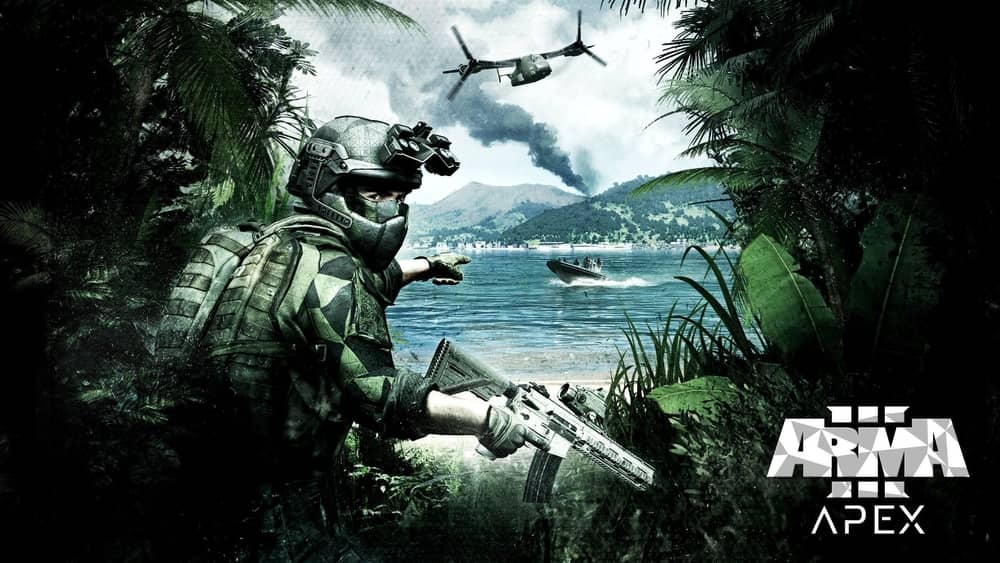 Important Features
It can either be a single-player or multiplayer game where the solo mode demands an adventure that fulfills three sections- Survive, Adapt and Win. 

Multiplayer gameplay demands to build up a squad, team up against the enemy, and do battles in large groups.

On the battlefield, you, as a battle-master, have the ability to influence the battlefield of other players in real-time.

Players have the opportunity to create content and customize weapons and vehicles. Players can also enjoy content created by other players. 

The high graphics and upgraded sound engine will lead you to a powerful experience of combat along with massive sandbox territory.

It allows you to play the game however you want. You can play it as a survival game or a shooter game, or an open battlefield.
Pros: It will give you all real-life experience when you start to ride an aircraft or tank or attack with a sniper.
Cons: Beginners might find the game real hard as the realism factor in playing or dealing with war equipment is not easy for someone who doesn't have any idea about those elements. 
Our Recommendation
---
War games for PC are basically for those who like to play battle games with strategies. This type of game needs both action and tactics to go further. However, people who love historical battles prefer this type of game even more. To recreate the historical incidents by giving the lead to the military team is a different kind of fun when it comes to war games. 
We recommend Call of Duty among all the best 10 games as it is a perfect combination of action, battle strategy, and strong plotline. The excellent graphics and sound play can take the player into the world of wars on different terrains. We think this game will be perfect for someone who seeks for variety of battles in one single gameplay with a wide range of players.
Finally, Insights
---
In the world of gaming, as a medium of entertainment, war games for PC are a whole genre of their own. Thousands of classic battles and conflicts throughout the world are the inspiration to make these classic war games. Besides, these games help us to know about war vehicles and elements from the history of war.
We have gathered detailed information and shortlisted the best war games for different operating systems of PC. Whether free or paid, these games will make you experience the battling thrill. Check out the features, pros, and cons to get an outline, and you can also visit their websites from the given link in each game point.