In computing, IRC stands for Internet Relay Chat and is widely regarded as the first mainstream text-based communication mechanism. At its peak, IRC chat enjoyed overwhelming popularity and served millions of people before losing ground to modern-day chat services like Facebook.
IRC chat works by incorporating a client-server networking layout where users can install a standalone IRC client on their system or opt for a web client to connect to IRC servers worldwide.
Once connected to a network, users can join a channel to share messages with other people. A substantial number of IRC Clients for Linux exist, making it very easy for us Linux enthusiasts to use IRC services.
Best IRC Clients for Linux Lovers
---
Thanks to its diverse user base, Linux features some of the best IRC clients you can find today. IRC clients are computer programs that let users connect to IRC servers across the world and join discussion channels conveniently.
Our experts have spent considerable time preparing this thoughtfully curated guide so that you can choose the best Linux IRC Clients without any hassle.
1. HexChat
---
HexChat is a lucrative choice for Linux users thanks to its diverse customization abilities and wide range of built-in features. The project takes its ideas from XChat and provides an easy-to-use yet flexible IRC Client.
This feature-rich, multinetwork Ubuntu IRC Client is immensely popular in the open-source community due to its adherence to user-friendly features. Some of the best features of HexChat include support for scripting in Python/Perl, spellcheck, proxies, SASL, and DCC.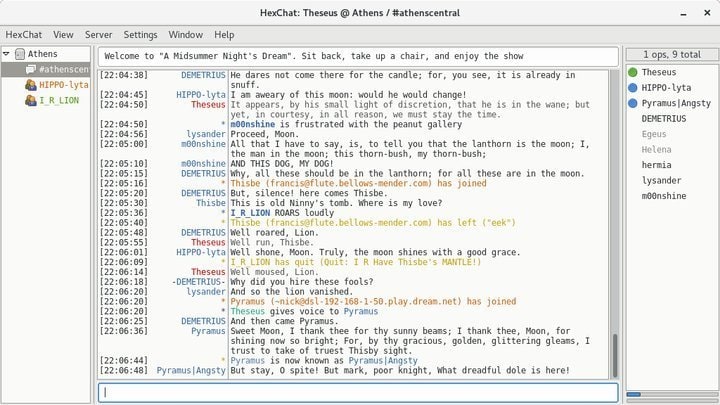 Features of HexChat
The user interface is merely astounding and provides users with an early glimpse of its diverse functionalities.
Users can extend the project with scripting languages like Python and Perl for adding custom features.
Contrary to most Linux IRC Clients, HexChat allows users to choose custom themes based on their taste.
The open source nature of HexChat attracts a large crowd of developers who helps the project by rolling out new features all the time.
HexChat is among the few beginner-friendly IRC Clients for Linux that offers full-fledged functionalities out of the box.
2. WeeChat
---
If you're a terminal geek like me and are looking for the best IRC client Linux terminal, WeeChat is the best bet for you. This powerful IRC client packs a lot of performance into a tiny package and offers some of the most sought-after IRC features, including support for multi-servers, proxy, nicklist, horizontal and vertical splits, smart filtering, and DCC, to say a few. Also, it can be easily extended with eight different programming languages.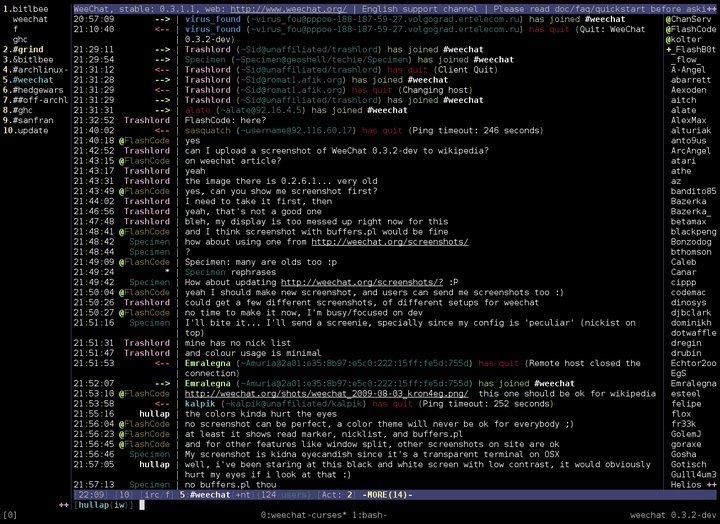 Features of WeeChat
Users can leverage remote interfaces to connect with WeeChat from their browser, Android, or even Emacs.
The powerful smart filtering mechanism of WeeChat allows users to set flexible rules for their Linux IRC Channel.
This project is actively developed, and new features are being rolled out constantly with readily available high-quality documentation.
Extending this IRC client is pretty straightforward, and developers can choose from C, Python, Perl, Ruby, Lua, Tcl, Scheme, or Javascript to do this.
WeeChat offers persistent connectivity and ships a convenient script engine for managing scripts.
3. Pidgin
---
Pidgin is arguably one of the best IRC Clients for Linux systems and enjoys a cult following in the community. This cross-platform open-source IRC client offers a plethora of powerful features and enables users to indulge in discussions with their favorite Linux IRC channel members easily.
Pidgin is extremely fast, owing gratitude to C. It also provides users the ability to utilize the same client for IRC and other instant messaging services at the same time.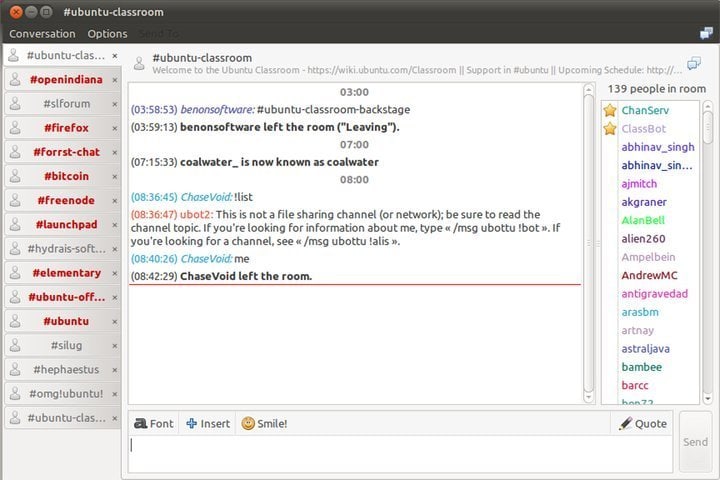 Features of Pidgin
Apart from IRC, Pidgin comes with out-of-the-box support for a wide array of IM services, including AIM, Google Talk, MSN, ICQ, and XMPP, to name a few.
Pidgin's smart, convenient notification features enable users to get the most out of their Linux IRC channel.
It is very customizable and comes with a broad set of third-party scripts to make customization a breeze.
Pidgin allows users to share files across the globe directly from their Ubuntu IRC client.
4. Irssi
---
If you're looking for a powerful yet flexible IRC Client Linux Terminal, then Irssi is a pretty good option for you. This terminal-based IRC client boasts quite a set of advanced features on top of its lightweight build.
Users can utilize both SILC and ICB protocols in Irssi by leveraging its powerful plugins. It's a termcap based client and can be extended without any hassle. The text-mode interface of Irssi will catch the eyes of Linux enthusiasts pretty fast.
Features of Irssi
Irssi is extremely fast, thanks to its C heritage and lightweight build.
Users can develop personalized scripts in Perl for adding additional features or performing advanced operations.
The command line message outputted by Irssi can be comfortably piped to a Linux IRC Channel of the user's choice.
Users can customize and modify the themes of Irssi to enable personalized appearances.
Irssi features a compelling plugin for encrypting outbound communication data.
5. Quassel
---
Quassel is arguably one of the most exceptional Linux IRC Clients we've used in some time. It offers many convenient features right out of the box and aims to enhance your IRC experience to the next level.
This IRC client utilizes the Qt5 framework and features a simple-to-use yet effective interface. Quassel separates the graphical component of the client (quasselclient) from the IRC communication functionality (quasselcore) to enable users' persistent connectivity.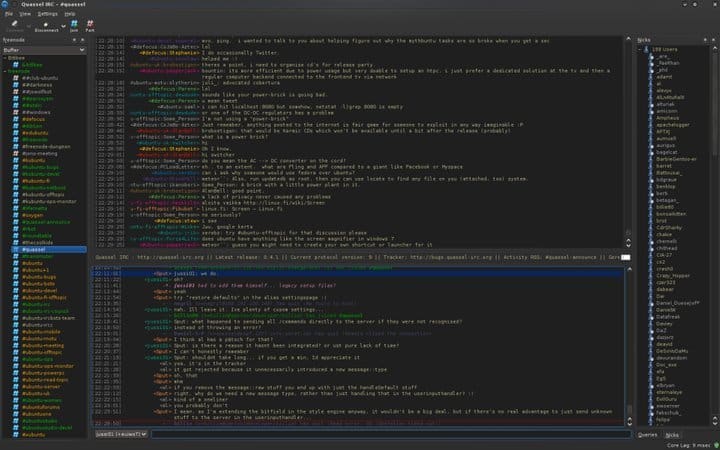 Features of Quassel
Quassel can establish simultaneous connections to more than one IRC server at the same time.
The flexible Android version of Quassel lets users sync IRC communications between their Linux machine and Android smartphone easily.
This cross-platform Ubuntu IRC Client is open source and allows developers to modify or extend the software as per their requirements.
Quassel supports many commonly used IRC features like proxy support, query merging, aliases, and Emacs-style keybindings, among others.
6. Konversation
---
Konversation is one of the best Linux IRC Clients for users of the KDE Plasma environment. This enigmatic IRC client packs a substantial number of handy features into a compact package for enhancing the usability and IRC experience of users. Konversation leverages the Qt5 and KDE framework and offers advanced IRC functionalities for seasoned users.
It is easy to use for even beginners and provides support for SSL connections, multi-channel joins, Unicode, strikeout, and auto-connect to IRC servers, among many others.
Features of Konversation
The user interface featured in this Ubuntu IRC Client is very professional and enables advanced navigational capabilities for the end-user.
Konversation comes with built-in support for convenient IRC features like a channel bookmarker, URL catcher, quick access, DCC file transfer, and on-screen notifications.
The open-source nature of the project allows users and developers to modify the software as they deem fit.
Konversation is highly customizable and supports a wide range of scripting functionalities.
7. XChat
---
XChat is arguably one of the best IRC clients for Linux and provides a long list of features right out of the box. This IRC client is the epitome of modern-day IRC software and aims to equip users with powerful yet convenient functionalities.
The software contains some of the most advanced IRC features, yet at the same time, it is suitable for beginning IRC users. Although the Windows version of XChat comes with a paid license, you can get it free for your Linux machine.
Features of XChat
The built-in user interface is pretty reliable and well-organized, with intuitive navigational capabilities.
Users can control every aspect of XChat's look and feel, from setting custom backgrounds to changing fonts or syntax colors.
It comes with support for a large number of powerful third-party plugins and scripts, which enhances this IRC client's performance to a new dimension.
XChat is written in C and thus offers a speed matched by only a few.
Download XChat
8. Smuxi
---
Smuxi is a modern-day Ubuntu IRC client inspired by Irssi. It features a great selection of user-friendly, flexible, and rewarding IRC features to make chatting with your friends a breeze. This is among those IRC clients for Linux that empower users with advanced and sophisticated functionalities.
This IRC client can also be used for other services such as Twitter, XMPP, Campfire, Facebook Chat, Google Talk, and JabbR. Similar to Quassel, Smuxi allows for the separation between the backend server and the frontend client.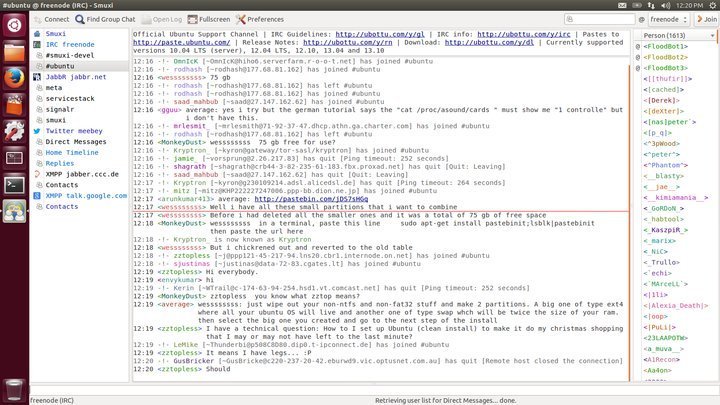 Features of Smuxi
Smuxi allows users to detach the front end anytime they like without losing any IRC connections or communication data.
It features convenient desktop notification functionalities, including support for actions, icons, updates, and sound.
The integrated spell checker allows users to type fast during a chatting session without worrying about silly typing mistakes.
Smuxi features a handy caret mode that lets users navigate through messages easily with the keyboard.
The powerful multiplexed engine allows Smuxi to detect message floods and prevent them.
9. Polari
---
Polari is a compelling IRC client for the GNOME environment and offers a wide range of powerful IRC features. This open-source Ubuntu IRC Client lets users chat with fellow peers quickly and conveniently.
Users can join on a Linux IRC Channel of their choice pretty fast and leverage the various features of Polari to enhance their chatting experience to a new level. The user interface of this IRC client is straightforward to use and beginner-friendly.
Features of Polari
Connecting to an IRC server or room is very easy with Polari, and it also remembers the last used chat rooms.
Polari is written in Gjs (GNOME JavaScript) and can be integrated with your GNOME environment without any hassle.
Users can send or receive files to their companions pretty quickly while using Polari.
Polari supports link previews, autocompletion of nicks, and IRC commands for a better IRC experience.
It comes under the GNU GPL license and lets developers modify or customize the client based on their requirements.
10. KVIrc
---
If you're looking for lightweight yet flexible IRC clients for Linux, then KVIrc is a pretty feasible solution for you. This IRC client is very portable and offers quite a list of user-friendly features.
The software sits on top of the Qt toolkit and features an eye-catching user interface that is extremely fast and resource-friendly. The dev team behind KVIrc believes in open network connectivity and aims at making IRC chat accessible to the general public.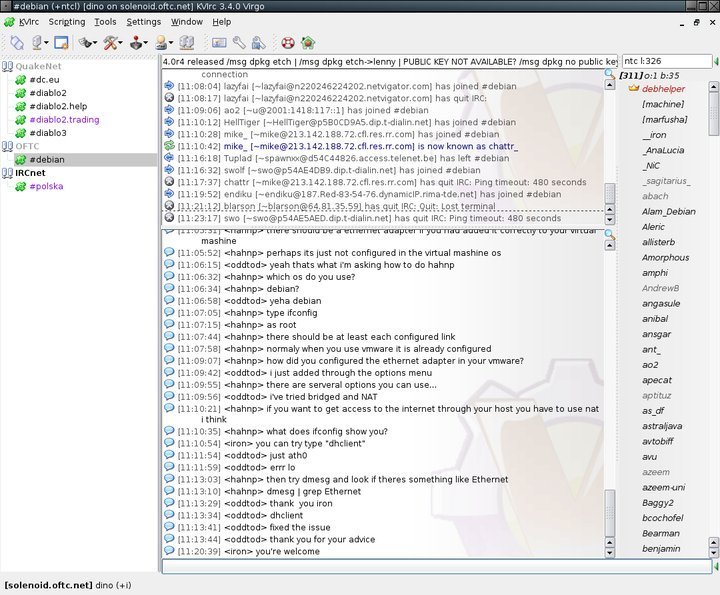 Features of KVIrc
KVIrc is based on the KDE Plasma desktop environment and offers an MDI interface, built-in scripting language, support for custom plugins, drag & drop file browsing, etc.
This open-source Linux IRC client can be easily carried around in flash drives.
Users can customize KVIrc in several different ways, including writing scripts, using plugins, modifying themes and splash screens, etc.
KVIrc is under active development meaning new features are being rolled out every day.
11. ERC
---
ERC is a unique yet appealing Linux IRC client for the Emacs text editor. If you're a professional developer or a seasoned Linux user, you'll seriously like this integrated IRC client for Emacs. Written in Emacs Lisp, ERC provides a powerful, modular, and convenient solution for advanced IRC needs.
This IRC client can be used to connect to your favorite Linux IRC channel without moving the focus from your editor. So, if you're a regular programmer, ERC is an excellent IRC solution for you.
Features of ERC
ERC is very modular and lightweight due to its integrated nature and supports features like multi-channel buffers, nick completion, keyword highlighting, and many more.
This IRC client treats one-to-one conversations as channels and puts them into private buffers.
ERC enables users to load personalized scripts during startup.
It can detect netsplits and can track channel activity directly from the mode line.
ERC incorporates timestamps and robust encryption methods to ensure the integrity of communication data.
12. ScrollZ
---
ScrollZ is a compelling Ubuntu IRC client based on ircII and offers many user-convenient features such as notification alerts, CDCC management, an internal user list, color support, and more. ScrollZ aims at optimizing popular ircII scripts and providing a stable IRC client with rock-solid performance.
It supports virtual IP and adds automatic protection to IRC channels. You'll also get standard features like tab key, auto-reply, and URL catcher from this Linux IRC Client.
Features of ScrollZ
ScrollZ is one of those few lightweight IRC clients for Linux that feature full-fledged IRC functionalities.
It comes with built-in support for multiple server windowing and hidden or dynamic windows.
ScrollZ increases the client's efficiency and makes it faster by saving as much data as possible in the memory, thus minimizing contact with IRC servers.
The automatic flood detection and prevention mechanism of ScrollZ makes it suitable for seasoned IRC fanboys.
13. Kiwi IRC
---
If you are looking for a powerful web-based IRC client, then Kiwi IRC is arguably the best option for you. This rock-solid Linux IRC client features a mesmerizing set of functionalities and empowers users to leverage various advanced IRC features.
The user interface of Kiwi IRC is very captivating while being easy to use at the same time. Overall, Kiwi IRC is an excellent choice for people who want neither to install a brand new Ubuntu IRC client nor to miss their IRC endeavors.
Features of Kiwi IRC
Kiwi IRC implements Secure Sockets Layer (SSL) to ensure user data is safe and sound.
It offers powerful desktop notification features which allow users to stay updated on the latest hot discussions.
Users can leverage a significant number of custom plugins and scripts to extend the functionality of this IRC client.
Kiwi IRC comes with a pretty good selection of out-of-the-box themes and screens.
14. EPIC
---
EPIC is one of those full-fledged IRC clients for Linux that supports a plethora of convenient IRC features while emphasizing user satisfaction heavily. This sturdy yet lightweight Ubuntu IRC Client is exceptionally fast and offers a quick solution to every day IRC sessions.
If you want to write personalized IRC scripts or use some already existing scripts easily, then this terminal-based IRC client might be the best shot for you.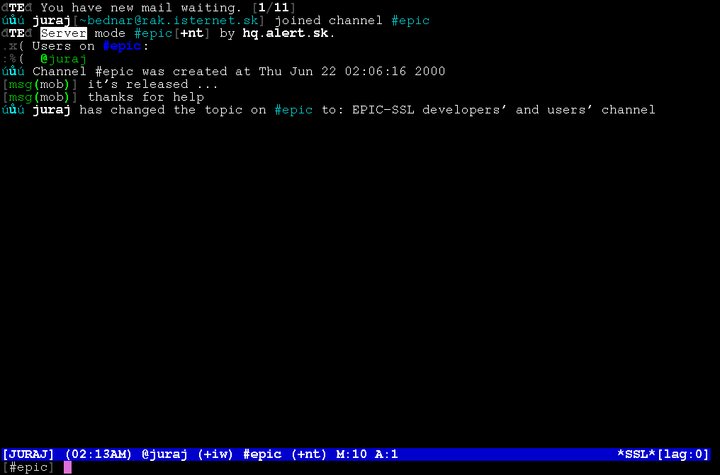 Features of EPIC
EPIC has built-in support for multiple server connections, CTCP, DCC, UTF-8 encoding, bulk removal, and many more convenient IRC features.
It is arguably the best choice for advanced IRC users who rely on heavy scripting.
EPIC provides transparent encryption over any transport protocol to make sure communication data is safe and secure.
Users can create customized IRC commands by using aliases from this IRC Client Linux Terminal.
15. Communi
---
If you're a fan of minimal yet powerful Linux IRC Clients like me, then you'll surely find Communi to be a pleasure. This tiny yet powerful IRC client packs a considerable amount of user-convenient features into one small core.
Although it lacks support for DCC, Communi has support for almost every other essential IRC feature. The software is based on the Qt framework and sports a gorgeous user interface for increased usability.
Features of Communi
The user interface of this enigmatic IRC client is very intuitive and makes navigation easier for new users.
Communi supports side-by-side window splitting and full-screen mode for better visualization.
The default selection of themes includes Cute, Dark, Material, and Tomorrow.
It implements very powerful flood prevention mechanisms to ensure constant communication between users.
This IRC client is released under the BSD license and encourages developers to modify or extend it.
16. BarnOwl
---
BarnOwl is a lightweight instant messaging (IM) client based on curses and features many compelling IRC features. It is simple to use yet effective in terms of performance. This open-source IRC Client Linux Terminal boasts a superior collection of IRC features and can be used for stable and effective communication across the world. Developed at MIT, BarnOwl has grown into a full-fledged Ubuntu IRC client and helps users maintain uninterrupted internet conversations.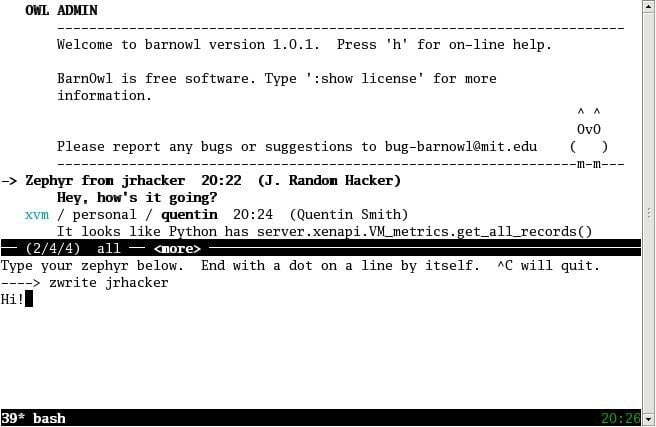 Features of BarnOwl
Apart from IRC, BarnOwl also supports other IM services such as Zephyr, Jabber, and Twitter.
Extending this IRC Client Linux Terminal is very easy, and users can quickly find powerful and well-reputed plugins.
BarnOwl can send and receive the zulip stream and personal messages to support the Zulip chat system.
It features expressive filtering methods for selecting and describing sets of messages.
17. dxirc
---
dxirc is a simple yet effective IRC client for Linux systems and offers a select set of every day IRC features. It falls under those IRC clients for Linux that are minimal in design yet rewarding in terms of usability and performance.
This IRC client is built on top of the Qt and FOX toolkits while also utilizing codes from the XFE and C++ Sockets Library. The interface is simple yet provides easy and quick access to necessary features.
Features of dxirc
The system-wide customization capabilities make dxirc extremely suitable for users who like to modify their Linux IRC clients.
dxirc comes with in-built support for connecting multiple IRC servers simultaneously.
Developers can modify or extend this IRC software pretty easily using the Lua scripting language.
It enables users to join any Linux IRC Channel on selected servers automatically.
18. The Lounge
---
The Lounge is a modern-day IRC client for Linux, boasting tons of useful IM features, including but not limited to push notifications, link previews, file uploads, encryption, new message markers, and many more.
This professional-grade IRC client is self-hosted and helps users remain connected to IRC servers even while they're offline. This Ubuntu IRC client is built on top of the Node.Js JavaScript framework and offers fast and convenient performance.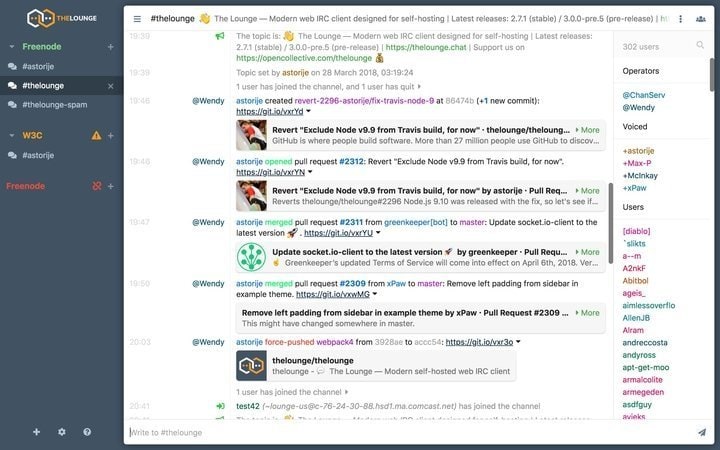 Features of The Lounge
The robust push notification alerts make sure users are always up to date on their IRC discussions.
The powerful synchronization feature allows this IRC client to resume precisely where users left a chat, irrespective of the device.
It features a responsive user interface that is available for most major desktops, smartphones, and tablets.
It comes with built-in support for multiple user accounts.
19. irc.c
---
irc.c is one of the most lightweight yet effective IRC clients for Linux users and offers pretty reliable performance. It's simple in design and easy to use by even the newest of users. This Linux IRC client also equips the curses library to utilize various IRC features conveniently. Although minimal in terms of features, irc.c is complete enough to fulfill the usability constraints of average IRC users.
Features of irc.c
It offers a lightning-fast speed, thanks to its C heritage and the powerful curses toolkit.
irc.c features built-in support for infinite scrollback, UTF-8 encoding, Emacs-like keybindings, activity markers, and many more.
This Linux IRC client is very suitable for use in a tmux session on remote servers.
irc.c only enables users to connect to a single server at a particular time.
20. ii
---
ii is a very minimal IRC client for Linux systems with extreme resource limitations. This is a minimalist FIFO and filesystem-based IRC client that creates a directory tree with the server, channel, and nickname directories. The FIFO IN file of this IRC client is used to connect to the server, and the FIFO OUT file contains the messages sent by the server.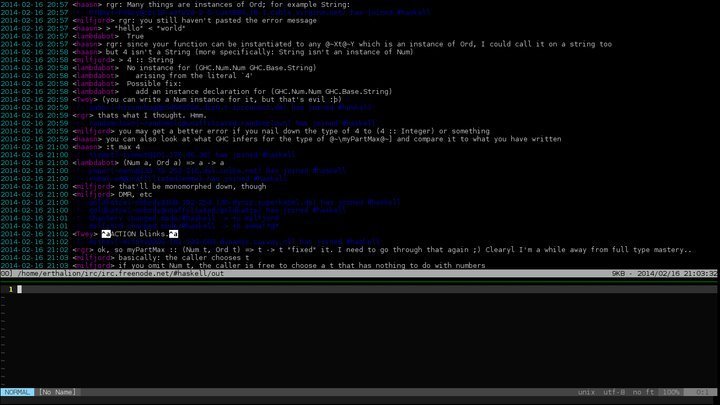 Features of ii
At only 12 kb, ii is among the most lightweight IRC Clients for Linux systems and works very well even in deprecated systems.
Every single thing in this Linux IRC client is considered a file.
ii tries hard to remain true to the original UNIX philosophy and provides users with a hands-on IRC experience.
Ending Thoughts
---
IRC has come a long way since Jarkko Oikarinen developed this awe-inspiring communication method. Many famous IRC clients for Linux systems exist today. Some of the most popular IRC chat clients include HexChat, WeeChat, Smuxi, Pidgin, and Quassel.
Apart from these mainstream Linux IRC clients, our experts have outlined many more IRC clients for you in this guide. Hopefully, they were able to serve your interest rightly. Stay tuned with us to get your hands on more exciting Linux guides like this.