Music-making is a really popular passion these days, and considering all the advanced software and apps out there, practicing is no big deal. With your creativity and the unique features offered by these software, you will be able to create wonders within a few days. If you are one of these passionate music composers looking forward to improving your skills with practice, you are at the right place to look for the best music making software for Windows PC. We know how difficult it can be to find the perfect software for yourself. So, to save you from that trouble, we have listed out the 10 best music production software that can help you. 
Best Music Making Software for Windows PC
---
Your Windows PC can be a great platform to start practicing your music composing skills. However, you will need the perfect software to record, organize, and create the tracks and add effects effectively. While some are completely free, many of them will charge a small amount for their extraordinary service.
But you should know that both kinds will help you according to its limit. So, let's find the finest music making or production software and the notable features they come with. 
1. Ableton Live
---
At its first launch in 2001, Ableton Live had exploded the marketplace by creating a new music designing platform for the composers and was quickly regarded as a performance instrument. You will find many other desktops and mobile apps influenced by their rulebook. In the latest version of the software, you will find many exciting features like Drum Buss, Wavetable synth and Echo, and Pedal effects.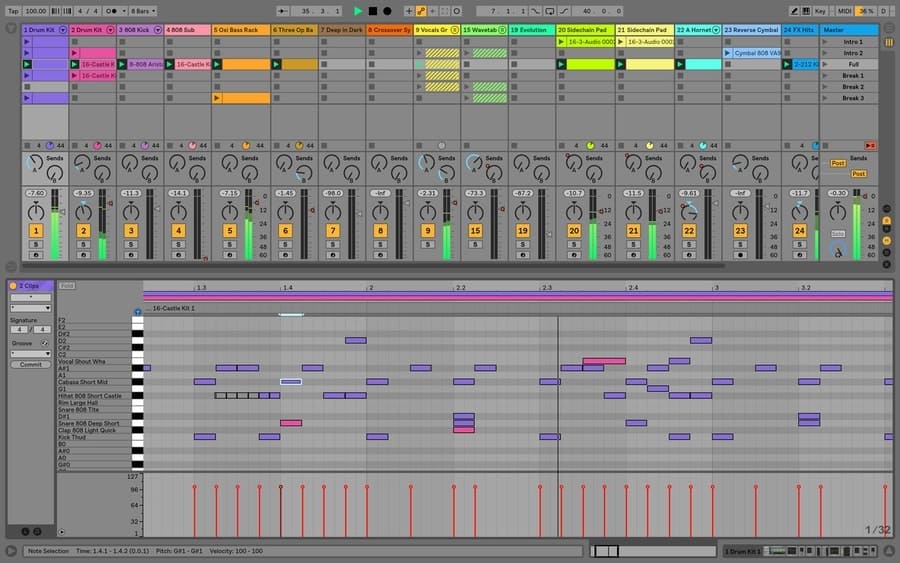 Important Features
It offers several live performance and composition workflow for inspiration.
The Echo effect features a number of modes, including Ping Pong, Mid/Side, and Stereo.
The suite version of the software comes with a variety of samples to give you some ideas.
The new wavetable synth contains some amazing sounds.
It comes in three different versions with several input options.
Pros: The navigation system is really fast in the software. Moreover, it comes with a fast navigation option.
Cons: The software doesn't support any notation view.
2. FL Studio
---
Ruling over the hip-hop and EDM realms, FL Studio was launched as Fruityloops at first. This beat making software for PC is ideal for people who are totally new to this sector. It comes with the most basic protocols you would need as a beginner, including stretching the pitch shifting, sound correction, and cut-paste. Besides, you get 30 synth software if you want to go with something out of the box.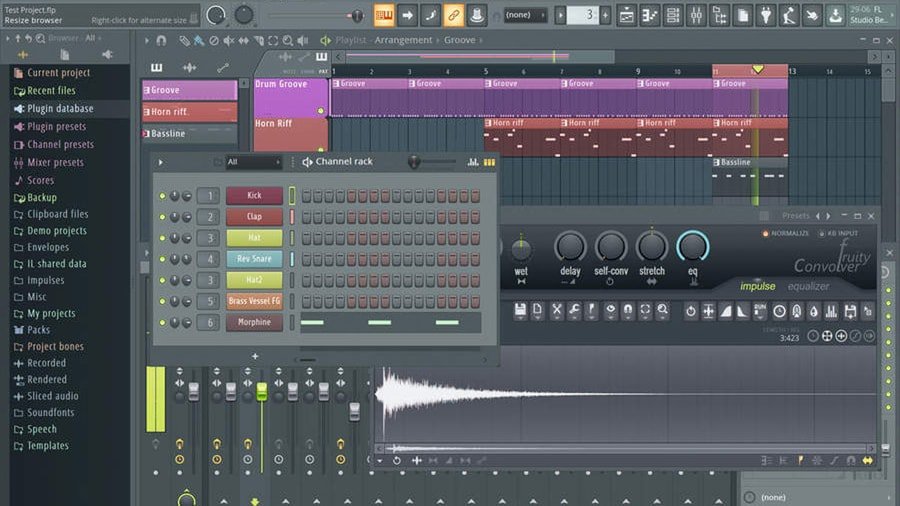 Important Features
The user-friendly interface supports almost any kind of device, including a microphone and MIDI keyboards.
The MIDI functionalities come with a number of excellent loop and pattern-based composition tools.
You can efficiently operate the visible automation clips.
It's available in four different versions, and each of them comes with separate features.
This music-making software for Windows PC is compatible with multiple displays as well as a touch-screen monitor.
Pros: The best thing about this software is that it offers totally free lifetime offers.
Cons: The software requires you to assign the instrument tracks manually to the mixer channels.
3. PreSonus Studio One
---
Since its first launch a few years back, PreSonus Studio One has gained a lot of improvement and additional features, which has turned it into one of the most powerful music production software for the Windows system. The latest version of the software comes with Harmonic Editing of the MIDI tracks and monophonic and polyphonic audio. Besides, there are 7 new functions in this version to improve the overall response.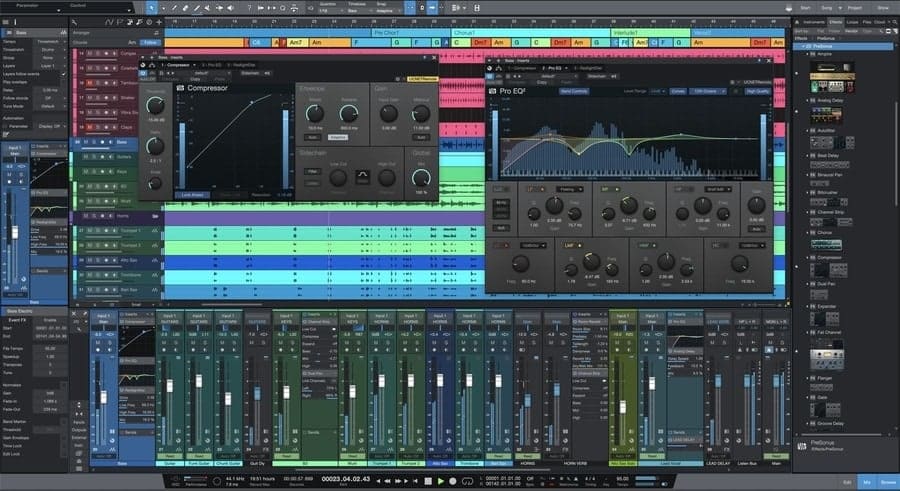 Important Features
The software allows you to automatically shift a song or any other individual element to a user-defined key.
You get new patterns and drum with the latest MIDI editors.
It has gotten an excellent workflow for both audio recording and music composition.
The USP comes with unlimited FX, audio files, and virtual tools.
You get DDP import/export with the mastering facilities.
Pros: The harmonic editing is worth mentioning and has gained a lot of positive reviews/
Cons: It does not come with a notation editor.
4. Cockos Reaper
---
Reaper is the cheapest music making software available in the market with a sophisticated MIDI routing ability. This customizable DAW is highly responsive and offers really fast service. Everything is smoother and quicker, from scrolling to zooming, editing, and fading items, than most other music software you can find.
Important Features
It supports an unlimited number of tracks and effects for easy editing.
It comes with a relatively low CPU usage to save your computer from overheating.
32-bit plugins are auto-bridged in a 64-bit environment.
The software offers 300 free plugins with the latest version.
You can do Lua scripting with a built-in IDE in the software.
Pros: It includes huge community support and several multi-freezing levels. Besides its highly customizable layout, the features are extremely intuitive.
Cons: It does not come with a very rich collection of VSTis.
5. Avid Pro Tools
---
Here comes another best music making software for Windows PC, which is considered the most standard one in the marketplace. This software allows you to update your timeline and tracks while you are in a playback. This helps test the presets, effects, loop points, and many other things without stopping the music. These are the reasons why this is one of the best beat making software for PC.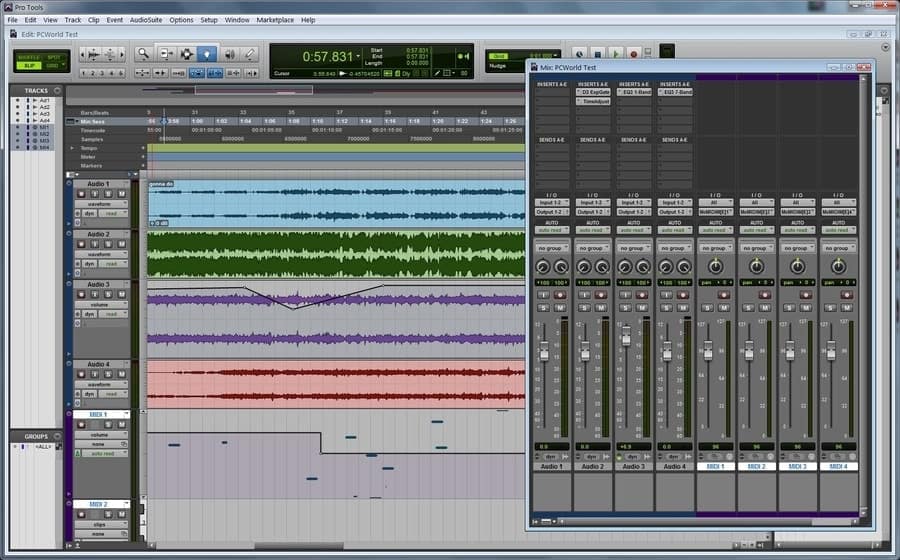 Important Features
The software comes with Avid Cloud Collaboration that gives you cloud-based project storage.
You get a really fast 64 bits recording with a mixing engine.
The software has one of the best high-end hardware and support policies.
You get new Plugsound and Factory sound packs.
The commit and freeze options are really powerful and excellently useful.
Pros: It comes with a contemporary workflow. Also, the tool always takes backup of your audio file, allowing you to restore it anytime.
Cons: It doesn't have any integration with Adobe products.
6. Audacity
---
Audacity is one of the most popular and free music production software for Windows PC that lets you record music from various sources and post-process it into any audio file. The software has everything you will need as a beginner composer: fine-tuning the pitch, treble, bass, and many more. Moreover, you can even analyze the frequencies using assess tracks.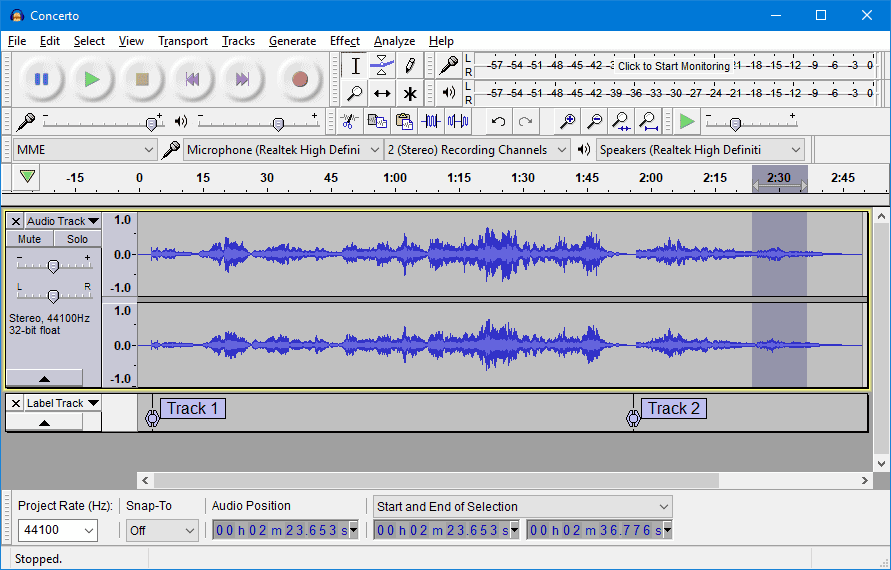 Important Features
The editing options are ideal for dialogue and trimming music tracks.

The software supports multitrack audio as well as batch processing.

The community support is great and offers you a lot of documents for help. 

You get fade tracks for in and out messaging. 

You can record sound WASAPI easily. 
Pros: The software gives you a feeling of recording in a live studio. Besides, it's really easy to install as well as use and is extremely flexible. 
Cons: It allows only destructive audio editing.
7. Tracktion
---
Though only two years old, Tracktion T6 is a free music production software for Windows PC designed to help beginners with the most basic features and simple design. It's the interface. It is really easy to use and understand, and you can get everything within a single window. Now, if you select any other specification, the bottom panel will turn into a screen.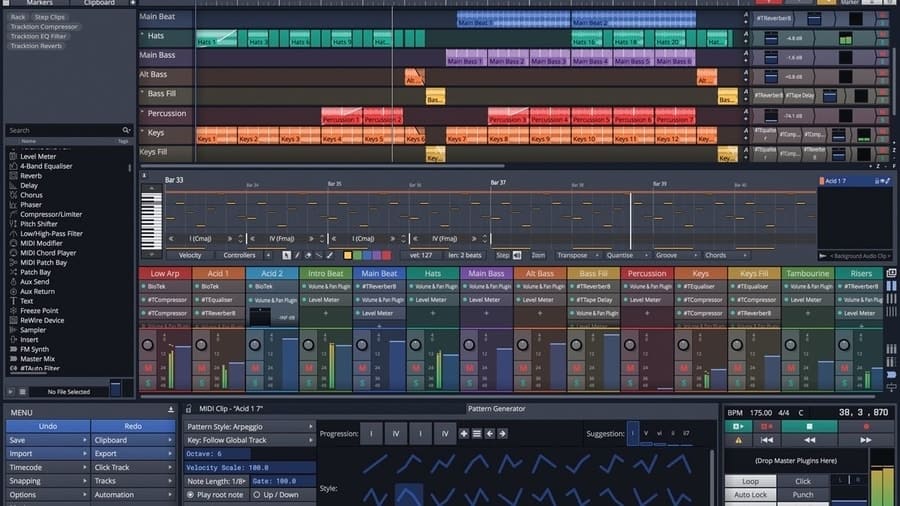 Important Features
You can fine-tune anything according to the workflow you have. 

You get unlimited numbers of audio and MIDI tracks.

The software supports many plugin formats, including VST, Audio Units, and many more. 

It comes with many helpful tools like step and edit clips. 

The contemporary music production is really well-geared. 
Pros: This software offers a really stable service, better than most other beginner level apps. The launch clips are worth mentioning. 
Cons: It doesn't have sounds of all tastes. 
8. DarkWave Studio
---
Out of all those best music production software, DaveWave is one that will never disappoint you. No matter which version of Windows you are using, this software will always be worthy. Also, it's a CPU power saver and ensures taking the least amount of space possible. You can not only use digital music patterns but also arrange patterns while mixing up with track patterns.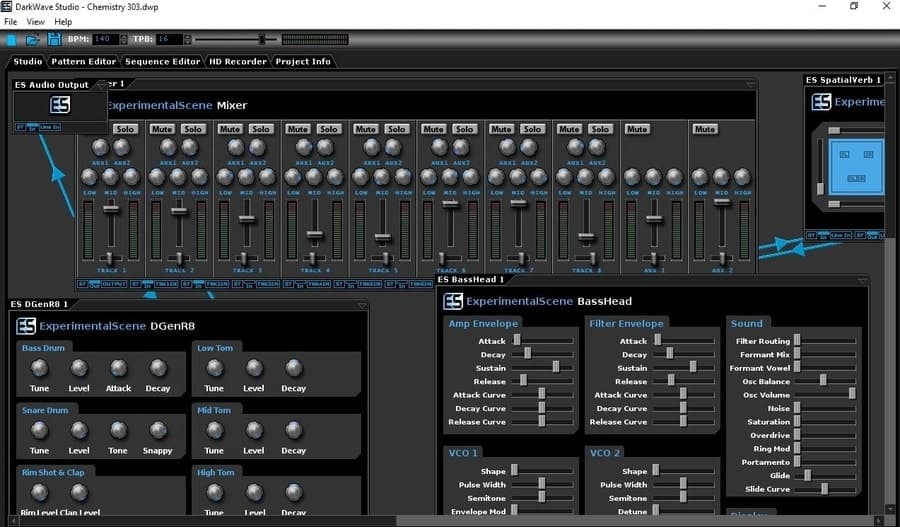 Important Features
You get many extraordinary features, including Virtual Studio, Pattern Editor, Sequence Editor, and Pattern editor. 

The recording option allows you to select any of the plugins to create virtual effects on your music tracks. 

You get advanced digital audio as well as a MIDI workstation along with improved editing and songwriting tools. 

The virtual studio is modular and lets you connect devices. 

The minimalist GUI is divided into three different workstations for your benefit.
Pros: The software is really easy to use and configure.
9. Magix Acid
---
While it might be quite backdated considering all the latest software, it's still one of the best music production software for Windows PC, which includes powerful audio pitch-shifting and audio time-stretching. Moreover, in its latest version, it became compatible with MIDI too. Besides, the software is really fast, easy to use, and competent.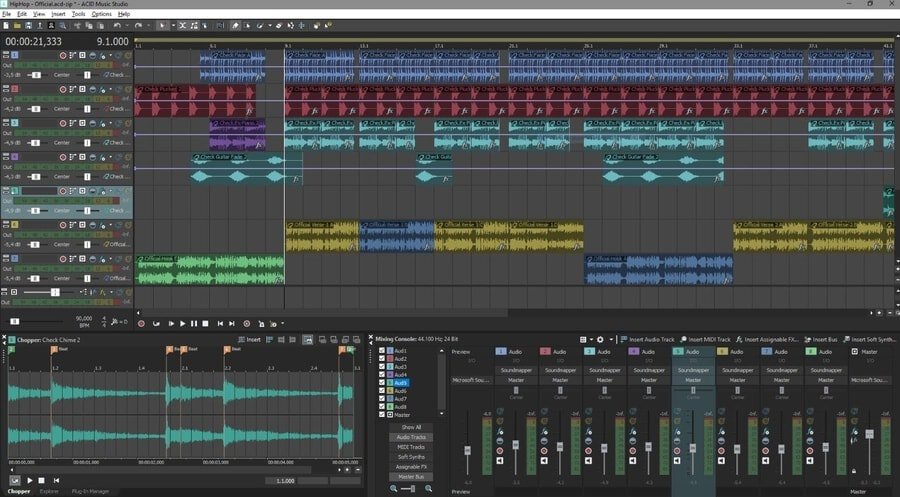 Important Features
It comes with AMmunition, which has an excellent limiter/compressor used on individual key tracks. 

The Stem Maker lets you work with minimal samples easily. 

The MIDI Playable Chopper made the implementation easy and simple work. 

The Core ACID program allows you to work with an excellent loop-based composition.

The ACID Morph Pads with the software offers many creative effect management tools that allow you to morph between several effects presets.
Pros: The software is really easy to use and comes with useful tools. The installation is really easy unless you didn't select the correct drive. 
Cons: The installer makes it mandatory to put loop content in your system drive.
10. Ardour
---
The last music-making software on our list is Ardour, an amazing software compatible with most audio systems. The latest version of the software comes with a user-friendly interface sorted into different tabs for your benefit. Besides all that, the features it comes with are quite useful while writing scripts, audio alterations, or mixing. 
Important Features
This is an open-source, free music production software. 

It supports LV2 plugins for extended functionalities. 

You get inline mixing consoles with the software. 

It offers an excellent support community. 

The software totally supports LADSPA plugins.
Pros: The multi-display support is excellent, and the software offers a really powerful routing. 
Cons: It does not support VST plugins. 
Our Recommendation
---
It's really hard to choose the best music making software from so many amazing software available in the marketplace. But not all of them will indeed give you the service you need. So, if you ask me, Ableton Live is the most recommended one from us. It's designed keeping the modern requirements in mind and has almost all kinds of features and functions you will need both as a beginner and expert. 
However, you can choose any other software from the list I mentioned above since they were chosen after much research and experiments. Most of them are in the marketplace for a lot of time and have been offering a great service to their customers since their first-ever launch.
Finally, Insights
---
So, there goes the list of 10 best music making software for Windows PC available. Most of the world's famous composers started their journey as a home composer and eventually got experienced enough to build their studios. Hence, you can see how important the right music production software maybe when you are struggling as a composer. In brief, these software are great for practicing. 
While there are hundreds of software out there for music production, not all are worth it. So, I have listed out the 10 best according to the reviews and personal experience. I sincerely hope that you could find the best one for you from here to help you with your music production. Don't forget to mention your thoughts in the comment section!