Smartphones are great for playing games. And, if that is an iPhone, the fun exceeds the limitation. It's because of the powerful silicon made by Apple itself inside the device. Besides, the games are optimized for every single iOS device, which is not possible in Android apps. So, if you are looking for the best shooting games for the iPhone, it's not surprising at all. Because recently, the developers have come with a lot of console-level shooting games for iOS devices.
Shooting is a huge genre of mobile gaming. There are a lot of subgenres related to the shooting. Again, other genres like action, adventure, strategy, etc., can be considered as shooting games if there is an adequate shooting scenario in the gameplay. Most of the shooting games on iOS devices these days have online multiplayer gameplay. Since you can play real-time with real friends, it seems like you are in a real-world warzone.
Best Shooting Games for iPhone/iOS
---
App Store is the biggest and only official source of games on Apple devices, with a lot of games in this library. I am pretty sure that you will get lost if you start browsing the catalog looking for your kind of shooting games. As a mobile gamer, I have played a lot of shooting games on my iPhone and iPad during my office break.
So, I know the pain of getting a good game to play. Hence, I have decided to list the best shooting games for iOS devices, which will help many users.
1. PUBG Mobile
---
This is undoubtedly the most entertaining mobile game so far. However, some negative effects of this game created some mixed opinions about this game among the mass people. But still, a large number of players are playing this game regularly. This game has created a benchmark for modern gaming, and esports are becoming popular among mobile gamers.
This type of battle royale game is full of shooting, and they're a lot of guns. The game is so engaging that you won't get a chance to close your eyes, even for a moment at some points of the gameplay.
Gameplay Highlights of PUBG Mobile
The classic battle royale mode will let you play against 100 players.
It has several detailed game maps from that you can choose one to drop in.
The developers push regular updates with new challenges and events.
You can ease up your gameplay by buying items from the in-app store.
Recently the game has introduced a quick match mode for more intense gameplay.
Pros: A lot of tournaments are often arranged with a decent sum of prize money. You can sharpen your skill and take that chance.
Cons: This game has got some negative impressions of the media due to some crazy players. So, please don't take this game too seriously and try not to become addicted.
2. Call of Duty: Mobile
---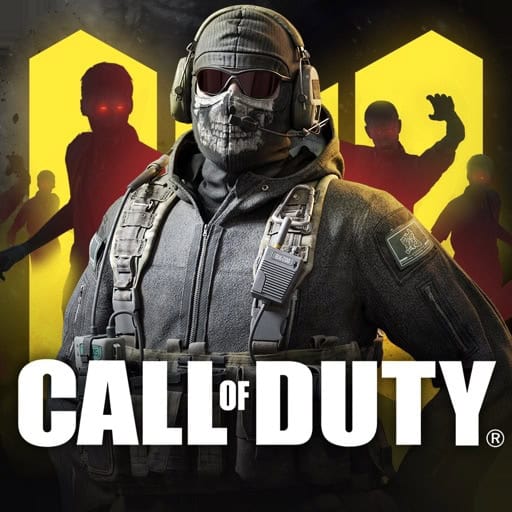 This is the mobile version of the popular video game franchise Call of Duty. In fact, within a short period, it became one of the best shooting games for iPhone on the App Store. From my experience, I can easily say that this is the best first-person shooter out there for iPhone. The visuals and gameplay are so detailed that you won't feel like you are playing a mere smartphone game.
There are different game modes in COD Mobile. You can play the battle royale mode just like PUBG and play multiplayer campaigns with real-life players. Apart from the stand-alone modes, there are regular events and competitions that you can participate in.
Gameplay Highlights of Call of Duty: Mobile
There are a bunch of maps with realistic textures and details.
You will get to use all the classic COD weapons in this game.
The game resources can be downloaded partly to save storage and bandwidth.
This game has realistic shadows, textures, and dynamic range with high fps support.
Regular updates bring new maps and quests so that you won't get bored after a few days.
Pros: The COD fans from PC and consoles can bring back that nostalgia by playing this game. It has a great balance between tending battle royale and classic multiplayer mode.
Cons: This game is not supported on a dated iPhone. Besides, it requires a few gigabytes of storage, which might be a problem for users with less than 64 GB storage.
3. Sniper 3D: Gun Shooting Games
---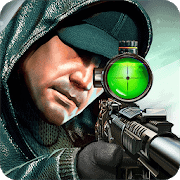 This is a super realistic 3D shooting game for iPhone. As the name suggests, you will have the opportunity to snipe the enemies by using stealth skills. So, you aren't getting a gunfight vibe in this game. But still, the game is quite fun to play. There are a lot of in-game quests and campaigns in this game.
Besides, regular updates often bring new weapons and missions. I appreciate the developers for putting real-life physics in this game, which is not very common in mobile games.
Gameplay Highlights of Sniper 3D: Gun Shooting Games
It features a catalog of 100 different missions, from easy to hard.
There are a plethora of real guns in this game with physics simulation.
This game includes a story mode where you have to assist the law enforcing agencies.
You can play brand new events with real players while connected to the internet.
The in-game rewards can be used for purchasing costumes and accessories.
Pros: This game is playable offline. Even the installation size is minimal, considering the stunning visuals.
Cons: The ads on the free version is the most annoying thing. You can remove them with costly purchases, though.
4. World War Heroes: WW2 FPS
---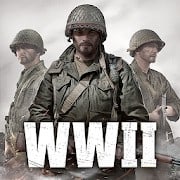 This is a World War simulator packed in a mobile action game. But it can be considered a great shooting game because of the gameplay and nature. Since the game is online multiplayer, you will get to fight real-time players on a real-looking warzone.
Although you can set up your own game rules, some preset regarding weapons and game modes represent different countries like the USA, Germany, Soviet Russia, etc. The game has dedicated modes for tank battle, adding a whole new dimension to the shooting gameplay.
Gameplay Highlights of World War Heroes: WW2 FPS
This game features 7 different core game modes like deathmatch, point capture, team battle, etc.
You will get free perks and gears if you log in to the game daily.
The players can create their rulebook to play with their friends.
The game features almost a hundred classic and modern weapons.
Although the maps look vintage, they have great details, and the rendering is quite optimized.
Pros: Setting up your gameplay mode is a great feature of this game. This will help arrange personal tournaments.
Cons: You can not select custom weather and time inside the map, which is a downside. It would make the game more challenging.
5. Modern Combat 5
---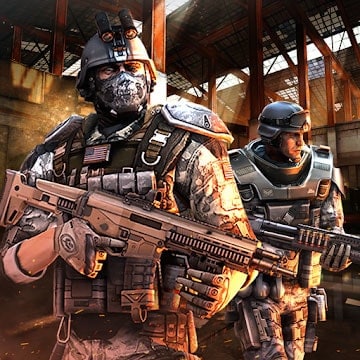 This game is from the popular mobile game publisher Gameloft. You may have played a lot of games from Ubisoft on your computers. Gameloft is a subsidiary of that and has a great collection of action games, including Modern Combat 5. This is the latest installment of the franchise, and it brings the tending multiplayer FPS gameplay. The thing I liked most about this game is the graphics quality.
Believe me, this is a treat to the eyes, and I think it deserves to be one of the best FPS games for iOS devices. The gameplay is not that unique, and it is on par with other multiplayer shooting games. The game also features a single-player mode with a series of missions.
Gameplay Highlights of Modern Combat 5
The controls are quite sharp and fluid. You won't miss the keyboards or a controller.
The players can do real-time voice chat with other players.
You can achieve different skills and XP while you are advancing into both multiplayer and single-player mode.
There are several story-based missions that you can play when you are alone.
It features several playing modes, including the sniper, assault, recon, etc.
Pros: Apart from the multiplayer battle, this game features an engaging story mode rare nowadays.
Cons: Although they are updating this game regularly, there are still a lot of issues. And the developers would add a battle royale mode for providing more fun.
6. Garena Free Fire
---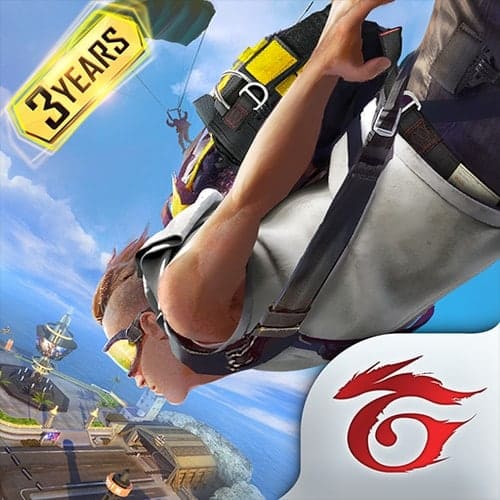 Free Fire is known for providing a PUBG like experience in smaller package sizes. As you already know, this is a survival shooting game. After an epic gunfight of 10 minutes on a remote island, the last man standing will be the champion. You can create your squad with up to 4 friends.
If these seem familiar to you, then a unique 4v4 game mode is very addictive. The visuals and graphics are not that realistic like COD Mobile. However, it's decent, and you can consider this one of the best shooting games for the iPhone with a weaker CPU and less RAM.
Gameplay Highlights of Garena Free Fire
There are two major game modes, including a battle royale and the Clash Squad.
The weapons are highly customizable with skins and accessories.
Training Grounds provide you the opportunity to sharpen your skills.
The maps are huge, with a lot of items to explore with vehicles.
You can participate in different events to collect additional rewards.
Pros: Since the installation size is small, it is perfectly suitable for the iPhone and iPad with small storage space.
Cons: Most players report that this game seems boring after finishing the first few levels. Hopefully, the developers will bring new things to hook up the players.
7. Hitman Sniper
---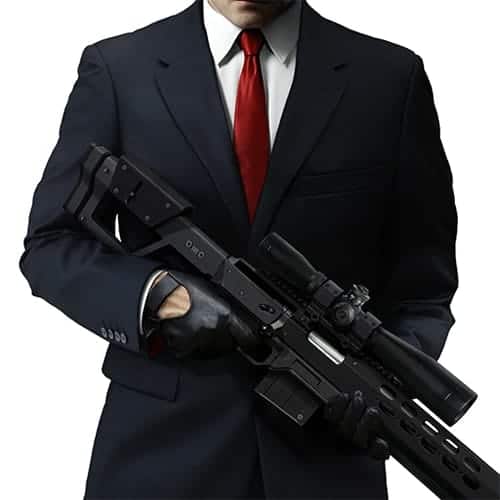 This is yet another stealth shooter for your iOS devices. This is the mobile version of the popular computer game franchise Hitman. It is developed and published by Square Enix. They are quite successful at making this a sophisticated and realistic game with a lot of suspense. This is not a free-to-play game, however.
You have to buy it from the App Store for just one dollar. The price justifies the gameplay it provides. Apart from the classic story mode, you will get a complimentary zombie survival mode, a great timekiller.
Gameplay Highlights of Hitman Sniper
There are more than 150 missions with different difficulty levels.
The weapons and bullets have realistic physics that have increased the fun.
You can unlock up to 17 real-life weapons gradually from the catalog.
The global leaderboard will track your progress and position among other players.
This game has intuitive controls that are very much touch-friendly.
Pros: It can be played offline, and the story mode is best suited for single players.
Cons: There is no ad-supported free version of this game. So, you have to add your card to the App Store to buy and play this game.
8. Into the Dead 2
---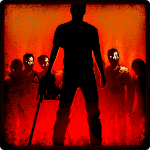 A list of the shooting games remains incomplete without a zombie-flavored game. This one is a dedicated game with a zombie-based storyline. Into the Dead 2 is the second and latest installment of this series. The plot of the game will take you to a place where a zombie apocalypse has happened.
Now, you have to fight with those to save your family and yourself. The sound design of this game is brilliantly done. You will get a horror movie-like experience with frightening visuals.
Gameplay Highlights of Into the Dead 2
The main story has almost 60 different levels with a unique ending for each player.
You can unlock and upgrade a variety of powerful weapons to kill zombies.
There are a few pre-installed maps into the game with different environments and weather.
You can opt for side stories as well as some daily events if you are playing online.
Pros: It has a monthly subscription plan instead of individual in-app purchases with is a great deal. On top of that, it can also be played offline.
Cons: The main story is quite small, with just a few hours of gameplay.
9. War Machines: Tank Battle Games
---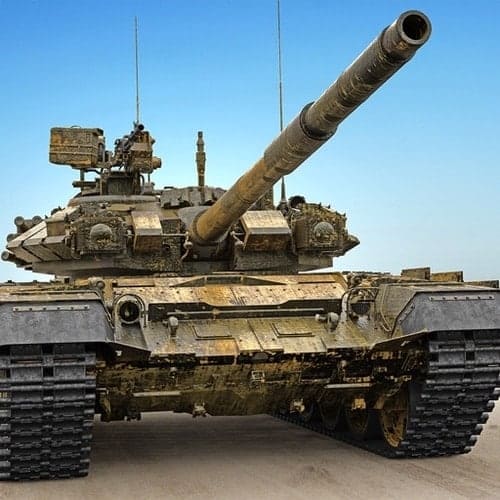 This one is a different type of shooting game for iPhone and iPad. Unlike other games on this list, you will not control a human in this game. Instead, you will operate a military tank and shoot other tanks of the enemies. Although the gameplay is based on intense shooting, you will have to use your unique strategy to win this game.
You can build your team to fight stronger enemies and fight against real-time opponents in the multiplayer mode. The matches are about 3 minutes in duration and don't seem boring at all. Finally, I am not going to say that this is the best shooting game for the iPhone, but it has a great possibility to become your favorite.
Gameplay Highlights of War Machines: Tank Battle Games
You have to choose your tank wisely based on the condition of the battleground.
The tank up-gradation system is very detailed and seems pretty realistic.
The players can fight in different historical warzones from the maps.
There is a campaign mode where you will play and defend your own country.
It has stunning graphical elements with fast rendering and great optimization.
Pros: Tank games has a niche fanbase. But if you are a tank enthusiast, then there is not a better alternative than this.
Cons: There are some glitches while searching for new matches. On top of that, you will have to spend a lot on in-app purchases if you want the best experience.
10. Mini Militia – Doodle Army 2
---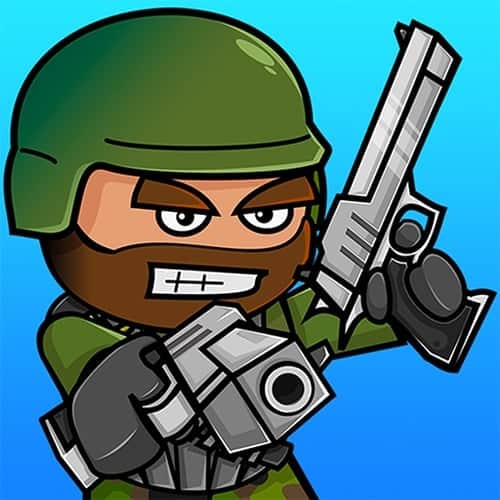 We all know that realistic graphics adds more fun and engagement to the game. But what about retro graphics? Some people find it more attractive. So, if you are searching for a retro-style multiplayer shooting game, then Mini Militia is for you. The parties at friends' homes remain incomplete without a Mini Militia match.
You can play this game online with players all over the world. But the main feature of this game is the LAN mode. You and the friends can connect using WiFi to play a local match, a great entertainment source.
Gameplay Highlights of Mini Militia – Doodle Army 2
The controls are very intuitive, and you can use both your thumbs to move the on-screen joysticks.
There are almost 20 different colorful and detailed maps to choose from.
You can customize your retro-style character and equip that with futuristic weapons.
The offline single-player mode is very engaging and is a great medium for killing boring time.
You will get high fps without any lags and delays, even on older devices.
Pros: If you don't care about graphics and want absolute fun, then this is one of the based LAN games to play.
Cons: The 2D visuals aren't that attractive like other games on this list, which is a drawback if you like realistic physics and graphics.
Our Recommendation
---
The most important thing about a multiplayer game is the number of active players. The more people play the game, the more fun you will get. Considering this, PUBG Mobile and Call of Duty: Mobile are two of the best games to choose from.
You will rarely find any person who doesn't play these games. But if you like offline games, then Into the Dead 2 is a great pick. Don't forget the install Mini Militia – Doodle Army 2 for playing with friends in the class break.
Final Thoughts
---
Shooting games are quite fun, which is why we search and play this type of game. However, sometimes these games can put negative thoughts inside the brains of kids. So, you must be careful before allowing your kids to play shooting games. Some games have a minimum age restriction, which must be followed.
I choose the above games carefully so that most people can play the games without mental stress and seizures. Hopefully, you will pick the best shooting games for iPhone and iPad from the above list. Happy gaming!