When it comes to the best games for girls and kids, Cooking games must get their place in the very first ranks. Basically, most cooking games are designed for kids and girls with a relaxing vibe and simply cover many cooking factors. Kids love this kind of game for fun, while young girls and even women love them to enjoy leisure. Because of its gross popularity, game builders have already launched thousands of games. And now, we'll talk about the best cooking games from them.
Best Cooking Games to Cherish Your Passion for Cooking
---
We attempted to check a lot of cooking games to make an authentic list of 10 games for both Android and iPhone users. In general, we have to face countless garbage when making a list of a specific gaming genre. But today's fact is different, and most of the games already amazed us.
So, we select the best games from slightly different types to provide you with different tastes in one genre. So, check out our handmade list of the best cooking games right below.
1. Cooking Mama: Let's cook!
---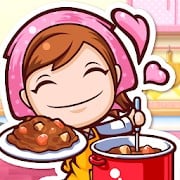 Why not start with the mastery of the best cooking games on the list? Well, it is Cooking Mama, and it comes with a chop, bake, stew, and cooking tasty meals is all under your control. Indeed you will cook food only by playing some mini-games, and you will get over 30 special recipes for your cooking project. Additionally, this game is not all about a restaurant but a happy village where you can go fishing, raise animals, grow vegetables, and a lot more.
Important Feature
You can simply put everything into your quality restaurant and service to everyone.
There will be non-cooking mini-games available like "Play Shopkeeper," "Help out," "Exercise your brain," etc.
This game allows you to earn the best score by taking part in weekly events.
You can indeed customize the decorations and make new recipes to surprise the rest.
The control is so easy that both the children and adults can complete the dishes without game over.
Pros: It initially offers realistic cooking videos to help you in both gaming and real-life cooking. Additionally, you and the kid can enjoy watching animated videos on Mama's fun daily life.
Cons: You may find some of the recipes locked while playing, and you have to pay to unlock them.
2. Cooking Craze: Restaurant Game
---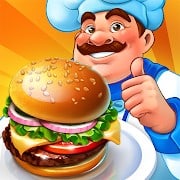 If you are interested in wood-fired baking pizza in Rome or making grilled burgers in New York, this game is designed for you. Avowedly, Cooking Craze is all about serving food to customers around the world. And as a chef, you need to take the heat and make your customers happy to grow your kitchen empire. Additionally, you can customize and add new recipes from each city you visit.
Important Features
There will be more than 100 ingredients to make your cooking toothsome.
Initially, you can make hundreds of delightful dishes, including steak, kabobs, shrimp, ramen, sushi, and much more.
There will be many sweet dishes for you to make like cheesecake, Ice-cream, baked baklava, etc.
You can eventually make premium dishes and cook in different settings of this game.
The game also offers more than 4000 levels in six other areas.
Pros: There will be many special boosts to help your way to victory. Moreover, you will get a golden comment card, and it will get you gold coins and spoons.
3. Cafeteria Nipponica
---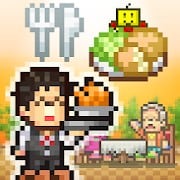 How about wearing the chef's hat, running your own restaurant, and presenting appealing dishes? Well, Cafeteria Nipponica will help you to bring your cooking dreams to come true. Moreover, this game will get you the ingredients, and you can research them to find out more blissful recipes. And you need to keep an eye on the clock and serve the food on time as you will be receiving customer ratings in every round.
Important Features
You need to score enough points throughout the game.
There will be multiple fun events like eating contests, cooking classes, and a lot more.
You have to boost your popularity to run the restaurant in your style.
Simply, you can customize the restaurant from tables to TVs and manage everything successfully.
This game also lets you train your staff and make them into star employees.
Pros: If you can manage your restaurants, then you will get a chance to set other restaurants in different locations. Besides, you can even build your own five-star team throughout this game.
4. Cooking City: chef fever games
---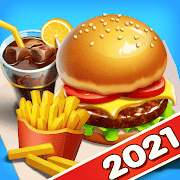 Cooking Fever is not only the best cooking game, but it is quite like a real-life restaurant adventure.  Indeed, the setting of this game is unique, and it offers hundreds of different ingredients for palatable dishes. Additionally, you will find a variety of cuisines to make, from fast food to desserts, along with Indian and Chinese cuisine. Moreover, there will be a rice cooker to a pizza oven, coffee machine, and popcorn maker to make your cooking journey more enjoyable.
Important Features
This game initially offers more than 1000 levels, and you need to complete every step.
You can upgrade the machinery and interior of the kitchen and make it glorious.
After passing a few levels, you can simply set up your restaurant in other areas too.
It is essential to look up to the clock as the food might get burnt and lose customers.
You need to sell a minimum amount of food and get good ratings to reach another level.
Pros: There will be around three quests, and you can receive daily rewards by completing them. Furthermore, you can receive a mystery box after collecting all the stars.
Cons: This game requires gems to open up some restaurants, and it is tough to get any.
5. Cooking Fever: Restaurant Game
---
If you really love baking cakes and dessert items and share the dream of opening a burger shop, then Cooking City is knocking on your doors. This game will take you to a cooking city, and you will find dashes from classic coffee and Chinese restaurants. Besides, you can build your restaurant anywhere you like, challenge yourself in cooking, and prepare to be the lead cooking empire.
Important Features
You don't need any initial internet access to enjoy this game.
This game lets you cook in places like Munich, Rome, Paris, Sydney, Kyoto, and so on.
There will be dozens of cities, and you need to unlock them with your skill.
This game requires some time limitation, so you have to complete the task in the remaining time.
You can upgrade your cooking ingredients and make the food tastier.
Pros: This game keeps offering new levels, mini-games thoroughly. Moreover, magic boosts will help you to reach certain cooking goals and to develop your skills.
Cons: You may find some of the levels too difficult to win.
6. Cooking Madness-Kitchen Frenzy
---
Cooking Madness welcomes you to be the master chef of this ultimate food paradise. This kitchen game is all about your cooking passion, and you will see some of the unique restaurants on your adventure. In addition, there will be many unlocked recipes and dishes, and you need to discover them all. No wonder that this game will help you to enhance your cooking techniques along with your management skills.
Important Features
This game initially offers new levels and fun challenges in every new update.
The visual quality and the interface are very user-friendly.
You need to manage your cooking in due time for a better gaming experience.
It lets you customize the meal set with seafood items and mostly on customers' demands.
New customers will be passing by your restaurants, and you need to manage the cooking business carefully.
Pros: You will earn gems by simply passing different levels in it. Furthermore, this game will offer you five extra lives for a limited period.
Cons: Getting free diamonds is really hard to get in this game.
7. SpongeBob: Krusty Cook-Off
---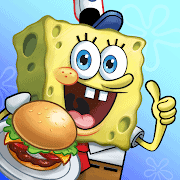 Will you join the restaurant adventure of Mr. Krab in SpongeBob Universe? Here, SpongeBob is actually a gaming platform where you can build your Bikini Bottom Kitchen and serve the customers with unique dishes. In addition, you will start your journey as a junior fry cook. And after hard training, you can be the most renowned chef. Indeed, you will meet a lot of familiar faces there, including Sandy Cheeks, Patrick Star, and many more.
Important Features
You will receive tips and bonuses if you succeed in making your customers happy.
This unique kitchen game will offer new restaurants and cuisines daily along with new cooking challenges.
You will get new recipes to learn, and it will let you upgrade the character too.
There are many unlocked characters, and you can customize their outfits just like the actual show when you unlock them.
You need to ensure proper time management while serving the dishes to customers.
Pros: This game offers multiple new levels throughout the storyline. Besides, you can enrich yourself with a lot of cooking skills and power, and it will get you amazing rewards.
Cons: Getting any gems and upgrading your kitchen is extremely difficult in this game.
8. World Chef
---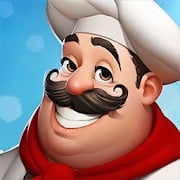 If you like making burgers, fries and other international dishes, I have a suggestion for you. World Chef is one of the best cooking games even on the international stage. In this game, you can open up a restaurant, decorate in your style and serve world cuisines to your customers.
Moreover, you can expand your menu and restaurant with chefs and recipes from more than 20 nationalities. Additionally, you can remake a restaurant where all the supreme dishes can fit inside it.
Important Features
You can simply craft fancy decorations in the design studio of this game.
Here, you can import some unique ingredients that you use for your cooking.
This game will arrange VIP dinners and events in your restaurant.
The VIPs will visit your restaurant regularly if you manage to increase your popularity.
Indeed, you can serve all the traditional cuisine around the world to your customers.
Pros: You don't need to cook the food hurriedly and you can take time to slow-cook your recipes. In addition, it offers lots of furniture themes and many different chefs of different cultures and continents.
9. Hunt Cook: Catch and Serve
---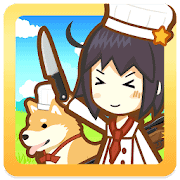 Once, people used to eat the freshest food by catching and collecting the ingredients right before cooking them. But now, it's only possible if you have a farm in the village. However, it's okay if you cannot manage a farm to catch and serve food in real life.
This game allows you the same experience in the virtual world. Enjoy hunt cook. It's an exciting cooking game where you have to catch cattle and collect vegetables before you cook for your guests.
Important Features
Here, you have to collect all the ingredients you will need to make a dish from the forest.
Hunting wild animals are fun in this game. But if you miss them anyway, you cannot make your dish.
You can not just hunt anything; you will get what the customer orders will determine exactly what kind of animal you have to hunt and make the dish.
Playing more will upgrade your cooking and hunting skills while providing you with more points.
This game lets you build your own farm to collect food ingredients easily to make dishes for your customers.
Pros: It is an adventurous hunting game where you have to hunt wild animals and use them for cooking food. So, you will get a taste of both adventure, wildlife, hunting, and cooking genres.
Cons: This game is not suggested for kids before 12 as it's a simulation hunting-based cooking game.
10. Dinner Dash Adventures – Cook fast & Beat the Clock
---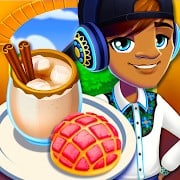 And finally, we have Dinner Dash Adventures, another fast kitchen game for your Android and iPhone. How fast you can make a dish will determine how many points you will earn. You will eventually have a lot of hungry customers in your bakery, so you have to make sure to serve them as quickly as possible. All the ingredients will be right behind your hands, and you just have to put them in the right place to make food for the customers.
Important Features
You can make money for your shop with hundreds of customizable foods.
This game lets you customize the recipes and make fusion foods to rock your bakery experience.
It lets you do hundreds of levels, and the more levels you will complete, the harder this game will be.
There will be some exciting puzzle games to make the chef entertained during her busy cooking time.
You have to make sure to match all the customer's food, and the wrong item will cause minus points here.
Pros: This cooking simulation game can be a nice way of entertainment for kids and girls. Also, it lets you build your own home with the points you earn from the bakery.
Cons: You cannot initially enjoy this game without an internal connection.
FAQ
---
Q: What is the best Cooking game for iPhone?
A: Cooking Madness and Cooking Fever are the best cooking games for the iPhone. They are eventually available for iPad and even for Android as well. These games come with amazingly great graphics and mood-changing sound quality, and they are eventually suitable for both kids and young girls.
Q: What is the best offline cooking game?
A: Cafeteria Nipponica and Cooking City are the best offline cooking games, and both of them are free to play and available for both Android and iOS users. Additionally, these games provide lots of levels to enjoy a different gaming experience.
Q: Is there any adventurous cooking game?
A: Hunt Cook is the best adventurous cooking game that comes with entirely different gaming features. Basically, it is not an ordinary cooking game, and here you have to hunt wild animals to cook them and serve them to the customers in your restaurant. That's why this game is not suitable for kids below 12.
Q: What is the best cooking game for kids?
A: Most of the recommended cooking games are the best for kids. Still, if you ask to specify, we would suggest Cooking Fever and Cooking Madness. Both iPhone and Android users can play these games, and they both are free to play and come with many levels to enjoy. Your kids must stay quiet while playing these games and will definitely develop their passion for cooking. And no doubt that results in their wish to help you in the kitchen.
Finally, Insights
---
This is our mini guide to the best ever cooking games both for Android and iPhone. Whether it is you or your kids, these exciting games will definitely make you happy. To enjoy your leisure time or just to keep your kids busy, I am sure this guide must be helpful. So, let us know how you feel about it. Also, inform us if you know about any other cooking games better than the ones we mentioned. Anyway, here we take our leave for today. Thank you so much for being so supportive.