To unleash the true potentiality of your Android device, you might have rooted your device, but you find it difficult and harmful now. If you wish to unroot your Android phone/tablet, then you're certainly on the right post at this moment. However, rooting Android isn't for everyone. It's tricky and harmful to do if you've not done it the right way.
Rooting the Android phones/tablets will void your warranty and discontinue the OTA update. For these reasons, if you wish to sell your device, you might find it difficult. There are many ways by which you can unroot your Android phone/tablet.
You need to be careful before rooting your Android devices. Otherwise, there will be chances of harming your device by your own will. However, you may find a bunch of writings on how to root your Android phone/tablet, but no one talks that much about how to unroot? Usually, people prefer security on their Android devices, and having that unrooting your Android will be the best option for sure.
Unroot Your Android Phone/Tablet Easily
---
If you wish to retract all the permissions and access you've given at the time of rooting, then let's unroot. There are a few different methods of unrooting your Android. Therefore, you need to be cautious about whichever process you go with.
Depending on the target device, the best one you've got to choose. Most importantly, before unrooting your Android device, make sure all the data is already backed up. Otherwise, you won't get any data once unrooting is completed because unrooting will wipe your device completely.
In the entire post, I'll let you know about a bunch of different ways of unrooting your Android phone/tablet. Thinkering with an Android device doesn't make any sense as it voids your warranty and puts you in an uncomfortable situation.
So, let's make yourself enlightened and keep your Android safe and secure by unrooting your Android devices through the possible simple ways below.
Method 1: Unroot Android by Using SuperSU
---
For unrooting your Android phone/tablet, SuperSU is the most popular app that people are using every now and then. Sometimes the app is being automatically installed when you root your Android phone, but if you don't have the app right now then please download SuperSU from the Google Play store manually. 
If you've completed the installation, please follow the below instructions and get unrooting done on your Android phones/tablets pretty easily.
Find and open the SuperSU app on your Android and hover over the Settings.
Let's get into the CLEANUP section by scrolling down a bit and selecting the Full unroot option.
As you've taped on Full Unroot, now, read the popped-up information. If you agree with everything, then choose Continue.
Please do wait until the unrooting is completed; if done, reboot your device.
Yes! You're done. The process of unrooting your Android is easy as pie. Just follow the easy steps above and get all things done.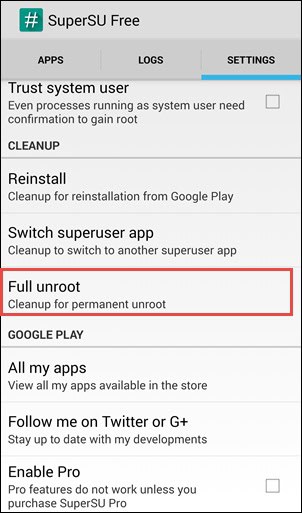 Method 2: By Using other Unrooting Apps
---
If you're not using SuperSU, then there are plenty of other apps available for you to unroot your Android. Universal Unroot and Kingroot are the most popular among them that is easy and convenient to unroot your device. Let's have a look at how you can get things done with these apps.
i. Unroot Your Android with Universal Unroot App
---
Though the Universal Unroot app can complete the unrooting procedure of your Android phone/tablet, yet the app has some downsides. For instance, the app doesn't work on most of the Android phones/tablets in the market. Therefore, consider yourself lucky if it works well on your device. Let's take a quick look at the whole procedure.
Open the universal unroot app on your Android if you've installed it successfully.
On the middle resulting page, you'll be able to see the UNROOT option. Just read the instruction and complete the unrooting procedure.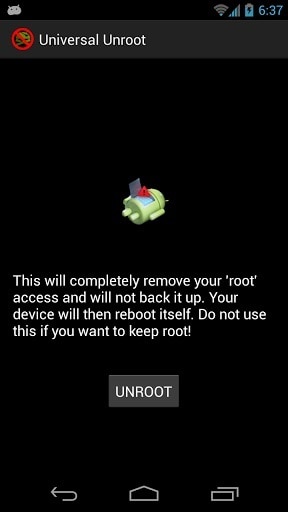 ii. Unroot Your Android Device with Kingroot
---
Kingroot, another widely used app to unroot your Android phone/tablet. Make your unrooting easy as pie with Kingroot by following some quick below steps.
Find the Kingroot Apk on Google and install it accordingly.
Open the app after installing and provide all permissions if asked.
 Time to get into the Settings from Menu icon and choose Uninstall Kingroot at the bottom.
Read all the information carefully, and now nothing is left rather than just tapping Continue and then Okay.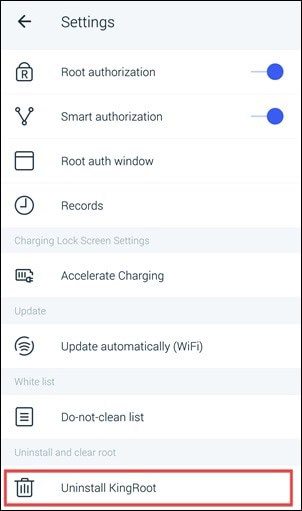 Method 3: Unroot by Using A File Manager
---
Unrooting your Android phone/tablet using a File Manager can also be considered an easy solution. You just need to delete the SU binaries and superuser.apk from your device through a file manager that removes all your rooting data. How to do it? Please follow the below instructions and act accordingly.
In case of which file manager you choose, I would suggest ES File Manager (One I'm going to discuss below) and Root File Manager. Therefore, choose whichever you prefer.
If you've installed the ES File Manager app on your Android, then launch quickly.
Press the Sidebar menu and Click on #Root to allow the root files access.
Find the local storage and identify the "system/bin" folder.
Do search "su" file, and then delete.
Time to go back to the system folder and locate the "system/xbin" folder to delete "su" files if any remains undeleted.
And lastly, delete the Superuser.apk from the "system/app" folder.
Let's reboot your device, and you're done with unrooting.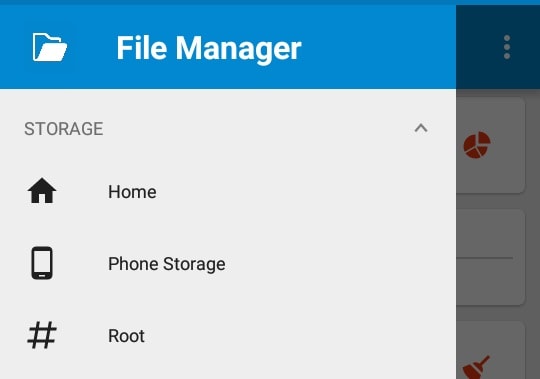 Method 4: Unroot by Installing Stock Firmware
---
Going back to the original stock firmware is the best way to unroot your Android phone/tablet. Consider your device's version, kernel, ROM, or recovery; unrooting by installing stock firmware will work. Because your device's stock firmware already has the necessary software packed into your system. Let's get into the Firmware Scanner to get things done.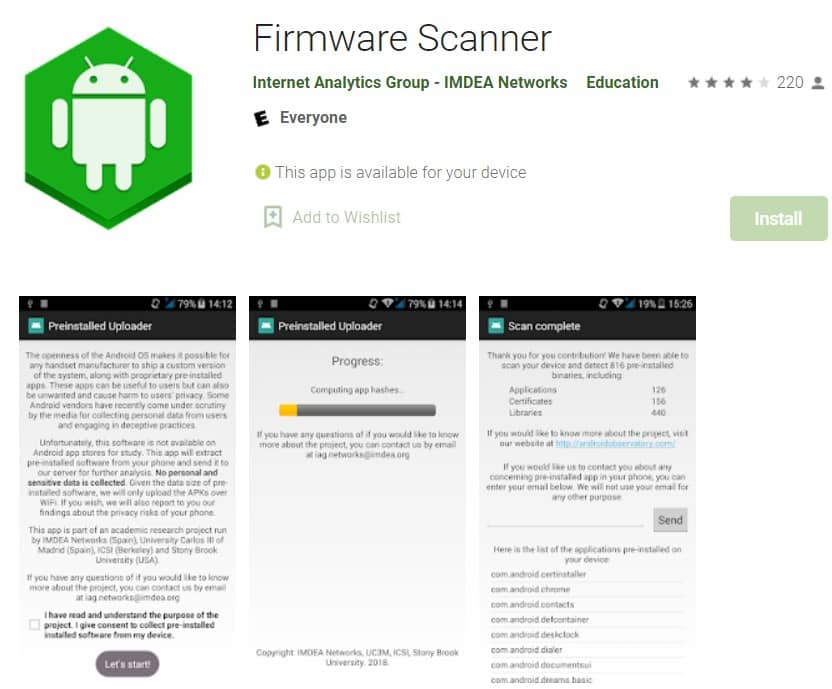 Method 5: Unroot Your Android Phone/Tablet by Magisk
---
You can easily unroot your Android phone/tablet with the help of Magisk Manager. It's a popular and widely used Android unroot manager that actually hides the fact that your phone has been rooted. To unroot your Android phone/tablet with Magisk Manager, you just need to follow some basic and easy steps below.
Download the Magisk Manager and install it on your Android.
After launching the app, you'll see Uninstall option at the bottom of the page.
Carefully go through all the instructions and act accordingly to finish the uninstallation.
Finally, you just need to allow the app to get Magisk uninstaller on your Android; the rest will be done automatically. Just wait until your phone gets rebooted successfully.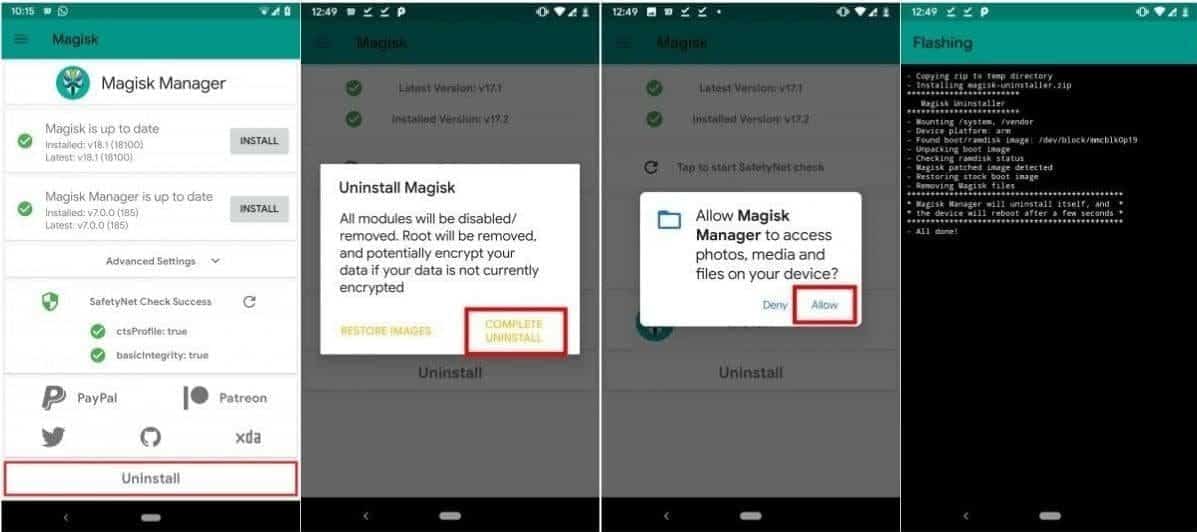 Finally, Insights
---
To conclude things up, rooting your Android phone/tablet might be proven beneficial to you, but it has some certain drawbacks as well. Moreover, Google has upgraded its system to a great extent to provide the utmost user experience. Therefore, you no longer need to root your Android phone/tablet anymore.
Speaking of rooting, if you've already rooted your Android device earlier then please unroot by following any of the above-mentioned procedures. To avoid several functional issues on your Android phone/tablet, I recommend you unroot your device as early as possible.
Well, it's time to take a leave. Thanks for being with me in the entire post. If you find this helpful and informative then feel free to share it with others. A comment of yours in the comment box will also boost me a lot.
These things would appreciate me a lot coming up with more new tricks and tips like this one. Lastly, feel free to share with me if you're already familiar with any other process of unrooting your Android phone/tablet.