The reference manager software aims to help the research students and professionals at accurate and efficient citing. These tools can be used for one-time report work or even on long-term projects. The reference manager tools can serve more than academic purposes, such as business presentations, reports, etc. These tools connect large teams through the cloud server and provide full access to a large number of trusted articles and resources.
Many a time, the users get file storage and sharing along with various document-making tools inside the reference management tools inbuilt. It allows the user to save the resources right at that moment to find them later without any struggle. Before selecting the best reference manager tool, you must look for some pre-specific criteria, which are:
It must support various citation formats.
Should work on the various product materials such as journals, books, and websites, etc.
Organize the resource information
Best Linux Reference Manager Software
---
There are many Linux bibliography tools available online. So in this category, a lot of options make the user confused to choose the best one. Here, I will give you an expert opinion with a list of the 15 best Linux reference manager tools. So let's get started.
1. Mendeley
---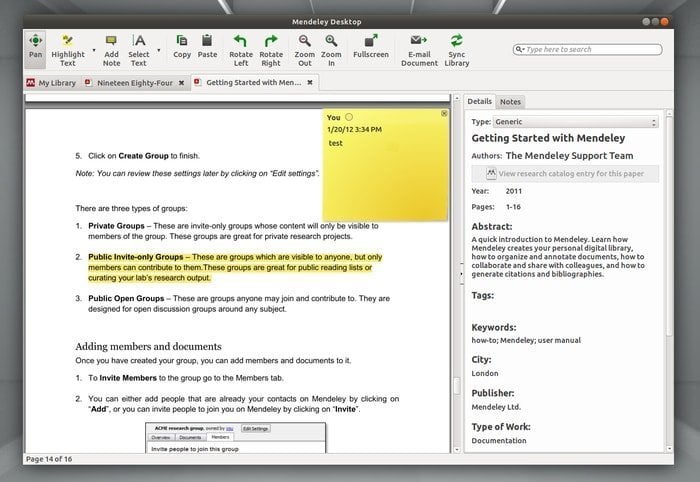 Mendeley can be referred to as the most popular reference manager for Linux. This offers free storage space and allows for a group network. This software also comes with an inbuilt PDF viewer. Mendeley is a tool that is designed for helping the user gather and organizing PDFs and citing precisely at the time of writing.
Generates citation and bibliography in LaTeX, LibreOffice, and Microsoft Word

Allows the user to connect to colleagues and share notes, papers, and annotations  

Captures webpage for creating a record
2. Zotero
---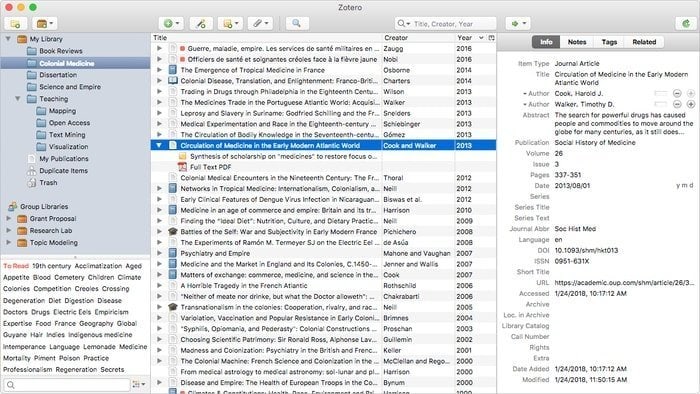 Zotero is a powerful software for managing references. Zotero creates bibliographies or references instantly for any text file such as Google Doc, LibreOffice, and Word. You can format your projects according to the style of any publication or guide.
Open source and design its is publicly accessible

Runs both offline and web service on the device

Stores and formats bibliographic information

Helps to tag, organize and search information
3. KBibTeX
---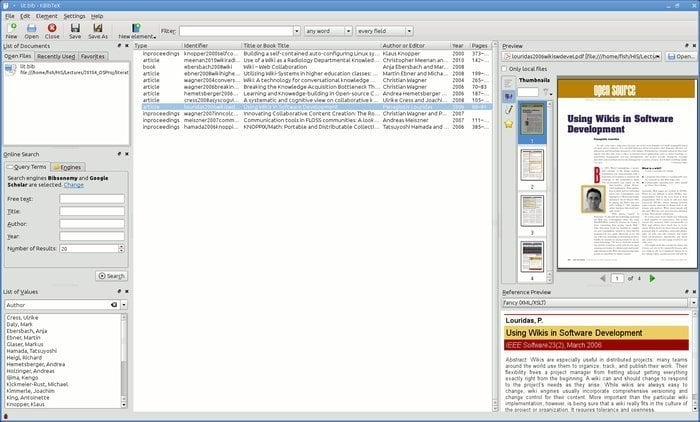 This reference manager software is mainly used for BibTeX in junction with LaTex or TeX. Along with the regular editing capabilities, this Linux reference manager offers features, e.g., importing new references, searching references from BibSonomy or Google Scholar, etc.
Finds and merges duplicate bibliography entries using "Find Duplicate" from the menu

Shows online and local resources using the "document preview" panel

Enters preamble that defines how the particular texts should be formatted
4. JabRef
---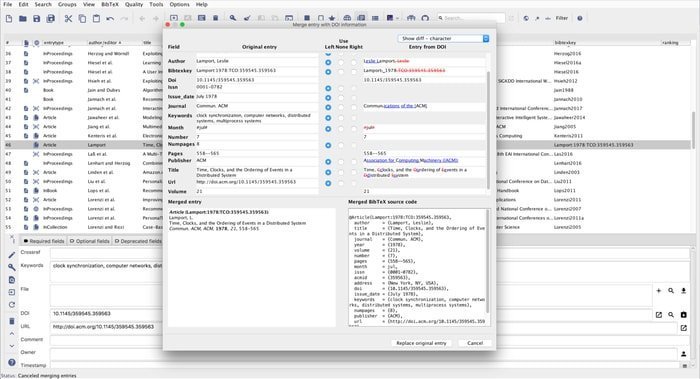 JabRef is an open source reference manager for Linux. The native format of the file used by this reference manager is BibTeX. This reference manager features automatic citation export, file-syncing, auto-completion of the bibliography, automatic file renaming, and group entries. This software is desktop software, but it can also be used as a Firefox add-on.
Retrieves and links the full text of the articles easily

Searches across scientific resources like zbMATH, arXiv, Springer, Medline, MathSciNet, Google Scholar, etc.

Imports option for more than 15 reference formats

Extract the metadata from PDFs
5. WIKINDX
---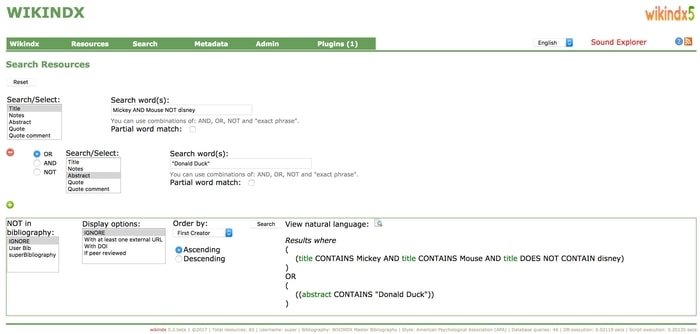 WIKINDX is your virtual online bibliography manager. This software is designed for both single and collaborative use. Though it falls under the reference manager category, it can be used to write papers or notes. One of the most attractive features of this software is it supports non-English character sets. Also, you can use it for a comprehensive search. WIKINDX is helpful and user-friendly.
Exports the bibliography in many styles such as IEEE, APA, and Chicago, etc.

Stores quotes, ideas, and paraphrases with the reference

The architecture of modular plug-in is customization, and plug-in includes WYSIWYG word processor, PubMed import, Amazon import, etc.
6. Pybliographer
---
Pybliographer is a powerful Linux bibliography tool used for searching, editing, viewing, and reformatting bibliographies. This software is written in python and provides excellent bibliography or citation service to researchers, students, and teachers from all over the world.
Supports bibliography formats such as Ovid, ISI, Medline, Refer, BibTeX, etc.

Generates HTML pages according to the bibliography searches

Merges the new development of the features with the usual interface of the software
7. Referencer
---
Referencer is top-notch reference manager software for Linux. This software helps the user to organize and manage references, documents and generate the BibTeX file. You can use this software to neat edit your bibliography and document data, insertion of citation, etc. This software is translated into many languages for wider use.
Helps the user to cite in any format

Tags the documents very easily

Imports from EndNote, BibTeX, Reference Manager

Retrieves CrossRef, PubMed, and arXiv metadata for PDFs automatically.
8. Cb2Bib
---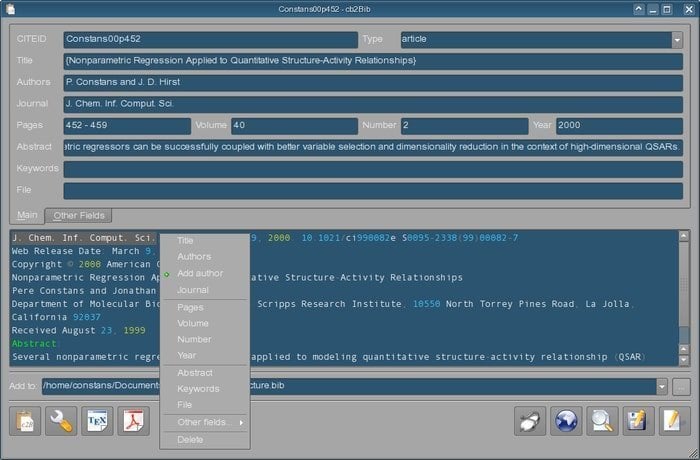 No more struggle with the bibliography of your report! This is a free, multiplatform, and open source application for the instant extraction of unformatted references from ODF files, web pages, e-books, journals, etc. This software efficiently captures the references and provides the user with organized and formatted bibliography in BibTeX. With the help of this software, you can cite the references, search the pinned reference, write short notes on the related references and insert bibliography metadata to the documents.
Captures single reference from non-standard and unformatted sources

Delivers the references in BibTeX

Links and renames the article files easily

Permits the editing and browsing of citing references, BibTeX files, etc.
9. Refbase
---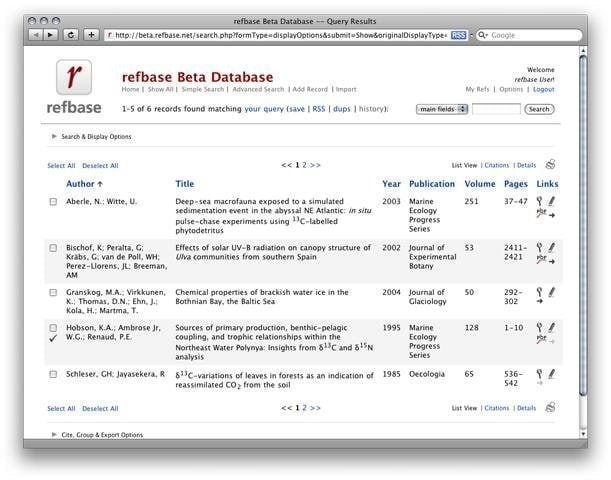 One of the best multi-user interfaces to manage scientific citation and literature is Refbase. With the help of Refbase, you can import and export scientific references in many formats, including MODS XML, BibTeX, OpenOffice, and Endnote. It can also make a formatted list of citations and offer powerful search results, RSS, and rich metadata.
Has multiple types of search options, including robust SQL, advanced, quick, and straightforward search options

Searches within the functionality of the results help in refining the search query.

Exports the record to BibTeX, RIS, EndNote, XML, and MODS

Uses dynamic or static links for linking records
10. Papis
---

Papis is a bibliography manager based on the command line. It successfully syncs the documents using Google Drive, Dropbox, git, OwnCloud, etc. The best thing is you do not need to make an account for sharing with your colleagues. The importing of the documents is very easy and straightforward. Papis helps the user to export the document into many formats like yaml, BibTeX, etc.
Creates custom scripts or uses the existing scripts for helping the user with bibliography

Imports existing or saved documents from Zotero or other reference managers

Downloads the paper information directly from DOI via Crossref
11. Bibfilex
---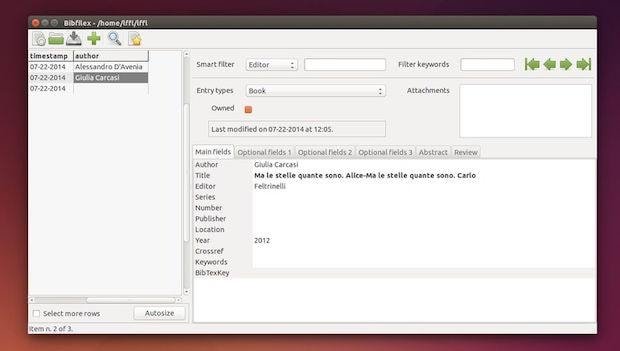 Bibfilex is the all-rounder among the reference managing software. This is a reference manager for Linux, OS X, and windows. As this is less advanced than JabRef or Refbase, you can customize it in any way you want. The software is speedy and simple.  
Composes the citation by the user-defined pattern and copies it in the clipboard in HTML or LaTeX format

Stores keyword in the buffer and also removes or inserts it easily

Filters each item by the BibTeX keys in the LaTeX documents

Checks for double entry of items in the file
12. Pubs
---
Pubs will solve all your reference to managing problems. Pubs helps you organize the bibliography documents and the associated bibliographic data and provide the command line access for the advanced and basic manipulation of the library. Pubs is free, user-friendly, and straightforward. As everything is stored in plain text, the user can manually edit anything without any trouble.
Attaches the document to the reference and opens it automatically from the command line

Uses unique citation keys for bibliography

Keeps the bibliographic data separated from the metadata
13. Wizdom.ai
---
Wizdom.ai is a comprehensive and free Linux reference manager for students, teachers, and researchers. In addition to adding a citation, you can add, search and manage publications in the wisdom.ai library. You can access the library on the go. This software also efficiently syncs across the wisdom.ai web and desktop instantly and cites them in your research paper.  
Supports many publisher websites such as IEEE, ArXiv, PubMed, CrossRef, Google Scholar, and Taylor & Francis, etc.

Collects data references from more than 100 million papers from the top publishers

Cites and generates the bibliography in more than 7,000 citation styles
14. CiteULike
---
CiteULike is another reference manager for Linux. This software works through web browsers. Hence, you do not need to install it on your computer. Also, you can access the library from any computer with an internet connection.
Extracts the citations details, so it does not require typing

Saves the bibliography information automatically

Connects you with other users and also help you to see the articles they have tagged

Exports the citations in Delicious, RIF, PDF, BibTeX, and RIS
15. EasyBib
---
EasyBib makes the bibliography easy and simple for the user. This is one of the favorite reference manager tools. It helps you to organize your references in any style you want. Along with citing, it also provides research and note-taking tools.
Gives unlimited suggestion for improving grammar, writing style as well as sentence structure

Helps you to format the bibliography in any standard style

Comes with tons of exciting writing resources such as research guides, infographics, and videos
Final Thought
---
As we said, it is hard to find a good reference manager for Linux that is worth your time and also fulfills your needs. Among all these Linux Reference Manager Software, Mendeley has topped the list. This is because of free accessibility, easy installation, and efficiency. For a more professional thesis paper or presentation, you can use any of the above software for arranging the citation.