Today's article is specifically designed for those who work or studies in the statistics field. This field is quite tough and in order to preserve the data and calculation, some software may come to great help to you. To ease your burden and to take care of all your information, Linux has come up with some prodigious software which will work as your helping hand and will lead you to the right track.
As you know that econometric software and statistical software almost belong to the same category, that is why in this article, you will find an amalgamation and combination of this two Linux software. By doing this, it will also be easier for you to search the software easily.
Econometric Software and Statistical Software
---
The software which we are going to discuss will hopefully come to your help and will fulfill all your demands. Please remember that this software is not following any particular order and all the features are not included here.
1. R Project for Statistical Computing
---
R project is a software environment where statistical computing and graphics are done. To make R easier to use you can download RStudio. R is an open source and free econometrics tool and statistical analysis software. It is a ductile software and you can do a wide range of work through this software. R is a mobilized software which provides the facilities of data manipulation, mathematical calculation, and graphical display.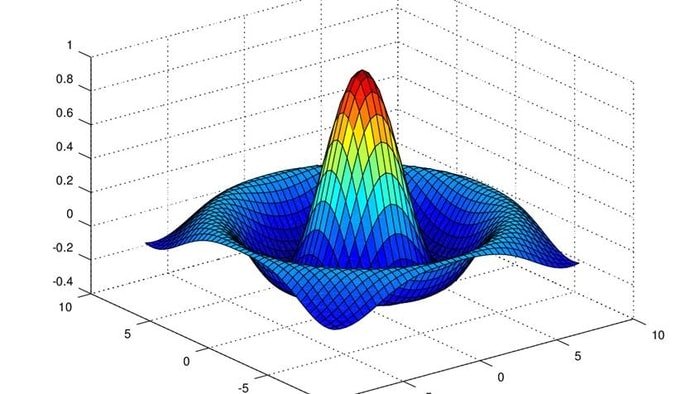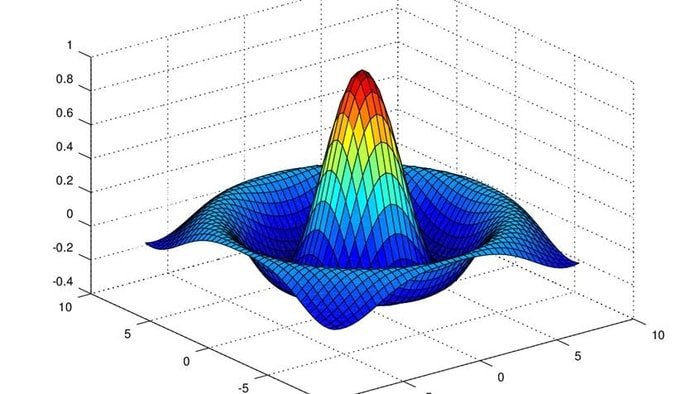 R is not an ordinary software, rather it is a software which has an abundance of intermediate tools for data analysis and statistical programming. One of the R's idiosyncratic quality is that it can produce perfect designed plots which include mathematical symbols, conditional loops, and many other notable facilities.
2. Gretl
---
Gretl is a cross-platform, free and open source statistical software and econometric software for Linux. C programming language is used to write it. This software can interact through various languages which makes it easier for us to use it. Gretl's data is exchangeable with GNU R, GNU Octave, Python etc. It supports various data formats like XML data files, Comma Separated Values, Excel, Gnumeric and many others. Gretl is comparatively easy to use than the other related software.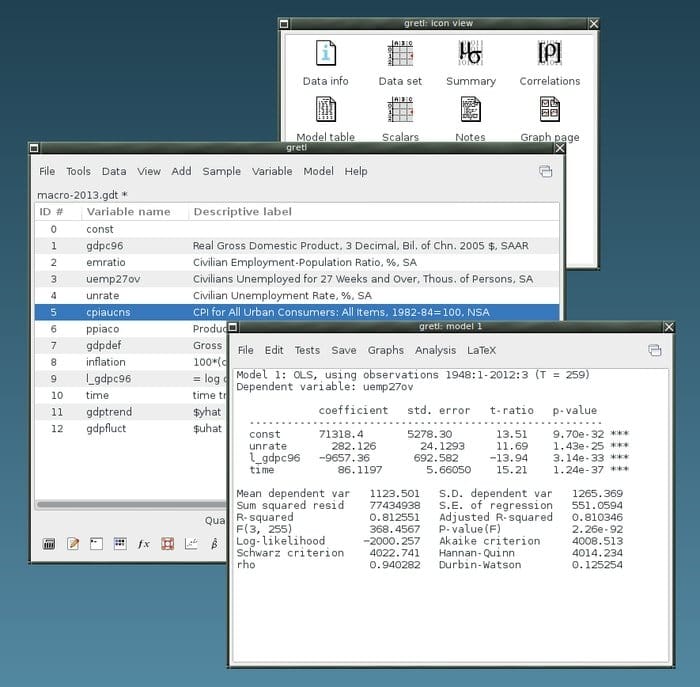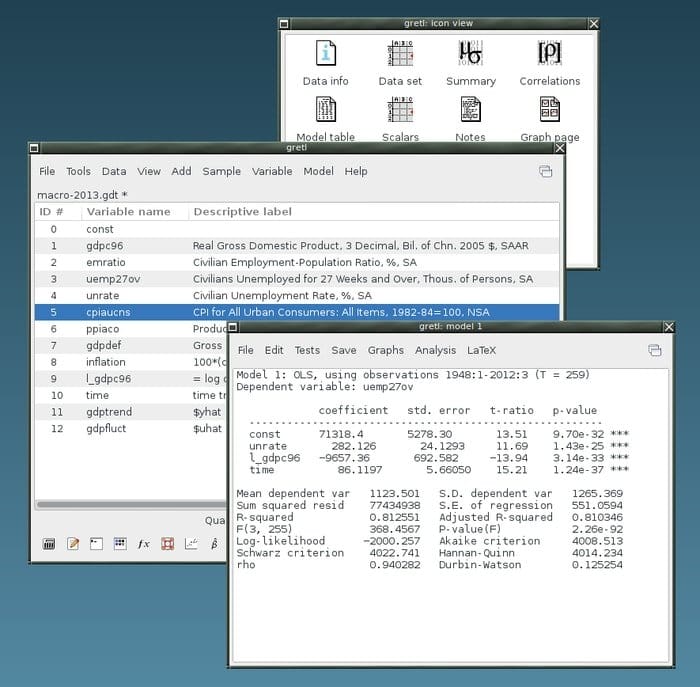 This software supports multiple estimates including least squares maximum likelihood, single equation etc. Gretl also has numerous function packages which are written in hansL.
3. Grocer: An Econometric Toolbox for Scilab
---
Like Gauss and Matlab, Grocer is a matrix based statistics programs. Grocer mostly does the jobs which are done by commercial software. It is free, open source econometric software which has been specially designed for scilab. It performs various tests like ADF, KPSS, CADF, Johansen etc. Besides these jobs, it has also the feature of handling various business cycle tools. Grocer can sort out the perfect linear model from a huge set of data too.
4. GeoDa
---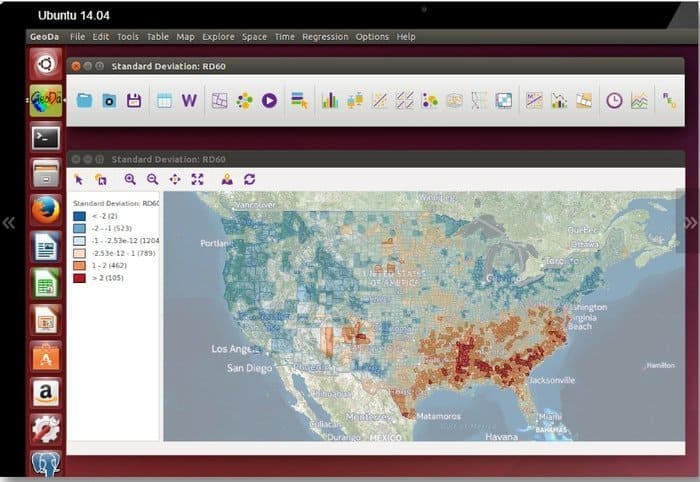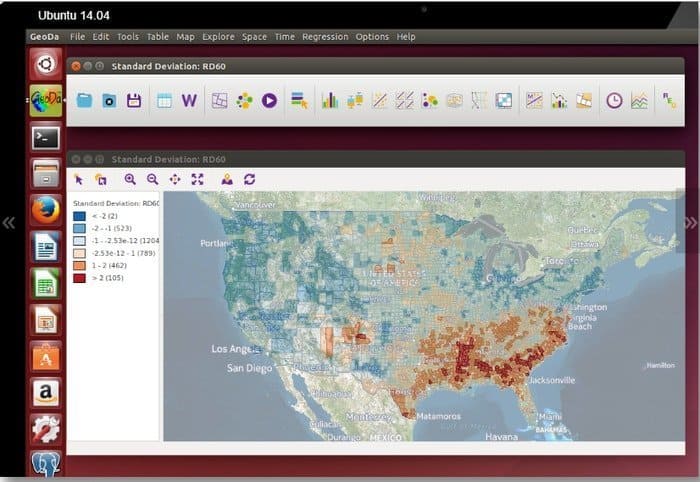 GeoDa is a free, cross-platform data analysis software package and a spatial data analytical tool which operates spatial spontaneity and modeling. This is a powerful tool to get these jobs perfectly done. Besides these, you can also make it perform basic linear regression. It transforms various file formats into one file and it further transforms data in various file formats. For example- .csv to .dbf.
5. Draco
---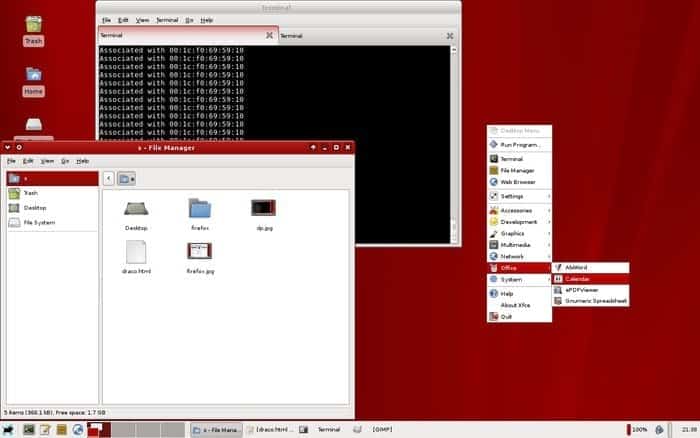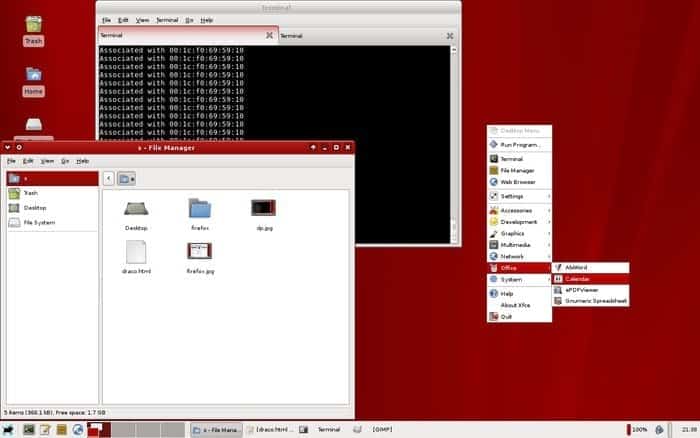 Draco is one of the best data analysis tools which analyses econometrics in an easy, understandable manner so that the user does not have to face any kind of vexation. Many of the tools used by costly commercial software are available in Draco. For the improvement of working capability, Draco uses a highly developed user interface. This user interface represents all the composed variables before the user. It can also manufacture new variables which are based on complex equations by using JRuby language.
6. Stata
---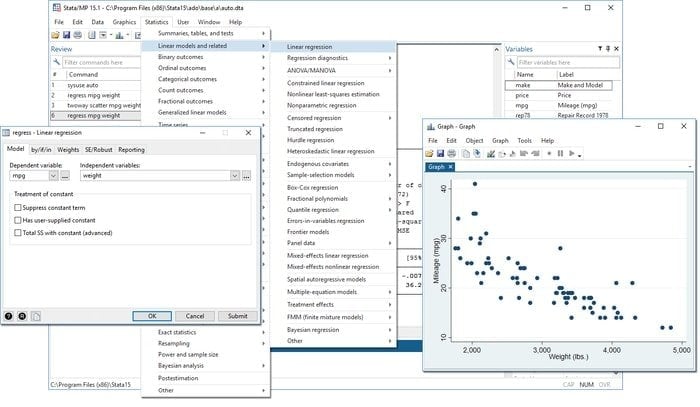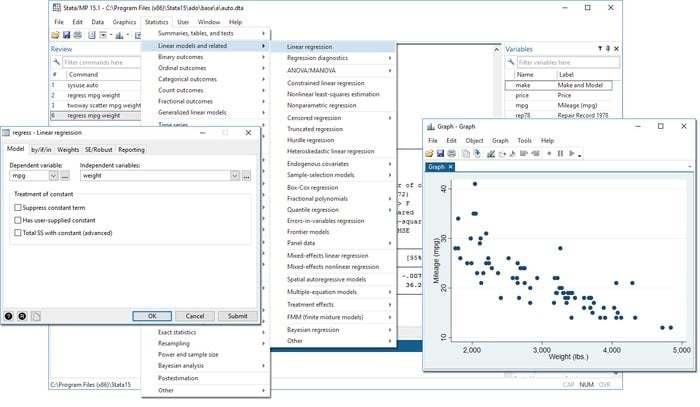 Stata is a data analysis software package which you will be able to use without paying any annual license fees. It can work fast and gives an accurate output. Stata masters your data and can contribute to data manipulation, visualization, statistics etc. It is a cross-platform software which provides highly efficient technical support.
7. PSPP
---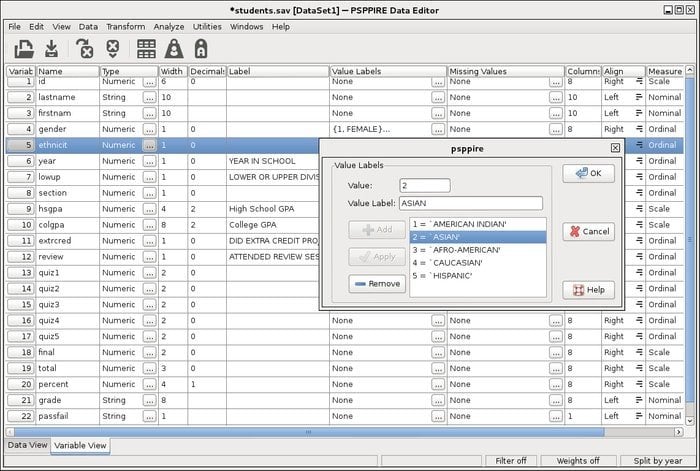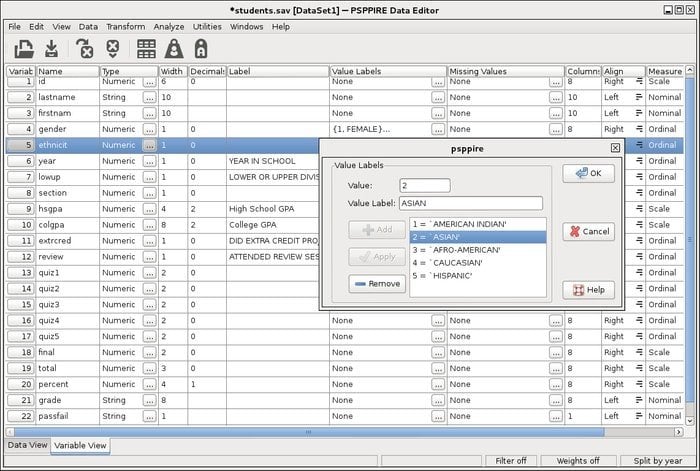 PSPP is a free, open-source Linux econometric software which is slightly different from the other software. You can use this software in multiple ways and it is quite reliable. Its graphical interface is highly commendable. This software supports billions of variables and cases. It has the capability of importing information from spreadsheet, text file etc.
8. IBM SPSS Statistics Software
---
IBM SPSS Statistics software is a vast library of machine learning algorithms. It reduces pressure and risks factors. This data analysis software is user-friendly and has a modern interface with high statistics analytical capability. IBM SPSS Statistics software will also helpful for all types of users.
9. Deducer Data Analysis Software
---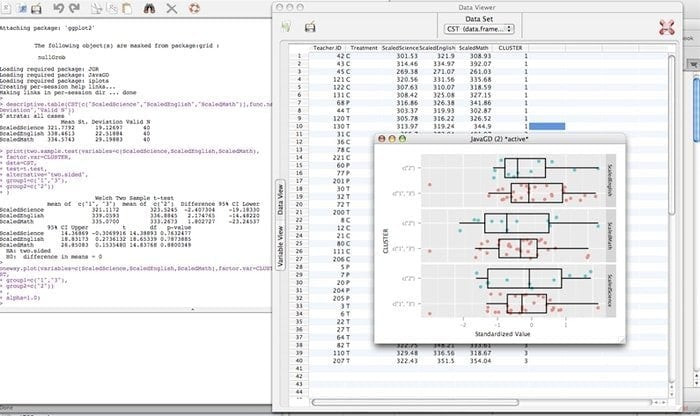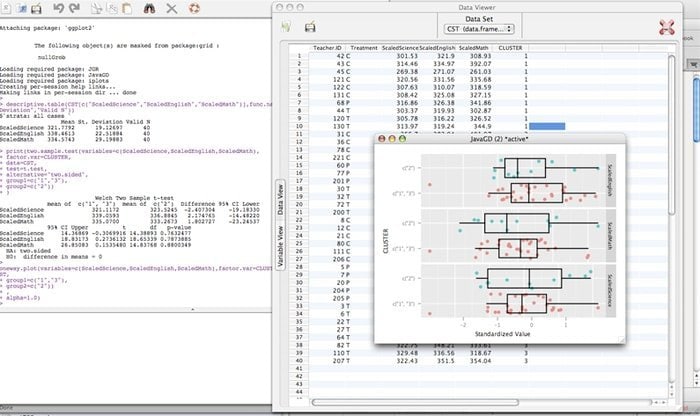 Deducer software has been made for using propriety data analysis software like SPSS, IMP, Minitab etc. This software has a menu system which operates analytical jobs, information manipulation and so on. Deducer data analysis software is designed in such a way which allows itself to be used with Java based R console JR. This is free software.
10. JASP – Statistical Analysis Software
---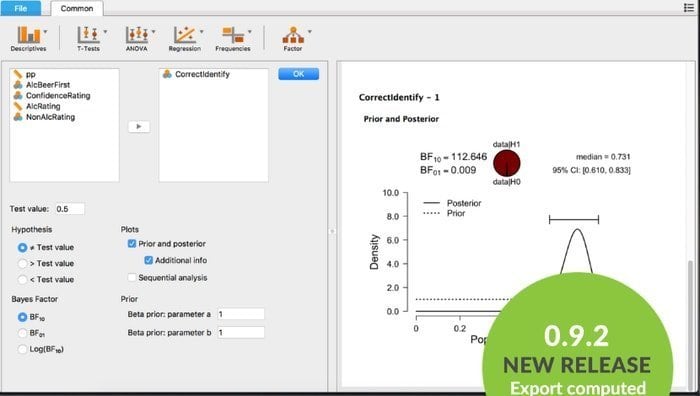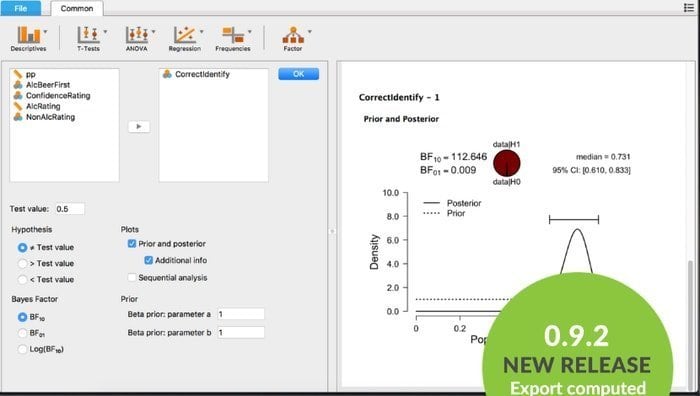 JASP is a dynamic Linux statistical analysis tool for doing statistical analysis and other statistics oriented jobs. This software supports spreadsheet layout facility. You can easily get the results and perpetuate your data. This feature will help you in your further calculation. JASP has a user-friendly interface.
11. SOFA Statistics
---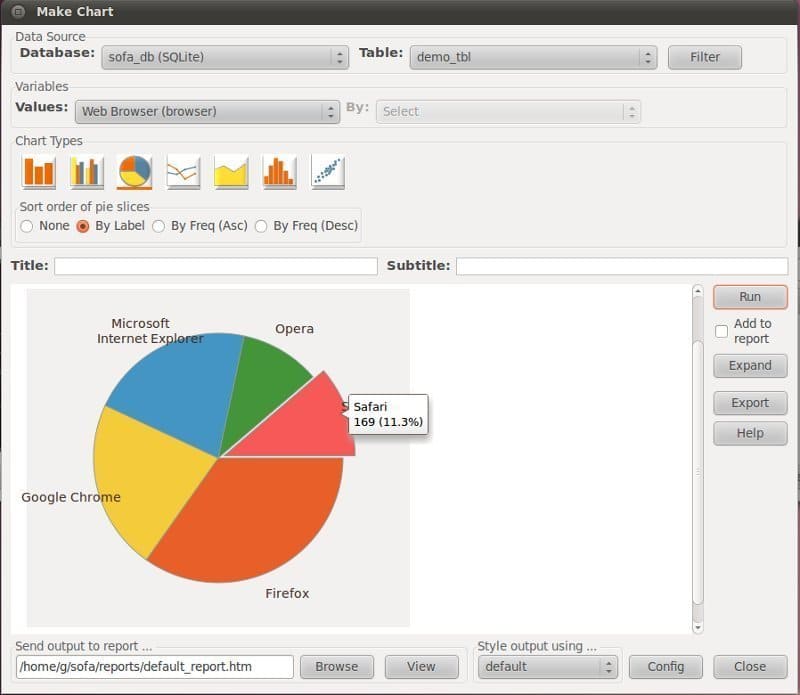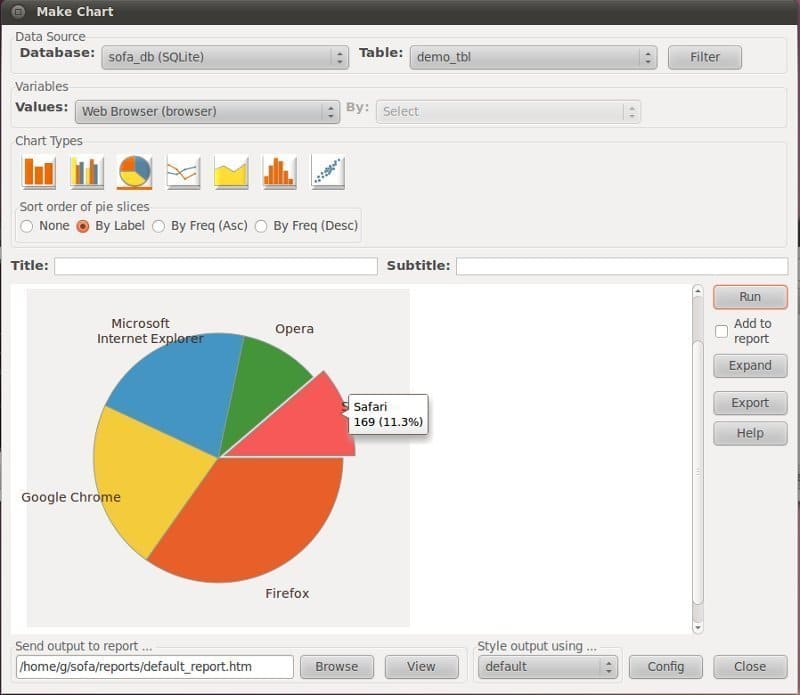 This statistics program comes with a wonderful output system. This software enables the users to take various tests like histograms, scatterplots, pie charts etc. It has a simultaneously reporting python script export. You can import data from Excel, Google docs spreadsheet and so on and export information in excel format. SOFA is a free statistical analysis tool for Linux.
12. Root
---
Root is one of the greatest statistical analysis software for Linux. Root is an object-based programme having the ability to solve high energy physics data and equations. This software is a bit high qualitative and not for the beginners. Root was chiefly designed for analyzing particle physics data but currently, it has also been used in other fields like astronomy and data mining. This software works as a standard mathematical function. Root is used for both C++ and python.
13. MacAnova
---
MacAnova is a free and open source statistical software and one of the best Linux statistical analysis tools. This software has some functions similar to R. Through this software, you can commensurate data, make a relation between vector and matrices. You can also add footnotes with all variables. With the help of html, you can read in your preferred web browser.
14. PAW: Physics Analysis WorkStation
---
PAW is an excellent Linux statistical analysis tool. Its full form is physics analysis workstation. PAW has been designed as an instrument to help the physicians to analyze and present their data. This software is another highly qualified software which will smoothly do your jobs. You can also decide on which mode you will like to run it. This is totally your choice. It has 1,2,3 dimensions and huge representation range.
15. Dap Project for Statistics and Graphics
---
Dap is a small Linux statistical analysis tool which is based on C programming language. It has the capability of reading SBS programmes. Someone who is acquainted with the basic syntax of C programming can very easily learn the features of dap and use it in a relaxed way. Instead of reading all the files in the memory, dap reads one line at a time.
Concluding Thoughts
---
Given the above discussion, it can be said that this software is really helpful for doing statistical and econometric related jobs. This Linux econometric software and statistical software will do your jobs nicely and you will like the software for sure. Here we have sorted out the best software for your convenience.
Do you like this set of statistical analysis software? Did we miss any important data analysis software on our list? If so, please let us know in the comment section so that we can include that in the next revision. And don't forget to share this content with your friends and family on your social network.