Who does not like to play games on their Android mobile phones? Everyone likes it. But there are thousands of best action games for Android available in the google play store. Too many options come with confusion to choose the best one. Here I will be helping you to get some best action games for your lovely android phone. And be amazed to see the beauty of the game's set, storyline, graphics, powerful characters, multiplayer compatibility, and so on. Above all, be the ultimate hero of your own virtual world.
Best Action Games For Android
---
Today I will share a set of top free ten best action games for android devices, which you can play with your friends and family in your leisure time. All the games are chosen based on high ratings and trending in the play store.
1. Iron Blade: Medieval Legends RPG
---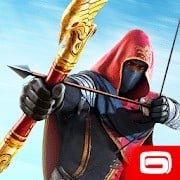 Iron Blade: Medieval Legends RPG is an answer to your RPG craves. Join yourself in the universe of war heroes, dark forces, and medieval settings. The game's environments are based on medieval Europe and filled with chaos and magic.
You will fight your way to become a master warrior, warlord, monster hunter, and the list goes on. It provides full of exciting opportunities. It includes real-world locations, dungeons, and places where you can engage in war and PvP challenges. One of the most notable things is its creation of in-game settings that resembles locations of medieval Europe. 
Important Features
You will play a savior and save the kingdom from the demonic monster's army.

The game renders high-quality graphics and jaw-dropping console-like visuals.

It features monsters and creatures from the epics and known myths. 

The fighting combos and skills are versatile with a huge upgrade path.

You can make your kingdom, standing army, and castles to solidify your rule.

The controlling system is smooth and user-friendly.
2. Cover Fire: Shooting Games Free
---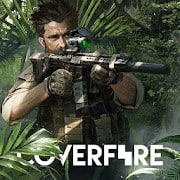 Among the shooting action games for Android, Cover Fire provides one of the most advanced and versatile gameplay experiences. It features cutting-edge visuals and 3D graphics like consoles on mobile devices. There are many different game modes available to keep you motivated.
Play as a master shooter, marksman sniper, and command in the battles like veterans. The game has lots of missions and shooting challenges to complete. You will enjoy its rich storyline in story modes and general campaigns. It is playable without any internet communication. 
Important Features
It provides one of the most exciting single-player gaming experiences in offline mode.

There are lots of sniper modes, zombie killing events, shooting modes, and survival challenges.

It is integrated with a wide range of weapons and armor sets. 

The game provides lots of interactive in-game environment setups. There are jungle areas, deserts, industrial areas, etc.

It offers a modern and widely accessible controlling system for a seamless gameplay experience.
3. Kung Fu Commando
---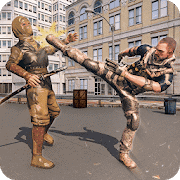 Another exciting action game that will surely fascinate you is Kung Fu Commando. The game has a balanced leveling as the players level up and get lots of upgrades. It provides high-definition graphics while consuming relatively low system resources.
You will love its gameplay with numerous tournaments against competitive opponents. It renders realistic 3D graphics. The game features lots of action moves and epic combos. Master the movement and fight combos to raise to the leaderboard. It is free to play with optional in-game purchasing options.
Important Features
You can choose the game modes according to your playing style.

There are many characters to play with, and they are integrated with unique movements, skills, and fighting styles. 

You can have boxing and Kung Fu-style fights with warriors in the campaigns and career modes.

The control system of the game is very responsive and smooth for performing fighting combos and special movements.

It provides many competitive challenges and offers world-class fighters as opponents.

The graphics of the game are real-like with high-quality 3D graphics and sophisticated in-game environments.
4. N.O.V.A. Legacy
---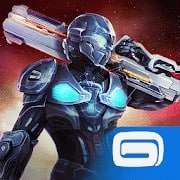 Do you like science fiction action FPS games? If yes, then N.O.V.A. Legacy will be a perfect match for you. It offers high-definition graphics and console-like gameplay in mobile devices. It is free to play and one of the most optimized action games for Android.
The game offers exciting multiplayer sessions with friends. It supports both online and offline gameplay experiences. You can play single-player shooting campaigns with exciting stories anytime, anywhere. It has integrated both leaderboard and achievement functions for competitive gaming sessions.
Important Features
Play as Kal Wardin and fight against enemy colonial forces and alien invaders.

It offers deathmatches in 8 players multiplayer sessions; you can make your team and have battles in 4v4 competitive strike missions.

It provides many modern and fancy weapons and armor suits with an interactive upgrade path. 

You can craft weapons and upgrade existing ones as you get experience and game resources.

It offers lots of different missions and campaigns, such as shadow missions, special ops missions, sniper goals, etc. 

It renders realistic 3D graphics with advanced in-game visual effects and a smooth controlling system. 
5. Overkill 3
---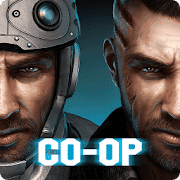 Let's look into another action shooting game with stunning audio-visual qualities. Overkill 3 is among the good ones that can be played both offline and online mode. It provides cinematic visual effects and consoles, like graphics on your mobile devices.
The game has a rich storyline in single-player campaigns. It provides almost seamless connectivity among players while playing in multiplayer modes. Its unique qualities made it a very addictive action game for Android. The game is well optimized and comes with a balanced reward system.
Important Features
You can play in co-op modes with friends in the vast online multiplayer modes.

The game features lots of guns and ammunition with huge upgrading capabilities.

You can add, craft, and customize the weapons and armors as you wish.

The fighting system is versatile with lots of different modes and features epic boss battles with unparalleled cinematic effects.

It provides daily tasks, updated missions for multiplayer gameplay, and an open profile system. 

The game shines in 3rd person shooting actions and comes with a top-notch controlling system specially optimized for Android mobiles.
6. Death Invasion: Survival
---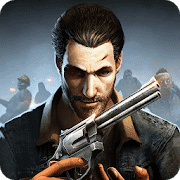 What happens when lots of zombies are coming toward you? You have nothing to do except shooting them and run away. To give you this thrilling experience, JoyMore GAME came up with Death Invasion. This is one of the best action games for Android out there. This game comes with a storyline that is both touching and thrilling.
In this game, you are in a small town infested by zombies. No matter where you go, they will follow you and kill you. To survive, you need to find better weapons, food, and safe shelter. You have to go to some of the most dangerous places on the map to get these things. These places are filled up with flesh-eating zombies. Your friends will collect these. In the meantime, you have to distract the zombies. Sometimes you will meet the zombie bosses who are pretty hard to kill.
Important Features
Ultra-realistic 3D graphics with easy controls.

Impressive storyline to follow.

Upgrade your outfit and gear to get advantages.

Find the way out of the most critical places.

Breathtaking action scenes with different kinds of weapons.

Freely move around the map with the TPS view.
7. Prison Escape
---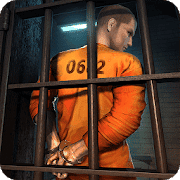 A combination of puzzles and an Android game is always fun. Wanna try a puzzle action game for your Android device? Then try Prison Escape. This immersive game comes with lots of surprises and actions. In this game, you are a high-profile criminal and kept in jail. This jail is guarded 24 hours by polices. There is almost no way out.
But you are a professional when it comes to escaping. Show your puzzle-solving skills and flee out of the disgusting jail. Make friends in jail and fight with other prisoners and get back your glory. This game has a stunning open world where you can play. This makes the game a bit harder. But you will get used to it. Thanks to its smart controlling system that makes it easier.
Important Features
Immersive 3d realistic open-world game strategy that will blow your mind.

Make yourself out of jail by completing different missions.

Show stuns by performing it while in the battle.

Go brutal with simple tools.

Fight uninvited guests and research to find the best way for you to escape.
8. Grand Action Simulator – New York Car Gang
---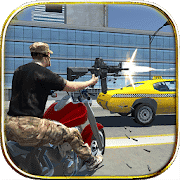 Some of us are very afraid of getting caught by police or get killed in the game. Test your nerves with Grand Action Simulator. This app is surprisingly fast and smooth, although it has impressively detailed surroundings. Be a gangster in new york city and become chief of every street of new york city.
In this game, you will fight many bigger mafia teams from Russia, Japan, Mexico, America, China, etc. This game has a wide variety of weapons that you have to buy from different shops scattered around the city. This open world has a huge collection of vehicles and choppers. Save your city from outward interference and be the only king.
Important Features
3D graphics that make everything close to real.

Customize your guns to increase performance.

Explore the vast open-world map.

Get bigger and destroy everything in your way.

Complete different kinds of side missions to get extra money.

Customize your outfits.
9. Alien Zone Plus
---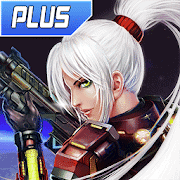 If you are a fan of Sci-fi action games in your Android device, then this one is for you. It is the Alien Zone Plus. This game consists of actions and is full of charms. In this game, your city is invaded by creepy aliens who destroy everything and kill everyone who comes on their way.
Kill all those creatures and save your city and loved ones. There are 22 stages and 22 distinctive scenes that will introduce you to the situation you are facing. This game has an astonishing 3d user interface that will make you feel like you are in that place.
Although this game has relatively great graphics, it has a simple and fast control with fast feedback. Gear up; you have a city to save and do not forget to heal in between battles. These creatures are very destructive, and so, you have to be very intelligent and active.
Important Features
Upgradeable character by completing more missions.

Fully customizable weapons and costumes.

Characters and given different perks and can enjoy different gameplay.

Randomly generated monsters will test your fighting limits.

Make your traps and kill the enemy.

Different places to go on a map.
10. Alpha Guns 2
---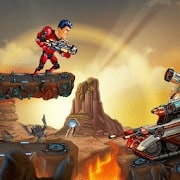 Alpha Guns 2 is a classical-style action game for Android devices. Meet our hero Max from the future, who will save the earth from dangerous aliens. By using new and advanced weapons, defeat all the enemy bosses. These creatures are all around the maps and came out of nowhere. Shoot all of them before they kill you.
You have to be fast and accurate because these enemies have a serious level of defense systems. Kill the enemies and get your reward. Upgrade your weapon to make yourself unstoppable. You can play this game online with your friends and make your place at the top of the leaderboard. 
Important Features
Excellent action-based arcade game strategy.

Challenging tasks with addictive gameplay.

Fight against big tanks and drones.

Realistic graphics with incredible details and mood-changing sound effects.

Beautiful and realistic environment.

Easy and simple gaming control.
11. Real Steel World Robot Boxing
---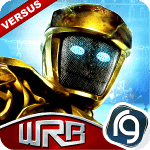 Do you have a passion for doing boxing in real life? Remember, it's too dangerous to take part in the real boxing ring; instead, you play boxing on your android mobile to fulfill your desire. It will be a lot of fun and adventure.
This ultimate action and boxing game will let you have a unique chance to play a giant and most powerful robot boxing. You be your favorite superstar character of Big Titans, Zeus, Atom, Noisy Boy, and Twin Cities to lead the events like Sports Day, Heavyweight League, Terror Nights, and exciting Daily Exhibition matches.
12. Shadow Fight 2
---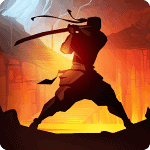 Who did not like a martial art and the movies of Bruce Lee? Learn Chinese martial art and start killing all the evils with your power of punch, kick, jump, and so on. This action game for Android is a balanced mixture of RPG and classical fighting, where you will be equipped with countless lethal weapons and powerful martial art to defeat enemies and demon bosses.
13. Zombie Hunter: Apocalypse
---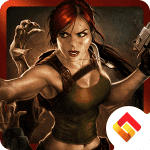 What will happen if lots of zombies are there around you? You can't do anything except shooting the zombies in the head to kill all. This Zombie hunting game offers an incredible 3D horror environment where you will be equipped with all the modern weapons to take the zombies down in your city. Download and start play. Ok, wait. Be careful of zombies. They may get unpredicted on their next move to kill you.
14. DEAD TARGET: Zombie
---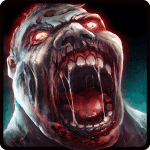 This is one of the best action games for Android based on the zombie apocalypse. In the city of all zombies, you and your only friend – M, are alive. You have to make a safe route through the walking dead zombie area. Be careful; zombies are waiting for a hero like you. Be alive with your only mate and save the world.
15. Metal Soldiers
---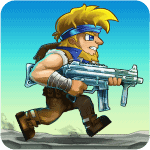 Metal Soldiers is one of the best classic-style action games for Android. This game will remind you of the childhood memory when you used to go out of any arcade store to play with your friends. But now you need not go out. Download it in your android mobile and start playing in your leisure time.
Download
16. Stickman fighter: Epic battle
---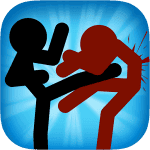 Stickman fighter: an Epic battle is a relatively new android action game. But this game is very addictive, and time passing when you are all alone.
17. Gods of Rome 
---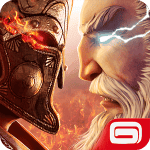 Did you ever think about what it will be to process god's power? When the world is in chaos and unrest, only God can help us to restore peace. In this game, you will have all the god's power to defeat the evil in an ancient and mythology game set. This game offers an astonishing epic story, full of daily challenges, mystical prizes, and PvP combat.
18. Hero Legend Stickman
---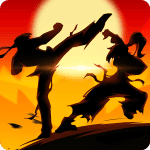 This game is one of the best action games for Android users considering amazing graphics, special powers of each character, single and multiple game modes, etc. In this game, you will make the team by gathering other special power members and destroying the evil forces.
19. Grand Gangsters 3D
---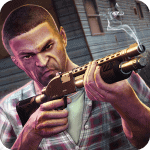 Why do you join a gang? You will be caught by the police and die one day. Don't get afraid. If you play this game, then you will be a member of a gang. Where you have to outrun the other gang members by shooting, steel auto cars, evading police, racing through the roads, and above all, controlling the whole sin city. Download the game, be the top gangster in your own city.
20. Elite Killer: SWAT
---
Do you ever think of being a part of any secret special team to destroy the evil forces to make the world a better place? Here, in this First Person Action Game, You will be a secret and specialized member of a Fireteam where you will be leading a mission with a hell of lots of modern weapons like Machine Gun, RPG, Hand Grenade, Sniper Rifles, and much more. This game supports both  Local Mission mode and online PvP mode. So why do you wait? Just download and waste your free time with friends.
Final Thought
---
These are the best and free action games; right this moment, I can share them with you to have a good time playing all those games in your free time. This can't be the best one for everyone because the choice is a proportionate thing that depends on the individual, and there are lots of other options available in the play store. So bear with it.
Did you like this countdown list of best action games for Android? Which one did you play from this list? Feel free to share your best action games and your experiences in the comment section. If you like this article, please share it with your friends and family on social media and help us grow.