Who doesn't love to play superhero games? Especially when the gaming characters are from your favorite marvel comic series, then what else is needed. From recent comic characters of avengers to old & toughest wolverine, you will find out many cool superheroes and villains in those Marvel Android games. Some games may be themed on the full fighting concept, and some games are card or cartoon character-based. But most of the games are free to download, and some need to pay for them. You can install those games easily from your android phones as most of them are available on the google play store.
Best Marvel Games For Android
---
With the time being, all the movie characters from the marvel universe are becoming the idol part and the biggest concept for the Android gaming world. New marvel games are way too enjoyable and very much fun to play onto your smartphone.
You will get to know a lot about some good Marvel character's games for android and their best features in this context. So, here we are presenting you, 'The 20 Best Marvel Games for Android' with the full specifications and download links below.
1. MARVEL Future Fight
---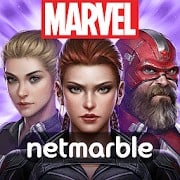 Netmarble presents an epic RPG-based Marvel game called 'Future Fight' for your android mobile. Over hundreds of characters are in this android game. From Avengers, Guardians of the galaxy, X-men, and more other heroes appear from marvel industries in this game. This game will give you a good story line up from character to character to build your armies to fight against the convergence villains.
Purchase your favorite heroes, upgrade them, make a supreme team, and level up your strength by completing different fighting missions. Welcome to the future fight on your mobile screen in this super challenging marvel game.
Important Features
Get Into the fight in PVP arena game mode for more action thrill.

Over 200 unique marvel characters and villains are in this android game.

For emergencies, make assessments to team up with your friend by lending heroes.

Play special missions for new epic characters to unlock and leash the super abilities.

Level up the hero's strength and make the team for playing on a thrilling quest to complete.

Collect or buy new uniforms for your fighting heroes to look for casual in the ground.
2. MARVEL Contest of Champions
---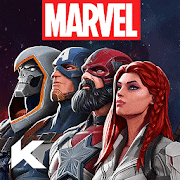 Marvel Contest of Champions is one of the great two versus two fighting games of all the marvel characters on android. This is the ultimate showdown of mighty heroes and supervillains in the battlegrounds. Build your strong alignment and look for the new quest to complete your achievements.
Unlock heroes and defeat the devilish villains with the phase of an epic journey to become the new world champions. Nothing is easy to play with your mind-blowing fighting strategy to show the world who is the best in this contest of champions.
Important Features
Assemble an unbeatable team of mightiest characters to become a champion.

Use your best battle strategy to join in the alliance's battle to conquer the world.

Clean up the quest map by completing one by one fighting missions on this contest.

A journey full of actions and mind-blowing tactics in some iconic locations.

Lots of bonus superheroes are also available, but you need to find them from various events.

Improve the defense systems and attacking the combo of your marvel heroes' team in the lab.
3. MARVEL Strike Force- Squad RPG
---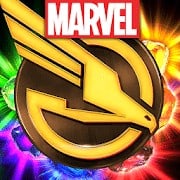 The world is in big trouble with unleashing and unwanted enemies from another universe. Gather and build your squad of the marvel superheroes and villains to save the world. This android game will lead you to the experience of the ultimate battlefield. Where an assault group land on the earth to destroy and capture our captive.
So, get prepared to fight against those nutty aliens by using convenient fighting tactics and keeping your guard on to assemble a super squad and fight back. Be the captive leader on the champion ranked list and show the best in the strike force.
Important Features
Assemble your squad from your favorite Marvel heroes and villains in this RPG-style game.

Evaluate the hero's superpower of attacking and suit up against them with the outrageous skin.

It is best to play on android versions of 4.4 or in the higher versions of android devices.

Unlock your hero's combo attack strategy and upgrade to the highest level to deal with more damages.

Experience the most stunning visual android fighting game with a great realistic graphic quality.

Get participate in the 5 vs. 5 comb battle mode with the global opponents and with your allies.
4. MARVEL Battle Lines
---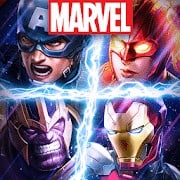 This android marvel game is all about an action card game inspiring by the movie Avengers End game characters. Get control over your superheroes and line up them for the epic cards war game. Use your multiple battle technique and set your troops to build a powerful deck to fight against the rival groups.
Join in the legendary battlefield, collect cards of your favorite marvel characters, and hit the toss for the worldwide players. Challenge the pro players and become the master in this legendary card battleground around the world.
Important Features
Collect or buy hero cards to assemble the cards of your battle forces for an instant update.

Activated the team synergy by summoning playing hero cards from the same team in the battle.

Defeat your enemies by using a very new strategy to outline the ground from opponent players.

Use a different type of hidden skills of your battle troops for a surprise attack in the battleground.

Fusion your gaming cards with lower-class items to higher-ranked tools for making unseen hero's ability.

Never-ending features game-like solo mode, event challenges, and the exciting PVP mode in real-time.
5. MARVEL Puzzle Quest- Join The Super Hero Battle
---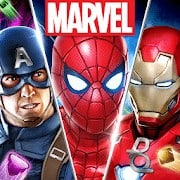 Be strong together and build your team to fight in this fun-loving puzzle game with your dearest marvel heroes. Unlock your hero characters and make a balance for your team's strength against other players on the puzzle fight. Restore the capabilities and put the combination of Marvel heroes and villains in the same line to win against the powerful foes.
From every win, get playing cards to assemble them for leveling up the power and unique abilities of battle heroes. Join in the PVP battle of puzzle game and get participate in world events for more rewards.
Important Features
Join in a worldwide MPQ community where millions of players are standing in one gaming platform.

Challenge your team and community members onto this biggest Marvel Puzzle fighting game to beat your best score.

Battle more and more to build your dashing hero's abilities and become a more powerful puzzle fighter.

Be the nut and ask your gaming friends to participate in the 1 vs. 1 puzzle fighting on a time challenge.

Take part in weekly tournaments and complete seasonal activities to get exciting puzzle cards and prizes.

Sneak into the global challenges to get on the top of the list and share the rank with your friends.
6. MARVEL Super War
---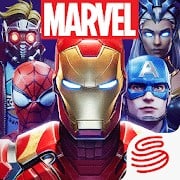 Turn into the fight of heroes more delight in this real-time marvel game. This android game is the first MOBA fighting game developed with your loving marvel superheroes. Form up your squad and dive into the exciting MOBA versus battle against worldwide players. Make the community with your gaming buddies and join in the guild fight to become victorious.
Unleash your hero's absorption ability and hidden strength on the war field and show the true power to your opponents. Explore a whole new world of fighting class and get the thrill of real-time battle mode that you have never seen before.
Important Features
Participate in the 5 vs. 5 arena battle with global players on the multiplayer game mode.

The gaming control system is way too easy and very much compatible with your hand grip.

It has a fair gameplay balance with various combat movements and special fighting skills.

Dodge into the guild battle to fight against some gigantic monsters and their annoying soldiers.

Scout yourself to team up with your allies and get into the journey of unknown MOBA wars.

Pretty skin, colorful outfits, and a bunch of dynamic weapons are ready to collect for heroes.
7. MARVEL Avengers Academy
---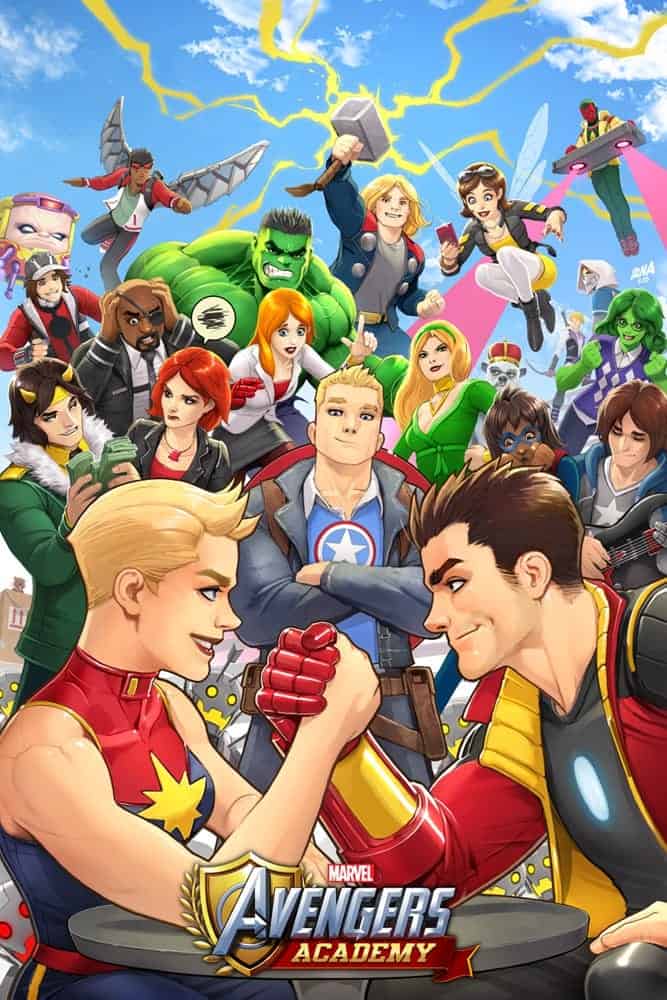 Let's introduce the best android social game, which is all about the academic life of Marvel Avengers. In this touchy strategical fun social game, avenger heroes are obtaining at their young ages in the high school life inside the game. With this concept, your objects are to complete various missions regarding the academy life and collect heroes to attend the school.
Once you start running the school with Iron man and Wasp, make sure to be a good principal. Use your strategy to maintain the school by constructing new buildings, school facilities and polishing them to become great superheroes.
Important Features
A 3D social android game based on marvel characters of their young age and school life.

The main object of this game is to socialize and upgrade them to become great superheroes.

Select each of the Marvel characters to perform some action base on the storyline missions.

Complete every mission to collect a reward and then use those resources for upgrading institution facilities.

The best feature is you will be amazed by the graphic quality of this game without any questions.

Get the chance to do fun stuff like playing sports, taking selfies, studying, making conversation, going to bars, and more.
Download
8. MARVEL Avengers Alliance
---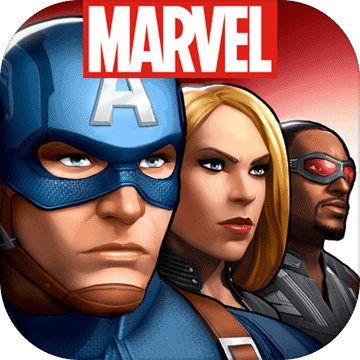 Avengers Alliance is one of the very first role-playing games for the marvel android gamers. Though this game is banned from the play store a long ago, you can still get this android game from other third-party stores. A player can build his/her avenger armies from the marvel characters to fight against the evil forces to balance world peace.
This android marvel superheroes game will let you release your brain to use on the battle quest. Find out each of your avengers' unique abilities and battle position and get into the fight for the glory.
Important Features
More than 20 popular characters are in this game to build up your battle Avengers' team.

Become the part of the world championship battle of Avengers Alliance to fight for your glory.

Sync your game with your social community to marge and battle alongside your friends.

Participate in over 60 missions on this game with your strongest hero allies to fight against enemies.

In every mission, slay hundreds of alien reinforcements and defeat the scariest monsters with your fighting ability.

Officially, it's an offline android game, still playing online with friends via Facebook and WLAN together.
Download
9. Crossy Heroes- Avengers Of Smashy City
---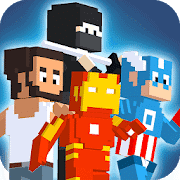 Inspiring by the popular video game Crossy Road, this marvel game is suitable for all versions of android devices. Get ready and suit up your ultimate superhero characters to jump into the 3D world of the virtual Smashy city. Start your game in the endless roads to cross like a real superhero style.
Unlock your avenger character and select one hero with a special ability to demolish the villains on your way to the journey. There are lots of twists inside of this game, like the rise of sudden blocks, hardcore stages, obstacles in the road, and many more levels of difficulties.
Important Features
Play to beat your friend's score and be on the top of the ranking list.

New functions to gameplay where blocks arise all of a sudden but not for twice in one run.

Unbolt hero's attack abilities to have awesome roaster of cool heroes with an unleashed power.

Hundreds of champions in the list and few different atmospheres in this Crossy road game.

Share your best score and also your most memorable moments of winning with your social friends.

A variety of challenges to complete and unlock different superhero characters and beautiful scenarios.
10. LEGO ® Marvel Super Heroes
---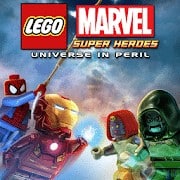 We all are very familiar with Lego playing tools in our childhood. Then what if you are lucky to obtain this childhood memory as a video game. With the Lego faces of marvel, characters get to engage in the war of justice to cut the sticky enemies forever. Make the unity of your powerful Lego marvel superheroes into your collections.
And stand them for fighting back to save the earth against powerful armies and weapons. Complete most unique challenges, daily events, and hit for a great prize from each of your victories.
Important Features
More than 90 superheroes from the Marvel universe get to see in this Lego fighting android game.

Get 45 incredible action missions to pass across in the key locations from the Marvel comic.

Surf in the online mode to play multiple battles or join a clan to make a gaming alias.

It needs to pay some local currency to install the game from the play store as an official marvel comic game.

Each Lego Marvel hero is specialized with a unique attack, power of invisibility, and super combo.

Suit yourself to choose an android gamepad or use the screen controlling mode to dash the enemies.
11. Spider-Man Unlimited
---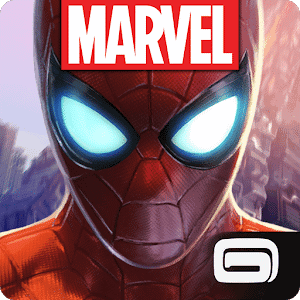 For Spiderman lovers, Marvel officially released the ultimate endless running game for its Android users. In the game, you have to get into the story mode fighting, pass from the blocks, collect capsule, jump over the fences and buildings, etc. Go through the phase of a complex story line up with different characters and learn of your mission to unlock the next stages.
Gather the capsules to lean your abilities and also can buy new outfits from the game shop too. To survive, don't stop running until you complete the quest of missions for each stage.
Important Features
Get rewards for the daily login cycle and play weekly events for a tremendous number of prizes.

Easy hand remote control just swaps your finger on the screen and tap for blast action combo.

This marvel game has a great graphical simulation, a balanced contrast of colorful stages and scenarios.

Complete any missions with unreal comic dialogues and spectacular background sounds of fighting.

A great story-based game is full of dangerous missions and end of terms chances to fight beast villains.

Different movements and combo fighting styles like a master punch, flying kick, throwing objects, and split spider webs.
Download
12. Power Spider 2- Parody Game
---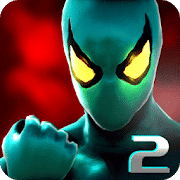 One of our old and re-new versions of marvel superhero is Spiderman. It is an open-world android game containing hundreds of missions to complete. You can play with your dashing spider hero to surf through the city limitlessly and can climb up to anywhere or to any building with no boundaries. Now it may be weird to describe that 'Power spider 2' is fully a parody marvel game.
So funny acts to story dialogues can be quite hilarious and interesting for the game players. In the FTTP mode, you will see the great controlling systems and detailed graphics on your android smartphone.
Important Features
An open-world game where you can roam around in the city of New York with no limits.

Get the finest 3D graphic and most detailed infrastructure in this spidey superhero game.

Use your movements in the first-person player mode or a VR headset for a better experience.

Learn your quests, event goals, daily missions, and fight bosses by jumping throughout the whole city.

You have full control to make free movements and do several activities in this Marvel android game.

Get achievement rewards and earn more additional coins to purchase the new hero's costumes and items.
Download
13. Block Battles- Heroes At War
---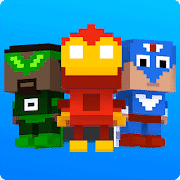 Head for the top shooting online game in the multiplayer PVP mode to compete against the worldwide players. And become the lord of this block battle game with your magnificent superheroes from the Marvel characters. Participate in the battle of blockhead superheroes. This is the most fast-moving and more competitive super shooter game you have ever met.
Never mind if you get injured during the battle, hide somewhere, and buy some time from your opponents to heal yourself. Be the top leader on the list of global rankings and beat the score of your friends in a generous way.
Important Features
There is an intensive online gaming mode with no auto-aim, no click to move, just fire freely.

Generate your health spawn; just you need to cover yourself from getting hits before auto healed.

Smash the opponent's hero in this reckless gun battle and survive until the end to become the champion.

Enjoy this android game with amazing pixel look superheroes from Marvel house and DC characters.

Play in the remote location of pixel cities, banded places like in the space or some power stations.

Beat the score of your friends and put yourself in the top of the leaderboard to get fame and glory.
Download
14. MARVEL X War- Clash Of Zombies
---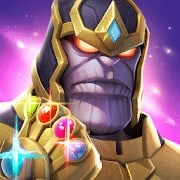 The zombie eclipse has begun in the online gaming world. Now the superheroes need to step out and fight against those zombies in this time of judgment. In this marvel android strategy game, become the chief of your continent area, build your base defenses, and ready your traps to defend your clan from those slangy zombies and other raiders.
Train unique troops and get the almighty superheroes from marvel universe to fight along with your armies. Join in the guild war of heroes and with their summon allies. Collect trophies to reach in the higher leagues and raid for more loots around the world.
Important Features
X-war is the online war strategy android game base on the theme of zombie defender.

Challenge your friends on a time league dual battles of legendary heroes and their train armies.

Collect 50 legendary heroes to complete the hero books and unlock their incredible super abilities.

Participate in the zombie challenges and defeat them to become the mighty and rightful leader of your base.

Kill the creepiest monster and evil bosses to fill uncountable and surprise gifts on your treasury.

Build a strong base and let your heroes guard your camp. Collect gems from game achievements.
Download
15. Iron Man 3
---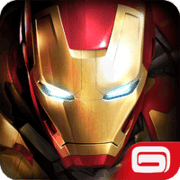 The character of Iron man is one of the best avengers and a role model superhero so far. This marvel superhero android game is followed by the last series of Iron Man films. Find out your favorite Marbel fighter alone gets into battles against the most charismatic villains.
In this third-person endless gaming mode, you will get some fine visual graphics and an outstanding music system like flying on the spots. Continue your battles, upgrade your level, findspot missions in different locations, and get the chance to meet with dangerous enemies to kick their ass. 
Important Features
Unlock different armories and have 18 battle suits to arrange your Iron man to fight on the ground.

The fighting locations are in different places like New York, China, London, and Malibu.

Mind-blowing realistic sounds and best visual shows are in this android Marvel character game.

Not only fight with unreal enemies but also defeat some badass bosses like Crimson Dynamo, Ezekiel Stane, and the powerful M.O.D.O.K.

Go through the missions, explore the cities on the track freely, and do some additional actions to earn more money.

It is totally free to download from any alternative android play Store rather than searching in the google play store.
Download
16. Superheroes Fighting Games- Shadow Battle
---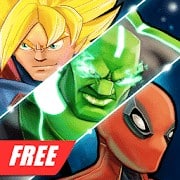 Play the best free fighting game, including the parody marvel heroes on your android mobile. Though the name of each character is not the same as the original but the fighting technique same as the real one. Train your spoof superheroes in the training mode to have better knowledge about controlling.
Do jump, kick or punch and learn different types of Combate attacks of your heroes to defeat your opponents. This game is a 1 vs. 1 solo fighting competition where hundreds of characters from Marvel, DC, and other comic characters are waiting for you to take the wheel on the battle stages.
Important Features
Get the rage at the battle on this single multiple player mode in dual fighting matches.

Engage in some incredible fight with more than favorite 50 characters superheroes in the deck.

Enjoy some demonizing 3D graphic and HD sounds quality to see the real gaming experience.

Find out the previous event history of superheroes and villains to discover their secrets.

Play in a quick fighting mode for a limited time to become the winner on hand-to-hand fights.

In this 3D fighting game, there are lots of suitable fighting scenarios and achievements to unlock.
17. MARVEL Tsum Tsum
---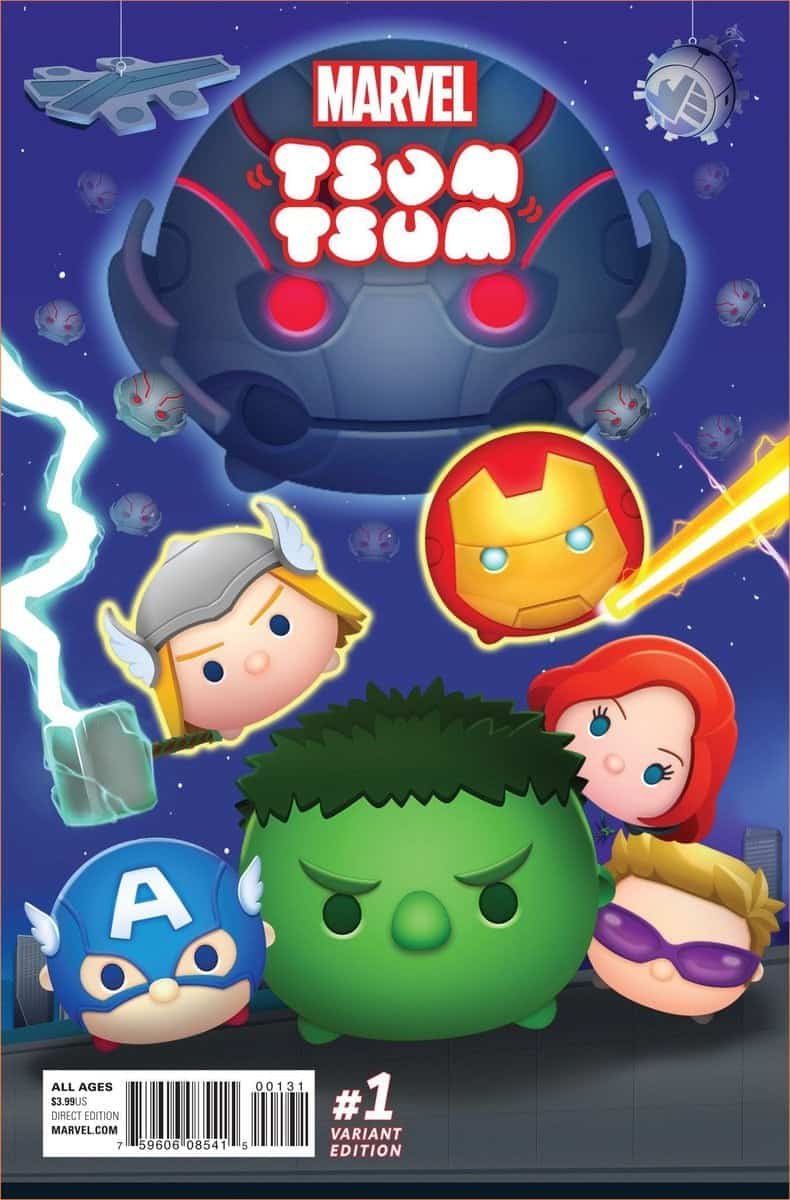 Marvel Tsum Tsum is one of the best casual games on android arcades game categories. Draw the line over the marvel characters to suppress the bowl of hero's heads before the bowl is going to full. Collect a certain amount of points and destroy the specific enemies within a limited time. The instruction to play this game is very easy.
Match exactly the same character of the cute bunny heads, pop up them and see the point counting on the scoreboard. The more you can connect the balls, the bigger explosion will be occurred to earn extra points too.
Important Features
This addictive 'Marvel Tsum Tsum' game is designed the appeal for the playing of all ages people.

The consequence of playing can create the ball to explore or can help to turn into magic balls.

Be Lucky to get super characters and cash on the daily lucky spin game while login into the game.

Spawn the popup balls to create a special superhero ball for unlatching abilities to explore the room.

It has a country restriction, and no chance to get on the play store can still be found in many APK stores.

Available to play on required android devices. The minimum version should be 4.1.0, or the upper version is okay.
Download
18. MARVEL Pinball
---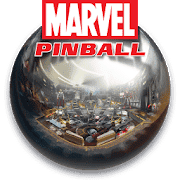 Get the mesmerizing experience of the Pinball game inside of an android device with the interface of your favorite Marvel hero characters. Maybe you won't be surprised to see the gaming board with the latest movie poster in the game. Play this pinball game for the legendary marvel heroes to get rid of the ultra-super villains.
Get the initial gaming table to download from the gaming store. But there are plenty of other cool and updated stages are available which might be purchased as in-app-purchases. However, this video game isn't free to download but worthy to pay for having a classic and smooth gameplay experience.
Important Features
Marvel Pinball is the best-paid arcade game so far in this Android Marvel game.

Fun to ball on a big screen like on an android tablet, or in a smart TV too.

Play in a landscape view on your devices and defeat the evil spirit in the game table.

A promise of HD quality and finest table locations are in this android pinball game.

The more you hit the villain's pads, the more you score and pay damage to the bosses.

There are in total 15 pinball tables on this game with a different type of Marvel hero theme.
19. MARVEL Mighty Heroes
---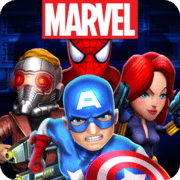 Marvel Mighty Heroes is a four-combine action and a real-time online android game. Simultaneously change the characters in the middle of the game and fight to win against the other players. Collect or unlock marvel heroes to upgrade the level of their strength and abilities. In the main game mode, a player will get 45 seconds to fight against the worldwide players individually with the mightiest heroes.
In this mode, the killing rate will be compared with your opponent's scores to see the winner. So, don't rush away; select your marvel character carefully before you jump into the fight.
Important Features
One of the cool and adventure android action games of your favorite super marvel heroes.

Get into the war of glory in 3 vs. 3 combination battle mode with your furious attack combo.

Only 45 seconds remain to kill as many enemies as you can count to kill and stable with the hero's life.

Free on the play store and compatible with play on the android version of 4.0 or the upper version.

Use super hero's special abilities when you are surrounded by the full of enemies in the ground.

Complete each mission and get exp to level up the strength of your heroes and bigger prize.
Download
20. Thor- War Of Tapnarok
---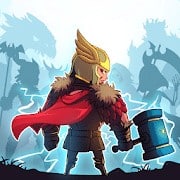 The son of Odin and the Viking god of thunder is Thor. He is one of the greatest and most powerful superheroes among all the marvel characters. This marvel android game will generate you to the war line of Tapnarok, which is called by the god of mischief, Loki. Now you have to help Thor win against the unleashed ferocious monsters and evil gods to save Asgard.
Immersible tapping action for destroying the enemy's armies, find the enemy's weak spot to deal with some ruinous damages. Collect mythical armories, deadliest weapons, and relic equipment for your hero. Summon your allies and slay the trickster gods and their armies.
Important Features
Collect and raise your mythical pet from the chest. Upgrade to its best level to fight along with you.

Prepare and Summon your battle allies to defeat some goddess monster on your battle side.

Train 20 god allies to level up. Forge them with powerful weapons and abilities to join the battles.

From each up-gradation of hero, get 15 green diamonds to fill up your store of resources.

Unlock all the 10 fearsome skills and powerful attacks to use those in the battlefield for high damages.

Ready to join in this god battle of our marvel superhero and collect 37 myth relics to unleash your energy.
Finally, Insight
---
From the Marvel universe, so many PC games are developed for their fans and gaming people. But nowadays, smartphone users are very lucky to have most of the marvel character games on their android phones.
Not every marvel game is based on action or fighting. Some of the games are character-follow games; some are arcade-type android games, but no doubt that most of them are action and adventure-related games. Maybe you have already figured it out.
Above them, some may have cool gaming features, and some are great with outstanding graphics and sound performance. Now it's obvious to declare that every game has unique gaming experiences. Different levels of excitement and fun are waiting for you. I have played most of the marvel comic games from the upper chart.
Though I am an action-loving gamer, so my vote goes for 'Marvel Contest of Champions and Marvel Super War' as both Android games have good story sequences full of actions and powers.
In this article, we have tried to cover 20 best-ranked marvel hero games in the android gaming section. Better check them all; you may find out your desire superhero android games from this list.