Exploring the dark is always fun and exciting. But having a high-end thermal device is not often possible to use just for fun. Most professionals initially buy those high-tech thermal devices for medical purposes or other professional services. For both cases, you can use a thermal camera app for Android for fun and professional circumstances.
There are two different types of apps when one requires a dedicated thermal device for professional usage. And the second type doesn't require anything like that, and people mainly use them for fun. But some apps still work like professional ones; they don't require any external device. However, you might be here because you are interested in the fact. Well, stay with us till the end, and I promise you will learn something great.
Best Thermal Camera Apps for Android That Really Works
---
Many of you might not believe that a thermal camera app for Android can really work. But believe me, some apps really work. While listing the best apps, we had to try a lot of apps that literary destroyed our mood.
Still, we manage to find some gems. And that are the apps I am going to talk about. But remember that the apps are not the same in quality and functions. So, make sure to check the details to find out the most suitable app for you.
1. FLIR ONE
---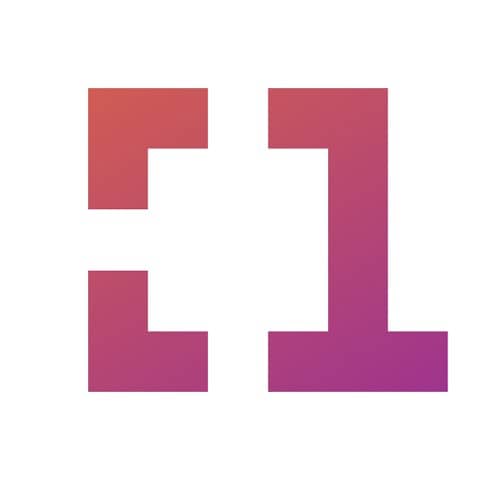 Let's start with a brand new thermal camera app launched by FLIR Systems, INC. FLIR One will simply turn your phone into a professional thermal camera. It only works on Android phones only. With this app, you no longer need to search for expensive thermal cameras around the market.
You will need a FLIR ONE Thermal Camera that is cheaper than your thoughts to put this app to work. You can also explore the app without the external device attached.
Important Features
This app lets you scan for problems with the camera view.

It will allow you to detect the hottest and coldest spots without any complications.

You can simply choose between a set of color palettes while customizing the image.

FLIR ONE also lets you adjust the Infrared scale to highlight the detected problem.

Adding text notes to images is easy with this app and will help you document your findings.

You can also easily share your images without any conversion.
2. Seek Thermal
---
Seek Thermal is another must-try thermal camera app for Android users that is designed to scan objects based on temperatures. Unlike other typical thermal apps, this one is simple, like drinking water from a glass to install and use. After you install the app, you need to attach the external thermal camera to the phone, and you are all set. This app features the best product from Popular Science and This Old House.
Important Features
This app turns your phone into a predator and detects any convenience.

You can easily capture and share saved images from the app.

It lets you take spot temperatures and thermal images with details.

This app initially examines any objects in daylight or in the dark.

You can easily navigate between multiple viewing modes and color palettes.

It is also featured in more than 500 Global press articles in the running year.
3. FebriScan
---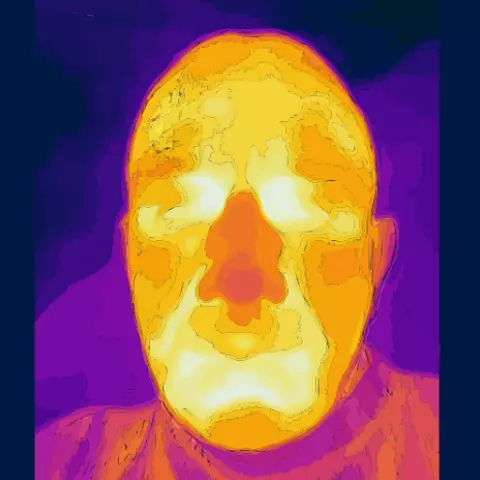 If you are looking for an insightful application that is easy to use and can detect human outer facial temperature automatically, I can suggest FebriScan. You will need to fix the thermal capturing function of your device using the FLIR ONE app to use this one.
However, this app processes the thermal images on a tablet or PC besides your Android device. It concentrates on detecting human faces and the outer temperatures and ignores other temperatures around the field of view.
Important Features
FebriScan automatically detects human faces by using Artificial Intelligence.

It primarily highlights the places where the temperature is high and low.

This app indeed measures the maximum temperatures imposed on human faces.

It also generates a beep sound if a high temperature is detected.

You will get an approximate human outer facial temperature with this app.
4. Thermal Camera FX
---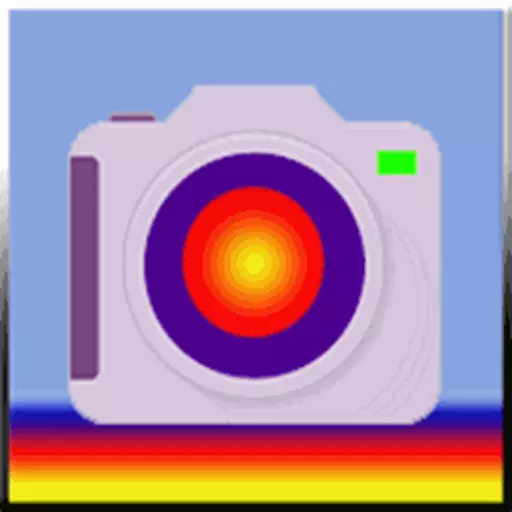 Thermal Camera FX is a very popular thermal camera app for Android devices, but it works differently. It captures photos with your device's default camera and turns the image into a thermal camera photo. This app also does not need an external thermal device to attach to your smartphone.
It can also record videos with a full thermal camera effect, and the effects can be changed too. The app primarily supports temperature metering in Flir Mode.
Important Features
Thermal Camera FX allows you to save images with a single touch of a button.

It primarily supports the device's camera flash.

You can also use the front camera of your device to capture thermal photos.

This app initially comes with an in-app camera button.

It also supports Flir One and Flir One pro too.

You can save images captured by this app in different file formats
5. Thermal Camera Real Simulator
---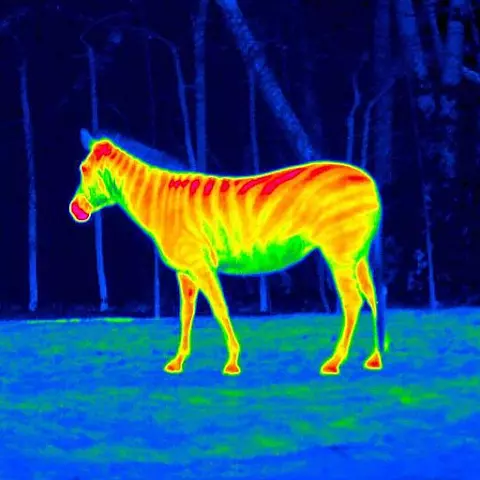 Spot Among Party's new application is a simulator for a thermal camera. But it works like a real thermal camera. Like the previous app, it also does not change your device's camera into a thermal camera; instead, it adds effects with details to whatever you capture with the stock camera.
So, if you don't have a thermal device, you can use this app for fun. Eventually, this app is also able to take temperature-simulated photos, which are color-coded with different levels of infrared heat.
Important Features
The app initially comes with different filters that can be applied to thermal cameras.

You can use it to take simulated thermal photos.

It lets you see in the dark and take pictures of infrared radiation effects.

You can use this app to detect overheating in electronic devices.

Additionally, it can record a heat map of any area.

It also has a built-in thermal vision simulation radar camera effect to make it look more realistic.
FAQ
---
Q: Can I use my Android smartphone to capture thermal photos?
A: Yes, you can use your Android smartphone to capture thermal photos. But you will need an external thermal device and a dedicated thermal camera app for your Android device. This way will get you the most accurate thermal photos. If you don't have a thermal device, you can also use some other apps that don't require any thermal device. But you have to compromise with the accuracy of those apps.
Q: What is the best thermal camera app for Android that provides the most accurate thermal output?
A: FLIR ONE and Seek Thermal are the best thermal camera apps with the highest accuracy. But you have to use an external FLIR device to get the best outcome with these apps. Initially, these two are free to use, but you have to buy paid subscriptions to get the premium features.
Q: Is there any smartphone with a built-in thermal camera?
A: You may not find any smartphone from popular brands that has built-in thermal camera apps. But some nonbrand and unpopular brands rarely launched phones with such features. Cat S62 Pro is one of them.
Q: Is there any thermal camera app that doesn't need a thermal device?
A: Many thermal camera apps don't need external thermal devices. Thermal Camera Real Simulator, Thermal Camera Real Simulator, and Thermal Camera FX are apps you can use. But those apps cannot indemnify a hundred percent accuracy.
Q: How to run thermal camera apps that don't require an external device to work?
A: The thermal camera apps that don't need an external thermal device work differently. It simply captures the photo using the stock camera. And then turn it to the thermal photo measuring the color codes.
Finally, Insights
---
Remember that the thermal camera app is not any typical camera app for your Android device. Indeed, it is something more critical and intricate in function. And Hopefully, you have got enough idea about how a thermal camera app for Android works and which apps really work.
If you have any device to use with it, you can try any of the first three apps. But you should go for the last two if you don't have any device and you want it for fun.
Now, choosing the most suitable thermal camera app must be easier for you. So, here we take our leave for today and will soon come back with another unique app category. Until then, stay safe and healthy. Thank you for your time.