Do you know that you can play basketball games on your Android device? We all know that basketball is one of the most popular and exciting outdoor games. But with the advancement of modern life, having a field, finding a playing partner, or maintaining a schedule for outdoor sports, can often be challenging. For all the obvious reasons, people are now looking more for mobile games than outdoor games. Over the years, many developers have developed several gaming apps that allow you to play all your favorite outdoor games, including basketball, on your mobile device.
Obviously, there's no equivalent to physical games. Still, mobile games won't deprive you of the crazy madness of a thrilling game anywhere, anytime. If you're a basketball lover, you will probably be happy if you find an Android version of basketball. So if you don't know about basketball applications, this writing is for you. Even if you're not so crazy about basketball, you will find these games interesting and enjoyable.
Basketball Games for Android
---
As you know, there are many games based on basketball. It is difficult to find the best one of your choice. There are more than hundreds of basketball gaming apps available at the play store. Trying lots of apps is time-consuming and tiresome. We narrow down the list of the top 20 best basketball apps for android users.
This selection depends on playing activities, visuals, graphics, animation, smoothness, and movement. By spending a few moments here, it will save lots of your valuable time. Let's have a look at the best 20 basketball games for androids.
1. NBA 2K20
---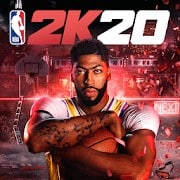 Currently, the most appreciable simulation application for Basketball is NBA 2K20. The developer of this game is Visual Concepts, and 2k sports is the publisher. It supports a wide variety of game modes such as play now, my career, my GM2.0. It is the number one basketball game by users review so far.
You can play with real players' characters and also can choose actual national teams. It gives you multiple options to customize. You can choose your franchise, team, location, club, players, jersey, logo, alternative uniform, arena, the color of court, etc. There are lots of other exciting features. 
Important Features
It has taken the WNBA (Women National Basketball Association) team into the NBA series for the first time. You can play both exhibition mode and WNBA season mode. 

You can play exhibition games using the current NBA team, women team, historical team, all-time NBA team. Through building your small team, you can even play street basketball with others or with the computer. 

It contains an upgrading motion engine that enables us to offer better foot planting, momentum modeling, and variance in movement design.

It gives you a total of 27 styles of ball handler. Here developers use a new size-up mechanic that makes chain standing dribble movement more practical.

It also assists players with more advanced moves such as behind-back wrap escapes, shutter chops steps, Luka Donica's fake step back, new sham gods, etc.

It has improved the mode of reading and responding, helping the character to convey more imaginative reactions.
2. Real Basketball
---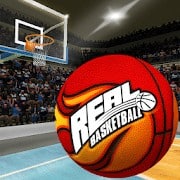 It is a simple basketball game that helps to improve people's basketball playing skills. It offers six different modes of the game. It supports both single players and multiple players. There you can play online with other players. Also, you can invite your friends to have a live match play.
You'll have the freedom to design the appearance, ball, playing outfit, and grounds for the player characters. As per its name, you will get real-time experience from this game. You need to purchase the app from the play store. Also, some attractive features have earned the players' hearts.
Important Features
This has a stunning 3d view, and the cheering and shot sounds are very natural.

This game is accessible and easy to understand.

Some outstanding interactions may surprise the player.

The graphics are of higher quality, and the movement is smooth and fast.

The game becomes addictive by igniting the urge to unlock additional features and awards.

It supports multiple players.
Download
3. Basketball Stars
---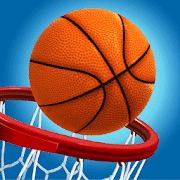 It is our 3rd best basketball game app for android devices. The game first appeared in 2016 by Miniclip. Since then, it has maintained its popularity through regular updates. This is a multiplayer 1v1 game. You can select a player from across the world and play to show your skill. It offers two game modes and that are 1v1 matches or 1v1 shootouts. Its high-quality graphics is the first thing that captures your eyes.
Important Features
There are two different game modes that support multiple online players.

You can customize your character and create thousands of unique appearances.

It has launched a thrilling racing shooting mode (Run the clock to make your opponent outscore).

This game is completely online-based.

This is freemium, which allows you to play with a sufficient amount of assets for free and without time limitation. But if you pay, you will unlock more attractive features and assets.
4. NBA LIVE Mobile Basketball
---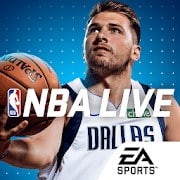 This is a game where you are the in-charge of everything. It is one of the best Android basketball apps, which is the official product of EA Sports. It lets you play as Kevin, Stephen curry, Wade, and other famous real-time superstars. It also enables you to play in actual NBA teams such as Bull, Lakes, and other popular teams.
You need to be an expert in dribble, transfer, and block the ball and shoot when playing against computer-controlled teams as it allows you to play like a superstar. Its control panel is slightly tougher than other basketball applications. Therefore, EA has provided many tutorials on how to play this game. Those features are charming enough, right? There are other excellent features.
Important Features
Its graphics are very smooth, eye-catching, and fast.

This has five playing moods. Those are- Showdown, Season, League, campaigns, Arena.

It supports every aspect of the real NBA.

Another fantastic feature is that you can use your face to create characters. This incredible feature allows you to feel like an actual professional.

This game is refreshing as it always updates with new players, content, stories, and events.
5. Street Basketball Association
---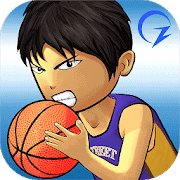 The game is yet another mind-blowing application for basketball. It becomes special as developers have built its homepage based on Japanese classic "NeoGeo Street Hoop or Dunk Dream in Japan." Fans enjoy this game because it offers a classic 90's day feels. Please don't take aback as you just read 90's days; it will give you great pleasure in old vibes with modern basketball.
Dribbling is easy, and you can take care of the ball in different ways. But there are some shortcomings that you may find; they don't have the animation with green light and don't support 1v1 mode. But its other exciting features encompass its minor flaws.
Important Features
It offers different game modes in the quick game, league, cup, events, three-point contests, training mode, and arena mode.

It supports online and local multiplayer.

It gives challenges according to the expertise levels of beginner, intermediate, and pro.

The fun fact is it gives you a chance to replay, watch, and share your favorite dunks and moments.

It is a free game that allows you to get maximum satisfaction.
6. Basketball Battle
---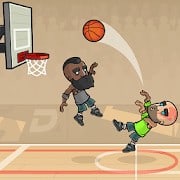 This is a popular arcade-style 2D basketball gaming app. It is a fun game and mostly suitable for kids. Adults, however, find this game interesting for its simple control and easy method of playing. It is a 1v1 game. There are two characters on the screen. The aim is to get more scores than the opponent at a particular time.
The graphics are simple and cartoonish. So if you are looking for a realistic game, this will not satisfy you. Another plus point is, it is a free game. So this is not a big issue to download and enjoy. There are some interesting things too.
Important Features
It supports playing on two split screens. That means you can challenge your friend to play on one screen.

You can crossover and dunk opponents along with other movements.

You can choose your basketball courts from 100 unique court designs.

Through the internet, you can compete at international events.

Customization and upgrading your team and player look is another interesting fact.
7. Basketball Online
---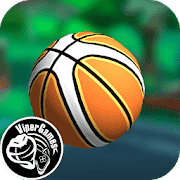 This is one of the recently popular basketball games for android that has already won thousands of people's hearts. The publisher of this game is ViperGames. You will be pleased instantly by seeing realistic, outstanding graphics. The app is brilliantly designed and organized.
The interaction of the ball and the environment is outstanding and feels exactly natural. Even its audio quality will amaze you. The cool fact is, you need not see advertisements to unlock something. The great news is it is a free app. The other features of this game that attracts gamers are:
Important Features
It has an extensive collection of balls.

It provides several eye-catchy backgrounds.

The challenges are addictive and interesting.

You can play with multiple players.

It provides a tutorial for their players.
8. Swipe Basketball
---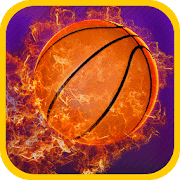 It differs slightly from other games. UPlay has brought this game into the market. Here you don't have an opponent or any playing characters. You simply swipe your ball with your fingertips and attempt to push through the hoop. You can score as much as possible within the given time.
With levels progressing, the game becomes challenging and difficult. It has impressive 3D graphics. Swiping and controlling the ball is smooth and rapid. As the playing approach is simple, from child to old, anyone can play it. It is a free download. The other features you will get are:
Important Features
There are a total of 60 levels. 

You can earn and collect digital coins to buy extra time, bonus speed, etc., to upgrade your gaming experience.

With the recent version, you can invite friends to do a competition.

It will store game progress in cloud memory. So you can play the game from multiple devices without losing any progress.

Improved throwing styles make the swipe more engaging and innovative.
9. Franchise Basketball
---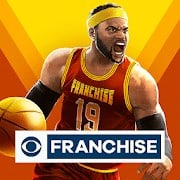 This is the best managerial basketball game that you can find on android. This game is the product of CBS Sports. Choose your favorite basketball players from multiple teams. Develop your team with customized logos, names, and uniforms. Many game packs are available.
This game represents your managerial skill and helps you develop your strategic management. You're the team's boss. You can set up lines, play tactics, and enjoy the match in your virtual office from the comfort of your couch.
Important Features
There are a total of 21 games of different modes.

There are four different game modes. They are- seasons, exhibitions, pro-game, and showdowns.

There are more thrilling packs with exclusive offers, limited offers, and iconic versions of favorite players with the advance of levels.

The game strongly engages you with ongoing rewards, prizes, digital coins, and championships.

You can choose your defense and offense. 
10. Fanatical Basketball
---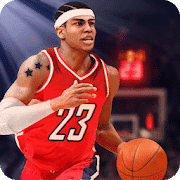 This is another fantastic android basketball game. It is a relatively new game and has been gaining attention in a short time. Lots of fans like to download it as it is an offline game, and it's free. It comes with a stunning 3D vision. The animation is swift, and the control panel is fast and simple. This game is addictive.
You can shape your team and play matches with 5v5. From choosing a team to controlling and playing, all are in one game. It has many other interesting features that give you the natural feeling of playing in real-time.
Important Features
The audio and visual interface is very realistic.

It uses trendy, dynamic animation, which is eye-catchy.

As it has its smart touch control panel, you don't need any other device accessories except your mobile or tab.

There are currently two modes available. That is- quick game mode and league mode.

There are all the thrilling acts like dribbling, catching and holding the ball, executing stunning dunks, shooting, and scoring to be won.
11. Dude Perfect 2
---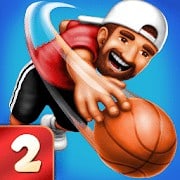 It perfectly combines fun and basketball games. If you want something challenging but still fun, certainly, this is your thing. This game is great for wasting your spare time. You have to throw the ball to pass the hoop by facing various obstacles. The higher the stage, the tougher the challenges ahead.
The funny ambiance of animation will catch your heart. Here you can't play the original game of basketball. But yet this is something that you have never played at other basketball games. So let's see the other features of this game.
Important Features
There are already almost 200 mind-blowing levels that exist, and more are coming.

It is a perfect family game for people of all ages to have fun together.

You can customize your gameplay, characters, and costumes.

The most attractive feature is passing the ball to the hoop; you may need to float in a parachute, hop on the trampoline, crack and blow up staff like glass and ice.

You can watch the upcoming video of dude perfect's right in the app.
Download
12. Rival Stars Basketball
---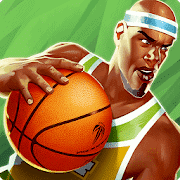 This is one of the popular basketball games for android that drives you immense pleasure through fantasy games. You need to buy this game from the play store. It supports multiplayer. You need to make a squad of five members. Choose your team name, logo, and uniform and customize them according to your wish. You can play both PvP or tournament.
You have the authority to make decisions about gaming strategy and play to defend your opponents. By fighting against the world's toughest players, you can showcase your skill and potential. The super-smooth, fast graphics ensure the maximum satisfaction of its players. It is only available online.
Important Features
There are 100 players in 3D cards, which are fully automatic. These cards help you achieve bonuses, power players, special skills, and more to strengthen your team.

You are the head of your team. You're every decision matters in the game. That means this game gives you complete authority over everything.

It supports exclusive techniques to pass, block, 3-pointer, marvelous dunk, and creative shoot.

It gives you the thrill of global tournaments to compete with the world's real champions.

It is a good chance to rank higher as a skilled basketball player.

It provides many lucrative opportunities to collect the world's best and rare players on your team. 
13. Basketball Showdown 2
---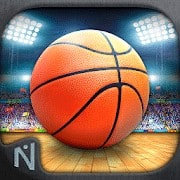 This is one of the unique basketball games for android. It is a relatively recent game with lots of the latest modern features. The graphics, animation, to functionality is just mind-blowing. Naquatic LLC Sports is its publisher. It is fun and addictive. You can control the ball just by your fingertips.
It is a head-to-head game. You can personalize your ball skin and other gadgets and upgrade them. Some unique features draw the attention of millions. It has both online and offline versions. Let's see the special features that make this game unique from others.
Important Features
You can ask your friends to play as teams.

For the first time, it allows you to become the coach of your team.

You can speed up and accurately throw your ball using the boost.

The developers use realistic physics for the animation of movement and angles.

There are weekly tournaments that offer a chance to win a big prize. 
14. Bouncy Basketball
---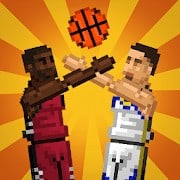 Bouncy Basketball is a simple arcade basketball game. It is a completely free basketball game for android. It has simple control and is easy to use. It is addictive and enjoyable. The newly updated version supports a wide-screen view. So now you can invite your friend to take part in a basketball battle by sharing a split-screen.
There is only one button to control your character. Choose an imaginative character and start to play. You can hinder your opponent and create scopes to make a perfect shot. You can also choose the match duration from available 30, 60, and 90 seconds.
Important Features
There are a variety of courts available, including outdoor court, indoor court, countryside court, and others.

You can slam dunk your opinion.

There are 30 teams that you can unlock gradually with the progress of the game.

You have a customization option for choosing your team.

It has 2D graphics with simple gameplay mechanics.
15. Head Basketball
---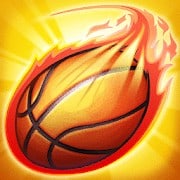 Are you feeling bored with traditional basketball games? Do you want to try something new? Then you can check this out. It will amaze you with its innovative storytelling and attractive characters. Imagine that you are an avatar. You have certain supernatural powers. Your opponents are also an avatar.
You two avatars play basketball using all your supernatural powers. You play not only basketball but also battle against odd occurrences at some strange locations. How do you feel to imagine? This game brings out exactly that imaginary concept. Let's see the other interesting features of this game.
Important Features
It offers 37 unique characters and an extensive collection of superpowers and unique shots.

Customize your character's power and costume according to your wish.

There are six varieties of gaming modes: arcade, campaign, tournament, survival, league, and death.

It supports multiplayer.

It adopts many popular fantasy stories such as 'The Flame Shots of Korea,' 'The Ghost Captain of Great Britain,' and other popular stories. 
16. Basketball Kings: Multiplayer
---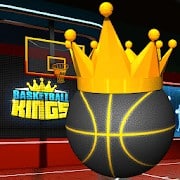 It is one of the best basketball games for android. You will have everything that you can expect from a mobile game. It has dazzling 3D graphics and faster animation. It will rank the game from beginner to master. The challenges and difficulties increase with the advancement of your skill. You can play it both online and offline. Its stunning graphics and its smooth performance win the hearts of the millions.
Important Features
The game is highly interactive.

Six game modes are available: arcade, tournament, time attack, single ball, all-stars, and block.

You have 20 balls, 30 costumes, and five unique characters.

You can also choose your favorite court from the court collection.

There is also the chance to face actual competition with actual players across the globe.  
Download
17. Basketball Slam 2020!
---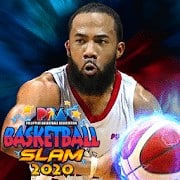 This game focuses on making a mobile game version of a real basketball and real players. This game promotes and introduces the players and hoops heroes of the Philippines Basketball Association (PBA). PBA is the first Asian basketball team and the second oldest team after the NBA.
Like other NBA games, you can create your team with real human players' characters with their actual skills. This game allows you to feel like a professional player in an actual national team. It is a paid game. It has extremely realistic graphics and audios. There are lots of interesting features too.
Important Features
You can play a three-point shootout for 1v1 online. It also offers a 2v2 game full game.

One of the most lucrative features of this game is it lets you play with your face image.

To enhance enjoyment, they provide funny and witty commentary in Taglish (Tagalog and English) languages.

You can also participate as a national player in the Philippines Governor Cups, Commissioner's championship cup.

You have the freedom to choose your shoes, arena, and collecting trophies. 

They will provide you extra energy to give spectacular high dunks.
18. Stickman Basketball
---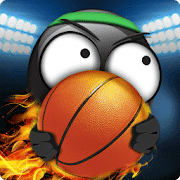 It is one of the highly successful basketball games for android. The game is awesome with quick and fast gameplay, a beautiful environment with smooth, creative graphics-animation, easy control, and a wide array of action capabilities. You can choose your team from 31 experienced teams.
There are five game modes available: Quick game, seasons, cups, street basketball, training mode, and knock out. It ensures all basketball actions that you can find in the original practical game. The other features that heighten its popularity are:
Important Features
You can either run your player manually by yourself or put it over automatic control.

There are three stages (beginner, intermediate, and pro) based on your skills. Thus, the challenges for each stage are different.

It supports you to do magnificent dunks.

You can compete globally and achieve an international ranking.

You can easily share your most spectacular moments and dunks with your friends. Also, you can watch your previous game and replay your highlighted moments of the match.
19. Mascot Dunks
---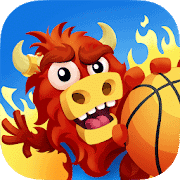 This game is a crazy basketball game where you'll see the best basketball dunks you've ever found in any game. All you need is to pick a mascot, dribble the ball, jump over the spring track, do amazing crazy dunks, and shoot it. If you can go through the path and put the ball in the basket, your score will go up. But if you don't run at the right time and skip the spring route or have a basket hit, you're going to die. And then finishes the game. People enjoy the other features of it too.
Important Features
There are 25 types of high flies and dunks. Some of them are- whirling dunks, superman dunks, boxing dunks, face-palm dunks, etc.

There are 31 crazy and funny mascots, including dog, cat, lion, bear, king, astronauts, and zombie.

Controlling the character is easy and simple, as you can do it by simply tapping.

It has beautiful 2D visual graphics and fast and smooth animation.

With the levels advanced, it engages people with more difficult challenges and interactions.
20. Slam Dunk King
---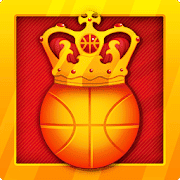 This is another different type of basketball game for android. It also focuses on various dunks and high-flying jumps. You will have various mascots and uncommon unique courts in this game where you have to show your dunk and shoot skills. With every successful shooting, you will get the coin, and your level will help up.
Through a series of challenging levels, you need to prove your basketball skills to meet the king at the highest level. The concept is cute, and the game is very interactive. It has interesting bubbly graphics that attract people regardless of age. Also, some features increase its attraction.
Important Features
There are three exciting game modes- Arcade, Time attack, and sudden death.

You can buy balls, mascots, and even courts from its store with digital gaming coins.

There are fantastic 82 styles available for slam dunks.

.There are eye-catchy 62 courts available in its store.

Mascots have their power level. With the progress of the game, you can power up your mascots and become stronger than before.
Download
Final Thoughts
---
Selecting a few games from hundreds of similar types of games is not so easy. All of the games mentioned above have the potential to satisfy their players. All of these basketball games for android are super addictive and successfully serve the purpose of entertainment.
As there are plenty of variabilities for consideration, I can't tell you which is best. Choose the game according to your preference. Hopefully, from this list, you will find your best-suited games, and you will like them.
If you find any other basketball game interesting, you can write to us in the comment box. Also, we will be glad to know about your gaming experience. If you want to know about any other list of android genres, let us know—lastly, one request.
Too much mobile addiction harms daily life and is also injurious to the eyes. Please don't look on the screen for a long time and balance gaming addiction and daily life. Stay conscious, be healthy, and enjoy your life.