Football and Cricket are the two most exciting games in today's world. Some are obsessed with football games while some in cricket. Even people are not rare who equally love both of them. So, it is tough to say which one is the most popular. But when it is on the virtual world game about the smartphone, there is no doubt that football is one step further than cricket. People love to play football games more than cricket on their Android devices. Even there are lots of people who don't like the real football game but are fond of the virtual game. So, the reason behind this writing today is to help you find the best football games for Android devices. 
Best Football Games for Android
---
I can bet you will find difficulties finding a super exciting football game in the PlayStore because there are millions of games that are not good enough to be a source of fun and excitement. To save you from such a problem, I can suggest you go for an authentic list of the best football games for your Android device. Don't worry, here you will get the list with 20 recommended football games. You can read features that may help you to pick the right one for you—best of luck. 
1. FIFA Soccer
---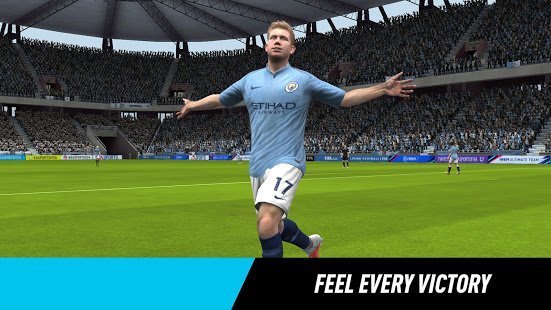 If you ask me the most popular football game, just not me, but anyone will say FIFA Soccer. Yes, really, it is a very exciting, real-life football game for Android. The gameplay is easy for beginners but very rough for super-level gamers. Again, it takes a very short time to make you addicted to it. Let's have a look at its most noticeable features. 
Important Features 
You can form a powerful League under your command. 

You can joins leagues to participate in the World Wide Tournament. 

It's a 11vs11 game where a head-to-head war with the ball is started. 

You can enjoy the 90 seconds games turning on the attack mode. 

For your team, you can choose players from more than 500 teams. 

An Internet connection is required. 
2. Football Strike – Multiplayer Soccer
---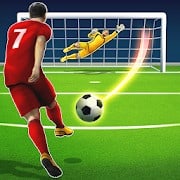 Football is such a game that brings double excitement and fun if you can play it with your friends. Football Strike is here to give double excitement like the real game. Because it is a multiplayer football game available in PlayStore, moreover, it has lots of unique features that make it so popular and addictive. You can meet them here in short. 
Important Features 
You can play as different famous teams like FC Barcelona, Liverpool FC, Tottenham Hotspur FC,  Borussia Dortmund, etc. 

With an internet connection, you can enjoy free kick or One-on-One mode.

Another unique gaming mode is waiting for you, which is called the scooters race. 

Gradual Development of your terms possible with the upgrading option of the players and equipment. 

It is a multiplayer game, and so you can enjoy it with your friends and family. 

You can challenge your friends and earn medals after winning the matches. 
3. Dream League Soccer
---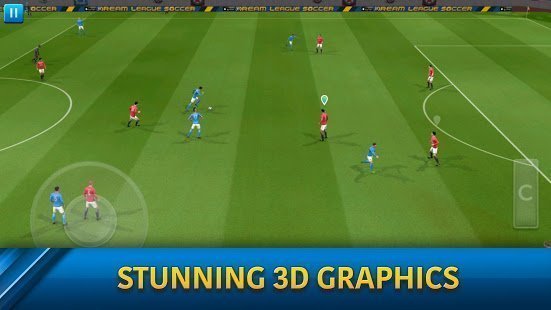 If you want to try on your dream soccer game on your smartphone, you have to be a member of Dream League Soccer. It is one of the most demanding but free football games for Android. Also, it is compatible with the use of tabs. Even people who are not very fond of real football games often love to play this online football game. To learn more about this game, you have to spend just a minute having a glance over the features of this game. 
Important Features 
You can participate in the 7 cups tournament. 

There are options to customize and develop players. 

You are allowed to design the stadium and showcasing the audiences and the players. 

There are lots of live events that you can take part in. 

You can customize and design the logo of your team. 

It shows the leaderboard and ranking lists. 
PlayStore
4. Score! Hero
---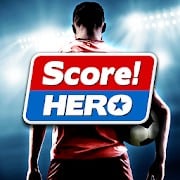 To be a hero on the virtual soccer ground, you can try Score hero. For many gamers, it is the best mobile football game. Yes, it can provide you an opportunity to be so. But you have to play the game with your best. However, it is one of the most recommended soccer games for Android. It is easy to play but hard to be the master. There are tons of exciting gaming options packed with this game. Some of them are as below. 
Important Features 
There are lots of exciting tournaments to take part in. 

Smooth scrolling and controlling functions for interruption-free gameplay. 

This 3D game includes satisfying graphics and a satisfying sound system. 

It includes over 500 exciting levels. 

You can win medals, trophies, coins, and so on.  

You can customize the heroes for inspiring and dashing outfits. 
PlayStore
5. Real Football
---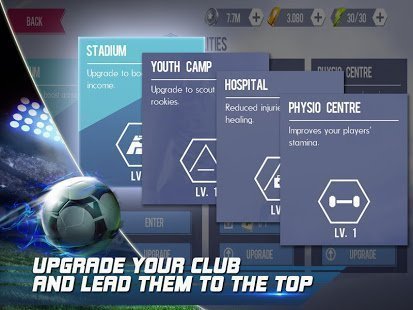 If you really want to have fun like the real football game with a virtual, Real Football will get a recommendation for you. This genuine football game is very good to reduce your boredom and to provide the excitement of the real game. It has perceivable gaming rules and functions. Kids to elders, everyone can enjoy playing this game from the very moment they start it. However, there are lots of exciting features to amaze you. 
Important features
It is only available for Android. 

The game rules are very easy to understand. 

You can turn on the asynchronous PvP World Arena mode to challenge other players. 

It shows the leader board and ranking lists. 

It is a kind of fantasy simulation game. 

You can build and customize your own team to play with others. 
6. Soccer Stars
---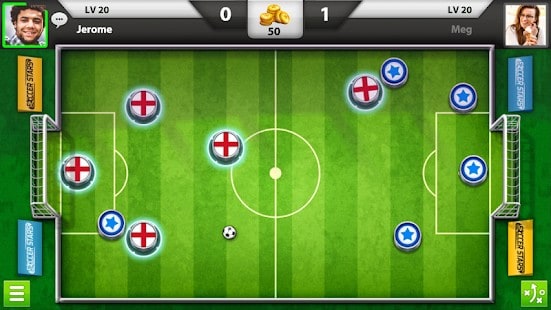 Enjoy the most versatile online soccer game on your Android devices with your friends and players worldwide. Soccer Stars is one of the best multiplayer soccer platforms with realistic graphics and an easy-to-use game interface. Again, it is the best offline football game, suggested by many players. It lets you have continuous challenging gaming sessions as players are always updating, and new events are always there where you can make your way to be a soccer champion.
Important Features
It allows you to play with a community of players all over the world.

You can play with your friends as the app offers social platform integration.

Offers fully customizable options and can be played with different teams, and you can show off your style as you compete with others.

Provides you the options to play in both offline and online mode.

Integrated with very beautiful graphics and amazing texture while interacting with the ball.
7. Flick Shoot
---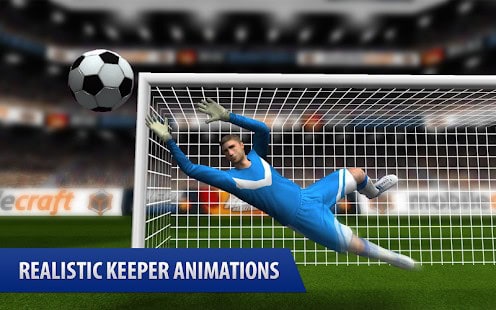 Flick Shoot gives you the platform to enjoy soccer games in your reach, and you can play it on your Android devices. It is by far one of the most visually enhanced games with realistic effects and jaw-dropping in-game texture. It is integrated with lots of different features that make you experience realistic and exciting football sessions.
Important Features
Offers high-definition graphics and sophisticated physics effects for a better gaming experience.

Provides numerous game modes for giving you a complete package of soccer play.

Integrated with multiplayer functionality along with classic arcade mode and lots of tournaments and campaigns.

It features realistic kick and goal effects that are facilitated by smooth controlling capabilities.

Let's you play with your friends and other players and offer one the best freekick action experience.
PlayStore
8. Winner Soccer Evo Elite
---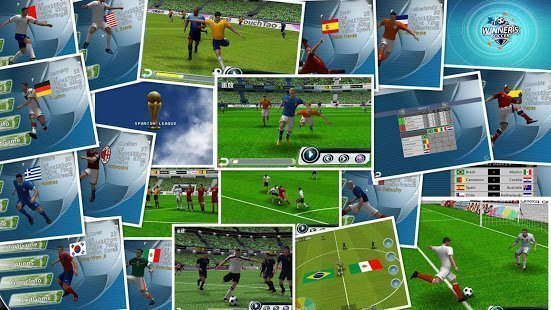 If you are looking for the industry's leading and 3D rendered graphics-intensive soccer game experience in your Android devices, then Winner Soccer Evo Elite will be a great match for you. It is equipped with lots of different features and options for prayer to have fun at any time. It offers a lot of game modes and interactive multiplayer functionality for an overall pleasant gaming experience.
Important Features
Provides you a premium and free download of the game for you ready to be downloaded from the PlayStore.

Offers special effects and high-quality in-game playback actions along with smooth gameplay.

Lets you have friendly matches and cup-modes to play with lots of international teams.

Provides various popular ways to trigger shoot, long pass, rush out, and so on.

Let's you have automatically provided combination skills to execute different actions properly.
9. Ultimate Soccer – Football
---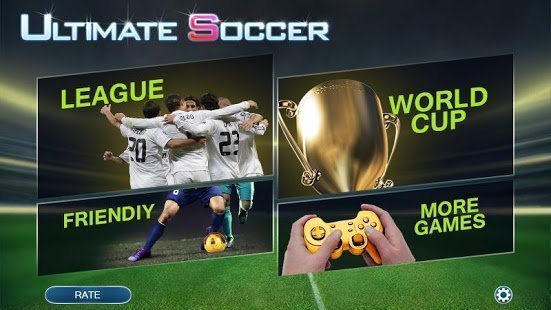 Not all games are in the caliber of Ultimate Soccer as it is equipped with one of the best 3D graphics and smooth gameplay. It simulates a football game with a simple but logical control system with realistic animations and mind-blowing in-game actions. It features an easy and accessible system interface and a very useful management system.
Important Features
Provides numerous teams to compete with and lets you make your own personalized team.

Offers more than 1000 different players to experiment with so that you can make your own team formation and playing tactics.

Equipped with a beautiful game environment and realistic physics-based graphics that make you play more.

Integrated with mesmerizing sound effects and fully customizable game settings along with different game modes.

It lets you play in numerous challenging campaigns and also supports popular gamepads for better accessibility.
10. World Soccer League
---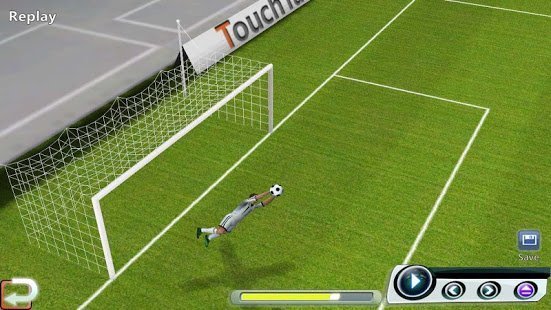 You love to play football, then make this passion reach the next level with World Soccer League. It is free to download and play from the PlayStore and supports nearly most of the capable Android devices. It lets you play soccer in a very realistic setup with modern graphics integration. It consists of many exciting and rare features that are not seen in its competitors.
Important Features
Offers more than 2000 players and 60+ national team to choose from and make your own football team.

Provides a variety of gameplay modes and existing campaigns with different cup modes.

Let's you play with real-life actions with rush play, dribble, and powerful shooting.

Provides a competitive platform facilitated with many goals, achievements, and global activity with the game community.

It supports more than 15 languages and lets you capture great photos and videos for social sharing.
11. Mobile Soccer League
---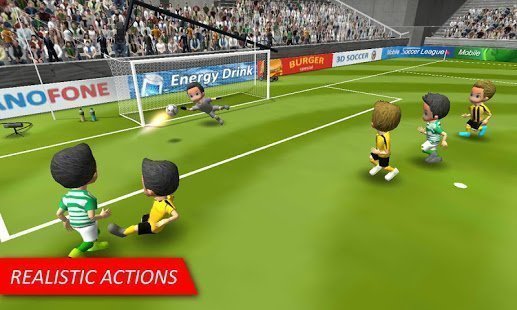 Get introduce to another awesome soccer game. Mobile Soccer League is so much popular among soccer lovers. It comes with an awesome resolution. Lots of different faces and stadiums have made it more interesting. There are also some major leagues and championship tournaments. You will never get bored playing this game. You can play this game with 2D or 3D effects. Awesome button movement and smooth gameplay have made it more popular. So play this super cool soccer game and enjoy your time.
Important Feature
You can enjoy the realistic feel with 2D and 3D gameplay.

High display resolution is another satisfying feature.

You can win different CUPs such as Euro 2016, France, Russia world cup, Copa America 2016.

A simple and smooth gameplay option lets you play flexibly.

You can enjoy different leagues like England League, Spanish league, France league, etc.
PlayStore
12. Soccer Hero – RPG Football Manager
---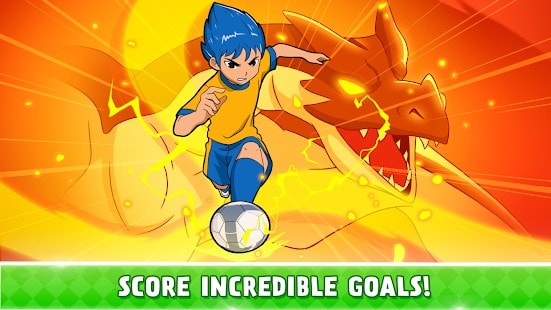 If you are a fan of fantasy soccer cards game, then Soccer Hero is a must-play game for you. There are lots of options you will find in this game. You can play as captain and lead your team. Try to get signed with your favorite team. Sign in new players and create the greatest team ever. Not only as a player but also you can be a manager. Happy to know that you can play this game both online and offline. Online challenges are also available. Another fact of fun is you can train and improve the skills of the players. So play this game and get an awesome experience of soccer.
Important Features
You can enjoy the game in a high-quality cartoon graphic.

Play more and more, and unlock awesome skills and abilities.

Now you can also join different tournaments and win rewards.

Play as a caption of your team and form the best squad.

Lots of soccer tricks like passing, block, dribbling, shooting, tackle, etc., will never make you tired.
PlayStore
13. 11×11: Soccer Club Manager
---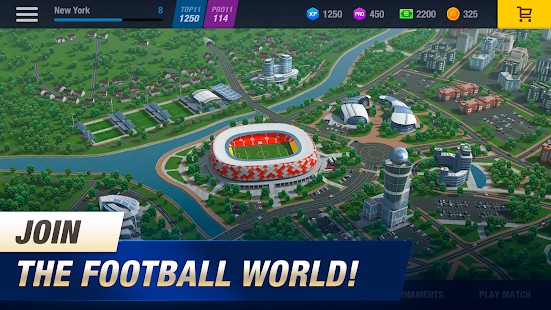 Soccer Club Manager is surely one of the most time-killing football games. You love football, and then you are going to be addicted to this one of the most exciting online football games for Android. You can play this soccer game with real opponents. The player transfer system is another matter of joy. Buy the strongest player and make a better squad. Awesome 3D effect with eye-catching graphics will blow your mind. You can play as a coach and win big tournaments and leagues. The features don't end here, and you will meet with a lot more features when you play the game.
Important Features
There are daily tasks and rewards available. You will never get tired of playing the game.

Playing this soccer game, you will enjoy lots of skills.

You can play this soccer game teaming up with your friends.

Play like a player or a manager and create the best squad of all time.

You can also train your players to improve their abilities and skills.
14. Head Soccer LaLiga 
---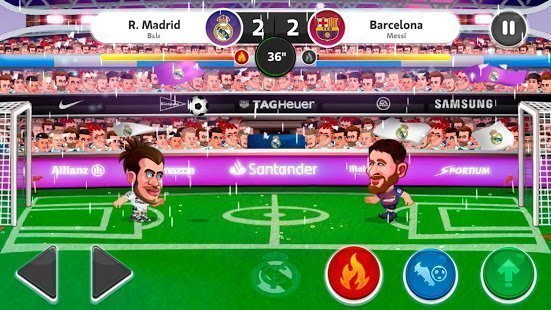 The soccer game will be more realistic with this officially LALIGA licensed soccer game Head Soccer. Enjoy this one of the coolest free soccer games with the real stadiums and real players. Choose any of the LALIGA teams and start playing. A great feature of the game is training players. You can train and increase the power of your players. You can play the game in different modes such as league, champions, friendly, etc. And finally, you can save your game progress and no chance of losing your career. So don't wait to download this game.
Important Features
You will find all the official LALIGA players. Play with real players and stadiums.

Happy to know that you can train your players and level up.

Different game modes are available such as vs. cup, friendly, league, and others.

You can play smoothly and enjoy the game with a crispy sharp resolution.

Controlling is easy, and you will love the button movement.
15. BIG WIN Soccer
---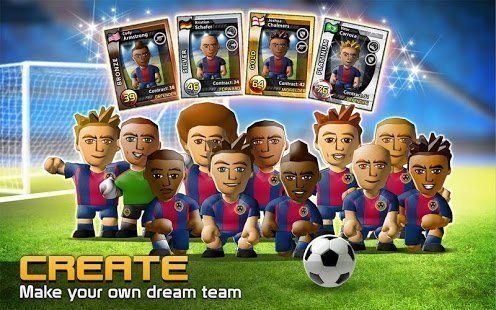 You may hear the name of this one of the popular football games for Android. Big Win Soccer is an awesome soccer game for soccer lovers. Enjoy a career as a coach and create your fantasy team. Create your best 11 squads signing the top defenders, attackers, and midfielders. There are different modes of games which will never make you bored. Another matter of fun is the card option. You can increase the skills or get new players using cards. There are also some other great features you will find playing the game. So don't miss a chance to play this one of the greatest free soccer games.
Important Features
You will find 3 types of cards, gold, bronze, and silver. Increase the power and get new players opening the cards.

You can play different modes such as quick matches, trophies, events, and others.

The Crispy-sharp resolution will satisfy you surely.

Be a manager, and create your fantasy squad.

You can test the skills of your team and practice soccer in quick math mode.
16. Masha and the Bear: Football Games for kids
---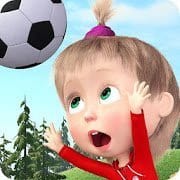 Get introduced to a cool kids soccer game Masha and the Bear. This is a free-kick toddler game appropriate for the kids. Your kids will be a great fan of this game if he/she is a fan of the Masha Bear cartoon. The game is created by having some characters in the Masha Bear cartoon. There are different modes available in this game. Your kid will never get boring playing this one of the best football games for kids. So download the game, and I am sure your kid is going to give thanks to you.
Important Features
You will find lots of characters to kick and goalkeepers.

Your kid will enjoy animals like tigers, bears, rival bears, etc.

The high-quality cartoon graphics with charm your kid. 

Very easy to play, and your kid will enjoy gaming.

You will find various modes, such as training, time, bouncing, free kick, etc.
17. Table Football, Soccer 3D
---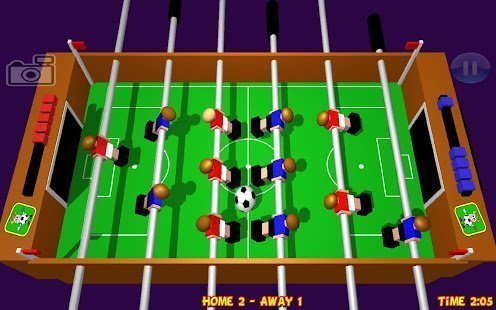 If you like to play table football, happy to know that table football is now in your pocket. Table football is a 3d soccer game. The graphics of the game are really awesome. Play it anywhere and enjoy every goal. You will get the opportunity to play in the leagues as well. You can choose shorts, shirts, boots, strips like your wish. There you will get the chance of being the world cup champion by playing 7 games. So download the game now and experience another mode of the table football game.
Important Features
You will be able to customize shorts, boots, shirts, strips, and others.

You can enjoy the world cup championship.

You will love the awesome and smooth gameplay of the game.

You can save your game and proceed with no worry of losing any progress.

Play the game regularly, and your fingers will remain fit.
18. Futsal Football 2
---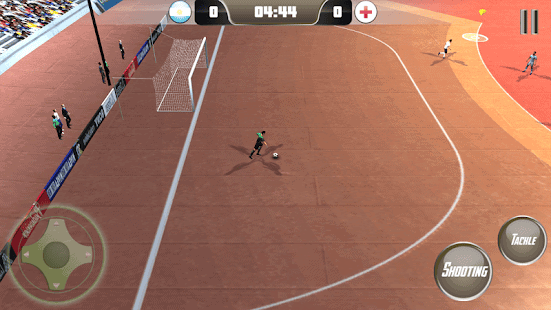 If you are looking for a different type of soccer game, then Futsal Football 2 is surely the best option for you because this football game is the best for Android. This game is the same as a real football game, but there are some changes. It is played inside an indoor stadium. The goal is generally shorter in length and height. The football will bounce less than a real football. Ultimately you will have a different experience. The game also has cool graphics. You must get a realistic feel playing this game. Let's try something different, and I think you will love to play this indoor football game.
Important Features
You can enjoy different playing modes in the indoor stadium.

You will get a real feel as the game is created with high-quality resolution.

Experience of playing with size 4 ball, which decreases the bounce of the ball.

Game time is the same as a basketball game. Each half is of 20 minutes.

You will love the button movement and smooth gameplay.
19. Stickman Soccer
---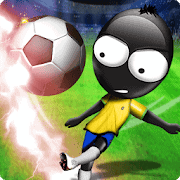 You can now experience super soccer fun with another popular football game on your Android device. It is Stickman Soccer. You can enjoy this interesting game for free, and there is no hidden charge for you. You have to play ultimate soccer in a team to lead and make a memorable soccer tournament. It is very easy to have complete control over every player on your team.
Important Features
Special gaming modes like the America Cup, and Europe Cup are available to enjoy.

When you get bored with the regular gaming mode, you can challenge yourself with the pro level of difficulty.

Different stadiums, players, and weathers are there to make it a bit more dynamic.

You can play games either in 11 vs. 11 or in 4 vs. 4 players gaming options.

There are 4 different kinds of difficulty levels that you can enjoy.
20. Mobile Kick
---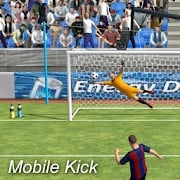 Lastly, it is Mobile Kick, another Android football game you can try with no regrets. The best part of this game is its tactics and modes that are completely like the real-time football game. This exciting game is free, and there are no hidden charges that may irritate you by blocking you from getting different facilities. So, you can now just download and start enjoying this game from its core level.
Important Features
No advertisement and hidden charges.

Same strategies to the original football game.

4 different modes with different tactics.

A variety of leagues are available to play on, like Spanish League, English League, and ao.

Options of real-time football like a penalty, free kick, red and yellow card shows, etc., are also available.
Download
Final Thought
---
Now, tell me which game you are choosing to give a try on? Is it FIFA Soccer or Dream League Soccer? Whatever it would be, I am pretty much sure that you will enjoy any game that I mentioned earlier. You must also notice that I have included different types of football games like football games for kids, Simulation football games, League joining football games. So, I think you will face no problem choosing the best football games for your Android device to enjoy your free time. 
Did I mistake anything important? If yes, please inform me. Also, stay tuned with your feedback and comments. Thank you.