Hello spider man, Franchise! No new series of spiderman has come out recently. That can make you sad. But it doesn't mean you cannot experience something new with spiderman. What if I bring you a solution that doesn't let you say goodbye to your favorite superhero and enjoy your time playing roles of him? That will be very exciting, I know, and the easiest solution is to the best spiderman games for Android. Have you ever tried it? If not, just try one or more for the best gaming experience with our favorite spiderman.
Best Spiderman Games for Android
---
In PlayStore, we found hundreds of spiderman games with different gaming modes. But all of them can never impress you. But we check one after another and end up finding the 20 best Spiderman games for Android. You will find 20 games with different stories and genres.
If you have a few minutes, please utilize them to check out the following details. It will help you to find out the games that you will get addicted to very soon. So, don't waste a minute anymore and start checking out the 20 best games and their details.
1. MARVEL Puzzle Quest: Join the Super Hero Battle!
---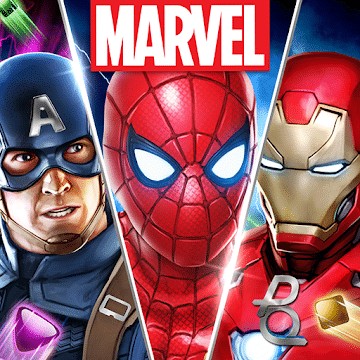 D3 Go! It brings a visually stunning Spiderman game for Android, which is optimized for both phones and tablets. It is one of the most popular MARVEL comics superhero games you will find in the Playstore. It is free to play and includes an optional in-app purchasing panel. This puzzle game provides a huge community of players from different parts of the world.
Play as superheroes to fight against the dark agenda of Norman Osborn. You can use the unique powers and skills of all the Marvel characters to dominate in the war. So get ready to make the perfect team and leap towards ultimate victory by solving challenging puzzles.
Important Features
Includes all the comic characters, and you will be able to unlock them gradually.

You will be able to enjoy the original match 3 gameplay.

Offers a logical reward system and custom team making option

This game regularly offers different events, PVP tournaments, and epic battles.

You can fight against powerful enemies and other players in different events and activities.

Works smoothly on devices that run on Android 4.1 or greater.
2. Spider Rope Hero – Gangster Crime City
---
As a Spiderman fan, you must love Spider Rope Hero. Getting interested, you will fall in love after you know about its amazing features and realistic gameplay. It is an adventure-packed Spiderman game for Android. It is highly optimized for both Android phones and tablets. This game offers huge city settings and visually stunning in-game environments. You can use lots of special skills and weapons of your choice. Keep the peace of the city with your superpowers and rose jumping skills.
Important Features
It allows you to use a wide range of firepowers, military vehicles, and upgradable gears.

It renders high-quality 3D graphics and realistic sound effects.

It comes with in-game purchasing options and a logical upgrade path for skills and weapons.

Offers a highly responsive and smooth controlling system.

Provides hours of Spiderman gameplay in the beautiful city environment.

Roam around the city to search and eliminate criminals and gang members.
Download
3. Spider Hero: Superhero Fighting
---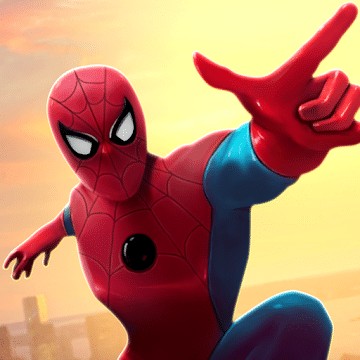 Let's check out an arcade-style superhero fighting game featuring your favorite Marvel hero Spiderman. It is called Spider Hero: Superhero Fighting, developed by Aleksay Yarmolik. It is an action-packed Spiderman game for Android. It offers an interactive city setting with lots of events and challenging missions to complete.
You play as a justice-serving superhero who is always ready to stop crimes and eradicate fierce criminal gangs from the city. This game contains occasional in-app advertisements and surprisingly does not require top-notch system specifications to run.
Important Features
Defeat the criminals to become people's heroes.

You will like its smooth controlling system.

It allows you to play the game while having no internet connection.

Includes different types of advanced weapons with a logical upgrade path.

You can change the outlook of the superheroes as you level up.

Renders beautiful HD graphics and realistic sound effects.
Download
4. Miami Rope Hero Spider Open World Street Gangster
---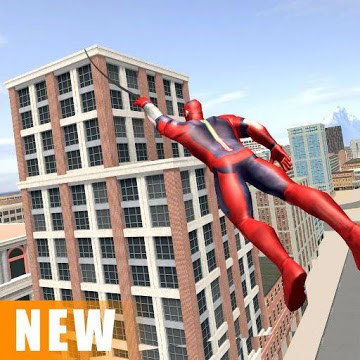 Who does not love to play as a superhero in an open-world 3D environment? Here comes Miami Rope Hero Spider Open World Street Gangster, an action RPG from Open World Action Games. It is free to download from the Playstore and works flawlessly on most devices that run on Android 5.1 or greater.
Get ready to rule over the city and apprehend the criminals and gangsters. You will be able to jump over the buildings and fight like your favorite superheroes. It features encouraging high-quality ambient sound effects.
Important Features
It comes with lots of different missions and challenging tasks to complete.

It offers a vast open-world setting with the freedom to do anything.

You will be able to use different superpowers and numerous weapons.

It features a huge collection of bikes, cars, and other vehicles ready to be used.

Provides GTA-style gameplay with supernatural powers of Spiderman.
5. Spider Superhero Fly Simulator 
---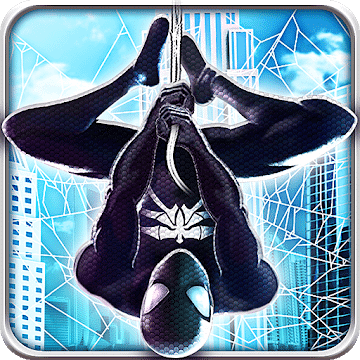 As a Spiderman fan, you must check out Spider Superhero Fly Simulator. It is an open-world-style superhero simulation game for Android devices. It is completely free to play and often shows some in-app advertisements. It works smoothly on both tablets and phones. You will love its smooth controlling system and responsive touch controls.
It features a challenging story with lots of different missions and goals to complete. So be ready to enjoy the adventures of a city full of crimes, super vehicles, and aliens.
Important Features
Offers complete freedom in a vast open-world in-game environment.

Includes special powers of Spiderman and lots of different weapons with possible upgradability.

You will be able to throw the spider webs on your enemies.

Features all the special moves of Spiderman and a highly destructive rocket launcher.

Provides realistic sound effects and stunning High definition graphics.
Download
6. Spider Rope Hero – Gangster New York City
---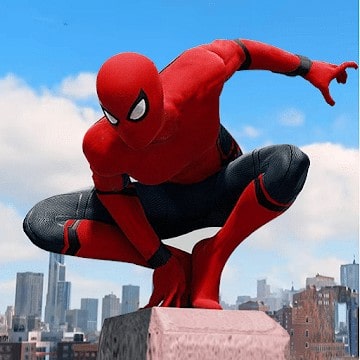 Let's dig into one of the most popular Spiderman games for Android devices. It is from 3D.Inc and offers open-world adventure-style gameplay. Spider Rope Hero – Gangster New York City features a city environment similar to modern times New York and Miami. Enjoy the excitement of superpowers and access to heavy ammunition.
You will be able to buy different weapons and gears with a logical upgrade path. Get into different vehicles and chase the criminals and gang members in style. There are options to buy premium gears and upgrades from the in-app purchase hub, which is completely optional.
Important Features
Play as a superhero and save the innocent people in the city.

Offers outstanding gameplay with the freedom to do anything in open-world settings.

Renders HD 3D graphics and sophisticated in-game environments.

Integrates a smooth controlling system and includes encouraging sound effects.

You will be able to join in lots of missions and campaigns.

Offers numerous villains and gangs with special powers.
Download
7. MARVEL Future Fight 
---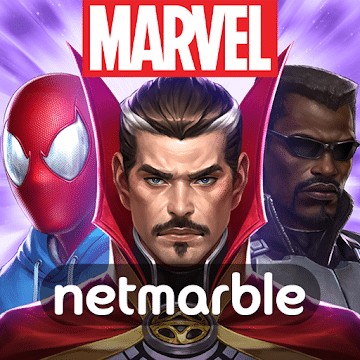 Let's get introduced to the most popular Marvel games for Android, where your favorite superhero, spiderman, will play the biggest role. MARVEL Future Fight is the one I am talking about. This stunning game is full of action and RPG features. Superheroes and villains will be there, and you can take the role of anyone.
Just pick up from your favorite superheroes like spider-man, Ironman, and The Avengers. You will get an urgent message from the director of shields, and it has come from the galaxy. Something destructive is coming towards the world, and you have to get ready to defend your universe.
Important Features
Excellent avengers theme-based story behind the game.

Meet over 200 different characters, and you must be familiar with most of them.

You can collect hundreds of superheroes' role-playing abilities, and you can level up those heroes too.

Hundreds of custom uniforms are available, and you can choose your favorite one from them.

Extend your excitement with your friends by building your team with the strongest superheroes.
8. Spider Stickman Rope Hero Gangster
---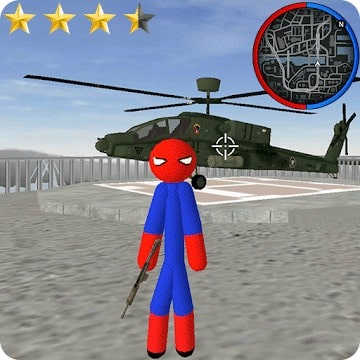 I have another Spiderman game for Android to introduce you, and it comes with something different. Spider Stickman Rope Hero Gangster is the game, and it lets you enjoy the ultimate adventure at each level. You can fight with the enemy using destructive weapons. Set the target and shoot, or you can climb walls by spreading the web. As long as you can confirm your network access, you won't get bored playing this game. It has a clean interface. Let's see what's more for you here.
Important Features
This game has a bunch of new levels in different locations and obstacles to come over.

New unique transports are fun to play with, and they are destructible in this game.

A lot of incredible tricks are available in the ragdoll style.

The game is designed in a new way in the stickman game trend.

Crashes and destruction are so real that you will feel like you are there.

Here you will enjoy the unique physics and exclusive soundtracks.
Download
9. Spider Rope Hero Man
---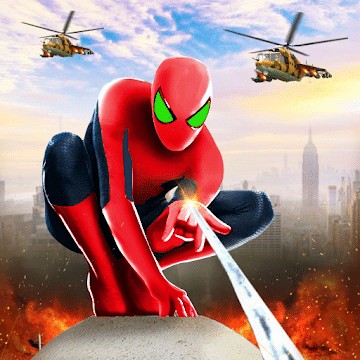 Zmmy Games is introducing you to Spider Rope Hero Man, a game that will take you to the world of the superhero character. The people of Vegas vice town are in trouble because of the city gangsters. You have to face the real action to survive those missions to save the people. The Miami vice town part is all about fighting tactics and detective missions.
The main character that you have to play in this game has a lot of superpowers. Also, you can customize the character you play, and there are plenty of options for that. You can choose your weapons too.
Important Features
Multiple vehicles, including army vehicles, police cars, trucks, bikes, helicopters, etc., are here.

Flying, swinging, driving, swimming are smooth with precise control.

For the spider rope hero, there are different modern weapons.

Combat and survival fighting strikes have a lot of fully decorated and planned missions.

This 3d action game can be enjoyed even without an internet connection.

A full free iron superman game is available with this one.
Download
10. Power Spider 2
---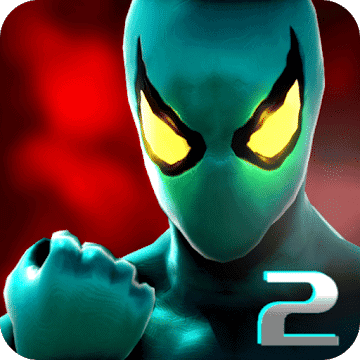 Get your head around and strike through the land of spiderman with Power Spider 2. The story of this game starts with Chris Anderson, who has a radioactive disease. To get cured, he has to bite a spider. A frozen spider is given to him, preserved for a long time after biting a martial artist. When he bites the spider, it transfers the martial artist's power into him. So, this game is a combo of a superhero as well as a martial artist. He has to protect the city with these abilities.
Important Features
You can enjoy a bunch of activities while roaming around the city.

This game is playable in the first-person mode so that you get a more realistic feel.

The mechanics are carefully designed for web-swinging and web attachment to the buildings.

The boss fights are deadly and, best of all, which you can enjoy them anytime.

Several costumes and items can be unlocked by completing tasks; otherwise, they are also purchasable.

New achievements are available to complete.
Download
11. Flying Spider Rope Hero
---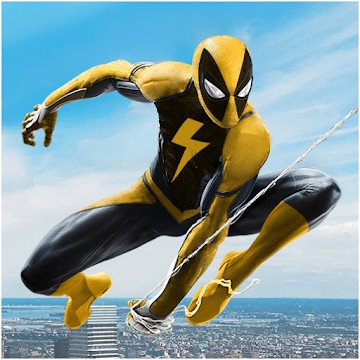 A lot of heroes in one game here at Flying Spider Rope Hero. This game lets you prove your ninja tactics and actions of an intense superhero. Beat the illegal powers and ensure the security of the common people. You can earn money by showing your best performance. Upgrades and new types of equipment can be bought with the earned money. So, the whole game is full of action and a thrilling experience. Let's not wait to get started with this Spiderman game for Android.
Important Features
The spider rope hero's spider power saves the Vegas city with different levels of simulator games.

Rope hero fights to save the offices and buildings by exploring the city, especially for jumping long distances.

A ninja frog hero can use the rope to fly at each point.

In the battle zone, the superhero saves the city from gangsters.

You can master the combat skills at the alliance fight.

The villains can be knocked down with hero shooting skills and exclusive climbing styles.
Download
12. Black Spider Rope Hero
---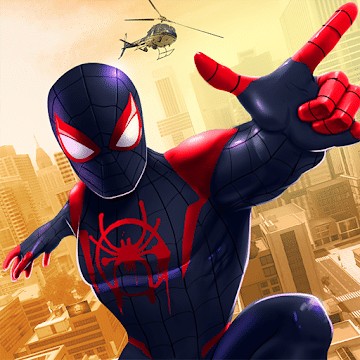 For anyone who has ever wanted to have all the mighty powers of a superhero, Black Spider Rope Hero is the game that should not miss. Here you can enjoy the world of adventure in a third-person view. The mafia gangsters are destroying the city with robbery and bloodshed. Bring back peace by completing missions with perfection. The police will help you on this journey. You need to fight hard to survive until the end of it. Still not impressed? Here I have more information that will definitely impress you.
Important Features
The superhero can watch over the crime city to find gangsters and buy a lot of guns.

When you are playing as a spider rope hero, you can equip new weapons and upgrade the old ones.

There's a frog hero who can borrow motorbikes, cars, military vehicles, and exclusive firepower.

You can roam around the crime city with the ninja rope hero and fight, rob, shoot, catch against gangsters.

If you want to climb and jump from tower to tower, you need to choose a city rope hero.
Download
13. Spider Power 
---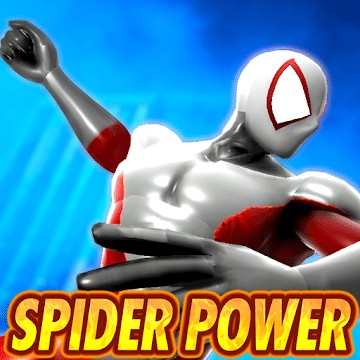 Meet Spider Power, another action game that focuses on your favorite superhero, spiderman, as the hero.  Here, you can be the champion of martial arts if you manage to show your gaming excellence. The story begins the same as the real spiderman movie. You get the superpowers when you get bitten by a deadly spider. You will be leading other spidermen too. Save the earth and humanity from evil powers. At the arena battle, you have to knock down the supervillains.
Important Features
There are 2 modes – storyline and campaign; you can choose any of these to play.

If you want to try spider tricks, there's a web-swinging machine for this.

You will get spider powers for completing those mind-blowing superhero missions.

This fighting game allows you to battle against supervillains, super monsters, and criminals.

When shooting the enemy forces, you can use numerous superpowers to beat them.

Face the criminals in superpower fights.
Download
14. Amazing Spider Fight
---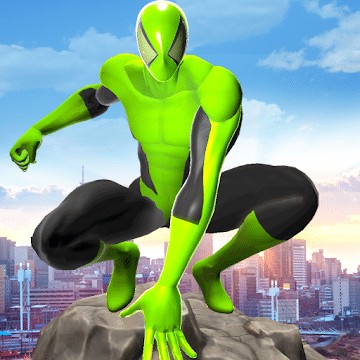 Presenting you to a world of Spiderman game for Android with Amazing Spider Fight. You can be a hero like a spiderman. The city is in danger because of criminals. Fighting with criminals will lead you to the best street fighter quality. Gangsters from different countries will be in the New York city environment to challenge you. Give your best performance and prove yourself the best hero in the city. And it is your biggest chance to save your city people. Just remembered not to get into any trouble with the police.
Important Features
A heroic tournament that is open for playing in the world fighting game.

Different fighting skills and rope hero skills are applicable.

You'll get unique hero fighting skills for a better fight.

For defeating crime city criminals, you have to use all the spider power.

You can use the magical web and different tactics like laser beam shooting.

In free fighting games, you can drive supercars and motorbikes.
Download
15. Flying Spider Boy
---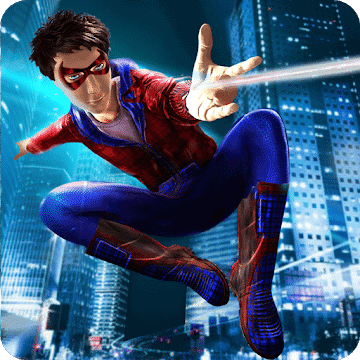 A classic superhero like Spiderman is an all-time favorite to all. Flying Spider Boy is a reflection of a spiderman movie in a gaming environment. You can get training in roof building to achieve better skills. Fight with another superhero to get a bold position. The crime rate of the city is out of control. Use your superpowers with tactics to put an end to the crime in the city. This Spiderman game for Android will not disappoint you with its puppet physics and exciting sound effects. So, let's check out what's more this game will offer.
Important Features
In this game, you have 5 flying spider missions that are full of excitement.

You can make combo sets according to your preference.

This is the platform where you can roam around and fly with the rope around the whole city.

You will get interesting abilities such as flying, sticking wall to wall, throwing web, etc.

Legends will train you to fight against the mafia robbers.
Download
16. Spider Rope Hero Gangster: Crime City Simulator 3D
---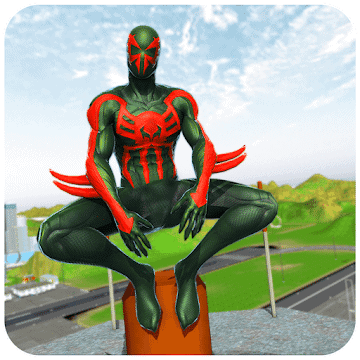 If you are looking for a 3D game based on Spiderman's story, Spider Rope Hero Gangster will blow your mind. You will be introduced to a whole new action level where you can become the spider hero. Here, you need to fight to save the city from criminals and the gangster mafia. Throughout the game, you have to survive epic battles of crime city simulator 3D and complete all the levels. So, why are you late? Be ready to become the ultimate protector of the city simulator action game.
Important Features
You will be mesmerized by its HD quality graphics and the functions of the army vehicle mode.

You can have the feeling of running realistic weapons.

In the game, Spider-man rope hero fights against grand city robbers and unknown gangsters.

While playing the game, you will find the best street fight simulator game among the gangster and the stickman rope spider warrior.

The game will take you on an extreme adventure with its action move.
Download
17. Iron Spider Extreme
---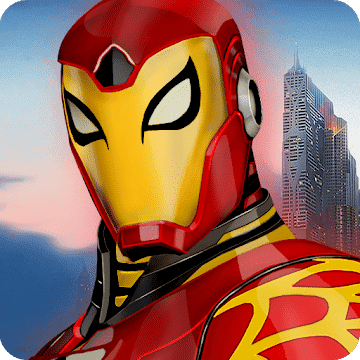 If you are tired of playing ordinary games and want to try something nostalgic, I have something Great for you. Iron Spider Extreme is the game where you can get engaged with your favorite superheroes. The game is fascinating and quite easy, yet you have to complete many challenging tasks.
Throughout the game, you have to cross the city wearing your super iron spider suit, swing through the rope, and collect coins. However, the game will soon take you into a different vibe and let you enjoy a real action game.
Important Features
The simple interface will let you control the gaming mode easily.

The game is designed with HD graphics, which will surely grab your mind.

While playing the game, you will find lots of superheroes to unlock.

You can also compete with your friends and share your achievements.

The more you play, the more you'll get addicted to completing its task. 
Download
18. Shadow Rope Hero Power: Amazing Spider Fighter
---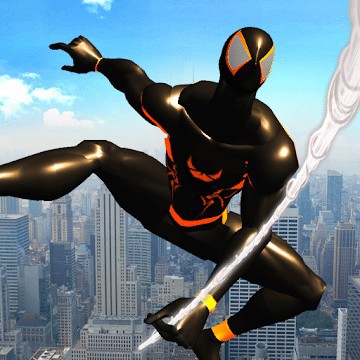 Spider games have always been the most popular action genre among Android devices. And Shadow Rope Hero Power is not out of that list. In the very beginning, you will be thrilled with its anti-criminal adventure. The game presents the 3D fighting game in an open world environment. Throughout the game, the shadow rope hero attacks the criminals and prevents them from robbing the superhero's weapon. Let's check some more details right below.
Important Features
Here, you will find the rope hero as the owner of multiple powers, and you can use firepower and advanced military vehicles to prevent the Mafia gangster.

You can transform your spider hero into a frog hero, super spider, or incredible fighting superhero.

As you level up, you can fight different missions with the mafia leaders of Russia, Japan, Mexico, etc.

This fighting game offers super quality vehicles and bikes to run across different terrain.
Download
19. Super hero VS Spider Hero Gangster Crime 3D
---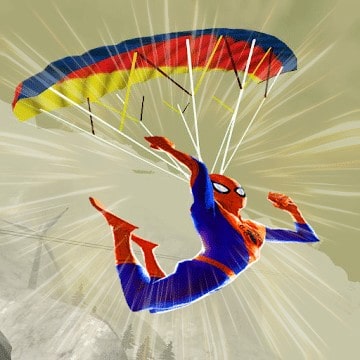 Let's have a look at an action-packed superhero game from HNIKER ANOUAR. It is called Super hero VS Spider Hero Gangster Crime 3D. Just as its name, the game is about Spiderman and rescuing the city area from the criminals and powerful gangs. It offers existing adventures and lots of challenging missions in urban settings.
You will be able to fly over city heights and use different armored vehicles to fight with enemies. Along with the superpowers, this game also offers lots of weapons and gear that you can use flawlessly.
Important Features
Comes with stunning 3D graphics and top-notch visual effects.

It does not require any high-end devices to run and works smoothly on devices that run on Android 4.1 or greater.

It is completely free to play and offers logical character upgradability.

Provides highly addictive gameplay with endless actions and adventures.

Features high-quality audio and adaptive sound effects.

Offers an open world with total freedom, and the next update will include housing facilities for the protagonist.
Download
20. Flying Spider Crime City Rescue Game
---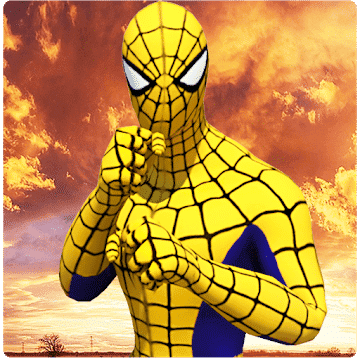 We have reached the last option for today. You can now bring the world of superheroes to your device with Flying Spider Crime City Rescue Game. It's kind of a Spiderman game for Android, where you need to fight against criminals. Fly around the whole city and become a legendary fighter. With the realistic environment and exciting sound effects, you'll feel the thrill in your veins. The beautiful cities are designed the same as the natural ones.
Important Features
There's a number of crime city locations where you can face your battles.

Fighting combat in the survival city will help you to become a superhero.

You can get help from the US police and army in the Vegas district.

At the furious Battle of San Francisco, you can use action simulators or hero simulators.

You have to save innocent people from getting kidnapped in the survival rescue game.

Other missions include rescuing people from a bank robbery, city accident missions in NY, etc.
Download
Final Verdict
---
There is no doubt that the spiderman series is one of the biggest parts that made our childhood great. And now, we are not a child, and we have our own Android device. As PlayStore contains tons of exciting spiderman games for Android, we can try to get back those nostalgic feelings.
However, you have seen different types of spiderman games where you can choose the one you like. For me, MARVEL Puzzle Quest and all the Spider rope Hero series can offer the most impressive. Besides, you can try other spiderman games, and I can assure you that none of them will ever disappoint you.
So, it's time I should say goodbye. Before that, let me remind you to share your valuable comments and suggestions to inspire us. Also, inform us if you have any confusion about today's topic. Thanks a million; it's time to say goodbye for today; stay connected with us.