If I ask the question about your favorite sports after football, cricket, and baseball, Golf will appear in the very beginning. It is known as the most aesthetic and royal sport. Besides, not all of us cannot play golf as we may not have a golf club membership. And we know that playing golf is not very much easier because a huge golf field is the mush have here. However, you don't need an expensive golf club membership to enjoy golfing anymore. Just try it virtually. PlayStore has a lot of golf games for Android that are the must-try for golf lovers. Besides, there are some golf apps for Android that will help you play it efficiently on the real field.
Best Golf Games & Apps for Android
---
First, let me inform you that this content will cover the area of best golf games and apps for your Android device. If you are a player, just use the apps to get GPS tracking, rules, and other instructions. But if you are a beginner or don't have a club membership, you have to try it virtually. And you will get these 10 of both games and apps to choose from.
1. Golf King – World Tour
---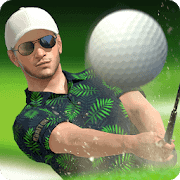 Golf King, The World Tour tops our list because of the realistic multiplayer golf experience. It has got intuitive shot control and online battles. The daily and the weekly leaderboards will show you who is the best. Additionally, the control system of this game is simple and smooth. Besides, the Coin Rush mode will bring special rewards if you can prove your skill. And, it will help you to reach higher ranks.
Important Features
In the PvP Golf duel, you can play with famous golfers from all around the globe.

There are a lot of different Golf courses in 3d. You will get a promotion in weekly leagues if you can collect more card bonuses.

To join in new mighty golf clubs, you need to upgrade your equipment, including wood, drivers, irons, wedges, etc.

You can unlock new golf stages in this game. Also, you can collect trophies at each stage.

The look of yours, caddie, and clubhouse are fully customizable with endless choices like characters, glasses, hats, tops, and so on.
Pros: This golf game lets you enjoy with your family and friends in the multiplayer mode. Moreover, you can request and send gifts.
Cons: There are some complaints that the male rewards are less than the female rewards.
2. Golf Battle
---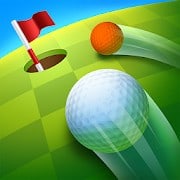 How accurate are you at playing Golf? If you are curious, too, Golf Battle is here to check your skill. The game has come with a very user-friendly interface and multiplayer function. It does allow you to challenge real players around the world, and you can beat your friends in 1vs 1 Battle. You will also find more than 120 mini-golf courses and experience the most realistic vibe of golf games. No doubt that the game is one of the best Golf games for Android.
Important Features
This popular video game lets you play the same course as your friends and enjoy the real-time experience.

As you start your journey and raise levels in Golf Battle, you will discover more challenging content.

The game has eye-catching 3D graphics. And you will find yourself playing in the pine forest, rocky mountain, Mayan jungle, the windy cliff where you will face the toughest challenge ever.

You will get the best performing customized balls along with Impressive Golf Clubs.

In the lucky shot challenge, you can apply excellent trick shots and win prizes in each match.

The game needs an internet connection to enjoy further the online battles.
Pros: The game permits players to play golf battles from 1 person up to 6 people. Also, the classic mode is available, and both kids and adults can enjoy the game.
3. Golf GPS Rangefinder: Golf Pad
---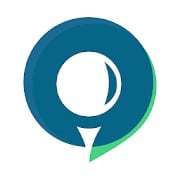 Golf Pad GPS has brought a handy golf app for your Android device, and we call it Golf GPS Rangefinder. It is like an all-inclusive app that lets you enjoy golfing efficiently. This app provides courses that will help you learn golf, especially if you are a beginner. Besides, it will help you learn all the terms and rules of golf. Besides, tons of necessary features will also be there with this app.
Important Features
You don't need to register to use this app, and it is completely free to use.

Over 40 thousands of golf courses play to enjoy this app.

A smart GPS tracking system is also available here, and you can use it even without any tags. Moreover, the GPS rangefinder supports both meters and yards.

For 1 to 4 golfers, this app contains the PGA-quality scorecard, and it is absolutely free.

This app also shows rangefinder distances, and it provides rules for the USGA tournament.

Use group rounds to play with your friends. Besides, the Strokes Gained will analyze shot by shot.
Pros: You can use golf pad Tags to track your game automatically. Also, it will tell you the distance between your position and the point.
Cons: Smartwatch synchronizing system of this app is not well established.
4. Golf Clash
---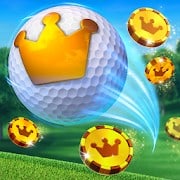 One of the most popular golf games for Android can easily be titled Golf Clash. There are thousands of live online players to challenge you. In this game, you can prepare yourself for the tournaments with practice mode. Besides, you can unlock new balls and clubs, which will lead you to gain more power and accuracy with the spin and curl. Besides, here you will find a lot of revolutionary shot systems to master.
Important Features
This exotic 3D game has a Quick-fire mode where you can play in 1v1 real-time gameplay.

It has a golden slot where you have to prove your deadly shot skill for winning prizes.

Here you will get dozens of golf courses. And, every month new courses are added there.

Within every two weeks, you can take part in the global Golf tournaments for becoming Golf King.

You can earn promotions in weekly leagues. There you will get the opportunity to win club card bonuses.
Pros: The interesting part is that you can save and share your best shots with others. Moreover, you can chat and send emojis to your friends while playing to earn more clan rewards together.
Cons: Some users complained that some of the challenges are poorly constructed.
5. WGT Golf
---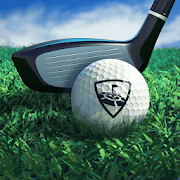 You can also try WGT Golf by WGT, and it will be a great option to check your golf skill. This game lets you pick your shot type from full, pitch, punch, flip-chip, and so on. Lots of golf lies from all around the course are there like a tee, rough, fairway, green, fescue, and bunker. Moreover, you can upgrade the golf club to improve your game. You can chat with your friends while playing and send them virtual gifts. Also, you can join a country club and buy boosts from the Pro Shop.
Important Features
Over 15 championship golf courses are available along with Bandon Dunes Pebble Beach, Bethpage Black, Chambers Bay, etc.

You can compete against your friends or other players in multiplayer mode and win the top position in the leaderboards.

In the single-player mode, you get to play 18-hole stroke and 9-hole closest-to-the-hole.

Other modes include Topgolf mode, where you get to play games with 6 players at a time. You will score points if you can hit the target.

There is a lot of golf equipment like golf balls, drivers, hybrids, woods, iron, putters, and more. You can upgrade them as well.
Pros: The WGT Pro Shop will provide you the equipment from your preferred golf brands such as Callaway, Ping, Cobra, Odyssey, TaylorMade, Scotty Cameron. Then, you can take part in free tournaments and private tournaments.
Cons: There are complaints about this game for managing the equipment.
6. Golfshot Golf GPS Scorecard & Shot Tracker
---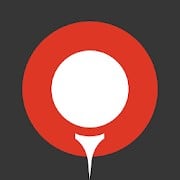 I'm sure the name of the golf app describes it all. You can rely on Golfshot Golf GPS Scorecard & Shot Tracker to save time, money, and strokes. This app provides you up to 45,000 courses worldwide along with shot tracking and rich scoring. It is the only golf app that is compliant and compatible with the new World Handicap System. Besides, you can get club recommendations.
Important Features
This app will precisely calculate the distances to the center of the green.

You can simply use the scorecard for yourself or your foursome.

If you need to remain hands-free, you can switch to Auto-Advance and Voice Hole information.

Here you can get the intuitive statistics of your game, including fairways hit, greens in regulation, and putts per hole.

The statistics are based on your previous played game history to give you a powerful result.
Pros: You can preview and visualize your matches in a 3D video with the entire course. Additionally, you will get access to more than 400 personalized videos.
Cons: When you close the app, you don't get any notifications.
7. Golf Star™
---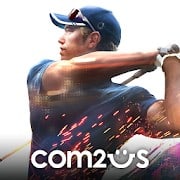 Let's get introduced to one of the most popular golf games for your Android device brought in town by Com2uS. Golf Star is a vivid golf game that comes with all the real golfing rules and instructions. That's why it will be the best pick for you if you are planning to join a real golf club but know a little about the real game. However, this game comes with a very realistic sound and graphics that will give you the true excitement of golfing.
Important Features
This game is designed with a multiple language supportive interface. Also, you can try it on your tablet.

To help you to be a pro helper, this game provides 15 different professional golfing techniques.

As an exciting multiplayer game, this game provides an opportunity to play with your friends.

Weekly championship events will also be arranged. And you can participate in checking your progress.

In the single playing mode, you will have tons of missions to complete.

You can also join a guild to participate in the guild mission with all your guild members.
Pros: It is designed with true-to-life physics. Additionally, you will experience Terrain height, ball impact angle, wind, temperature, humidity, and many more.
Cons: This game requires huge downloading space, and it is about 1.8 GB.
8. Golf Rival
---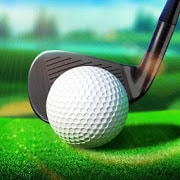 If you are looking for a golf game that comes with a real golfing strategy, Golf Rival can be another good choice. Orcha Studios brought this game to help the golf lovers practice virtually. Just swiping your finger is enough to throw. Initially, it may seem easy, but it's pretty hard if you cannot manage to make the point perfectly. Also, it has a lot to offer.
Important Features
For beginners, this game provides all the golf terms and instructions.

Here, you can compete with thousands of pro-level golf players.

You have to practice a lot and upgrade your level to beat the opponents in the multiplayer mode.

You will get events of all newly arranged tournaments. And you have to ensure a better internet connection.

This game lets you invite your Social Media friends and play together. Sharing points and chests with friends will be real fun.

You will get tons of chests by winning the tournament.
Pros: In the REAL-TIME 1v1 competition, you can join without any requirement. Also, you will get tons of professional and realistic golfing equipment to use in the tournament.
Cons: In the multiplayer mode, this game often set an opponent who is no match with you.
9. Golf GPS & Scorecard by SwingU
---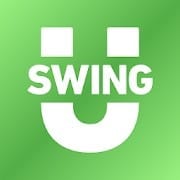 Golf GPS & Scorecard by SwingU is an unparalleled golf app for Android which you can access for free. It provides one of the best scorecard statistics for your golf game. This app uses GPS to show different numbers precisely with real-time integration. It supports smartwatches for quick access from your wrist. This app includes almost all the golf courses of the world with details on its GPS rangefinder. Your golf ventures will get a lot easier and more enjoyable with this app.
Important Features
It includes a cost-free handicap if the user shares the scores more than three times.

This app shows a very detailed map showing greens and obstacles.

Users can note down every hole and include insights pages ready to input.

It keeps all the recorded scorecards within one place for quick access.

The user interface is very user-friendly and offers a very reliable platform.

Users can record and save their golf sessions inside the dedicated swing locker.
Pros: The app interface is very snappy and smooth. Also, it provides professional tips and instructions from top-level trainers daily.
Cons: Some users found some operational inaccuracies within the app.
10. GolfNow: Tee Time Deals at Golf Courses
---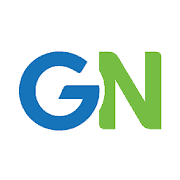 Today's last recommendation for golf apps is GolfNow, and it is certainly not inferior to other alternatives. This app works smoothly on both Android phones and tablets without any support issues. One of the coolest features you will like from this app is its rewards system for frequent golf sessions. Moreover, users can gain points for unlocking other existing offers. This app works seamlessly while offering a very beautiful yet minimalistic UI.
Important Features
It includes over thirty thousand layouts of different golf courses.

Users will get a realistic view of different golf courses with its advanced GPS integration technology.

This app covers Tee times for more than 7000 golf courses from all over the world.

It includes advanced search capabilities and filters to look out for available and high rates golf facilities.

This app provides a reliable platform for all golfers while providing a highly secure and convenient app interface.

Users can easily find discount offers and additional facilities at numerous venues.
Pros: This app is free to access with optional in-app purchasing facilities. Users can initially save their favorite golf courses in its quick access panel for instant booking.
Cons: Some users found data loss issues in random usages.
Our Recommendations
---
You must get about 6 golf games and 4 golf apps for your Android device. We also have attached all the necessary information about those games and apps along with the list. So, making a selection won't be harder in this case, at least. Still, for the confused people, I must provide my personal recommendations as always.
However, if you prefer playing a virtual golf game, you should either Golf King or Golf Battle. Indeed, I am not saying the other game are not compatible. I love playing these two games the most. Additionally, for apps, I prefer using Golf GPS Rangefinder or Golf GPS & Scorecard by SwingU.
Finally, Insights
---
So, we have come to an end, and it's time to say Goodbye. However, just let me remind you again that technology has made our lives easier. And so, if you wish, you can now fulfill your dream just like in this case of playing golf. For sure, these Android golf games make a revolutionary opportunity for golf lovers who cannot afford a club membership. So, share this content with your friends and enjoy playing golf together. Thank you again for your support.