A music party can never be exciting if there is no DJ setup. But arranging DG pads and a whole setup is very much expensive and then difficult. So, what's the point for the youngster? Well, as long as you have a smartphone, it's all right. You can be the DJ of your next music party, and I am pretty sure you won't let it be down. Now, the question is how to manage the DJ pad, right? Just turn your device into a DJ setup, and it is not impossible or even difficult. You will just need a DJ app for your Android device, and that will handle the rest. Don't get it? Today's content will elaborate the whole fact and so, just keep watch.
Best DJ Apps for Android to Boost Your DJ Music Mixing Experience
---
When you search on the PlayStore about the best free DJ apps for Android, no doubt that you will have hundreds of options. But believe you will destroy your mood if you get a wrong app that apparently does nothing but mix a few songs. DJ is not about a few song mixing, and even you need to handle many musical functions like pitch, loop, and others. However, we checked a lot of apps; when some apps irrigated us, some are truly impressive. So, the following list will introduce you to the best even app to boost the DJ party on your own.
1. edjing Mix – Free Music DJ app
---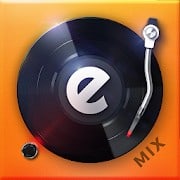 The very first app I like to mention is edjing Mix, the most popular and free DJ apps you shouldn't miss anyway. This app will just transform your device into a little DJ setup and even make functions easier than the real DJ pad. Here, you will enjoy soundtracks of millions from SoundCloud and then use those tracks to make a new remix. Additionally, you will enjoy unlimited free features and have access to the enriched music library.
Important Features
You can use more than 20 DJ fx and similar features to make your masterpiece.

You can browse new tracks sorting by alphabetical order, BPM, time, album, artists, and similar.

It lets you create multi-source playlists using soundtracks from your local library and the app collection.

You will enjoy over 16 free samples, including siren, gunshot, kick, snare, and others.

More than 20 sample packs are also available created by Pro DJs, a partner of this app.
Pros: You can customize the loop from 1/64 to 128 Hz with an easy loop customizing board. Additionally, it lets you add around 8 Hot Cues on each deck.
Cons: Some users complained about its slow working issue that occurs rarely.
2. Cross DJ Free – DJ mixer app
---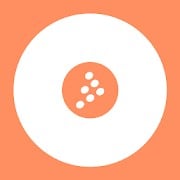 Mixvibes brought the revolutionary DJ apps for your Android device, and we call it Cross DJ Free. It can be the easiest platform to mix music for DJ, and you don't need any previous experience to use it properly. The simple interface indeed helps you to understand the functions from the very beginning. Besides, you can mix SoundCloud and music from the local library using this app. Additionally, the 12-Pad sampler comes with different functions that you will find very much impressive.
Important Features
You can pre-listen the music you select before mixing them.

This app initially comes with a progressive and manual pitch bend alongside tons of customization options.

You can check if the track is synchronized using the parallel waveforms mode.

Automix functions will also mix the songs and tracks you select automatically. You can additionally change and customize it as well.

This app will automatically set the hot cues and loops on the beat.

The manual pitch range is from 4 to 100%, and you can customize it anytime.
Pros: To get a seamless jump, you can click on the waveform on the pad. Eventually, you can control the EQs and crossfader as well.
Cons: A few users found the app being closed automatically in the middle of an arrangement.
3. Drum Pad Machine – Beat Maker & Music Maker
---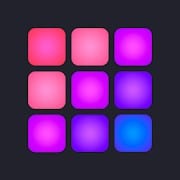 Drum Pad Machine is an easy-to-use music-making tool for Android. It is free to access but includes in-app advertisements. This app comes in a lightweight package which is helpful for a large section of android users. The UI is very modern and minimalistic. You don't require any prior knowledge of DJ or music app to use this app. It is suitable for beginners to intermediate users alike. To unlock professional plugins and premium grade features, you will require payment in the in-app purchases section.
Important Features
It includes all the tools that are needed to mix any music and create new tones like DJ.

You can create any kind of music using the beatmaker functions.

It uses the beats maker function to record sounds and make mixtapes.

It offers a multifunctional drum machine that you can use anywhere.

This app includes numerous styles of music and beats, such as House, hip hop, electro, trap, EDM, etc.

The database includes samples, pre-developed sounds, and beats by professional musicians and composers.

You can also share your finished music and soundtracks on social platforms.
Pros: The app interface is game-like and suitable for all types of users, no matter the age. It is capable of creating multiple loops without losing quality.
4. DJ Studio 5 – Free music mixer
---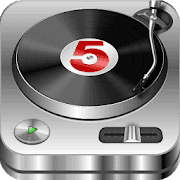 Beatronik comes with DJ Studio 5, a perfect DJ app for Android. This app is a complete package and does not require anything else to get the output of your musical creations. It gives you the options to make loops, mix, remix, change pitch, arrange tracks, and much more. This app offers one of the most comprehensive and straightforward app interfaces. The DJ machine-like layouts make it even more familiar to the users. So, download now and join the huge community of users today.
Important Features
This app does not require any hidden registration process, paid subscriptions, or in-app purchases to unlock professional features.

It initially works on almost all Android devices, from old to new.

This app includes over 10 personable sample pads and 3 band equalizers for each deck.

You can edit and reload the playlists whenever needed and also provide comprehensive search facilities within the UI.

This app supports Auto-mix features and is compatible with IK multimedia and iRigMix, which offers additional accessibility.

You can record your works and mixes.
Pros: It is completely free to use and includes almost all the tools to make quality music. This app does not impose any limitations, and users can remove the in-app advertisements if needed.
Cons: It takes time to load the playlist, and the UI seems a bit sluggish.
5. DiscDj 3D Music Player – 3D Dj Music Mixer Studio
---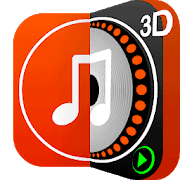 Experienced and professional Djs would admire this DiscDj 3D Music Player app for so many things it naturally offers. It is like a floating Dj machine on your Android device. You can play, shuffle, loop, split with music, and create new mixes. Button click fade and Autofade has adjustable timer features. Along with the Manual song crossfader, you will get volume controls too. You can rotate, zoom or drag the Dj. Moreover, there are folders added with other browser modes.
Important Features
This app is introducing 10 Band Equalizer online detailed control.

The equalizer provides 17 in-built presets, including Classical, Dance, Club, Full Bass and Treble, Rock, and many more.

There are 4 sets of sampler addons: Default, Drum Kit, 808 Drum Kit, and Rise n Drop.

Each set of addons have 6 sounds as samples and 3 modes of play.

You will apparently find a recording tool at the top center of this app to record your mixes.

You will get 4 Hot Cues per turntable and cue buttons as well.
Pros: Discs are available with album arts, pitch slider, high-quality sound effects, and filters. Plus, you can browse music by albums, genres, artists, etc.
Cons: You can not add your own sound effect on a sampler.
6. Groovepad – Music and Beat Maker
---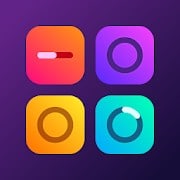 The reputation of Groovepad may already be known to you. Eventually, it's one of the most popular free DJ apps for Android. This app is simple yet functional. With the beatmakers, you can change the mood of the same old song to a new mix. You can experiment with the magnificent melodies. Just drop the beats and see the transformation of hits. Furthermore, here you can improve your skills by practicing more and more anytime you wish. Do not wait to start your musical journey.
Important Features
A collection of eccentric music includes all the famous genres like Hip-hop, Drum & Bass, EDM, Electronic, House, etc.

You can search for an album you like and make mixtapes with it.

Live Loops helps you to create high-quality soundtracks with precision.

Bunch of FX effects such as reverb, filter, delay, flanger, and more.

With the drum pad, you can enhance your party environment.

If you wish, you can record your customized mixes in this app.
Pros: New sounds are added weekly to the sound library. Again, you can share your hits with friends and family to impress them.
Cons: Some users found slight traces of delay between tapping the pads.
7. Dj Music Mixer Player
---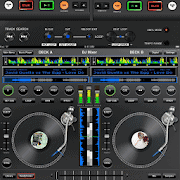 Another worth mentioning DJ apps is here to get introduced to you. Well, Dj Music Mixer Player is the app for sure. You will already get several songs within the app. This virtual mixing software lets you make your dream mixes come true. It can provide support for you to become a professional DJ. Anyone can play it with ease. In addition, the soundtracks are high quality. Then there are cues and a bunch of other features too. Let's see what's more it will offer.
Important Features
The equalizer of this app has a lot of high-quality functions to offer.

You can initially change between pitch, tempo, BPM, and more.

In this app, you can open, create and edit a playlist as you like.

It has two DJ scratching sounds to create a lot of great mixes.

This virtual Dj equalizer Profession is more like real.

The user interface of this mixer is simple and easy to use.
Pros: You can use this app for all Android devices. Besides, you can add a playlist from the default playlist or SD card.
Cons: There are complaints about the volume not being high.
8. REAL PADS: Become a DJ of Drum Pads
---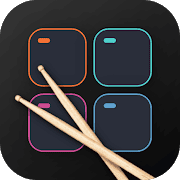 REAL PADS takes first place on the list when it comes to the true MPC experience in electronic music. This free DJ app for Android will work great for making DJ music, and it has a very simple interface. Thus, It's easy to take control over, and you can play it anywhere and test your skills. More specifically, it turns your Android screen into a lifelike simulation of an MPC. So, all you need to do is tap on the pads and enjoy the music.
Important Features
The app's pad is customized with your bespoke sounds.

It releases personalized kits every week. And the music is quite similar to real drums.

The app comes with a multi-touch option. Thus, you can combine different kinds of Music.

It is more like just changing or combine any remix because the app ensures the best studio-quality sound.

There will be a voice recording mode, and you can export your recordings to MP3.
Pros: The app supports all resolutions with HD images. Moreover, you can download dozens of songs for free.
Cons: There's a possibility that the third party may steal your data, and a couple of third-party allegations are here with the app.
9. SUPER PADS LIGHTS – Your DJ app
---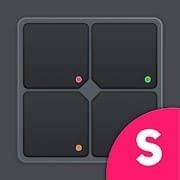 If you are looking for any DJ Apps that work similarly to any Launchpad, then SUPER PADS LIGHT is the right one. The app releases predefined kits, beats, and loops every week. Most of them are inspired by famous tracks, and you can play famous hits like Alone, Lily, Faded from DJ Alan Walker, Marshmello, Skrillex, and others. Moreover, you will get a 'create Kit' tool that comes with a marvelous light effect. Still not impressed? The following features will definitely impress you.
Important Features
The app is initially easy to play, and there will be an in-app tutorial and YouTube videos for your understanding.

It is automatically connected with Novation Launchpad, and as you play the sound, the light keeps following.

The app indeed allows you to record audio. And you can even use an audio editor.

You can import audios from your device library and create sound packs and perform with beats and loops.

The app works with all types of music, and it has remixes, including dubstep, electro, hip hop, bass, pop, and much more.
Pros: The app allows editing and changes specific beats and loops. Also, you can share your music creation with beatmakers and send music suggestions.
10. Party Mixer – DJ player app
---
Party Mixer is one of the best DJ apps for Android if you prefer making remix songs. However, it's the final option for today and so, check it properly. The app has a very simple interface, so it is easy to control the pad even if you are a beginner. You just need to create a playlist and then drop tracks into the player decks. This app will do the rest. Additionally, you don't actually need any DJing experience to enjoy this app, and an 'Auto DJ' mode will keep mixing songs for you.
Important Features
You can play two tracks at the same time and crossfade between them using the horizontal slider.

The app eventually lets you change the tempo, pitch, or BPM with a vertical slider.

There is a search option in the playlist, and you can quickly reach your favorite track.

You can access all the music that is stored on your device.

The app allows you to edit the playlist, and it shows elapsed and remaining time of any track.
Pros: As it has come with crossfader so you can turn off autoplay mode if you want. Besides, it goes well with the following file formats, including mp3, mp4, m4a, etc.
Cons: The app doesn't work with any SD card.
Our Recommendations
---
Did you notice that I have shared the best and worst part of every app ride below the list of features? I think it will help you to choose the best one for you. Still, if you are confused, you can just try out edjing Mix or DJ Studio 5. From my personal experience, I found these two apps with more features and fewer flaws. Besides, the other apps are not incompatible anyway. Once you try any of these apps, you will understand why I listed them here to recommend.
Finally, Insights
---
For minors, a DJ party is not a good idea when it is a night full of huge parties. A home party with friends and cousins is okay if you are a minor and want to show off your DJ skill. However, the apps I have mentioned often get appreciation by the professionals, and many of them even use some of them. Hopefully, you have already chosen the best DJ apps for your Android device, and if yes, just share them with us. We always appreciate your effort to stay connected with us. Thank you anyway.