The era of carrying a heavyweight torchlight while going out at night has already ended. We all have our smartphones, and we have already replaced manual torchlights with them. But the stock flashlight of most of our smartphones is not good enough to replace the heavy-duty torchlight at all. So, app developers have launched some of the best flashlight apps for Android. These apps are used not just for using flashlights but also for many factions related to that.
Best Flashlight Apps for Android, Your Must-try
---
Basically, a flashlight app works to maximize the brightness of your smartphones' flashlight and also to provide you with tons of adjustment functions. The best apps can also let you customize the brightness level and use it with the blink and strobe functions. However, after researching the apps of this category, we found the following 10 apps as the most useful ones with the simplest UI. We have also tried to share the advantages and drawbacks of using these apps to find the one that suits you the best.
1. Flashlight
---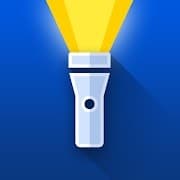 Flashlight by Splend Apps is the first recommendation for today as it comes with the most features. This attractive flashlight app is very powerful though it takes up a tiny space on your device. Additionally, the minimalist and HD interface will make it easier and quicker to use. This app initially uses the built-in camera LED flash to lighten up your world in the darkness of night. You can also adjust the power level of the light to have comfortable brightness.
Important Features
The status bar buttons will let you have the widget of this app on the notification bar to get it instantly.

You can eventually turn on or off the light without even opening the app.

This powerful app will brighten the brightness of your smartphone's regular flashlight and help you get brighter, smooth light.

By adjusting the brightness level, you can use this app to read books at night.

The auto-turn-off function will indeed help you turn off the lights after a specific moment, and you can adjust it as well.
Pros: There are some devices that don't have the stock flash. For those devices, this app will turn the screen into a big flashlight by just whitening the screen.
2. Tiny Flashlight + LED
---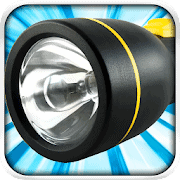 Tiny Flashlight + LED is a very simple flashlight app for your Android device that will offer you multiple features with a powerful flashlight function. This powerful app comes with several screen modes, and you can choose any that comforts your eye. Moreover, the color mode will allow you to change the color of your screen in a given time period. So, if you don't want your room completely dark or if you love to read books at night, the app will accompany you in the best way.
Important Features
This useful and productive tool will offer free plugins, including strobe, blinking eyes, and Morse effects for your device.

This app initially comes with an insanely bright flashlight that is best for hiking or camping.

The control is indeed very simple, and you can turn it on whenever you want.

It is optimized and the best reliable app that helps to preserve battery life while giving services.

You can't turn it on if the power of your battery is about 5 percent or less, so it is important to notice.
Pros: You can simply turn it off or on from your home screen, and you don't need to open the app repeatedly. Besides, you can choose the brightness that fits your place perfectly.
3. Flashlight HD LED
---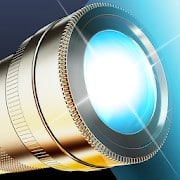 And our third recommendation is Flashlight HD LED. This app guarantees to get you the brightest and powerful lights possible. And the best part is it's so simple UI with tons of shortcuts. Moreover, the app comes with very well-designed and simple controls. Besides, there will be a color option to choose the correct brightness that won't hurt your eyes. And The app is definitely a great option, especially for those who love to read at night.
Important Features
The app simply works on your full screen as a color light lamp.

You can definitely use the integrated led flashlights for your convenience.

The app also lets you add a widget for quick access.

Right after installing, you only need to press the button to turn on the light.

The app is compatible with most Android devices.
Pros: The app has come with a blinking feature for led and screen lights. Additionally, it includes different flashing patterns and settings as well.
Cons: The lights will automatically be turned off when you'll lock the screen.
4. Flashlight
---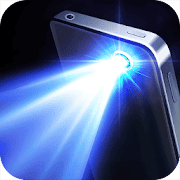 The Flashlight has come with all the advanced features, and it is far better than ordinary torches on your phone. Of course, The app is easy to use, and you will find it right next to the camera. Moreover, it is not just a flashlight but includes color flashlights and Morse code flashlights as well. Besides, there will be a switch so you can turn on and off the torch whenever you want.
Important Features
Here, the light is bright enough to find your keys in the dark.

You can flawlessly read a real book at night without hurting your eyes.

This app will indeed accompany you the best on your Camping and hiking trip.

The super bright flashlight will help you out in a power outage in the room.

There will also be a blinking mode, so you can adjust it by swiping left or right on the flashlight's bezel.
Pros: The app initially lets you enjoy and edit the screen color on the device. In addition, it includes powerful functions like strobe, compass, switch, Morse effect, and so on.
Cons: The app takes little time to turn on the flashlights.
5. Color LED Flashlight Selene & FLASH
---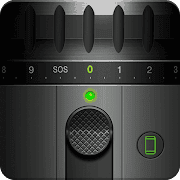 If you wish to try a cool and super bright flashlight app for Android, then you can try Color LED Flashlight Selene & FLASH. This productive tool also brought tons of useful features to help you in the darkness. It is easy to use as it comes with a very classy UI. The minimal design will help you find the button instantly when you open the app. You can also use the widget option to find the apps on the home screen quickly.
Important Features
This app will use the stock flashlight and increase the brightness to help you get a brighter source of light.

The battery indicator option will help you turn off the lights immediately after your use to decrease battery consumption.

This app is also good not to consume heavy battery power.

To use the parties and disco, you can eventually use the strobe effect available in this app.

As soon as you turn on or off the light, a little vibration will indeed assure you about it.

SOS flashlight frequency is the best part of this app that eventually lets you use this app, not even unlocking your phone.
Pros: You can use the blink mode to get nightclub-like flashing lights of green, yellow, blue, and red color.
Cons: In the emergency flashing time, you may have to watch a 5-second advertisement that will irritate you anyway.
6. Flashlight
---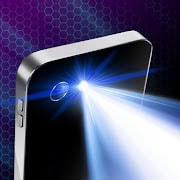 To increase the brightness of your smartphone's regular flashlight and having a special effect from that, you can use Flashlight too. It is a powerful creation of the CSL APP's Developer, and it brought unique features for you. If you love to read at night using your phones' flashlight, then this app will help you a lot. You can customize the level of brightness and color of the lights. Seems interesting, right? Let's see what more this app will provide.
Important Features
This app comes with a very minimalist UI and a big button to turn on or off the light.

You can initially use the widget of this app to instantly use the flashlight in an emergency, not even opening this app.

The color strobe function is also available in this app that you can use in the party, nightclubs, or discos.

There are no premium features that will ask you to pay, and it is available for almost all Android versions.

You can use lots of adjustment tools to make the light comfortable for you.
Pros: This powerful app simply takes a very tiny space on your phone. Additionally, it will never consume noticeable battery power as well.
7. Flashlight
---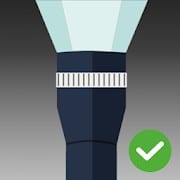 Scare the dark away with Flashlight, a perfect one among flashlight apps for Android that extracts the best performance from your smartphone's camera flash. This app initially works quicker and lights up the dark areas in a blink of an eye. In addition, you will be able to keep on the camera flash for a long time without harming the device. It takes a very small space on your device and doesn't consume more battery power.
Important Features
It apparently provides gestures supporting. You can eventually double shake the device to turn flashes on or off.

This app is indeed straightforward, and you can quickly turn flashes on or off.

Also, this app is much safer since it doesn't ask permission for any unnecessary segment.

It eventually offers a flashlight widget, so you initially have access to the flashlight from the home screen.

This app is completely free in Google Play Store and doesn't feature any premium package which you have to buy.
Pros: You can initially use this app while the device is locked. Moreover, there are no popup ads in it to disturb you at a moment when you need lights.
Cons: Additional camera permission is needed.
8. Flashlight LED – Universe
---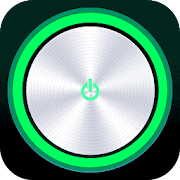 Flashlight LED is also here for you in the darkness by lighting up surrounding with your device's flash. This app comes with everything you need from a multifunctional torchlight. It also brings multiple features based on the device's display and the flash to keep you lighted in every situation. Besides, it is much easier to use, and any person with zero experience will be able to use this app easily. It will also run on older Android devices smoothly.
Important Features
Blinking flash is available in the app with different frequencies to send SOS signals.

The on/off button is indeed massive in size and easily reachable.

Apparently, the display flashlight is available with lots of colors which are indeed helpful in many circumstances.

You don't initially have to give camera permission to it (not for all devices), making it privacy-friendly.

There is a countdown timer for the flashing that eventually allows it to turn off the flashlight automatically.
Pros: This powerful app sizes just around 1 MB and runs on almost all devices smoothly. Moreover, it won't drain the battery that much even after using it for a while.
Cons: There are ads in the app which may feel irritating to some people.
9. Original Flashlight
---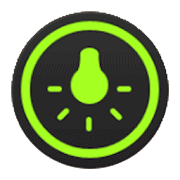 The Original Flashlight is the most straightforward flashlight app for Android. This app is much easier to use and swiftly makes everything visible nearby as soon as you click. Moreover, it is a powerful app and obtains the best from your device's flashlight, meaning you will have the brightest flashlight according to the capability of your device's flash. You can keep this app widget on the lock screen and use it instantly. Keep reading to know more about this app.
Important Features
This app initially offers a powerful screen light which is good enough for nighttime reading or looking for anything on the spot.

Apparently, the simple two-button interface provides it a clean and elegant appearance.

This app will not drink much battery from your device if run for a while.

This app is apparently very lightweight and sizes just around 2 MB.

There is a widget for this application that eventually lets you use the flashlight without running the main application.
Pros: This app runs fluently on all flashlight-enabled devices operated by Android. Additionally, it doesn't need much device-permission of the device to run, which eventually means it is quite safe to use.
Cons: The interface may look too simple according to some people's perspective.
10. Color Lights Flashlight
---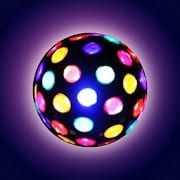 The last but definitely not the least one is Color Lights Flashlight. This powerful app comes with the best interface design on my list. It is an exceptional flashlight app and uses the device's flashlight to create a party environment. Moreover, you will find some stunning graphics and beautiful animations in it, which can turn any party mode into double. And all of these features are less than 5 MB.
Important Features
This app initially works lag-freely on almost all Android devices.

This app has several pre-loaded display-flash patterns to provide you with a party environment instantly.

Apparently, this app includes lots of music that eventually fulfill the party moments.

It indeed provides several rhythms of flashing the display and provides you more options to customize.

You can also use your phone's camera flash to blink with the color pattern on display.

You can ultimately use it while keeping the phone locked.
Pros: It has an option to enable and disable the power-optimized mode to adjust the battery consumption. Besides, it has a handy interface, and you will find almost all options in one place.
Cons: Ads can pop up anytime on the screen.
Our Recommendations
---
If you checked the basic details with the good and dark sides of the following apps, I am sure you have got the one to try. But if you are still confused about it, maybe this part of my narrowest recommendation will help you. Flashlight, Tiny Flashlight, and Color LED Flashlight Selene are most probably the best apps among all these options. They provide the most features with minimalist UI. Besides, users' ratings of these apps are also high enough to trust them at once.
Finally, Insights
---
I hope you have enough idea about how essential a flashlight app is. On your way at night in the darkness, you must need it. Besides, you will need it when you read books at night without turning on the lights or wanting to see your surroundings in the darkness. And you already know the best flashlight apps for Android. So, first, install your favorite app and then share your experience with it. It will help other visitors to select one to try. Thank you for your support and time.