After the legendary movie Godfather, young fans started dreaming of being the leader of the underworld. But the reality is not like a movie, and your sense, humanity, and law cannot let you be so or even harm someone. But you can still cherish your dream to rule the underworld by not even doing anything wrong. Say, how! Well, the reality may be under your control, but you can control the virtual world anyway, right? To make a rocking virtual world of crime, where you are the gangster leader, you can simply try the best gangster games for Android.
Best Gangster Games for Android to Rock the World of Crime
---
Because of the huge popularity of lots of Hollywood Gangster movies, many game developers have brought tons of gangster games for Android. These kinds of games are basically designed with a complicated crime story, some fighting shots, politics, and decision-making plots.
Some games have different side games like racing or shooting. However, we have researched the games of this genre and found the following ones as the best. You can simply check out the features here and choose one or two games to try.
1. Gangstar Vegas: World of Crime
---
People around the world believe that Las Vegas is the place of the Gangsters. Gameloft SE so launched a gangster game that takes place in Vegas. Gangstar Vegas, the World of Crime is the game I am talking about. It is a huge open-world game where you can run freely with weapons as you are a member of the most powerful gang.
However, you have to remember that the city is full of other mafia cartels and gangs who will instantly kill you as soon as they find you not in action. So, you should be careful and ready to start your mission of cleaning the city.
Important Features
The game is initially developed with the heart-racing Vegas story of the life of a mafia.

There are more than 80 adventure-packed missions that you can join to get rewards.

Cops are everywhere, and you have to be aware of that.

The city is full of thefts, robbing, auto racing, shooting action, and TPS funs.

You can trade guns and other weapons with the members of other gangs.
Pros: The storyline of this game is super fun. Initially, the plot is depending on your decisions.
Cons: This game is not suitable for kids as it is full of crime and weapons.
2. Grand Gangster Miami City Auto Theft
---
To boost your mind with action and adventure, you can also try this popular gangster game for Android, Grand Gangster Miami City Auto Theft. This game became popular overnight because of its adventurous mafia plot and exciting gameplay. In this thrilling action game, you will have tons of missions to complete, and I am sure you will get addicted very soon. Additionally, you will enjoy bunches of modern weapons and vehicles. Let's see what more this game will offer.
Important Features
You will have a lot of modern vehicles to race on.

To eliminate your opponents and cops, you have to use many weapons, and you have to find them yourself.

This game indeed offers hundreds of 3D action-packed missions to complete.

You have to collect cash and weapons from different places, apparently marked on the huge map.

Here, you can engage in lots of street fights and shooting missions.
Pros: This game is initially designed with 3D graphics, and a relatable rocking sound effect joins it to increase your excitement about playing this game.
Cons: Some users don't like the graphics of this game.
3. Real Gangster Crime
---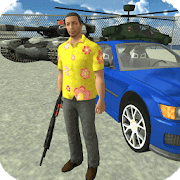 Naxeex Studio has another gangster game that's worth your try. Real Gangster Crime comes with a very twisted plot of the life of a gangster, and you have to play his role. In the world of crime, you have to follow the rules of being a mafia, and there is life risk everywhere. This exciting RPG game lets you enjoy shooting with the third person's perspective, and you have to eliminate all your enemies to survive in the mafia world.
Important Features
The city in this game is designed with all modern elements, and there is a detailed city background.

This game provides you with tons of missions and quests to complete.

You can indeed achieve lots of rewards by completing the missions.

There are tons of weapons like knives, swords, rifles, and many machine guns.

You can initially rob others' vehicles and enjoy racing with the cops.
Pros: To protect yourself, you have to find a first-aid kit and body armor. Initially, you will have multiple lives in one mission.
Cons: Some players have complained about getting some glitches.
4. Grand City Thug Crime Game
---
In the dangerous open-world crime city, you can now be the real hero. Try Grand City Thug Crime Game to enjoy the life of a gangster. The city is full of sins, injustice, and mafia gangs. You can only rule the place by establishing yourself as the mafia godfather. The game provides a twisted plot with soothing gameplay. There is a big world to explore, and you are free to do anything here.
Important Features
This game has tons of adventurous and epic crime scenes to explore.

You can enjoy playing 10 different levels here. Each of the levels indeed offers different missions.

This exciting game offers around 4 different thrilling and adventurous grand gangster modes.

As this game offers free mode, you can drive, shoot, and kill people if you wish.

It initially comes with an exciting sound effect that will rock your gaming experience.
Pros: here, you will have different open-world theft missions. Additionally, you can choose a character from multiple persons as the hero.
Cons: This game is not initially suggested for the kids as there are many crime scenes and the use of weapons.
5. Grand Gangsters 3D
---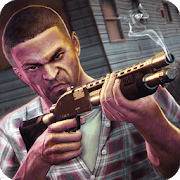 You'll definitely find Grand Gangster 3D as one of the best Gangster games for Android if a critical mafia issue has your interest. The whole journey begins in the city of San Andreas. Actually, the game is not overly complex, but it will surely introduce a crooked city in your device. Throughout the game, your task is to steal auto cars, race through the busy road, shoot down other gangs, or run away from cops.
Important Features
The game initially offers 6 different types of motor vehicle larceny missions and outrun the police. However, you can obey the traffic rules as well.

Also, you can obey the traffic rules as well, and it won't drag you into hassle.

Here, you'll find excellent 3D graphics, and the control system is indeed handy too.

There will be tons of missions to prove yourself, and you might take control in every corner of the City.

More than 15 weapons will be apparently available for you, along with hundreds of auto vehicles.
Pros: You can enjoy this game offline mode. Additionally, The crime journey is actually a mix of shooting and punching games.
Cons: It doesn't have any multiplayer mode.
6. Vegas Crime Simulator
---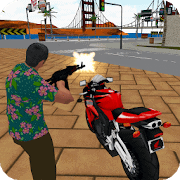 Vegas Crime Simulator will welcome you to the 3D gangster world of Vegas. Definitely, you'll find the city full of injustice and anomie, and there you'll get the option to choose to be good or evil. However, remember that your hero must win in every task as the stones of the jungle don't pardon any misstep. Initially, the task is to steal the cars and fight the criminals. Besides, you can customize the character for a great match, and it brings additional features as well.
Important Features
There will be a military base with a tank, a platform to set out the tricks on bikes and cars, spaceships, and a robot transformer.

The game will eventually offer various quests and fights with enemies. And you have to win it all to earn respect and popularity.

You can also make your character stronger by possessing various weapons, accuracy, driving vehicles, and much more.

Magic ropes will [indeed help you to get to a protected place like a police station or military base.

You can make the hero jump from any height, and it won't get injured at all. And it can fly as well.
Pros: This game will allow you to kick your enemy or objects with great power. Moreover, you can change the character in a transformer robot to increase the armor, stamina, and life.
Cons: Some users find it difficult to save their progress in this game as it doesn't save the gameplay automatically.
7. Auto Gangsters
---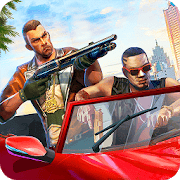 If you are scrolling through the list of Gangster games for Android, then you shouldn't skip Auto Gangsters anyway. This is an open-world action game which means you can do many things inside the game just like the real world. Besides, you can play according to the game storyline, which is quite amusing. Also, you can enjoy running freely, stealing others' cars, and killing your opponents. Sounds interesting, right? The following details must impress you t try this game.
Important Features
You will initially get an awesome 3D experience while playing this game.

This game indeed offers a wide range of realistic weapons and car models to play.

Moreover, this game features a quite decent sound quality.

You will get assigned a great number of amusing missions in several cities.

This game controlling system is pretty effortless, and you will eventually get used to it immediately.

It won't initially take a big bite from the storage of your device.
Pros: This game will fluently run on maximum Android devices. Besides, this game lets you engage with other online players.
Cons: You may face heat issues on some phones after playing for a long time.
Download
8. Gangster Driving: City Car Simulator Games
---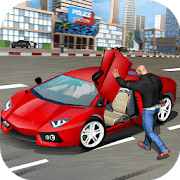 Now, I would like to introduce you to another exciting simulation game, Gangster Driving. This game is perfect for those who like both car games and open-world theft games. This open-world gangster game comes with a high focus on car simulations and vehicle-related missions. That means you will enjoy more vehicle functionalities and car-focused missions than other similar games. Lastly, You will experience a realistic 3D environment with this game.
Important Features
You will initially enjoy challenging yet amusing game missions.

The game is extremely detailed and will initially give you a realistic gaming experience.

Moreover, there are varieties of cars available in the game which you can experience riding.

Also, you will enjoy car-riding with steering control which makes the game a more realistic one.

This is an offline game, and you can enjoy it anytime, anywhere.

The game animations and effects are indeed pretty delightful.
Pros: The in-game physics are very logical here in this game. Besides, the storyline makes it very interesting too.
Cons: The young kids may be inspired by the violence and brutality in the game.
9. Space Gangster 2
---
Space Gangster 2 is, I think, the best pick for the Sci-Fi lovers. Initially, it is one of the best open-world gangster games for Android. But this game comes with a twist of futuristic thief games based on space themes. As a result, it will provide you an unusual and extremely enjoyable flavor of gangster gaming with a plot set in space. In addition, the futuristic vehicles make the game more appealing to play.
Important Features
You will get introduced to a large number of futuristic vehicles and weapons in this game.

There are apparently tons of thrilling missions to enjoy in the game.

Additionally, this open-world game features a larger playable area than many other similar games.

This game eventually runs lag-free on maximum Android devices.

The sound effects of the game are initially very entertaining.

This game features a great storyline that holds your interest in playing.
Pros: This game is pretty effortless to control. In addition, it is moderately light in size and works on almost all Android devices.
Cons: The graphics quality may feel cartoonish to some people.
10. Gangster Town: Vice District
---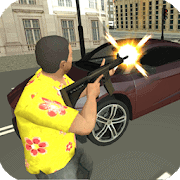 You can enjoy an open-world 3D mafia game on your Android device with a pleasant gaming experience on Gangster Town. And it is the final recommendation for today. Here, you will have the role of a growing gangster in this game, and you are on the mission to defeat all the gangsters of the Vice district and establish your mafia empire. Furthermore, the real-life weapons and cool vehicles make the game more exciting. The gaming control is nice here in the bunch of strategic missions.
Important Features
The game features a pretty decent 3D experience that eventually makes it very appealing.

You can eventually enjoy this game anywhere since it is an offline game.

This game also comes with mood-boosting sound effects.

Moreover, The missions are not too difficult for most of the peoples

The game initially offers cool real-life weapons and explosives.

Also, this game includes military tanks, helicopters, and other vehicles besides cars and bikes.
Pros: You can apparently customize the appearance of your in-game character with fashionable dresses. Moreover, this game has a much more convenient size.
Cons: This game offers a smaller map than other similar games.
Our Recommendation
---
I am not sure which game you would like to keep aside as all these games are quite thrilling and adventurous. Exploring mafia cities is plotted here with a lot of twists and realistic issues. Once you enjoy playing these games, I am sure you will instantly get addicted.
However, if you don't mind crime and killing scenes, I must give you a try on Gangstar Vegas or Grand City Thug Crime Game. Otherwise, you can try Real Gangster Crime or Gangster Town. If you love space games, you can also try Space Gangster 2. And all other games are equally exciting with many gangster issues and actions.
Finally, Insights
---
Listen carefully, and I have a warning for you. Almost all the Gangsters games for Android are insanely related to killing scenes, crime, weapons, and even blood. So, don't let your kids play this game or even don't play this game in front of them. It can have a dangerous effect on their mind.
It's suggested to try these games if you are above 16. First, however, inform us of your favorite game on the list and help others select one to try. Also, we appreciate your support and thank you a million times for staying with us.