From the Ancient time of Kings and Queens. One of the popular indoor games ever played is Chess. This mind-streaming strategical game shows a great attribute between two players. The formation of this strategy game is played on a checkered board with 64 square boxes in an 8×8 grid. This mind spot chess board game is also very popular for smart gadget users. There has no cheating concept or any other code formation to play with your opponent. The chess game is totally an abstract strategy video game build for them to broader gaming tactics for Android users.
Best Chess Games For Android
---
Now you might be thinking about how it is possible to play a chess video game on your phone and what type of chess apps are available to play. So, we are providing a list of the best chess games and apps in this content from your queries. We have selected some of the best chess games for you from the play store from hundreds of chess games. Let's begin with the topic of the 20 best chess games for android phones.
1. Chess Free
---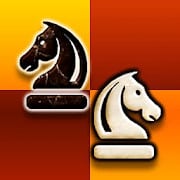 Move your chess soldiers forward to destroy the front-line armies and capture the opponent's king with your unique tactics. Chess Free app yet holds the top-ranked as the most popular and downloaded chess game in the play store. From your android phone, install this chess game totally free and get your ultimate gameplay fun with this masterpiece game into your phone. No matter what the devices are, it supports all android phones or tablets.
Important Features
A great starter pack for beginners with 12 gameplay difficulty levels to become noob to experts.

A master CPU tutor will give you the playing guidelines and learn the best gaming tactics.

Earn the chess gaming ELO rating depending on your winning rate against the pro computer opponent.

Play this game in any android device, as it supports all landscape or portrait mode devices.

Switch the chess gaming board from 2D resolution to 3D formation and rotate the board in 360 degrees.

You can choose the gaming stat, the gameplay timing, the limited gaming hints, and reverse the movements.
2. Chess
---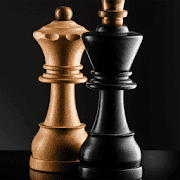 With unique backgrounds, this chess game will show you some art of 3D graphics. A high-definition video resolution will lead as you have participated in some real chess board game. The main object of this chess game is to lead your armies and tactically make a checkmate over the opponent's king to finish the game. Don't let the king escape from your unescapable moves.
Important Features
You will get 10 levels of gaming phase to play and enjoy this android chess game.

Offline gaming assistance will teach you how to play a chess game like a professional trainer.

You can undo a move and can use the hints of movements for more accuracy.

Play the game in two players' mode, CPU mode, online global mode, and other alternative modes.

There are in total 7 out gorgeous gaming themes and two type boards (2D and 3D views).

Save the gaming progress and modify other functional settings like visual music, viewing sight, and units' size.
3. Chess
---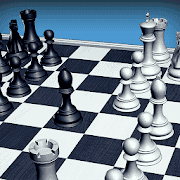 One of the high-ranking chess games for android phone users is this "Chess" game. The check boards are like your battlegrounds to use your head to play. Here you have to face your opponents with 8 pawns and 8 unique battling troops, and each one has different movements. Start your game from the learning stage to the professional and master level. If you are a proline player, then choose your difficulty level to face the same level of opponents.
Important Features
Become the casual player to a professional player by completing 10 levels of playing stages in this game.

Get some helpful tips and tricks from the computer trainer to learn more chess gaming tactics.

There are in total 6 unique chess boards and a number of gorgeous themes for the background.

Enjoy the detailed chess gaming experience, see the stats, and measure your gaming IQ with ranking.

Various gaming modes and chess puzzles are available to play from this chess game.

Automatic viewing mode of 2D and 3D screen with some real gaming thrill and pop music.
4. Chess Live
---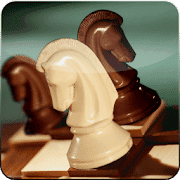 Get some real-life chess game experience from this android Chess game. This Chess game is developed to play in single and multiplayer modes in real-time. Play head-to-head matches against your friends or other global gaming players in the play online mode. Gear up and train your gaming engine with a computer opponent. Rule over the scoreboard with your mind streaming strategy on the chess war by winning matches.
Important Features
This is a royal chess stat game to play from any android phone in online or offline features.

It is totally free to download from the google play store or any other supported cloud store.

Outstanding al engines to compete and test your gaming skills in 5 levels of difficulty poll.

One of the best features of this chess game is you can configure your gaming name.

You can reset the match from the beginning and have a fresh start with altering pc gaming mode.

Undo or redo the current move to reverse your wrong unit movements if you need to do it.
5. Real Chess
---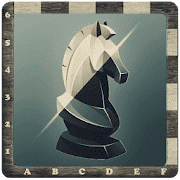 A new thrilling 3-dimensional view of the chessboard, you will see all in this chess game. Real Chess is totally a free play store app for any android device. To enjoy a classic board game on your phone, this game will be the correct choice for you. There are plenty of chess set boards with a similar color combination of chips. With this gaming app, play with the Al system or against global opponents with your matched level.
Important Features
Get the chance to beat international players with your unbeatable gaming skills on the chess battle.

Enjoy the game in some advanced-level chess boards with outstanding graphics and more dramatic sound effects.

This chess game matches your opponents with the same level as yours for a fair android gaming policy.

Hundreds of phase gaming stages and many exciting chess gaming modes are waiting for you to play.

In the online mode, you can battle against global players and communicate with them via chat room.

Real chess game allows for both portrait and landscape playing mode in any device based on the setting.
6. World Chess Championship
---
'World chess championship' android game is totally an online chess game. Show your skills to other opponents from worldwide players. Take participated in online chess global events and seasonal championship cup to collect master badges: complete daily tasks and other hundreds of achievements to rank up your global positions.
A beautiful gaming atmosphere where you can communicate with your opponent in the chat room live. See the full gaming status of an opposition player; just click on the player head icon.
Important Features
Show your ultimate passion for the chess battle game against worldwide opponents to rank in the global list.

Join in the different continents forum to make international allies and play with them to build more connections.

Chat with the opposition while you are in the game, or turn off the live chat with random players.

Play online multiplayer games anonymously as a guest profile player without login into the google play services.

Review your top 100's gaming stats and most passionate championship global matches later in the game.

Become a part of a global competition based on ELO ranking and get your matched opponents on the chessboard.
7. Chess Online
---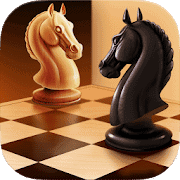 What if you can play a chess game with your closest friends while you are bored. Get connected with your friends and other global players from this android chess game. Show your intellectuality on the chess battlefield to earn some game experience and develop your skills to level up your profile. There are various types of chessboard themes; unlock them for free, and show your opponents that what you are worthy of doing.
Important Features
20 strength levels to play with the computer on the offline mode from facing easy to hard levels.

Compete for your online opponents in many arcade game modes like classic, bullet, and blitz chess games.

This online chess game will help to introduce you to many master class players in one place.

This android game allows multiple languages and supports live chat with opposition in real-time.

Get the real statistic report of your gaming profile and complete various achievements to earn more rewards.

Join a multinational community and get up-to-date news for the latest tournaments and other events through notifications.
Download
8. Chess Master 3D Free
---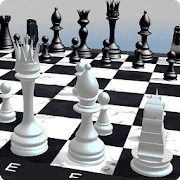 An immersive gaming quality on chess battle between two players to become the chess gaming master. Choose your difficulty level while playing with Al's opponent. In this new generation game, you can be mesmerized by the 3D view of the chess set. You can set up the camera angle 3D to 2D; even you can rotate the screen in a 360-degree position. Also, here is an option to reverse your given movements and can multiply the speed of the opponent's moves.
Important Features
Get realistic graphics and high definition image quality inside of this real chess android game.

Adjust the camera screen along with your suitable position and comfort yourself with camera options.

You will get some pieces of hints to use for more accurate movements in every chess match.

You can lock the screen while the chess battle starts to avoid unwanted touches appearing.

Pause your gaming progress if any situations need to handle. Again, start the game where you just left.

Play al engine mode in several difficulty levels and also can enjoy this game in 1 vs. 1 friendly matches.
9. Real Chess 3D
---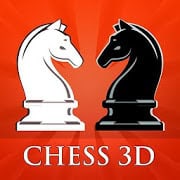 In this 3D chess game, enjoy a realistic gaming board and different surrounding backgrounds. This 3D chess game is very popular for the customized design and relaxing sound systems. Control the display resolution to screen angle from 2D to 3D or the reverse. There are a lot of free gaming themes. Some may be paid, but most of them are not payable. The most epic feature is you can see the previous movements, which always get auto-recorded.
Important features
Customize your chessboard, chess troops, background looks, and themes according to your tastes in the game.

There are 4 types of gaming levels to play against the Al supporter to try your winning strategy.

Feel the most relaxing and rich, generous music in this chess game while you are playing.

This is a 3D theme chess game, so you will definitely get the real experience of 3D formation.

Tap on any unit, and you will see some possible steps in lighting marks to place your move.

See the recorded matches or the whole game later to improve your chess skills and overcome common mistakes.
10. Lichess- Free Online Chess
---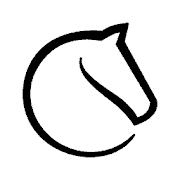 Many unique online and offline variants are in this online chess android game. Different types of game modes are available, like Play bullet, blitz, classical, correspondence chess, etc. Join in a social community, gather your chess playing skills and jump into the arena tournaments through this chess game. You can analyze the gaming board and get a computer trainer for better gameplay knowledge. See overall information on your personal stats and share the profile statistic with your buddies.
Important Features
One of the best online and offline classic android chess apps is this free online game.

This game is developed with multiple languages; almost 80 languages are available to generate the game.

Unlimited opening explorer and endgame table explorer are countable to play against the computer opponent.

The best thing is you can see the gaming stat by using analysis diameter while fighting the chess battles.

This android chess game is connected to the internet, but the app is still 100% free from ads.

Use some standard clock to measure or apply modernize timer to keep the player on track.
11. Chess Online- Duel Friends Online
---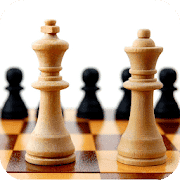 Another best live free chess game is the online chess app. One of the fast and modern versions of the chess game is designed for your android phone. Turn your internet and play online with random global players at the same time. You can also practice with your friends via Bluetooth or using the same WLAN in your free time. Play more chess matches with ranked players and complete various online missions to earn more coins.
Important Features
Play with random players from other nations and make connections with global friends through this game.

As you complete each mission, you are being rewarded in a higher manner based on rank levels.

The fast and more you complete missions, the difficulty levels rise according to your gaming ranked.

Engage in the live chat with your friends and global community members in real-time.

Win the friendly chess matches to grant more coins to buy or collect your favorite avatars.

Local multiplayer mode is also available to get participate in the matches of your nearby online players.
12. Chess- Strategy Board Game
---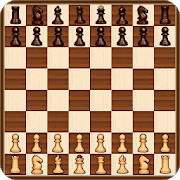 Be smarter and level up your IQ skills by playing chess, which is a great abstract mind game. This chess game is pretty easy to play, also very comfortable for your kids to play. With this, you and your kids can learn chess board games easily. Rise your skills by playing chess matches with the CPU. Choose your game difficulty level, game timing, and move timing in the game setting based on your need.
Important Features
A great way to learn chess game rules through your android devices within a short time.

Very simple and easy instructions are given to follow up for the new players' and beginners' levels.

You will get to see some animation movements of the troops and some delighted backgrounds.

In this game, the Alter opponent has a great and fast response while playing.

An easy interface and friendly user control to play. Simply touch and give the direction to move.

Other features are multiple backgrounds, colorful themes, hints, undo/redo buttons and more common features.
13. Chess Stars- Play Online
---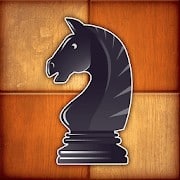 Here, we are presenting you with an online chess game where you can become the top star among millions of players. This live free chess game is very simple in design but has lots of cool color theme chess board sets. Keep monitoring your current or seasonal status of the gameplay in the profile—the best way to play online chess with multiple opponents. Make new online friends and get the chance to engage with them in the social chat room.
Important Features
Jump into the quick gameplay in a 1 vs. 1 online chess fight with random players from online.

Play against CPU player by facing default 10 steps of difficulty levels on chess stages to beat.

Be a cool player and get engage with your friends/ family with live chat and emoji stickers.

Support the global community to join any team and make new friends from the world players.

Track your progress by completing daily events to see the improvements in learning professional moves and skills.

You can play long-term chess and speed up the gaming time to play a speed chess game.
14. Play Magnus- Play Chess For Free
---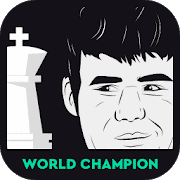 From the name of this game, you might wonder if it is possible to play with Magnus Carlsen, the world-class chess player? Well, the answer is yes. You can test your chess skills along with this champion player. Lots of chess playing tips and tactics are available to improve your gaming quality and mind-blowing skills.
Join in live challenges with your favorite chess player Magnus for free from your android smartphone. There are other functionalities and gaming modes available in this game.
Important Features
Play and earn points to get qualified for the secret live annual gameplay with the WorldClass player Magnus Carlsen.

Share the game link, the match results with your friends, and also the gaming tips to earn more extra points.

Improve your skills of chess along with the official Magnus engine, supports, and learn more unique ideas about chess.

Participate in some weekly events to get unreleased hints and strategies on every pass of this game.

Choose the difficulty levels based on the years of your chess game experiences in the 1 vs. 1 matches.

In the about me options, get the lifetime professional data records of this chess master player in detail.
Download
15. Chess Master King
---
Chess Master is the best offline chess game so far in this android apps list. It is a perfect one vs. CPU and dual players mode chess game. The most eye-catching feature of this game is you can load the saved match and start the chess battle where you left the game. Edit your game surface and playing troops in some customize theme and 2D views. Become a professional chess player by completing a hundred game levels.
Important Features
Become part of the tournament's mode with 30 NPC to win the finish line or knock out.

Numbers of chess boards and various chess units with outstanding customize surfaces to manage in the game.

Find out special items or buy cool avatars and profile frames from the game store on your own.

A clock indicator and a movements counter are available to set up on every match in the display.

You will get 5 steps of difficulty levels from easy to super hard to testify your skills in the practice mode.

Save the ongoing gaming progress to loadout later with the same gameplay, and this game supports Replay mode.
16. DroidFish Chess
---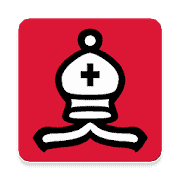 DroidFish chess app contains a high definition of graphical view with a rich style of backgrounds. You can manage the chess engine and select some solid color themes in the menu bar. Save your important matches in the file storage and start again from the left-over moves.
You can quit or start a new game and also can accept the draw with your opponent in the middle of the match. Monitor some unique preferences and UCI gaming options from this android chess game.
Important Features
This is a great chess analysis mode app and game for any version of smartphone users.

Manage the chess gaming Al engines and change the color theme on your interest in the setting.

Get the one-touch moves, animated moves, fast/slow moves, undo/redo moves, and more game movements.

Quick multiplayer, Blindfold mode, two players mode, analysis mode, practice mode, and other special online events modes are available.

Highly configurable and one of the best third-party UCI engines game so far in the chess world.

Options to select the opening of internal books, polyglot books, CTG, and ABK books from other FEN/EPD import files.
Download
17. Pure Chess
---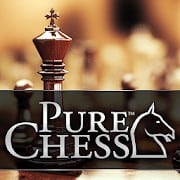 Become a master of the chess game. Novice the grandmaster of chess and feel more intellectually while you are playing this game. Get the thrill of ancient time chess game mode with the artificial storyline of game and backgrounds. Challenge your online game mates and show your top skills and ultimate power to hold the ranked position in this chess battle. Learn the basic steps to highly tactical moves from this traditional chess game for free.
Important Features
The theme of ancient times to modern chess style reborn in the 21st century in this android arcade game.

Eye-catching multiple antiques, old and future times chess units are visual to see into this game.

Realistic backgrounds and outstanding graphics with theme-based sound effects appear in each match for more player attraction.

Challenge your mates to play for friendly matches whenever you want and can share the gaming id to connect.

Become an ultimate pro player from a naive player within the gameplay by playing with the hardest computer intelligence.

Level up your title to Grandmaster and lead the top position on the game chart among the global opponents.
Download
18. Chess App
---
For a new learner, this android game is very suitable for conquering skills—a different level of the chess game with a 3D outlook and well-designed surface theme. Play different levels of hardness with artificial intelligence and in many other gaming modes. Enjoy this android app and challenge your friends from connecting the home network or via social community online. Get the statistic report of your gaming life spawn in the profile view.
Important Features
Adjust your preferable music systems, the viewing styles, the brightness issues, the gaming timer clock, etc.

Achieve the winning taste of 20 different levels of gameplay to emphasize your chess gaming skills against the Al engine.

You will get 2 demo gaming chances to play before heading for real matches on every difficulty level.

There are some common features available like hints, reverse your movements and colorful navigator lights like a chess game.

Enjoy the chess game in stunning 3D graphics in 5 different camera posture and angle views for any modes.

Analysis of your average daily progress and observe the statistics report to boost your gaming expertise from time to time.
Download
19. Chess Light
---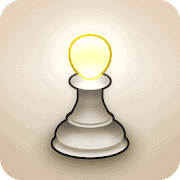 Let's introduced you to a great chess puzzle game for any of your mobile devices. This light-weighted android game is built up to solve hundreds of fun chess puzzles within a time frame. Now your job is to clear the puzzles and move forward for new challenges. This is totally an idol chess game for any beginner. Pass through all the stages with different categories of playing levels. If you got stuck in the middle of the puzzle, use hints to lap the next move.
Important Features
Pass through your chess learning classes by solving many intellectual puzzles from each class in this super chess game.

For any beginner, this chess app is the easiest way to learn from the piece's movements to professional movements.

Complete your course in 6 types of difficulty levels and solve 180 plus puzzles to graduate the chess school.

This app is a very lightweight chess game and a low storage arcade gaming app with a simple playing background.

Strength your thinking capacity of playing chess puzzles and use limited hints to solve the mysterious puzzle moves.

Choose the chess puzzle light to show in the display and turn on the relaxing sounds from the options menu.
20. Chess Analyze
---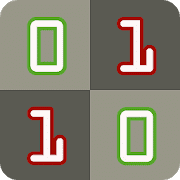 This chess app is basically developed for the players who are used to play in online servers. As a supportive gaming app of android chess games, this analysis engine will blow your mind with the gaming instructions. You can call this android chess app your gaming manager. Here in this gaming app gets professional tips, easy methods, and various strategy rules to play for free. In a word, acquire the chess-playing skills on your hand with the help of this.
Important Features
Provides detail English commentary of gaming engines while you are analyzing your current chess game for better verbal attributes.

Get the chance to analyze the WorldClass matches from the time being placed in history to know more in-depth.

Save the best moves and variations by name from the best chess game performances to re-analysis them later.

Auto replay, pro-level engines, and other great functionalities are available to enjoy in the pro version of this app.

Collect your saved gameplay in PNG, FEN format. Load the file later to analyze and share it with your friends.

Automatic intelligence movements can be generated without your commands on this new feature, which is added in the pro version.
Finally, Insight
---
Think you can play your favorite indoor chess game from your android devices. You know that hundreds of chess games and apps are waiting to install with your one touch. You will find out all of them in the google play store to download for free.
Now the matter is every chess game has its own perspectives and unique abilities. Some are well-decorated settings, some got realistic graphics, and some may have great gaming control systems.
Let's be frank; all of them may not attract you. We try to sort the list so that you can find your loving chess app by considering all the important features and short briefs. Now set your mind to read the content carefully and learn which one will be placed into your android mobile as a primary chess game to play.
As an arcade game lover, I prefer to play 'Chess Free and Chee Live' from the given list. Both games have every feature combine with other games and very much suitable for online and offline chess battles.