All gamers must dream of exploring the gaming world in reality; still, they know that's not possible. But technology goes far to take them in their favorite world and has been successful in a more protective way. You can now explore the world inside your monitor, and enemies cannot even harm you truly. Thanks to the Virtual Reality system. If you manage to have a VR headset, you cannot differentiate the real and the things you are experiencing in the gaming environment. And PlayStore cannot stand still not providing opportunities for its users. Many of the best VR games for Android are available in the PlayStore, and today, we are going to talk about them.
Best VR Games for Android You Shouldn't Miss
---
20 games are selected to form this list and us before the gameplay, 3D environment, storyline, VR compatibility, and other essential facts. But they have not listed bases on the best to the worst lineup.
But there are varieties, so you have to keep a good look at the info to find out one of your favorite genres. Don't be hurried, and keep your time choosing the best VR games for your Android device to enjoy something unforgettable.
1. Water Slide 3D
---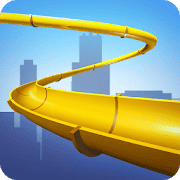 Want to have a thrilling experience with a water slide? Let's play Water Slide VR. Believe me; you won't feel like you are sitting in your room but feel the exact apprehension you would on a water slide with this game. In a 3D water park, you can explore different slides and have a chance to try them.
Also, you can control the speed of the slide and move carefully to take sharp turns. Don't take it easy, just like it sounds. It won't be very easy for some of the slides, and you have to be careful at any cost.
Important Features
There are 7 different types of rides you can experience in this game.

You can enjoy the ride from both the first-person and third-person views.

Over 40 different and challenging levels are waiting for you.

It supports Google Cardboard, with which you can just go beyond your imagination.

You can explore the city, escape, snowfall on the mountain, rain forest, and so on.
Download
2. VR Thrills: Roller Coaster 3D
---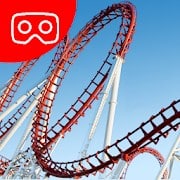 VR Thrills is the next you should try if you want to experience the ultimate Roller coaster experience. It is the latest version of all roller coaster VR games for Android, and you must be thrilled all the time with this game. Here, you can create your own roller coaster experience with Google cardboard.
In this multiplayer game, you can even share the rides you create with your friends and other players. This Ultimate theme park VR game won't let you get bored in your leisure.
Important Features
Millions of players have created rides, and you can try them too.

It supports VR Google Cardboard to give you an unforgettable roller coaster experience.

Realistic sound like the true roller coaster and 3D environment.

You can set the headset with your phone using a QR code scanning system.

Very easy setting, and it supports even a cheap device.
3. VR Temple Roller Coaster for Cardboard VR
---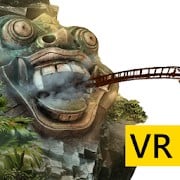 If you love to ride a roller coaster, get ready to enjoy an epic rollercoaster ride to the ancient civilizations and temples with VR Temple Roller Coaster. It offers a real, rollercoaster experience along with a beautiful and resourceful in-game environment.
It can be played wearing a VR headset such as Google Cardboard and supports regular gameplay with touch control. Your device does not require a gyroscope to play this game. The cost-saving Google Cardboard is enough to enjoy the game with virtual reality to the fullest.
Important Features
It offers a stunning 360-degree virtual reality experience of rollercoaster rides with high-quality graphics.

You will enjoy the ride in both high and low speed along with the detailed view of ancient Mayan temples themed environments.

It also offers underwater rides to see the beautiful sea ecosystem like you are really in there.

The game interface is simple, with wide accessibility.

Its visual effects are based on a 3D graphics rendering engine with VR integration.

This game takes relatively low system space and works flawlessly on multi-threaded CPUs.
4. Jurassic VR: Dions for Cardboard Virtual Reality
---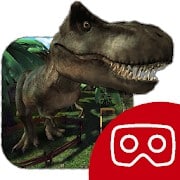 How does it look when you have to run to get rid of dinosaurs like the Jurassic Park movie in an Android VR game? If you think it would be cool, just try Jurassic VR. This dinosaur-themed VR game will let you have an experience to explore the prehistoric age when dinosaurs were here and there.
You will have the freedom to roam around the virtual world and enjoy an adventurous trip. You can meet your favorite dino from all the species of dinosaurs. Already seems to be interested, right? Let's see more about it.
Important Features
This game is compatible with all kinds of virtual reality glasses.

It has quite a movie-like storyline with HD visual effects.

Unity 3D pro-level visual cinematic universe will soon make you love it.

Easy to control and designed with horror action themes.

It is suggested for players over 15 years old as it is quite scary for the kids.
5. Roller Coaster VR: Ultimate Free Fun Ride

---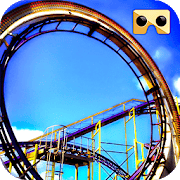 Take a break from the hectic life and enjoy one of the best VR games for Android called Roller Coaster VR: Ultimate Free Fun Ride. It is completely free to download and takes relatively low space on your system. You will love its relaxing gameplay with realistic in-game graphics and life-like visual effects. It requires VR gear like Google Cardboard Glasses or others to enjoy to the fullest. The game is optimized for Android devices and gets regular updates with advanced technical support.
Important Features
The game features virtual reality-based 3D graphics and HD visual effects.

You can easily set up the game controls and change the game modes by selecting simple mode/ VR mode.

The game requires a gyro sensor to run and compatible VR gears.

It provides realistic sound effects to simulate real rollercoaster ambiance.

The game features a beautiful theme park-based in-game environment along with mesmerizing river views.

You will have a great time riding the speedy roller coaster train and collecting rare objects.
6. Sisters
---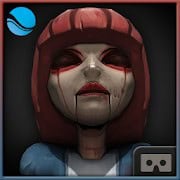 Let's dig into Sisters by Otherworld Interactive. It is best suited with Google Cardboard. You won't be spending fortunes playing this spooky game. It is one of the most popular Android VR games that features a ghost storyline. You will love its gameplay with realistic graphics. It provides a lifelike experience with VR gears. You will be amazed at its stunning 360 degree visual effects and high-quality audio output. It is optimized for Android phones and works flawlessly on updated devices.
Important Features
The game provides the opportunity to experience a real-like horror setup.

It comes with a simple controlling system, and most of them are look-based.

The game world is created with cutting-edge technologies to respond and shape as the player interacts with the in-game environment.

It offers exquisite horror effects with binaural and directional audio enhancement.

You will enjoy its VR representation as it lets you feel like you're in the game world.

Its game engine also contains 360-degree cinematic video content and excellent light and shadow effects.
7. Deep Space Battle VR
---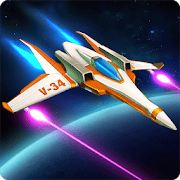 Archiat has come with the ultimate shooter game with a touch of virtual reality, and we know it as Deep Space Battle VR. You can enjoy this game on cardboard VR totally for free. In this dogfight battle game, the mighty hero will need your quick wit and weapon handling skills. A very colorful and galactic Warfield is there to show your excellence in this game.
Lots of dangerous enemy ships will come to destroy you and the team you will have to lead. And you know what you have to do. Now, save your land by defeating the enemies in this Ultimate shooting VR game.
Important Features
It provides the player with the most immersive VR reality experience.

It doesn't require much control, and the ship will fire the enemies automatically when they appear before you.

Design with an elegant VR-shattering effect for a better shooting experience.

There are 6 different types of sleek ships, and you can choose any one of them.

No in-app purchases are there, and no advertisement will appear to disrupt your playing experience.
Download
8. VR Horror
---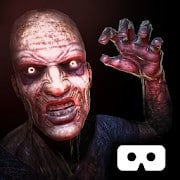 What if the VR experience comes along with a horrible zombie combination? That's what it seems when it is VR Horror. It is one of the best VR games for Android, and you will get addicted to it very soon. The screaming zombies are everywhere, and you have nothing but your weapons. So, keep shooting and save yourself from those zombies, and don't forget that you are on a scary roller coaster.
So, the experience you will get set it up with a Google cardboard must be something else. Let's learn more about it and get excited.
Important Features
First of all, don't play this game if you have any epilepsy problems.

It is compatible with cardboard, Homido, Freefly, and others.

Use a headset for thrilling music and the sound of the screaming zombies.

Missions will be given for different purposes.

It will be updated automatically, and new features will appear to improve it.
9. VR Traffic Racing In Car Driving: Virtual Games
---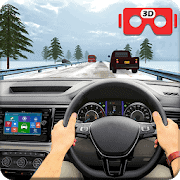 If you are a true fan of racing games and want to blend the experience of racing a car with a VR controller, then try this game. It is VR Traffic Racing In Car Driving. Well, using your VR box or cardboard, you can feel the most exciting racing experience with this game. It will let you enjoy full control over the driving range. You have tons of modeled cars to choose from and give a race with. Moreover, you can challenge other players on the racing field and win the match with your own will.
Important Features
Easy and perceivable setting with very exciting gameplay.

Smooth gaming control will let you enjoy a realistic driving experience.

The city highway, environment, and other vehicles are designed properly.

360-degree rotation is possible in this virtual reality racing game.

You will have lots of locations and cars you can choose to give a try on.

You can collect coins and upgrade your skill and cars.
10. Walk The Plank VR
---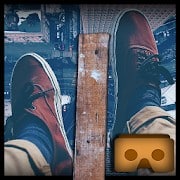 Let's meet a totally different type of VR game. This time, it is an adventure game named Walk The Plank VR. If you are brave enough to walk on the plank, go over it, and explore the city. This game is highly suggested for people who fear height as it helps them face it in virtual reality. So, make sure that you are not closing your eyes and feel the shiver on your back. Did you look for such an amazing game? If yes, then see the features and give it a try.
Important Features
There are different kinds of height experiencing slots, and you have to walk over them.

You can use a jetpack to fly over the buildings and enjoy the bird's eye view of the city.

Just adjust the sound system and vibration to have a more realistic feeling.

It is compatible with the VR headset and other relevant items.

People with a sensitive and weak heart is suggested to stay away from it.
11. VR Zombies Shooting
---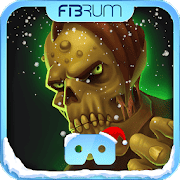 Want to judge your intelligence while surviving a zombie apocalypse? Then play the VR Zombie Shooting game. It is a VR game for Android that makes your Zombie surviving game more exciting with its cool virtual reality system. Things look earthly, and you will have a shiver on your back while fighting the rotten dead bodies.
The storyline behind this game is fascinating, where you are in post-apocalypse time, and millions of bloodthirsty zombies are there waiting for you. Do you think about how you can survive?
Important Features
Designed with an ultra-realistic 360 degrees VR Emulator.

You can use VR glasses of any brand to connect and play this game.

The 3D environment and objects are responsible for the most immersive playing experience.

Different types of weapons are available, and you can choose whatever you want to use.

You can select atmospheres of different types like space shooters, westerns, and crazy three-dimensional races.
12. VR Heights Phobia
---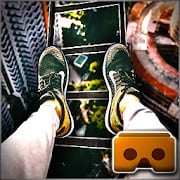 You can now get rid of your height phobia by just playing a VR game on your Android device. It is VR Heights Phobia. The name must give you a clue about what kind of game it can be. When it is a VR game, you can feel the same experience of what you see through it. But you are aware that it is not true and you are just standing in your room safely.
That's why this game is suggested for those who are suffering from height Phobia. This game will provide you with challenges to jump from heights, which helps you get over such a painful phobia.
Important Features
It is compatible with a VR headset of any brand.

Play the same sound you may feel in the heights, like air blowing.

Your movement will be tracked with a phone gyroscope to make it even more thrilling.

Elevators, roofs, towers, and other places are there to have experience of that.

You can enjoy the game in 3 different locations from a different experience.
13. Falling VR Simulator
---
Another height experiencing VR game is here for you. This time, it is Falling VR Simulation. To add additional excitement to your leisure time, you can definitely play this game. You can also set your device with any VR glass to enjoy the toughest gaming experience with a VR system. You can now strengthen up your nerves and get rid of height phobia. This game can help you jump from a skyscape and experience the true high jumping experience. Want to know more? Just have a look over the features, then.
Important Features
3D graphics of this game will leave a better impression on you.

By the time you will have access to explore the higher buildings and enjoy more.

The force of gravity is perfectly designed here.

A very detailed environment will make it even more realistic.

People with weak hearts are strictly suggested to stay out of this game.
14. VR Haunted House 3D
---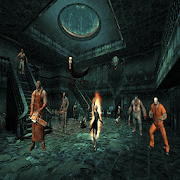 Virtual Reality games are in demand nowadays. If you want to have a scary VR gaming experience, look into VR Haunted House 3D. It offers realistic graphics and life-like visual effects. The game provides chilling horror settings with seamless gameplay.
The game HUD and interface are widely accessible, and you can tweak the settings with ease. This scary horror game is renowned for its contents of paranormal activities and details of the haunted house. You will need a VR set to play the game properly.
Important Features
The game supports most modern Android devices and works on both phones and tablets.

It comes in a small package and does not consume much system resources.

The game lets you play as the hero, and it's your mission to cast away the ghosts and mystical creatures from the house.

You don't have to be an expert to play the game; it's easy with a guided navigation system.

There are many objectives to complete and numerous zombies and undead to kill, so be prepared with enthusiasm.
15. House of Terror VR 360 Horror Game
---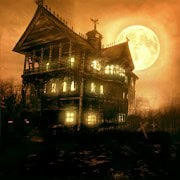 Lakento brings out its own Android VR game for horror-loving gamers. It is called the House of Terror VR 360. It is one of the most popular 3D games with realistic graphics and challenging adventures. You play as the protagonist who looks into spooky dark settings full of obstacles and scary monsters. It does not take much system resources to run and works smoothly on both Android phones and tablets. You can play it for free, and it comes with ad integration.
Important Features
The game offers lots of puzzles to solve and comes with stealth gameplay.

You need to look for clues and investigate the backstory to get away from the imminent danger.

It works with supported VR gears and VR glasses with a Bluetooth joystick.

The game offers numerous content and difficulty levels that are suitable for persons over 12+ years.

It features realistic in-game environments and high-quality visual effects.
16. VR Airplane Flight Simulation
---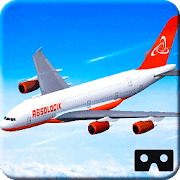 Are you interested in experiencing a flight simulator on the VR headset? Just try VR Airplane Flight Simulation. It is another popular VR simulation game you shouldn't miss at all. You can enjoy the first-person views of the cockpit and take off the plane in a realistic way. Having access to control a flight is nothing like something that cannot be addicted to. So, keep your experience of airplane flying being a pilot on a totally new level.
Important Features
You can use Google Cardboard or a tray-based headset to experience a better version of this game.

Easy setting and airplane driving functions.

Real-time environment and smooth gaming control.

Tons of airplanes are there, and you can try any of them to fly.

There are tons of high-quality shaders, and the terrain looks available there.
Download
17. VR Fantasy
---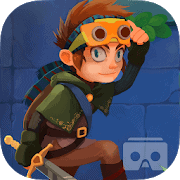 Are you in an RPG? Then try VR Fantasy, a first-person view role-playing Android VR game. It offers you to enjoy an open-world game on your Android phone or tablet with ease. It requires virtual reality gear to play the game. You can use Google Cardboard or a similar VR set of your choice. It offers you an epic adventure in ancient magical fortresses.
The game offers lots of challenging obstacles and ferocious enemies; you will have to fight through them to get to the final boss. It also supports gamepads with Bluetooth connectivity.
Important Features
The in-game setting and gameplay are so real that you will feel like you are exploring the game world in person.

It comes with a versatile combat system that allows you to use different weapons and magical staff.

The game engine is always updating and adding new content to expand the game world.

It does not take much system space to accommodate and recommend players over age 7.

The sound system and visual effects are stable and optimized for VR gears such as Google Cardboard and others.
Download
18. Ping Pong VR
---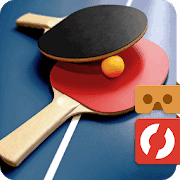 VR games will be even more exciting than your imagination when you can share your experience with your friends. Well, I am talking about multiplayer VR games. You can try Ping Pong VR if you want to experience something like that. You must be familiar with a Ping Pong Game, and you should know how interesting it would be when you can play it will be your friend. Also, there are tons of customizable features, and you can set the functions as you want.
Important Features
Try this game on any of your Android devices like TV, Tablet, and Phone.

You can Customize the racket and wear an individual look.

This game is compatible with the VicoVR full-body motion controller.

You can also play this game on Google Cardboard.

The music and 3D environment are very realistic.
19. VR Abyss: Shark & Sea world in Virtual Reality
---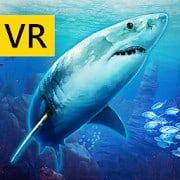 In a sinking ship, you are trying to survive, and bloodthirsty sharks and roaming around to drink your lifespan. In an Android VR game, you can experience such a thrilling situation. For that, you have to play VR Abyss. You can easily control the system and set it up with your VR headset with any brand.
In this game, you have to find out all the essentials by yourself to survive. Besides, you have to be aware of all the silent but dangerous sea monsters that would come to taste your blood.
Important Features
Provide tons of challenging missions that you have to complete.

Dive into the ocean and explore the underwater world closely.

No hidden charges and advertisements are there for you to disturb.

Simple but very realistic control and music.

Oxygen power-ups are here and there that you have to pick up to survive.
20. Real Dinosaur Roller Coaster VR
---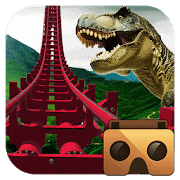 I'll end up today's listing with a game that combines Roller Coaster with dinosaurs. Seems interesting, right? Well, this time, it is Real Dinosaur Roller Coaster VR. This one is not about hunting or shooting dinosaurs like a usual VR dinosaur game. Here, you can feel the shiver on your back while riding the deadly Roller Coaster that will go over the mountains and jungles where dinosaurs are roaming around. Don't you think it's like the Jurassic Park ride? That's what it looks like.
Important Features
Different types of Roller Coasters are available here, and you can enjoy a ride to all those coasters.

When you are using a VR headset, you will feel the force of speed with this game.

On the real Dinosaurs' land, you will go on a roller coaster and experience the view.

This game is designed with crisp and cinematic HD visual effects.

It doesn't require an internet connection, so that you can play it anytime, anywhere.
Final Verdict
---
Did you fix any game to give it a try? Some of you may think about what to do without a VR headset. Don't worry; you can play VR games without VR support. But the experience you will get with a VR headset must be different.
However, you must see that there are games with different genres like Roller Coaster, Dinosaurs, Shooting, Horror, Height Phobia relief, etc. I don't know which type you like the most. That's why I cannot narrow down the list into a few games. So, this time, you are the one to choose the game and give it a try. I am pretty sure that you will love it.
After you start playing any of these Android VR games, please leave a comment to share your experience playing that game with us. Let us know if you know other VR games for Android good enough to beat these 20 games. That's all for today. Stay safe and healthy. Thank you.