In almost all countries and states, providing a proper invoice or estimate is the rule for any business. But many small business owners cannot manage to have a proper setup to make instant invoices for the clients. However, Android tools can help you use your smartphone to make all the business invoices and estimates within a minute. Then you can use any of your social sharing apps to send the invoice to your clients. Seems interesting, right? If yes, then let's learn about the best Invoicing apps for Android.
Best Invoicing Apps for Android to Make Instant Estimates and Invoice
---
It is true that you will find almost a hundred invoicing apps for Android over there. But all of them probably cannot make things easier to make an invoice. While checking the best apps from PlayStore, some apps disappoint us greatly while some grab our attention within a minute. And so, we are here today to introduce you to the best Invoicing apps we have got available for you. Try to read out the brief description of each app to find out the appropriate one for your business.
1. Invoicing, Billing, GST, Inventory, Accounting
---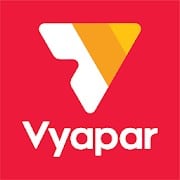 Here is a great invoicing app for Android, which is offered by Invoicing, Billing, GST, Inventory, Accounting. It is known as Vyapar, and it is capable of handling all your daily financial needs. If you are a business owner or manager of any small business or shop, this app is the best possible assistant you ever require. Firstly, the app UI is simply gorgeous yet straightforward. Additionally, the modern and minimalistic approach makes it suitable for all types of users. Moreover, this is an excellent bill book app that produces industry-standard GST reports.
Important Features
You can simply make professional-grade invoices with this and share them easily.

It initially includes a quick bill printing facility.

You can create GST E-way bills and use numerous GST billing formats available in the database.

Indeed, you can access detailed reports about profits, losses, and sales using its insights tools.

It can apparently produce a proforma invoice within 30 seconds.

You can also collect UPI payments using Vaypar at any time.
Pros: It is free to access and works on both Android phones and tablets without any issues. You can manage your shop's or warehouse's complete inventory with details using this app.
2. Invoice Maker: Estimate & Invoice Ap
---
Invoice Maker is a ready-to-use invoicing app for Android. Firstly, you don't need any previous knowledge of finance and accounting to use this app. Moreover, it is simple to use with lots of useful features in one place. Surely, you will have to buy its premium version to use all of its features. But, we can assure you that the investment will not go wrong. This app can be your reliable partner in your small business or shop. Moreover, tracking all your transactions and initiatives is mandatory to reach profits and positive growth.
Important Features
You can initially start your shop profile instantly just by following the instructions.

It allows you to count discount rates in total, taxes, and other charges with ease.

This app eventually includes a built-in PDF invoice maker for enhanced accessibility.

It integrates cash, checks, debit, and credit checkouts.

You can simply produce receipts in various designs using the available templates.

This app also integrates an advanced notification system which also informs when the invoices are read.
Pros: You can easily estimate, make bills and invoices for customers at any time. Additionally, it includes a wide range of sharing facilities along with printing support.
Cons: The free version of this app offers a limited amount of features.
3. QuickBooks Online Accounting, Invoicing & Expenses
---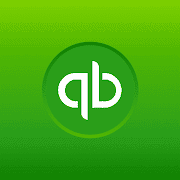 Now making invoices is easier and quicker with QuickBooks Online Accounting. For your business, this app can do a lot and makes things easier. Generally, the best part of this app is its automatic mileage calculator and expense management functions. But it also provides a convenient way to make invoices and memos. Additionally, it comes with a minimalist UI, and the theme is quick and elegant. Besides, it doesn't require the users to be tax accountants.
Important Features
This app won't drain the battery power of your device while tracking the mileage.

The cash Flow dashboard is an additional function that will let you track finance management.

You can initially check the amount of money in and out by tracking the expenses using filters.

While making an invoice, you can eventually add your business logo, change the color, make additional customization.

Only one tap is enough to review the transaction and add the details to your account book.
Pros: There are more than 80 partner apps, and you can apparently use them to progress your business management.
Cons: Some users face problems while synchronizing it with other devices.
4. Simple Invoice Manager – Invoice Estimate Receipt
---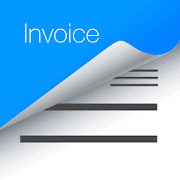 If you are looking for the simplest invoicing apps for your Android device, then try Simple Invoice Maker. Hopefully, the name makes things clear to you. Still, it has so many useful features to provide. Making invoices with this app is easier as you will have multiple layouts to use. You just have to fill in the necessary information on the bill. Additionally, you can handle multiple business functions using this app through the easiest way.
Important Features
You can initially send the invoice to the clients via different social sharing apps.

The Custom field option is available here that eventually lets you save all the information about the business.

Keeping track of the inventory and the records of the purchases are easy with this app.

This app lets you add your business logo and even your signature on the invoice.

It will also make a complete analysis of your invoice and payment data. Apparently, it provides charts and statistical analysis.
Pros: This app generally supports multiple payment options, including Lumpsum Payments, combined payments, and Partial Payments. So, you can make the bill just with this app.
5. Easy Invoice Manager App by GimBooks
---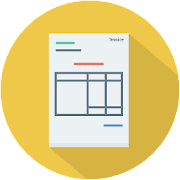 GimBooks also brought an amazing option for those who are facing trouble while making business invoices. This handy app comes with selective customizing options that you can use to make invoices quickly. Eventually, making GST bills and tracking the sale details are also very easy. You can simply customize the invoice with your personal business logo, signature and change the color as well.
Important Features
You can manage all the purchases, payments, and banking issues with this app.

This app will track the history of your business progression and let you manage the inventory.

It only takes a minute to make an invoice and share it using different social Sharing apps.

Apparently, you can deal with all the returned and canceled purchases using this useful business app.

Making beautiful feast greeting cards is the best part of this app. You can simply share the cards with your clients.
Pros: You can simply customize a single invoice before making it. Eventually, you can create a question section, purchase details, and client information in the invoice too.
Cons: According to a few users' opinions, the customer service of this app is not quite responsive.
6. Free Invoice Maker App
---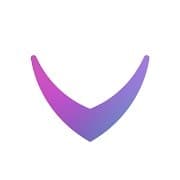 While most of the invoicing apps for Android ask you to pay for the most features, this app comes with everything for free. Basically, Free Invoice Maker App comes with the most elegant solution for making an invoice, and you have to pay nothing for that. Millions of small business owners are using this app to track their business progression and make instant invoices. Necessarily, you can use your income, available products, and even the business history as well.
Important Features
You can simply use any payment portals like American Express, Paypal, Visa, MasterCard, other credit cards for money transactions.

This app lets you send an overdue payment notification for the purchase using this app.

Strong backup protection will save all your data, and this app apparently provides a hundred percent security.

You can also make pdf files of all your invoices and send them easily to the clients.

From the contact list of the clients, this will directly import all necessary information.
Pros: Receiving the signature of your client is often necessary. And this app eventually lets you have so on the invoice as well.
Cons: Some users find it difficult to export pdf files of the invoices.
7. Free Invoice Generator
---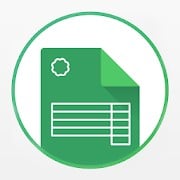 Zoho Corporation brought another free invoice-making app for Android, and I am sure you will love it. Free Invoice Generator will let you enjoy making the perfect invoice with only 3 simple steps. This app is completely free to use, and you don't need any previous experience to use this app from its core. Additionally, it takes only a few seconds to download the voice and send it to the respective clients.
Important Features
This app lets you add the logo and signature of your business to the invoice.

Making a complete invoice with this app doesn't initially take more than a few minutes.

This app indeed lets you use any of your favorite social sharing apps to export the invoices.

You can also check the invoice review before sending it to the clients.

It will apparently save all the invoice details and let you make another invoice instantly for the next purchase from the same client.
Pros: On the resource, you will get a complete direction of using this app. Eventually, this static tool comes with a very minimalist UI.
Cons: There is no option to add the tax with the purchase details here in this app.
8. Invoice Maker – estimate, invoice, and receipt app
---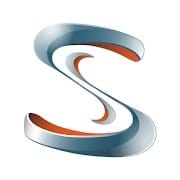 Let's meet the Invoice maker by SpeedInvoice. It is another handy invoicing app for Android users that comes with elegant invoice-making facilities. Using this app and making invoices with it is quite easy and time-saving. Additionally, you can choose your favorite invoice layouts from a huge collection. You can simply customize the invoice and add many functions to it. And if you face any inconvenience with this app, its 24/7 customer care operators will help you fix it immediately.
Important Features
There are more than 500 invoice backgrounds available here, and you can choose any option from there.

You can initially add your signature, business logo, and bills to the invoice.

If it is necessary, you can even add the product image to the invoice as well.

This app eventually lets you use any sharing app to export the invoice.

Support from more than 35 languages and currencies is here and so, and you don't have to make invoices only in English.

You can apparently set particular credit card details for each client in this app.
Pros: You don't particularly need a stable internet connection to create an invoice. But to send the invoice to the client, you have to make sure to have the connection.
9. Invoice Maker – Easy Estimate Maker & Invoice App
---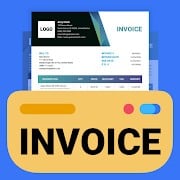 Often you need to attach the QR codes of your products on the invoice. And most of the apps don't let you do that so easily. If this fact is essential for your business, you can simply rely on Invoice Maker. Within a few seconds, you can create invoices with all essential information about the purchase. Additionally, you can send the invoice to the clients with a few clicks only. Let's see what's more this handy and static tool will provide.
Important Features
It takes not more than 2 minutes to make any estimates and invoices for your business.

You can check the preview of the invoice before sending it to your clients.

There are lots of customized tools that you can use to modify your invoice.

This app lets you use the stock camera as a QR code scanner and add the code on the invoice.

It initially lets you add the company logo and signature to the invoice.

This app will apparently keep track of all your business movements and show you the history and analysis.
Pros: Thinking about being a non-native user? This app eventually comes with multiple languages, dates, currencies, numbers, and formats support.
Cons: You may not like the free version of this app because of fewer facilities.
10. Accounting Bookkeeping – Invoice Expense Inventory
---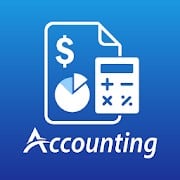 Did you notice that we have already learned about 9 amazing invoicing apps for Android? Then let's check out the final recommendation for today. Accounting Bookkeeping is a very handy tool for small business owners who often need to make invoices. This multifunctional app will initially look after almost everything in your business, including the sale, expenses, purchases, payments, and so on. But making an instant and perfect invoice is the best part here.
Important Features
There is a multifunctional dashboard available in this app to help you organize all the invoice details.

Generally, this app will keep track of all your purchases and provide you with an analysis of that.

It will automatically calculate the profits and will inform you about your periodic business profit.

This static invoice tool apparently comes with an elegant inventory management function.

You can also add taxes, vats, and other functions on the invoice using this app.
Pros: You don't particularly need to use another app to check your balance and manage your baking tasks. This app eventually has all the support of baking and portal card facts.
Our Recommendations
---
As far we see, these apps are almost the same in function except for some unique features. But one thing makes a huge difference, and it is about the app expense. There are both free and paid apps out there. If you want to try out the free one, you better try Invoice Maker by Simple Invoice or Free Invoice Maker App first. But if you are sure of paying a few bucks for huge facilities, then you can try Invoice Maker by SpeedInvoice for sure. Whether it is free or not, all the apps listed here will provide you the best invoice-making experience.
Finally, Insights
---
Undoubtedly, an invoice is a very important part of any business. It makes your business trusted and authentic. Besides, you will never be confused about the sales if you have all the invoices in one place. And the following invoicing apps for Android will organize all your business invoices after you create them. However, share your experience of making invoices with the app you have selected. Thank you in advance for your support.